As I write these lines, purple, pink and white lilacs are blooming in Odori Park in the heart of the city. The park is bright green in the sunshine and people are lounging on the lawns or benches in the shade of the lilacs, which smell delicious. Spring has indeed arrived in Sapporo. Sunglasses, hats and sunscreen are a must!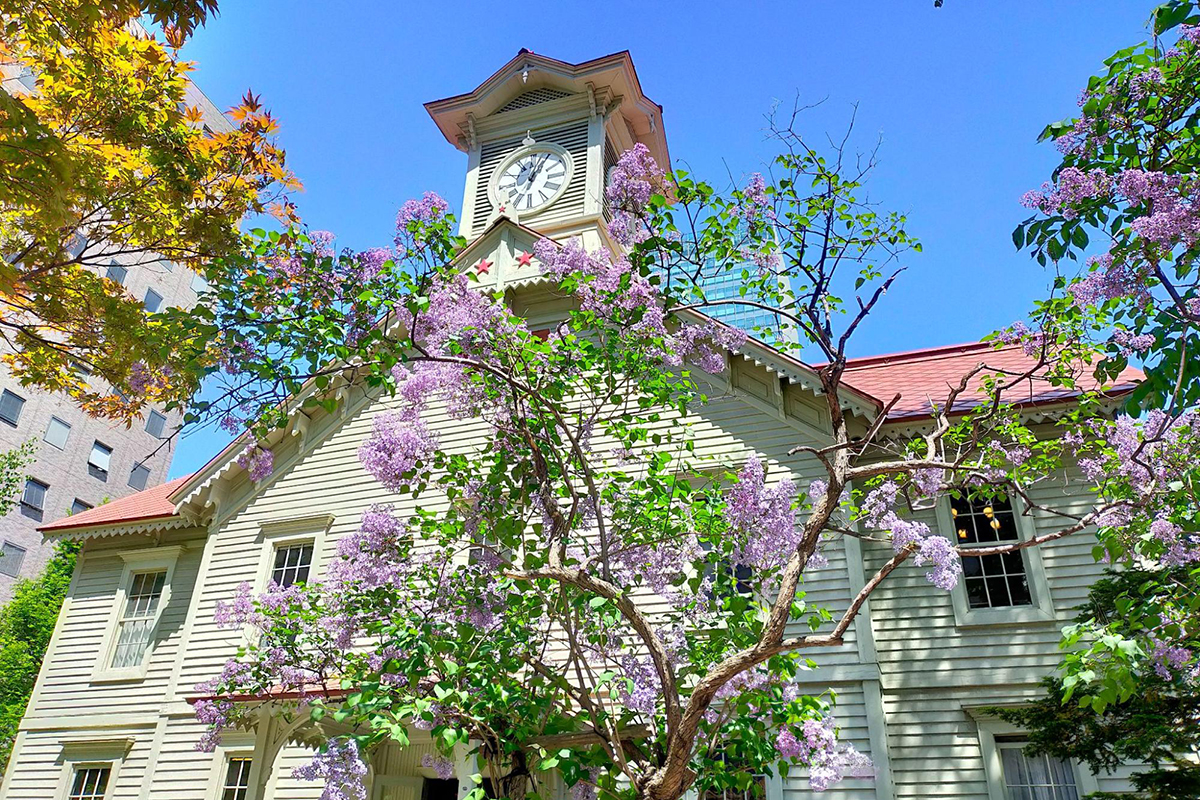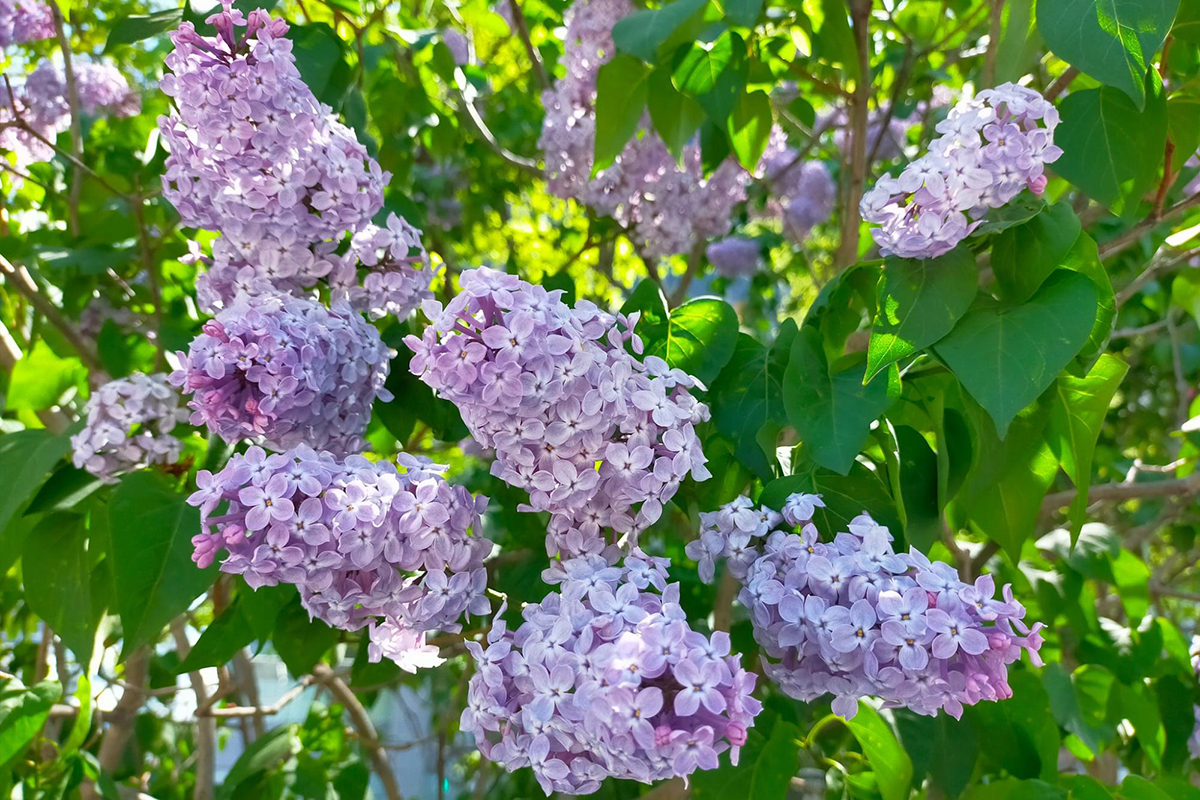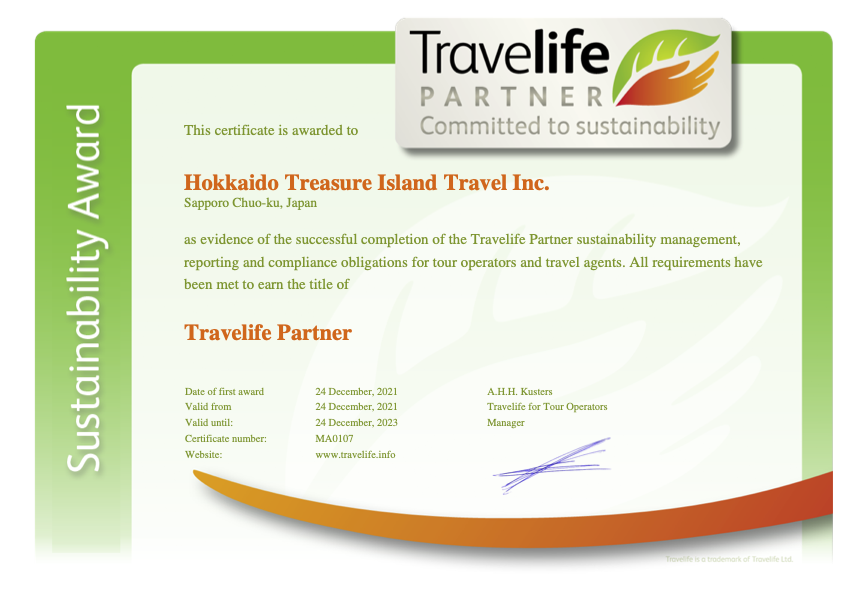 In this article, we will introduce you to the charms and uniqueness of Sapporo from a sustainability perspective. Hokkaido Treasure Island Travel is doing its best to be sustainable and achieve global sustainability goals by respecting nature, the island's own culture and the people of Hokkaido as much as possible. We have been a Travelife partner since December 2021 and are currently working towards obtaining the certificate. Travelife, founded in 2007, is a fair and accessible system that offers a range of training, management, action planning and certification tools to help tour operators and travel agents manage and improve the impacts of social, environmental and cultural sustainability. Earlier this year, in January, Hokkaido Treasure Island Travel won an award at the SDG Management Awards hosted by the Sapporo Chamber of Commerce and Industry. We are actively contributing to the revitalization of Hokkaido's regions through the development of off-the-beaten-path city tourism and the creation of new travel products. We are also committed to the seven goals listed on our website: https://hokkaido-takarajima.com/en/sdgs/ , which include saving resources and energy, reducing waste, minimizing the impact on natural heritage, the natural environment and wildlife, and contributing to the happiness of the local community and everyone involved. It is therefore only natural that we wanted to dedicate an article in our column to this lesser-known aspect of Sapporo, a green city committed to sustainable development.
 Sapporo is the capital and largest city in Hokkaido, with an area just under twice the size of Tokyo and about the same size as Hong Kong, and a population of just under 2 million (Tokyo has 13.96 million!). The city of Sapporo, located in the southwestern part of the vast Ishikari Plain, developed on an alluvial fan. The western and southern parts of Sapporo are occupied by a number of mountains, including Mount Teine, Mount Maruyama and Mount Moiwa, and the view of these mountains in the background helps to create a very special atmosphere. It is wonderful to live in a green city surrounded by mountains and to be able to escape the city in less than an hour's transport and climb these mountains on weekends. The city is crossed by several rivers, and it is also very easy to practice another very common activity here: fishing.  Sapporo has been modeled on Kyoto with a functional grid of streets and avenues. 
 The city is well served by two airports: Okadama Airport and New Chitose Airport, making the city an ideal base for visiting some of Hokkaido's iconic sites and discovering the island's natural treasures.

 Sapporo is definitely a city where it is good to live and it is quite natural that it has decided to actively engage in a policy of sustainable development, responding to the 17 Sustainable Development Goals (SDGs)  . The logo of Sapporo (Sapporo Smile) is a logo with the image of a "city where you can smile" blessed with many attractive resources such as food, nature, and various seasonal events.
 Sustainable? Sustainable Development Goals (SDGs)? Let's start at the beginning!
 SDG stands for Sustainable Development Goals, a list of 17 goals, adopted at the United Nations Summit in September 2015, to address various issues such as poverty, hunger, social disparities and climate change in the "International Goals for a Sustainable and Better World by 2030". This initiative aims to improve society and the economy as a whole, with a focus on the environment and involving all people on the planet, with the ambition to "leave no one behind" on the planet. 
 Below are the 17 Sustainable Development Goals (SDGs):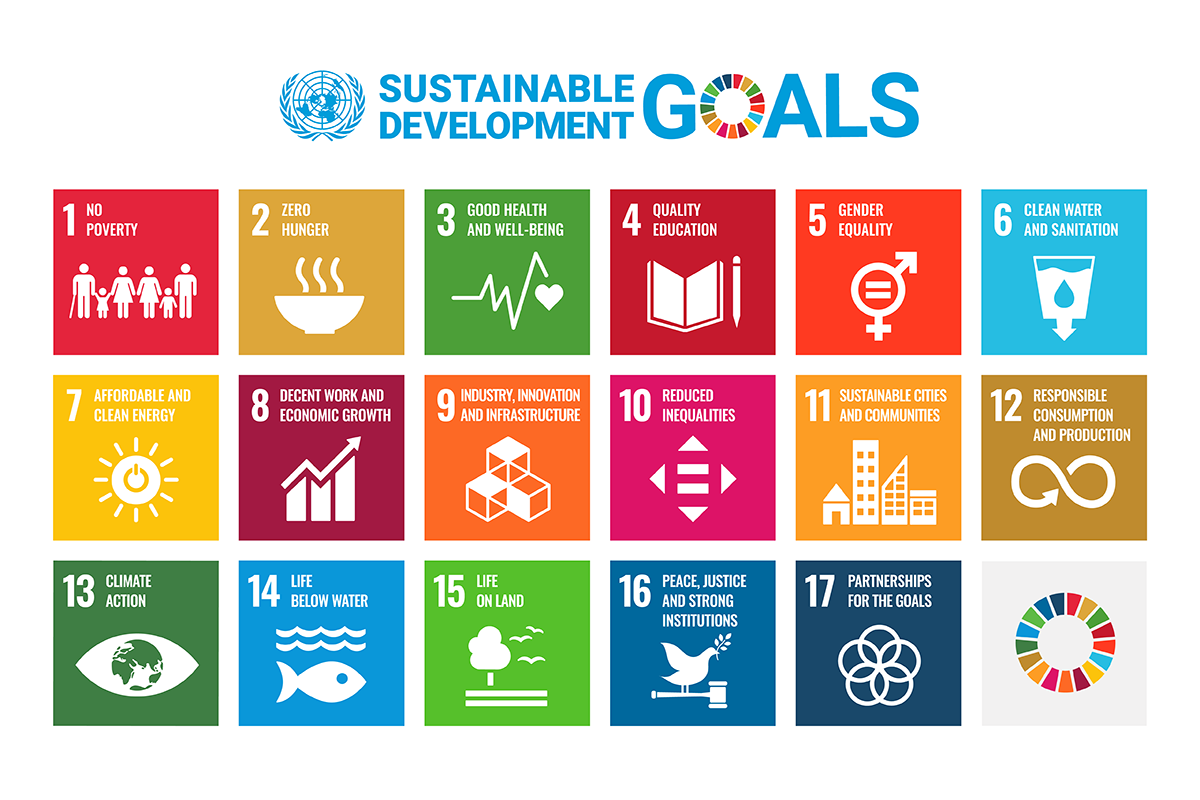 Our story began in March 2018 when Sapporo set a goal to achieve the 17 Sustainable Development Goals (SDGs) with the future image of a "sustainable city where the next generation of children can live with a smile" and was selected as an "SDG Future Cities" (cities that propose outstanding initiatives to achieve the SDGs) along with 28 other cities (Currently, 124 cities are selected throughout Japan). In September 2019, Sapporo applied for the "LEED (Leadership in Energy and Environmental Design) for Cities and Communities" program and was awarded "Platinum" certification, the highest rank, in January 2020 in the areas of energy and water, for its low greenhouse gas emissions and low per capita domestic wastewater use. In this category, it was the first Japanese city to be certified, and achieved the highest score in the world. In February 2020, Sapporo announced that it was aiming for a "zero-carbon city" that would reduce the amount of greenhouse gases emitted by the city of Sapporo to virtually zero by 2050. And in March 2021, in anticipation of its realization, the "Sapporo City Climate Change Action Plan" was formulated with the lofty goal of cutting greenhouse gas emissions in half by 2030 (55% reduction from 2016). Declared a "climate emergency", it reminds us of the importance of measures to combat climate change and accelerates efforts. Indeed, Sapporo is not spared from the effects of climate change, with hot days and heavy rains causing great damage.
 In this article, we will introduce Sapporo as a charming city where you can experience sustainable tourism while having a good time through 5 categories: Stay, Move, Eat, Visit, Buy.
1- Sustainable stay: The Royal Park Canvas – Sapporo Odori Park
 Opening in 2021, the Royal Park Canvas – Sapporo Odori Park is owned by the Mitsubishi Estate Group, which is committed to reducing waste, reducing resource use and simply preventing pollution. Their new sustainable lifestyle hotel, the sixth in Japan, is a perfect example of the material cycle concept to reduce, reuse and recycle at every stage of creation, from planning, development, design, construction, management and dismantling. Increasing the life span of buildings, including the use of existing buildings through renovation, is another important mission of the group.
 The Royal Park Canvas – Sapporo Odori Park was designed around the concept of "discovering Hokkaido", based on local production for local consumption. The hotel was not designed as a hotel, but as an open space for interaction and social gatherings. The architecture of the building is based on two concepts: "make it happen" and "fun local connected". The reception and lounge were therefore designed as one space with a view of the Sapporo TV tower, one of the city's landmarks. The wood covering the ceiling seems almost animated and points towards the trees of Odori Park. The ceiling beautifully echoes the bountiful nature of Odori Park. The cushions on the sofas and chairs were made from recycled Hokkaido fishing nets and some of the decoration echoes Hokkaido's past, including homage to coal mining and Ainu culture. The bar, located near the reception, offers local food and drinks that you can enjoy while admiring the view.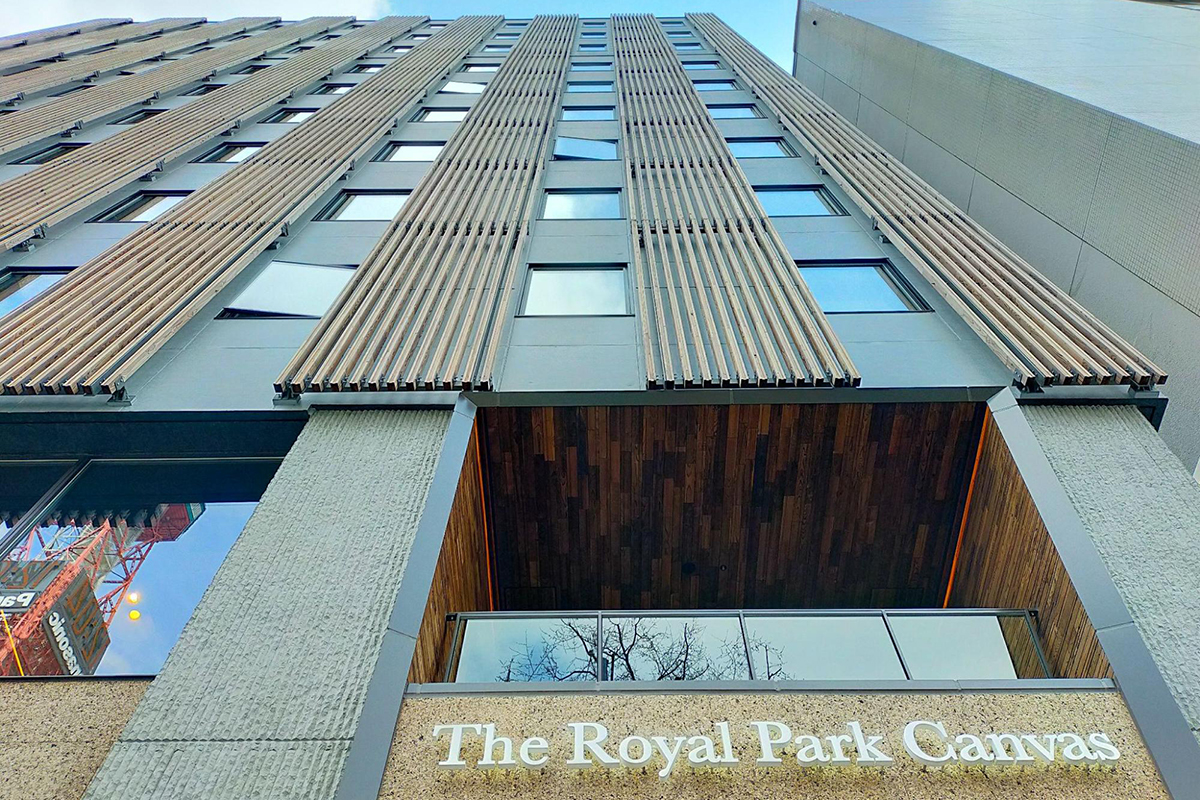 This hotel is Japan's first wooden hybrid high-rise hotel. It uses Hokkaido wood, mainly local wood, for the interior of the lobby and rooms. The top 3 floors of the hotel (9-11 floors) are made of wood and the rest of the hotel is made of concrete with a great integration of wood in the decoration and furniture. The incorporation of all these wooden elements in the hotel creates a very warm and welcoming space, while contributing to the use of wood, making this hotel a sustainable structure. Because Japan has many earthquakes, it is possible to build the upper floors of the buildings in wood. However, as this method of construction is not yet common in Japan, obtaining administrative approval and finding contractors capable of building this hotel using this method was a challenge. There are two types of guest rooms, the concrete rooms (3-8 floors) and the wooden rooms (9-11 floors). No wood has been wasted in the design and everything has been used as panels, finishes and decorations. The rooms are all equipped with a turntable with some vinyl records (you can use a USB cable to listen to your own music!) and there is no TV. In each room there is a picture of a famous Hokkaido destination as the hotel wanted to portray Sapporo as the gateway to the vast Hokkaido region. 
 You can admire the hotel's beautiful hybrid wooden façade, the reception-lounge area that echoes the natural surroundings and the two very elegant room types in the following photos.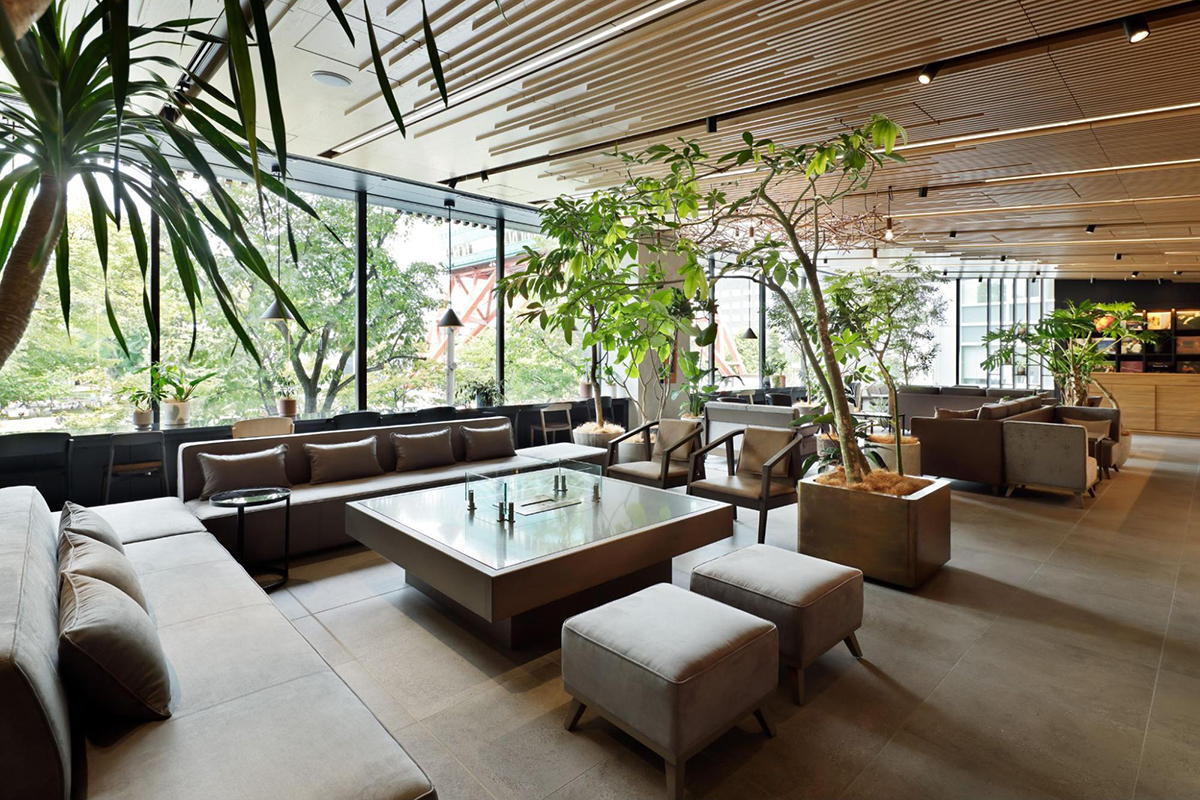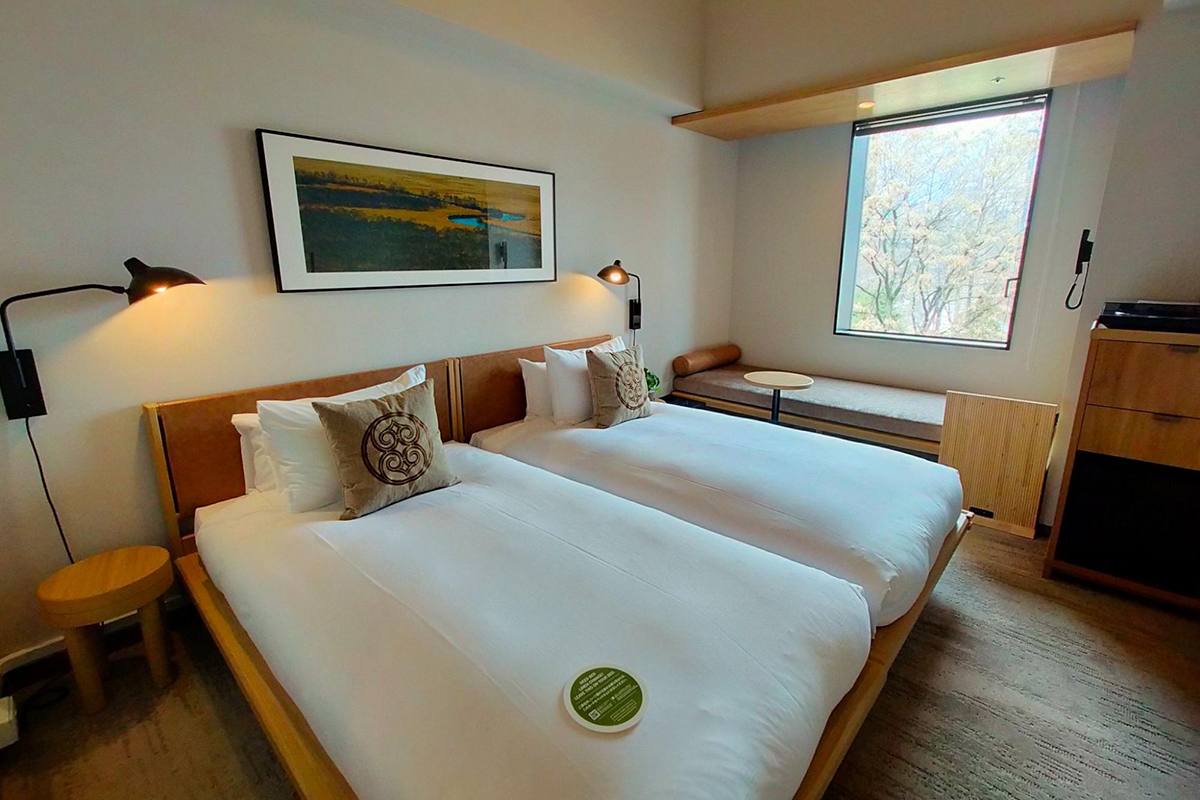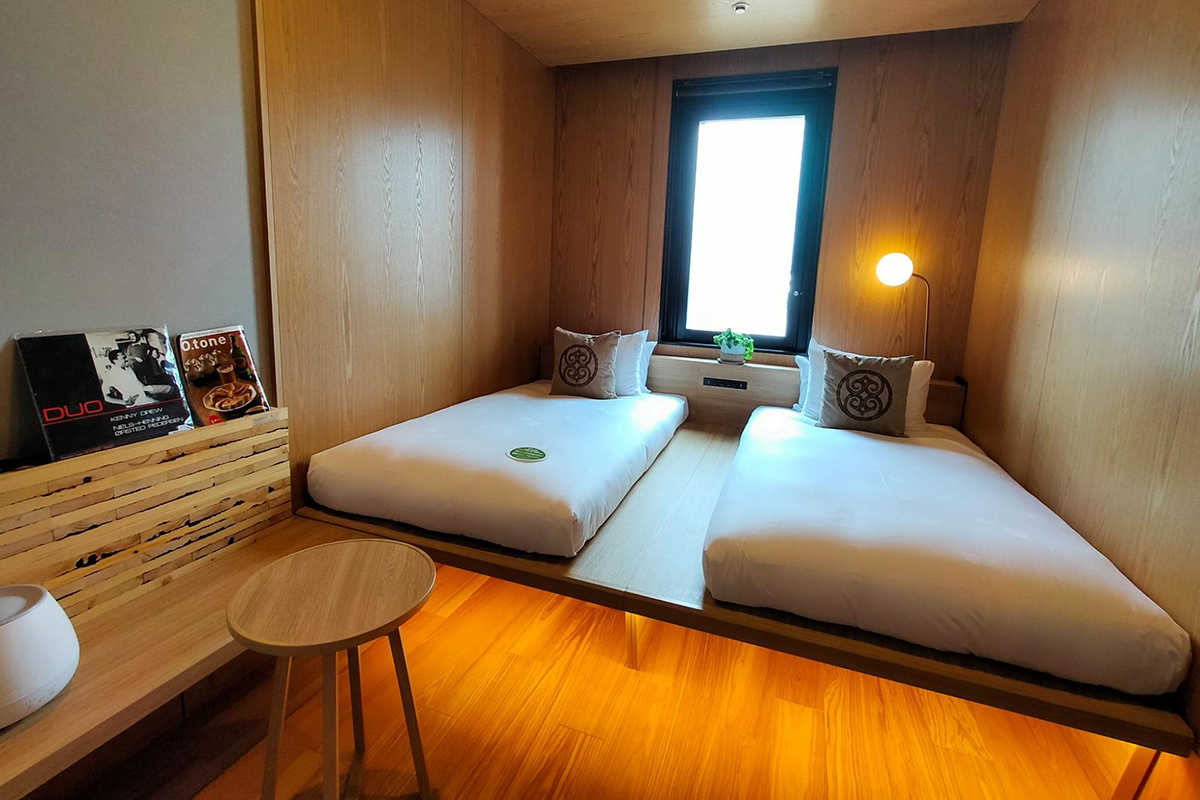 In the pictures below, you can see the beautiful Ainu decoration items, the very elegant wooden case for the record player speaker in each room ( an original item from the hotel) and the drinks and desserts made from Sapporo and Hokkaido products for local consumption.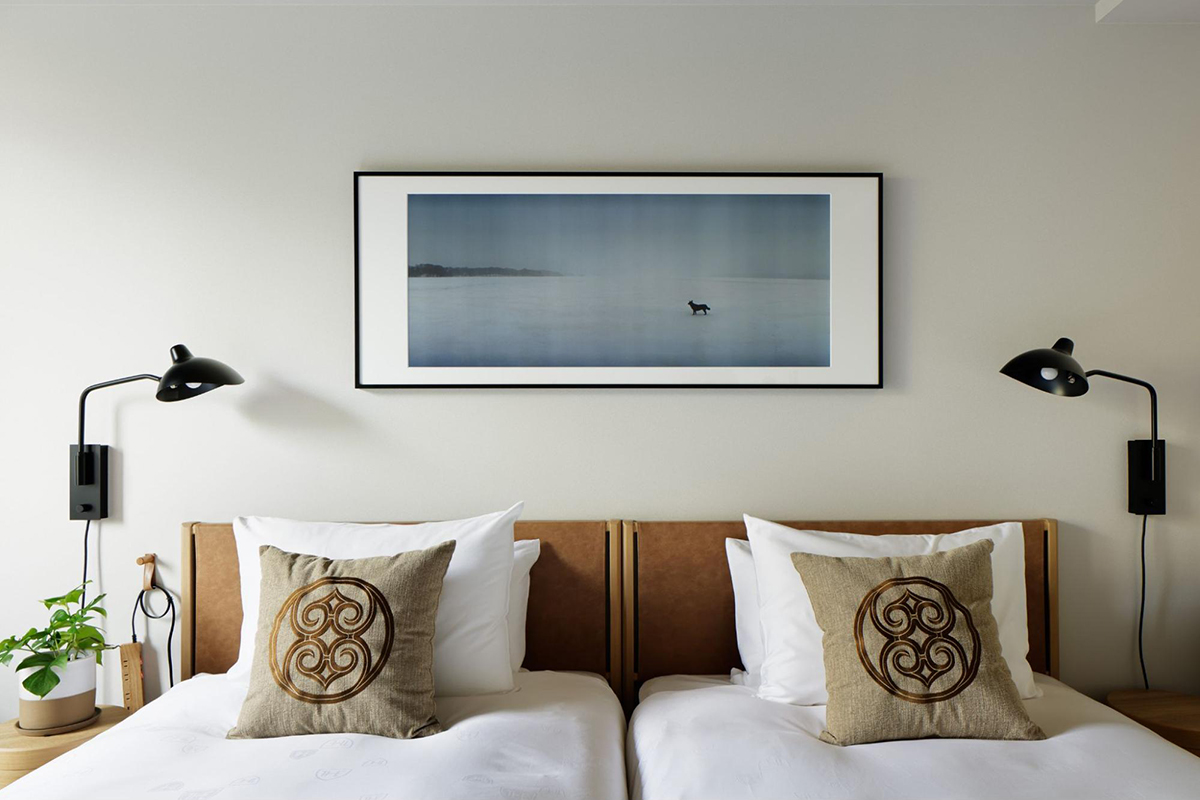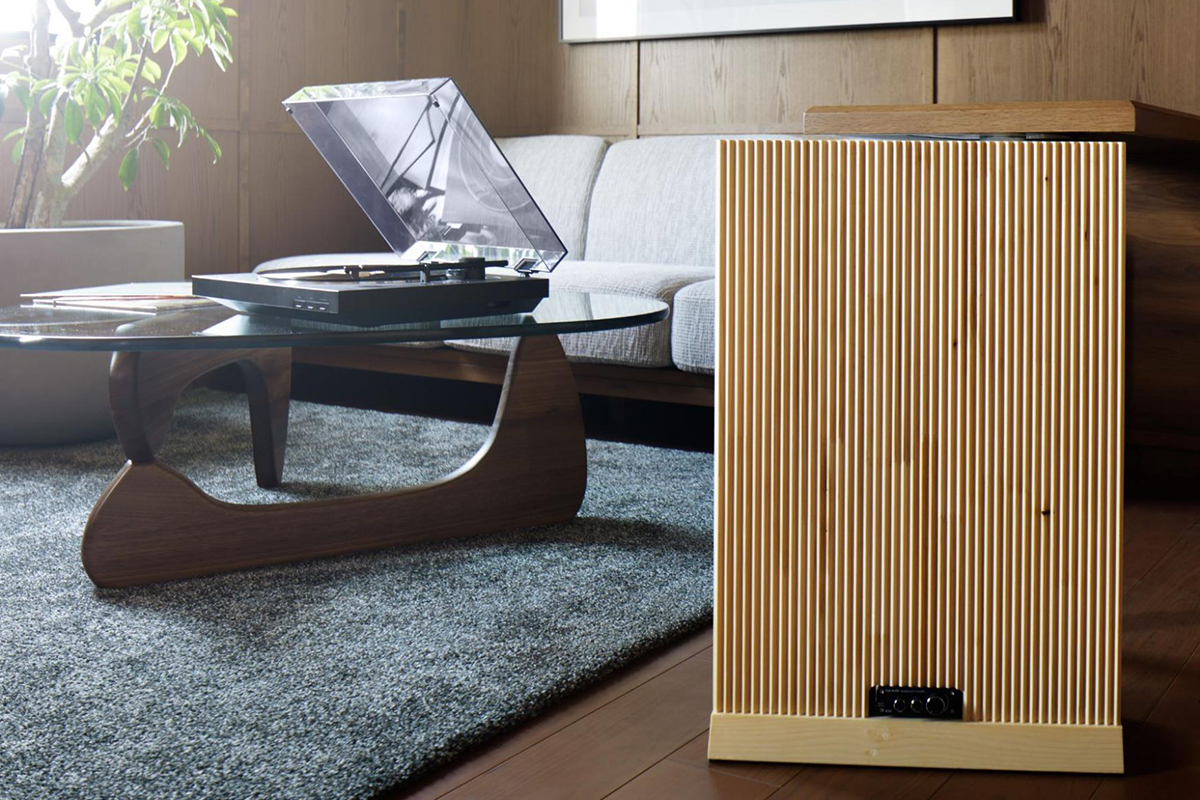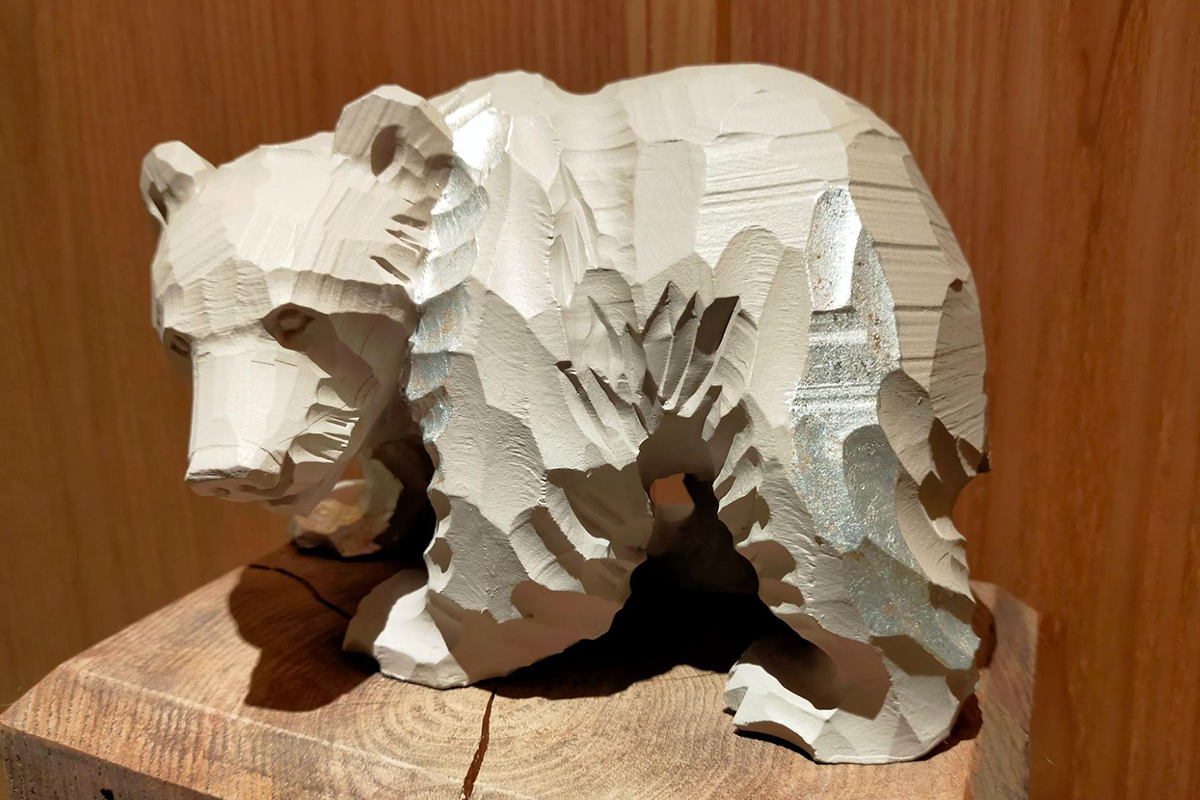 This conveniently located hotel is a very pleasant place to stay and will certainly add a very authentic and special touch to your trip to Sapporo.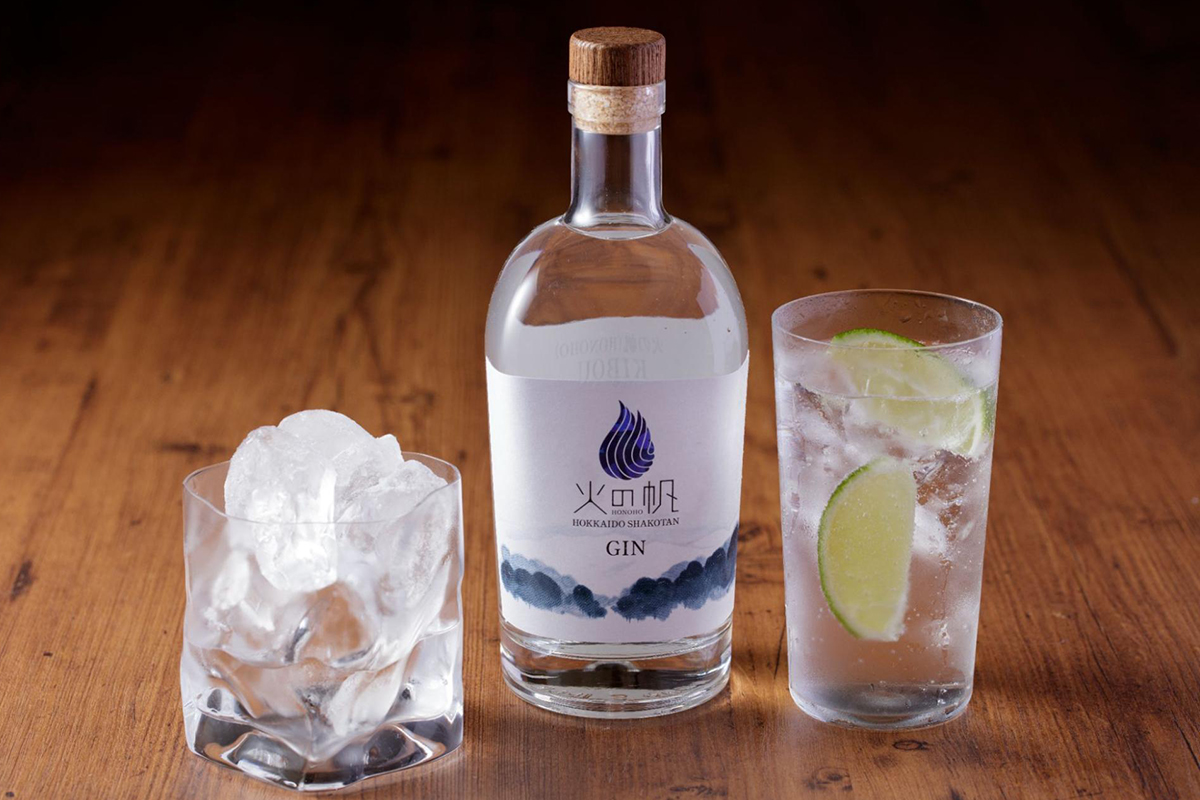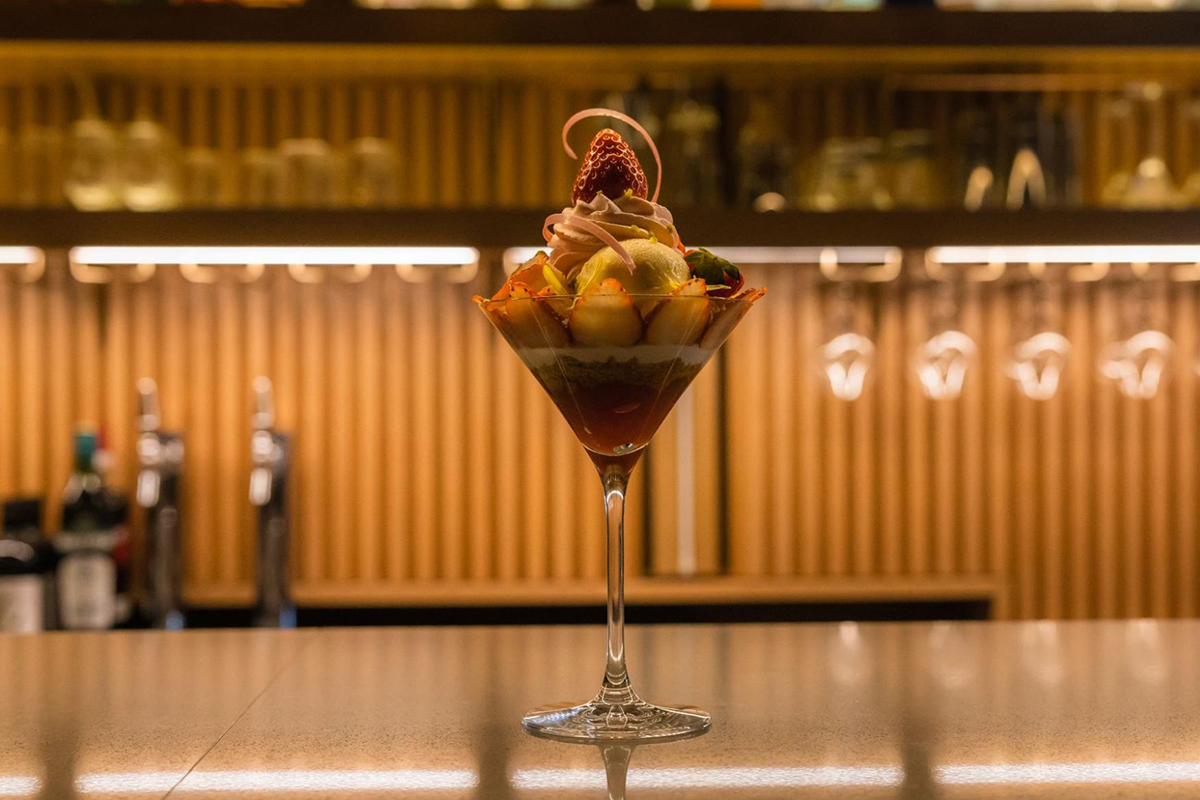 2- Move : Porocle, cycle sharing service
 Porocle, a non-profit bicycle sharing service (NPO), has been operating in Sapporo since 2011. On April 9, 2022, Porocle returned with a total of 400 new electric bikes, painted in beautiful red, placed in about 44 locations -designated parking spaces- throughout the city. You can rent one of these bikes 24/7 and, unlike a regular bike rental, you don't have to return it to the place where you rented it, you can start at any port and end at any port. You can use it with a Day Pass (1,650 yen), which is a very convenient option for sightseeing. For citizens, there is also a membership system that requires registration. As I mentioned before, Sapporo was built on a grid plan, which makes it an excellent city for cycling, with its wide pavements and long avenues, not to mention that the city is flat!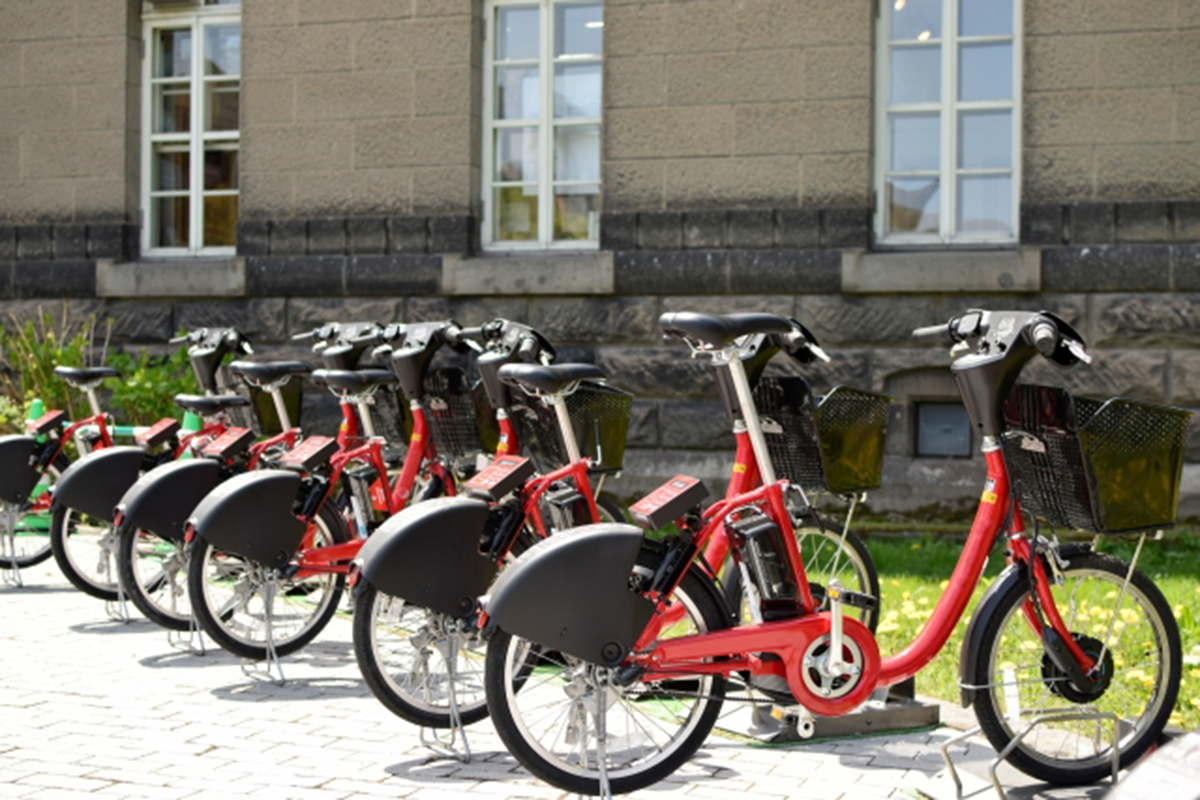 Cycling is the best way to experience the coexistence of nature and the city of Sapporo, and to discover the city's many charms such as its culture, history and lifestyle. Sapporo is a green city, with many parks and it is so much more pleasant to ride a bike than to travel underground. Porocle works with hotels, tourist offices and tourism-related organizations to promote active, mobile and environmentally friendly tourism. 
3- Eat : Agriscape, a "circular" farm restaurant
 Agriscape started with the aim of raising awareness by questioning and proposing ideas on the future of agriculture in Japan, which is facing several problems: the aging of farmers, the lack of successors, the degradation of farmland and the decline in Japan's food self-sufficiency rate. The "circular" agricultural restaurant Agriscape was created 5 years after this awareness, before the terms sustainability or SDGs became popular. Currently, there are 10 members, mostly housewives who look after the vegetable garden, the farm and the restaurant. Agriscape is located 20 minutes drive from the center of Sapporo, near Maruyama Park,  in the heart of nature. The goal is to create a sustainable space that is more than a restaurant, a community where people feel good and come together around a common passion: creating good food while respecting the environment and people. The restaurant is currently working on a collaboration to make cheese in the (very) near future (I hope so because as a French woman I love cheese and Eriko Kakudate (https://hokkaido-treasure.com/aboutus/kakudate/), with whom I had lunch, will not contradict me! )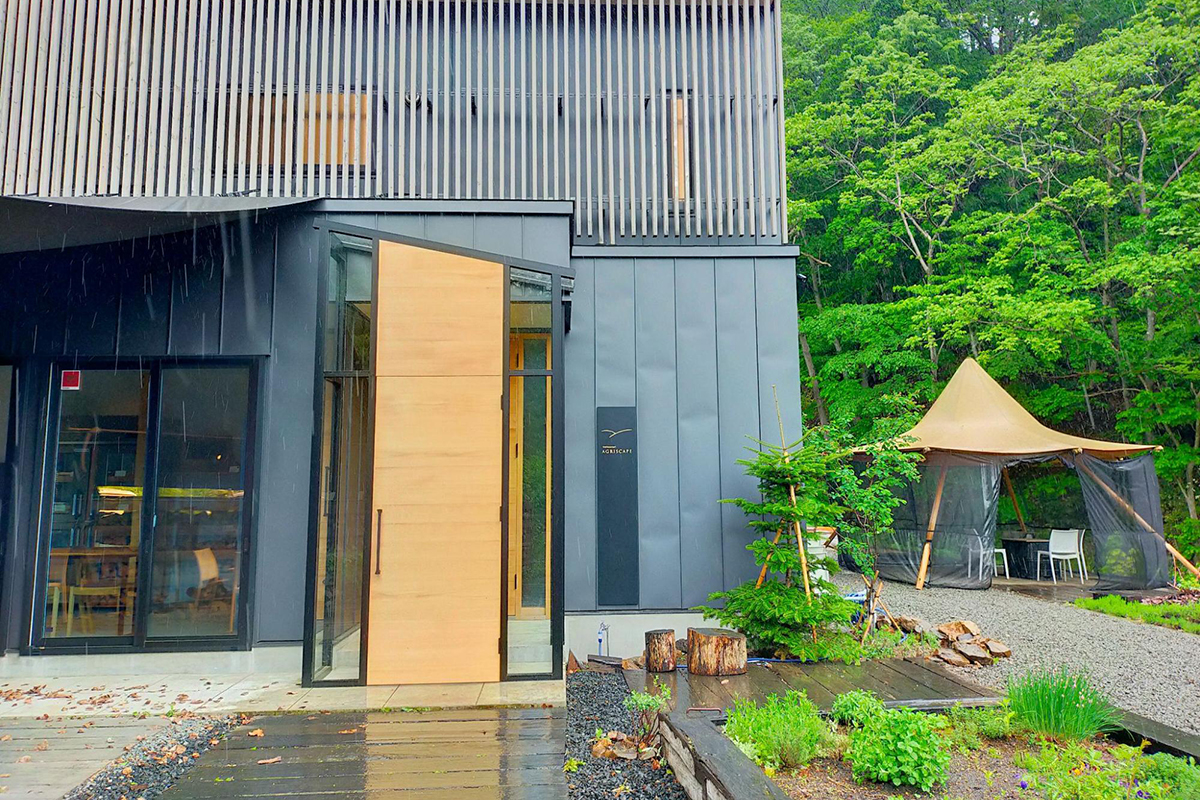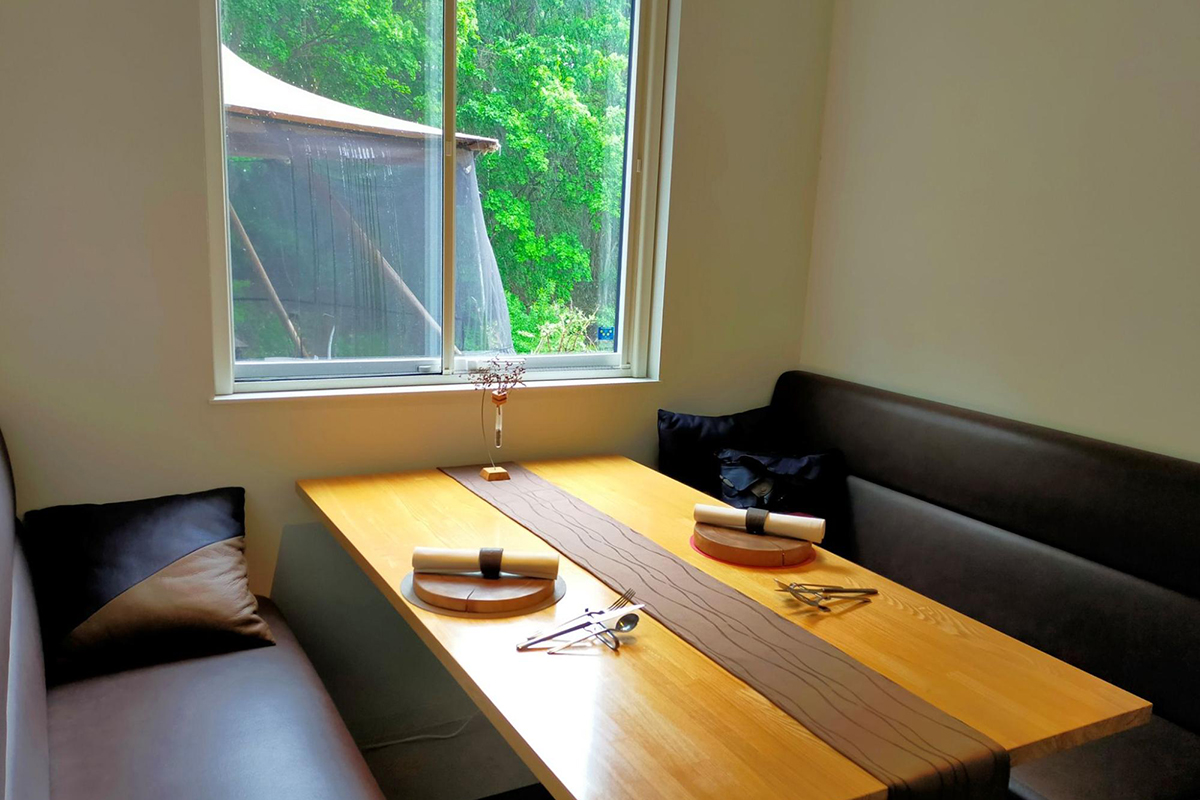 The restaurant uses fresh seasonal produce, such as wild edible plants from the mountains in summer, and mushrooms and watercress from a nearby stream in autumn. The restaurant grows its own vegetables and fruit on its two-hectare farm and keeps chickens, laying hens, black pigs, goats and bees.  Producing her own ingredients, the chef of Agriscape restaurant, Kaori Yoshida, does not want to produce waste and is therefore very creative in using the ingredients in their entirety, right down to the skin.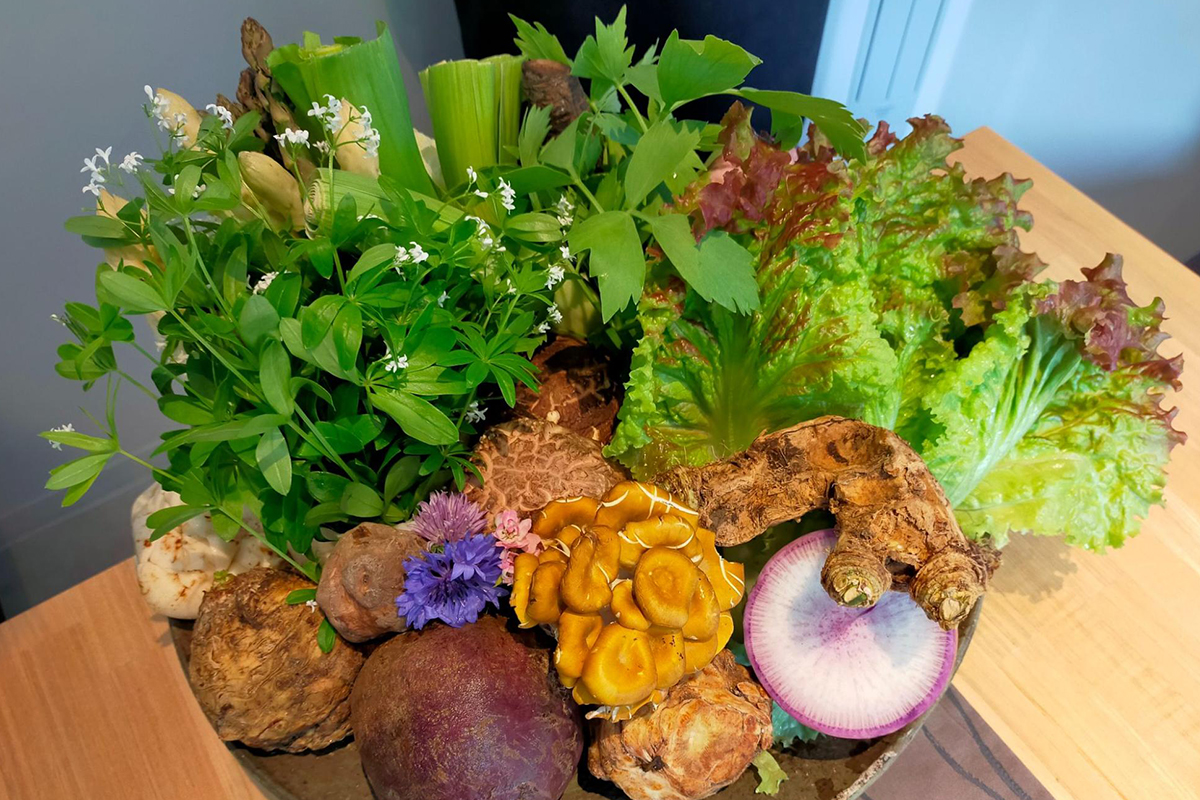 The very charming Kaori Yoshida herself came to show us the seasonal vegetables used for the spring menu. Seasonal vegetables of the basket:
・Pleurotus cornucopiae (kind of mushroom)
・Shiitake mushroom
・Leafy vegetables that grow in their greenhouse
・Asparagus
・Root vegetables that grow under the snow in winter
・Leek
・Onion head…
 We had the 4,000 JPY menu, which consisted of 6 plates and it was delicious. All the plates were very creative, light and with a very subtle balance of ingredients that made it very tasty. I will definitely be back, very curious about the seasonal autumn and winter menus!  They also have a beautiful drink menu which includes fresh juices, original vitamin soda, and herb teas. Eriko ordered an onion skin tea, and it was really good! I was less brave and chose a really refreshing vitamin soda.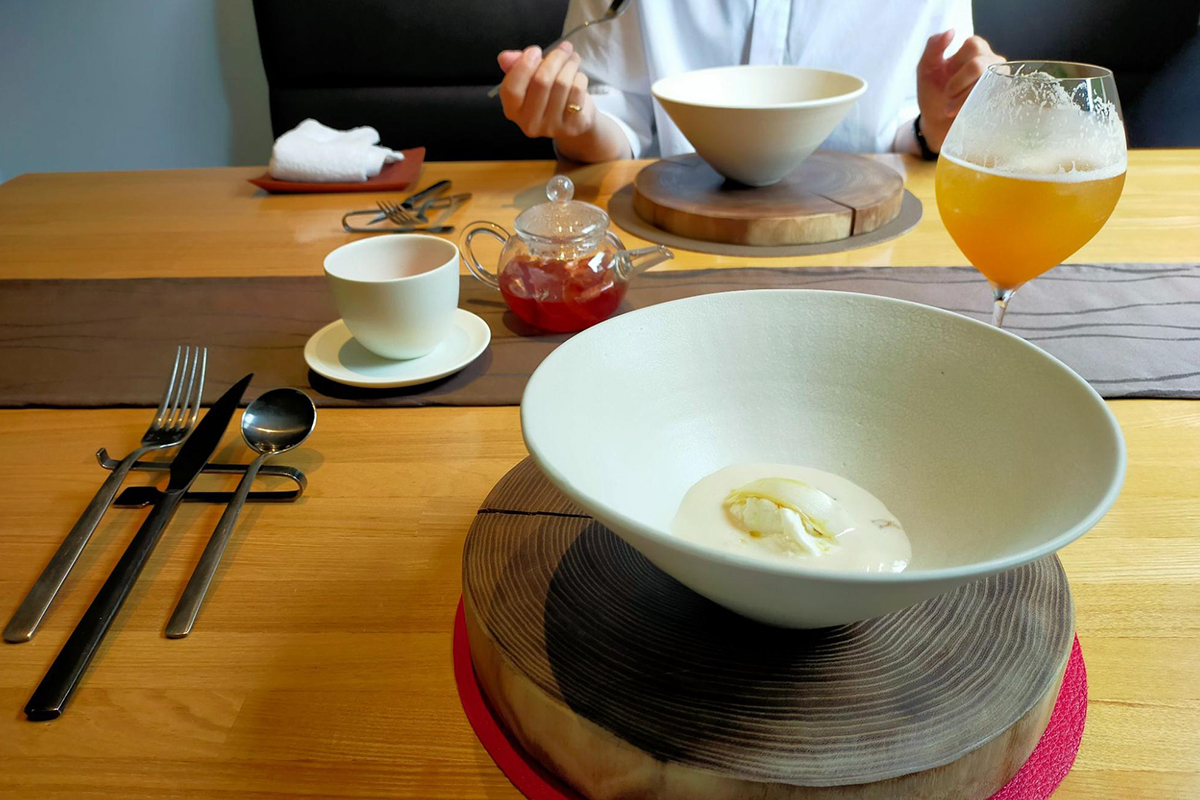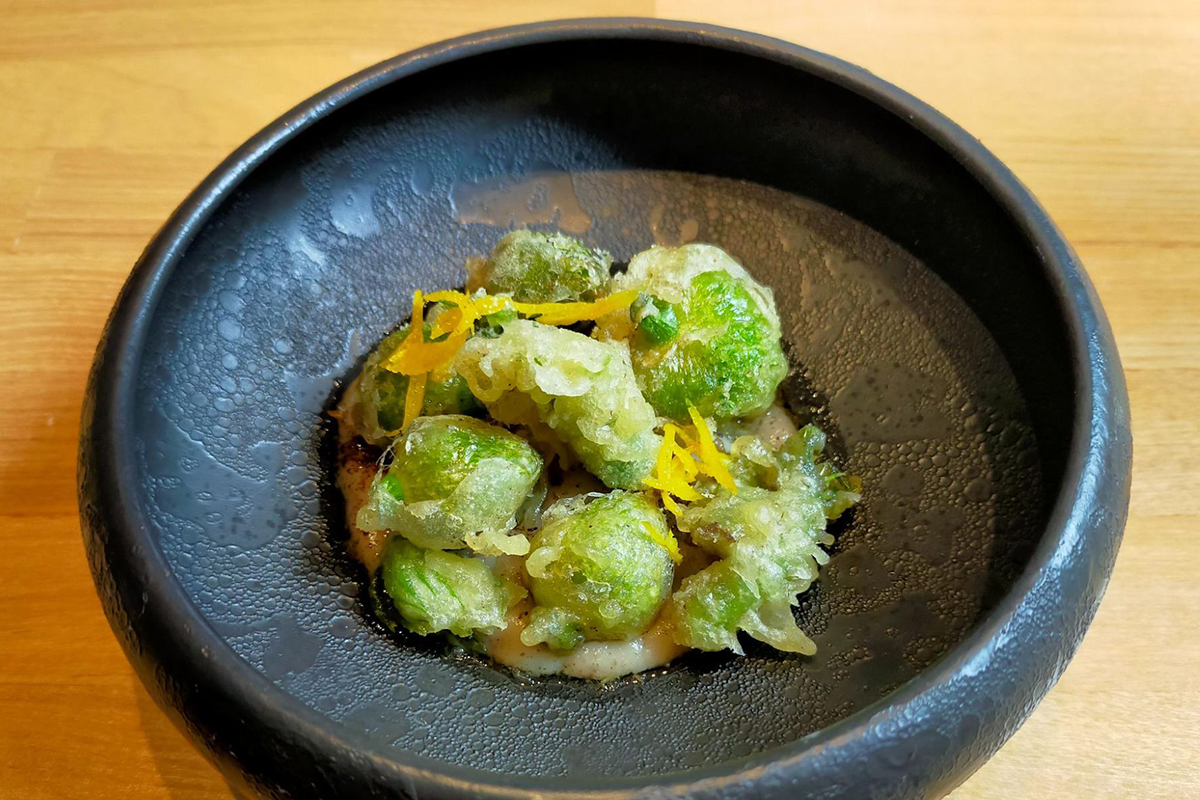 Our first course was a cold white asparagus soup, very light with a very fresh and subtle taste and to avoid any waste, the chef even used the asparagus skin to decorate the dish.
 The second course was onion head cooked with yuzu zest bringing a touch of yellow color to this green dish and a delicious béchamel sauce.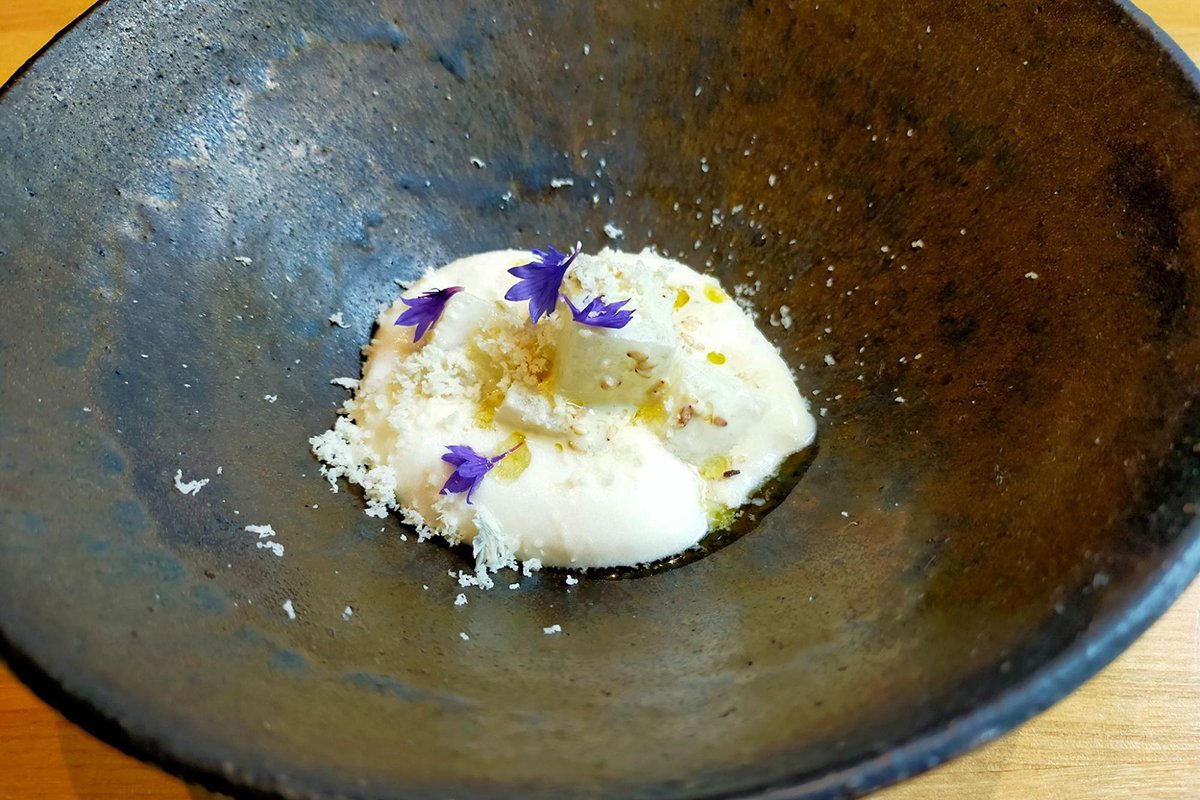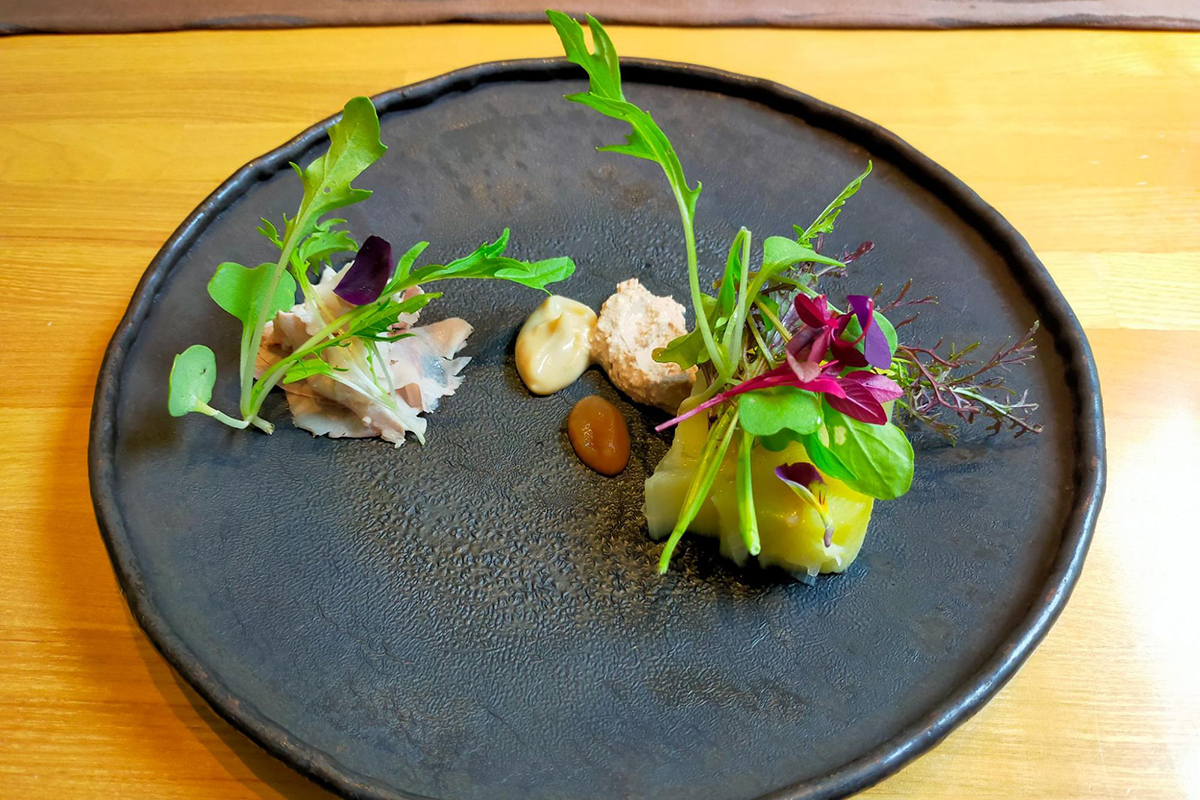 Next, we were treated to a very light mousse of daikon (Japanese radish) with lemon oil; a dish as elegant visually with those little purple flowers as it was on the palate. A daikon juice with honey completed this third course. 
 The fourth dish was leek and minced pork. This dish was also very tasty, the leek was perfectly cooked and the leek bites melted in your mouth. The 3 sauces that accompanied this dish went perfectly with the leek and the minced pork. And what about the impeccable presentation of the plate!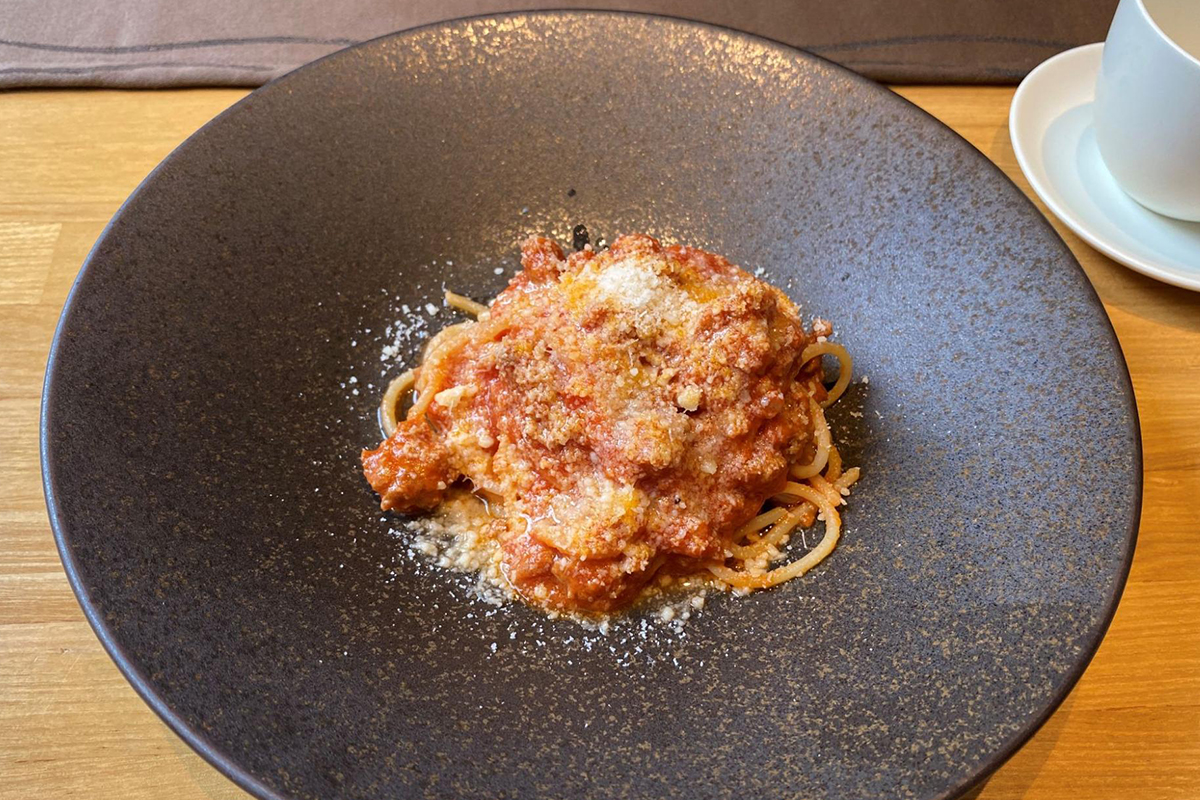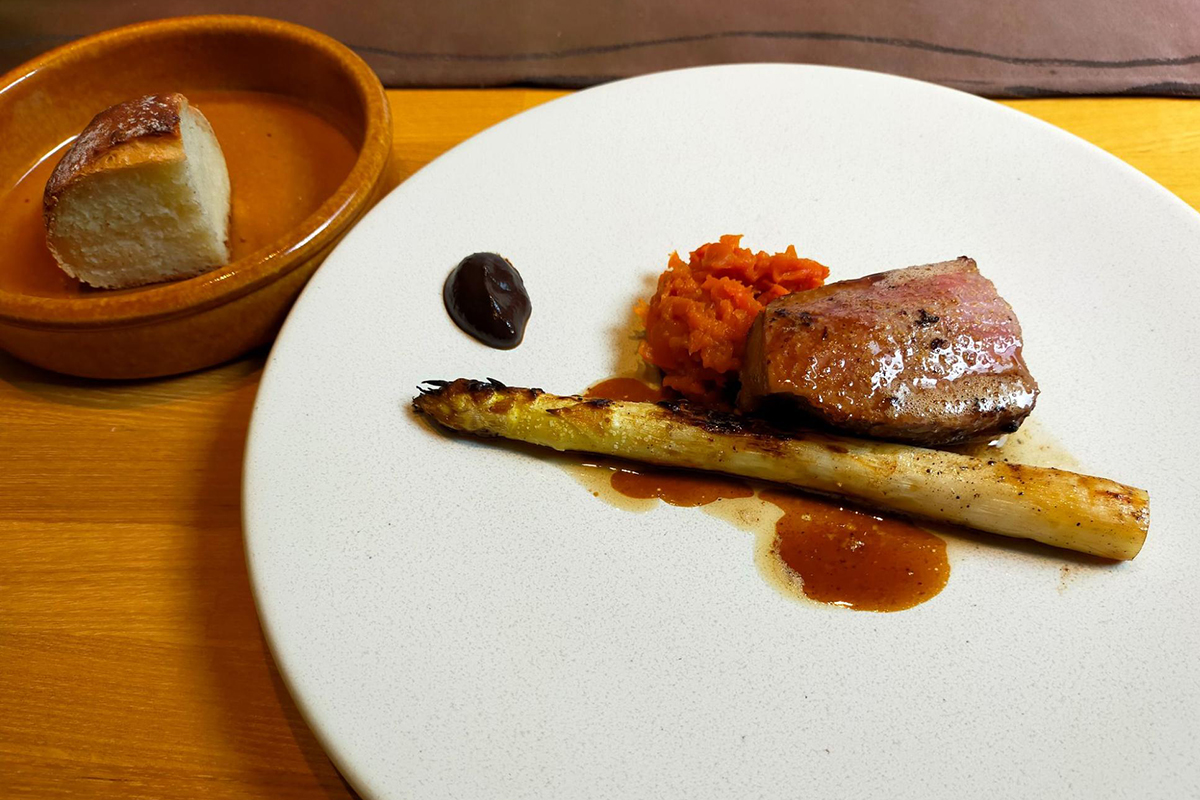 A plate of spaghetti bolognese with delicious meat and a very subtle and light tomato sauce preceded the main course: veal, a 2 month old male bought for only 500 JPY, a ridiculous amount of money but the farmers don't need the males. This veal was fed only on milk, so the meat is particularly tender and milky.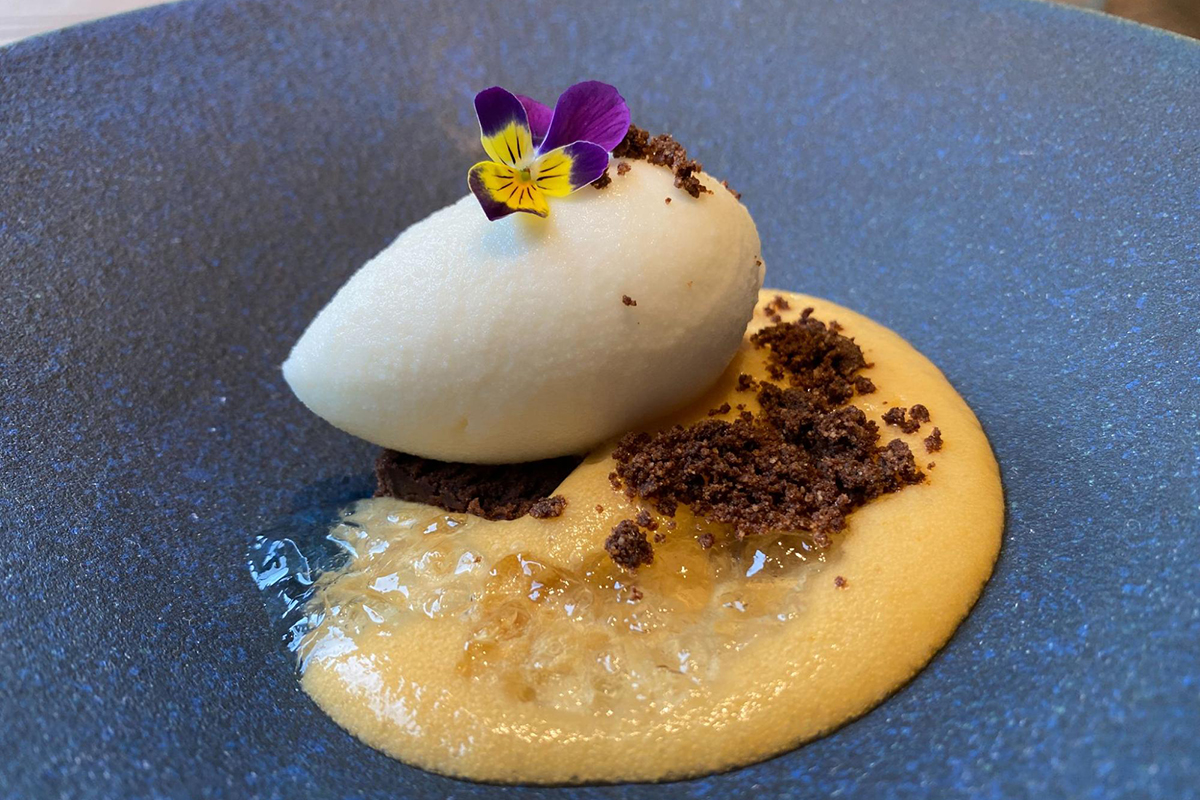 The dessert, a chocolate brownie with ice cream and orange coulis, was the highlight of this incredible menu!
 I would come back, very curious to discover the ingredients and flavors of autumn and winter.
4- Sustainable visit : The elegantly designed Moerenuma Park
 Moerenuma Park, 1,890,000 square meters of space, was designed by the world-famous sculptor Isamu Noguchi (1904-1988), one of the most important and beloved sculptors of the 20th century. He created not only sculptures, but also furniture, lighting, ceramics, decorations, gardens and architectural works. His work is full of contrasts: subtle and bold, traditional and modern, and has set a new standard in the arts. The construction began in 1982 and Moerenuma Park was opened in 2005.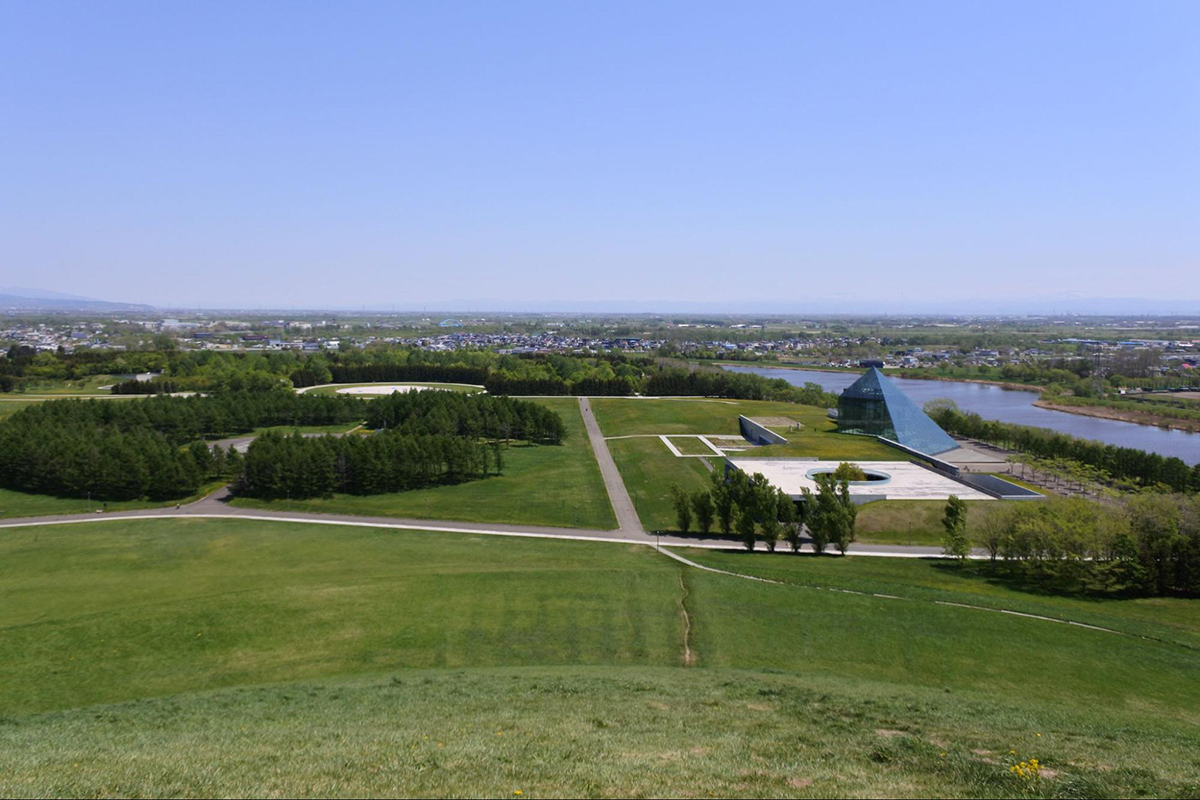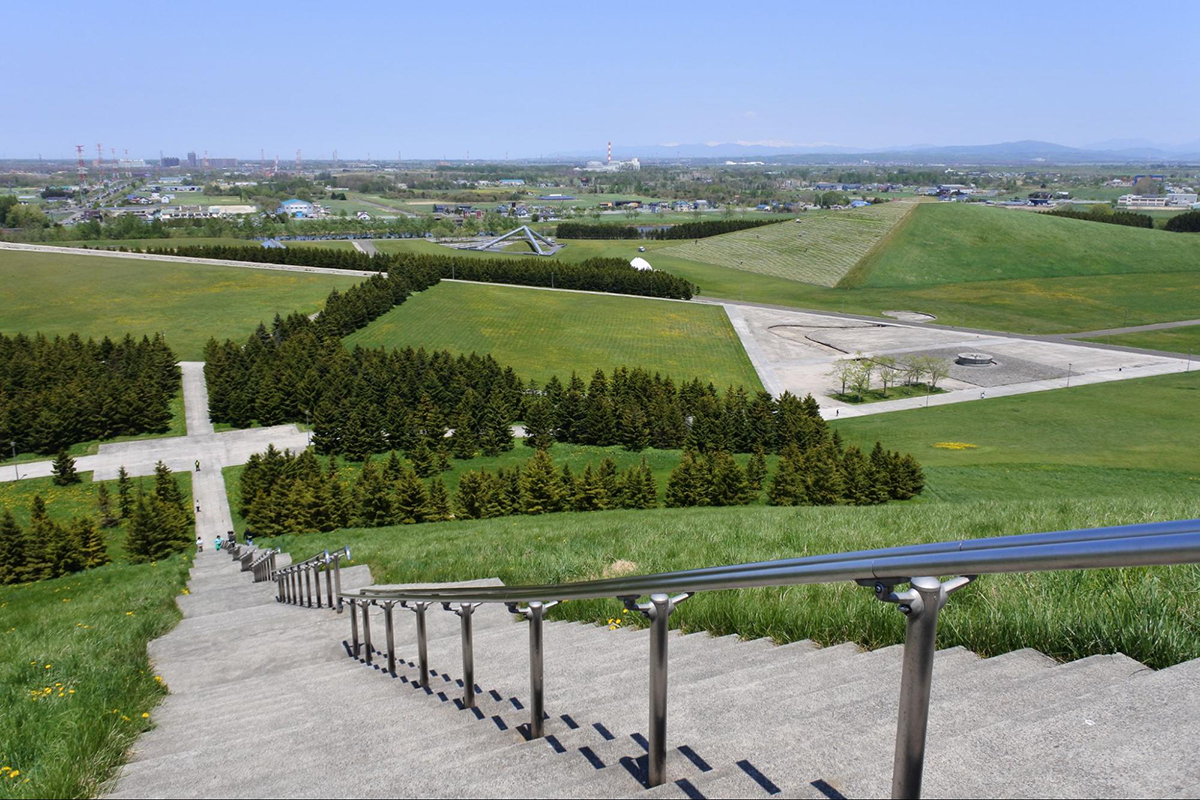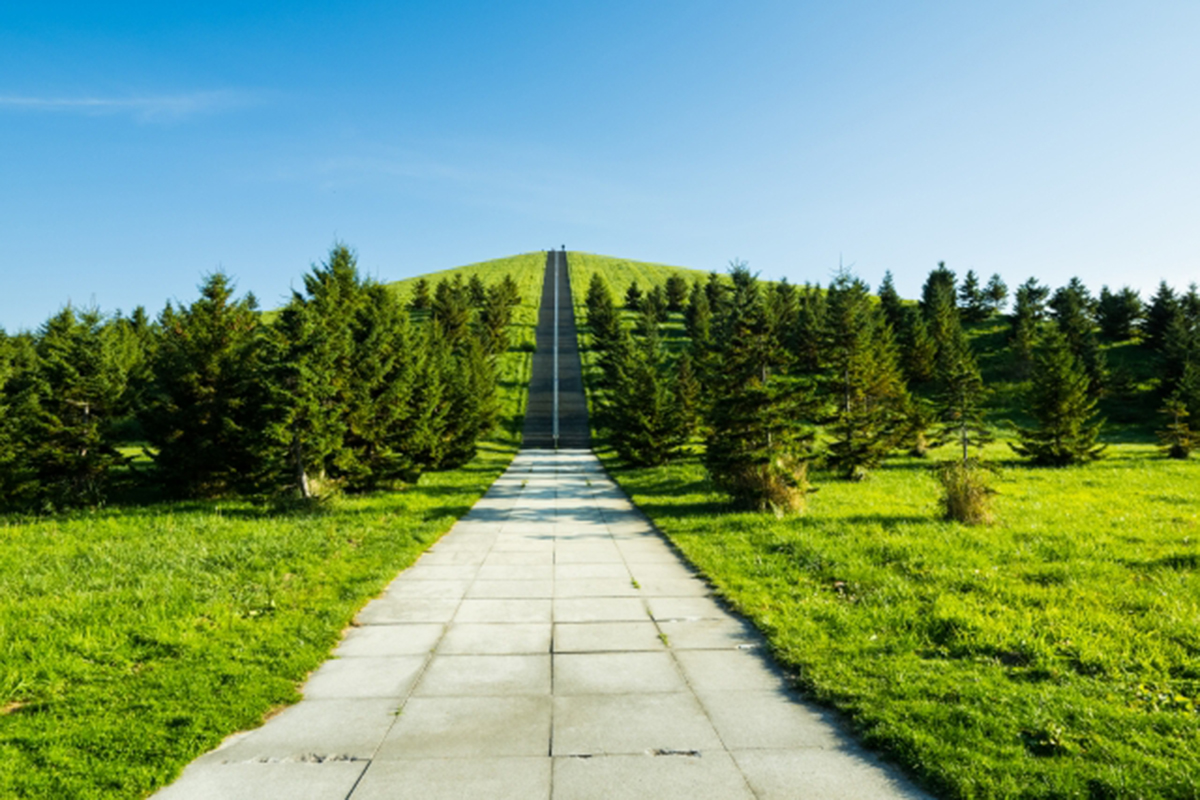 It was created as part of an urban green belt policy that combines the green spaces of Sapporo City into a loop. In urban planning, a green belt is an area surrounding a city where urbanization is prohibited in order to avoid urban sprawl. This concept was created in the UK in the first half of the 20th century. Prior to the construction of this beautiful and comprehensive park, the area had been used as a landfill site since 1979 and this reclamation of the space is a wonderful example of sustainable development.Moerenuma Park is living proof of Noguchi's belief that "art can serve to enrich people's lives. He has transformed the garbage dump, a negative legacy of urban life, into something beautiful, thus helping to improve the lives of city residents.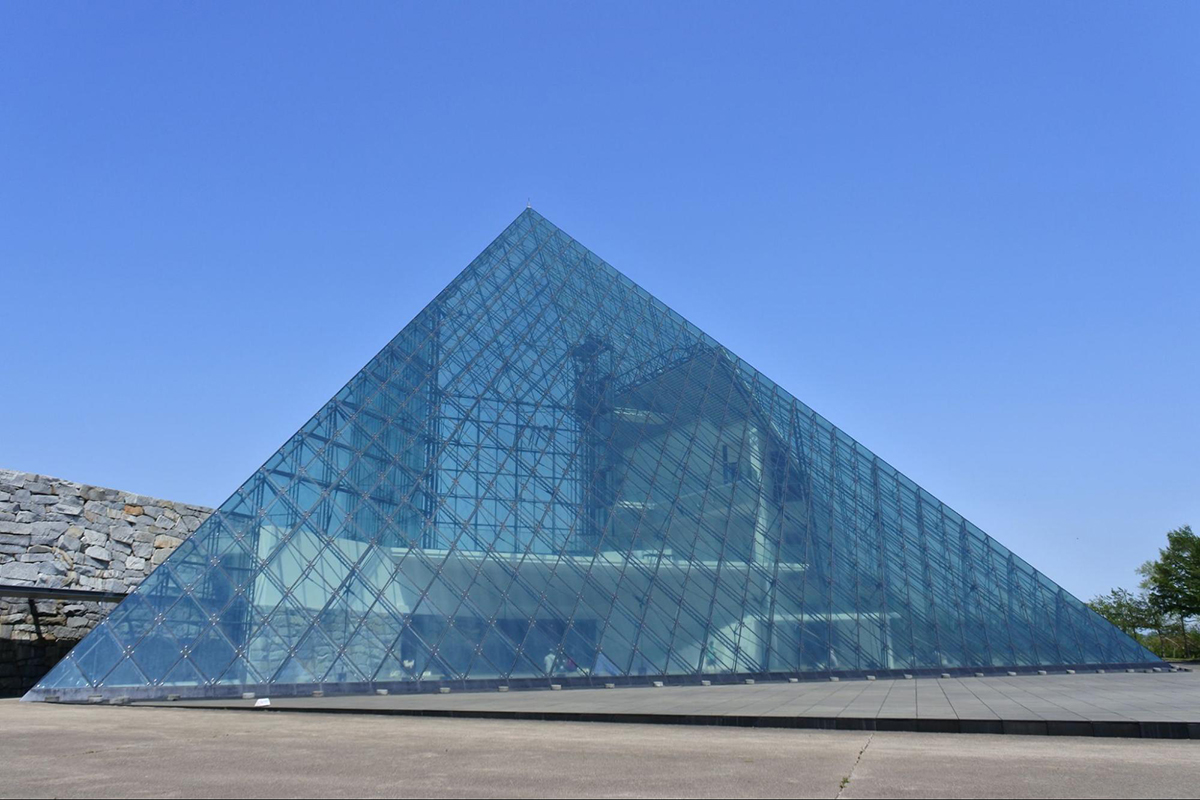 In addition, its central facility and symbol, a glass pyramid, nicknamed "Hidamari" ("sunny place" in Japanese), located near the eastern entrance, has an air-conditioning system to cool the interior in summer, which uses snow stored in a nearby building in winter. The use of this natural energy, unique to Hokkaido, is another example of sustainable development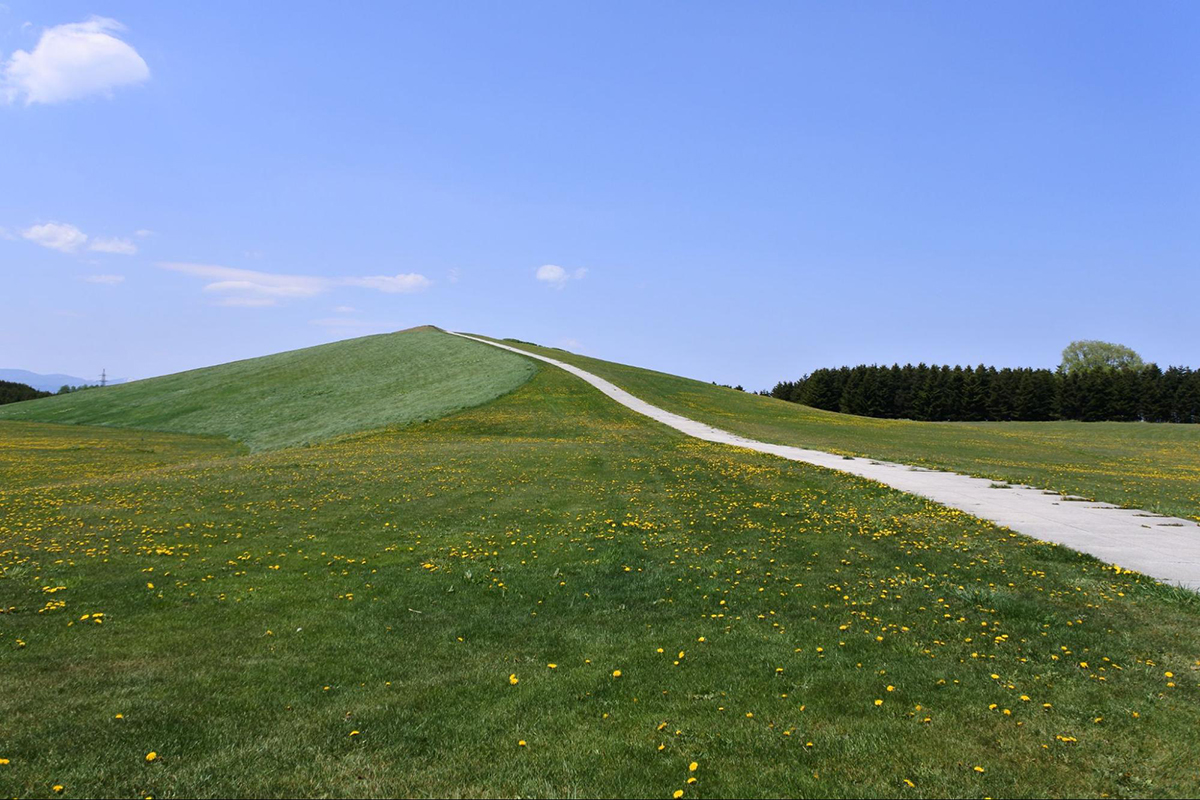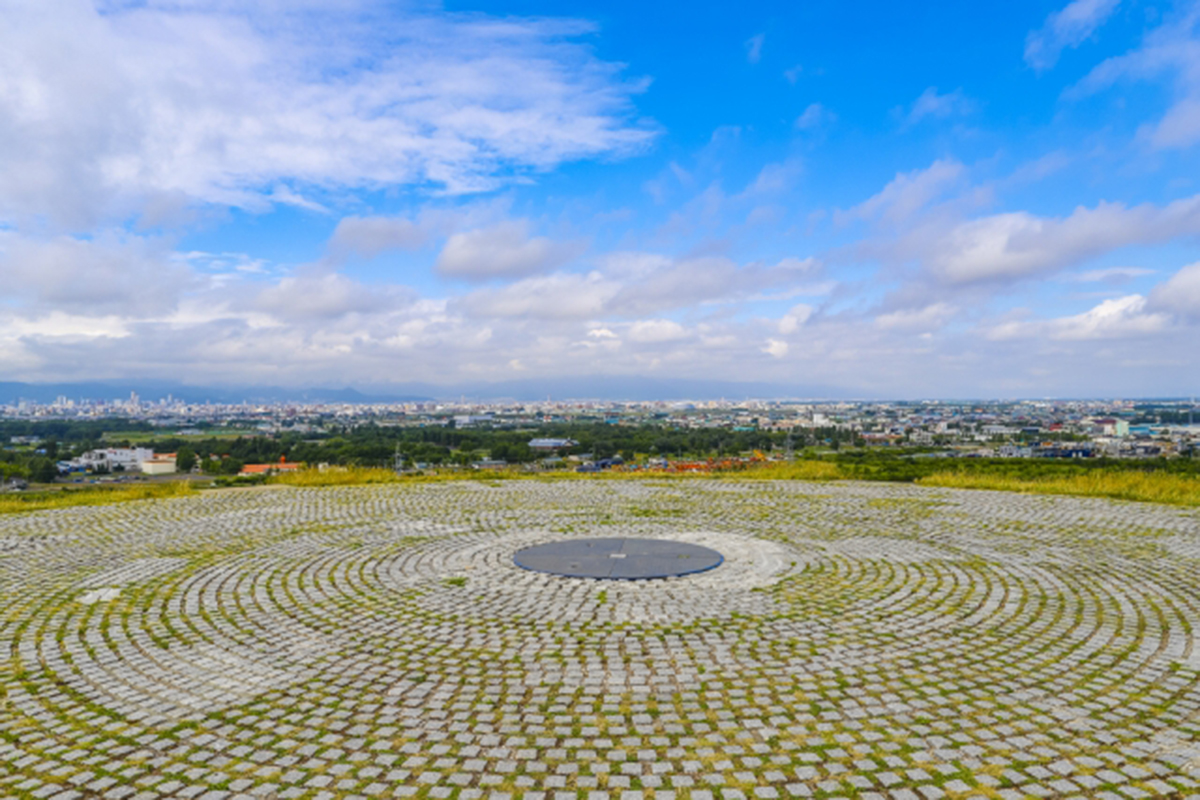 Isamu Noguchi designed the site around the concept of a "park as a complete sculpture". In addition to enjoying the fusion of art and nature, this green space was also designed to take full advantage of the four seasons, as the celebration of the seasons is very important in the hearts and culture of the Japanese, with cherry blossoms in the spring, a pool to cool off in the summer, beautiful autumn leaves in the autumn, and skiing or sledding in the winter.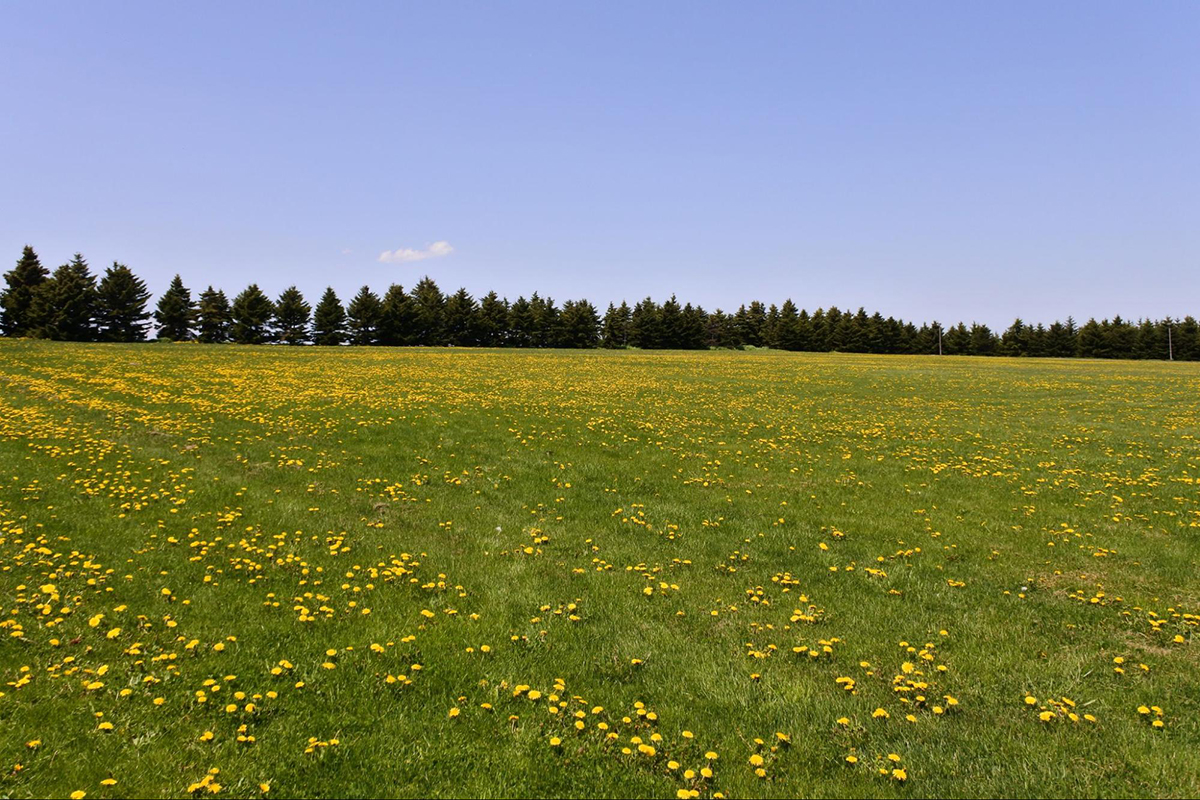 I visited the park by bike, a very pleasant 16 km round trip from my home, and I was very impressed by this huge flat green space where Mount Moere stands imperiously. It is the focal point of the whole site from where one can not only overlook and admire the whole park where curves and linear forms meet, but also the whole city on a 360 degree panoramic view. A carpet of dandelions covered the park and brought a nice touch of yellow to all this green. This park was designed to appeal to a wide range of people: the elderly who come for their Sunday walk, joggers, cyclists, Sapporo residents who come to walk their dogs, lovers who want to take beautiful couple photos, and families with their children who can stretch their legs by playing ball. I bought something to make an improvised picnic in the pyramid store which sells bento (japanese style lunch box), fried food, drinks and ice creams and sat down in the shade of the trees. For foodies, the French restaurant, L'enfant qui rêve ("the boy who dreams") serves French dishes that change according to the season.
5- Sustainable shopping: local honey from Sappachi and wood crafts from Chiemoku
 The NPO Sapporo Mitsubachi project, known as Sappachi, began in 2010 as a measure against the invasive presence of crows in Sapporo's public spaces (bees instinctively perceive dark colors as a threat, and attack and chase them). As the project came to life, the founders eventually decided to go with a more positive idea by placing bees at the center of a community that connects people. Sappachi's first two missions are to build a community that connects people of all ages and backgrounds and to develop the greening of the town – a movement to plant grass and trees in the city and increase the greenness. This is an important sustainable project because even though Sapporo is a very green city with Odori Park, Maruyama Park, Nakajima Park, the abundant nature of Hokkaido University and other green spaces along the Toyohira River for example, places where our little bees forage, Sapporo and the rest of Hokkaido are not exempt from the negative effects of climate change and are experiencing warmer days, whereas it used to be known for its cool days even in summer. The lack of greenery plays a role in global climate change, because when vegetation is reduced, wind is blocked and asphalt repels the sun's heat.  The concept of Sappachi is "Nature and people connected by bees"and beekeeping is done with the cooperation of the locals.As the very energetic Ms. Takushima said, "What we are doing is not letting the bees work for humans. We support their work and get honey in return."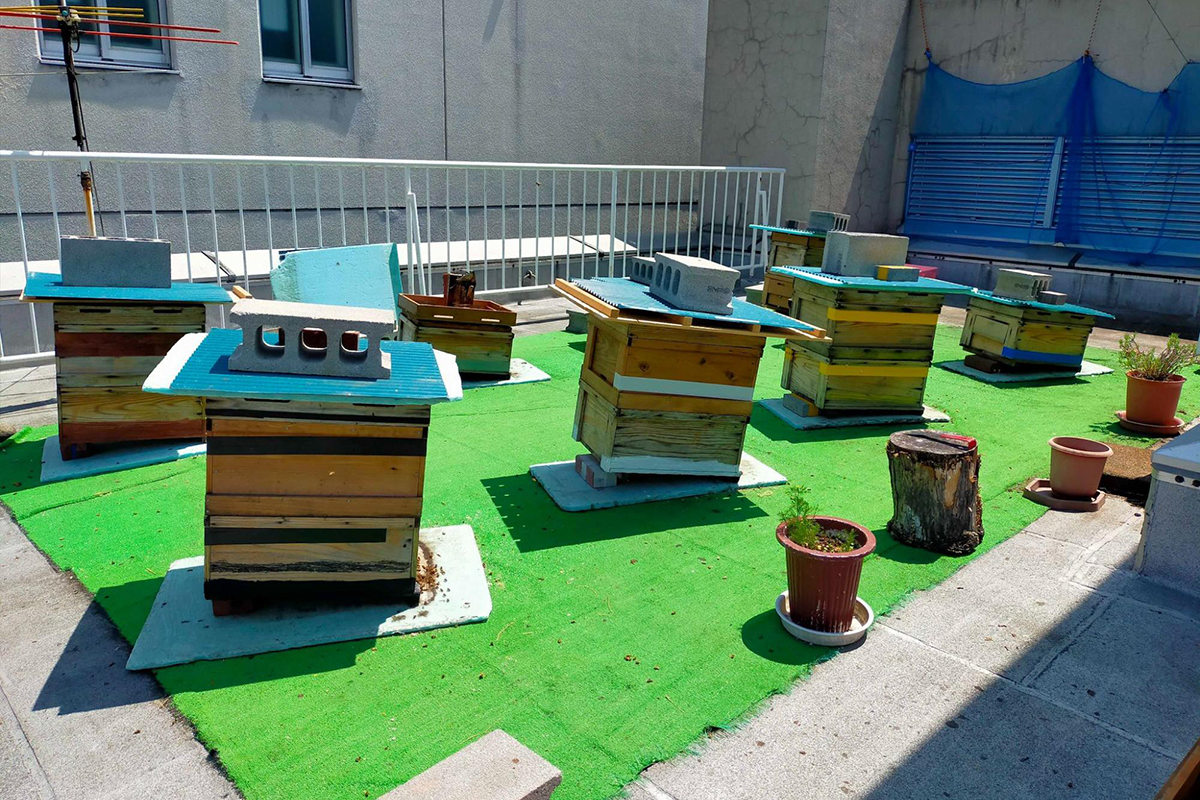 With my colleague Misa Kawata (https://hokkaido-treasure.com/aboutus/misa/ ), we went to meet this wonderful community which consists of 11 employees, about 20 helpers and about 50 members who donate and support the project financially. We were welcomed by the very nice Mrs. Honda and we took the elevator to the 7th floor of a building on Odori Street. For two hours, we became beekeepers in the bud! Equipped with a veil hat and gloves, we were able to approach the 8 hives which were smoked (to calm the bees).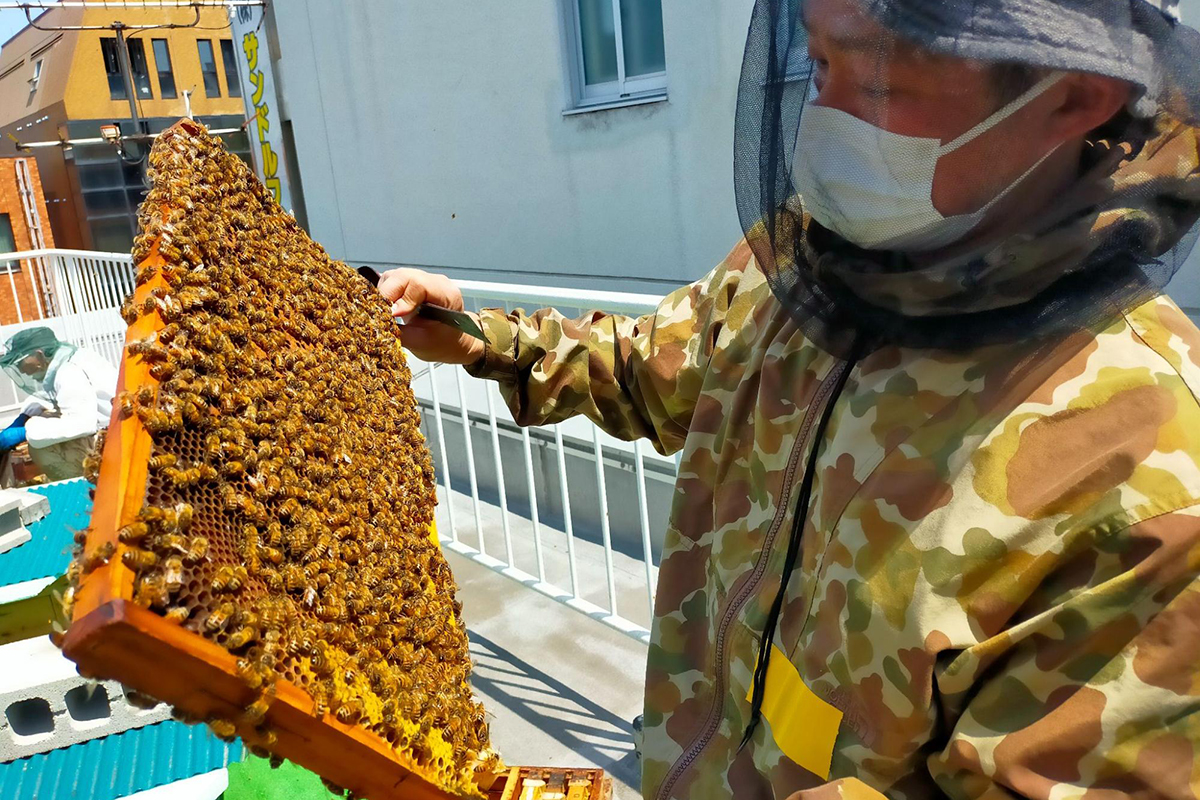 I haven't admitted it yet, but bees and I are two… I have been very afraid of them since my childhood (as a child, I was afraid of any outdoor meal and I had real panic attacks in their presence!), but seeing this dozen of people working quietly around the hives, houses of 100 000 bees, calmed me down and little by little, thanks to the kindness and the wise advices of the members of the community, I was able to approach the hives to learn more about these little creatures, their world and the honey. Misa, in her element, was stung just two minutes later, but that didn't stop her from happily returning to the hives to see what was going on. With great kindness, Mr. Sakaki, one of the founders, convinced me to approach and hold one of the frames.
  It was a real challenge for me: all those bees buzzing around me and countless of them in my hands! But also a very nice experience that reconciled me with the bees (which, let's be honest, had done nothing to me!) and I was delighted to hear a lot of very interesting little anecdotes, like the fact that from one hive to another, the bees that inherit the character of their queen (there is only one queen per hive which counts about 10 000 workers) do not have the same character and can be calm or, on the contrary, aggressive. These little creatures, essential to the proper functioning of our world, live only about 40 days (1 to 4 years for the queen) and their role in the hive is well defined. It is only during the last week of their life that they leave the hive to forage from flower to flower! The bees travel a 3-4 km radius around the hive, collecting sweet nectar from roadside trees and seasonal flowers, and then return to the roof of the building. During its short life, the bee collects only a teaspoon of honey. This precious honey has different colors, scents and tastes depending on the flowers blooming at that time. Sappachi's beekeepers tend the hives from late May to late September and harvest about 30 to 40 liters of honey per hive. During the winter, the bees sleep, trying to survive the cold, with the worker bees surrounding the queen to keep her warm. Sappachi honey is the perfect gift to take home because you can feel the summer atmosphere in Sapporo condensed into a small jar.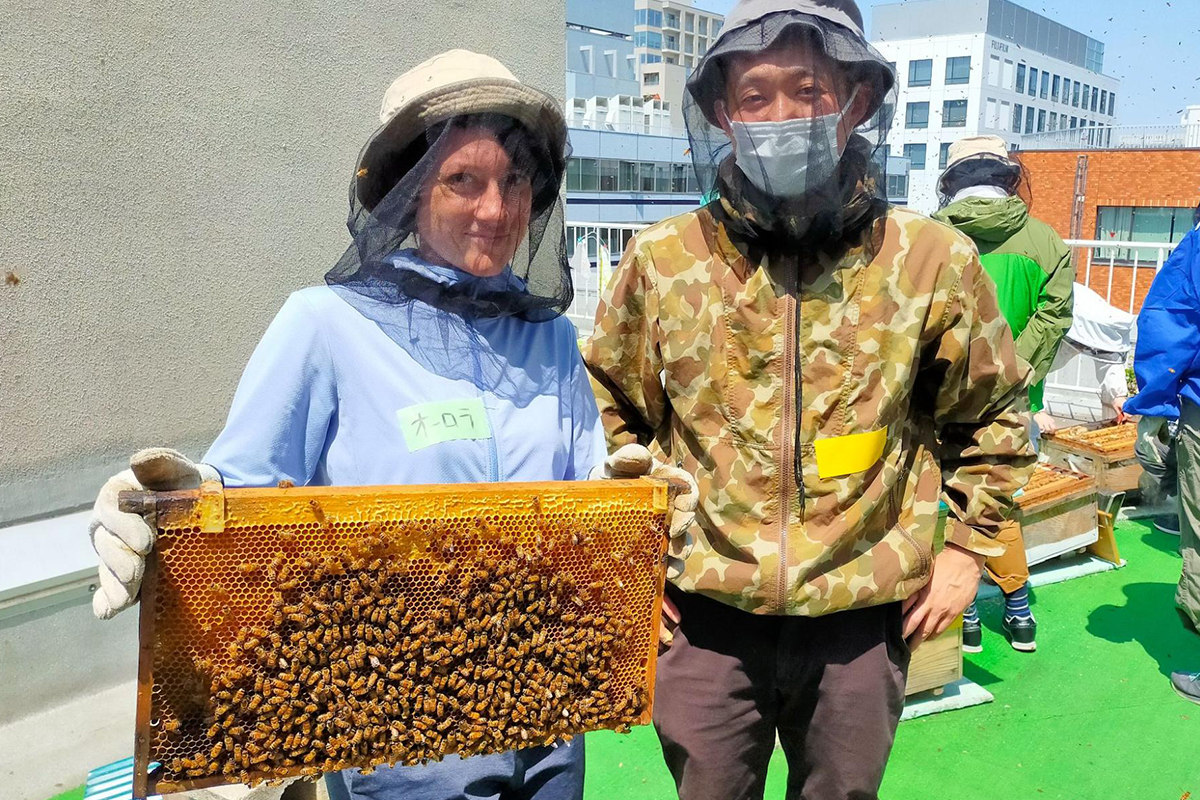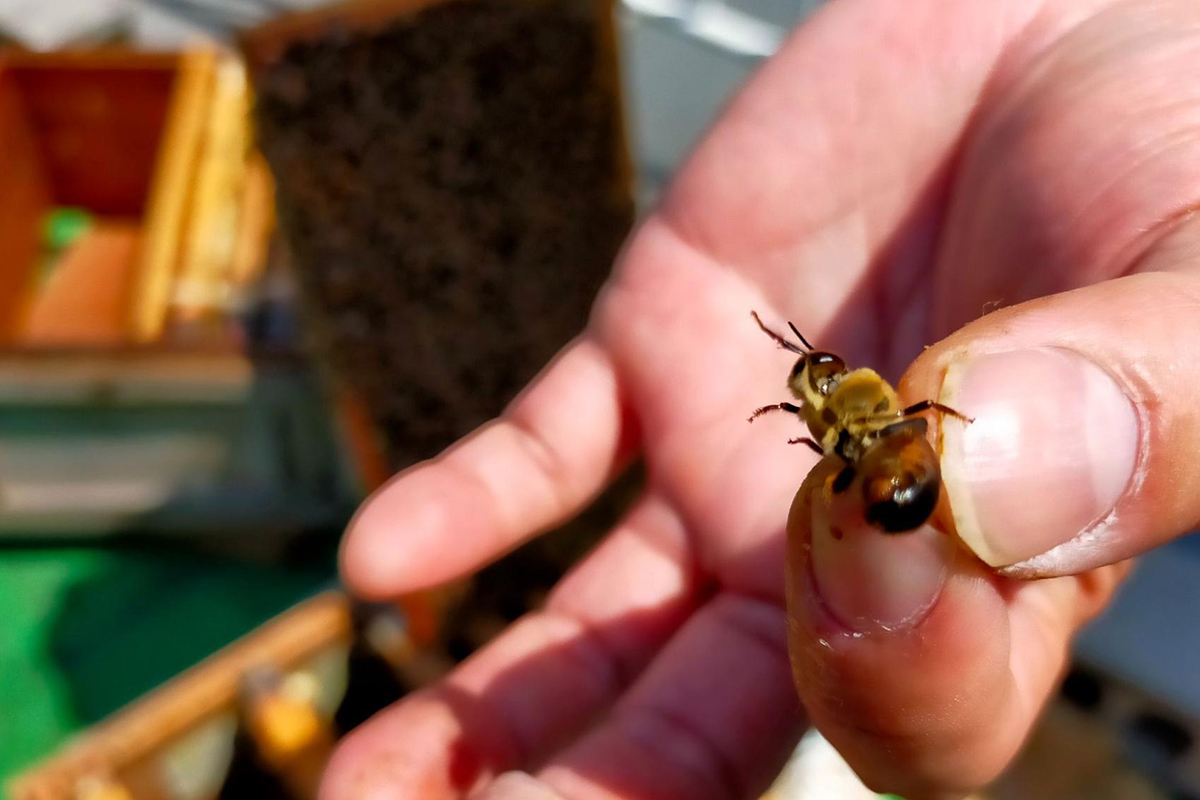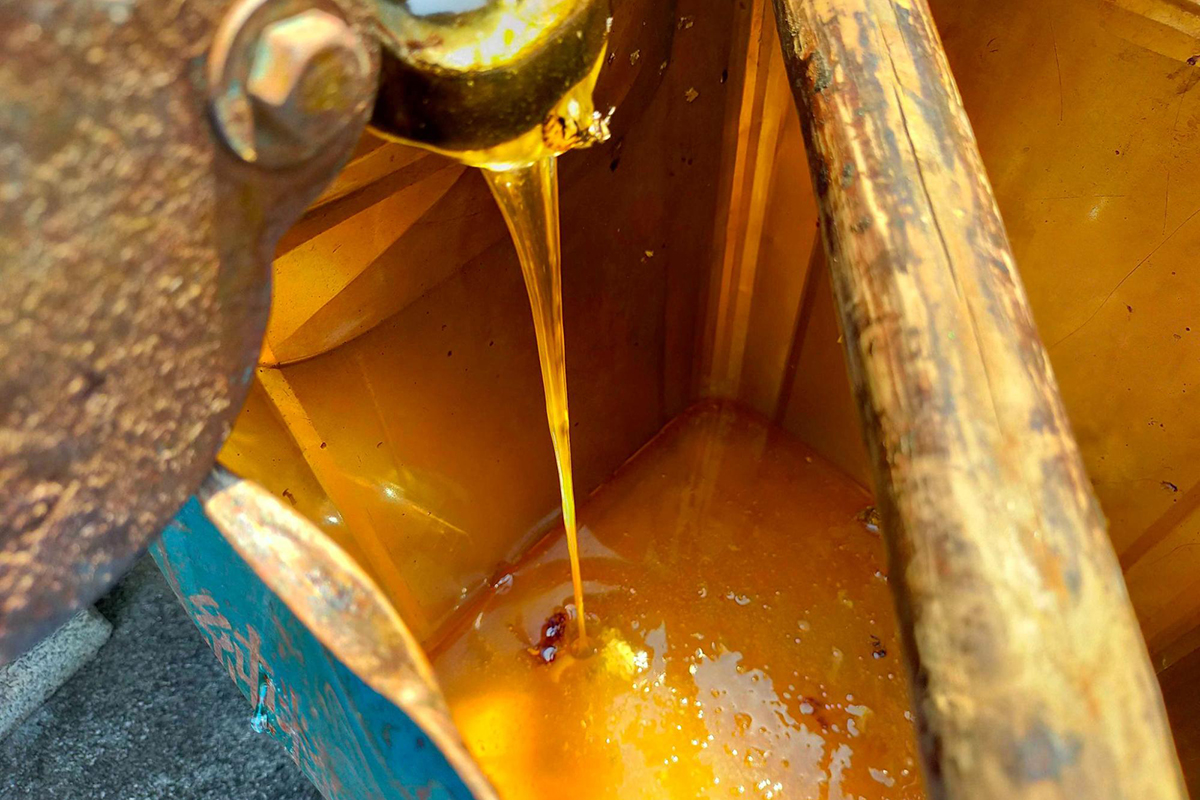 The citizens of Sapporo have developed and continue to develop many other projects that are in the line of sustainable development and it is not difficult to buy souvenirs in stores involved in sustainable development or Fair Trade.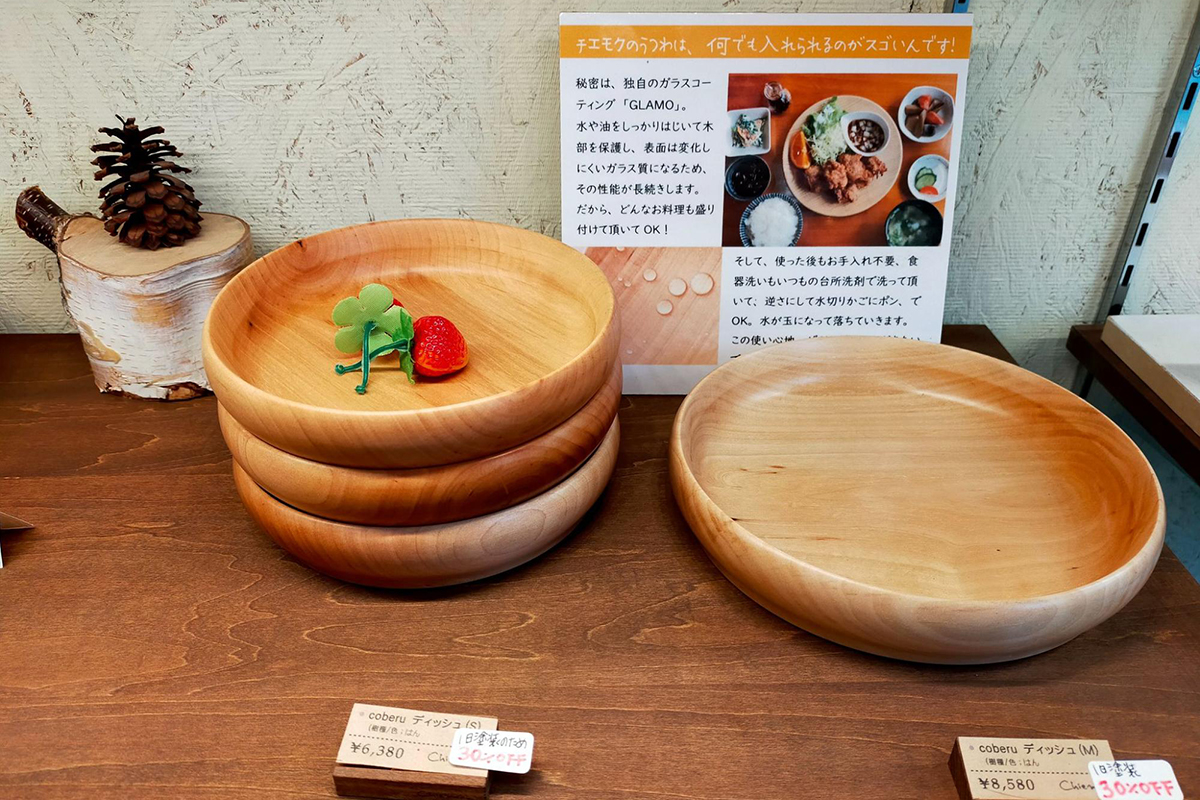 Chiemoku is a small wood craft workshop in Sapporo that uses mainly wood from the forest town of Shimokawa and actively participates in forest growing by planting trees every May since 2008 in Shimokawa forest which carries out a recycling-type forestry with a cycle of 60 years. They have also made donations to the Forest Creation Fund since 2007. They have created a beautiful collection that makes full use of the characteristics of the Hannoki tree, which has been little used until now despite the fact that it grows faster than other hardwoods because it is light and soft.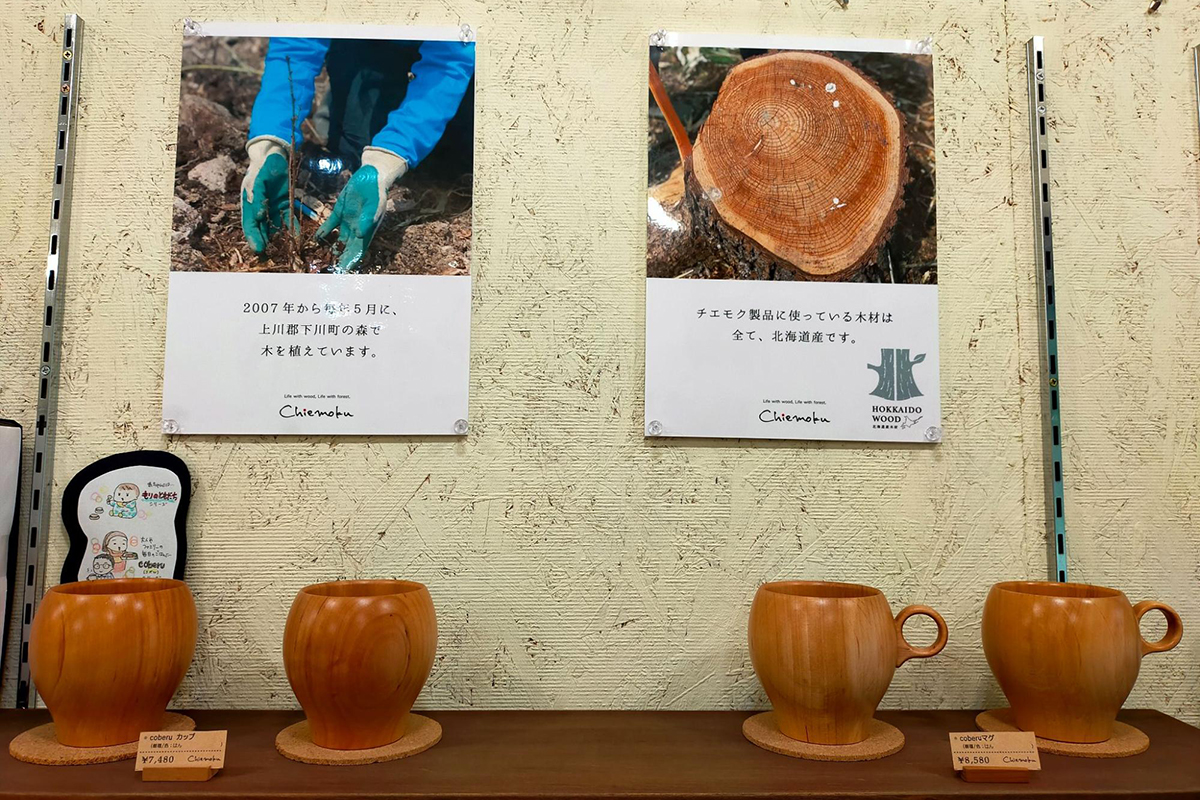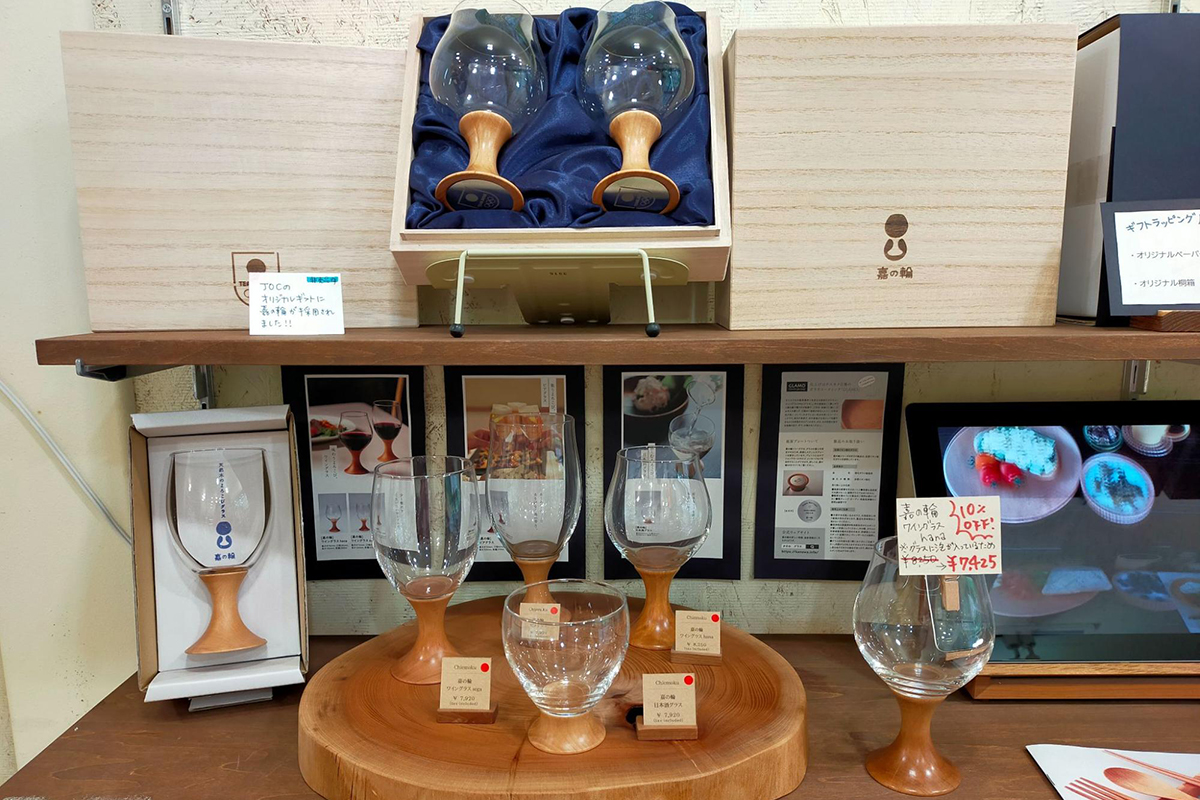 I hope that by reading this article you have learned a little more about responsible tourism and the fact that it is entirely possible to travel in a sustainable way. And above all, I hope you have only one desire: to come and visit Sapporo and discover all the places that I have presented to you. To read more about our wonderful Sapporo, I invite you have a look at  the two other articles in our column dedicated to Sapporo: Sapporo: A Metropolis Close to Nature (https://hokkaido-treasure.com/column/020/) and, The Capital of Hokkaido (https://hokkaido-treasure.com/column/008/).