Furano, located in central Hokkaido, the northernmost island of Japan, about 115 kilometers (about 71 miles) from Sapporo, is known for its spectacular lavender fields spreading across the hillsides like colorful carpets and for the breathtaking views from the valiant Mount Tokachi (Tokachidake in Japanese).
Famous flower farms―such as Farm Tomita, Saika no Sato, and Kanno Farm―dot the scenery along the National Route 237, of which the part passing Furano city is also known as The Flower Road ('Hanabito no gaido' in Japanese, literally 'Highway of the flower viewers' in English). Popular sites to visit in Furano are Fukiage open-air onsen hot spring bath, restaurant Kumagera that boasts top-class local cuisine, and Rokugo no Mori, a forest that was used as a setting for the super popular TV drama 'Kita no Kuni kara' (meaning 'From the northern country' in English).
In this blog post, you can find travel inspiration to help you to design your Furano private tour and read all about the city's lavender fields and other attractions.
You might also enjoy reading about Biei, the neighboring village of Furano, in our blog column Biei: The village of patchwork hills.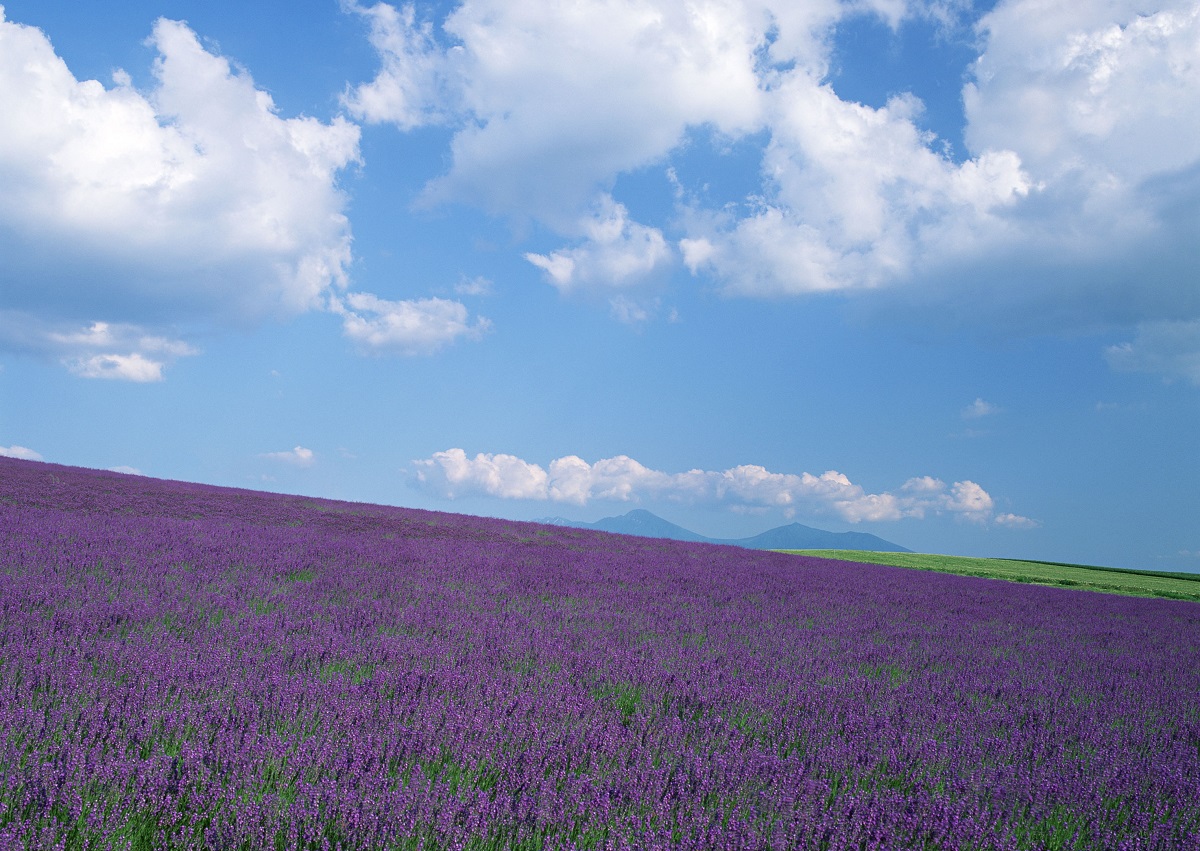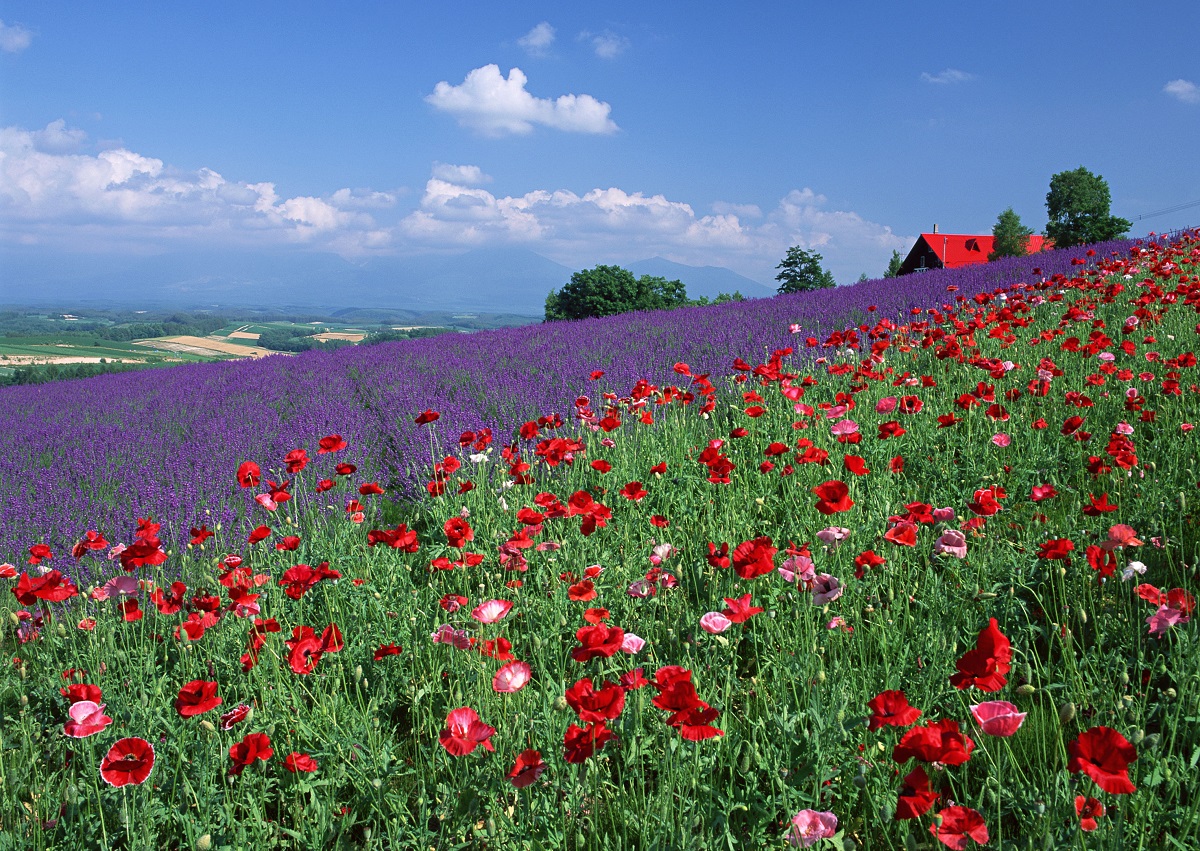 City of Furano is located in the exact geographical center of Hokkaido, hence the nickname 'Heso no Machi' or 'Navel Town' in English. Settlers from Japan's main island Honshu arrived in the area in 1897 and the village of Furano was established. The village grew bigger, especially after a railroad connection from Asahikawa―the second largest city in Hokkaido―was opened in 1900. Now you can get to Furano by a train or a bus in about two and half hours from Sapporo, the capital city of Hokkaido, but with a private tour and a private driver it's of course more comfortable and freer and also a little bit faster.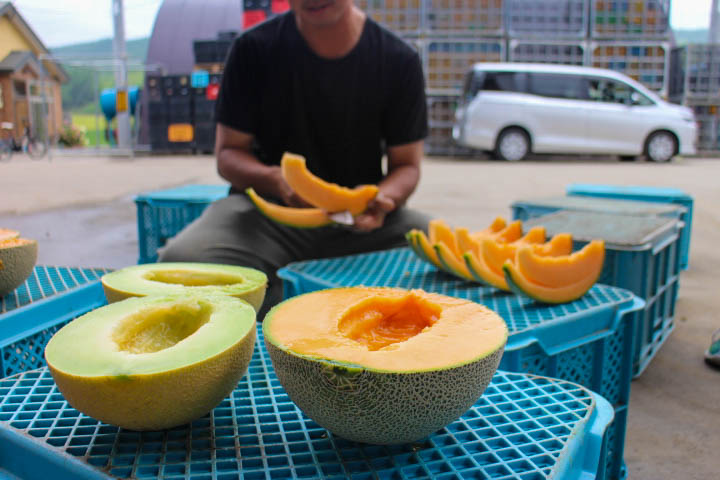 Furano produces different kinds of agricultural products, from onions to carrots (the biggest carrot producer in Japan!) and from dairy products to grapes, which in turn are sold either fresh or processed, for example into different kinds of jams, wines, and cheeses. Furano is especially famous for its melons, which can of course be bought in Sapporo or other parts of Japan, but they taste best eaten fresh from the field.
Furano has been gaining a lot of media exposure in Japan and it's know especially for being setting for several TV dramas, such as 'Kita no kuni kara' ('From the northern country'), 'Last Christmas', and 'Yasashii Jikan' ('Affectionate time'). The most popular of them is without doubt 'Kita no kuni kara' which was aired from 1981 until 1982 with some special episodes released irregularly until 2002. The drama was filmed mainly at Rokugo no Mori (an outbound link), which is now open for visitors to explore the settings.
The origin of the name Furano is not so flattering; it comes from Ainu―the language of indigenous people of Japan and Russia― 'hura nu i' or 'hura nuy' which means 'a place that emits smell' or 'a smelly place'. The name probably originates from sulfuric fumaroles that can be found near Tokachi Peak and the smell emitted by the fumaroles was associated with the whole valley in which Furano now stands. On the other hand, the Ainu word 'hura' can also refer to a pleasant smell or scent, so with all the flower fields growing in and around Furano now, the name is still very apt but in a different sense.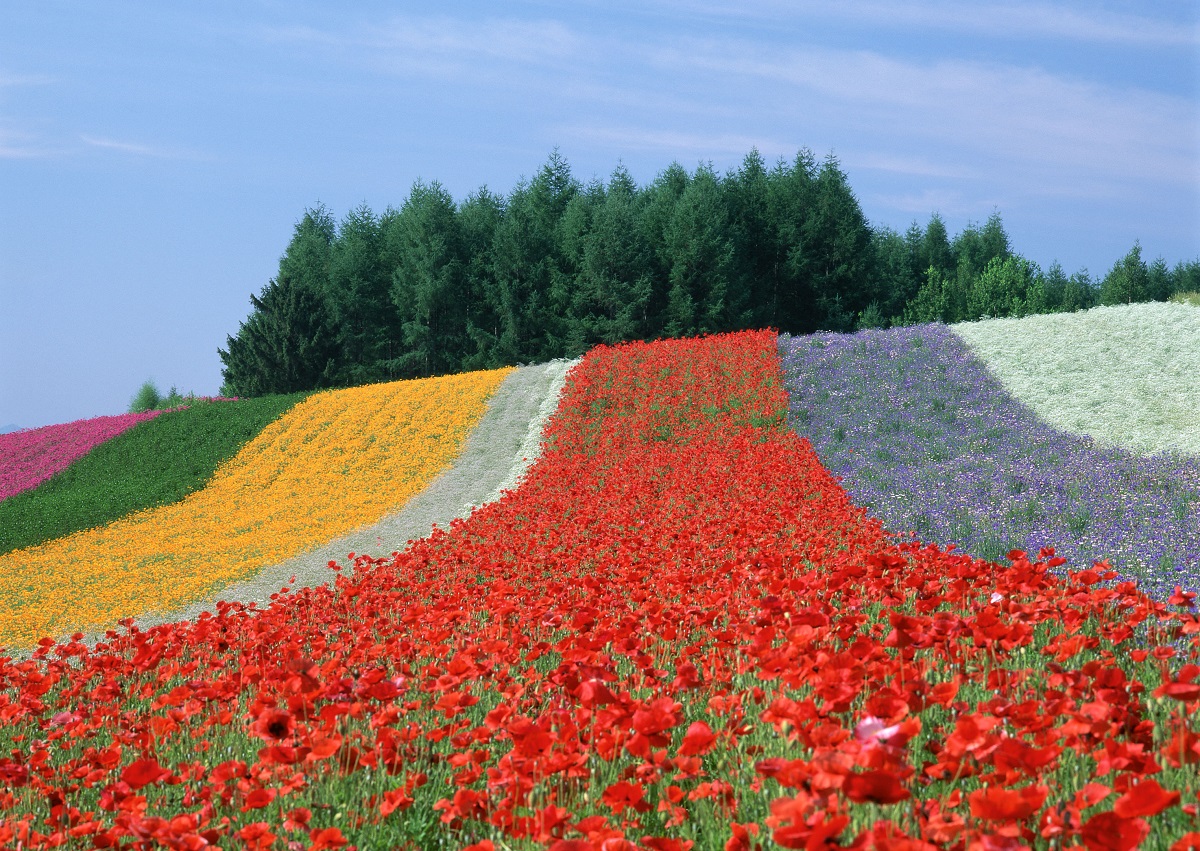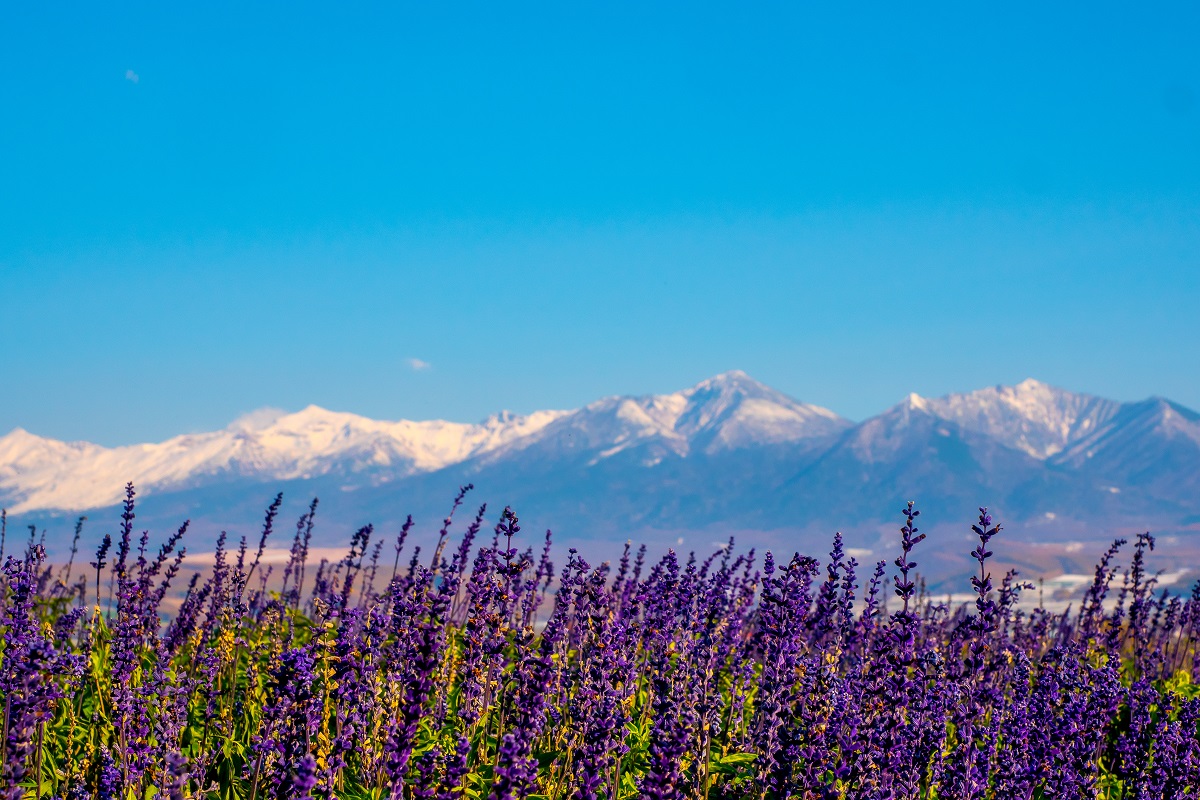 If you have ever seen a picture of Hokkaido scenery with rolling pastures striped with blooming flowers in all imaginable colors and sorts, you have probably seen a picture of Furano or one of its neighboring towns of Nakafurano, Kamifurano, or Biei. Together with its neighbors, the city is indeed a popular shooting spot for both amateur and professional photographers. The city is especially known for it's lavender fields but many other kinds of flowers, such as sunflowers and poppies, are also cultivated there. Therefore, summer is a very popular time to visit Furano and its numerous flower farms.
Are you interested in photography and art? You might enjoy this Hokkaido itinerary: Art Venture, Local Delicacies and the Stunning Sunflower Fields Midsummer Central Hokkaido.
The four seasons of Furano
The four seasons in Furano offer various activities from trekking to different kinds of harvesting experiences and from flower viewing to skiing at one of the area's ski resorts.
<>
Spring is the season when nature wakes up after the long Hokkaido winter. The first cultivated flowers―tulips and lupines―start to bloom in May. The summer brings in more flowers, and the famed lavender that starts to bloom in late June. So, for you flower enthusiasts out there: book some time in your calendar for a private tour with flowery goodness next summer. If you prefer more active holiday, there are also plenty of options for that: trekking, canoeing, taking a tree adventure course at a tree top park, just to mention a few.
Furano is also worth visiting in the fall when the lush greenery of summer turns into golden yellow and bright red. Dahlias and mustard flowers bloom in Furano as late as September and October and you can of course admire the trees turning into golden and red. Especially good place to view the amazing fall colors―both manmade and the natural scenery in the mountains―is so-called Panorama road between Furano and Biei.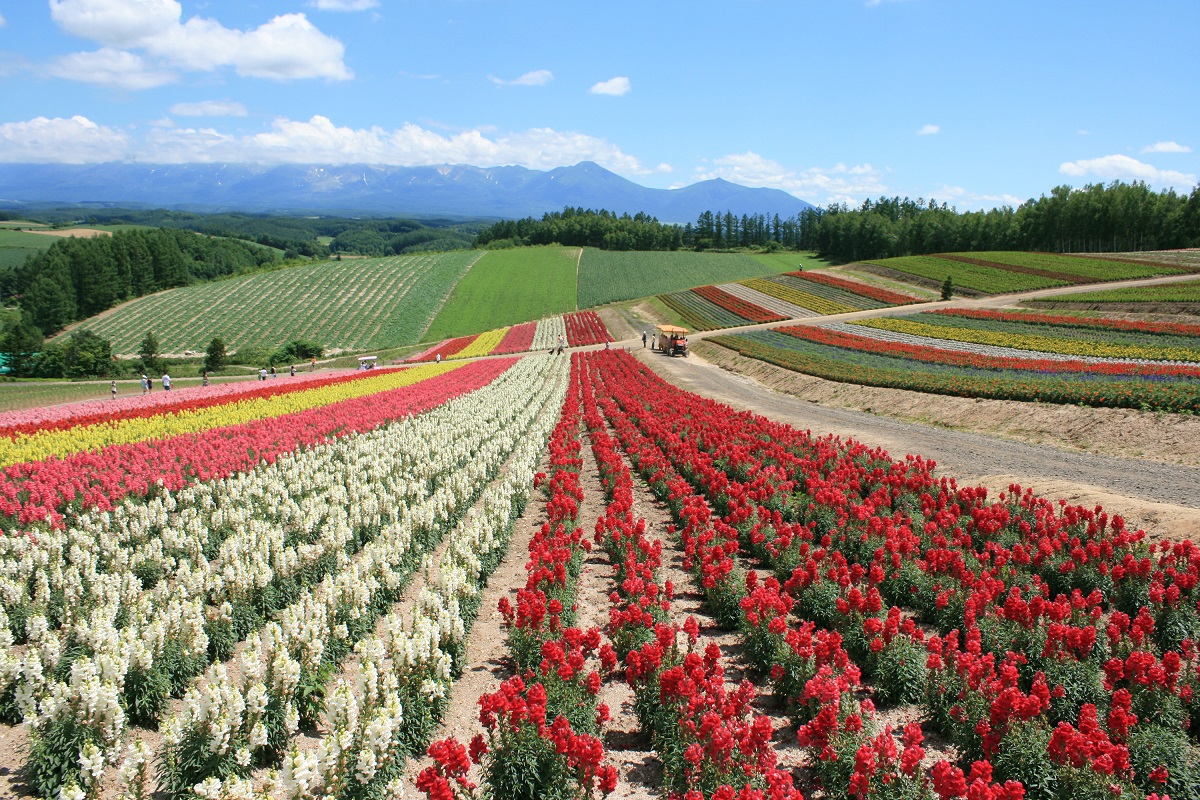 In the winter the fields and mountains are covered with pure white snow. Furano gets 9 meters of snowfall yearly and the snow is really light and dry. This of course creates perfect conditions for skiing. The first ski enthusiasts came to Furano already in 1912 and started skiing at Kitanomine zone, the place that, together with Furano zone, boasts Furano ski resort (an outbound link) today. The top quality powder snow and closeness to Sapporo make Furano ski resort a must visit destination for winter lovers. A must see destination at the ski resort is romantic Ningle terrace (an outbound link), a shopping area with cozy boutiques selling hand-crafted goods. The place is worth visiting just for the atmosphere even if you are not a keen shopper.
You can enjoy both downhill skiing and cross-country skiing at Furano ski resort. So, what is the best time to go if you want to go skiing and appreciate the snow? The heaviest snowfall in Furano falls around the end of December with 5.7 snowy days in a week and a weekly snowfall of 39 centimeters! The ski season lasts until the end of March. 
Read also about other ski resorts and skiing in Hokkaido in our blog columns Niseko: the town of fantastic powder snow and The Gan-wu area: the backyard of Niseko.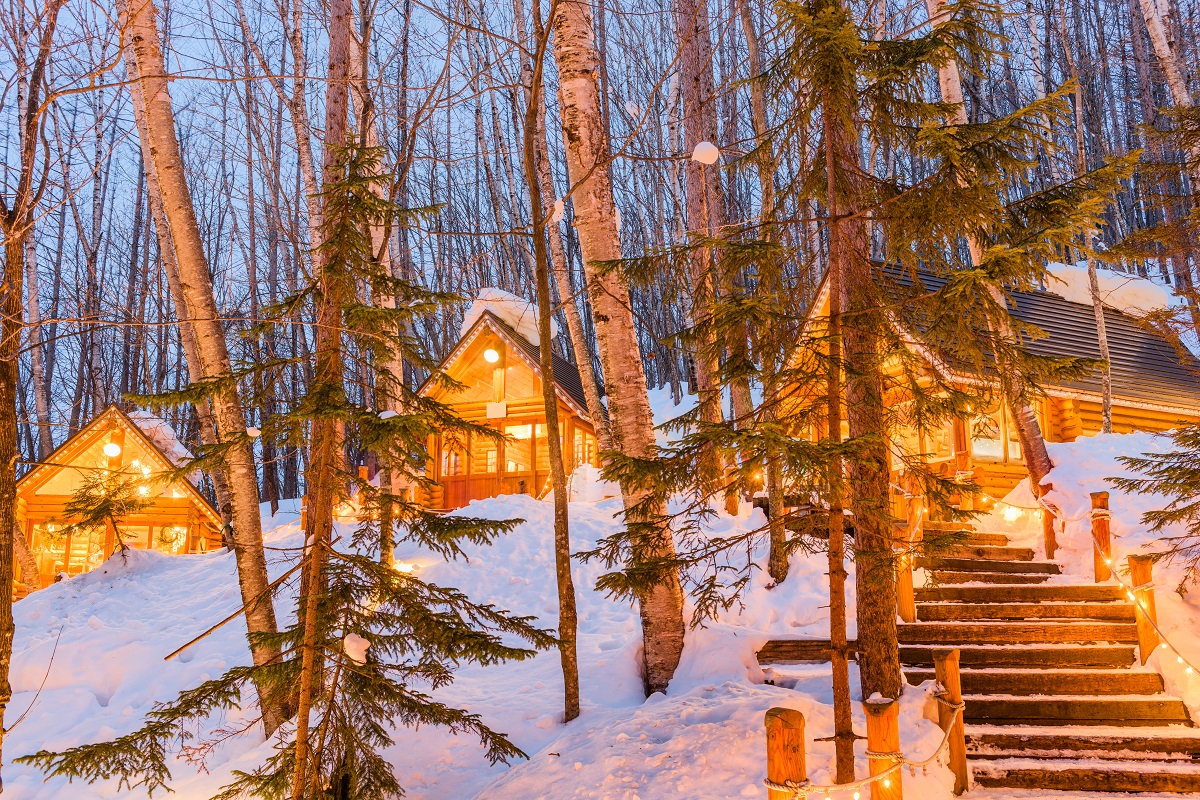 Scents and sceneries ― history of the lavender fields in Furano
Every summer Furano hills turn dreamy purple and the rows of lavender ripply gently in the wind. So, why lavender and why in Furano, you might ask. Continue reading to get to know more about the connection between Furano and lavender.
Hokkaido has not been part of Japan for a long time: it was 1869 when Japan annexed Hokkaido. The Japanese settler started to enter Hokkaido in great numbers after the Act on Use of Undeveloped National Land in Hokkaido was enacted in 1897. Many of these people came to Furano and started to cultivate their newly purchased land, mostly with traditional crops, such as rice.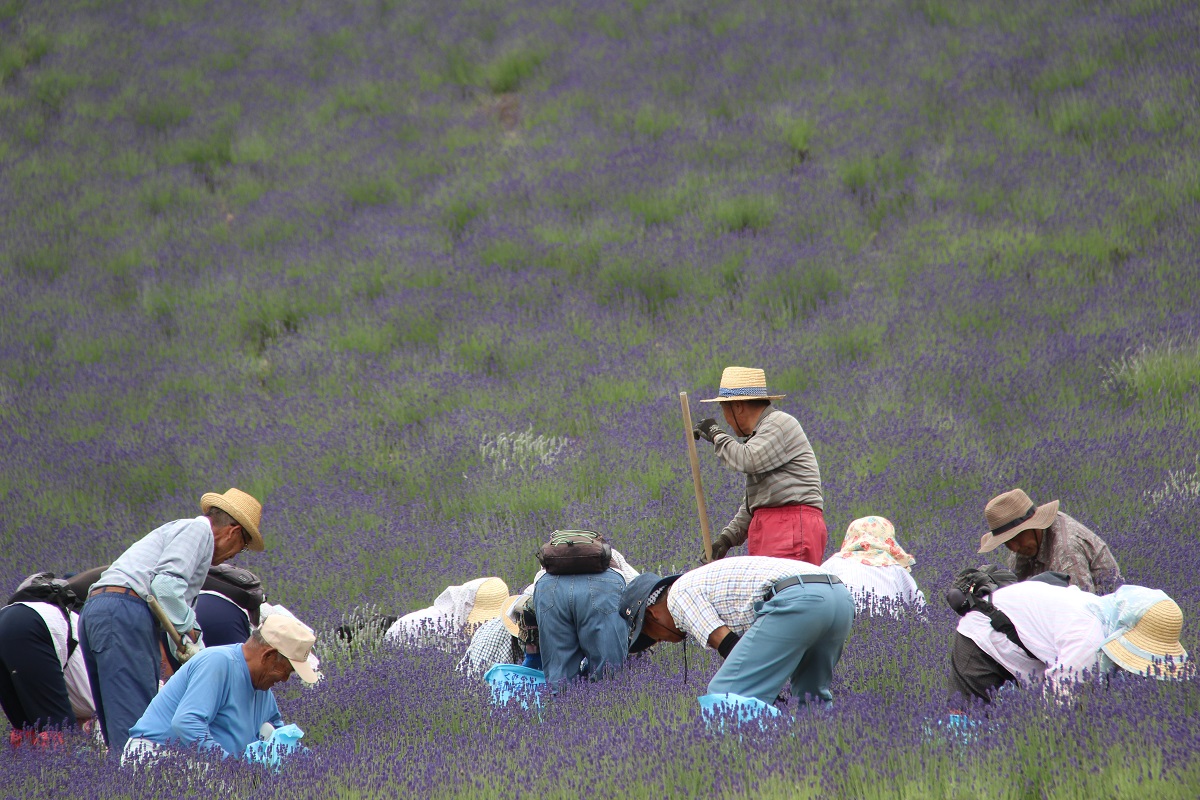 Furano has a long tradition for lavender cultivation. The idea of starting to cultivate lavender for essence use in Furano came originally from Seiji Soda, an entrepreneur in fragrance business. He imported the first lavender seeds from France to Japan and started his tests with lavender cultivation in 1937 in Hokkaido. He found the area around Sapporo to be the most suitable for the cultivation but his plans were interrupted by World War II and when he was able to continue, Sapporo had already grown so big that there was no space for lavender fields. Instead, he teamed up with a farmer called Ueda in Nakafurano and serious lavender cultivation in the Furano area started in 1948.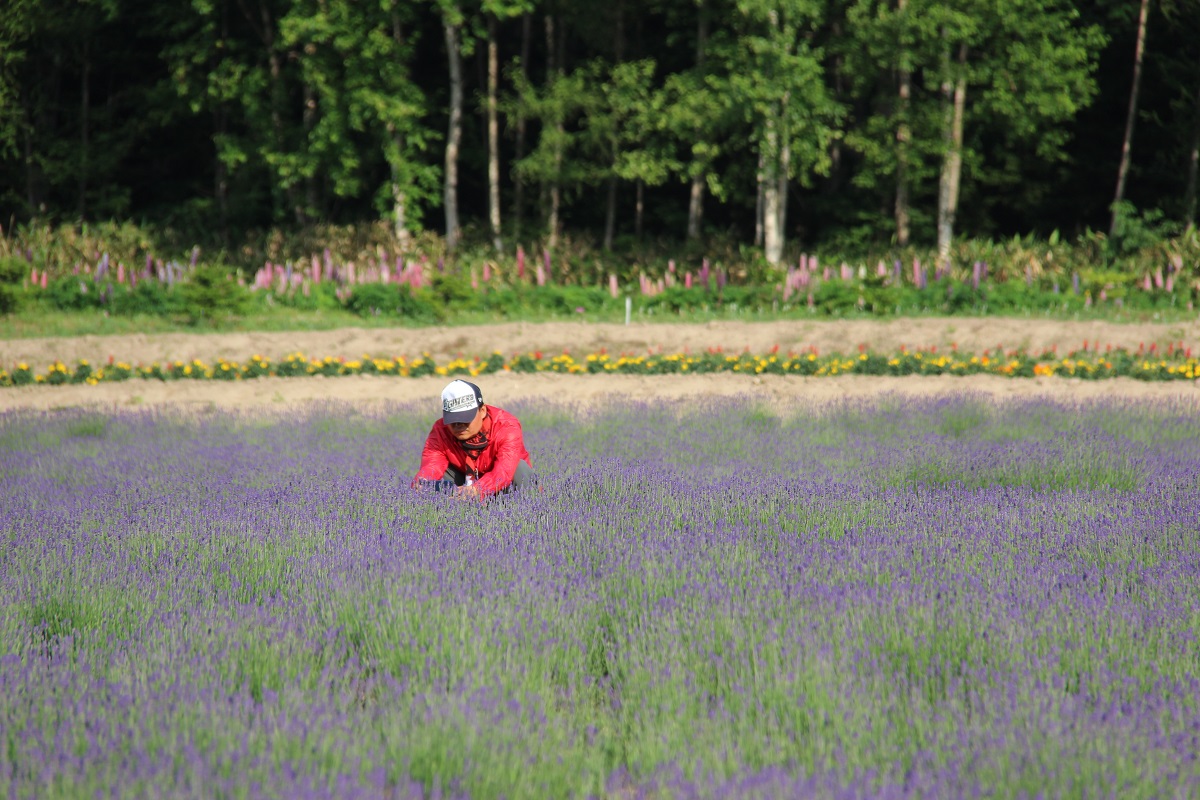 Many other farmers joined Ueno and lavender cultivation for essence use expanded until the 1970s. However, when chemically produced fragrances and essences became cheaper and cheaper, it was difficult to compete with the lower price products. In 1976, Japan National Railways (today known as JR, Japan Railway Company) chose a scenery of a Furano lavender field at Farm Tomita (an outbound link) as a location to be displayed in its yearly calendar and curious people started to visit the city to get a glimpse of this beautiful sight.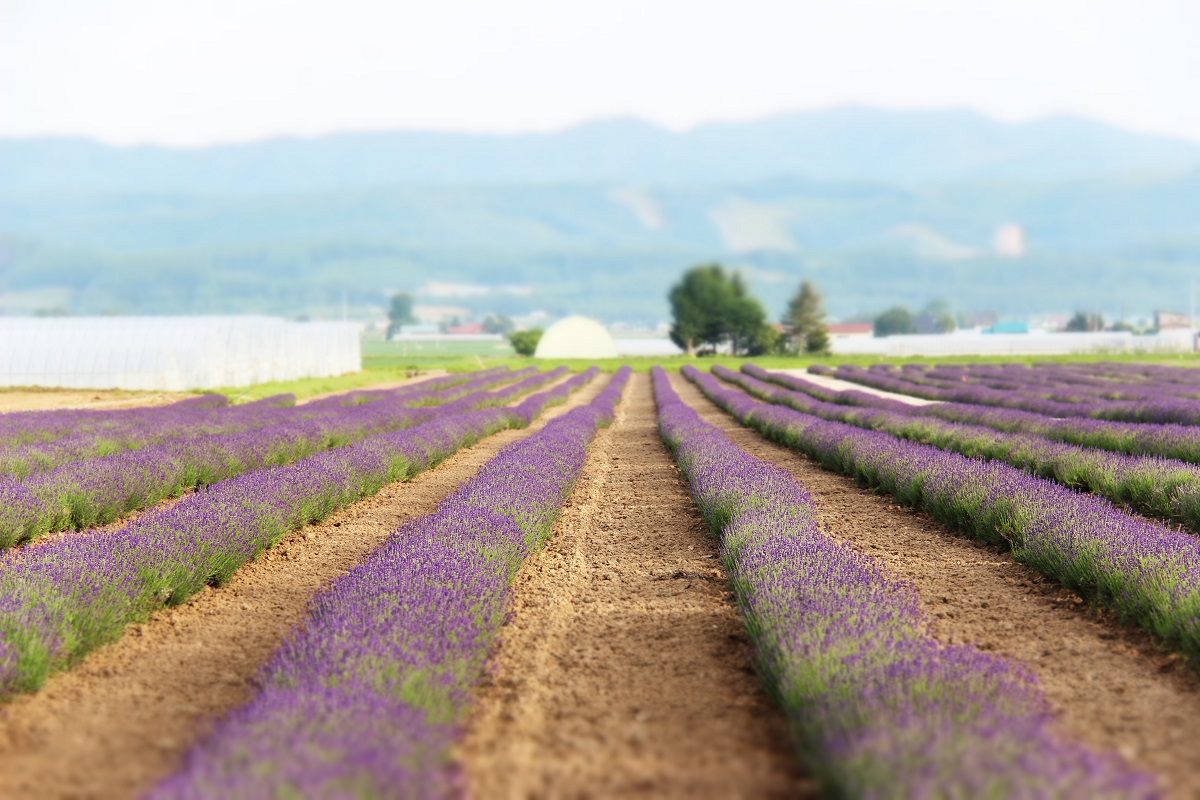 Still today, Furano's lavender fields are an important part of its tourism. At Furano, visitors can enter the farms, appreciate the scenery, walk or take a ride around the lavender fields, buy soothing lavender products of all sorts and even taste some delicious lavender ice cream!
Experience the sweet taste of Furano melons and honey
What else to do at Furano besides flower appreciation? Here, we would like to introduce two fun activities in Furano to add to your private tour: melon picking and harvesting honey. Furano is close to Sapporo, so each of these activities can be experienced also as a one-day trip from Sapporo to Furano.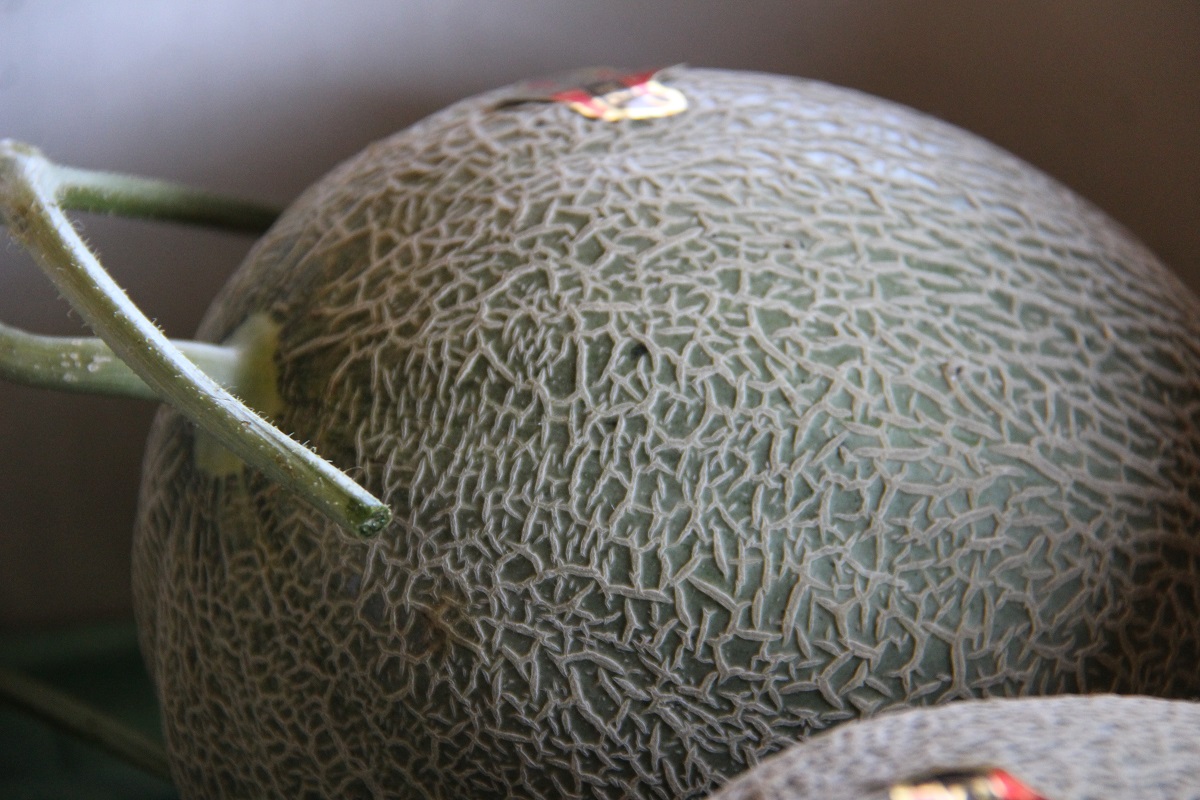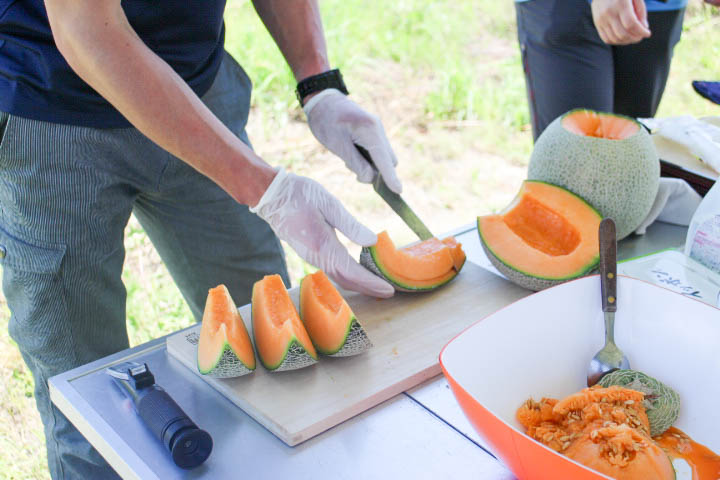 Furano is famous for its Furano melons which have a brix level of over 15, that is to say, they are the sweetest type of melons that exist! Furano melon is a delicacy you definitely have to try while in Furano. And what would be a better way to enjoy the sweet taste of melon than choose and pick the melon yourself? Add the melon picking activity to your private tour and visit Ōishi farm to pick and choose the most perfectly shaped, mouthwatering melon of yours. Melon season lasts from early July to mid August, so be sure to visit Furano during that time if you want to experience some first hand melon picking and melon tasting at a local farm.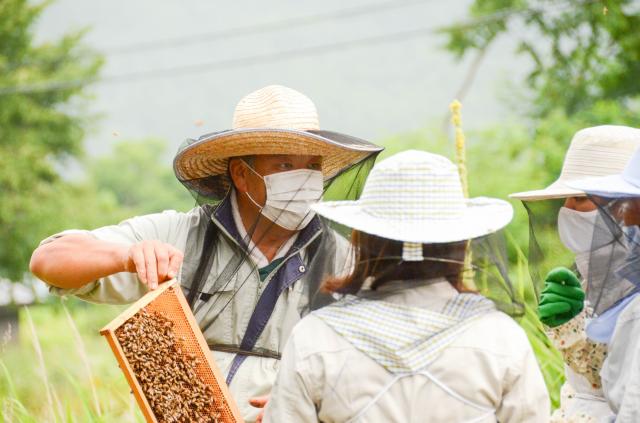 Another exciting activity to take part in at Furano, is beekeeping experience and honey harvesting at Seo bee farm. This private tour also includes making a beeswax candle to take home as a souvenir. And don't worry, the bees won't sting you; you will be wearing protective clothing while you are near the bees nests. Of course, you will be able to taste the honey as well. The best season for honey harvesting is from June to August, but you can enjoy this activity also as early as May and also later in the autumn with some restrictions. Contact us to confirm the availability of this private tour outside the summer season.
So, what do you think, how about adding Furano to your private tour itinerary? It's less than a two-hour-long ride from Sapporo, so you can do a quick day trip or stay longer. Let us know which one suits you better when you contact us.