Picturesque Biei village in Central Hokkaido is located conveniently between Furano, a city known for its endless lavender fields, and Hokkaido's second largest city Asahikawa. This lovely little village has very distinctive hilly agricultural scenery known as "the patchwork hills". On a clear day the snow peaked mountains at the other end of the valley seem to jump right into your eyes against the panoramic hillside scenery that goes up and down into the distance. The sight is out of this world.
One of the charms of this vivid landscape is that it is possible to visit Biei every year – many do – and the scenery will never be the same. This is thanks to the crop rotation practiced by the farmers.  As you might remember from biology classes, soil cannot flourish ideally if the same crops are growing and taking in nutrition year after year. Therefore, the farmers have several farming plots and they plant different types of crops to the plots in turns. Some years there will just be just grass and the soil will get to rest. For an occasional visitor this means that the scenery will be visually different; The plot that was warm yellow last year might be bright green this year and vice versa.
It is not surprising that many photographers consider Biei an eternal source of inspiration and have moved to the village for good. You can find attractive little galleries and pop up photo exhibitions all around the village.
---
Interested in photography and art? You might enjoy this Hokkaido itinerary: Art Venture, Local Delicacies and the Stunning Sunflower Fields Midsummer Central Hokkaido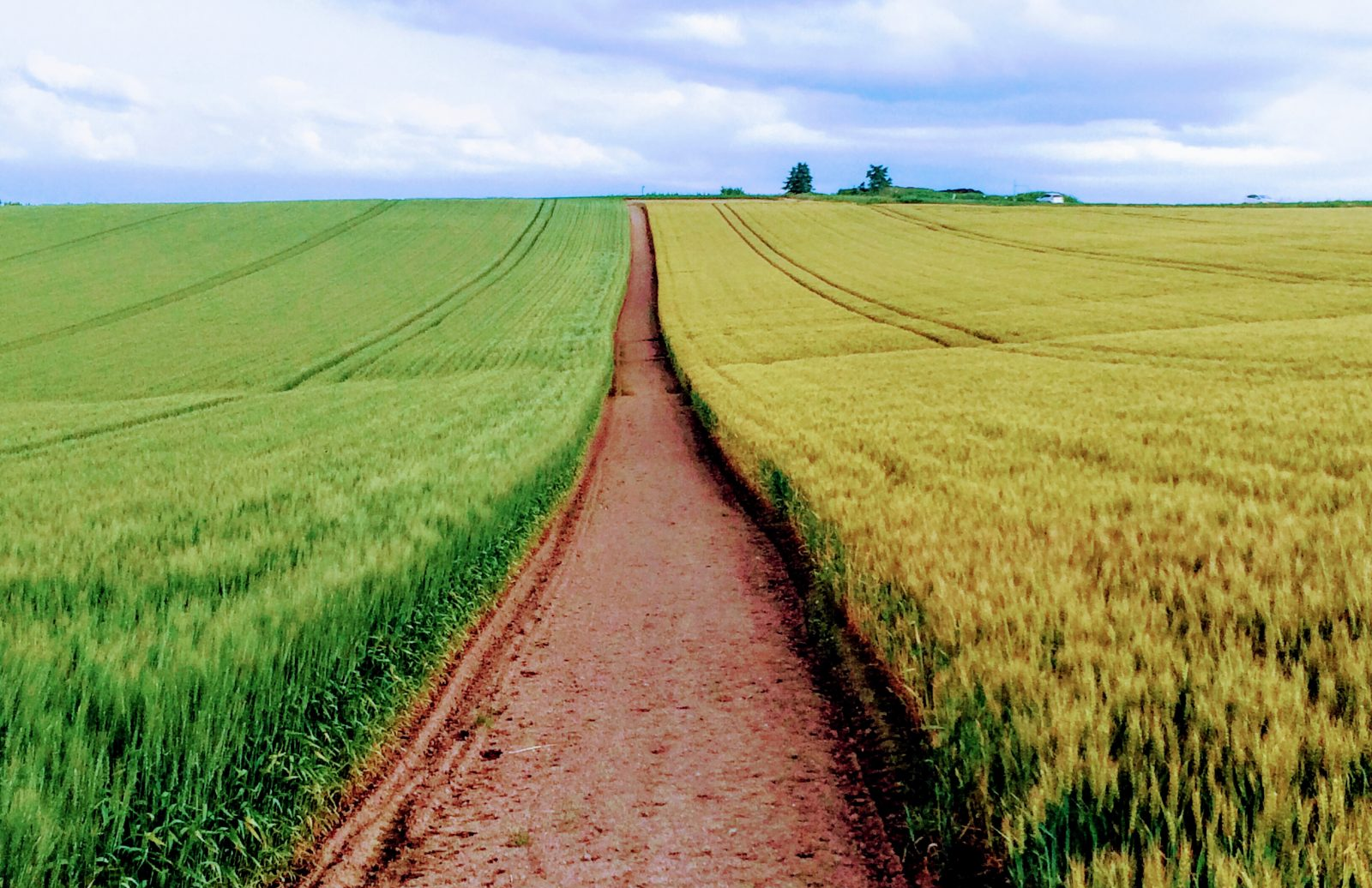 A small farming village that became a tourist destination
It is not only photographers who have found their way to this breathtaking Hokkaido village. Like Furano approximately 45 minutes drive away, Biei also has its own pretty rainbow colored flower fields that are popular among both domestic and international tourists. Besides the flowers there are also other popular sightseeing spots in Biei, that attract travelers from all around the world.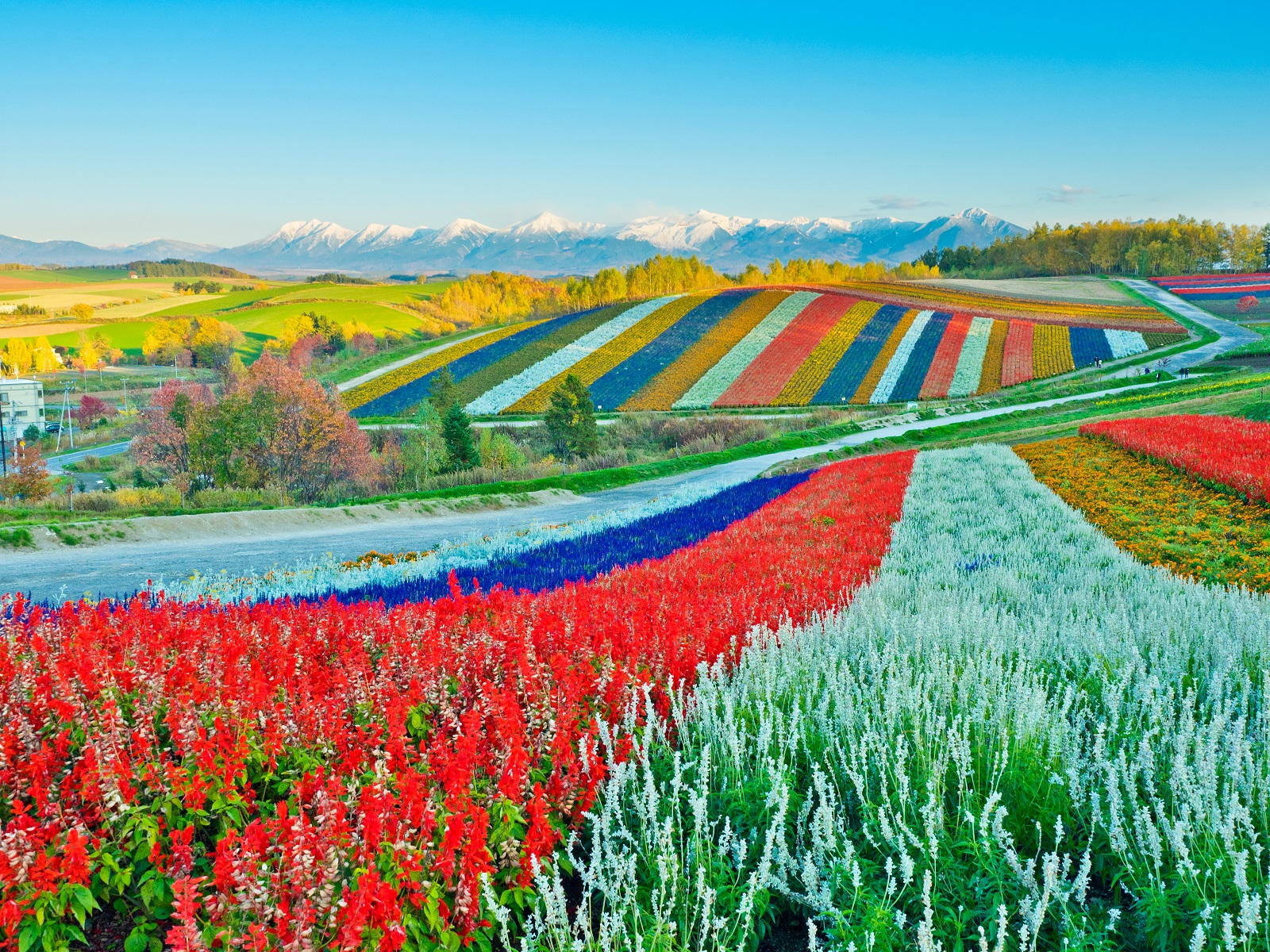 Some of these popular places originally became famous when a local photographer managed to catch an excellent shot that ended up spreading all around the world. One such example is the Blue Pond of Biei. A picture of the first snow at this man-made pond with a surrealistic turquoise color became an epic Mac wallpaper, catching the whole world's attention. 
It is quite ironic, that the pond is most well known for its winter fur; Actually, during winter the pond is for the most time covered by snow and its peculiar blue color is completely hidden under a white blanket. The cruel fact is that the curious combination of snowy trees and blue water can only be witnessed right after the first snowfall.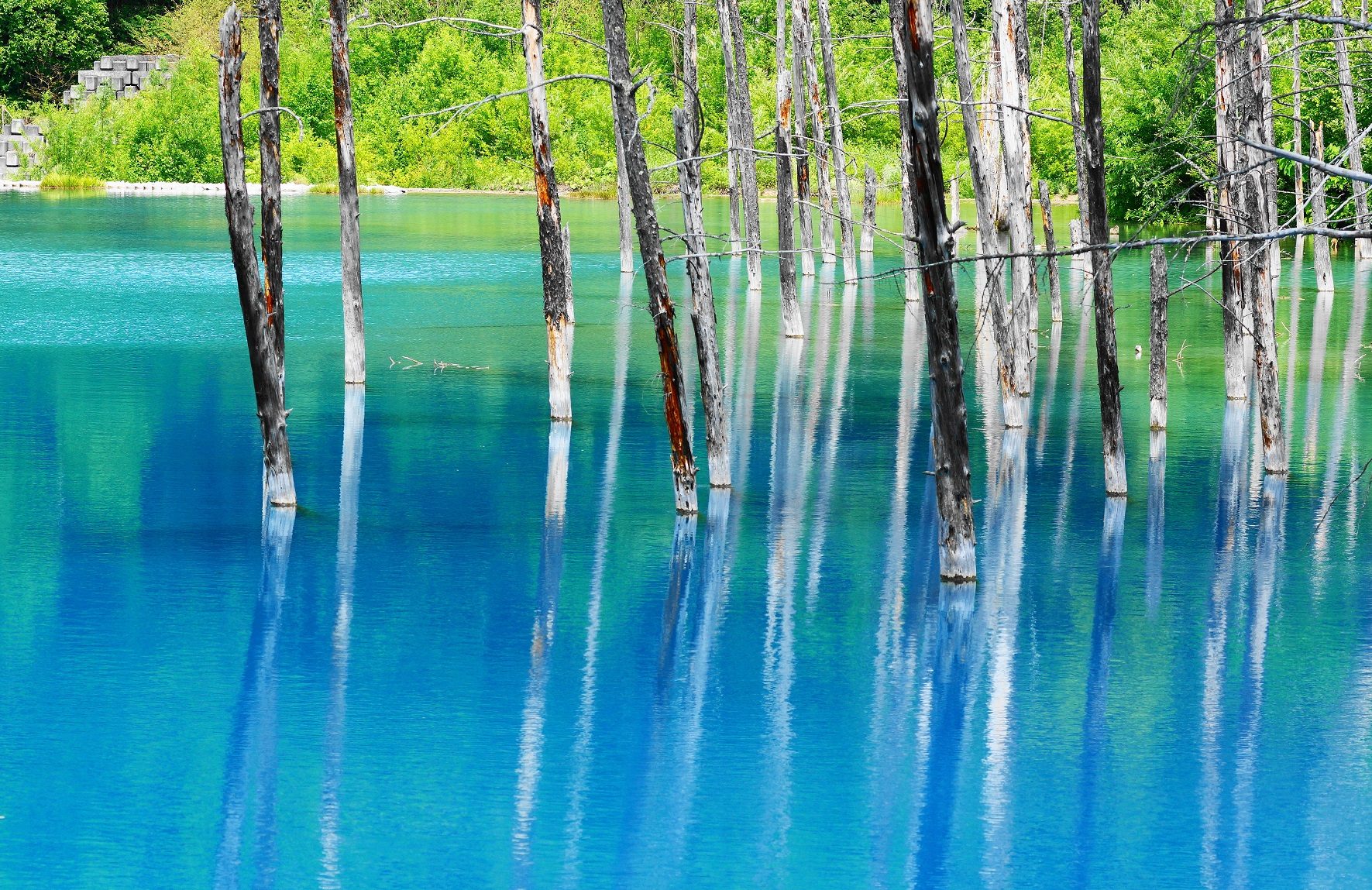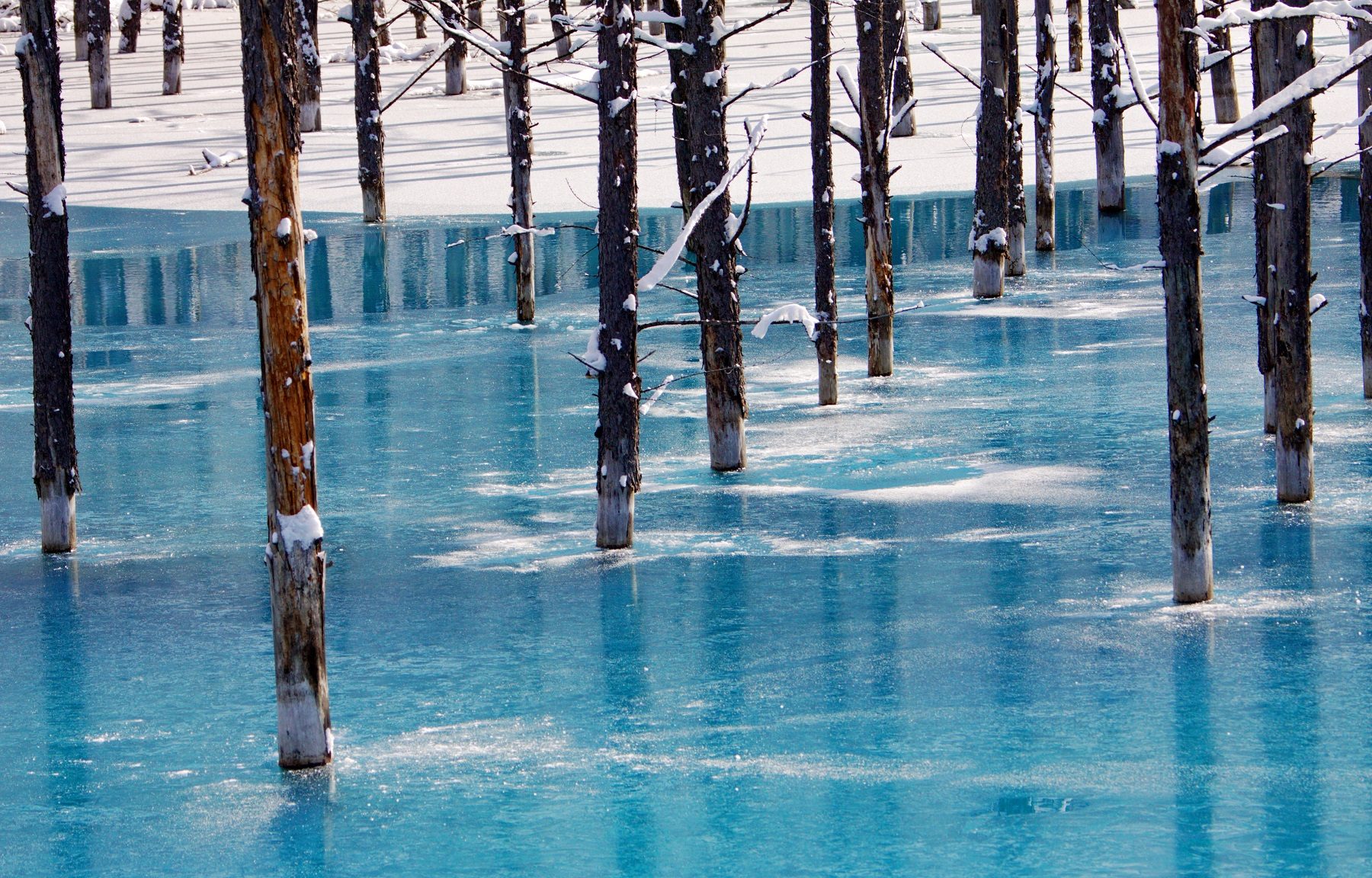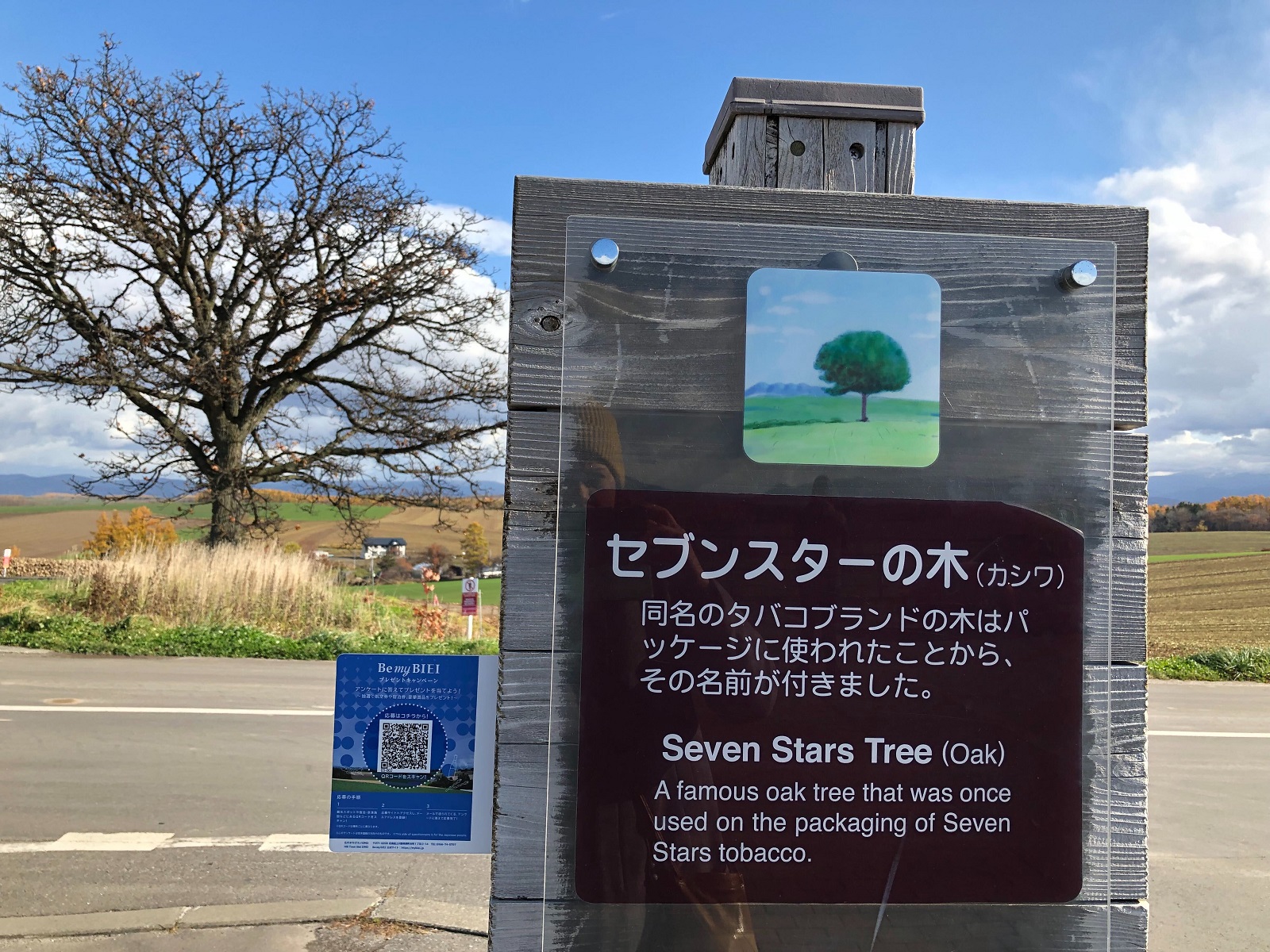 Another example of a locally famous photo location that has become a famous tourist spot is an oak known as "Seven Stars Tree". The tree is named after the tobacco brand Seven Stars, that has used the very tree on its packaging.
Yet another famous sight is a spruce named as "Christmas Tree" that stands alone in the middle of a vast farm land. Along with Seven Stars Tree, this is an enchanting must-see photo spot that many tourists are looking forward to capturing when they visit the village.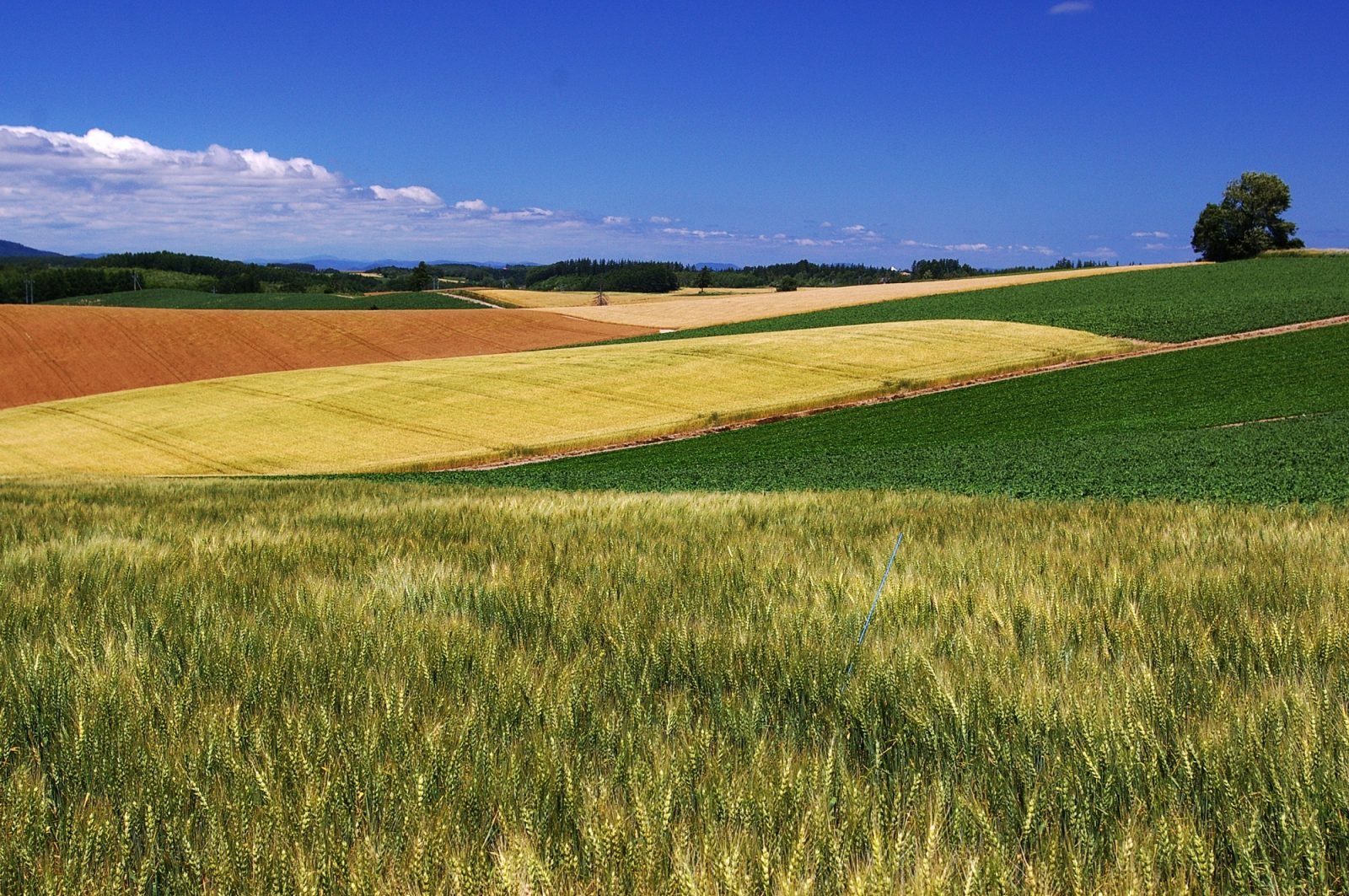 A village too popular for its own good
As you may figure, being a world-level tourist destination is not as rosy as it sounds.For instance the famed Biei Blue Pond is in fact an artificial pond that was originally created in attempts to protect the area from potential landslides caused by volcanic eruptions of nearby Mt. Tokachi. The tempting turquoise is caused by aluminium in the water, which is why the trees standing in the water are dead. Side effects of over tourism such as littering have become an issue around the pond.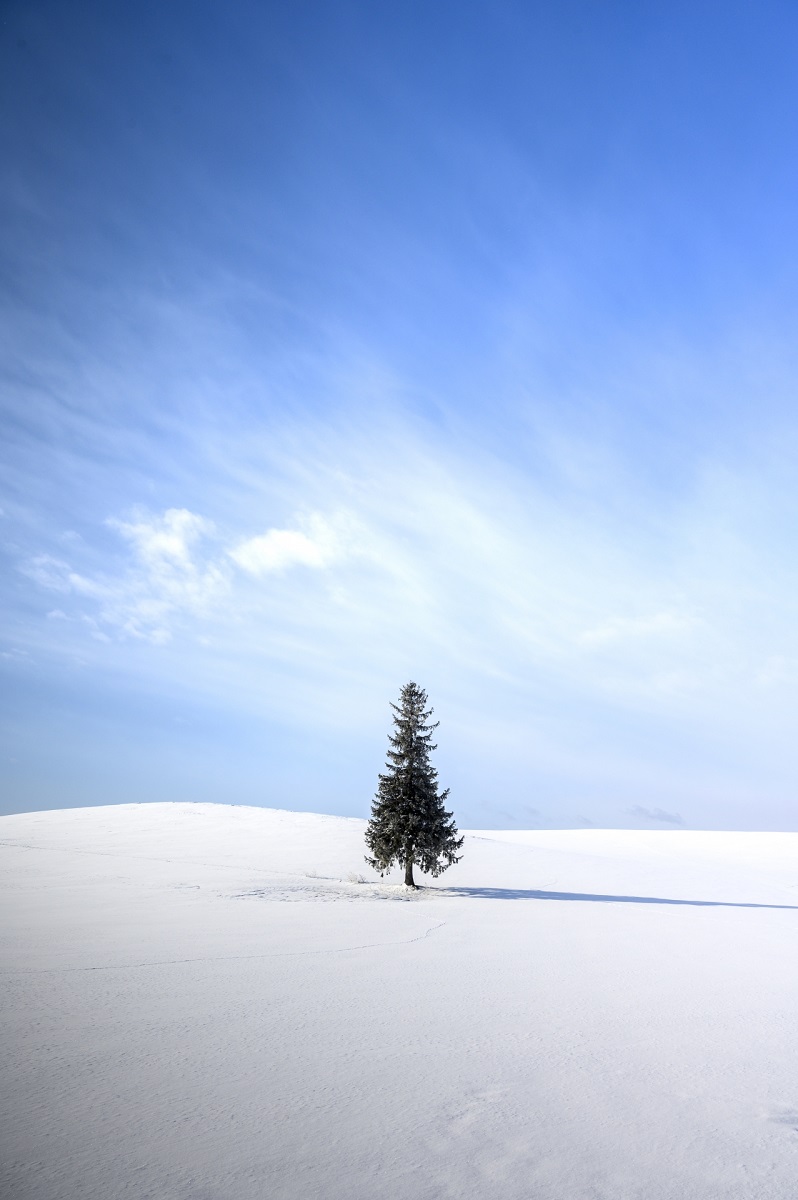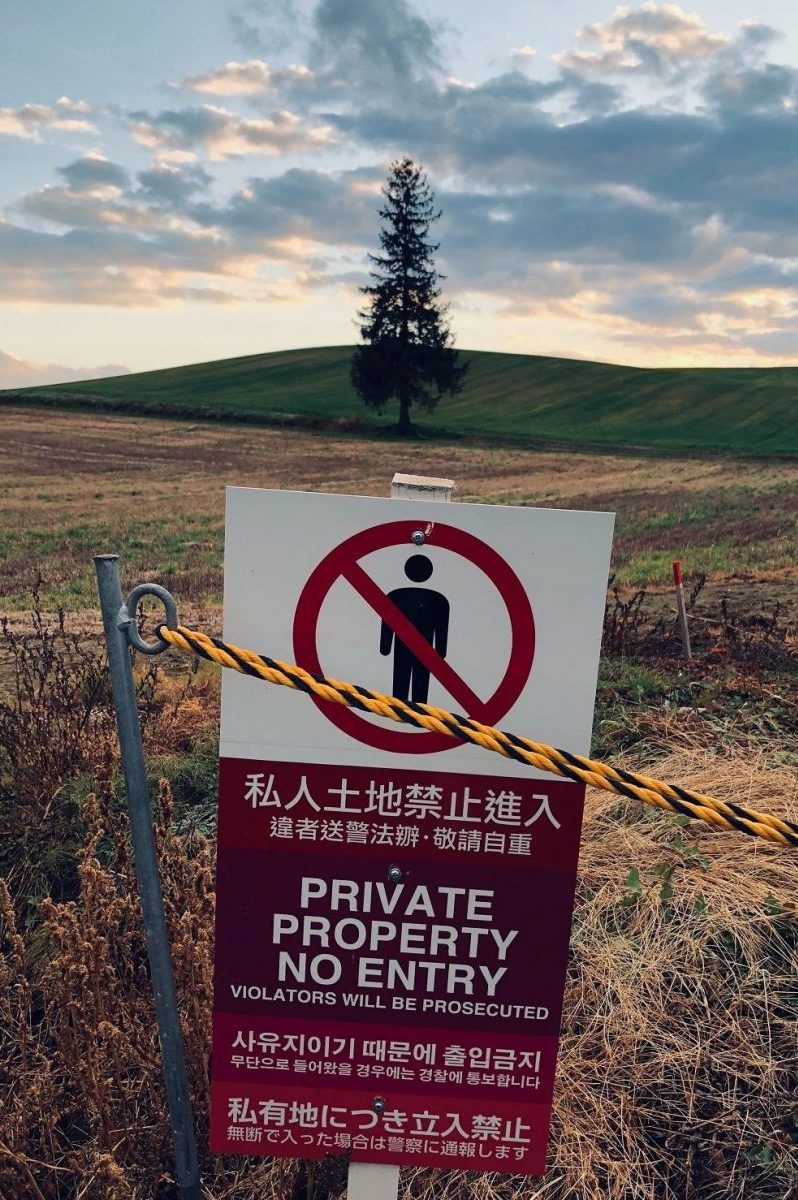 The popularity of this handsome scenery and the neat phot spot trees are also problematic for the Biei farmers who own the fields. Occasionally excited tourists who want to take a great picture of the famous scenery enter the fields to get a better view. This does not sound too bad. Especially if it is only a few steps into the fields when it is off season and there does not seem to be anything growing, it can be hard for a visitor to understand what harm could stepping just a few steps into an empty field do. The reality is however not so simple.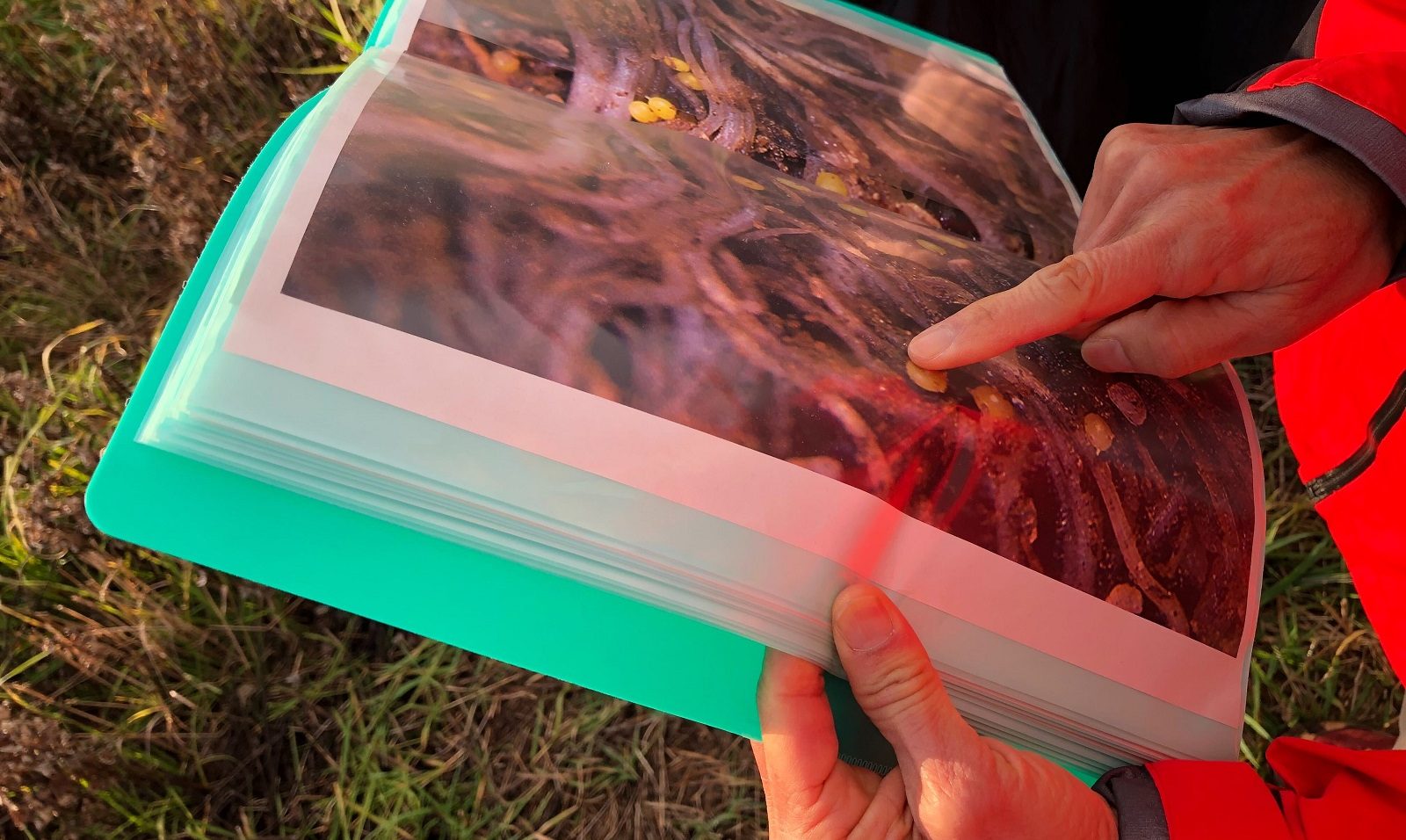 It is completely natural that visitors who are not familiar with the everyday life of the farmers are not aware of the problems. This is why there are villagers who are educating the visitors of Biei about the current situation. 
There are even locals who have made cool QR-code signs with information about the personalities behind the plot of lands. The idea is that if visitors have a chance to hear about the individual and the life story behind this scenery it can be easier for them to relate to the fact that the area is actually someone's property and also to keep in mind an appropriate distance when taking pictures .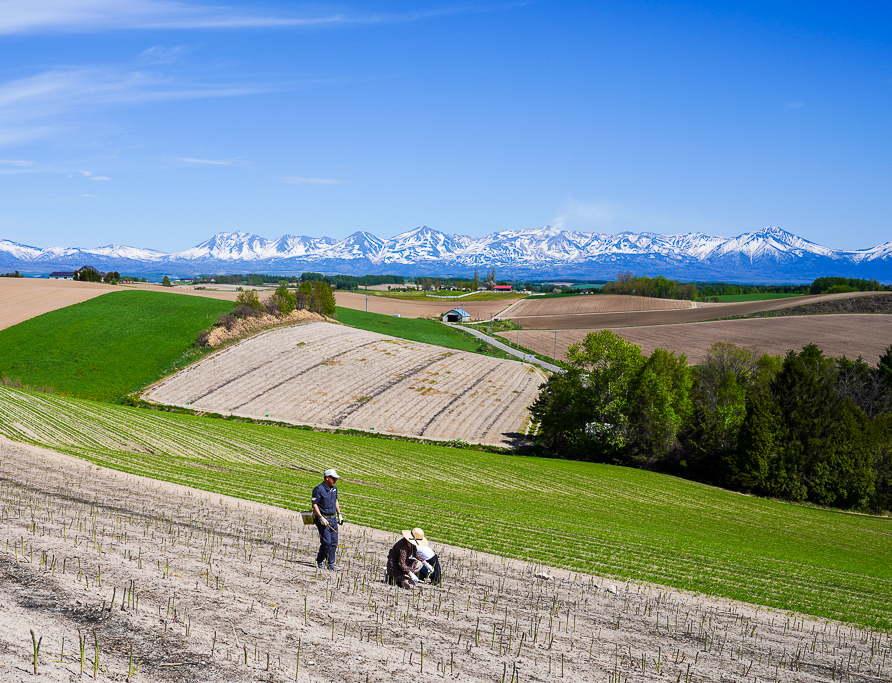 Sustainable tourism together with the locals
Biei village is absolutely mesmerizing and definitely worth a visit, but we warmly recommend enjoying the village sustainably, in a way that has also the locals' approval. Biei is full of interesting local adventures and lovely individuals who really deserve their beautiful village.
We here at Hokkaido Treasure Island Travel are proud of our strong connections with the Hokkaido locals. It would be our pleasure to arrange a private tour with a local guide who knows the farmers personally and can guide you through this stunning scenery.
---
Recommended Central Hokkaido itinerary: The Art of Japanese Craftsmanship and the Flowers of Summertime Central Hokkaido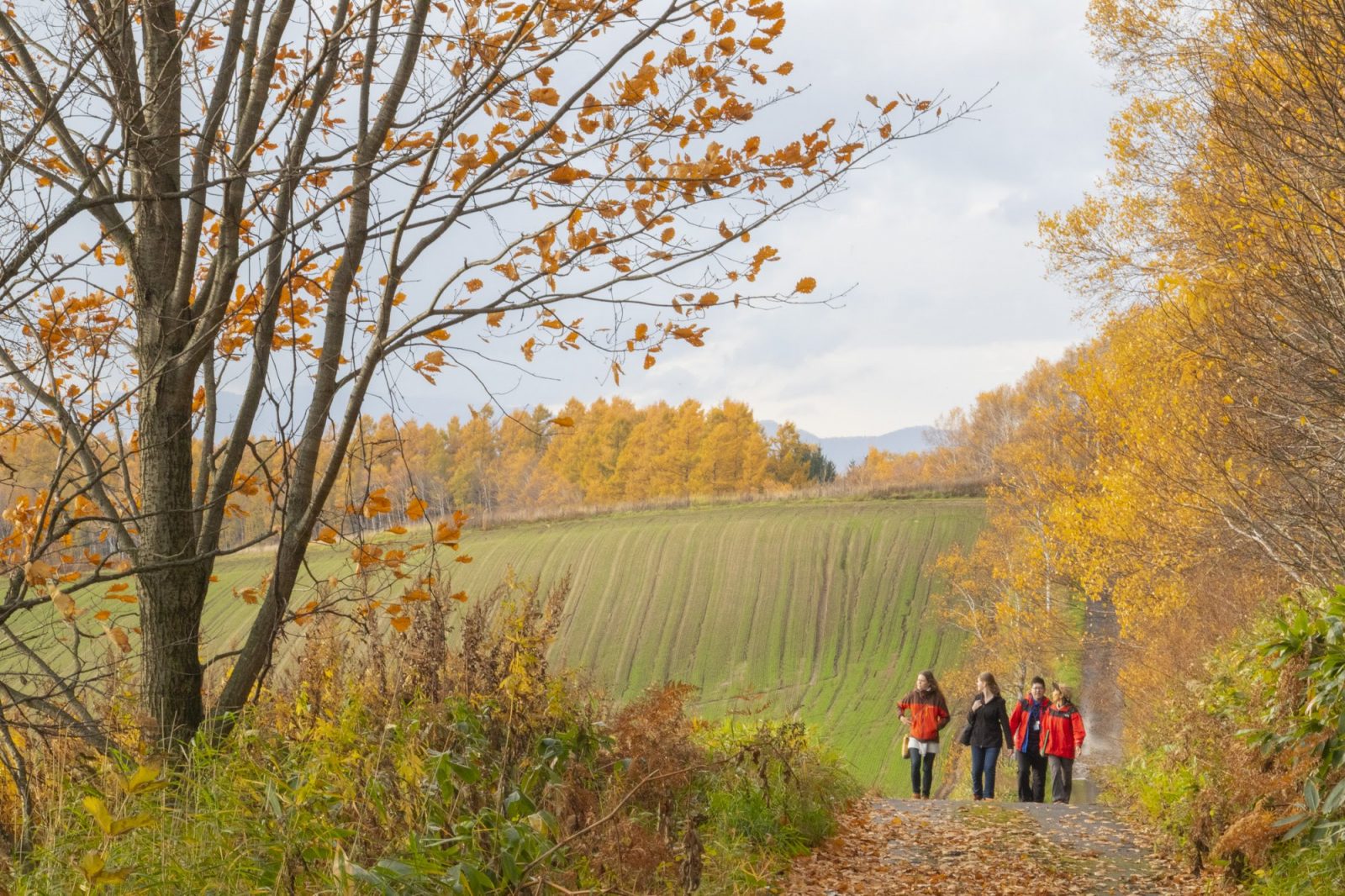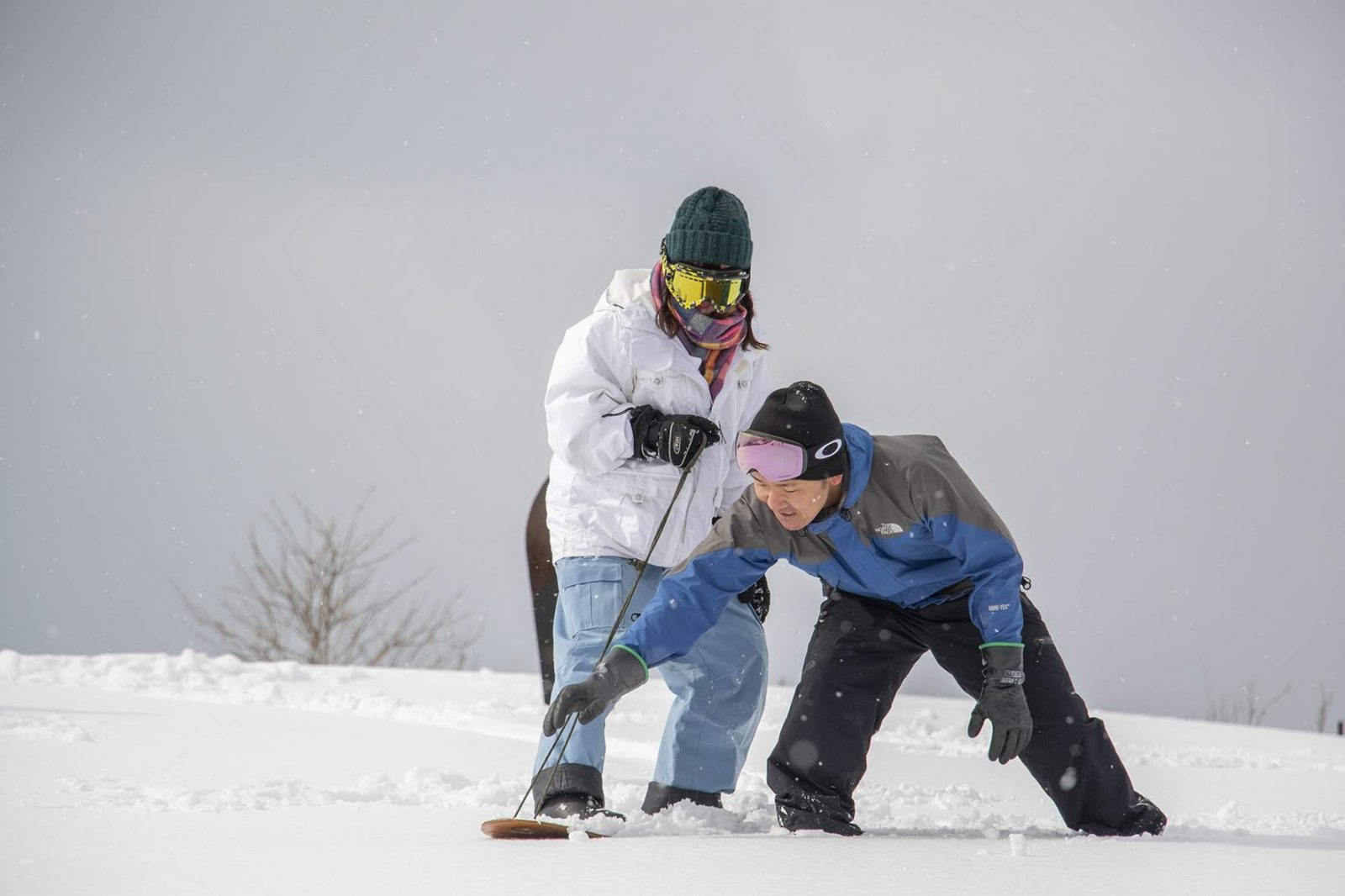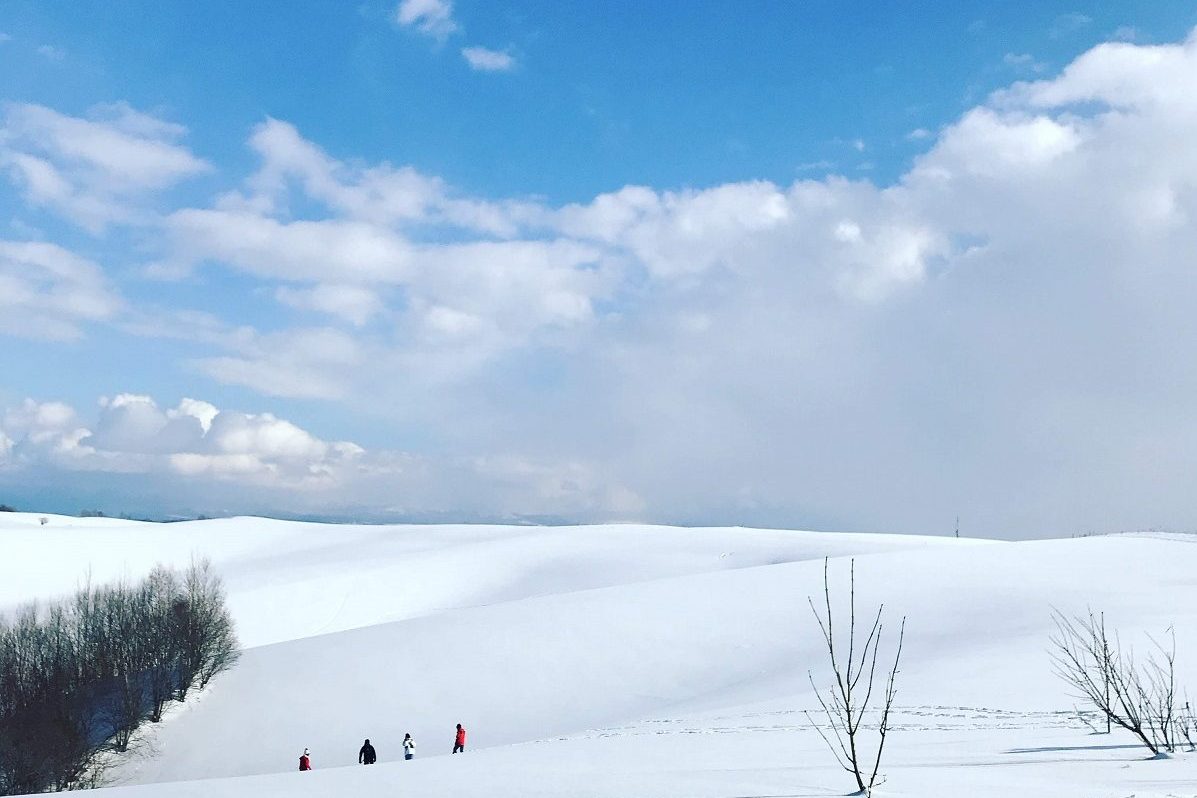 Scenic cycling, guided walking tours and snowshoeing in winter are just some examples of local-friendly activities that can be done in Biei. You are sure to experience Biei on a deeper level, if you have a local guide to show you around. This way you can get behind the scenes of the local lifestyle, all the way to stunning  secret spots you would not have been able to find yourself.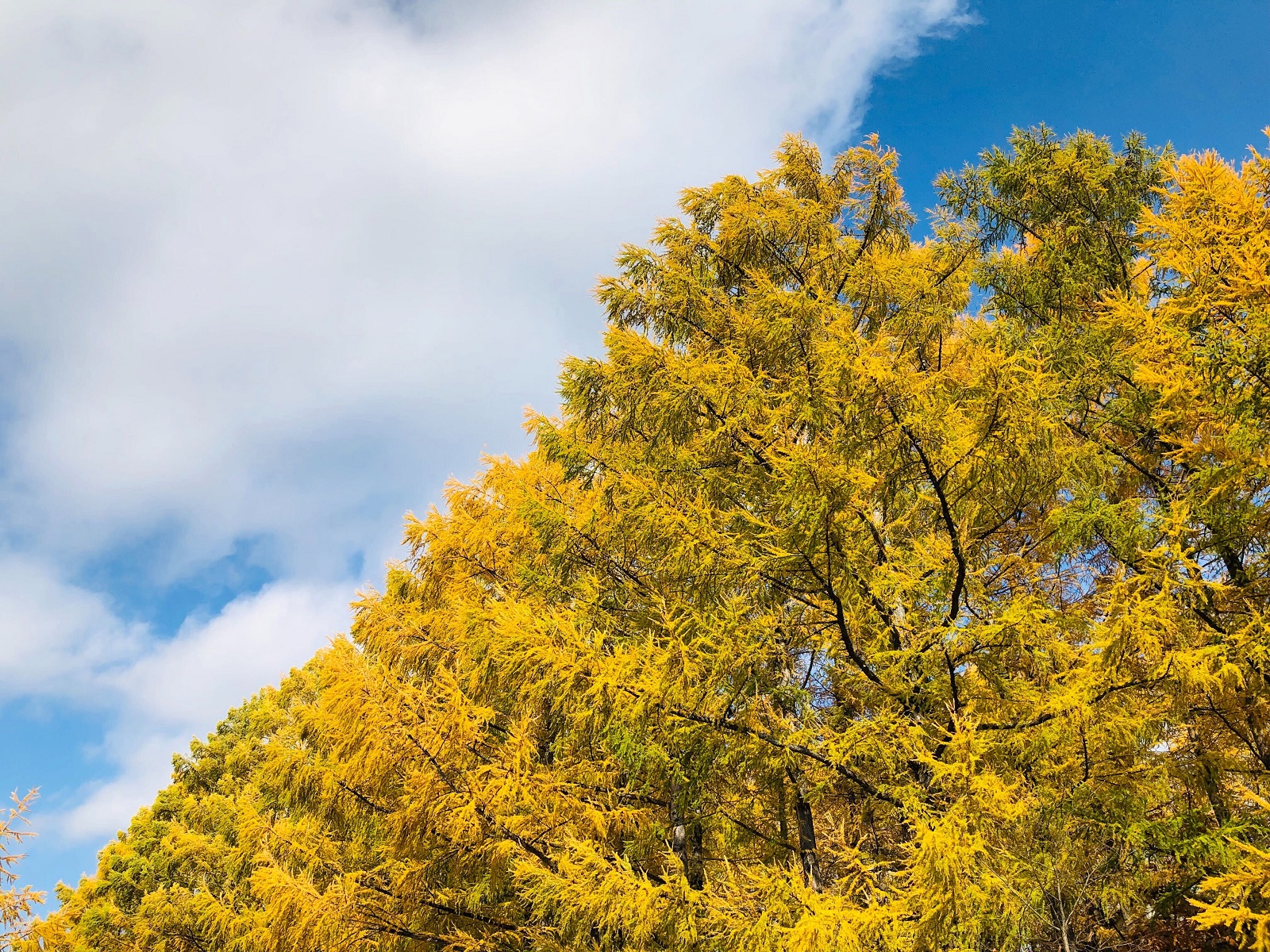 Off-season travel: Seasons between seasons
But what to do if you really want to see all the most popular places, but are still concerned about overtourism? One way to travel more sustainably is picking a season that is generally less popular. This way you can also support the local businesses when they need it and you get to enjoy the graceful scenery with less other travelers swarming around.
Early spring when the snow has already melted but the cherry blossoms are not yet in bloom, and late autumn between fall foliage and snow are such seasons between seasons. The latter is actually a timing that the locals in Biei love for its curious beauty.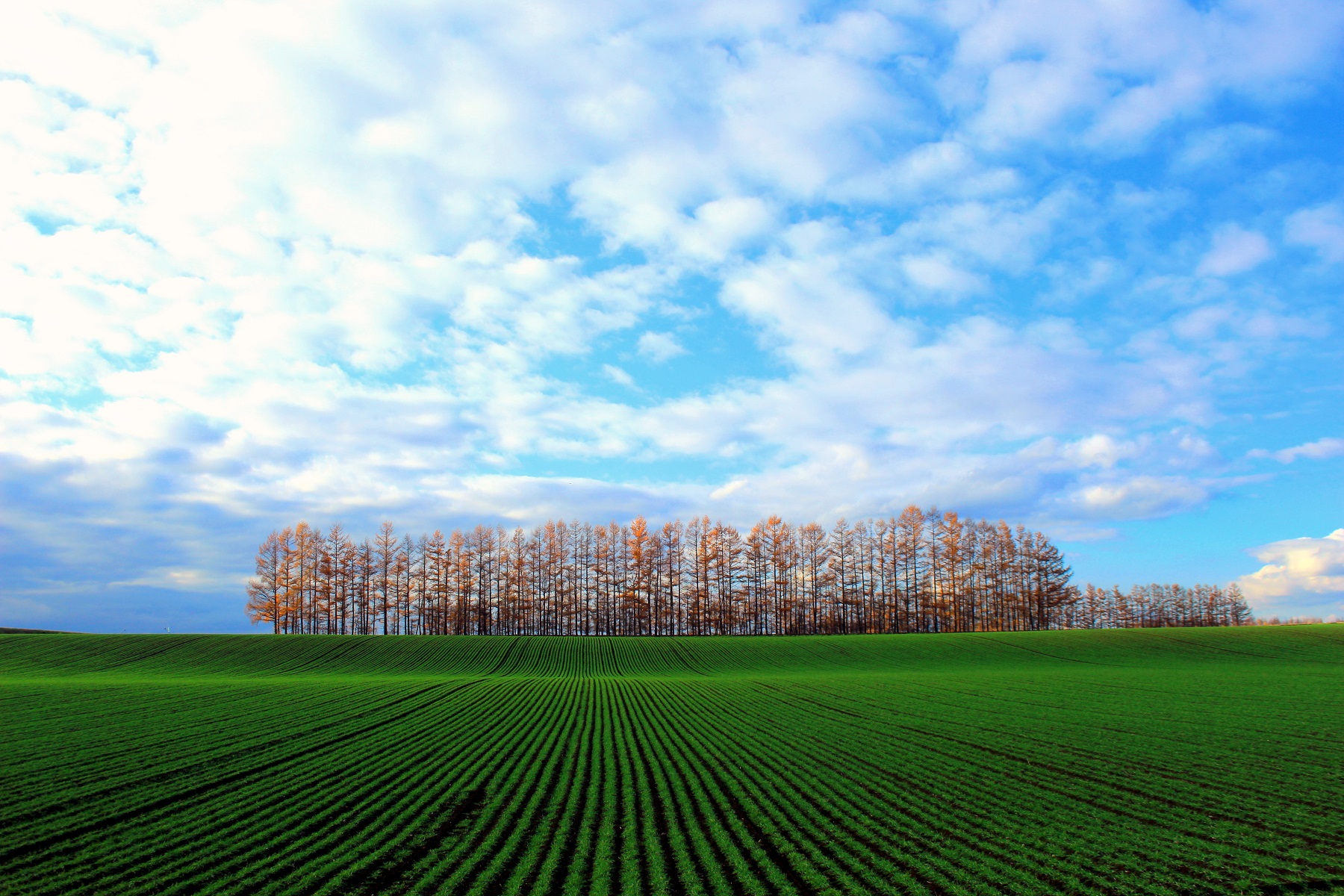 By late October the best peak of autumn leaves is already over in many parts of Hokkaido and the brilliant colored leaves are starting to fall down. There is however an exception: Japanese larch "karamatsu" turns yellow and reaches its brightest color around late October to early November in Biei. This lovely phenomenon is well known by Japanese, but not many visitors from overseas are aware of this beautiful season and seldomly come to Biei to see the larch.