North Japanese city Kushiro is located in East Hokkaido, between Shiretoko Peninsula and the Tokachi area. Kushiro city is around 300 kilometers west from Hokkaido's largest city Sapporo. This port city faces the North Pacific Ocean.
The relatively mild climate of Kushiro makes the area a popular resting place for migratory birds. The Kushiro area is famed for the Ramsar Convention site Kushiro-Shitsugen Marshland. The area is known for being the home of the endangered red crowned crane (also known as "Japanese crane" or "tanchou").
Among international travelers Hokkaido is famous for its heavy snowfall. Yet, the snow situation is very different depending on which side of the island you are looking at. Because of the cold air masses flowing from the Russian Siberia, the Sea of Japan side of Hokkaido, including Sapporo and the famous ski area of Niseko receive very heavy snowfall. However, on the Pacific Ocean side where Kushiro city is located there tends to be much less snow. As a matter of fact, this is one of the reasons that make the Kushiro Marshland such an important natural habitat for many precious flora and fauna.
This blog column focuses not only to Kushiro city, but also the mysterious Kushiro-Shitsugen National Park and intriguing off the beaten path destinations of the nearby towns and villages such as Akkeshi and Hamanaka.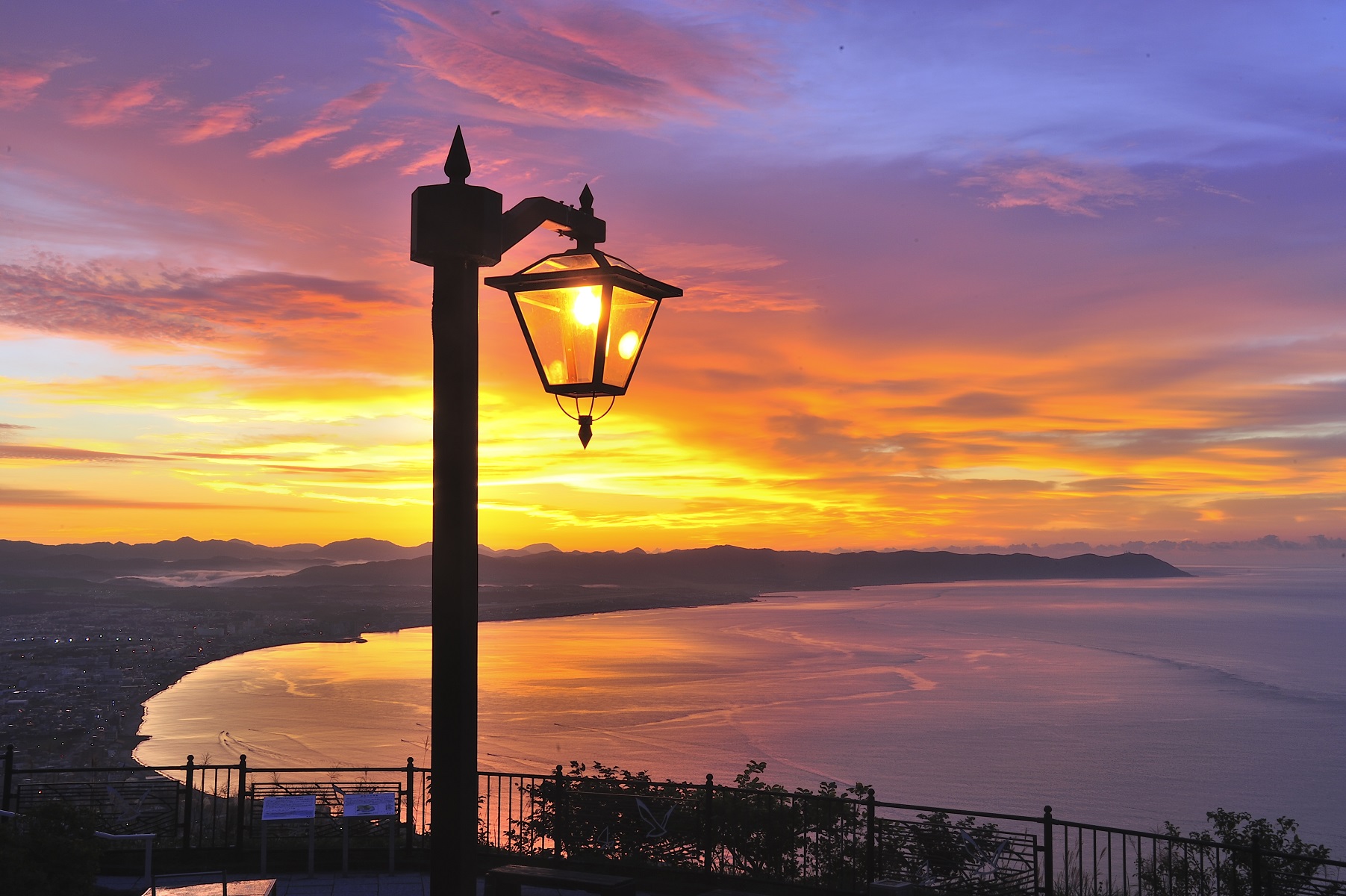 Kushiro city
Kushiro is the fifth largest city in Hokkaido after Sapporo, Asahikawa, Hakodate and Tomakomai. On a map it can be a bit complicated to understand the outline of Kushiro city. The city is geographically divided in two areas, both on the edge of the North Pacific Ocean. Between the separate city areas is Shiranuka town. In fact, Akan onsen town in Akan-Mashu National Park is also officially part of Kushiro city.
The city center of Kushiro is in the westernmost of the two city areas. Kushiro River and Shinkushiro River flow through the city center. Nusamai bridge with iconic statues of women crosses over Kushiro River.
---
Read more about Akan-Mashu National Park: Hot springs and caldera lakes
If you stay in a hotel room facing towards the sea, you can see over the harbor all the way to the open Ocean. Kushiro has been an early port for international trade both because of its location and for the fact, that the area does not receive much snowfall. As early as late 1890s the port was used in trade between Japan and the United Kingdom and the United States. The sea in front of the city of Kushiro stays open for most part of the year, which makes this a great harbor for trade and commercial fishing.
Kushiro city is known for its beautiful sunset. The sunset can be appreciated on a comfortable sunset cruise that heads to the open waters. The boat sails through the busy city harbor, after which the Pacific Ocean opens in front of your eyes. We can arrange you a private sunset cruising tour including all you can eat snacks and bar. You can relax on the open deck or take it easy inside the warm cabin.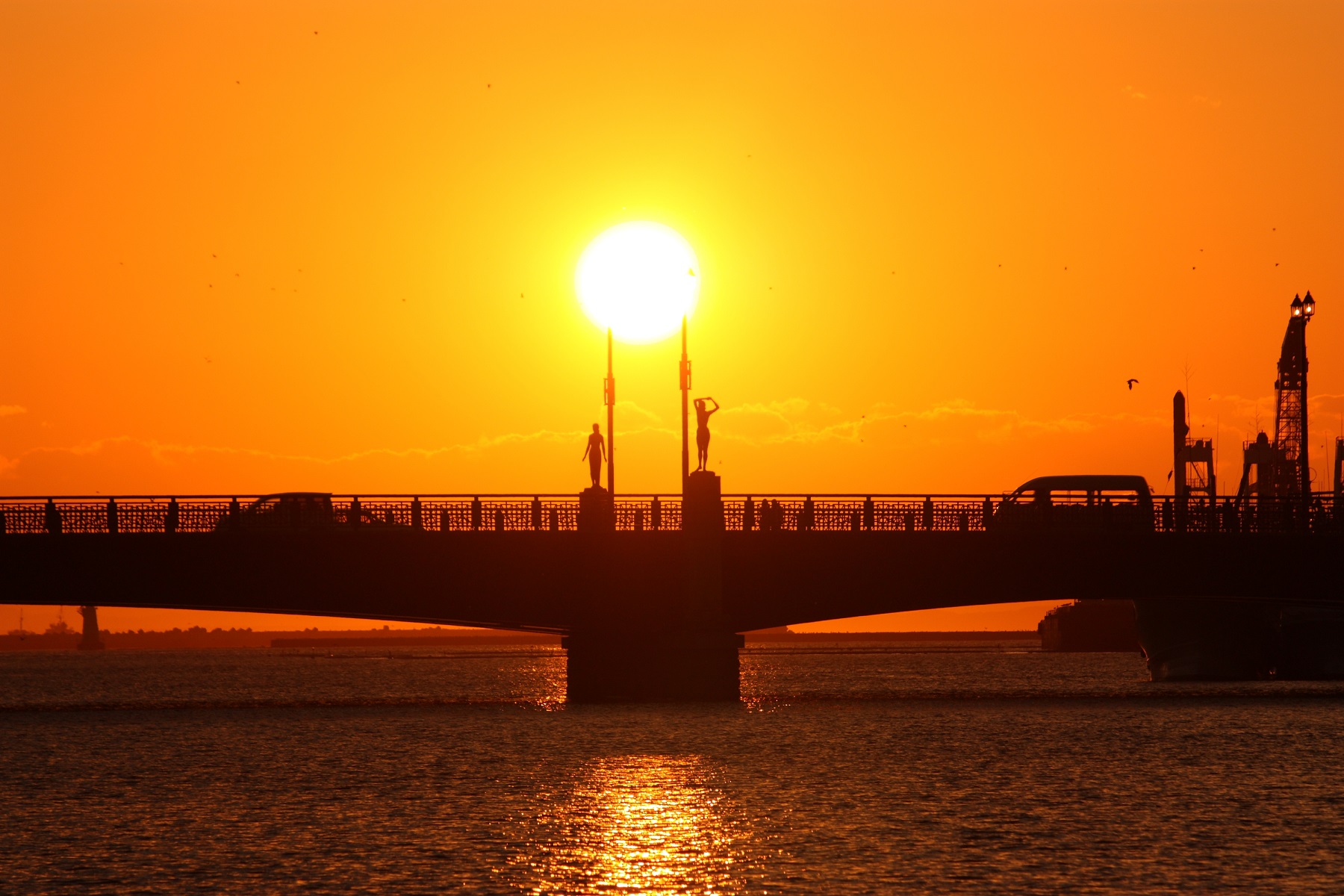 Compared to popular Hokkaido destinations like Sapporo and Hakodate, Kushiro city does not have overwhelming tourist crowds. In fact, for a first time visitor it can be hard to figure out where to stay or eat in the first place. The city center may seem quiet and there is not that much information available online in English. However, the city is full of secret cozy restaurants that are known only by the locals.
As may be expected from a center of corporate fishing, Kushiro is famous for excellent seafood. "Robatayaki" is delicious charcoal barbeque that is believed to originate in Kushiro. At Kushiro Washo Market you can create your own seafood dish "Kattedon" freely translated as "whatever you want rice bowl". You can purchase a plain bowl of rice and special coupons. Then you will wander around the seafood market and order pieces of fresh seafood from different stalls until you have created your ideal meal. Another little surprising local delicacy of Kushiro is escargot – not maybe something you would expect to find in a city at the eastern edge of Japan!
With Hokkaido Treasure Island Travel you can eat like a local to get to know behind the scenes of this city that has much more to offer than first meets the eye. We recommend exploring the city with a local guide to gain a deeper insight into this hidden gem of East Hokkaido.
---
Winter itinerary starting from Kushiro: Outstanding Winter Wildlife Adventure in East Hokkaido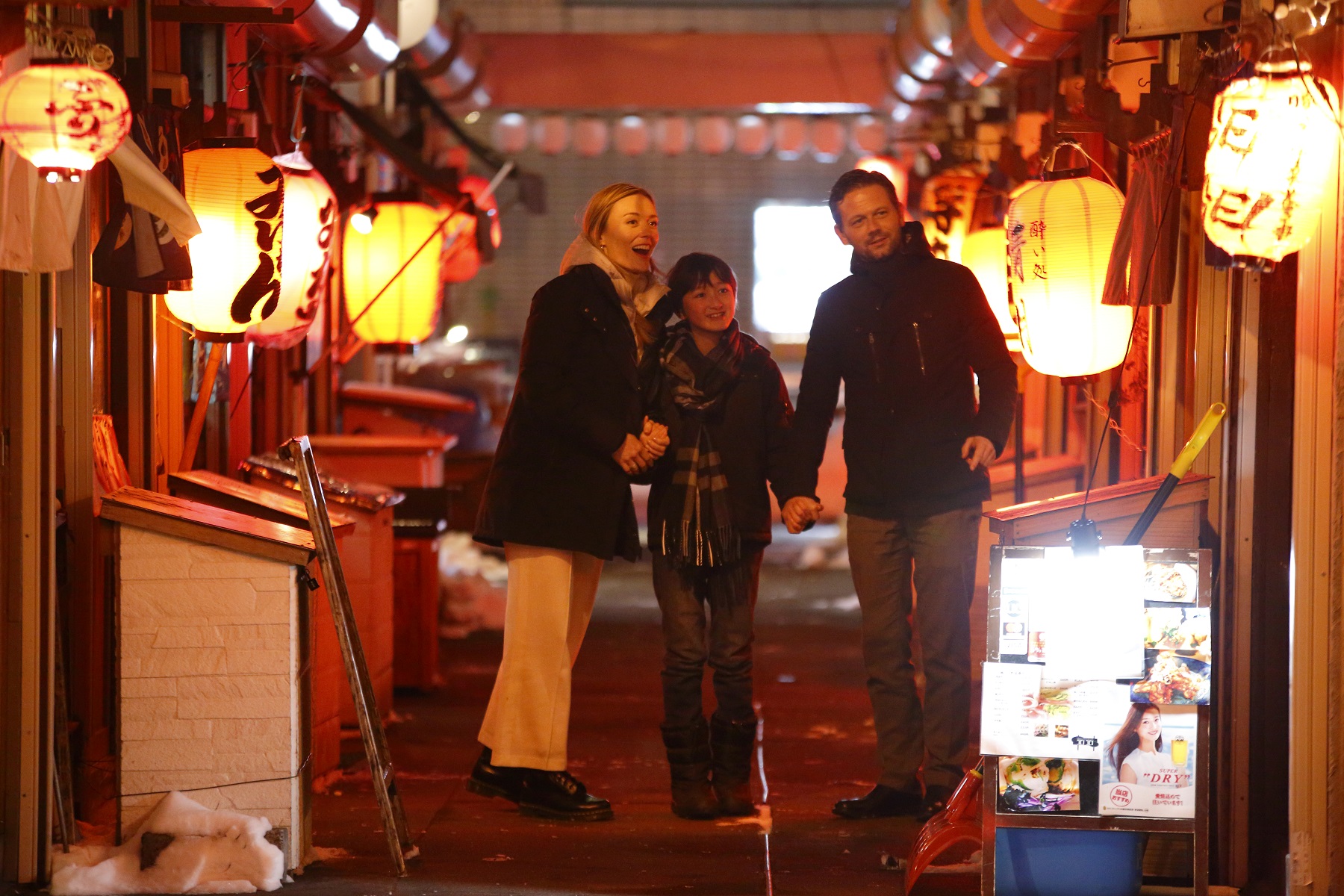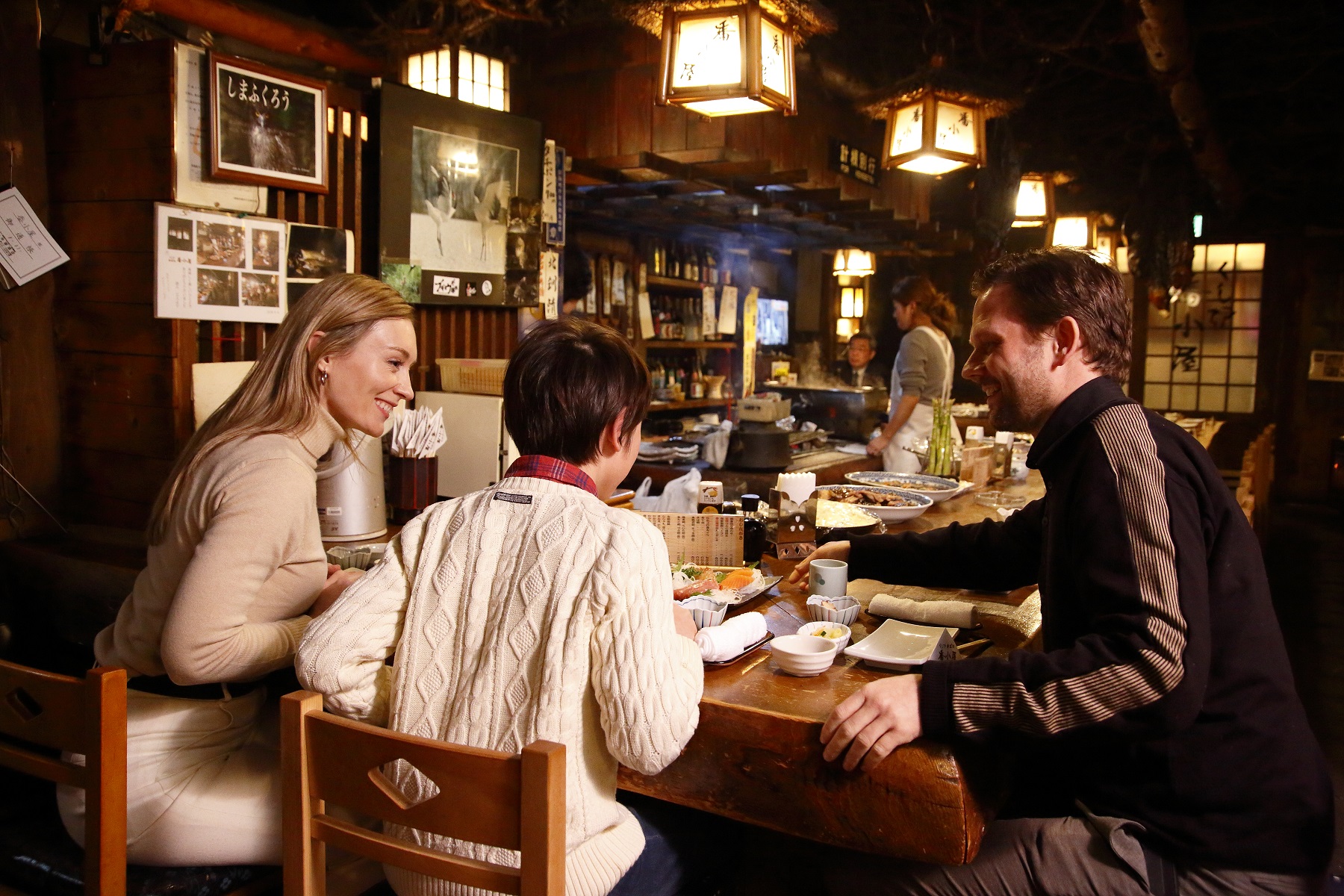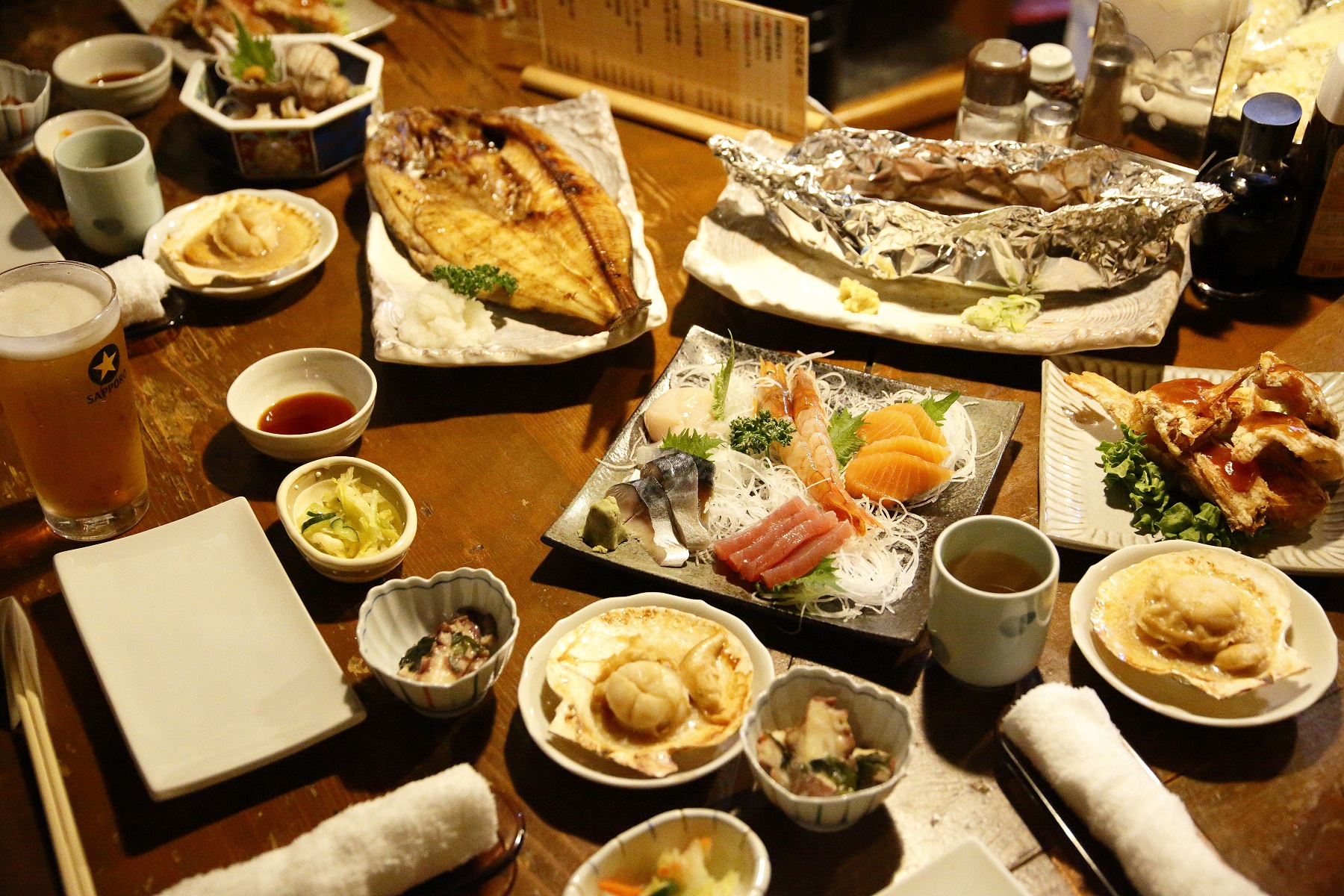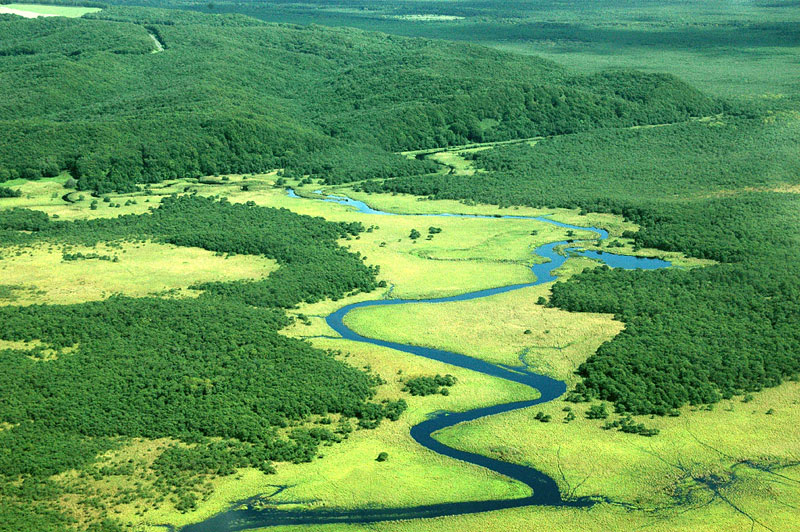 Kushiro-shitsugen National Park
Just some 20 kilometers northwest from Kushiro city center, there is the edge of Kushiro Marshland. Kushiro Shitsugen (also Kushiro Marsh, Kushiro Swamp or Kushiro Wetland) is the largest marshland in Japan. The wetland area is 268.61 square kilometers wide!
The marshland is is protected under The Ramsar Convention on Wetlands of International Importance and it is especially famous for being a habitat for the endangered red-crowned crane.
Kushiro Wetland is astonishingly similar to how it was over 3000 years ago. This mysterious wetland may look shallow on a first glance, but the swamp is actually surprisingly deep.
Kushiro Shitsugen can be appreciated from several observatories and viewpoints. There are also long boardwalk paths on the marshland that can be accessed with a wheelchair. Your experience will be even more interesting, if you stop by to some of the information centers and educate yourself about the local nature. We can also have a local expert guide take you around so you can understand this precious natural environment on a deeper level. A guided tour is also always a great chance to get to know a local and chat with an interesting individual.
Kayaking and canoeing are popular activities in the area. As mentioned before, the area does not have much snowfall compared to other areas in Hokkaido, which makes it possible to enjoy river canoeing around the year. Rivers flow through the marshland all the way to the Pacific Ocean. For visitors who are concerned about burdening the precious marshland with too many visitors, we can recommend similar destinations with less other travelers in the area. Besides Kushiro River, it is possible to enjoy marshland kayaking in other locations such as Kiritappu wetlands in Hamanaka town.
---
Interested in national parks of Hokkaido? Feel free to read: Shiretoko: The peninsula at the end of the earth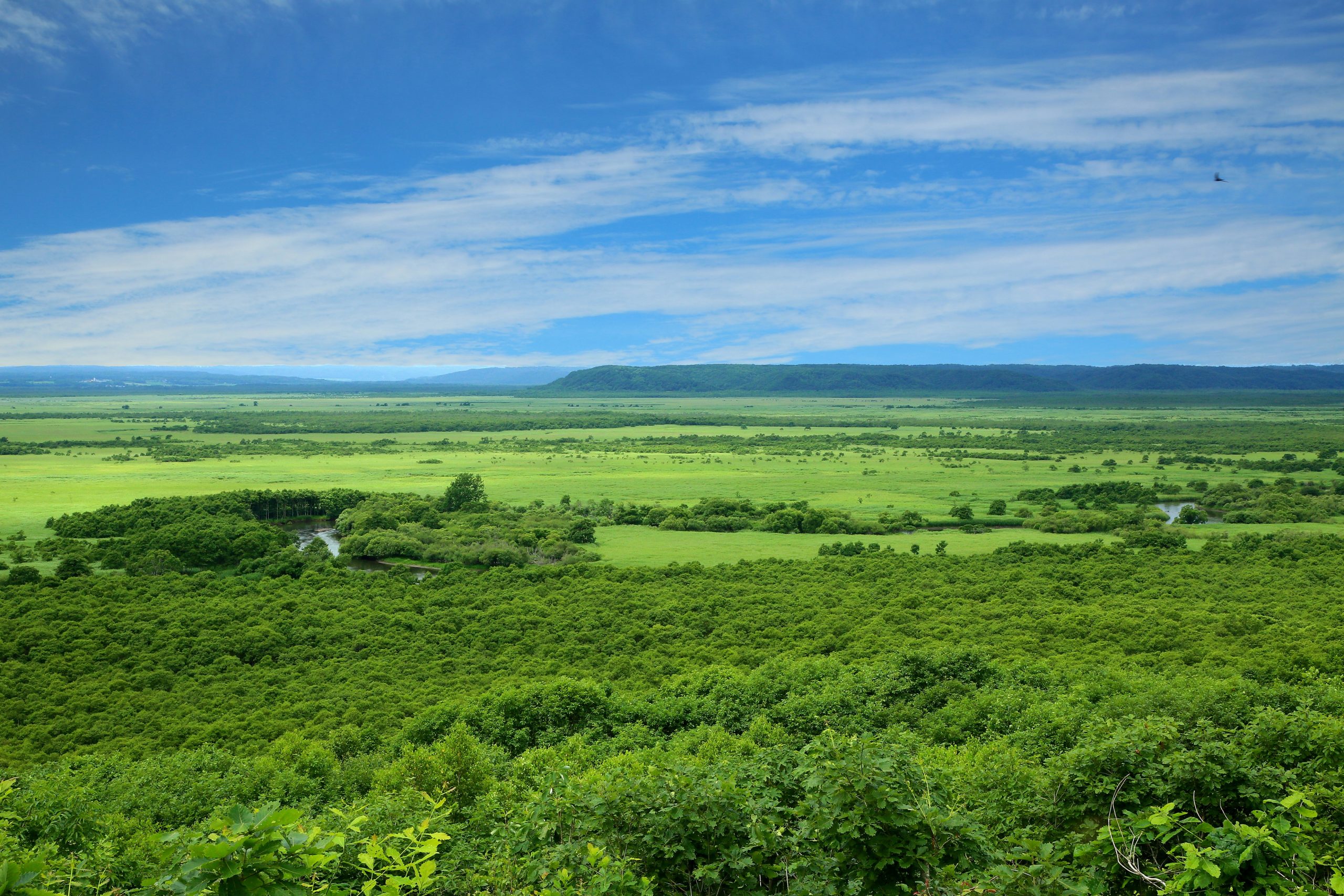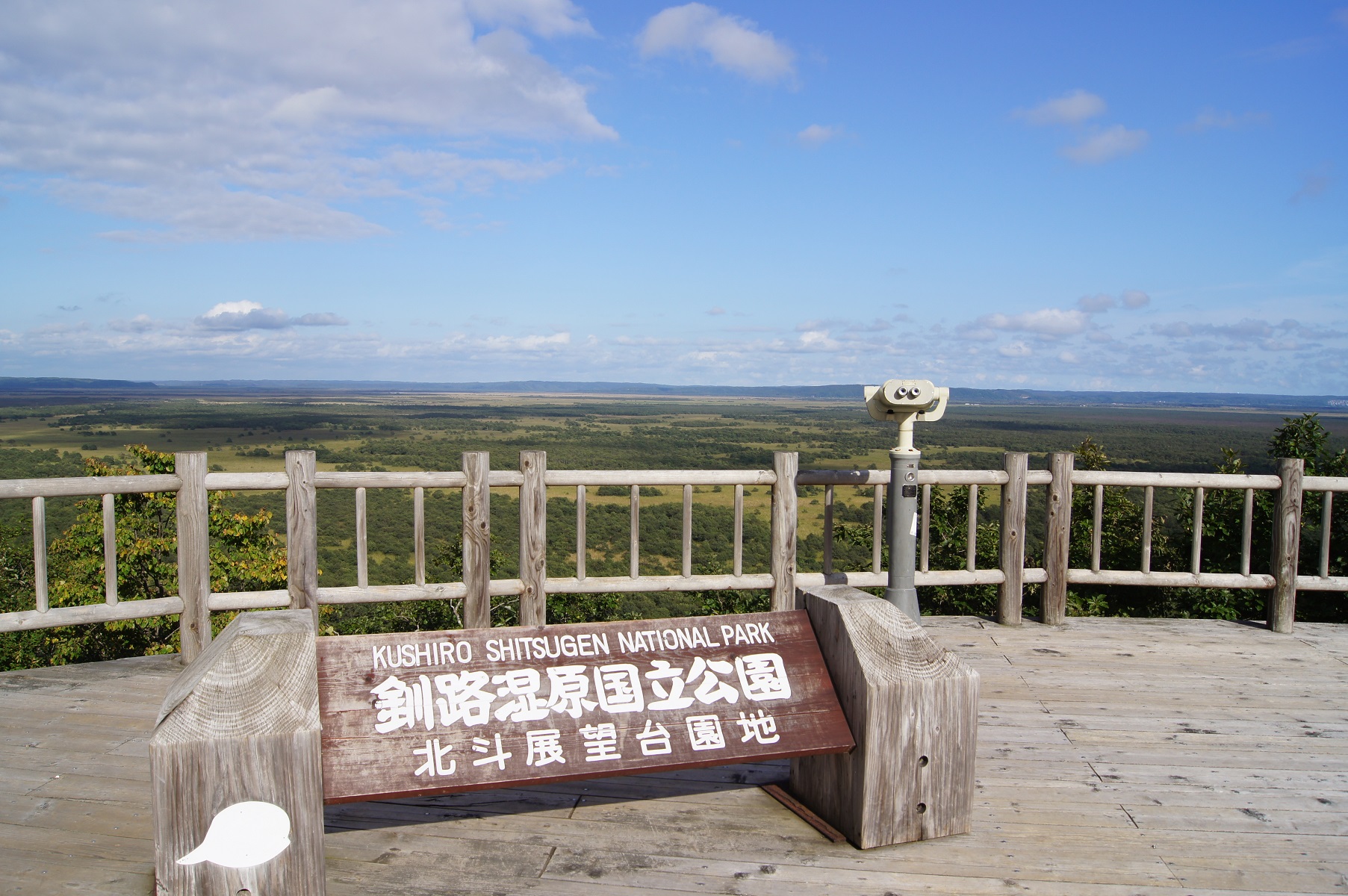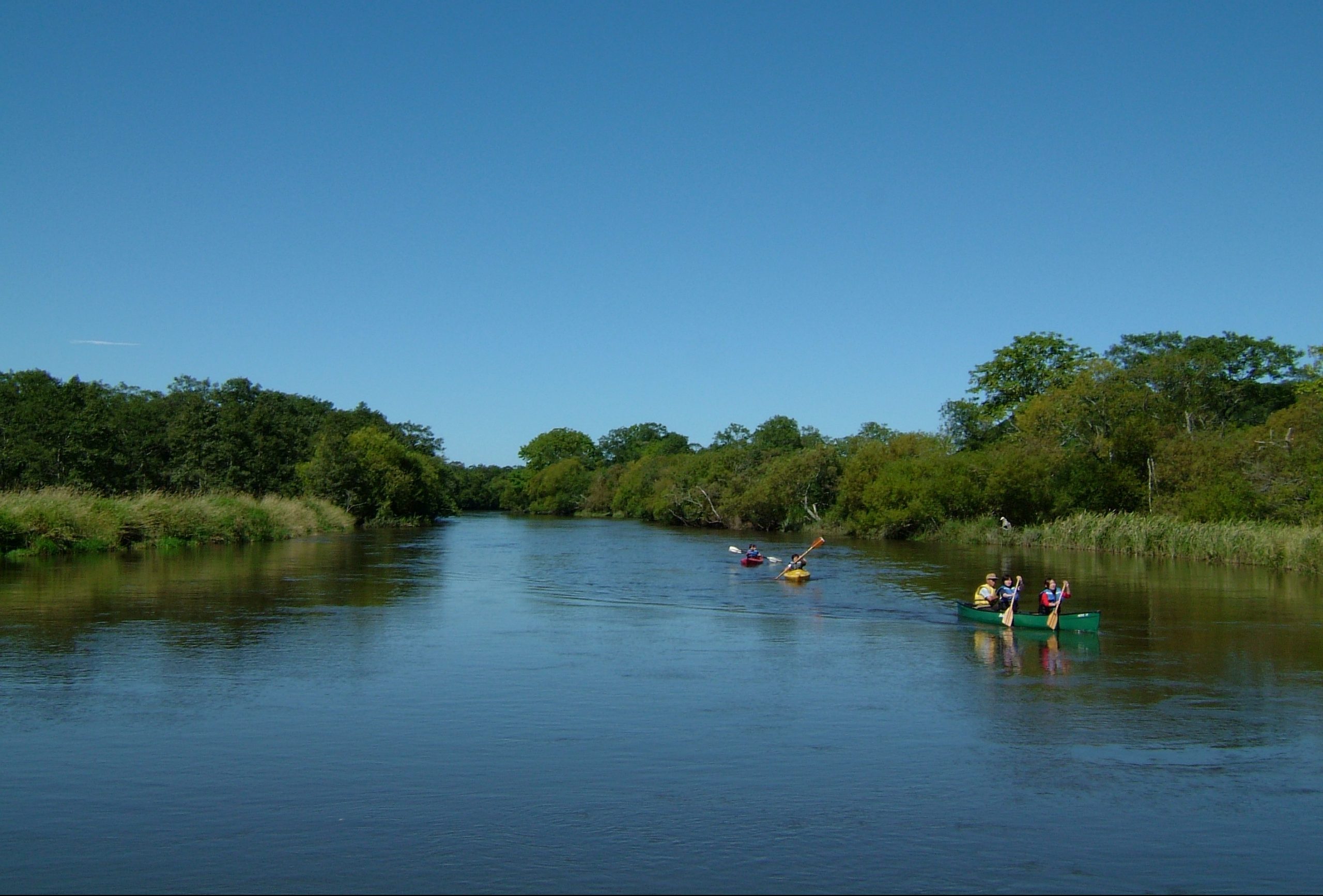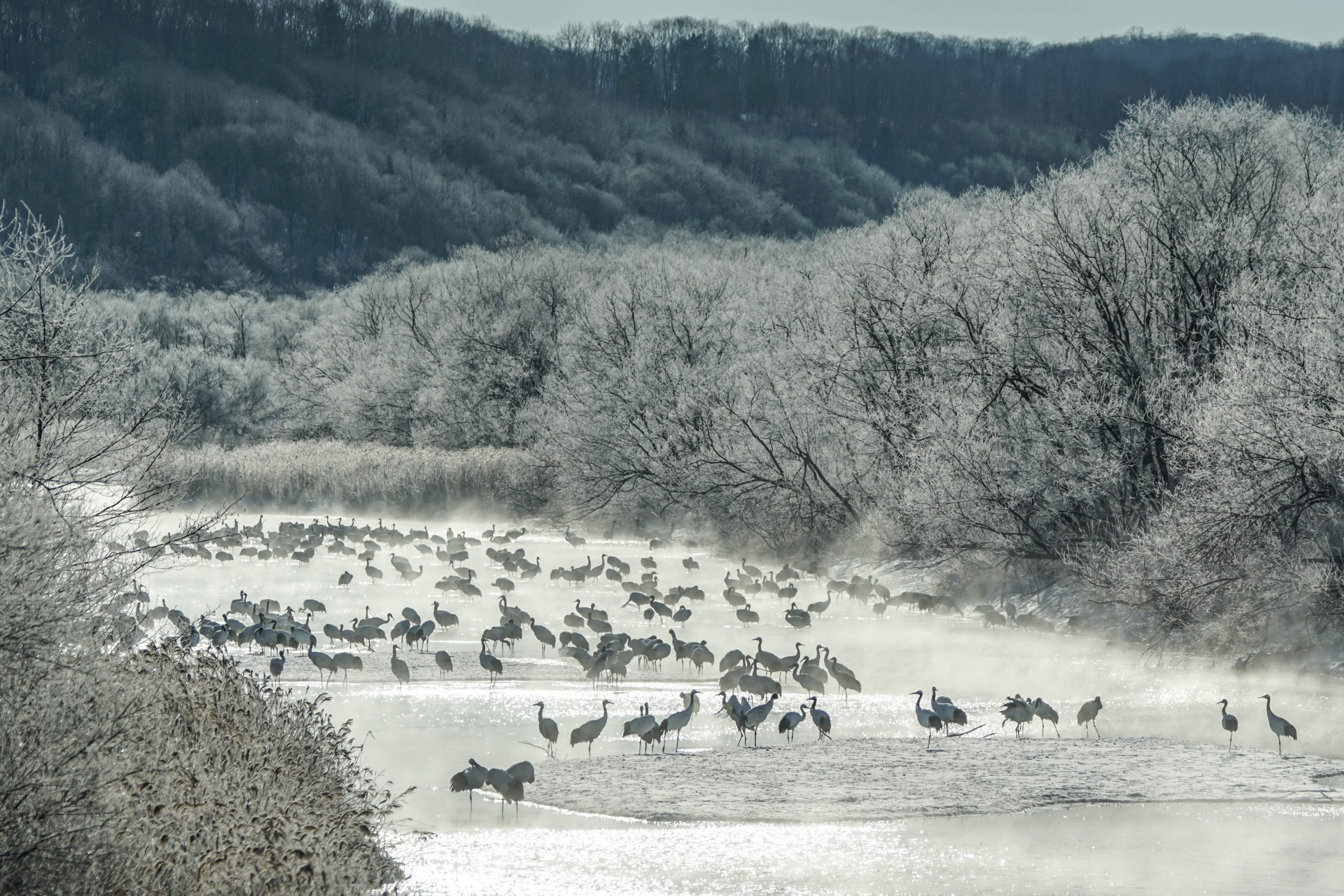 Red-crowned crane: The God of Marshes
Red-crowned crane (also known as Japanese crane or Manchurian crane) is one of the rarest cranes in the world. Red-crowned crane was believed to be extinct in Japan, until in the 1920s around 20 birds were discovered in the Kushiro area.
Nowadays there are winter feeding sites for the birds and the marshland area they need is taken special care of. Today there are still less than 2000 red-crowned cranes in the world, out of which around 950 live in East Hokkaido.
The Japanese cranes prefer living in marshlands of mild climate. Thanks to the fact that there is not much snow in the Pacific Ocean side on the island of Hokkaido, there is a resident population of red-crowned crane that lives permanently in the Kushiro area of East Hokkaido. On the top of Kushiro Marshland, Tsurui village (literally "the village where the cranes are") is a great place to spot the birds. At Tsurui Ito Red-crowned Crane Sanctuary you have good chances of seeing these stunning wild birds as they come to the winter feeding grounds.
This makes the area popular among nature photographers. Hokkaido Treasure Island Travel has experience in arranging bird photography tours for the needs of both professionals and photography enthusiasts. Contact us for further information.
Red-crowned crane holds a special position in the Japanese culture. Crane is a symbol of immortality and good luck. "Orizuru" is a popular origami theme. It is believed, that if you fold a thousand paper cranes your wish will come true. Red-crowned crane is also featured in Japanese folktales such as Tsuru no Ongaeshi (The Crane's Return of Favor). In the traditional beliefs of Ainu, the indigenous people of Japan and Russia, Red-crowned crane is known as "Sarurun Kamuy" or the God of Marshlands. Looking at the captivating dance of these large but gracious birds, it is easy to understand why.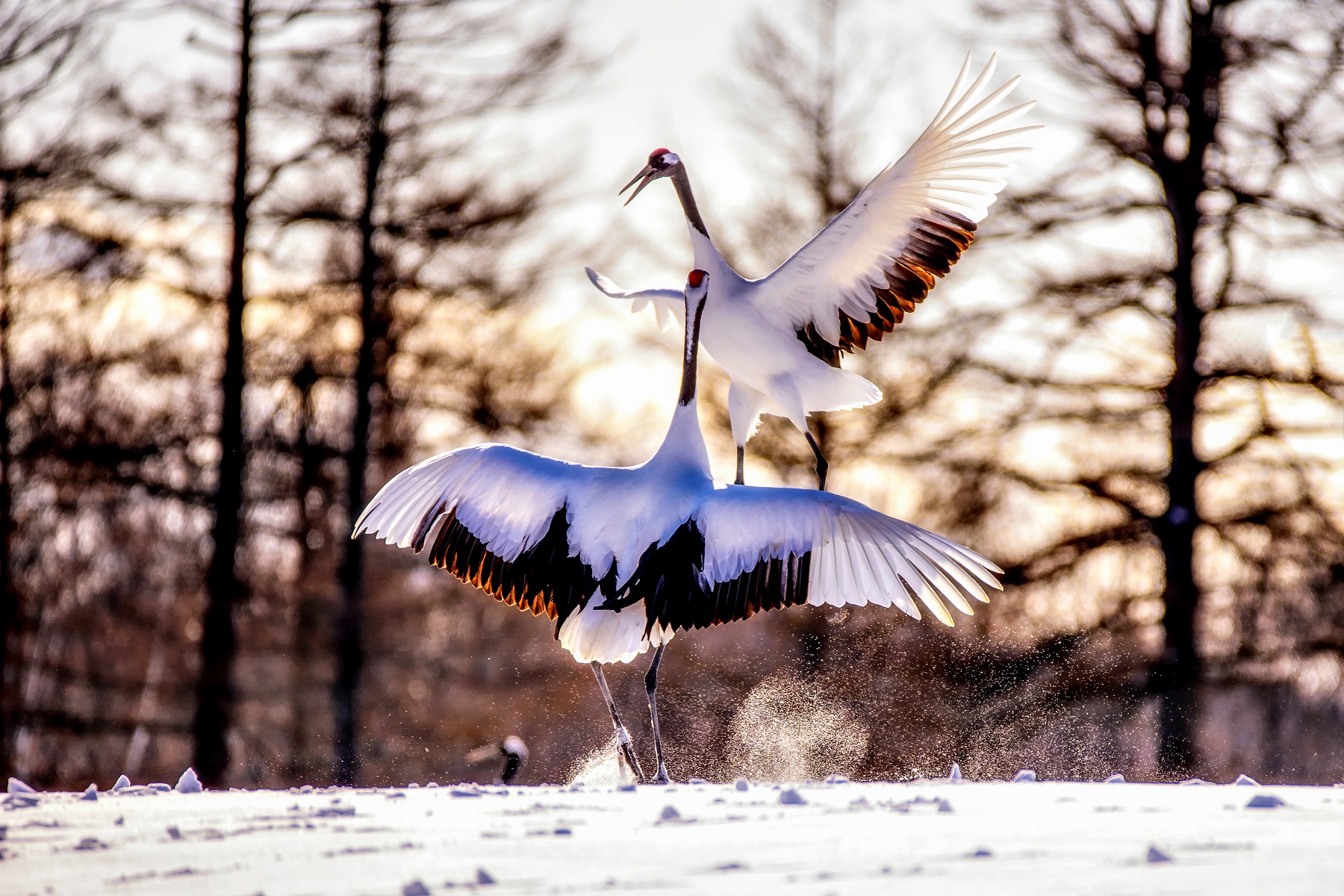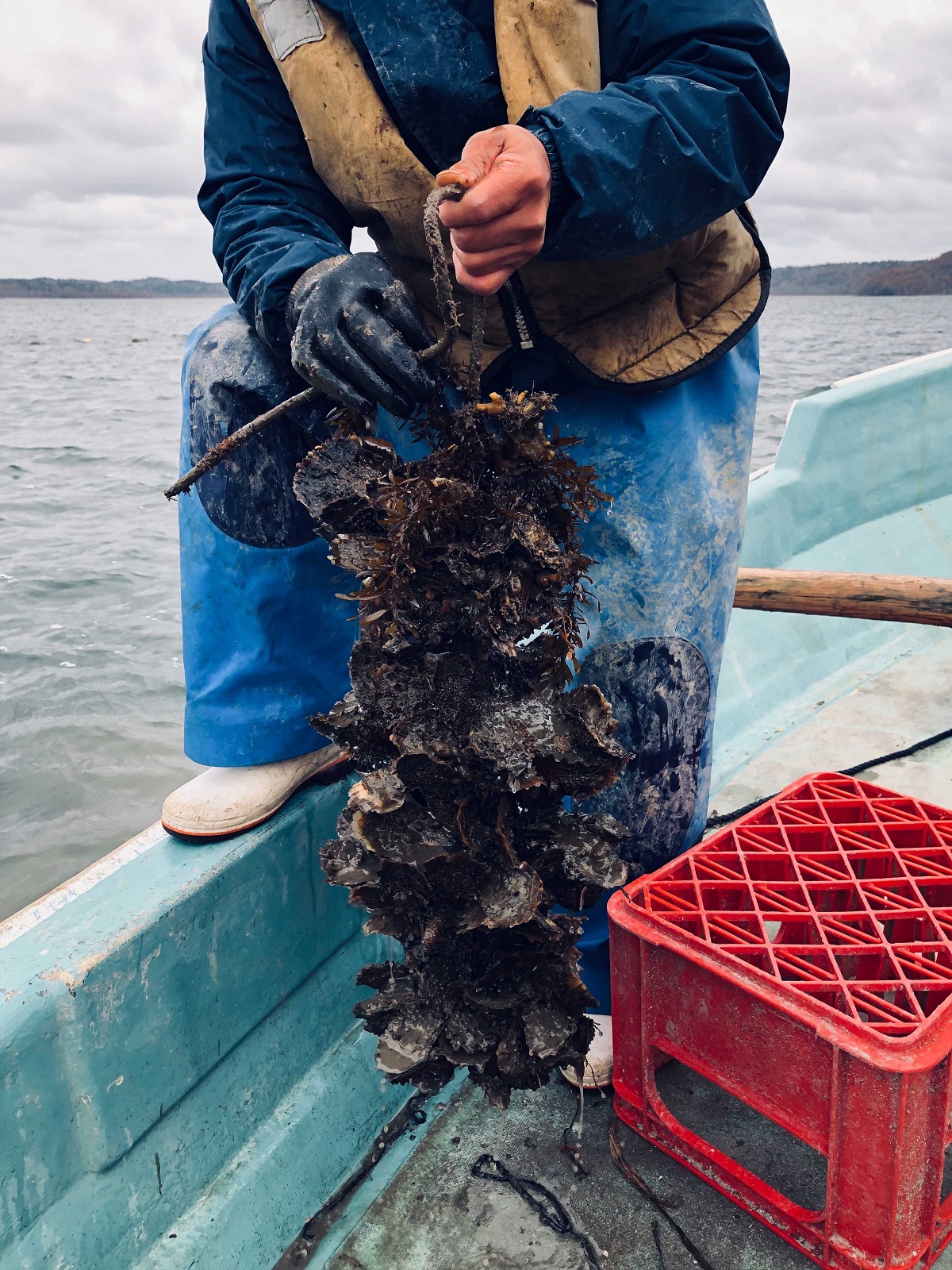 Akkeshi: Oysters and whisky
Akkeshi town is located approximately 50 kilometers east from Kushiro city. The town is at the shore of Akkeshi Bay facing the South Pacific Ocean. Partly connected to the bay there is a brackish lake, Lake Akkeshi. Like Kushiro Marshland, Lake Akkeshi is a Ramsar site.
The town has also an interesting history. Kokutai-ji Shrine in Akkeshi was founded in 1802. This is one of the oldest shrines in Hokkaido, which officially became part of the state of Japan on the event of Meiji Restoration (1868). Shinto missionaries tried to convert the indigenous Ainu people who had lived in the area long before first Japanese front the main island arrived.
Ainu people made use of the rich nature of the area and collected oysters from Lake Akkeshi. Nowadays oyster and clamp aquaculture is practiced in this lake. With us, you are welcomed  behind the scenes of the local oyster industry. You will meet local oyster fishermen who will teach you about oyster aquafarming and their interesting lifestyle. You can join them as they check the oyster nets of Lake Akkeshi. It takes years for oysters to reach eatable size! Later you will learn to open oysters in a cozy oyster bar right next to the harbor and you can chat with your new friends.
Besides oysters, Akkeshi is recently known for its whisky. Hokkaido is famous for its whisky scene, mainly the Nikka Yoichi Whisky of Yoichi town near Sapporo. Akkeshi Distillery is a young whisky distillery that is gaining popularity. Pouring some whisky over a raw oyster is a tradition in the promised land of whisky, Scotland. While in Akkeshi, feel free to try this combo of local goods!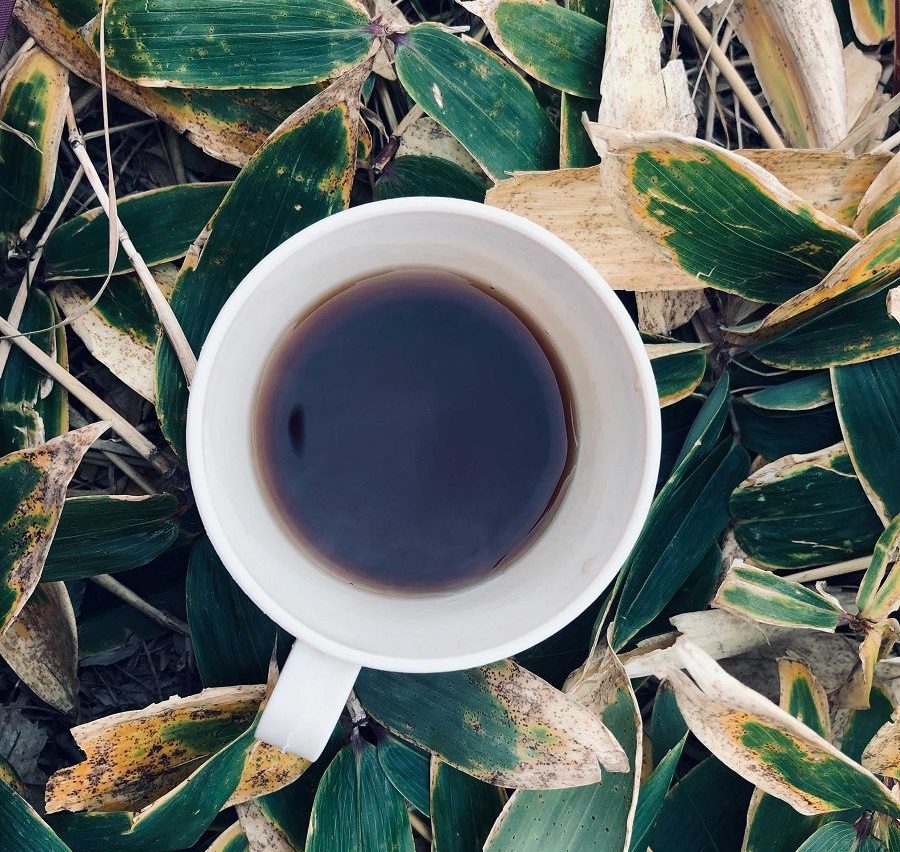 Hamanaka: Teatime on a desert island
Some 30 kilometers east from Akkeshi town, towards Shiretoko Peninsula, there is Hamanaka town. Like Kushiro and Akkeshi, this area is has also precious marshland designated as Ramsar site.
In Hamanaka town you can dig deep into the local lifestyle. In this seaside town you will meet a former kombu kelp fisherman who runs a comfy bed and breakfast. He will guide you to a deserted island.
After a short trip on a motor boat, you will land on an island that is covered in "sasa" broad-leaf bamboo. The island can only be visited with the local guide.
In summertime there are beautiful flowers all around the island, but the green mat of sasa makes this island a treat to the eyes no matter the season.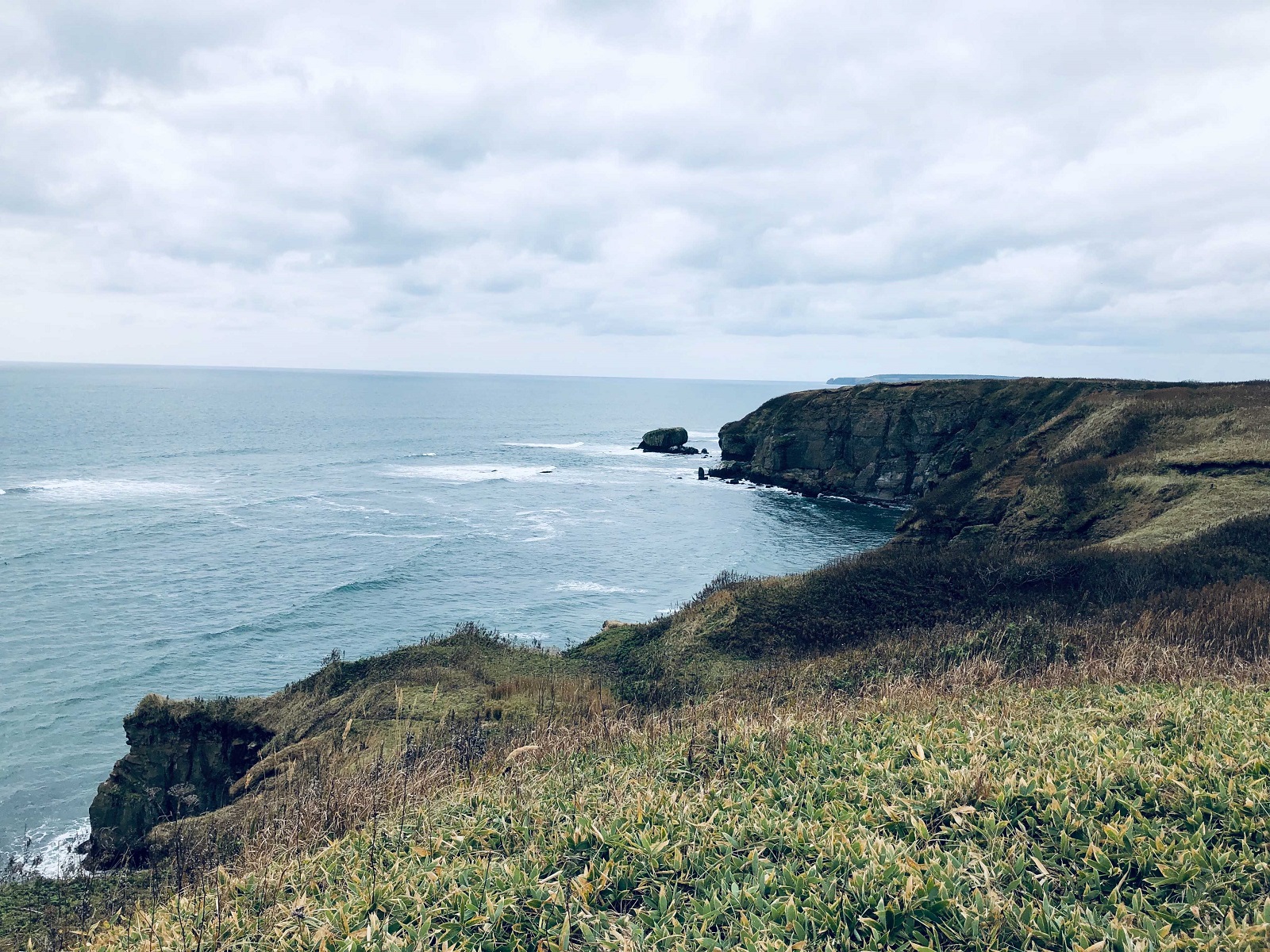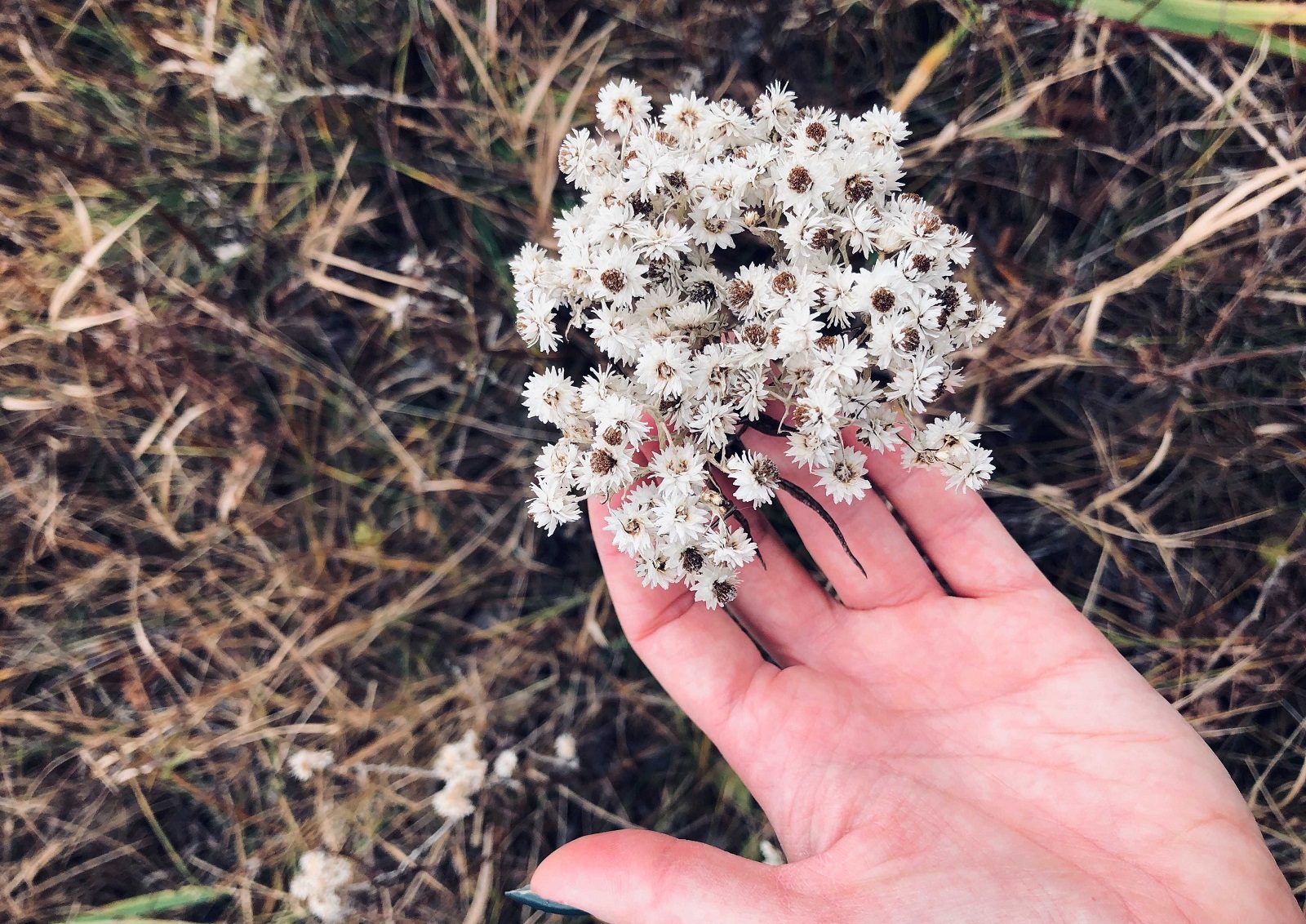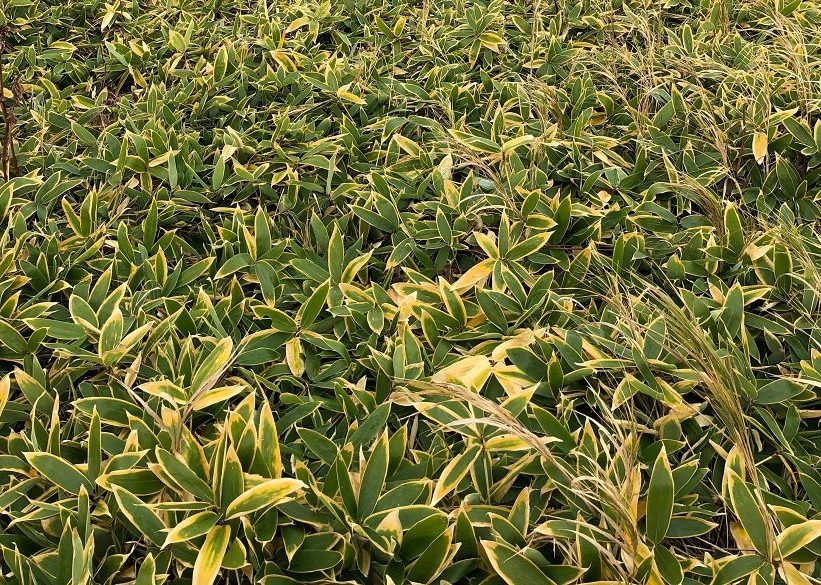 Kiritappu Wetland in Hamanaka town is home to various marshland flowers such as lilies and cotton grass. The flowers of Kiritappu Wetland are at their peak around June to July. Sometimes red-crowned cranes can be spotted in the area.
Local volunteers have created a national trust to protect the precious nature of their hometown. Your desert island guide has a bread and breakfast that is located right at the edge of this important wetland. The owner of the place finds it important to share with visitors the efforts of the locals and the special position this marsh has for the locals. You are warmly welcomed to this hidden destination in North Japan.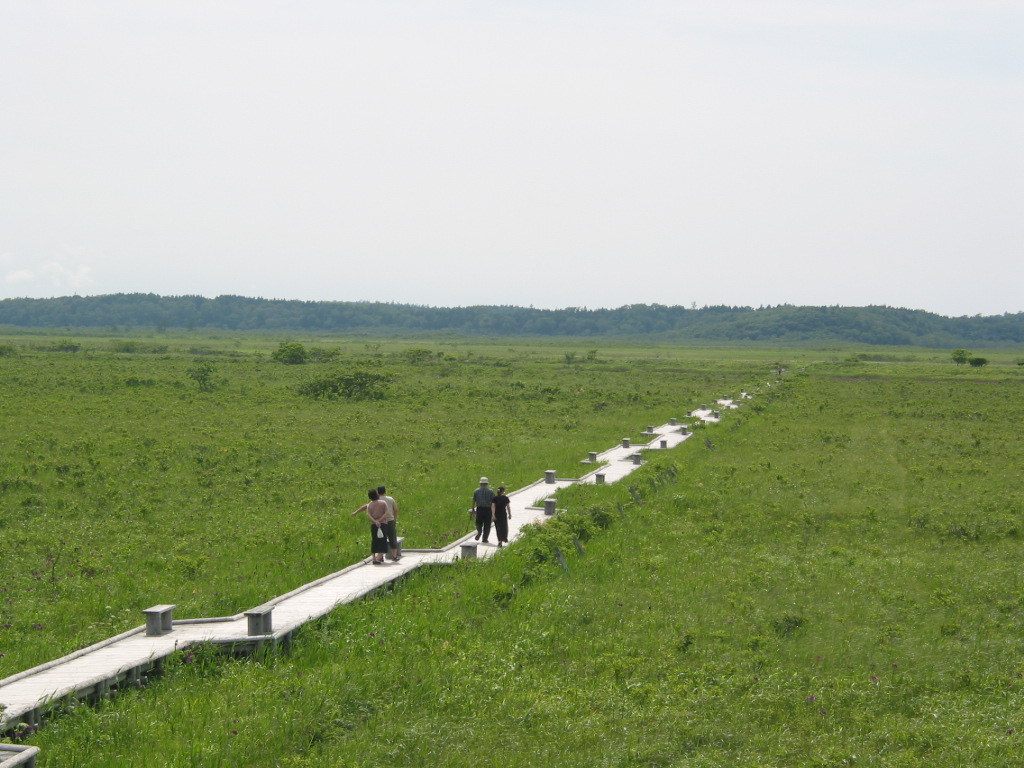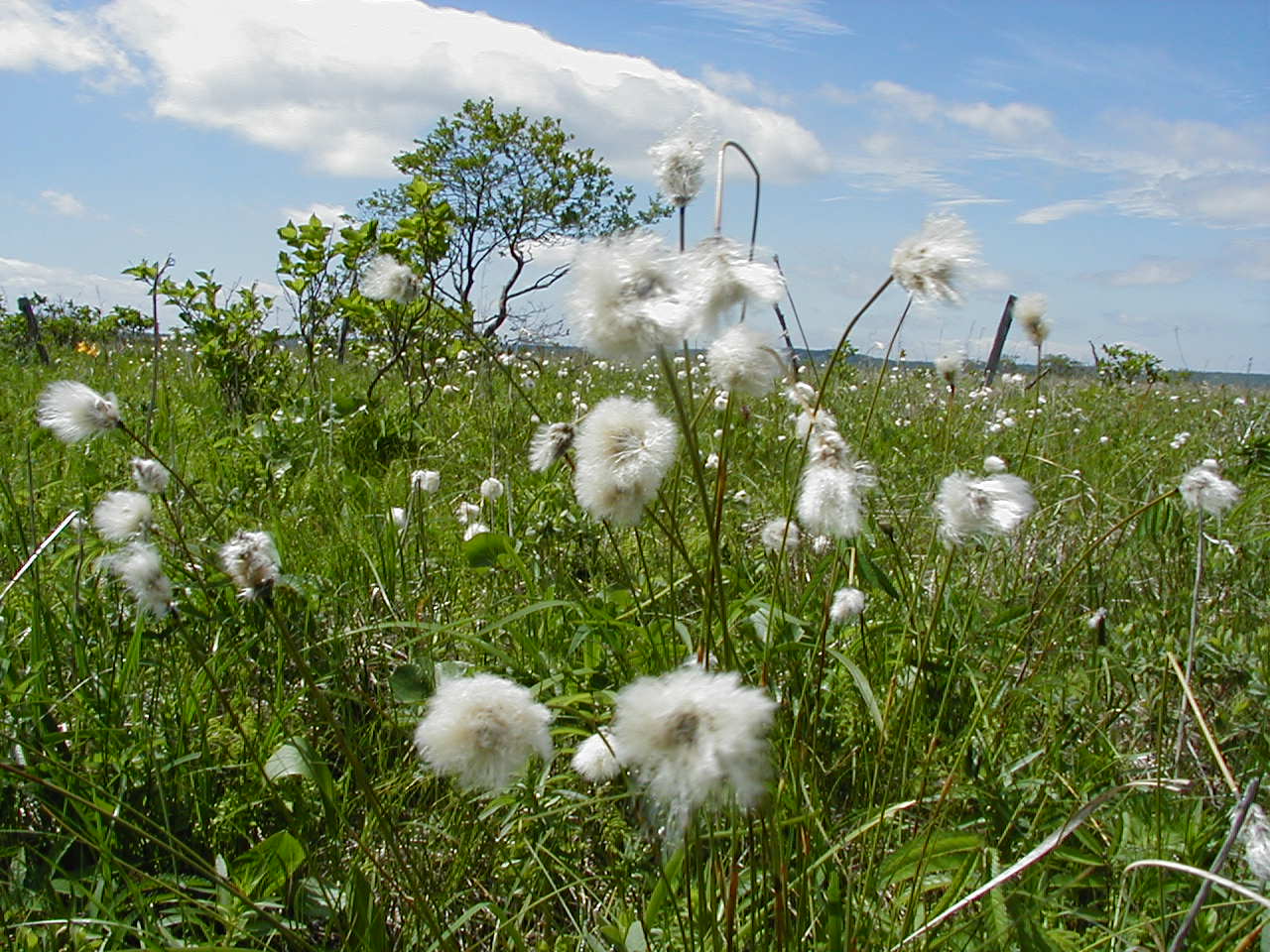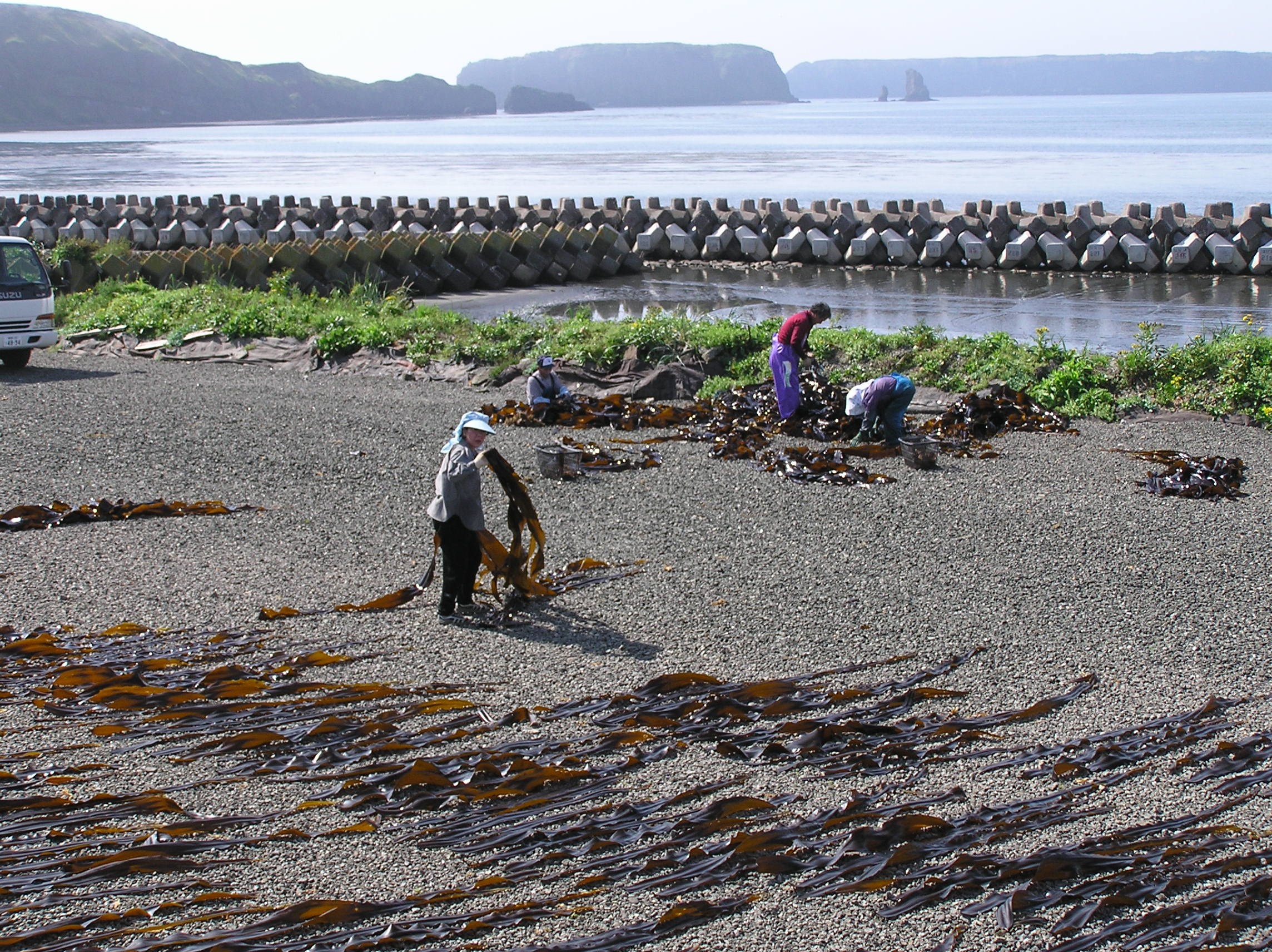 Local encounters: kombu and world-class milk
Kombu kelp is one of the most important produce of Hamanaka town. Kombu is an inseparable part of Japanese cuisine used in sauces or as such. You are welcomed to meet locals and learn about the secrets of kombu.
Because of the area's mild climate, Hamanaka is also a great location for dairy industry. Hamanaka milk is first class: In fact, the milk made in Hamanaka town is used for the world-famous Häagen-Dazs brand ice-cream!
The Kushiro area is full of surprises and local adventures for those who wish to experience true Hokkaido on a deeper level.