For your next Hokkaido adventure in winter, why not plan a two-day trip to Obihiro, the central city of Tokachi region? In this article, I will share with you all the delicious local dishes and sweets I tasted, and from typical Japanese delicacies to more western style bakeries, we will also discover some cultural aspects of the city. Obihiro is renowned for the quality of the products of its region but also for the Banei Horse Race or the  Jewelry Ice located in Toyokoro which attracts more and more photographers every year. So sit back and let yourself be transported to Obihiro…
 First of all, let's start with a short introduction of Obihiro city. This city is located in Tokachi sub-prefecture known for its endless agricultural plains and the abundance of agricultural products such as wheat, potatoes, beets and beans. This area is often called the breadbasket of Japan. Cattle take advantage of this land and produce quality dairy products, including cheese.
 Obihiro city is an easily accessible town. You can fly to Tokachi-Obihiro airport, located about 25 kilometers from the center of Obihiro (40 to 50 minutes by car or local transportation). From Sapporo, you can take the JR Line Express, a 2.5 hour trip or, like me, you can travel by bus, a transfer that took me 3.5 hours.
---
 My adventure started at a bus stop near Sapporo station. While I was waiting alone, standing on a pile of snow on the sidewalk (to make myself visible since my small silhouette disappeared behind this snow wall), a cab stopped right in front of me. The driver got out, pointed to a placard at the bus stop and kindly informed me that the bus would not stop here. I had not paid attention to this notice until then and when I tried to approach it (the bus stop was half buried in the snow), I read that this mention was a week old. The cab driver, always worried because usually this kind of indication is removed after validity, called the bus company to make sure that the bus would serve this stop. This little anecdote is just an example of my daily life in Hokkaido. People are kind, warm, helpful and very patient. They live a slow life and I have a lot to learn from them. There is no doubt that these long hard winters where nature takes over allow them to develop this patient nature. I like Sapporo but I also like its people and their mentality.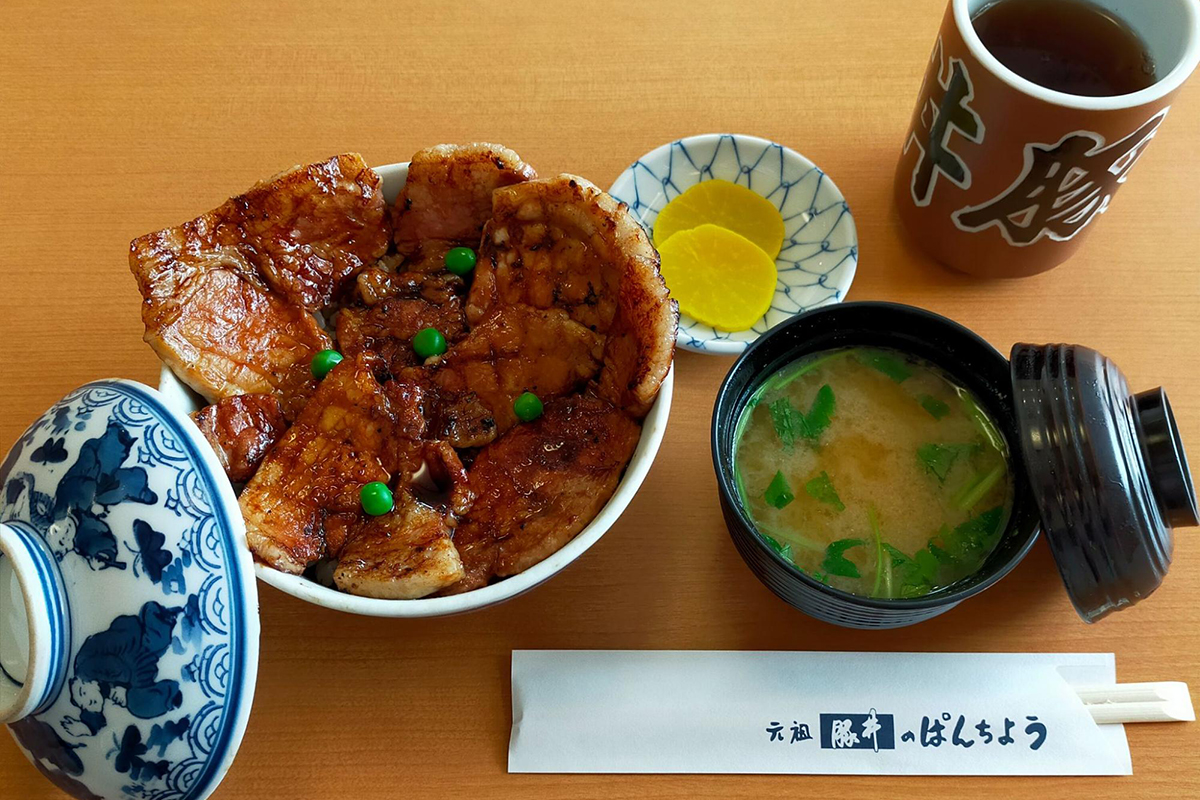 My bus arrived at 9:15am and I enjoyed a comfortable ride to Obihiro where I arrived at 12:40pm. A few steps from the station led me to a small restaurant, Butadon Panchou (元祖豚丼のぱんちょう), THE restaurant to taste Obihiro's local dish called butadon, a bowl of rice topped with tasty pork slices. Upon entering this restaurant, I discovered a unique room with refined decoration. The only ornaments are discreet wooden lamps on the ceiling bringing a little retro touch. The menu is very simple, offering only this rice and grilled pork dish with 4 variations corresponding to the number of slices of pork (4-8 pieces) you want on your rice bowl. You can then add miso soup to your set and choose between nameko miso soup (mushroom) or wakame miso soup (seaweed). The set is served with Japanese tea, so I did not order a drink. I choose the Ume set with 6 slices of pork (梅-豚肉6枚) with nameko miso soup.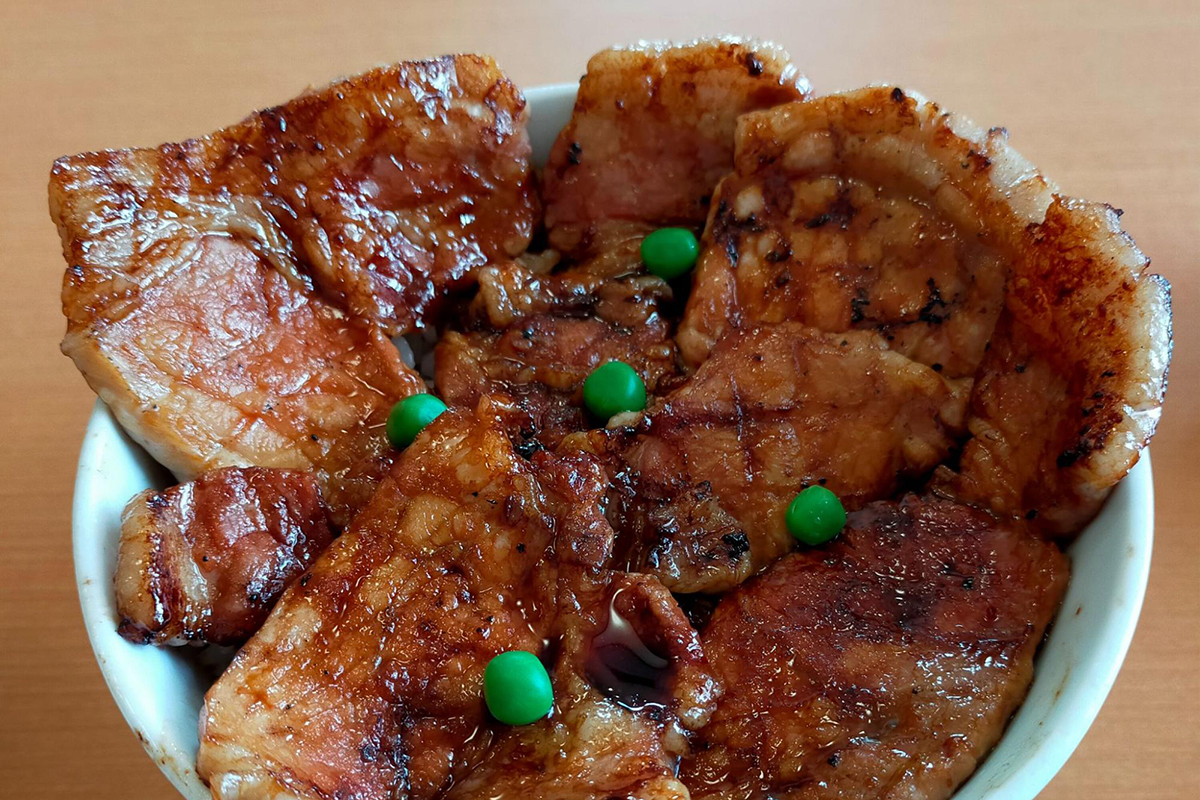 The meal is served in a Chinese-style blue porcelain bowl with a lid. There is this little surprise effect of discovering the meal by lifting the lid. This really simple but beautiful meal was revealed before my eyes: the very appetizing pieces of caramel-colored pork on which 5 peas rested, bringing a little touch of bright color. I thought this dish summed up the appreciation of beauty in Japan very well. After photographing my meal from all angles, I enjoyed its delicious smell which awakened my taste buds. The tender grilled meat perfectly accompanied by a tasty, slightly sweet secret sauce melted in my mouth. This lunch at the reasonable price of 1,330 JPY was really good and the quantity was also amazing! I had planned to finish this meal with a dessert bought from a nearby store, but my stomach was full with this hearty meal. Instead, I decided to take a 20-minute digestive walk to Obihiro Shrine.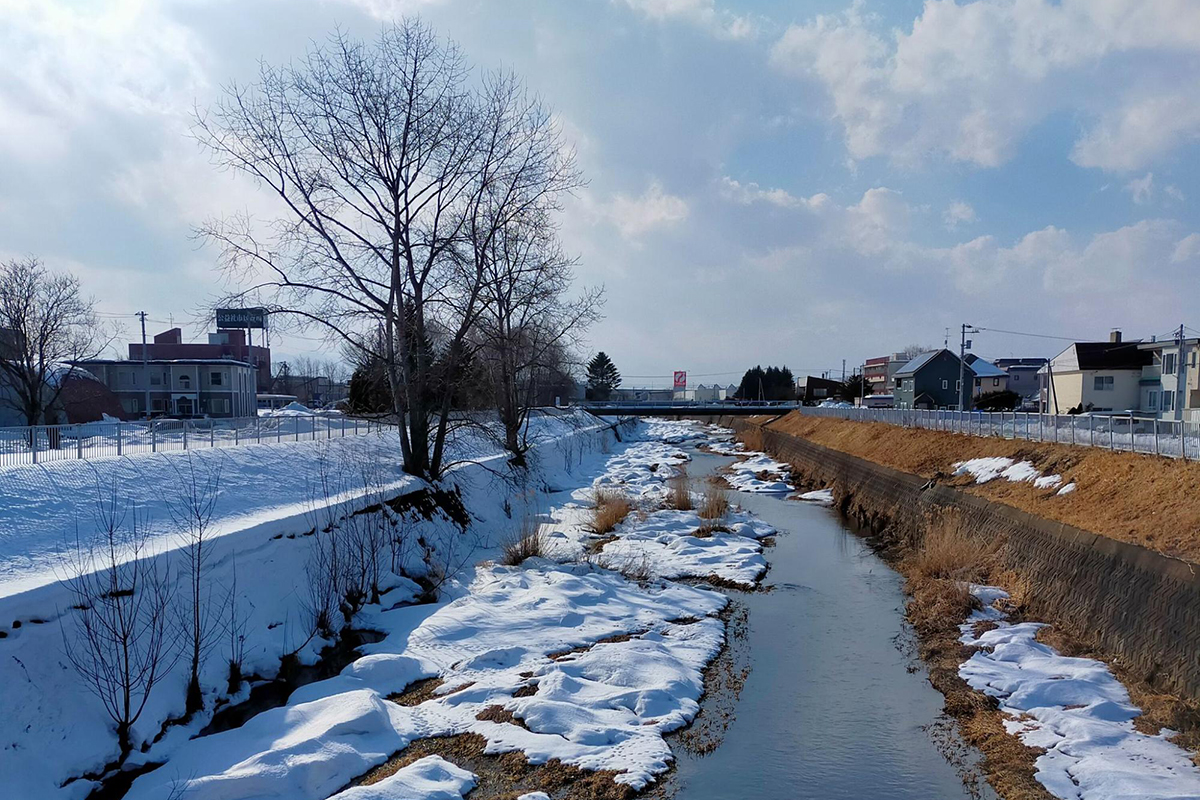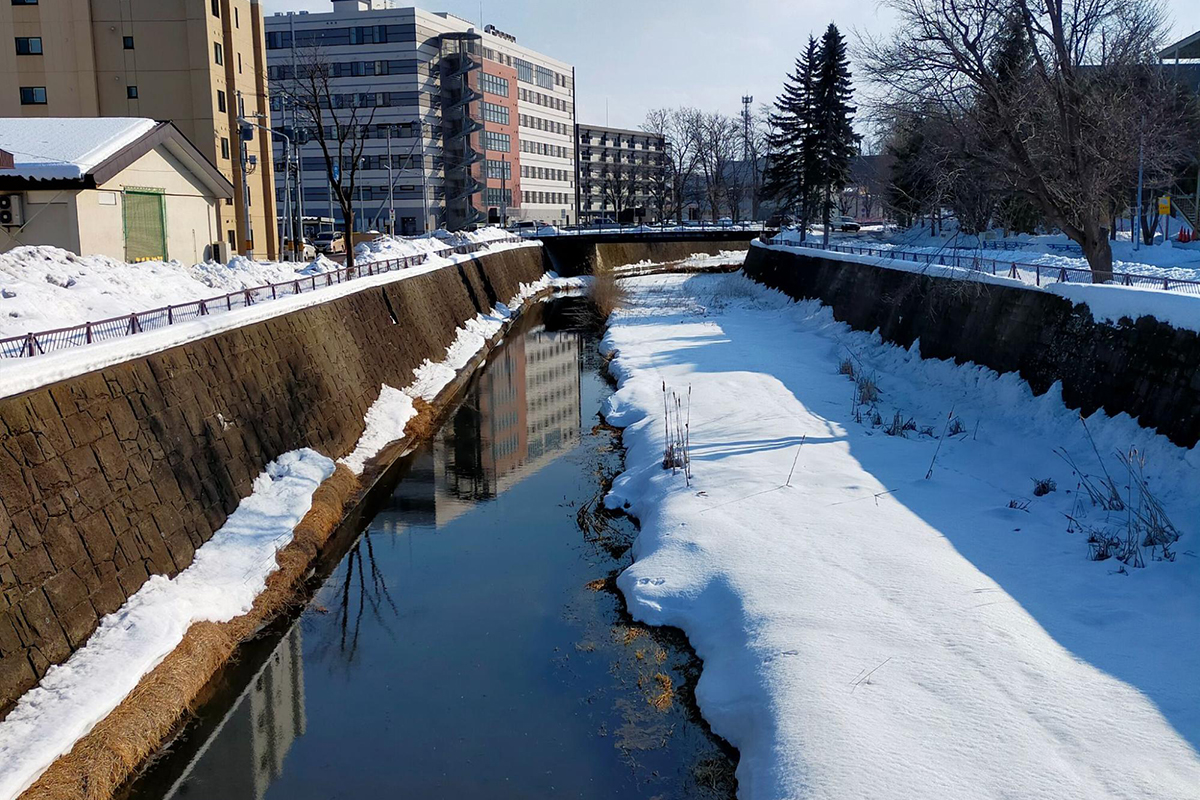 On the way to Obihiro Shrine, I admired the Obihiro River with its white snow-covered banks that runs through the city.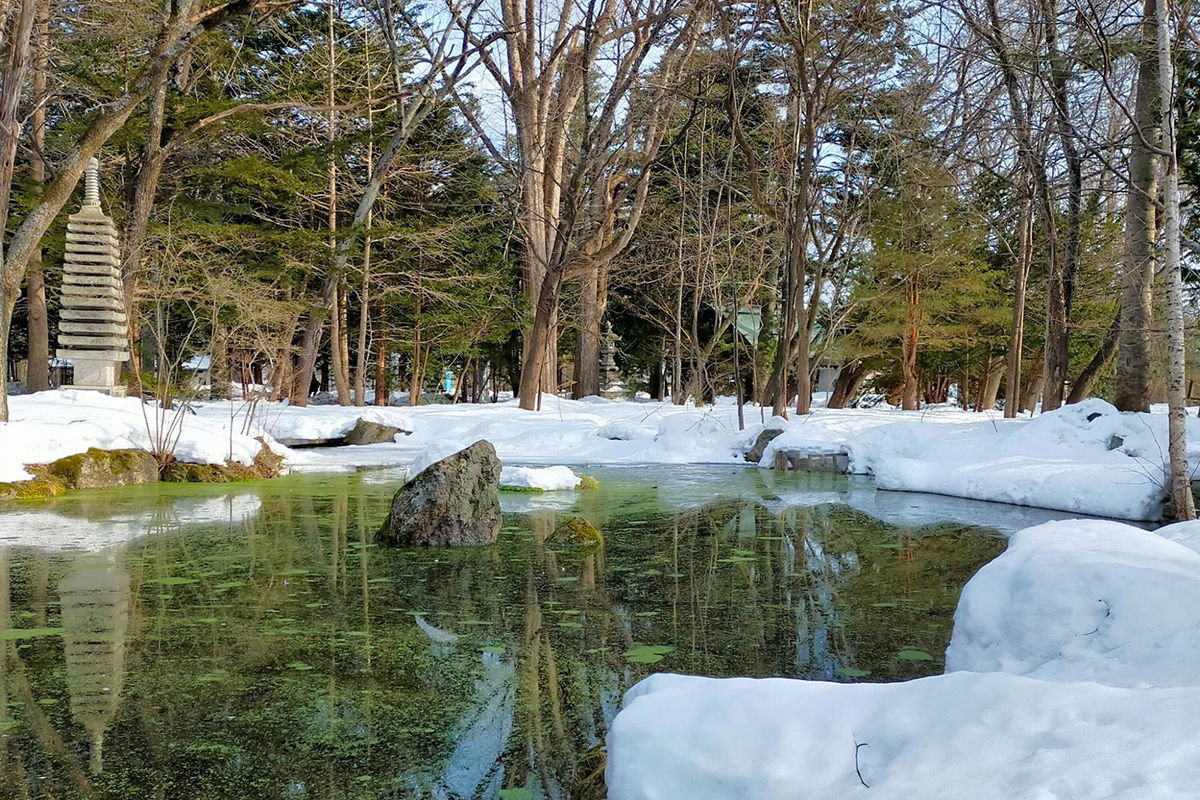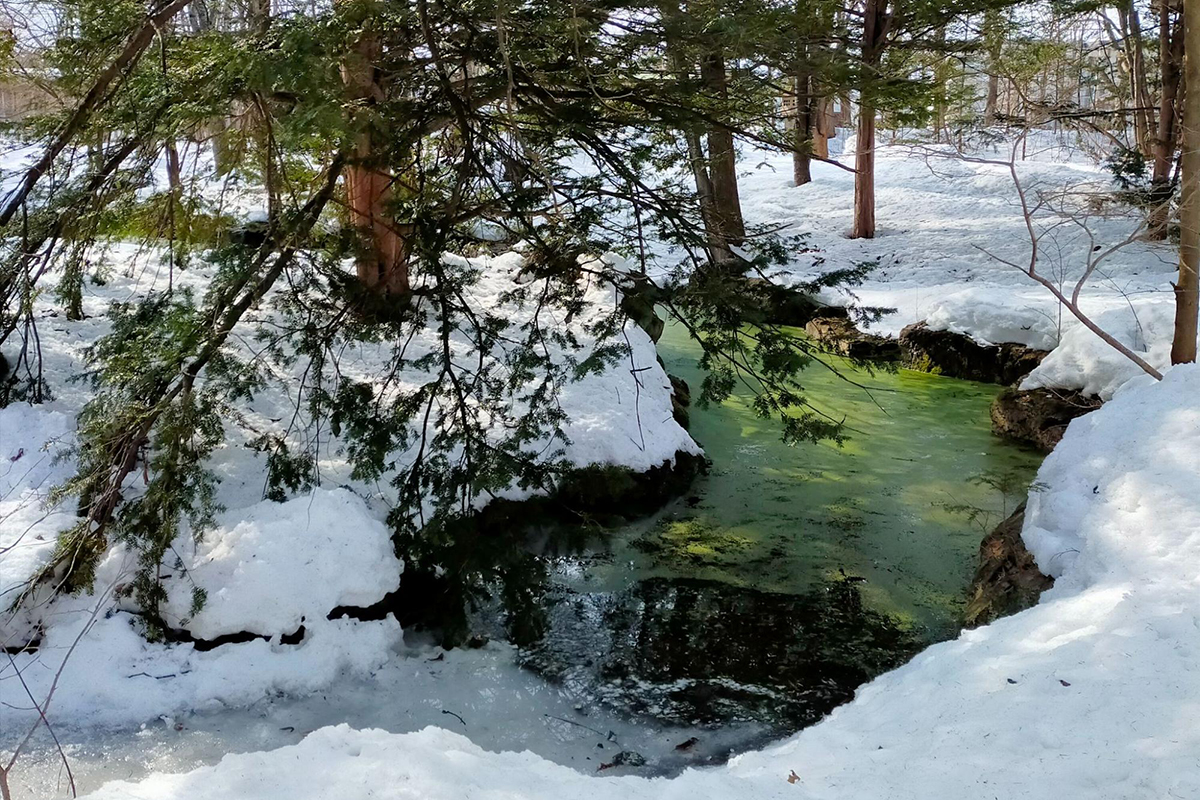 In front of the entrance of the shrine, swans were paddling there enjoying the sunlight. Indeed, the temperatures had been warming up for a few days already (which was not the optimal conditions for my guided tour of the Jewelry Ice scheduled for the next day). As I entered the shrine area, I left civilization to enter a beautiful preserved forest. This forest composed of Harunire (Japanese elm), walnut and cherry trees was covered in a thick fluffy white coat and those green trees reflected in the pond. This abundant greenery is inhabited by many small animals such as squirrels, chipmunks and wild birds such as great spotted woodpeckers, starlings, great tits and mallards.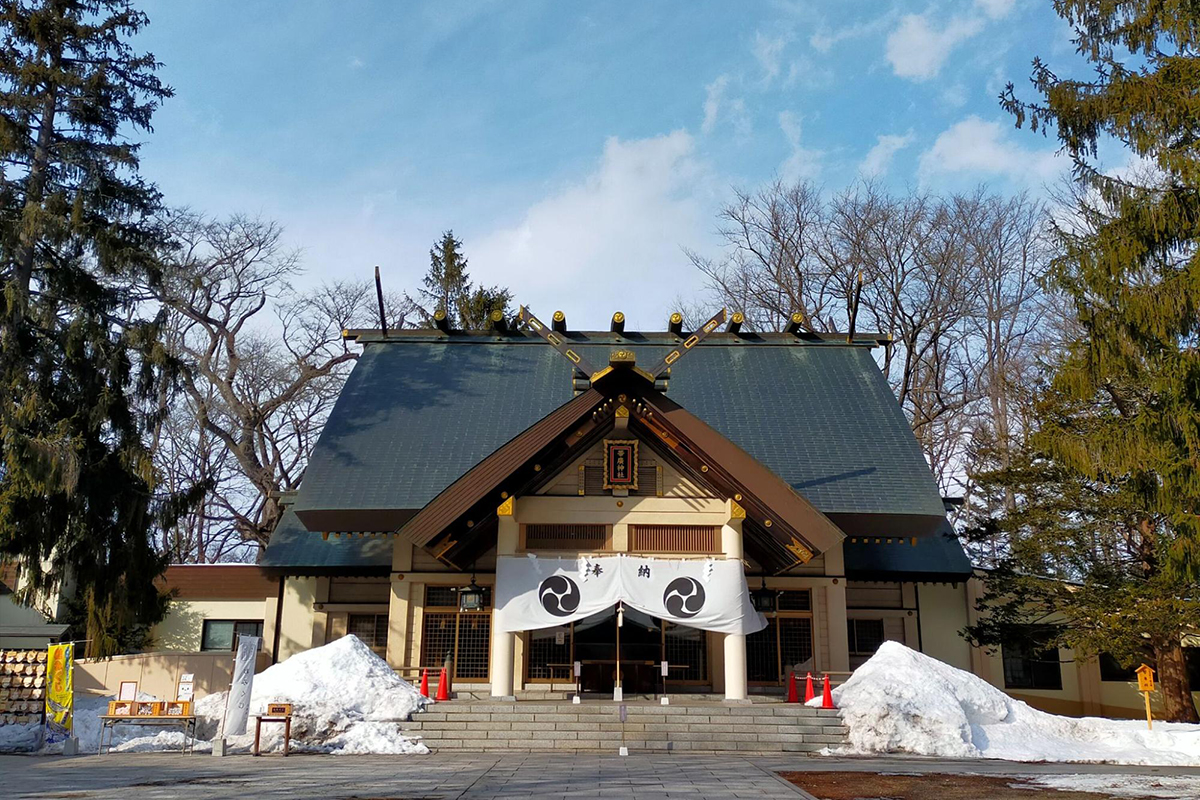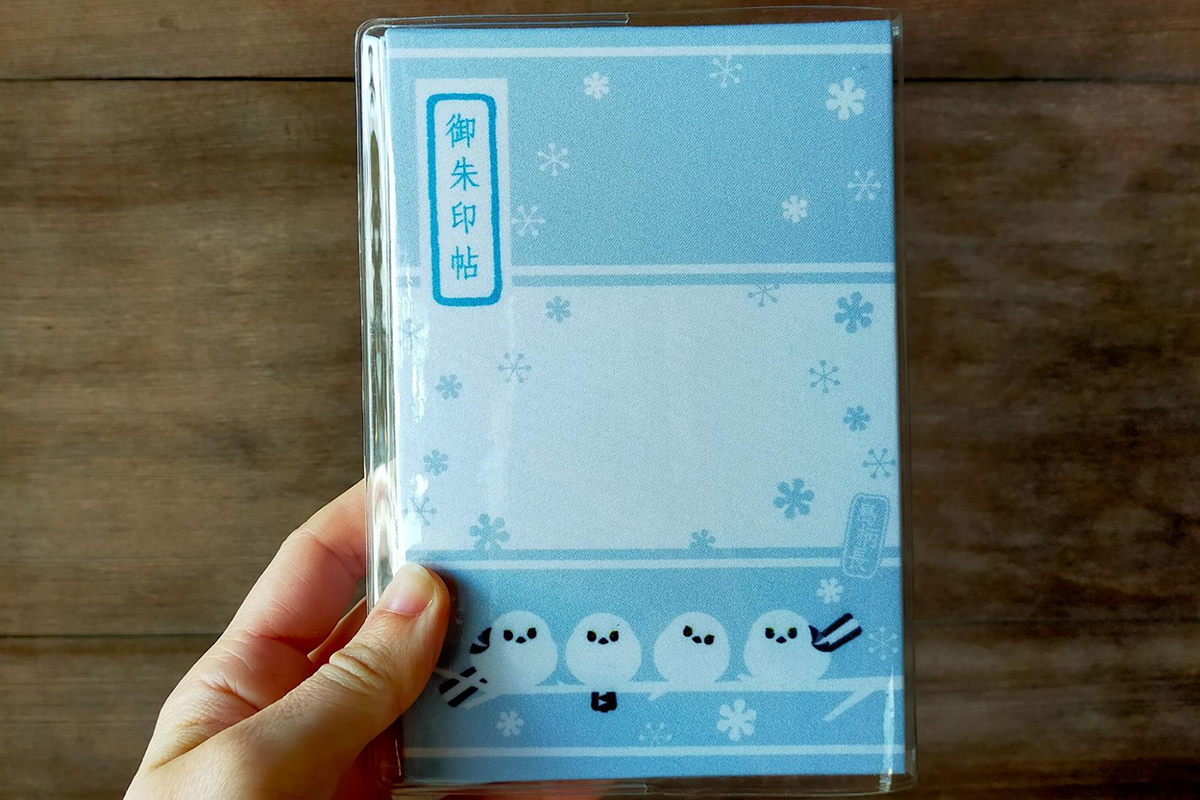 After paying my respects, I bought a new goshuincho (honorable stamp book) for 1,500 JPY with a winter cover decorated with snowflakes and cute shima enaga (Remember? I mentioned this little bird, the star of Hokkaido, in my previous article : White Weekend at Shiretoko Peninsula). So, I'm sure some of you are raising your eyebrows: "What is a goshuincho?" It is therefore a small notebook the size of your hand, with about 20 blank pages in which you can collect goshuin (stamps) of the temples and shrines you visited. This custom has experienced a real boom with Instagram, especially among women and I am no exception having accumulated about 7 goshuincho in the past 4 years!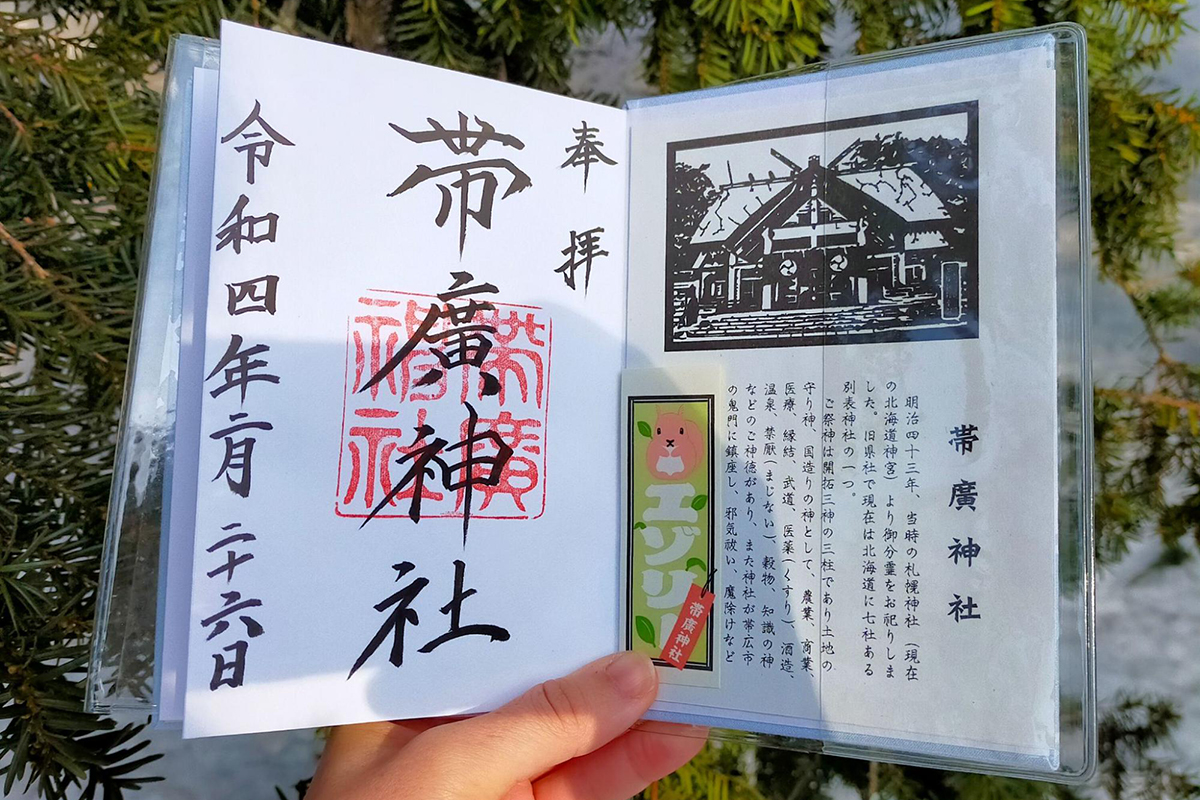 Each establishment has its own calligraphy goshuin, but all the stamps include the date of the visit and the name of the shrine or temple. Some temples and shrines have versions that change with the months or seasons, others have colorful or beautifully drawn goshuin, and some have limited editions. Believe me, there is always a queue for these limited editions because collectors prefer them! The stamps cost between 300 or 500 JPY for the simple ones and 1,000 JPY for the colored or special versions. You can now buy a goshuincho in bookstores and souvenir stores and you can also find many books featuring the most beautiful goshuin!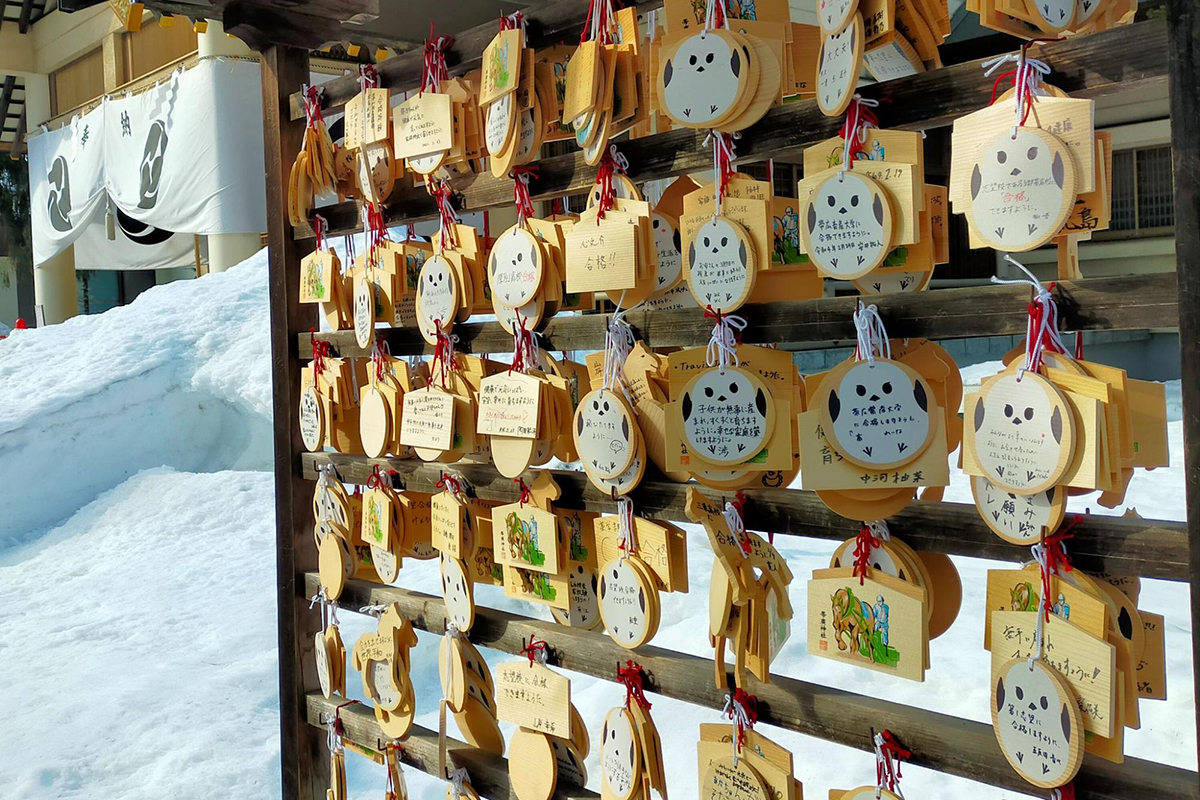 I looked at the ema, small wooden plaques on which visitors write their wishes or prayers, with effigies of shima enaga or horse and I hesitated to buy an ezomikuji, local fortune, with the effigy of shima enaga or to try to fish my fortune in the shape of a salmon, with a fishing rod. I still haven't done it this year, but I decided to do it when I visit another shrine…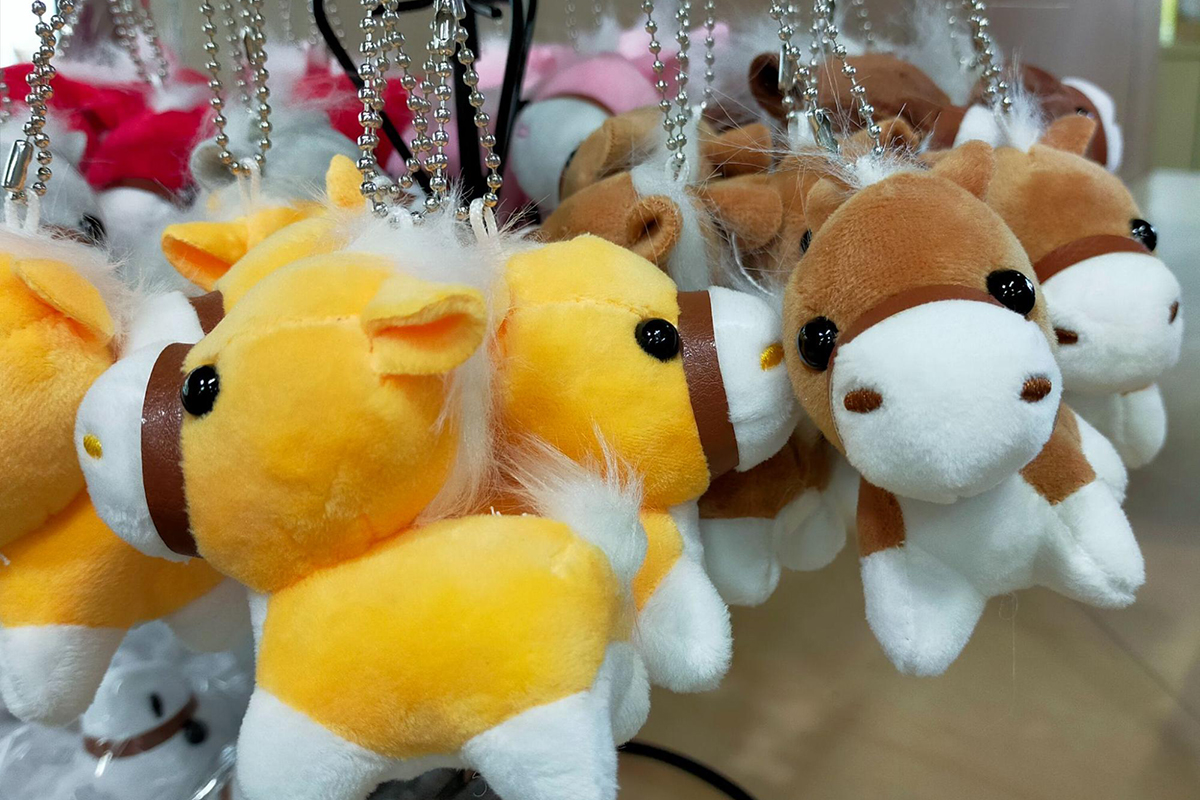 I walked another 40 minutes to Tokachi mura, a village where you can watch Banei horse races on Saturdays, Sundays and Mondays. In this village, there is a local and fresh vegetable market, a few restaurants with local dishes on the menu and shops selling horse-themed souvenirs.  I couldn't resist buying a cute little horse keychain (480 JPY)!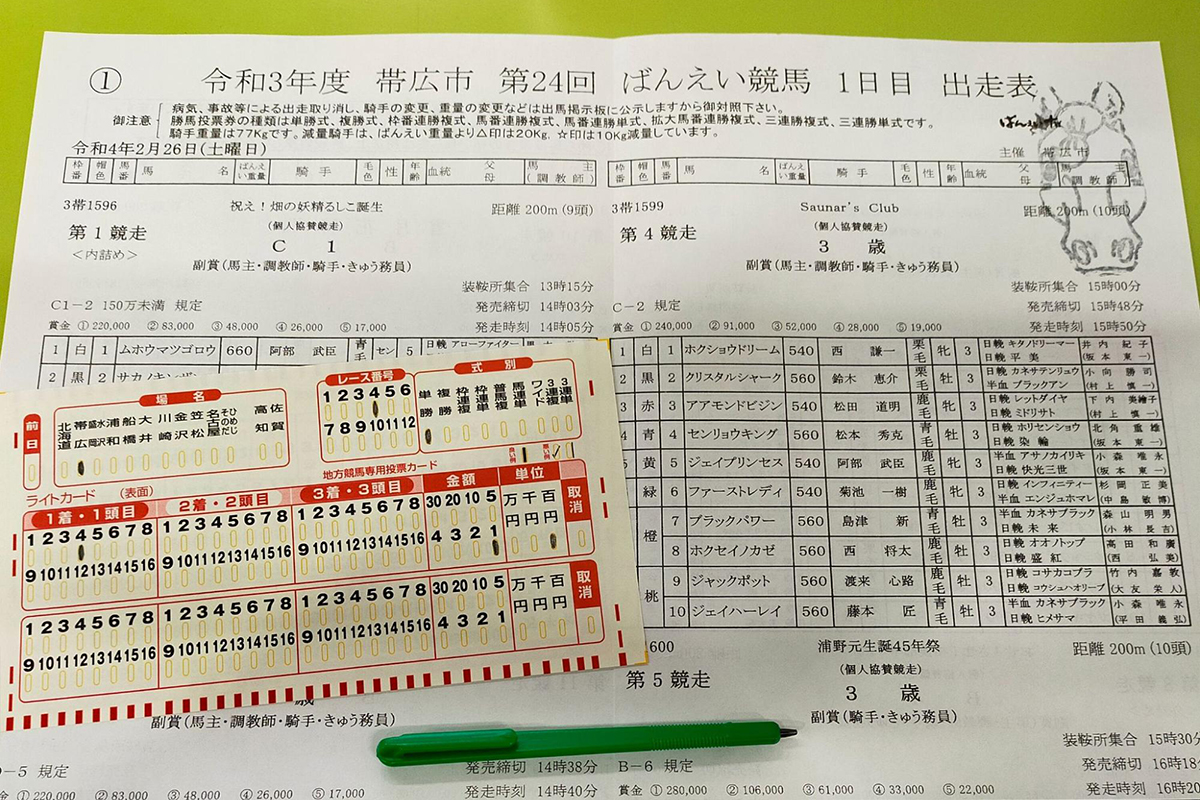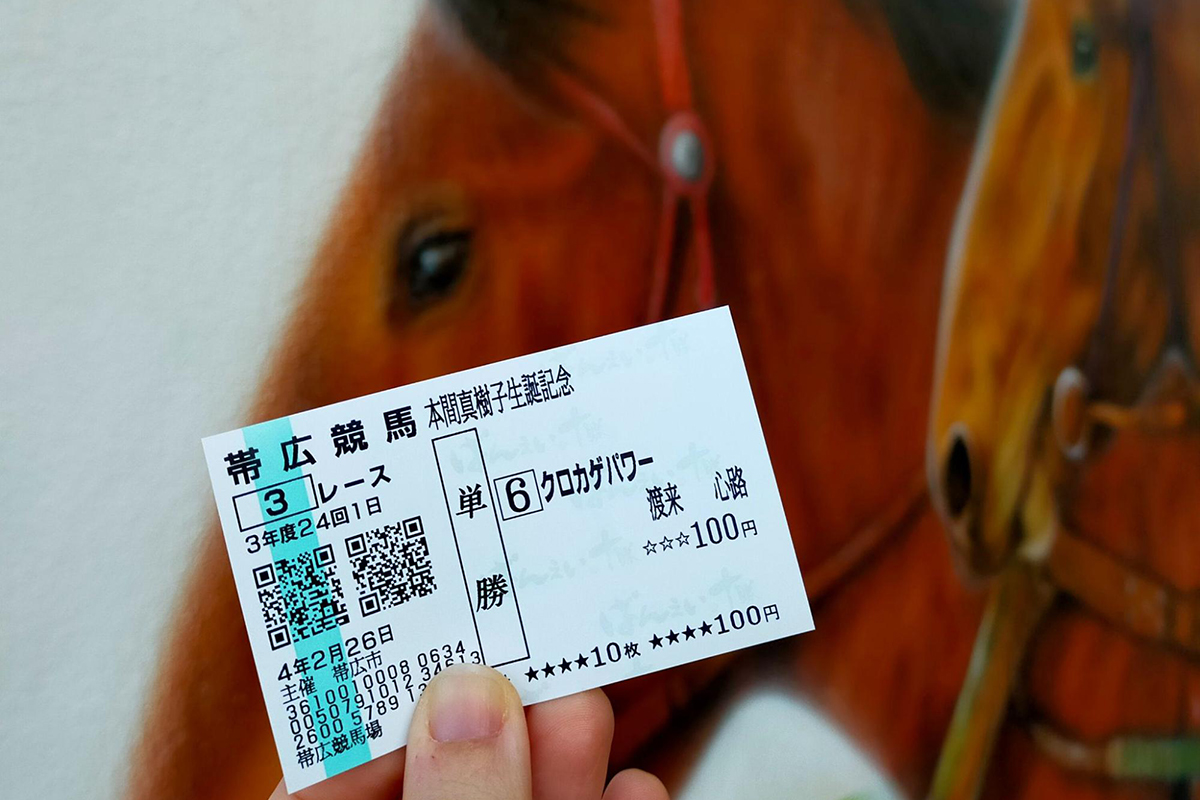 I went straight to the beginners' desk where a very friendly man explained to me how to fill in the mark card to place a bet! There are different types of mark cards, but as a beginner, I chose the easiest, filling in the red one and decided to buy a "win" (単勝, tanshō). I filled out the card by marking the racetrack  (Obihiro) and "win" under "bet type", choosing the horse's number in the "1st place/1st horse" column, and finally indicating the number and the unit (100 JPY) of the amount to be purchased. After inserting my card into a machine and paying, I received my betting ticket in return and was ready to enter the field to enjoy the race!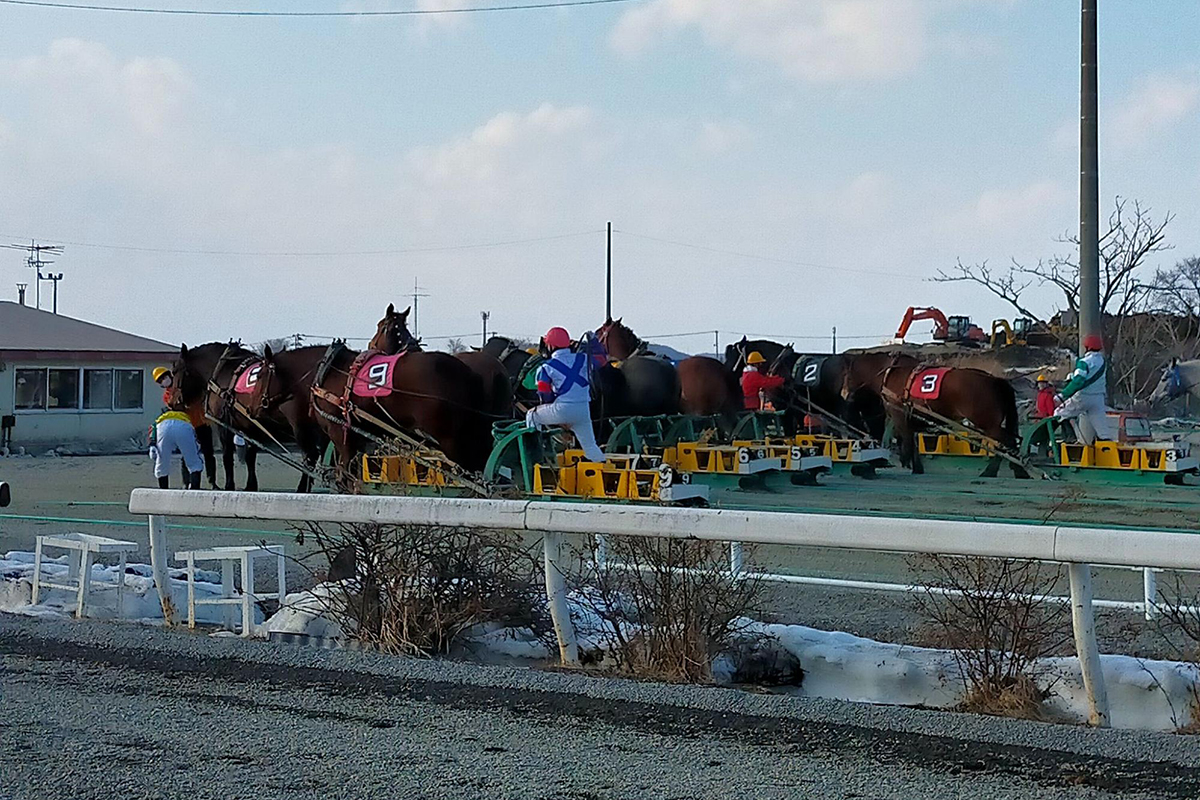 Banei horse racing is a heritage of Hokkaido and can only be seen in Obihiro. These horses were bred from French draft horses to withstand the harsh climate of Hokkaido and they weigh more than a ton. During the Meiji period (1868-1912), the first pioneers settled in Hokkaido and used to gather in a festival to test the strength of their horses. This competition between farmers evolved into the Banei races we know today. The race consists of a straight track of 200 meters long with 2 obstacles, the first one of one meter high and the second one of 1,6 meter. Placed in front of the finish line, the sand obstacle with a slope of 0.5 meters increases the excitement at the end of the race. This race not only tests the horse's speed, but also its power and endurance as the Banei horses pull an iron sled that weighs up to one ton. The jockey's technique is also very important, especially in overcoming obstacles, and helps determine the outcome of the race.
 Like the other spectators, I was surprised by how slow the race was, with the horses even stopping in the middle of the track. We walked along the track at almost the same pace. I didn't really realize how hard it is for horses to pull 1 ton, but they were really struggling under the lashings of their jockey who was directing and motivating them. My horse came in 3rd but was in the lead until the second obstacle. I really thought he was going to win! I also bet 100 JPY for the next race, 20 minutes later, choosing number 4. But this time, my horse was among the last to cross the finish line. I really enjoyed my time here and think I would like to walk around the backyard and see the training of the horses and their jockey, as I'm curious to learn more about this local tradition.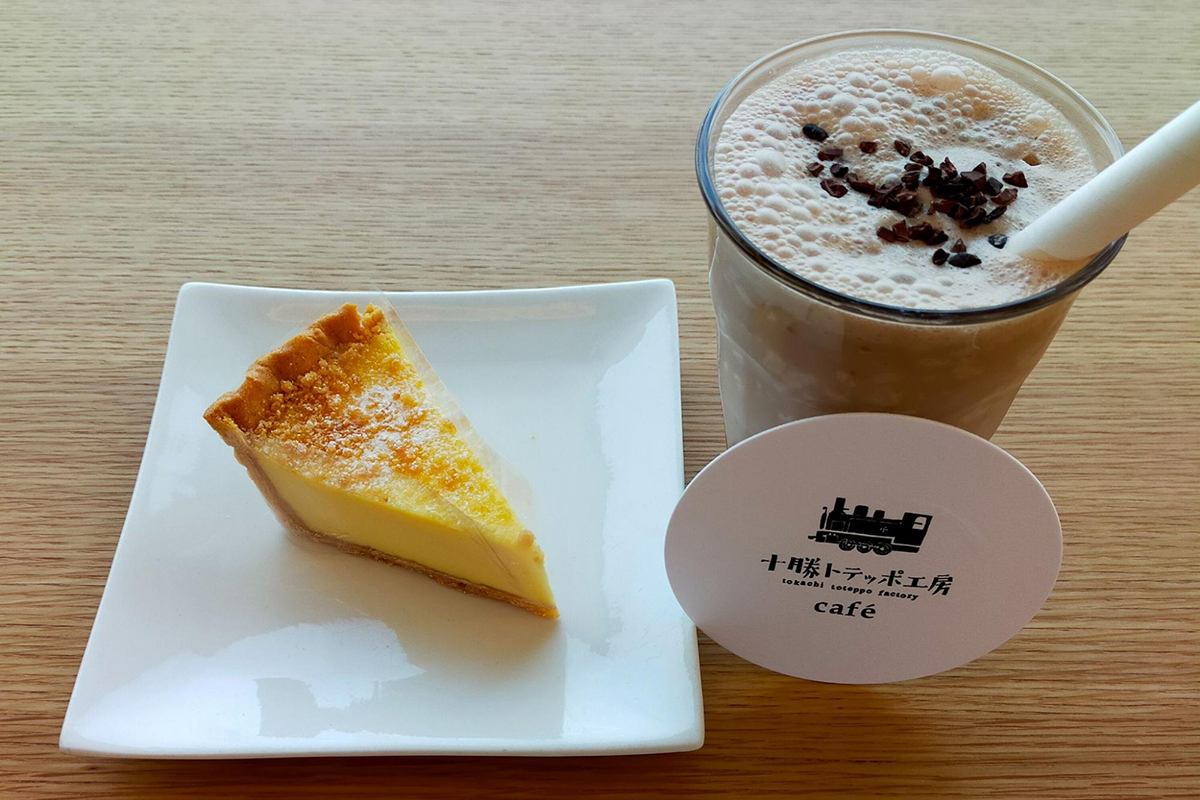 After the Banei horse races, I ordered a chocolate-cheese milkshake and its famous cheesecake (drink and cake: 960 JPY) at "Tokachi Toteppo Kobo" (十勝トテッポ工房), a store reputed for its cheesecakes made from Tokachi's finest cheeses. It was delicious because the cheese flavor was rich and subtle at the same time! The factory uses a lot of raw ingredients from Hokkaido like milk, cream, eggs and butter for their cakes and as their slogan says "You can feel the magnificent blessings of nature in Tokachi" through their products. I also really enjoyed the cafe itself with its long wooden counter table along a huge bay window overlooking the snowy garden, and the purple upholstery chairs and benches giving the place a cozy and elegant touch!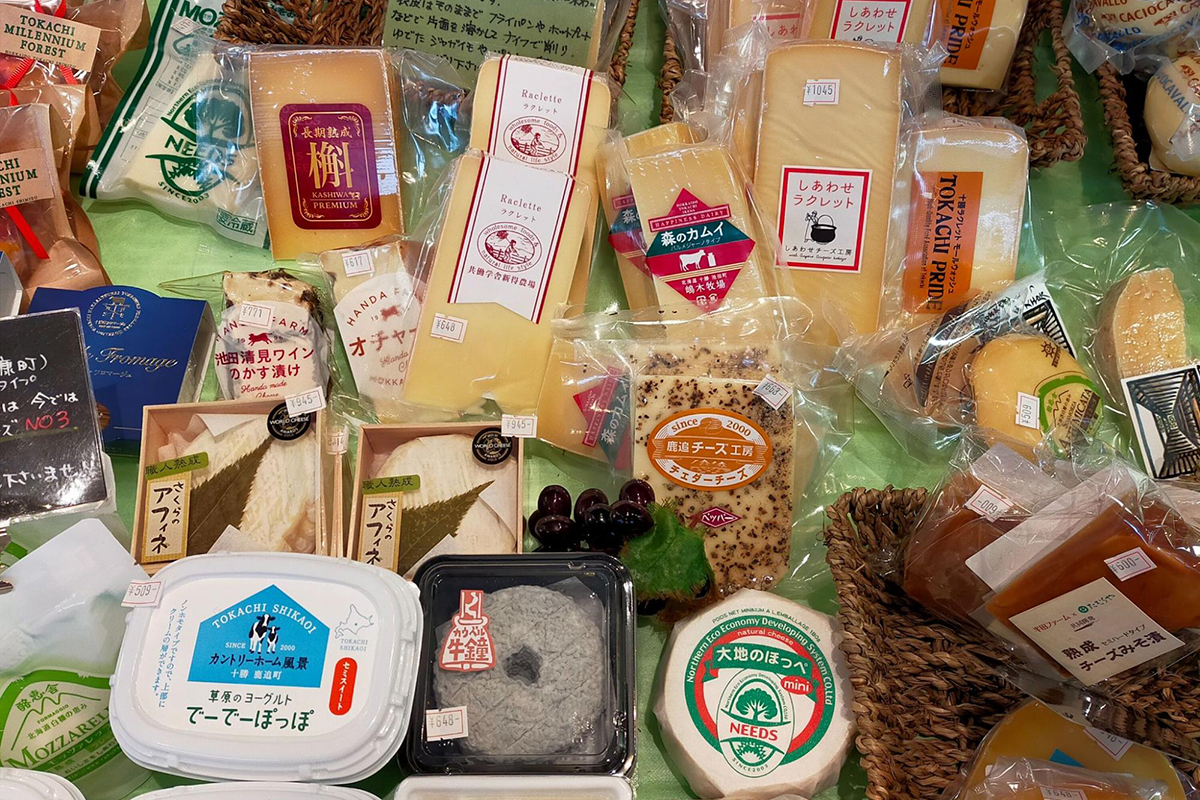 The shop sells delicious butter cookies (like sabers or galettes), cheese from the Tokachi region like raclette, and many cakes, including its most famous: an original Hokkaido cheesecake with a unique blend of three types of natural cheese (cream cheese, fresh cheese and  mascarpone). I really had to take it upon myself not to buy cheese or butter cookies that made me nostalgic for France. Luckily, it was easier to resist on a full stomach!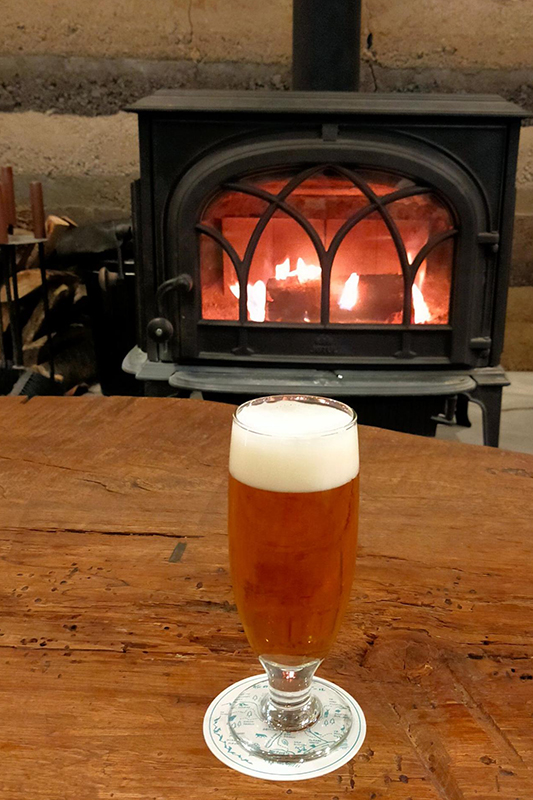 At the end of the day, I checked-in at the HOTEL Nupka. The hotel is very clean and the bar-restaurant area in the lobby is really cozy. I tasted Nupka's craft beer "旅のはじまりのビール" while relaxing in front of the stove after this busy day.
 The hotel's location is central and perfect for enjoying Obihiro's nightlife while taking a gastronomic tour of Kitanoyatai, which is a 2-minute walk away. In this alley, you can interact with the owner of the place and the other customers while tasting different menus based on fresh ingredients from Tokachi (yakitori, gyoza, tempura, raclette, French, Chinese and Korean cuisine). It gives me a good reason to come back!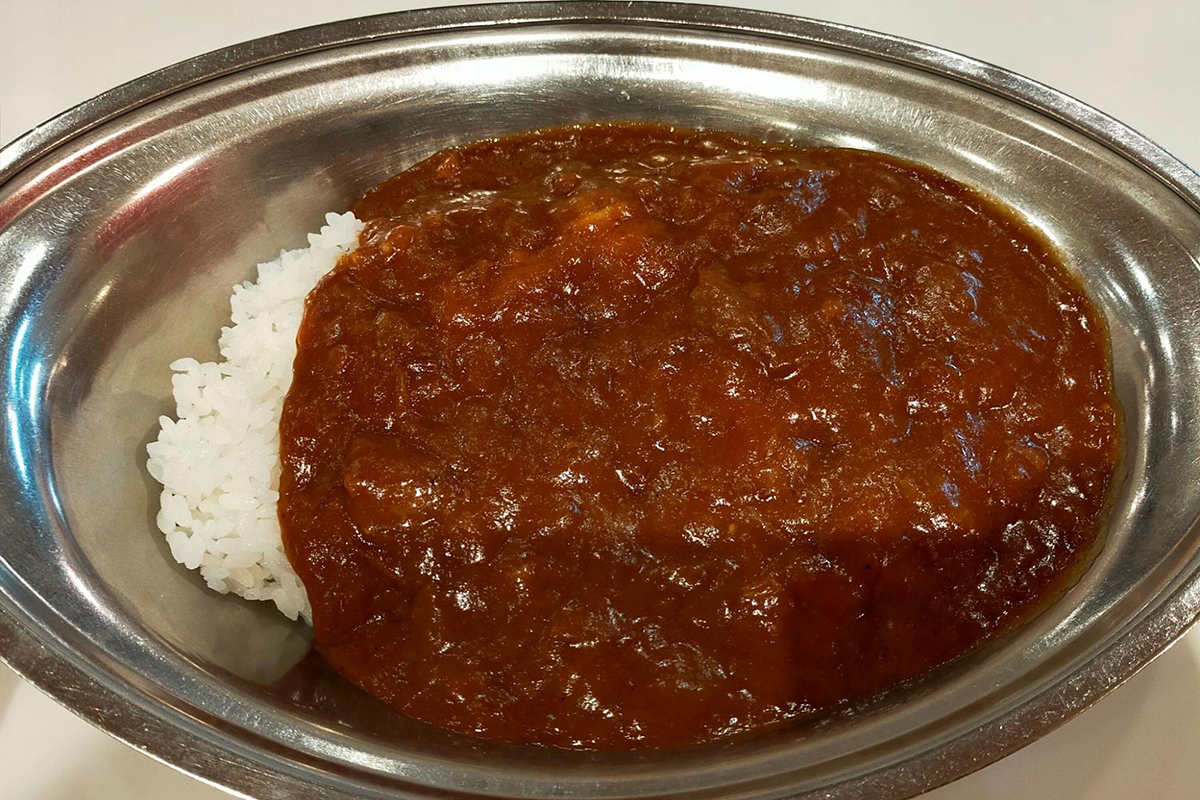 So, I decided to try Obihiro's very local soul food at the Indian Curry restaurant. All locals know about this place and highly recommend it. I had the classic house curry topped with cheese. It's the kind of very simple taste that makes you feel at home, and I understood why this curry is loved by Obihiro people. Not to mention the price of only 550 JPY for a good fair meal!
---
 On this second day of my stay in Obihiro, I had to get up at 3:15 a.m. to be ready at 3:40 a.m. This morning we were 4 (only women) participating in this Jewelry Ice tour organized by Samourai Produce(Obihiro local guide agency), the last tour of this year.
 The night was dense and foggy. We arrived at the beach parking lot around 5 am and it was still quite dark. I was a bit apprehensive about the cold, but the temperatures were mild and this morning it was no less than -2°C. We walked along the beach, immersed in the  darkness, listening to the sound of the waves, and at daybreak we discovered the ice blocks laid on the sand. The conditions to admire the perfect Jewelry Ice were not optimal that day, but the temperatures are not the only factor on which this rare phenomenon depends. The strength of the wind and waves as well as the sun's rays also play an important role.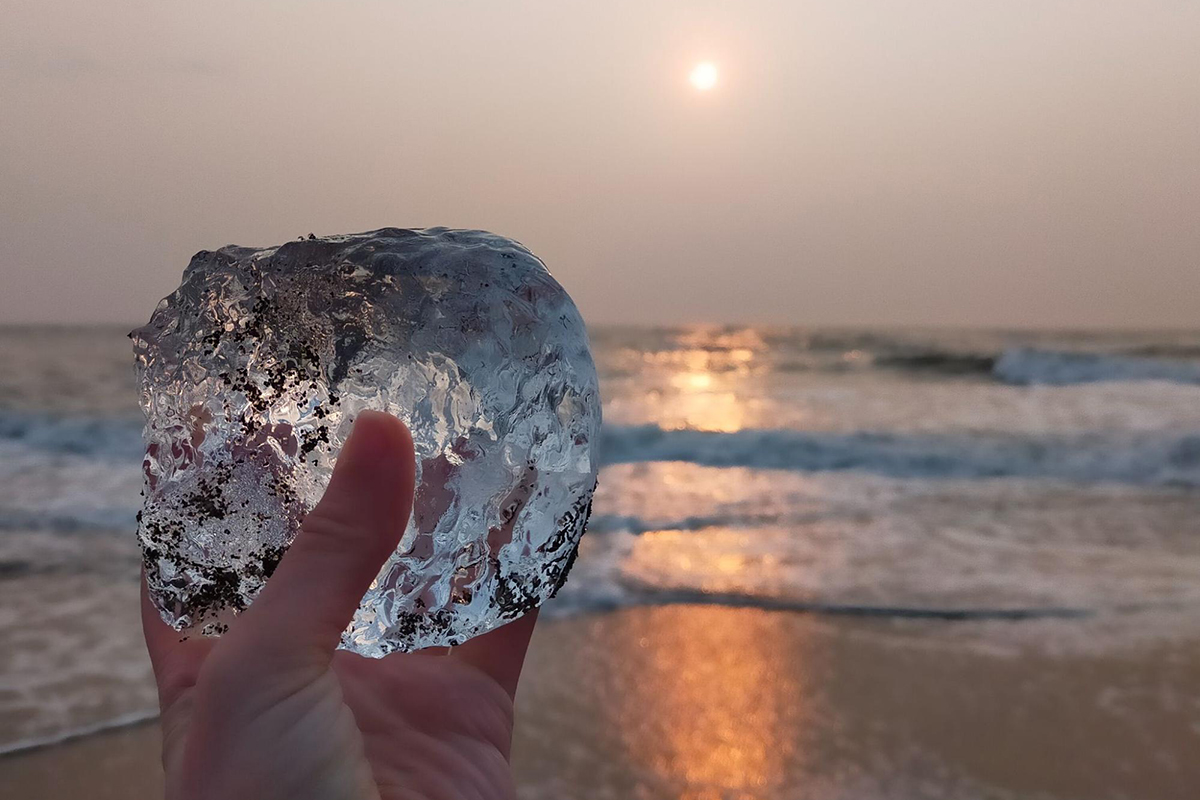 The shoreline is about 3 km long and we walk to the place where the Tokachi River flows into the Pacific Ocean. The frozen waters of the Tokachi River crack into blocks which are swallowed up by the Pacific Ocean and the latter throws them back onto the beach. The blocks have been carved by the waves and come in fragments of all shapes and sizes. This tour is very popular with photographers, and I understand that they must really appreciate the play of natural lights. The light changes from dawn to sunrise, reflects on the transparent ice blocks and makes them look like jewels!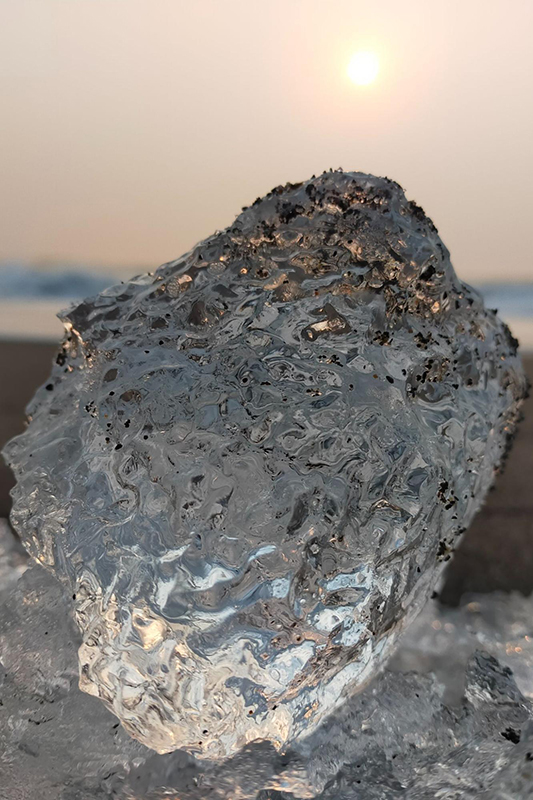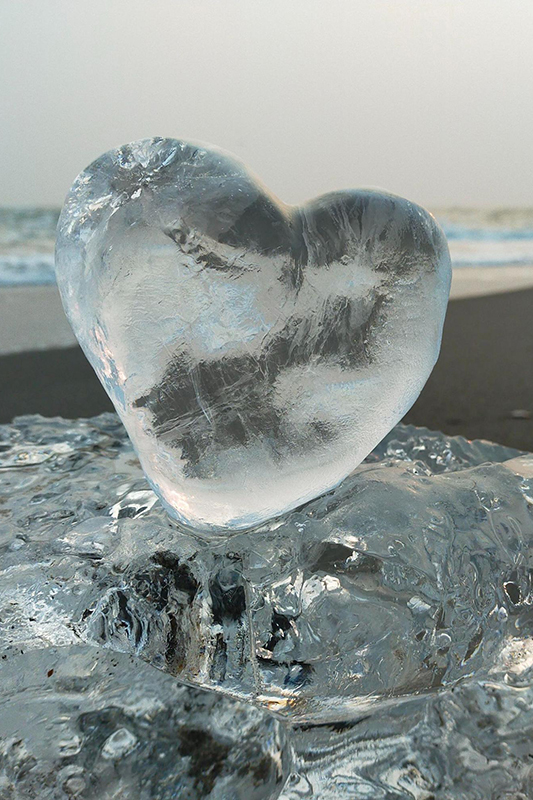 We are between us, so I will tell you everything! This picture of a heart-shaped block of ice, you probably saw it on the internet; the guide cut it for us in a block of ice!  Also, for an even more intense rendering of the transparency, he cleaned the blocks with water, and they shone like jewels in the light of the sunrise!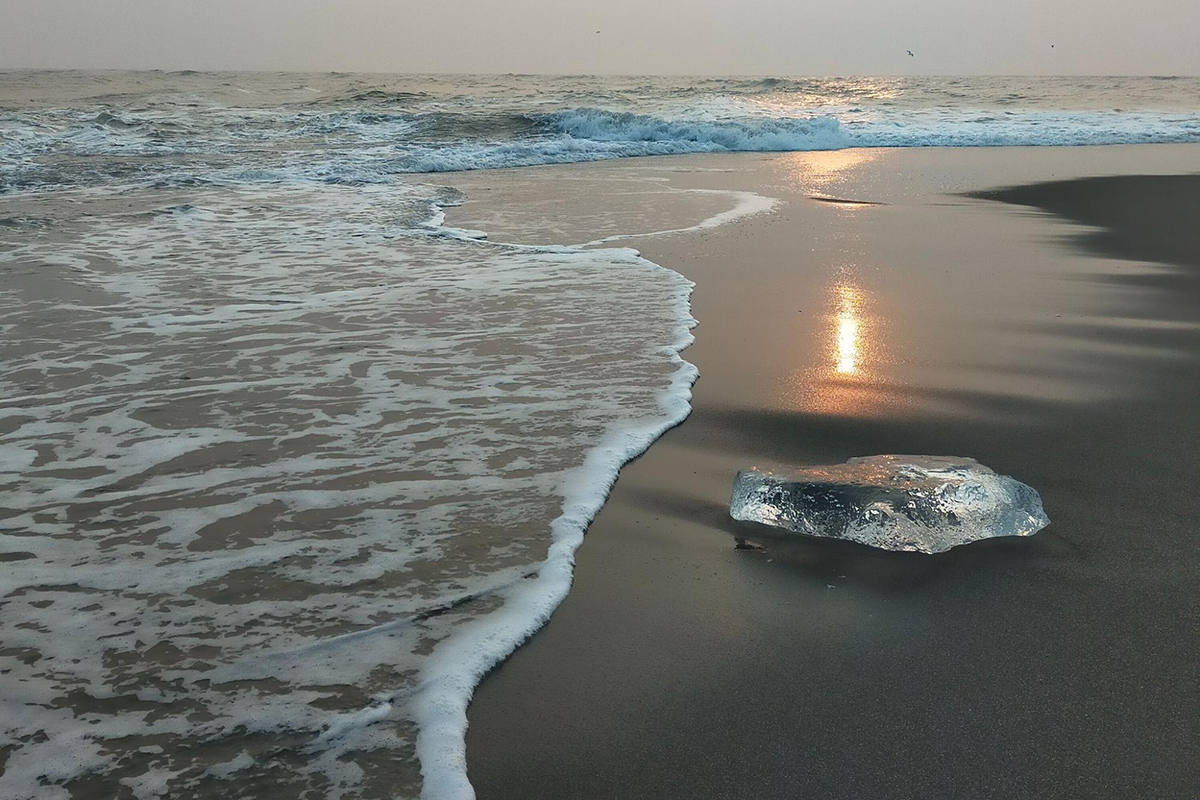 We enjoyed a beautiful sunrise and then, you know what? We had the chance to see the sea spit a block of ice on the beach! The guide was really happy and excited that we witnessed this natural phenomenon! The picture of me holding the big jewelry ice is this one!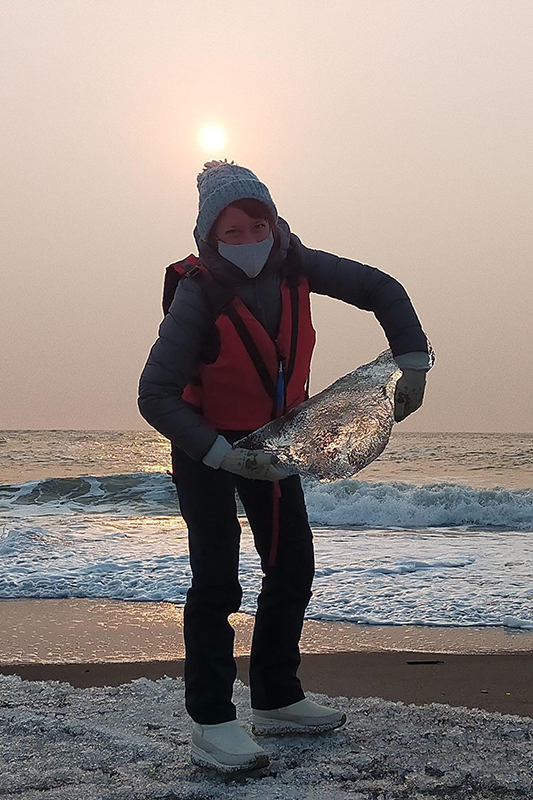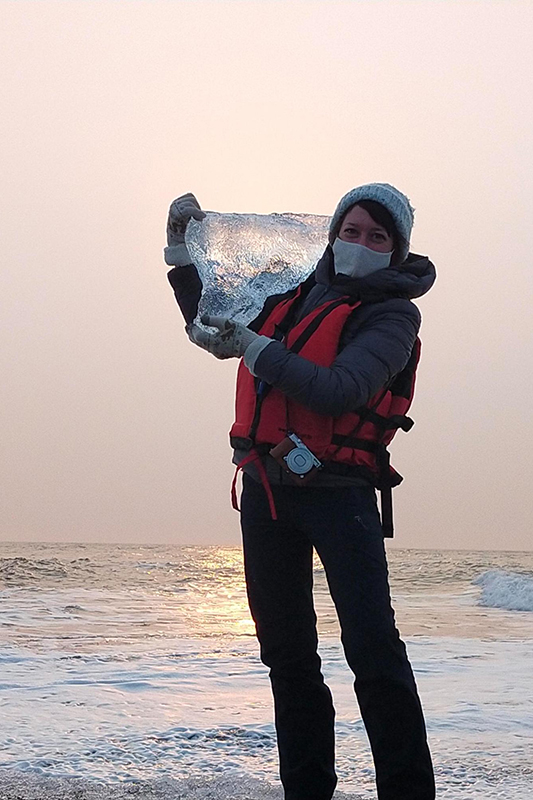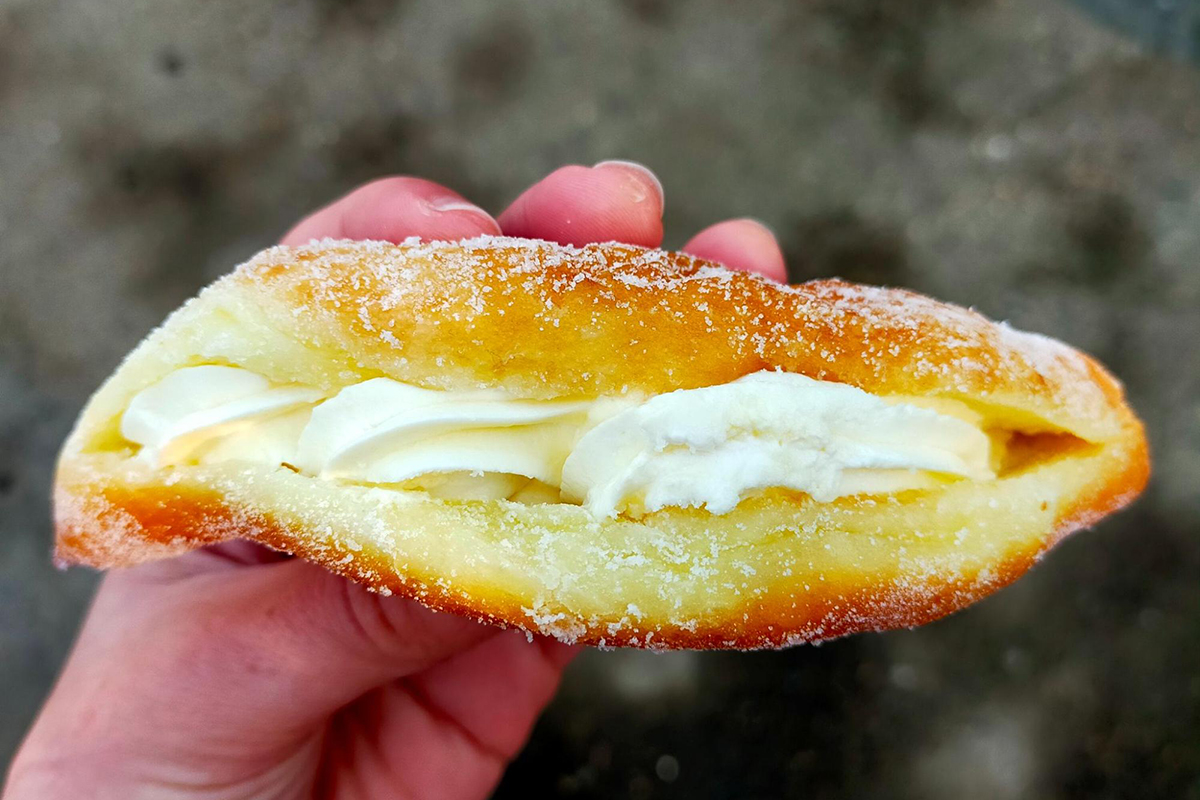 We left the beach around 8:00 am, and I was very happy to get back to the car because I don't know how, I got hit head on by a wave while I was sitting in the sand, focused on taking a photo. I didn't see it coming! I was wet and freezing…Before continuing our tour, the guide stopped on the way at a local secret American donuts store, and we had a donut with custard for breakfast! We drove a bit more before stopping on a bridge with a breathtaking view of the Tokachi River. The blue water, a little frozen in places, with its banks covered in a white blanket was really beautiful. We were also very lucky to spot a Steller's sea eagle. I think this tour was getting more and more interesting even if the conditions were not the best!
 Before returning to Obihiro, the guide gave us some free time in a vast plain covered with a coat of snow.
 We walked through this beautiful winter landscape to a tree that stood there alone. We could admire the beauty of nature in all its simplicity. And this tour ends with this beautiful image.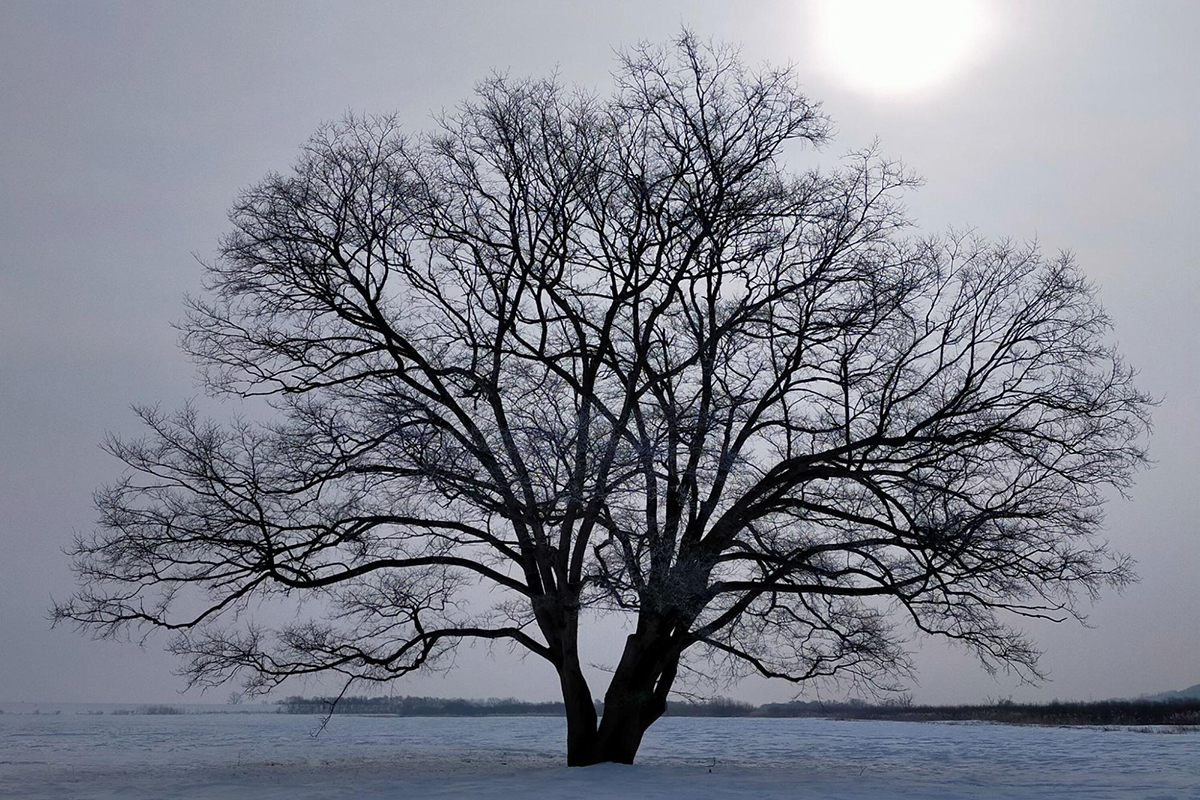 Tokaichi (and thus Obihiro) is often called the kingdom of sweets and I hope you are hungry because I am now taking you on a real gourmet tour to test the best local bakeries.… Let's start with Masuyapan (満寿屋), a bakery that sells 100% Tokachi wheat bread. They have 6 stores in Obihiro and the neighboring towns of Otofuke and Memuro. Each shop has its own identity, selling different kinds of breads, sandwiches, pastries and even pizzas! Masuyapan's motto is "Local production for local consumption". Two decades ago, this dream was a real challenge for this bakery because in Japan the rate of food self-sufficiency was only 40% and before 1990, the wheat used for bread was imported from abroad.  So, even though Tokachi has the largest wheat production in Japan, most of the wheat produced was used for udon noodles and less than 1% for bread! Over the years, Masuyapan's dream has won over the people and has actively participated in making Tokachi the breadbasket by collaborating with local farmers, respecting environmental aspects to ensure that agricultural products grow healthily, and promoting food education activities. Tokachi not only provides wheat for bread, but also adzuki beans (red bean) and sugar to make anko (red bean paste widely used in Japanese desserts) or milk and eggs to make cream or custard. Thus, this bakery is part of a real logic of sustainable development with fresh and quality local products for local consumption.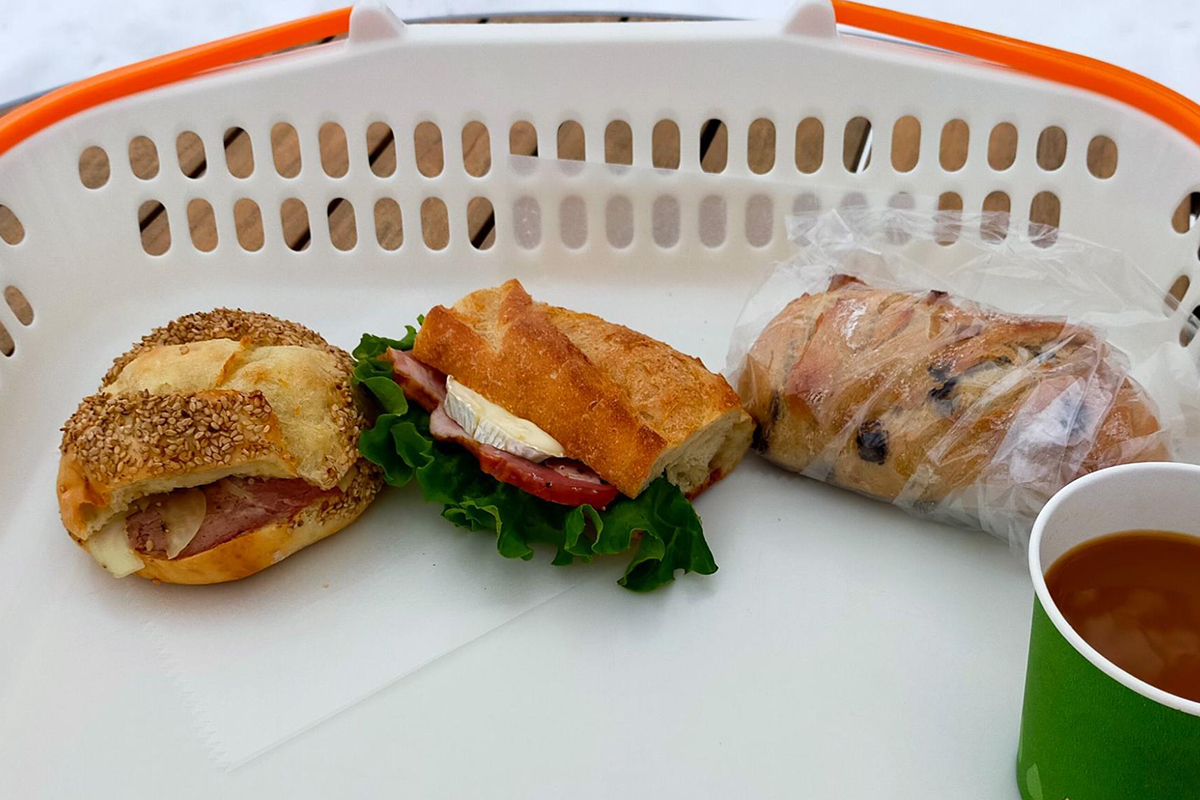 I visited the Mugioto store (麦音), a little out of the way from the city center but actually the perfect place to enjoy a lunch in the middle of nature. It was hard not to fill my basket to the brim, but I ended up deciding on 2 sandwiches and a chocolate chip macadamia nut bun (for my next breakfast). The 3 items with a cup of coffee cost 980 JPY.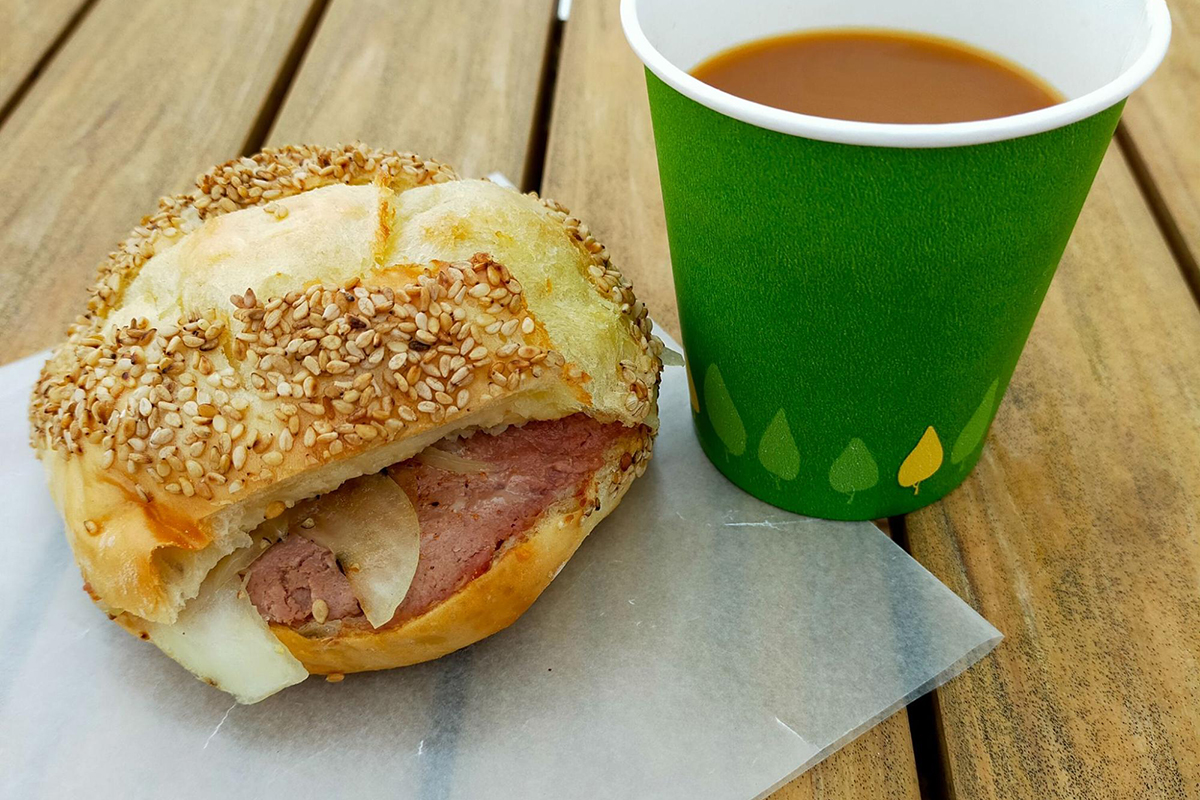 The pate and onion sandwich was exquisite, the pate tasting very French, and the bread itself was soft and really good. I really enjoyed this French-style picnic lunch with a cup of coffee (you're French or not!) while watching the view of Tokachi spread out in front of me from the Café's outdoor terrace. (The next morning, I ate the chocolate chip and macadamia nut bread and it was really good).
 I still wanted to try more famous local sweets and so I went back to the center of Obihiro (4km/about 50min walk). The store is served by buses, but I was happy to enjoy a digestive stroll!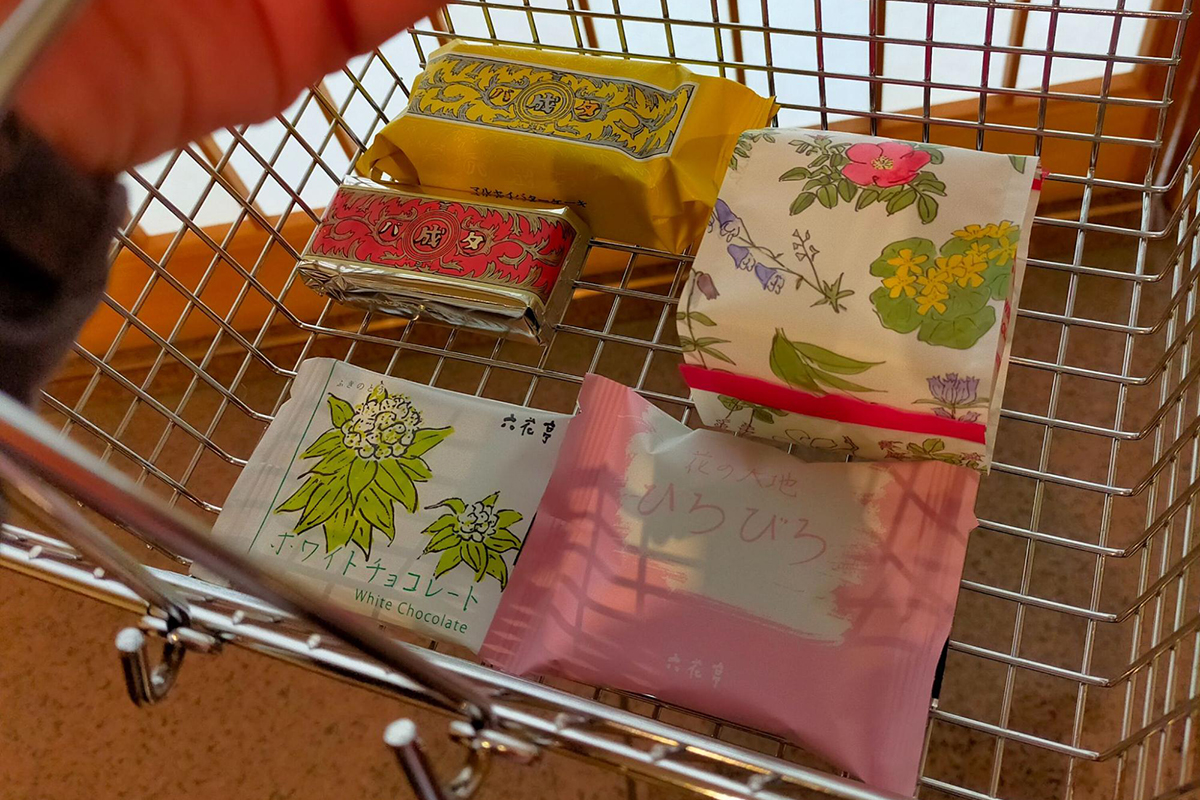 My next stop is Rokkatei (六花亭), founded in 1933. It is a very famous confectionery with 69(*As of March, 2022)  stores spread over Hokkaido offering chocolates and cookies. I really like their store because you can buy individual samples at a very reasonable price and not just boxes. Again, the choice was complicated. but I decided to try their white chocolate, Rokkatei being the first company to sell white chocolate in Japan in 1968. So I bought a bite-size piece of white chocolate (90 JPY) and freeze-dried strawberries in white chocolate balls (300 JPY). The white chocolate was good, and I really liked the combination of the acidity of the freeze-dried strawberries and the sweetness of the white chocolate. It was, how can I say… Yummy ! 
 The "Marusei" butter sandwich is the brand's signature product. The cream of this cookie combines white chocolate, raisins and butter made from 100% Hokkaido milk. The company was inspired by the concept of "Marusei" butter, the very first butter made in Tokachi by Banseisha. This group of pioneers, which was formed with the aim of developing Hokkaido, was led by Benzo Yoda who reclaimed land to build the city of Obihiro.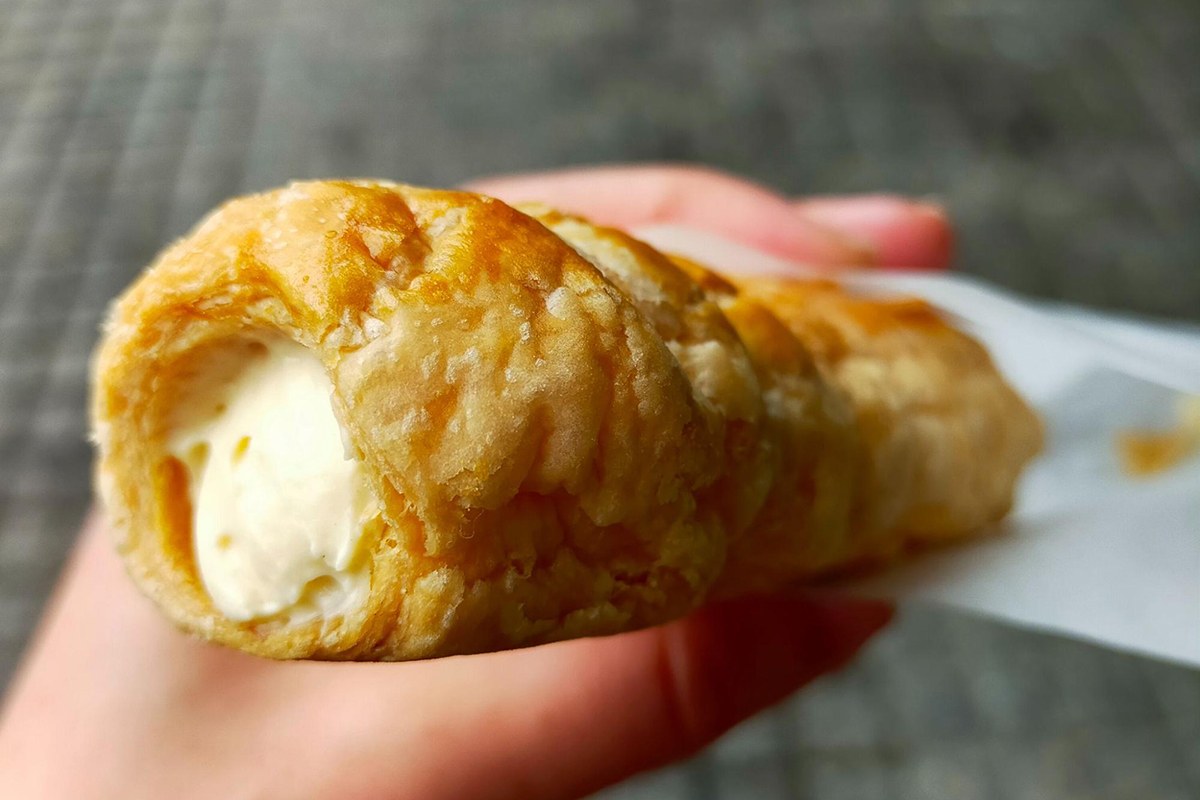 And of course, I tasted their crispy custard-filled pie called saku-saku pie, (160 JPY), a limited dessert that can only be purchased at Obihiro store. The custard was creamy and tasty and the pie was so crispy, airy and light that I felt like I was eating… I'm not sure… a cloud? My taste buds are salivating just writing these lines! And this is another good reason (including Kitanoyatai) to visit Obihiro a second time!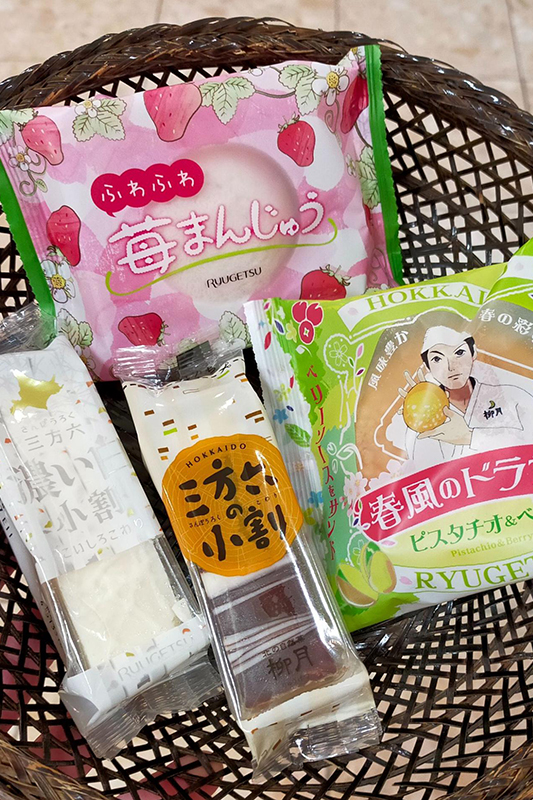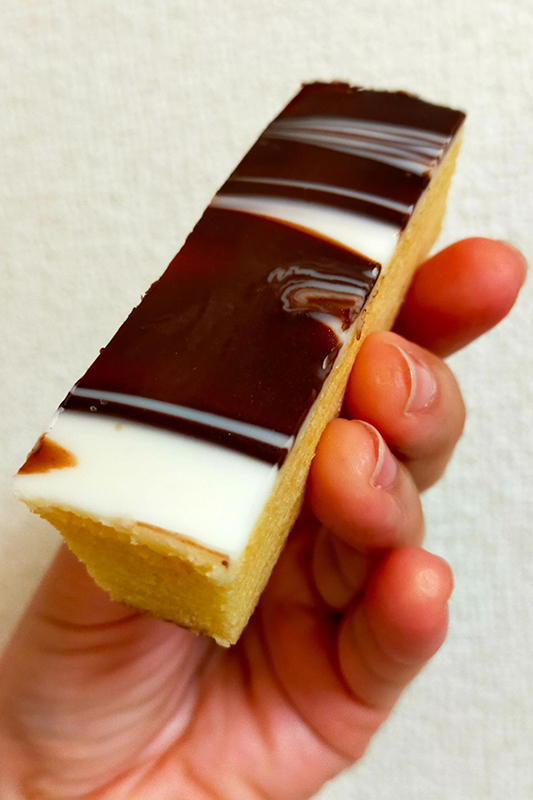 Let's continue our culinary tour with the nearby Ryugetsu (柳月) store, established in 1947. Over the years, this brand has developed its original eclectic Japanese-Western confectionery. Their most famous sweet is a baumkuchen named "Sanpo Roku", a cake coated with white chocolate and milk chocolate imitating birch wood (130 JPY). In the pioneer days of Hokkaido, logging was widely practiced and the term "Sanpo Roku" refers to the standard for splitting firewood. The size of the piece of wood was 6 inches (about 18 cm) on each of the three sides, sanpo roku in Japanese. The size of the piece of wood was 6 inches (about 18 cm) on each of the three sides, sanpo roku in Japanese. It was presented at the National Confectionery Exhibition in 1968 and received praise for its originality, taste, and relationship with the history of Hokkaido. In 1988, it won the highest gold medal at the 27th edition of the Monde Sélection World Confectionery Competition. In this store, I also bought some samples like a sponge cake sandwiched with pistachio butter cream, refreshing berry sauce, and walnuts (170 JPY).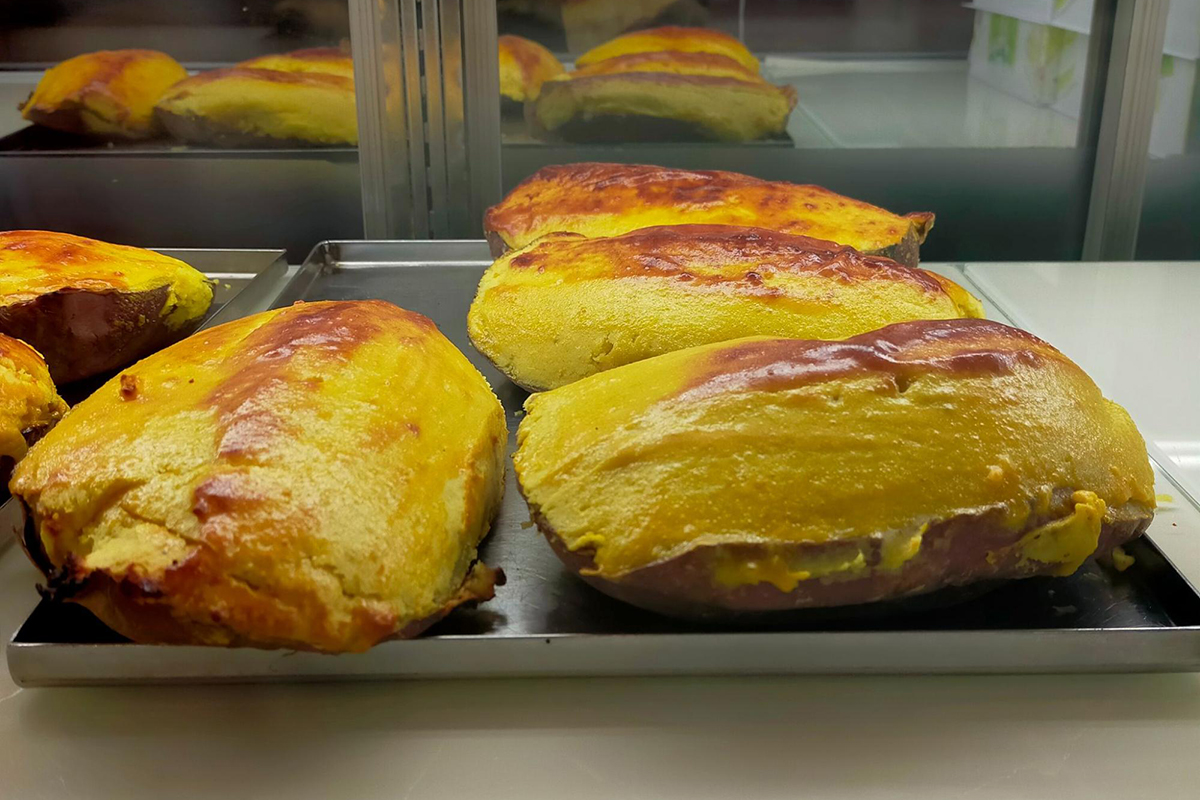 To end this sweet's tour, I walked to Obihiro's pastry store "Cranberry (クランベリー)." This pastry shop is renowned for its large sweet potato pie baked with butter and fresh eggs. It was only selling large pieces of about 20-30cm, from 480g (1,200 JPY) to 600g (1,500 JPY).I was disappointed because I really wanted to try it, but I had bought enough sweets for a week, and I didn't want to buy such a big volume! This gives me a third reason to come back!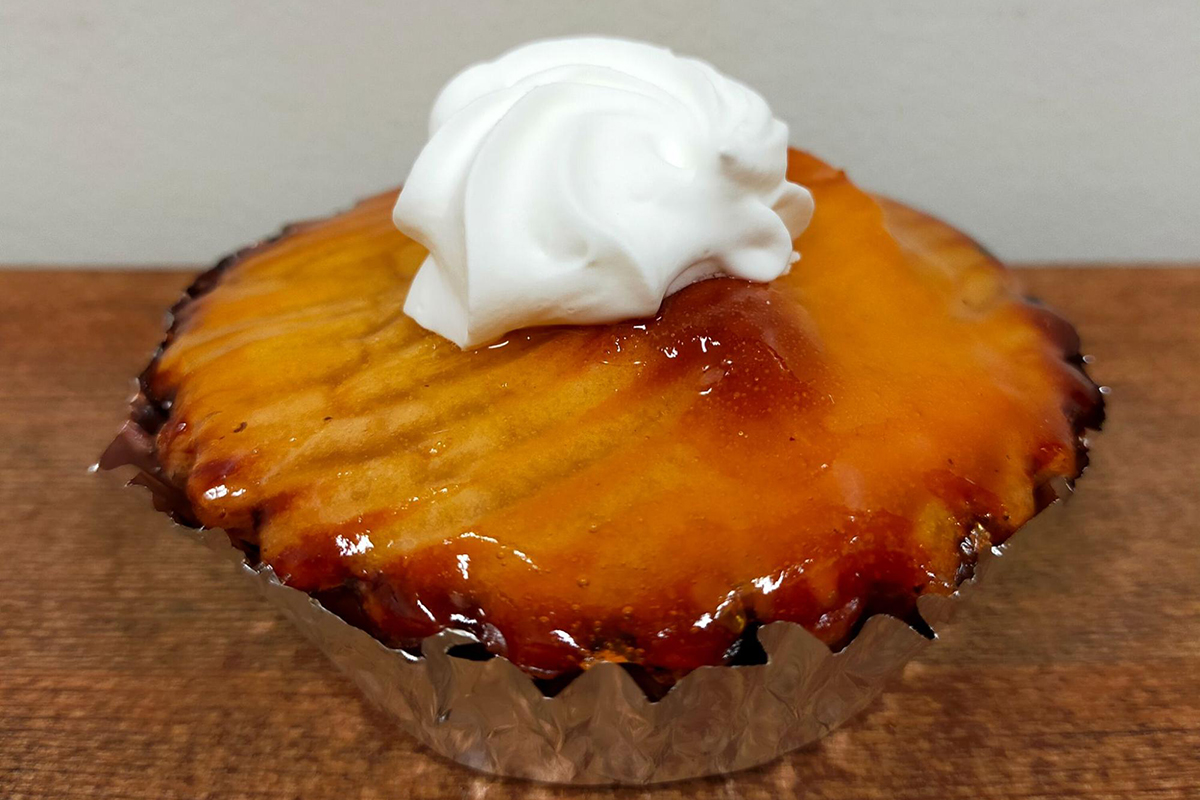 Instead of this potato pie, I bought a potato tart (200JPY). (I also ate this dessert later). It was a very hearty little dessert. The outside was caramelized and a bit crispy and the sweet potato had a well-balanced flavor without being too sweet.
 And it was already time for me to go back to Sapporo, 3.5 hours by bus, with a full stomach and a head full of good memories!
---
 Don't hesitate to contact Hokkaido Treasure Island Travel to help you plan your stay in Obihiro and the rest of Hokkaido. The whole team is passionate about Hokkaido, whether it's the scenery and wildlife, the food or the cultural aspects that differ from the rest of Japan. We are curious and as you can see, we all travel regularly to discover new authentic places and meet charismatic people who will make a difference during your stay in Hokkaido. Meeting people is also part of the magic of a memorable tour.  We partner with expert and passionate local guides who love their island as much as we do… We look forward to seeing you all in Hokkaido!