I recently joined the very friendly Hokkaido Treasure Island Travel team so let me introduce myself as briefly as possible (I'm quite a talkative person!). My name is Aurore alias Aurora, オーロラ, in Japanese and I am a French expatriate. I have been working in the tourism sector for 7 years now (first as a tour guide in France, then as a travel consultant in Japan). I traveled to 23 countries before finally settling in Tokyo in 2014, Japan being my country of heart.
 At the end of 2021, I decided to settle in Hokkaido, attracted by the magnificence of its numerous National Parks, the incredible fauna that can easily be encountered, and to sum up in a word, by nature. I really felt more and more disconnected from my life in Tokyo and my weekend getaways in the mountains near this metropolis were no longer enough to satisfy me. I wanted to reconnect with nature and what better city than Sapporo, ​​surrounded by mountains that you can see while walking through the streets or from your apartment window! Hokkaido Treasure Island Travel was looking to expand its team, and I immediately jumped on this amazing opportunity which came at the right time! And so began my new adventure in Hokkaido!
 Hiking is my first passion, with a preference for long ones that allow you to fully immerse yourself in the heart of nature and experience memorable adventures (2 to 7 days, carrying my tent and camping or staying in mountain refuges). My very first trek was in Ladakh, northern India, when I was just a 21 year old inexperienced backpacker traveler. This incredible 7 day hike was a revelation, and since then my unconditional love for the mountains has never left me! To name a few of my adventure treks around the world, I have climbed the imperious Kilimanjaro in Tanzania, explored the mountains, forests, glaciers and lakes of Las Torres del Paine National Park in Chile and hiked the famous Inca Trail leading to Machu Picchu in Peru.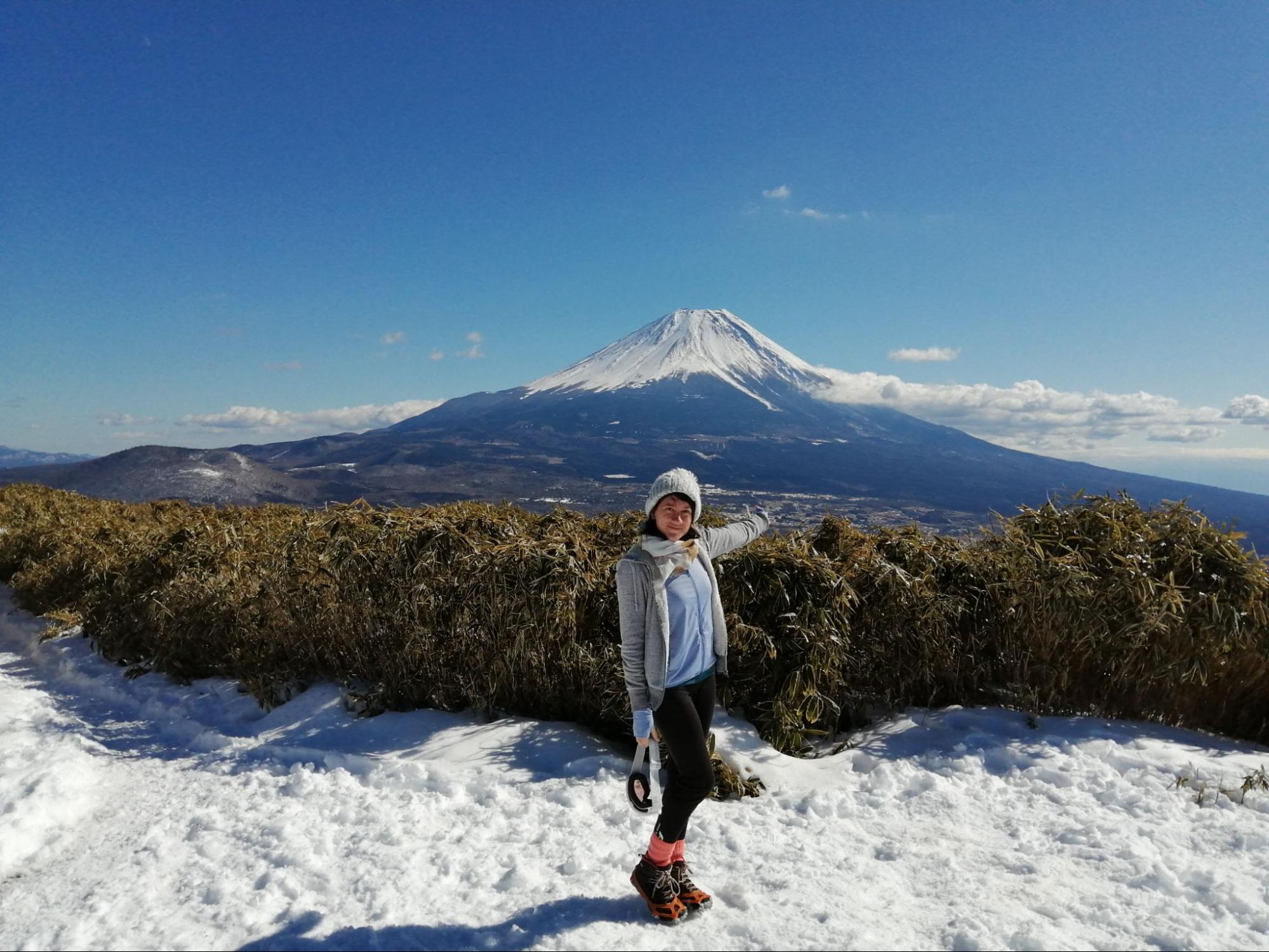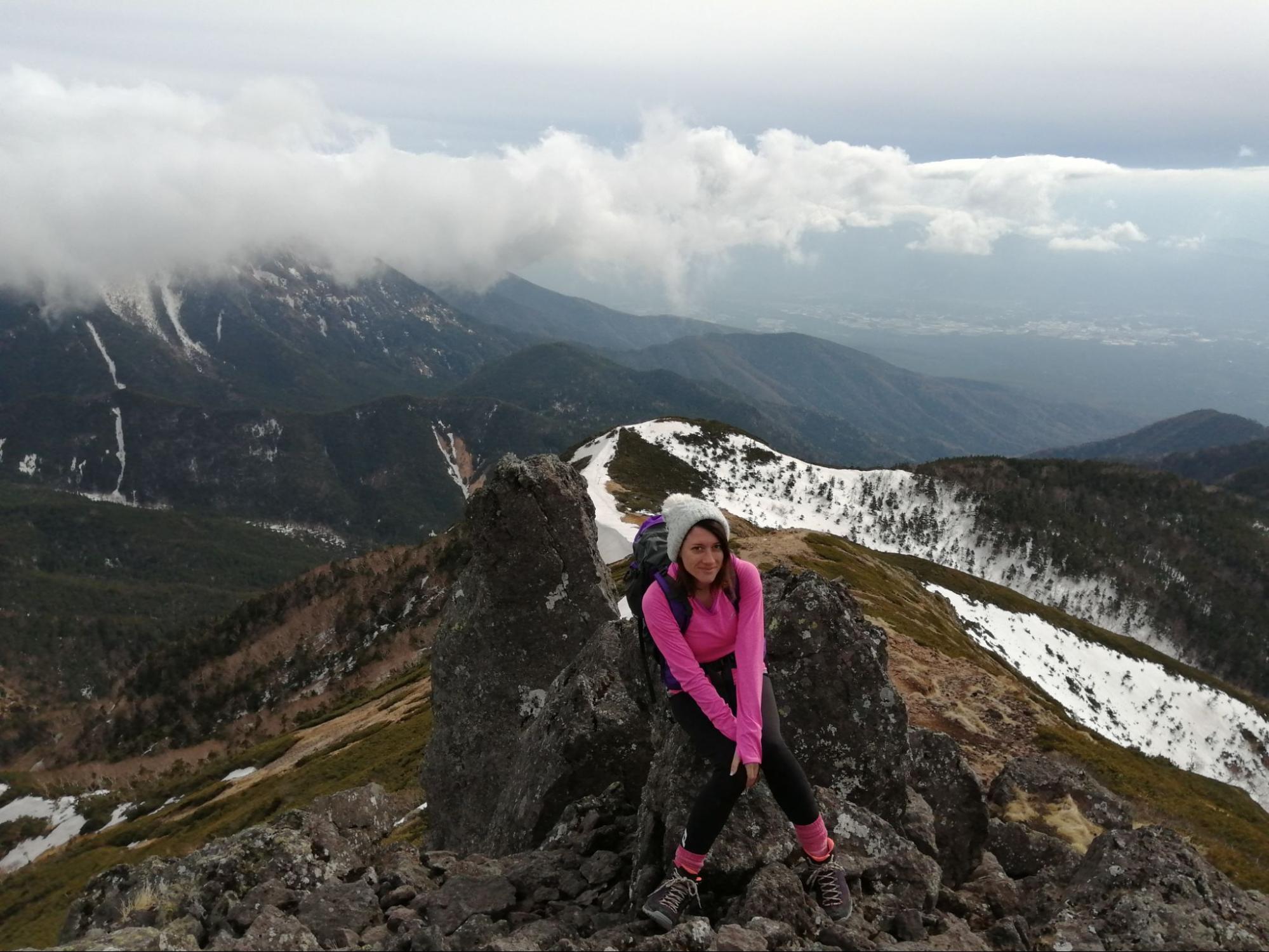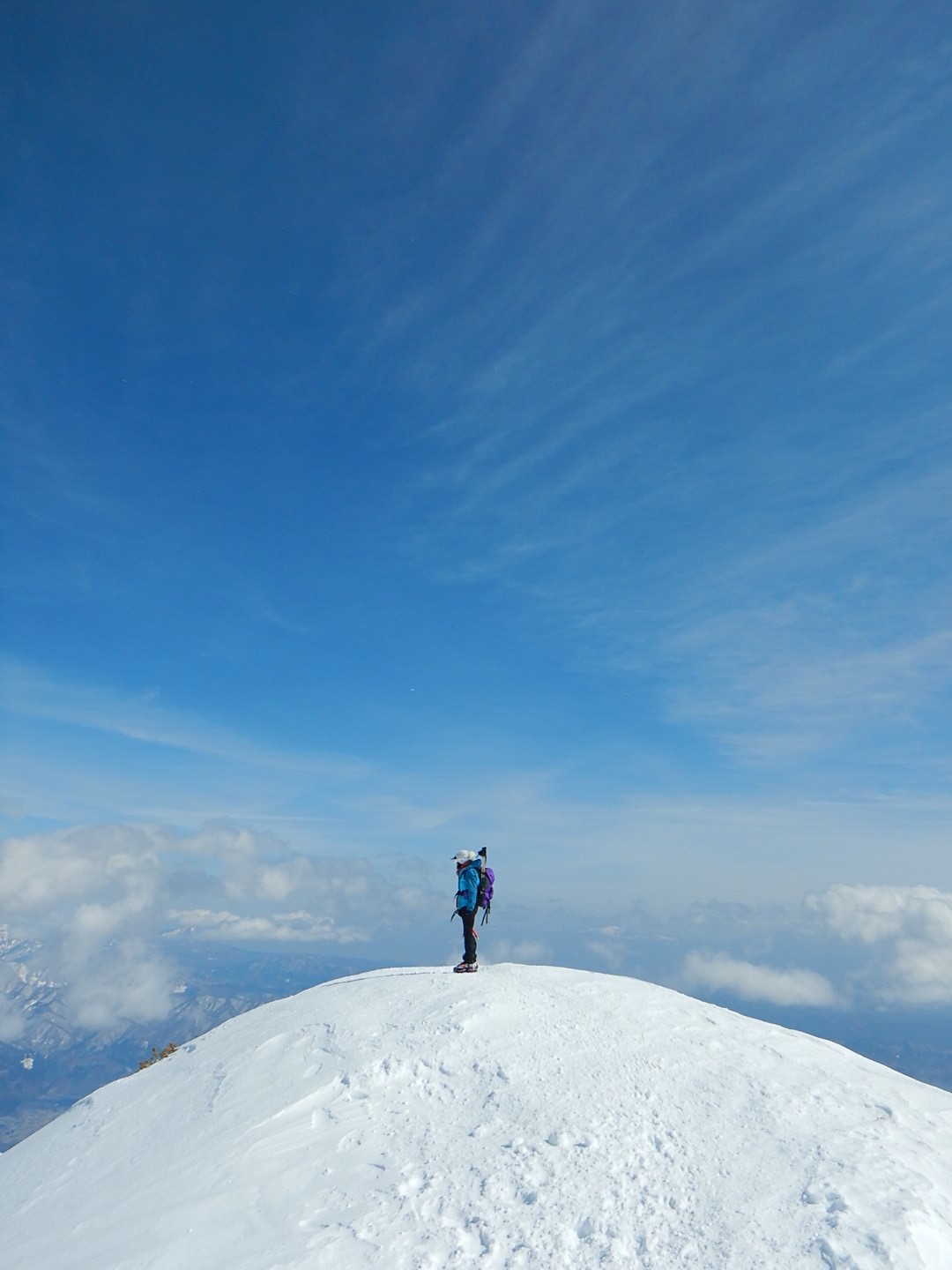 Apart from a 2 day trip with friends in Sapporo during the Snow Festival and a romantic weekend at Tomamu Resort in the summer, I haven't had any other opportunities to visit Hokkaido. So, like you, readers of this article, I can't wait to discover all the wonders that Hokkaido has to offer and to experience a multitude of wonderful adventures! From its incredible landscapes that can be discovered through a variety of outdoor activities to the delicious local gastronomy. (I guess it is not necessary to mention that I have gained a little weight since my arrival in Sapporo, the cause being the tasty Sapporo curry soups!) Excited at the idea of ​​discovering the winter landscapes of Hokkaido, I decided that my first little trip would be the Shiretoko Peninsula.
 For my first winter adventure on the island of Hokkaido, I chose the Shiretoko Peninsula because I wanted to admire the sea covered in blocks of ice due to ice drift, an extremely rare phenomenon that I had never witnessed until now, but also because I was attracted by the observation of raptors migrating from Russia where the winter is too harsh. It is only possible to see the drifting ice and the famous eagles, which are only passing through, in winter.
 The main access to the Shiretoko Peninsula is the town of Utoro, about 400 kilometers from Sapporo. It's quite a long journey by car, bus or train (around 6.5 hours) but you can also fly from nearby Sapporo airport, New-Chitose to Memanbetsu airport (a flight of only 45min) and start your adventure from the town of Abashiri.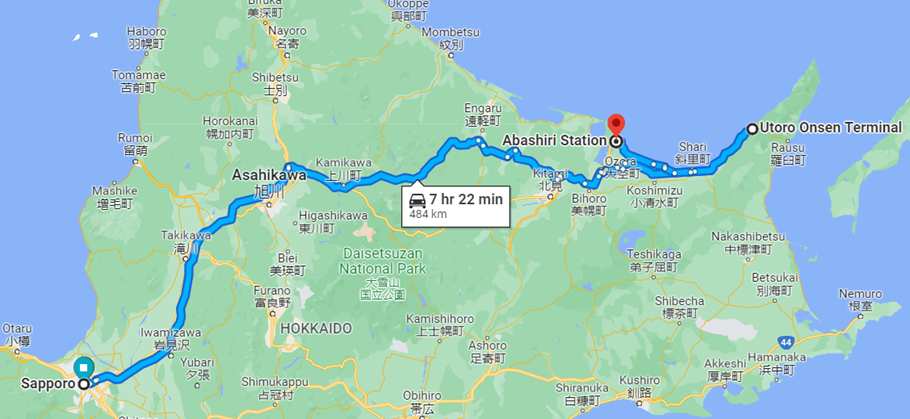 Day 1 :
Arrival at Utoro Onsen Terminal Station-> Kitakobushi Shiretoko Hotel & Resort – 1 day plan – onsen -> Winter Shiretoko 1 day tour -> Overnight at Umi ni Katsurada ryokan & dinner
Day 2 :
Bus to Shiretoko-Shari station -> Ryuhyo Monogatari train-> Abashiri -> Aurora Icebreaker Ship *Replaced on spot by the visit of Okhotsk Ryūhyō museum and Hokkaidō Museum of Northern Peoples
Total average budget : 50,000 JPY
I traveled by night bus from Sapporo and arrived at 6:30 am in Utoro, the largest (but still very small…) town along the west coast of the Shiretoko Peninsula, main access to Shiretoko National Park. The city covered with a blanket of snow was still asleep, just like me! I headed to the Kitakobushi Shiretoko Hotel & Resort where I enjoyed the – 2,200 JPY one day plan – onsen, before starting from 9:00 am my day of outdoor recreation. The elevator took me to the 8th floor where I entered the cloakroom while discovering the breathtaking view of the majestic Sea of ​​Okhotsk, all white and icy. I soaked into the indoor and outdoor baths, relaxed in the sauna, and chased away all the aches from my overnight journey. Fresh as after a good night's rest, I was now ready for the day to come!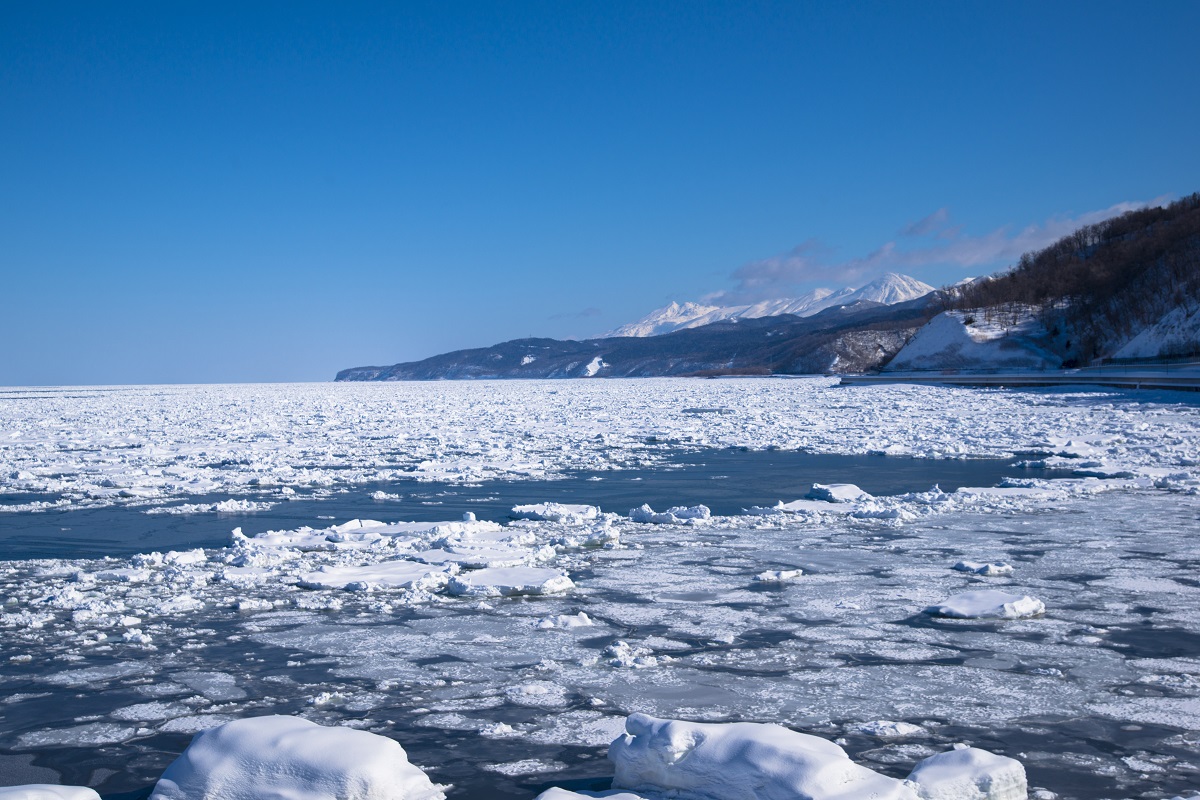 Today, I am joining a day tour organized by the Shiretoko Nature Office, including snowshoeing, ice drift walking experience, and bird & wildlife watching tour. This very complete tour costs JPY 12,000 and allows visitors to have fun while experiencing the different winter aspects of Shiretoko.
 My nature guide picked me up at the hotel reception and I joined the 6 other participants of today's tour. We drove along the Sea of ​​Okhotsk and its pristine whiteness was almost blinding. I could barely distinguish the sky from the sea and the sea from the land. It was just a white carpet that stretches as far as the eye could see! Arriving at the agency, we put on high boots and some of us rented warmer clothes (gloves, jacket, and pants) before continuing our journey to Shiretoko National Park.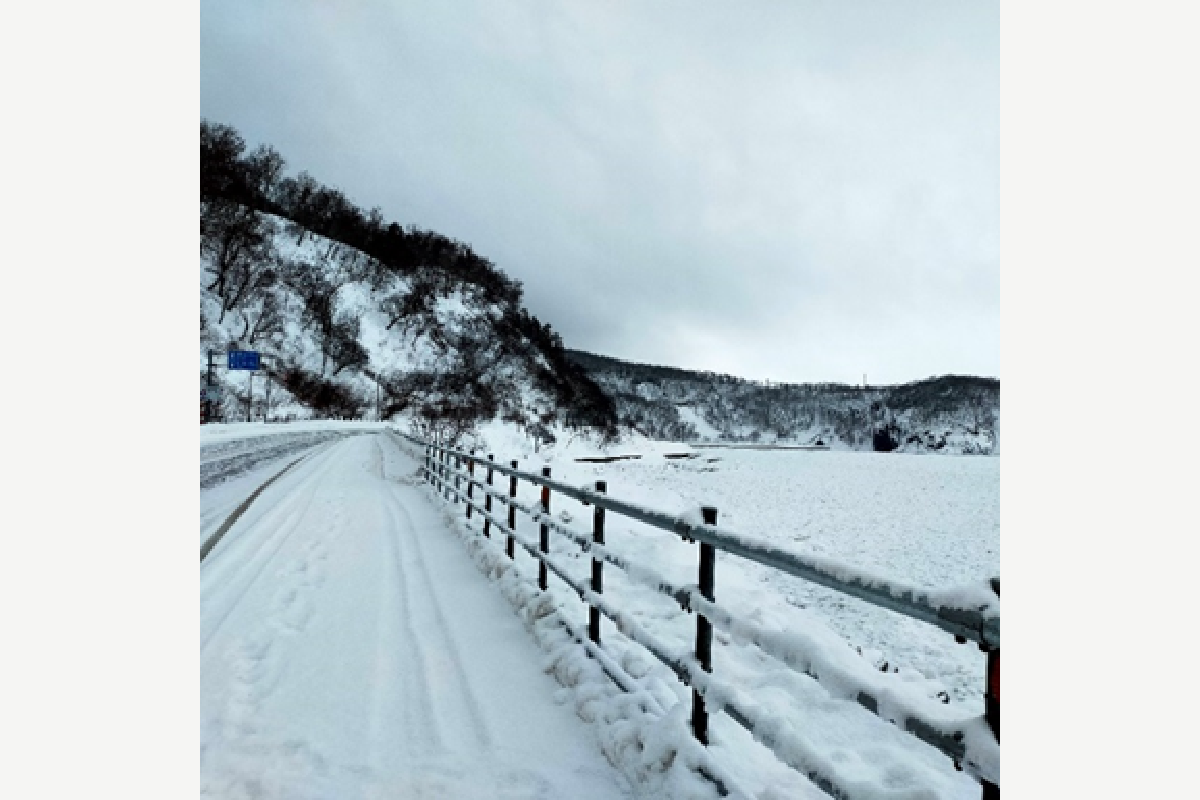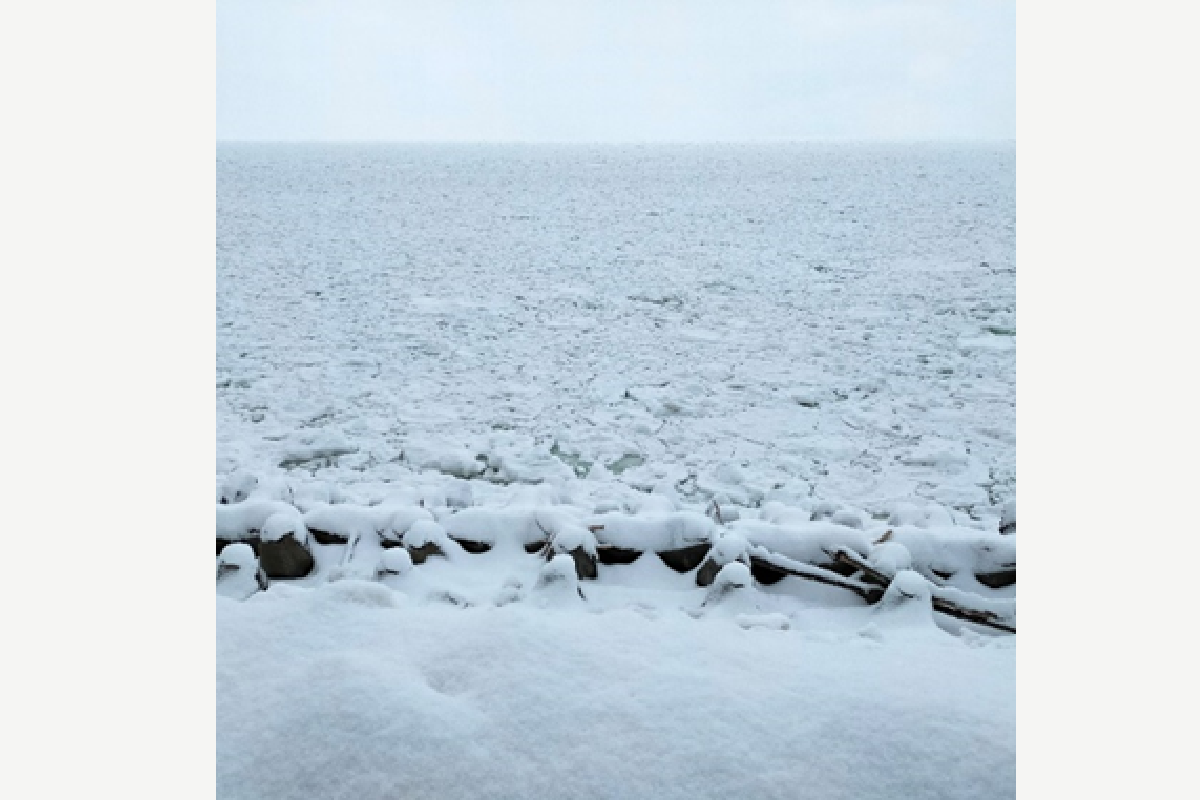 Arriving at the Shiretoko World Heritage Conservation Center, we began our first activity of the day: a snowshoe hike to Frepe Waterfall. Our guide explained to us how to wear snowshoes, gave us some tips for walking in those cumbersome shoes and helped those of us who had difficulty attaching the straps. And here we are! We started to walk inside the forest, knee-high snow for me (I'm not a very tall woman!) each of our steps sinking deliciously into this powdery snow. We stopped inside a small clearing where the guide showed us how to have fun falling backwards before drawing, clapping hands and feet, an angel in the snow or running with those snowshoes (and it was not easy, believe me!) before jumping on the snow as soft as cotton. We took full advantage of this recreation time, becoming children again and having fun with this amazing powdery snow.
 Then, still progressing towards the Frepe waterfall, we admired the nature that surrounded us, like the immaculate snow that accumulated on the bare branches of the trees and on the green leafy fir trees. Our nature guide gave us a lot of information about the inhabitants of the forest. "Look at this thin broken branch. A deer pulled on it to eat its foliage and the branch broke". "Here, these large holes have been dug by woodpeckers and sometimes momonga take shelter inside". We started looking for a momonga couple living in the area by inspecting the ground around the tree trunks for food scraps, evidence of their passage. They eat fir and spruce and the guide showed us the difference between a fir tree nibbled by a momonga and a one that was not. The fluffy little animals were here not long ago. Unfortunately, we did not meet them that day. To be honest with you, dear readers, I was very disappointed because momonga are among my favorite animals! They are so cute, and I was really hoping to see some.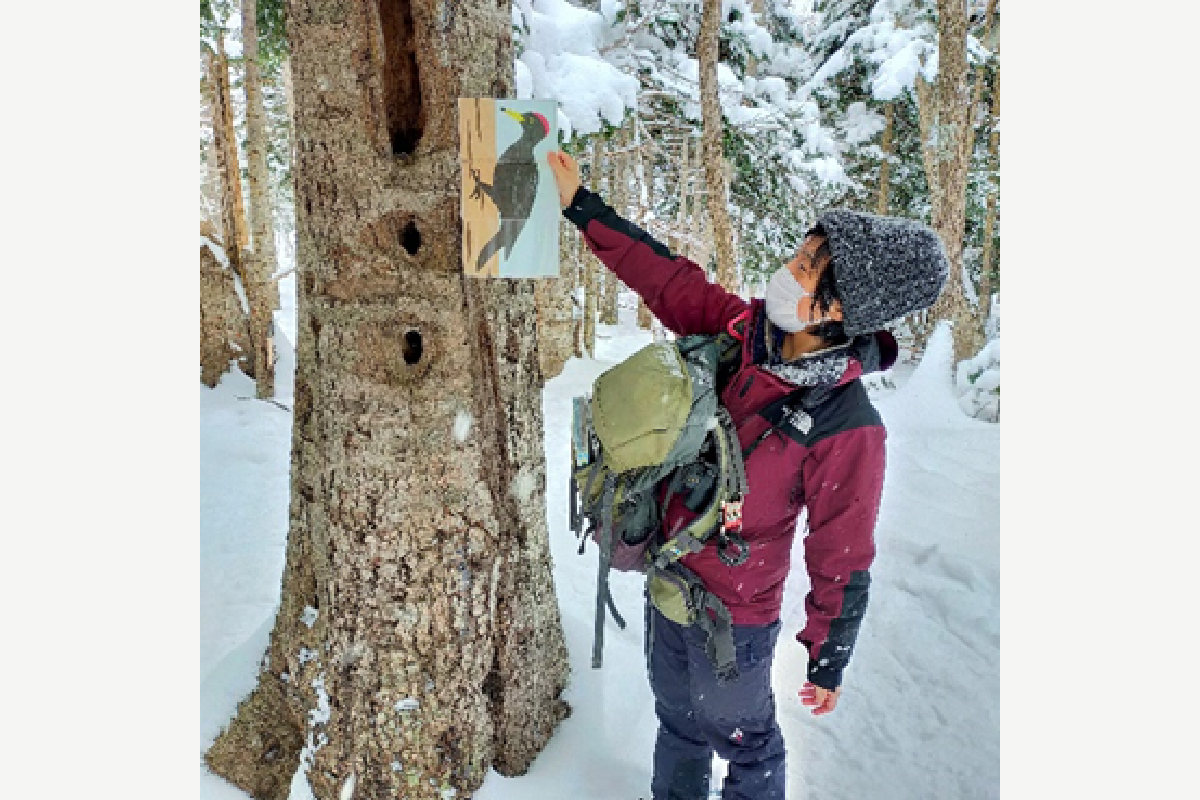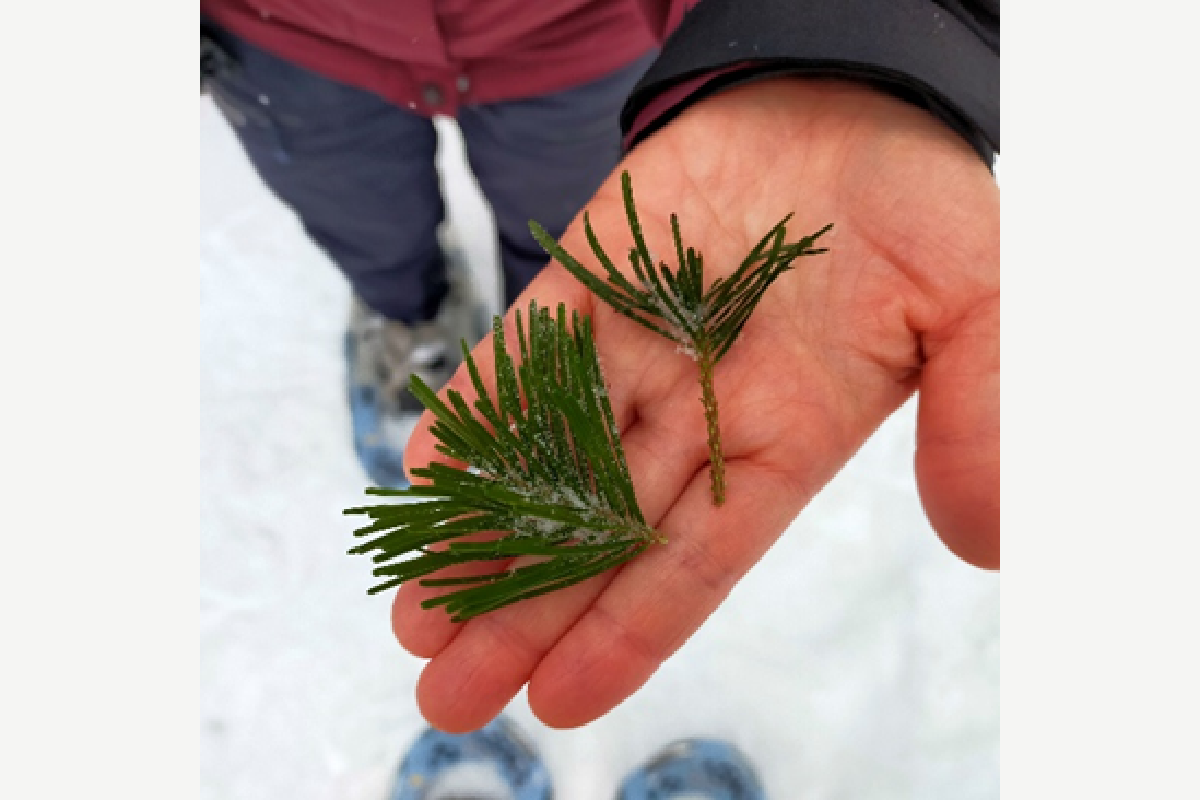 It started snowing and the guide pointed to the snowflakes piling up on our clothes "Look at those perfect snowflakes!" And indeed… they were. We finally reached the main goal of our hike, the frozen Frepe waterfall and perceived in the distance, blurred by the snowflakes, the silhouettes of two deer, our first wildlife encounter today. This encounter marked the end of our 2 km snowshoe hike.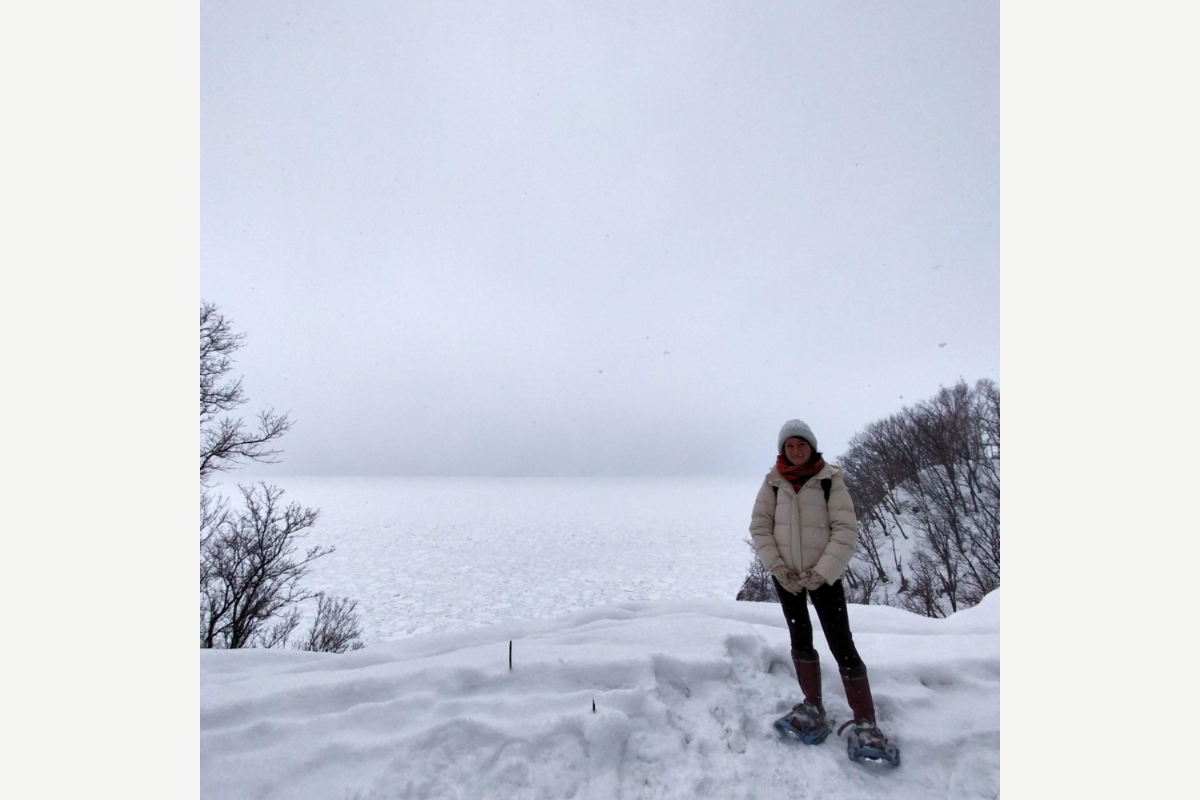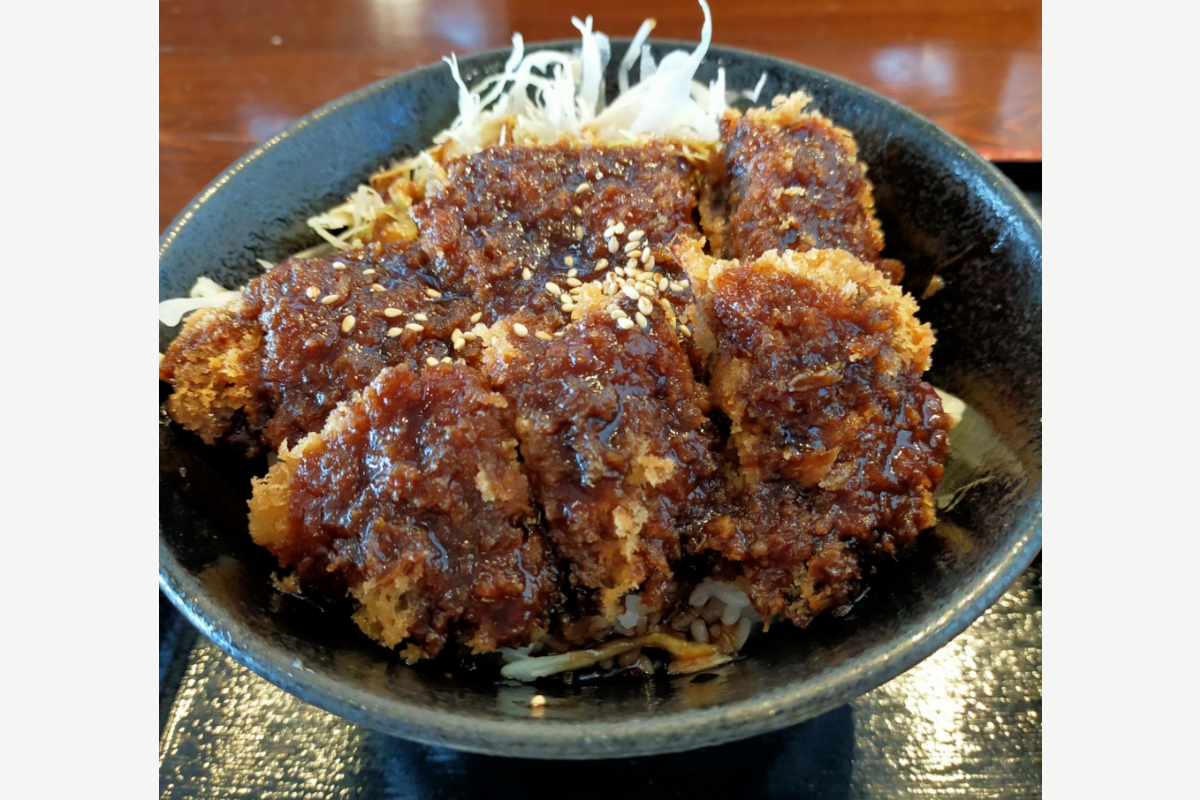 Before continuing our adventure, we had a lunch break. The guide introduced us to the specialties of Shiretoko and described the menu of the different restaurants in town before dropping us off at the one with our preference. I decided on a 鹿肉カツ丼 – a shikaniku katsudon (bowl of rice topped with venison). The deer meat was so tender and flavorful… it was a delicious meal at the reasonable price of JPY 1,250.
 After warming up with this hearty hot meal, it was time to start the most awaited activity of the day: the adventure of walking on the drift ice! Like many Japanese and foreign visitors, I came to Shiretoko for this unique tour. My body silhouette thickened as I put on a dry suit that would allow me to play in cold water without getting wet or cold. Putting it on was already an adventure! For the rest of the program, there were no rules except to have fun! My companions for the day and I, led by our two guides, advanced slowly over the blocks of ice, then, gaining confidence, we tried to jump from block to block, choosing them carefully and avoiding the softer ones which disappeared into the sea ​​under our feet. But the further we went, the more accidents there were… Splash! … Splash! We had neither the experience nor the dexterity of our guides who were taking care of our cameras (fortunately!) and made fun of our clumsiness! Soon, here I am myself immersed in the water. Surprisingly, it's not cold and it's not very deep. So, we played for an hour happily enjoying this unique winter adventure. After having taken off our waterproof suits, we separated from our two guides. However, our tour was not over yet…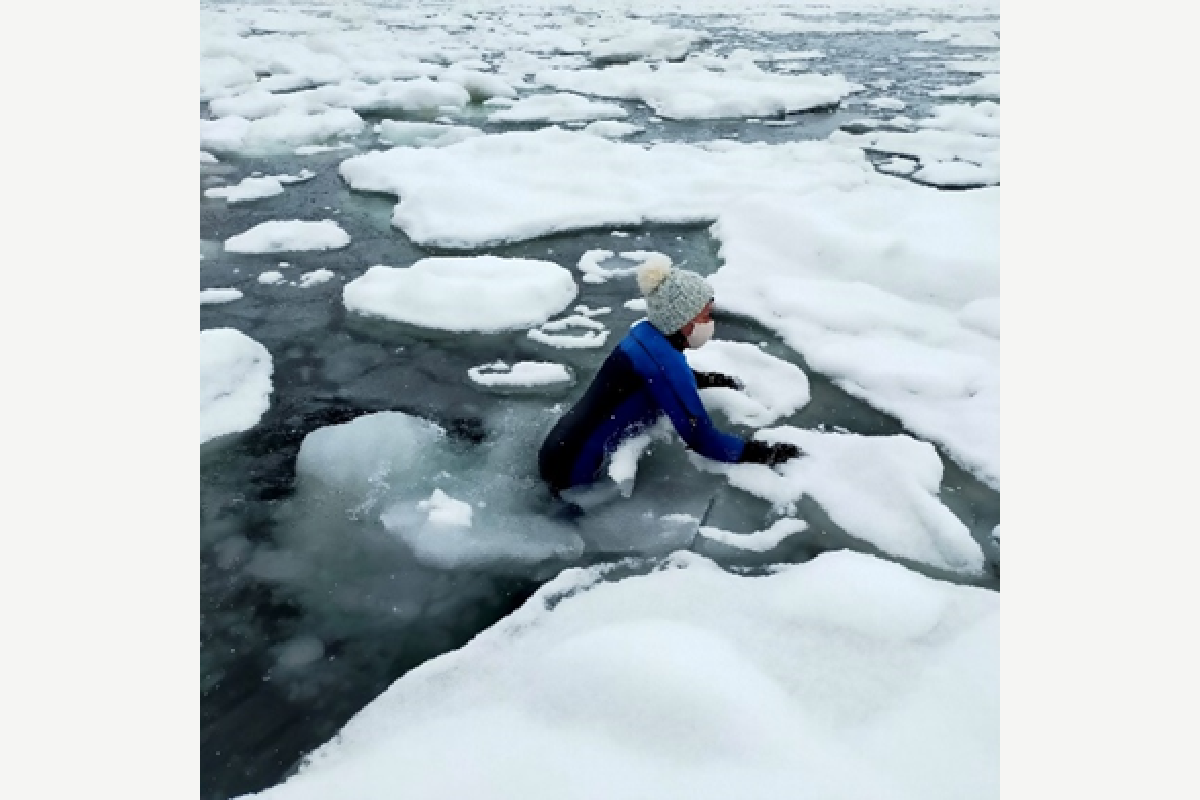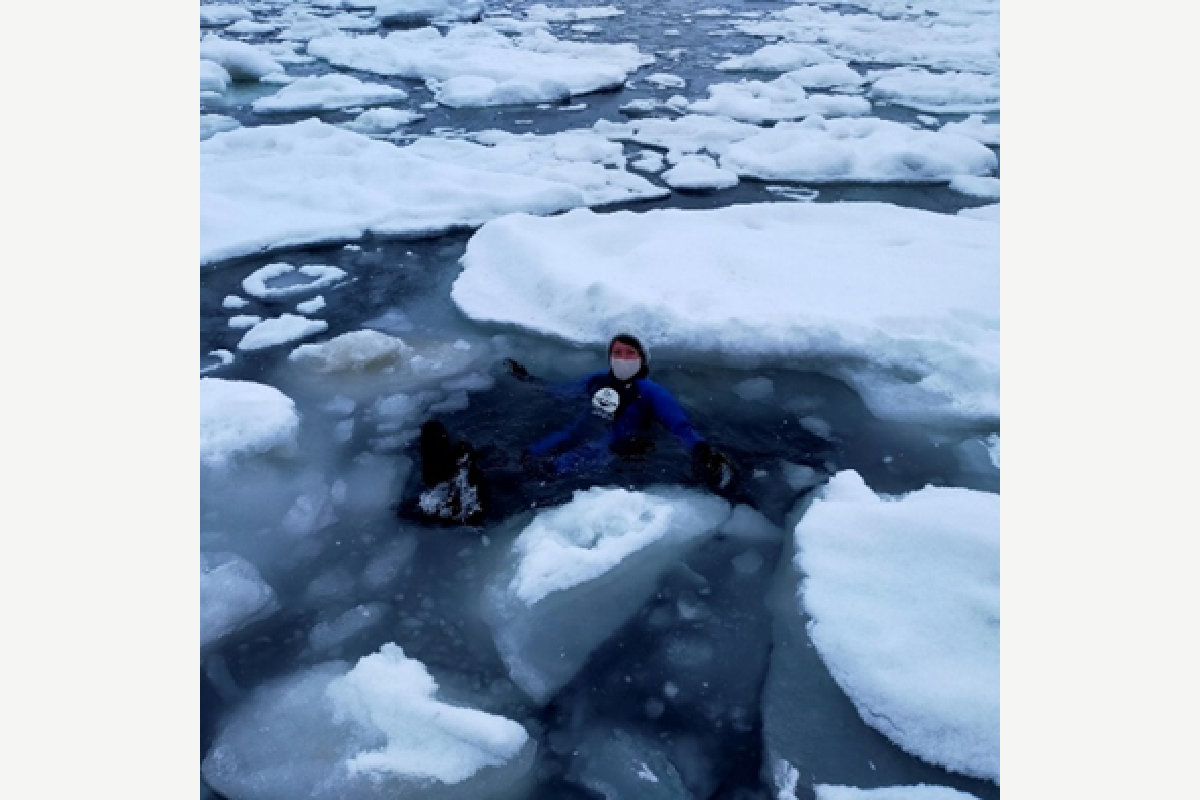 We continued our adventure along the coast to meet the wild fauna of Shiretoko and more particularly the eagles that had come from Russia to take advantage of a more bearable winter. The guide stopped at strategic places, and we could then observe the White-tailed Eagles and Steller's Eagles using binoculars and the telescope that the guide installed for us at each stop. The guide explained to us using visual aids the main differences between the two species so that we could easily tell them apart. Of course, ice drift is not only a beautiful phenomenon, but it also plays an important role in Shiretoko's ecosystem, and the guide shared her knowledge of the seabed with us. And more particularly, on the salmon populating the waters. These fish are one of the favorite prey of these magnificent eagles, but also one of the specialties of the local gastronomy.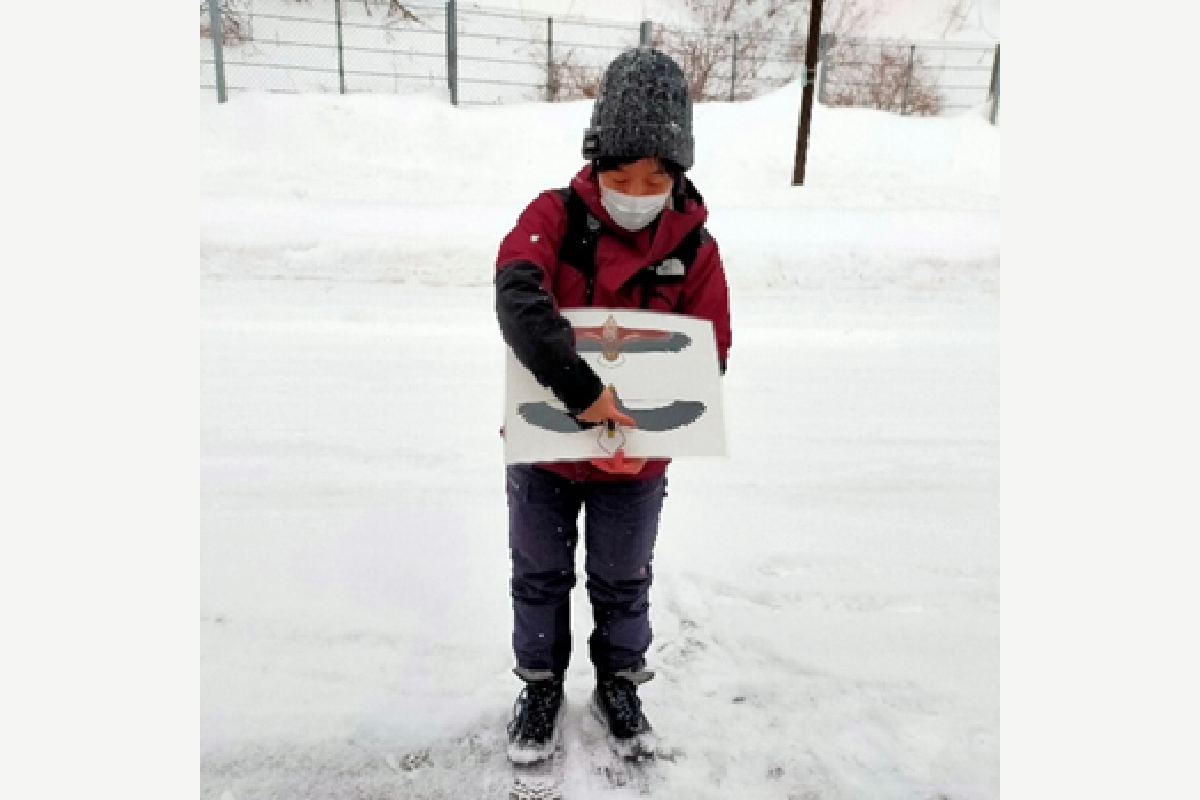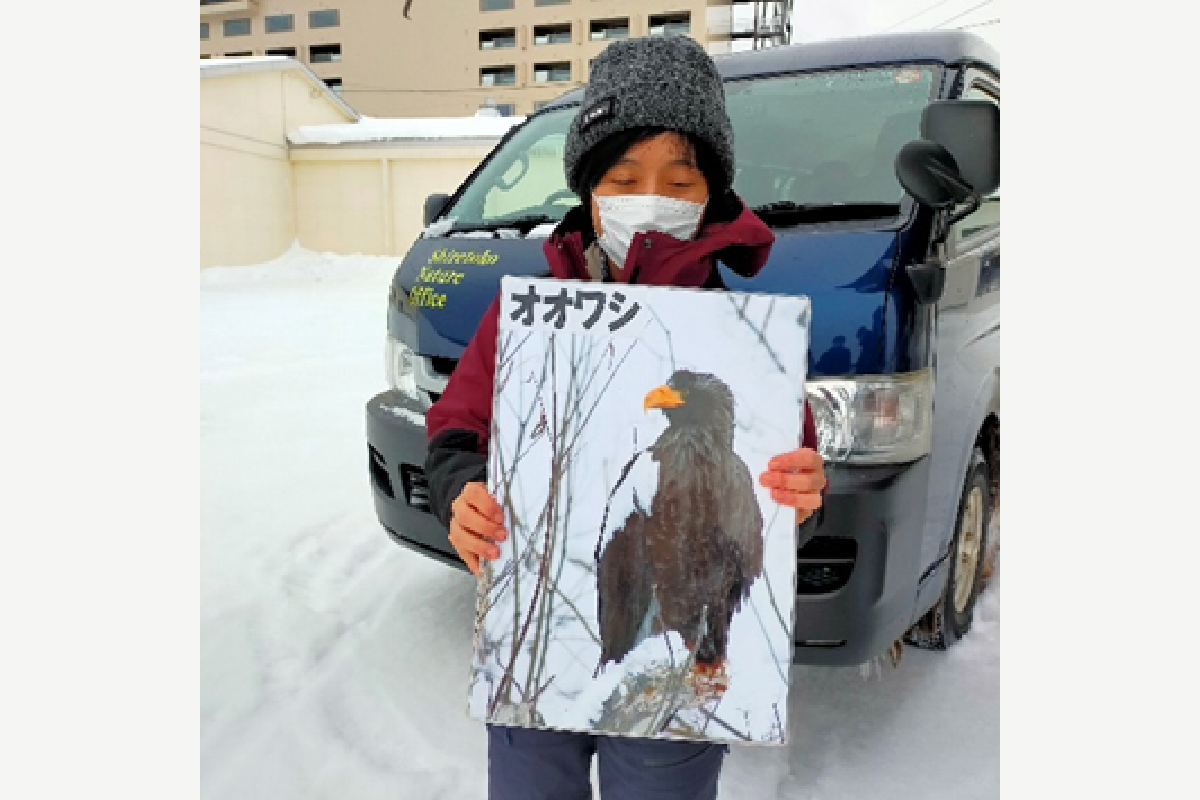 We also tried to meet foxes but that day they were shy, and we finished the tour without having seen them. I was also sad not to have seen them because even if they hunt momonga they are also very cute. At 5:00 pm, it was the end of our tour and the guide dropped us off at our respective hotels for the night. I was not disappointed by this tour which kept its promises, and I appreciated the knowledge of the guide, not to mention that she was a very energetic woman!
 I stayed at the Umi ni Katsurada ryokan. Before dinner, I soaked and warmed up in the small public onsen. Nothing better than warming up in an onsen after a day of adventure, especially in winter! I'm still not used to the cold of Hokkaido, and I was freezing! I enjoyed a very tasty dinner which consisted of a seafood bowl of fresh Okhotsk fish and a salmon hot pot (the famous local salmon!). This ryokan stay was the perfect place to end this day.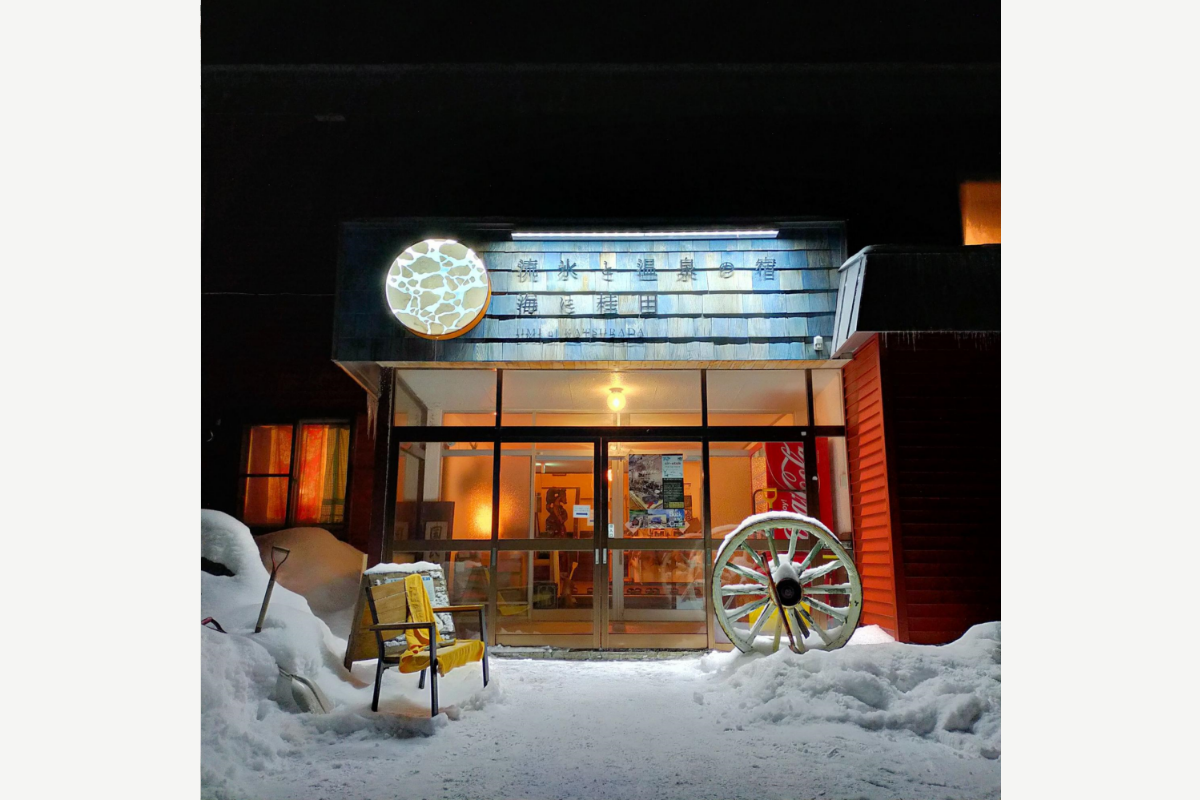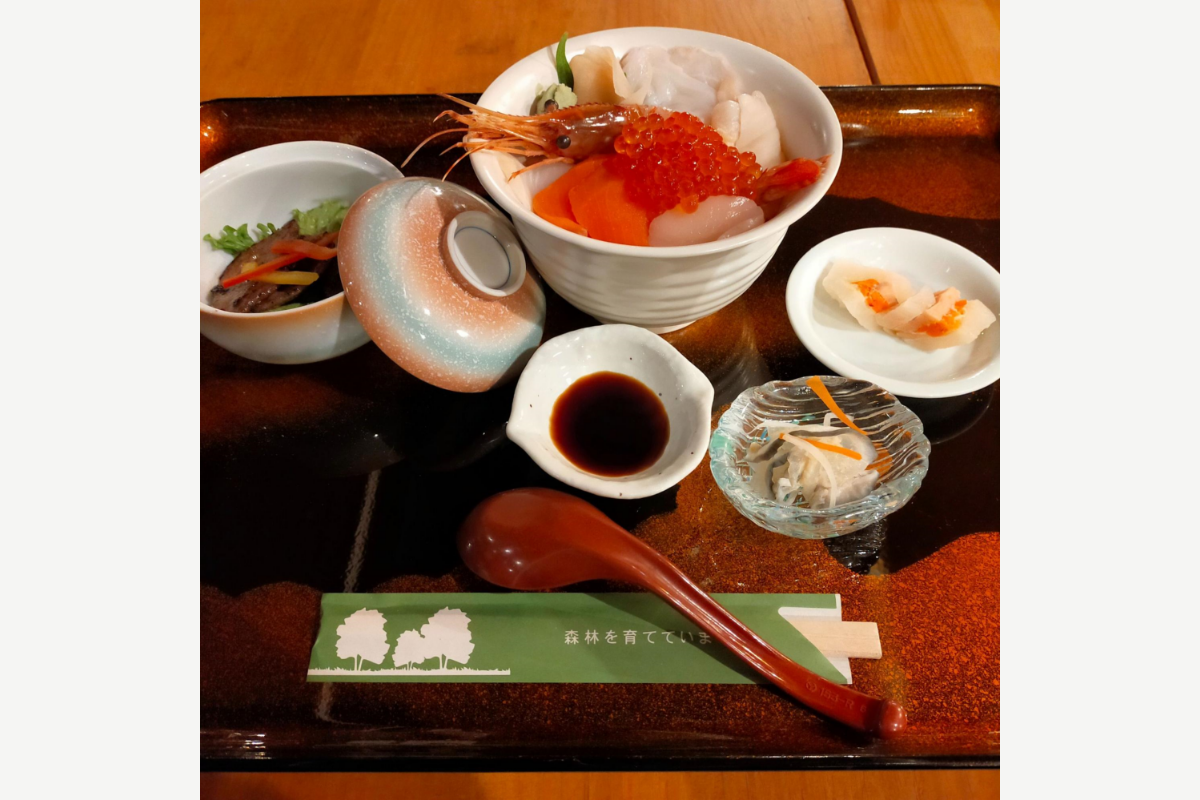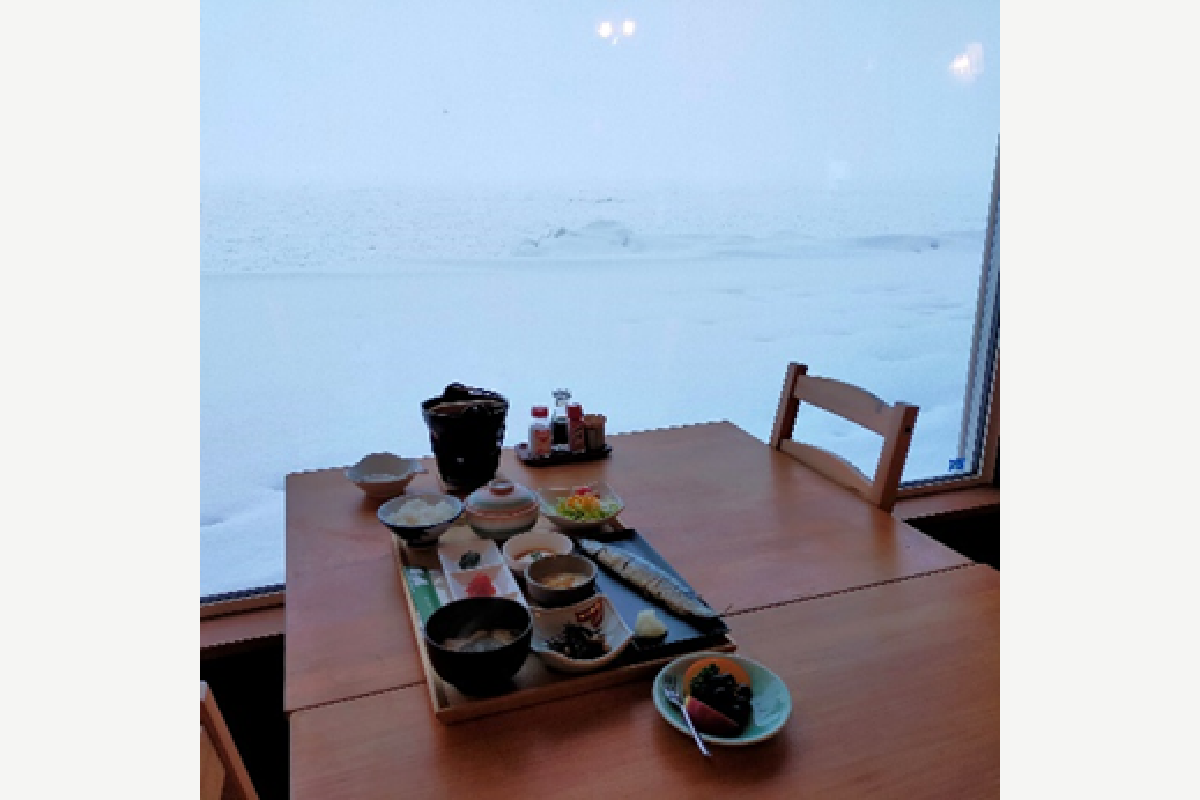 I had a good night's rest on the futon in my Japanese-style room. I don't know why but I really like sleeping on a futon and when I travel, I prefer when my budget allows it, a night in a tatami room. In the morning, while admiring the white landscape of the Sea of ​​Okhotsk from the window of the restaurant facing the sea, I enjoyed a hearty Japanese-style breakfast. kaiseki! I thought this traditional Japanese hotel was a lovely place to stay with an attractive price (about 15,000 JPY for a stay in a Japanese-style room, shared bathroom and toilet with 2 meals included).
 This second day, I headed to Abashiri where I had planned to take the Aurora Icebreaker Ship. Boarding a boat of the same name as I sounded like a pretty cool concept, but more than that, I wanted to feel the power and hear the creaking of the drifting ice. Before saying goodbye to the quiet little town of Utoro, which really looks like a city lost at the end of the world, I took advantage of the 20 minute walk to the bus station. I admired for the last time the ocean covered with a white down (it snowed all night, and it was still snowing this morning). I even had the opportunity to spot a White-tailed Eagle perched on a tree along the road. Impregnated with these last winter images, I boarded the 9:30 am bus for Abashiri.
 One hour later, I got off at Shiretoko-Shari station to end my trip to Abashiri with the Ryuhyo Monogatari train, a scenic train that runs only in winter along the Sea of ​​Okhotsk. There was a little over an hour before the connection (the departure was at 11:44 am) and there was nothing to do around the station except for a small souvenir shop. So, I queued and waited for us to be allowed to reach the departure platform. Finally, we were able to board the train consisting of a single car. The station employees had put on a real show just for us, the passengers on this train! One was disguised as a nipopo doll, nipopo meaning a small wooden child. The Ainu made those wooden dolls, displayed them in their homes or took them with them. They treasured them as a lucky charm to protect them from injuries while hunting and their families from illnesses. Another sang while his colleague accompanied him with a horn. What a great way to start our one-hour tour. Finally, the train left the station, and the volunteer guides made our trip even more interesting, sharing with us a lot of information about the landscapes that we were crossing. Personally, I did not think that this experience added value to my trip, and I would have preferred to stay on the bus and avoid a 1 hour wait at the station.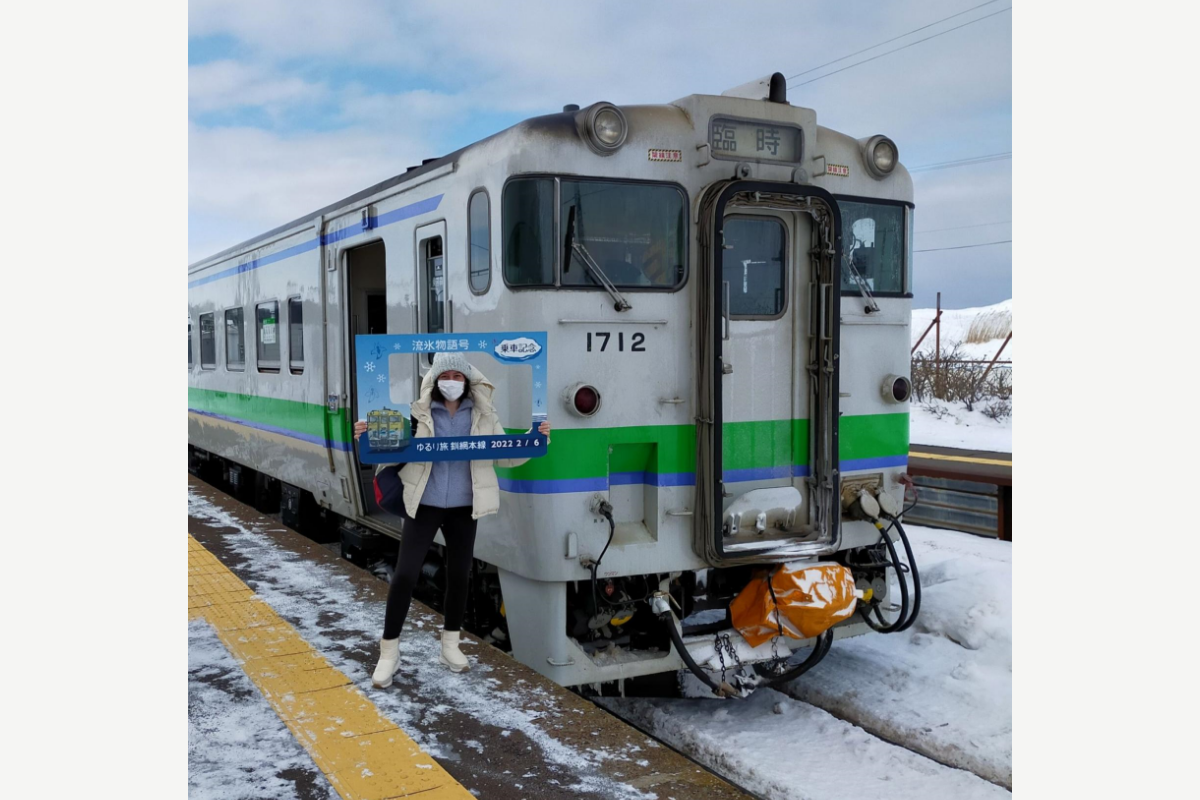 Arriving at Abashiri station, I walked to the port from where the Aurora icebreaker ship departed. Here, the sky was blue… as the sea! There did not appear to be any ice drift. As expected, I was told that on that day there was no ice drift to be seen. I was very disappointed and decided not to pay JPY 3,500 for a simple 1-hour tour. In the cafeteria of the complex, I ate an Okhotsk Abashiri Zangi Don. It is a bowl of rice produced in Hokkaido, topped with Okhotsk salmon produced in Abashiri which is fried after being dipped in a special local seasoning. I was happy with this delicious meal (900 JPY).
 I took a bus to go to the Okhotsk Ryūhyō museum. The visit to this small museum, specializing as its name suggests in ice drift (ryūhyō in Japanese), did not take me long, especially since most of the explanations were only in Japanese. It introduces the formation of the ice drift phenomenon and its ecosystem. I tasted the famous and tasty salted caramel flavored ice cream called the Drift ice cream made with the salt of the Sea of ​​Okhotsk (350 JPY). and discovered the cliones, also called sea angels, tiny marine invertebrates that look like angels… until the shape of their head changes radically to eat or rather I should write devour their prey (then they look like aliens, tiny but terrifying!). From the observation deck on the 3rd floor, one can enjoy a 360 degree panorama with a view, among other lakes and mountains, of Lake Abashiri and the Shiretoko mountain range across the Sea of ​​Okhotsk. This panorama was designated as a national cultural property "Scenic Spot" in 1938. If you want to know more about the phenomenon of ice drift, don't miss a visit to this museum (allow an hour, ice cream tasting time included!) whose entrance costs 750 JPY.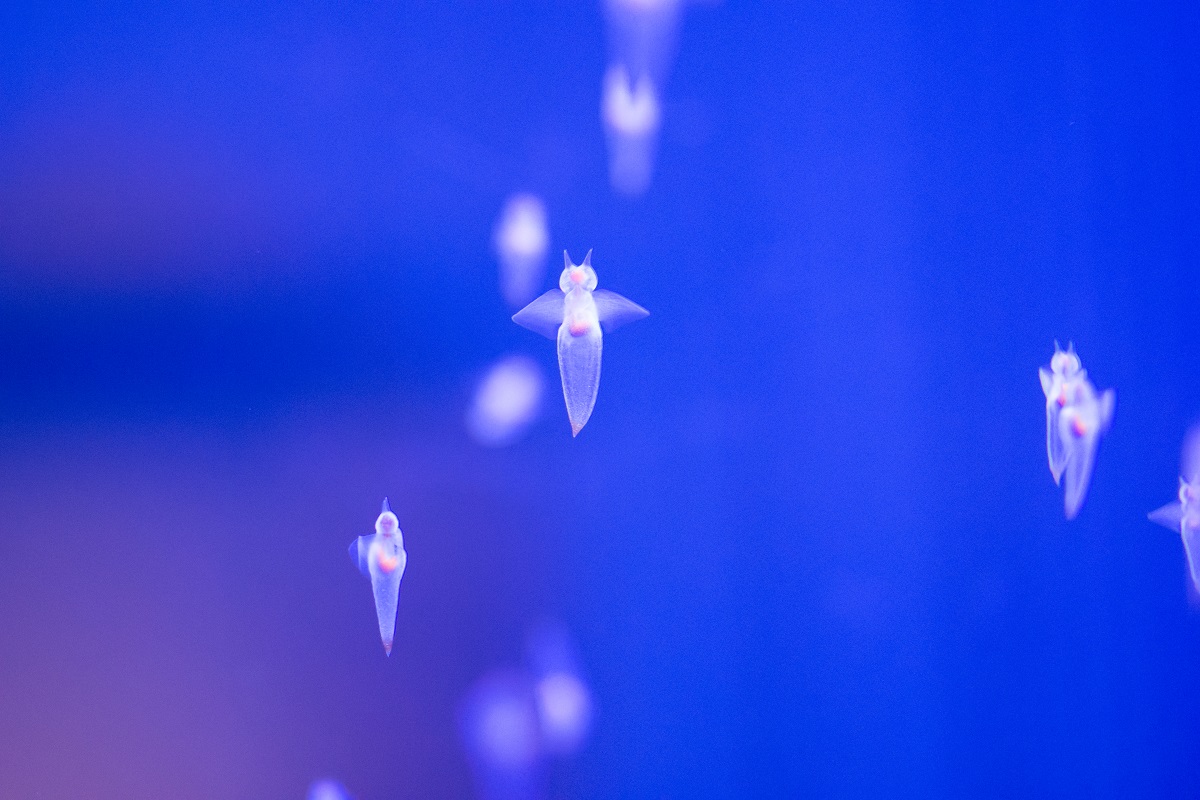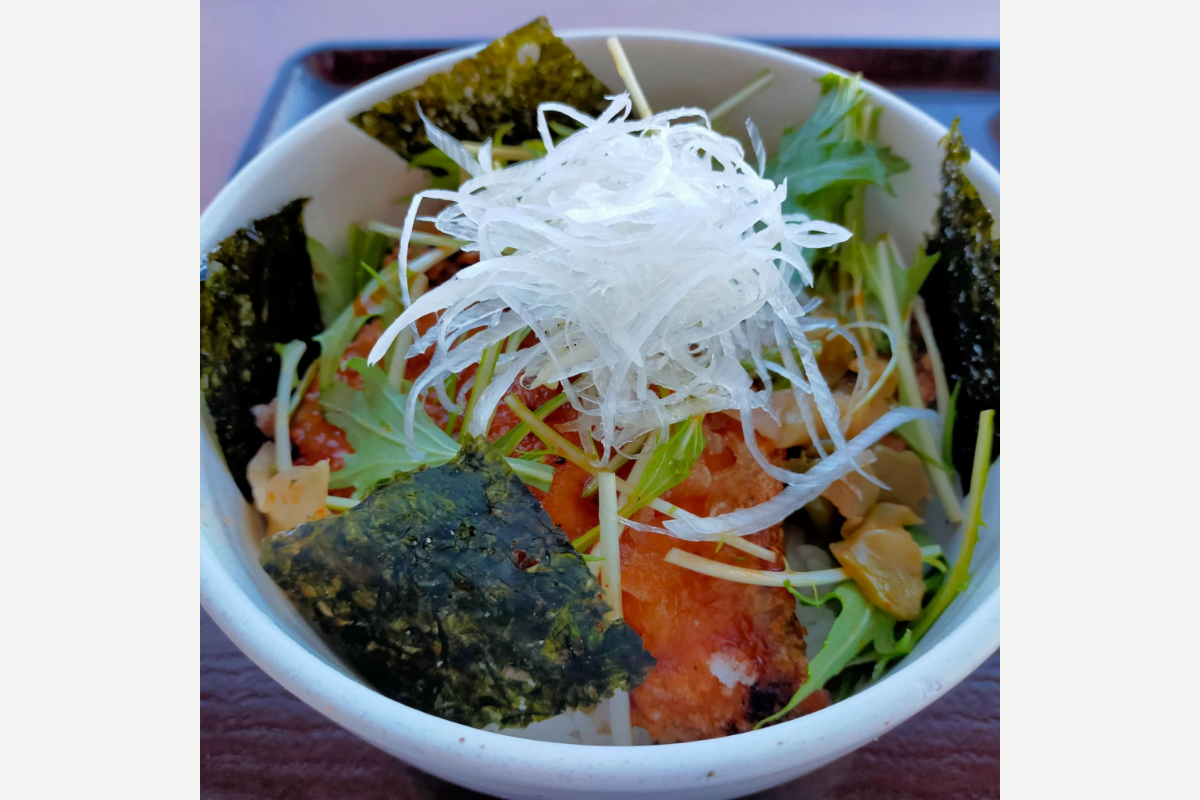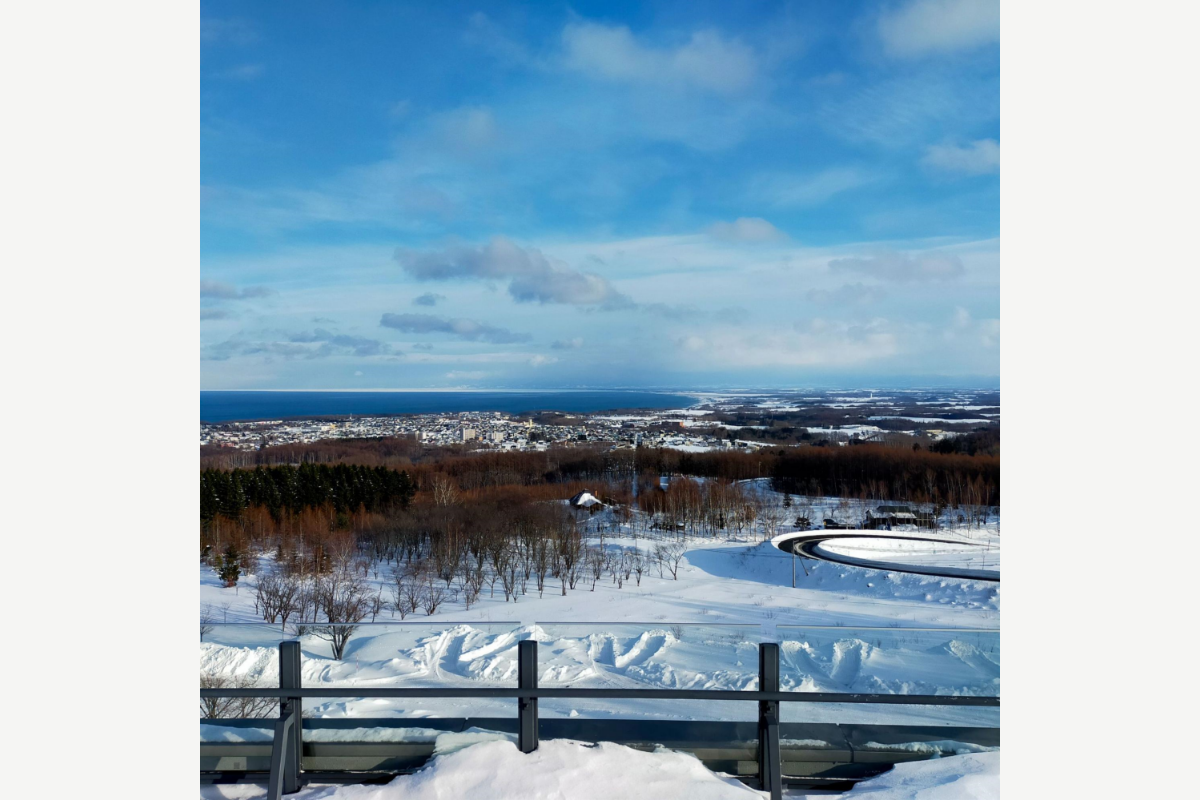 At the nearby Hokkaidō Museum of Northern Peoples (entrance fees : 500 JPY), I spent 1 hour learning more about the peoples of the North (including the Ainu), and I really appreciated the museum presentation of its works introduced by theme (clothing, tools of daily life, fishing and hunting, religion, music, and arts). It is a superb and very interesting museum and there are tablets with explanations in English!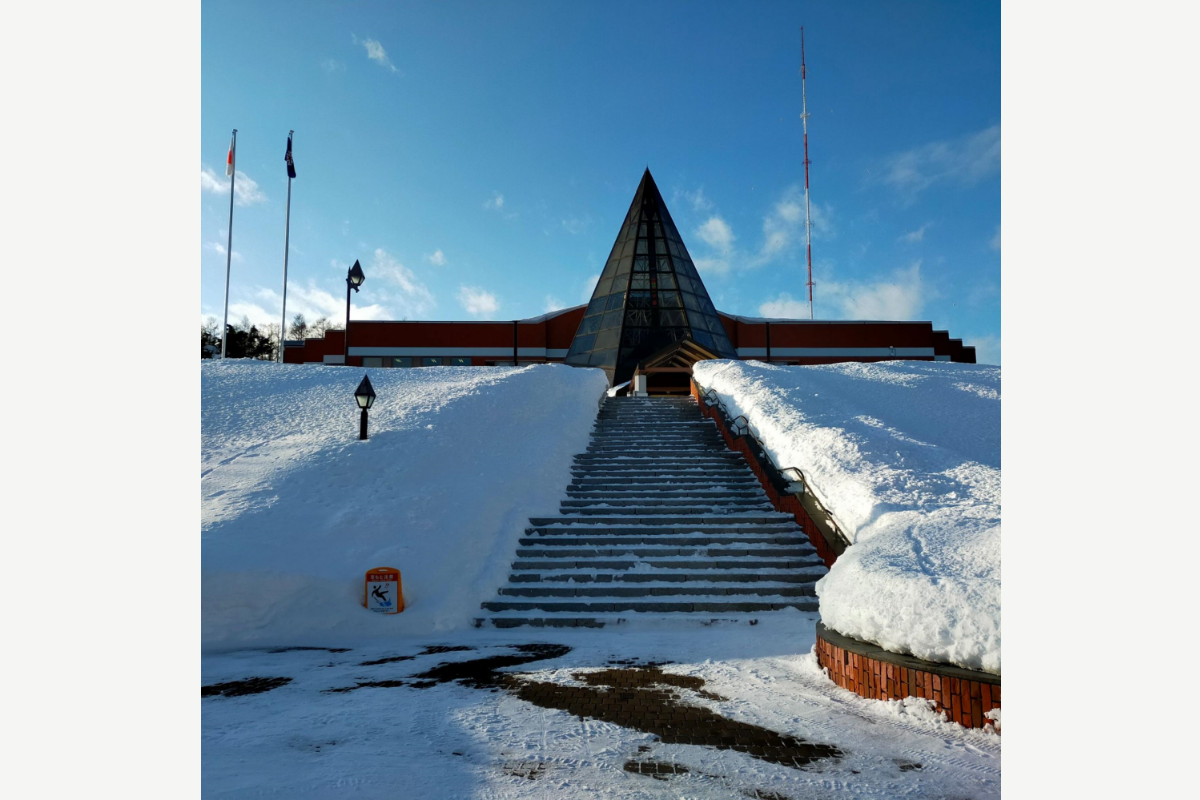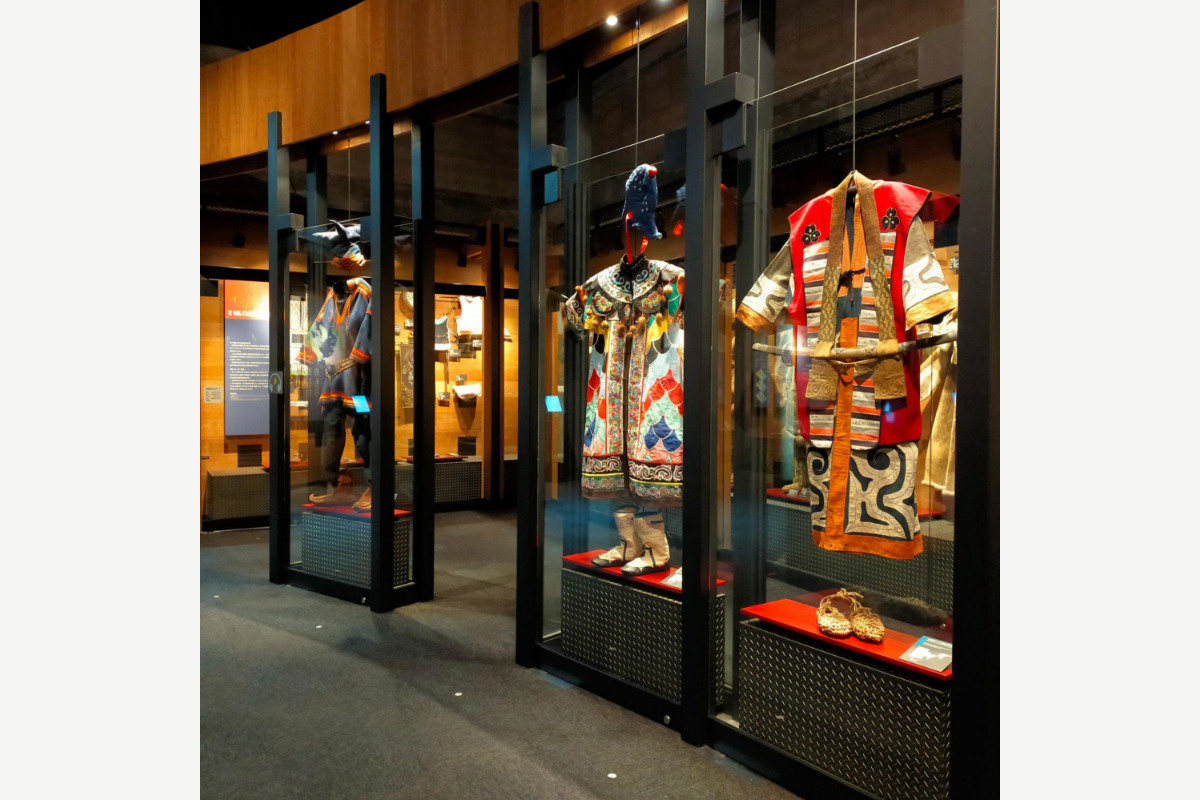 After my visit, I took the bus to Abashiri Station and was dismayed to find that due to heavy snowfall in Sapporo, all trains and other transportation had been canceled. I had no choice but to extend my trip by spending a night at the hotel and booking a bus ride for the next day. I thought such was the vagaries of winter life in Hokkaido, but I learned that this weekend in early February, the accumulated snow in Sapporo reached 133 cm in some places, exceeding 100 cm for the first time in eight years! So, the snowfall was intense, more than usual… The next day, hopefully, I was able to return safe and sound to Sapporo.
 If, like me, you always bring back one (or more!) souvenirs, let me share with you the 3 small purchases I made. The star of eastern Hokkaido is undoubtedly the Shima enaga, a very cute bird that looks like a fluffy little ball of cotton and lives only in Hokkaido. I just couldn't resist buying the stuffed animal, sold everywhere. And at the same time, I bought a momonga plush because I simply love them, and it made me less sad not to have met real ones!
 Then, because I'm an adult, don't get me wrong… I also bought the famous Drift Ice Draft. Don't drink it straight from the can,  but pour it into a transparent glass to enjoy its blue color (like the Sea of ​​Okhotsk), due to gardenia jasminoides extract, a blue pigment used in food. And you know what ? I can't write more about it because the can of beer is still in my fridge. I will wait until I am nostalgic for my trip to drink it and be transported again to the beautiful Sea of ​​Okhotsk!