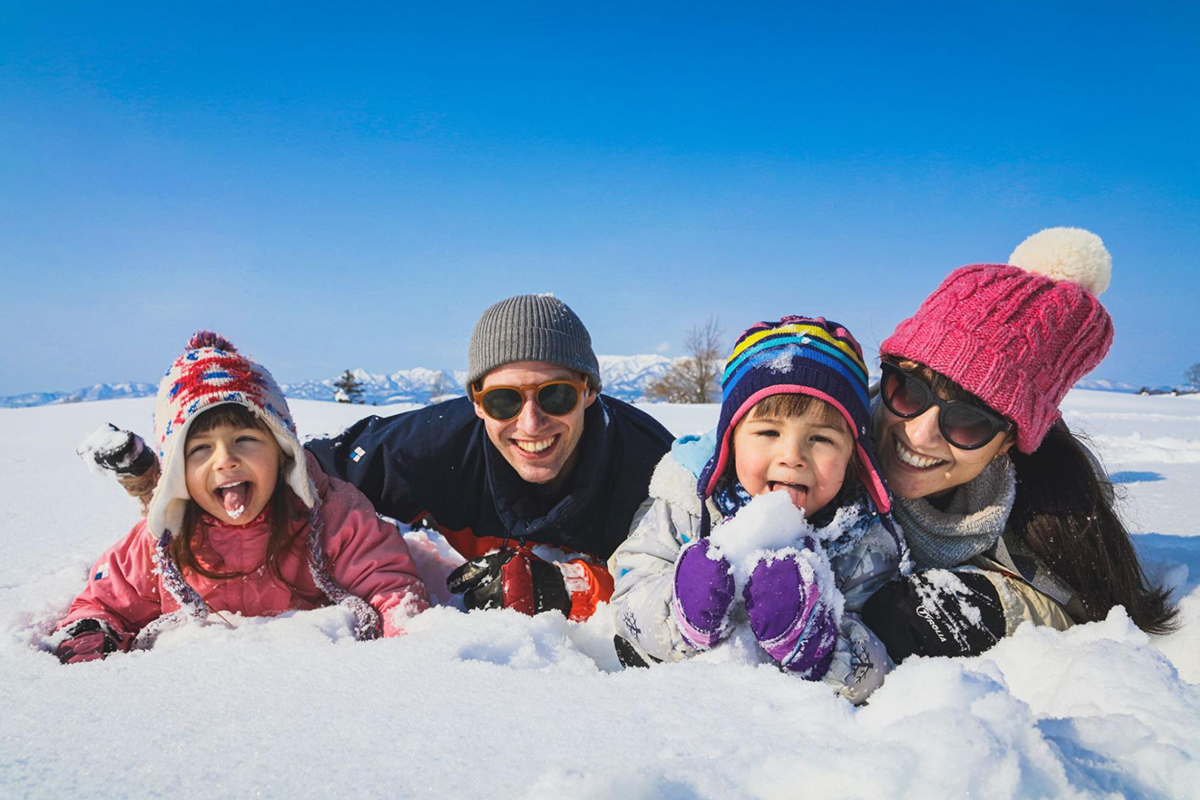 While there are many places in the world where you can enjoy the pleasures of snow, Hokkaido remains a must-see destination for its quality powder snow, onsen where you can relax after an active day outdoors, rich gourmet cuisine and of course its unique Japanese culture.
 Many of you may have already started thinking about and planning for the upcoming winter holiday. At Hokkaido Treasure Island Travel, we create authentic experiences with unique content by putting human interaction and safety at the forefront of our activities, especially for those traveling as a family with young children or older members.
 Driving in winter in Hokkaido is a real challenge because the roads are covered with snow, sometimes icy, and dangerous for inexperienced drivers. Therefore, we can only recommend that you make the most of your vacation by traveling with a professional driver. At Hokkaido Treasure Island Travel, we have a wonderful team of friendly, expert and responsible English-speaking drivers who will drive you safely while sharing with you winter anecdotes about the local life of Hokkaido people. Without having the steering wheel in your hands, you will be able to enjoy the beautiful winter scenery through the windows of the car. Not to mention the fact that entrusting the driving to an experienced driver will save you from worrying about the itinerary during your stay in Hokkaido and will allow you to give priority to your family during this vacation. The time spent in the car can be a great time for the family to talk, play and sing. For outdoor activities, we also care about safety and work with extraordinary and extremely friendly guides who will win the hearts of all family members. They will ensure the safety of all family members during the tours. We want you to have a memorable vacation and are convinced that for all the reasons mentioned above, Hokkaido is the ideal destination for a family trip in the coming winter.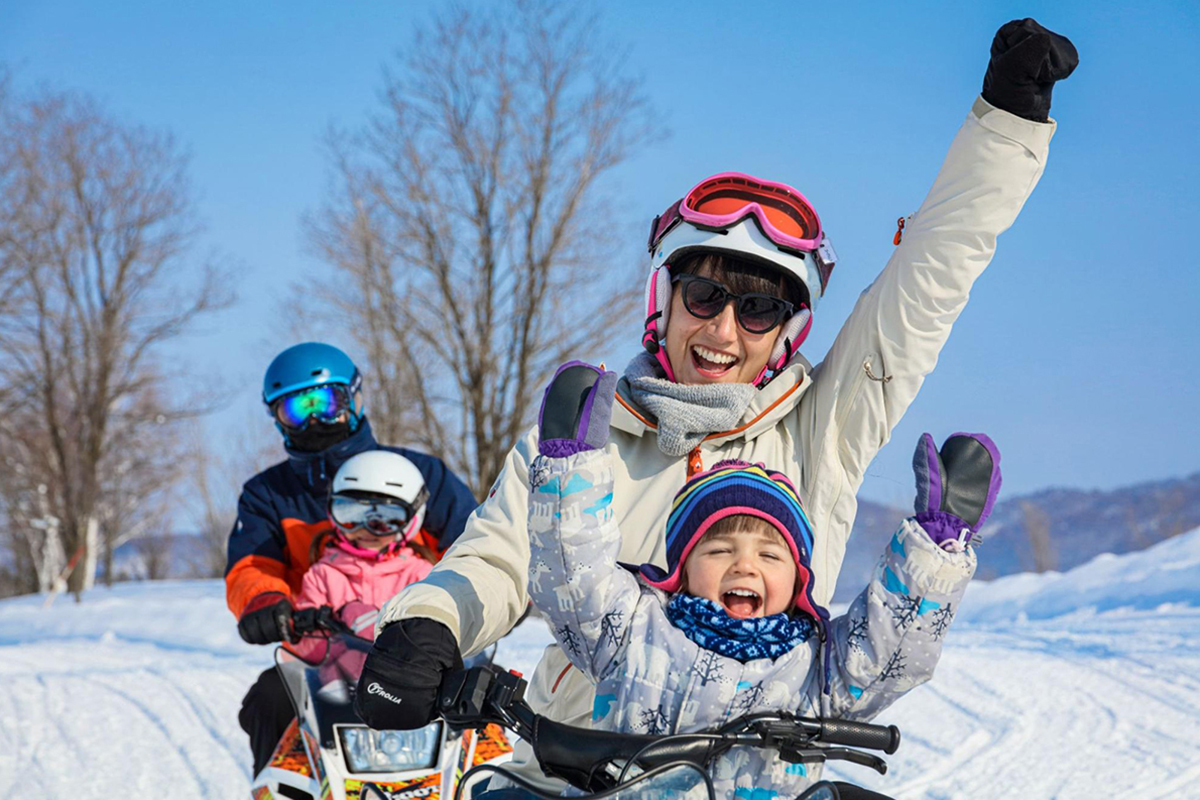 The entire Hokkaido Treasure Island Travel team, based in Sapporo, is waiting for you. We have used the last several years to develop our product range and new tours, and we are really looking forward to introducing you to amazing places, human and cultural experiences.
 When you think of winter in Hokkaido, Niseko is probably the first destination that comes to mind, but we would like to introduce you to other places with fewer tourists but just as much beautiful snow so that the whole family can enjoy the fun of snow. Make yourself comfortable, with a hot drink…. The temperature will drop drastically as we head to one of the coldest parts of Hokkaido, in the center of the island, to enjoy the snow with the family during this 3-days/2-nights winter tour!
---
Table of Contents
 For this winter tour, you can stay in Asahikawa City located 140 km/2.5 hours from Sapporo and travel from this city to Biei (Please check this article if you want to know more about Biei: https://hokkaido-treasure.com/column/005/), Asahidake and Bibai Snowland, three amazing destinations we will talk about in this article, to enjoy the pleasure of abundant snow within a reasonable distance from Sapporo. You can arrive in Hokkaido via New-Chitose airport if you want to start your winter tour in Sapporo to enjoy the feeric illuminations and the Christmas market or directly to Asahikawa airport, the nearest airport, if you prefer to start your snow adventure directly. Asahikawa is a very nice city with many accommodations and good restaurants and it is a good base to stay for 2 or 3 nights to explore the surroundings, especially for the family who has already experienced Sapporo and wants to discover another big city in Hokkaido.
1- Welcome to Biei where the beautiful cobalt blue of its river is highlighted by the white of the snow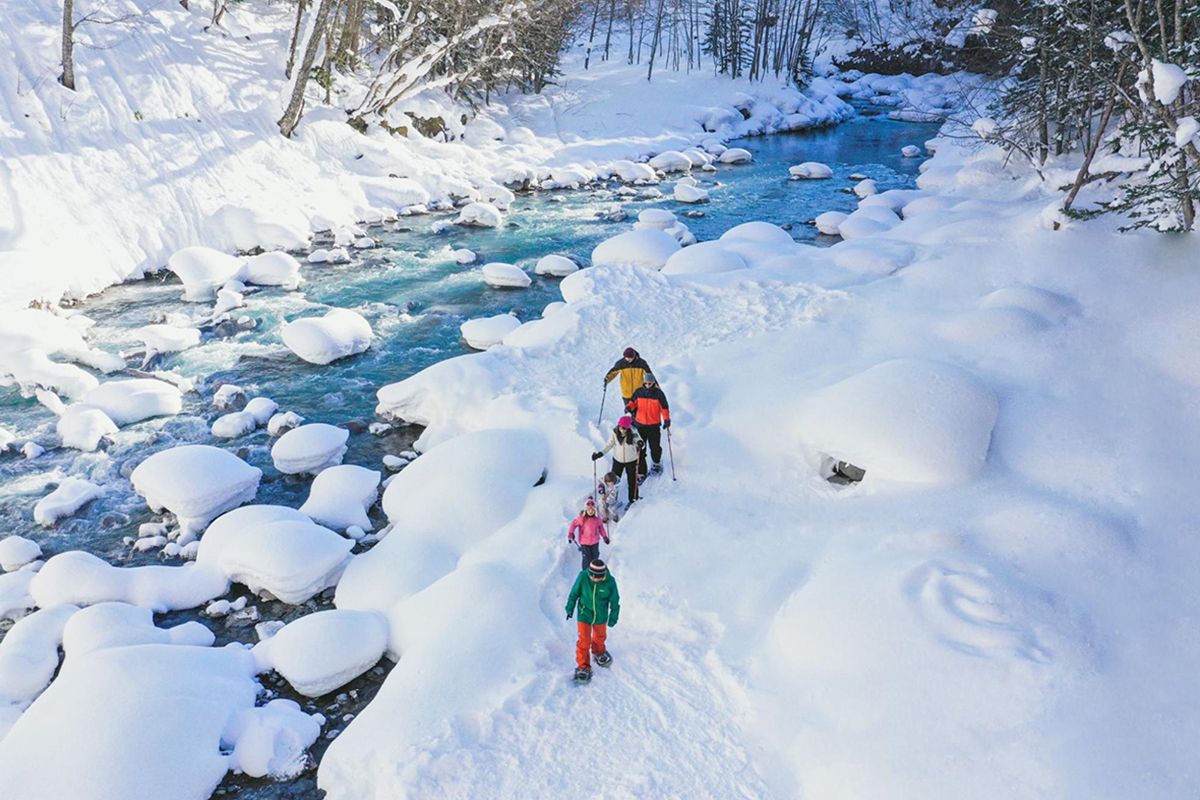 One of the most popular outdoor activities in Hokkaido in winter is snowshoeing. This activity does not require any special skills and can be easily enjoyed by all family members, from the youngest to the oldest. Moreover, this affordable activity not only allows you to enjoy the powdery snow, but also to discover places that are otherwise difficult to access. Winter is a very special time in Hokkaido, the nature entirely covered by a majestic white coat gives a special atmosphere: the particular sounds of the sleeping nature, the play of light when the sun's rays are reflected on a snow then similar to a river of diamonds, the tracks of small and big animals visible on the snow… there are so many small details to enjoy when going on a snowshoeing adventure in winter in Hokkaido. Don't hesitate any longer…
 Put on your snowshoes and go on an adventure in the beautiful forests, hills and mountains covered in white that await you! The beautiful blue river of Biei is certainly one of the most beautiful places in central Hokkaido to enjoy a family snowshoeing hike. Biei is also easily accessible from Asahikawa (25km/45mn), making it the perfect place to enjoy winter even on a short trip to Hokkaido.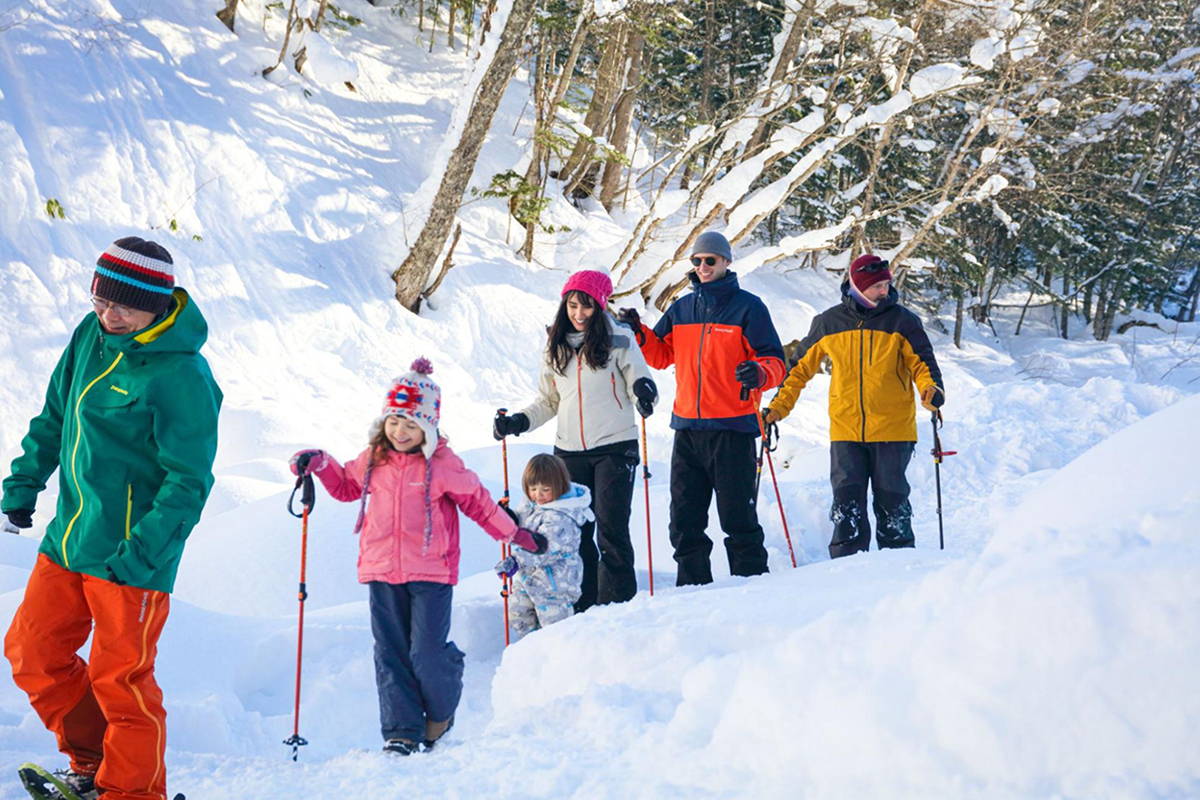 Biei is a popular destination for photographers from all over the world who come to capture the bright blue pond and patchwork hills in summer or the purity of a white winter landscape where a single tree stands majestically, increasingly popular images on Instagram that show us nature at its most simple. The Blue Pond has become world famous since Apple used a photo of the location as one of its Mac wallpapers. The Blue Pond owes its name to the unreal blue of its waters. Depending on the weather and the season, it can turn from a milky light blue to a deep turquoise green. This artificial pond was created after the eruption of Mount Tokachi in 1988, when a dam was built on the Biei River to control the flow of volcanic mud and protect the city.
 In winter, when the Biei Blue Pond is completely frozen and disappears under a white blanket, we recommend the Blue River to enjoy its beautiful cobalt blue, very similar to the Blue Pond. But why do the Blue River and the Blue Pond have this amazing bright blue color?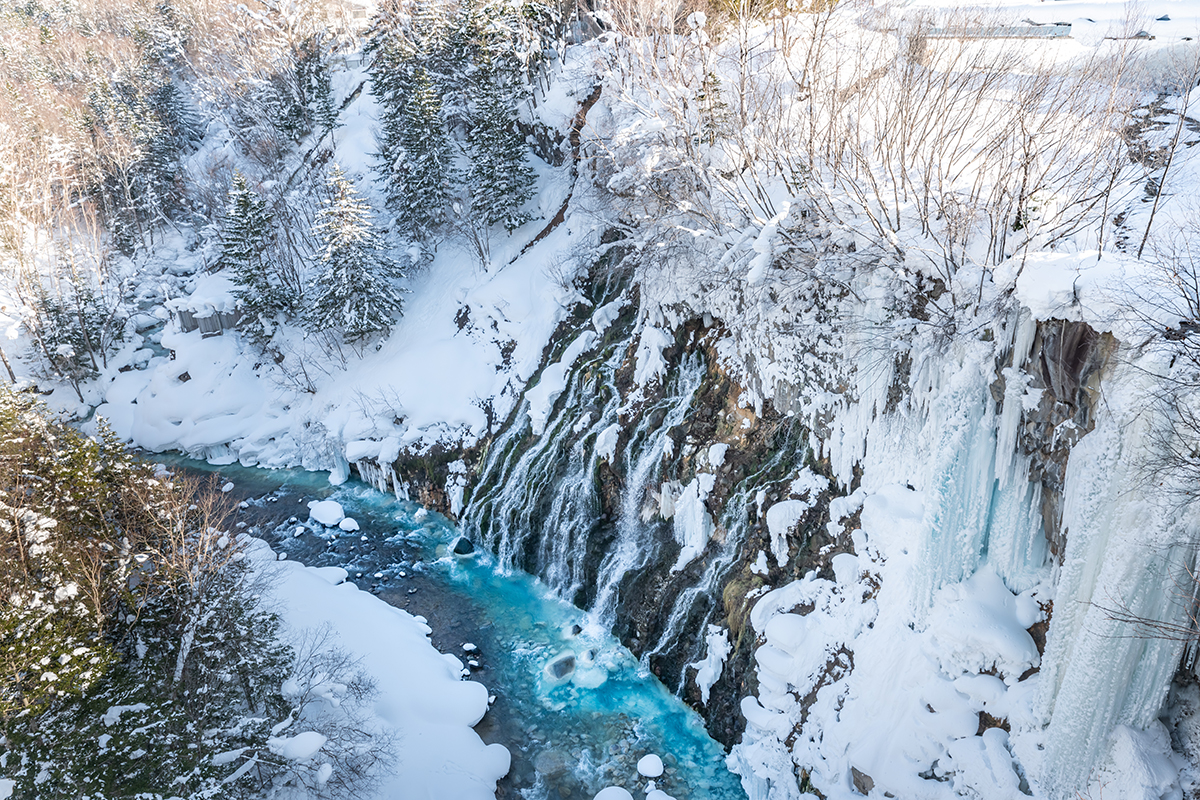 The water in the Blue River and therefore the Blue Pond comes from the Shirahige Falls, which means "white beard" in Japanese and refers to the many small waterfalls that spring from cracks in the rock face and look like a white beard. This waterfall is about 30 meters long and originates in underground streams from Mount Tokachidake. The Shirahige Falls flow into the Biei Blue River, the flow of which collects in the Biei Blue Pond.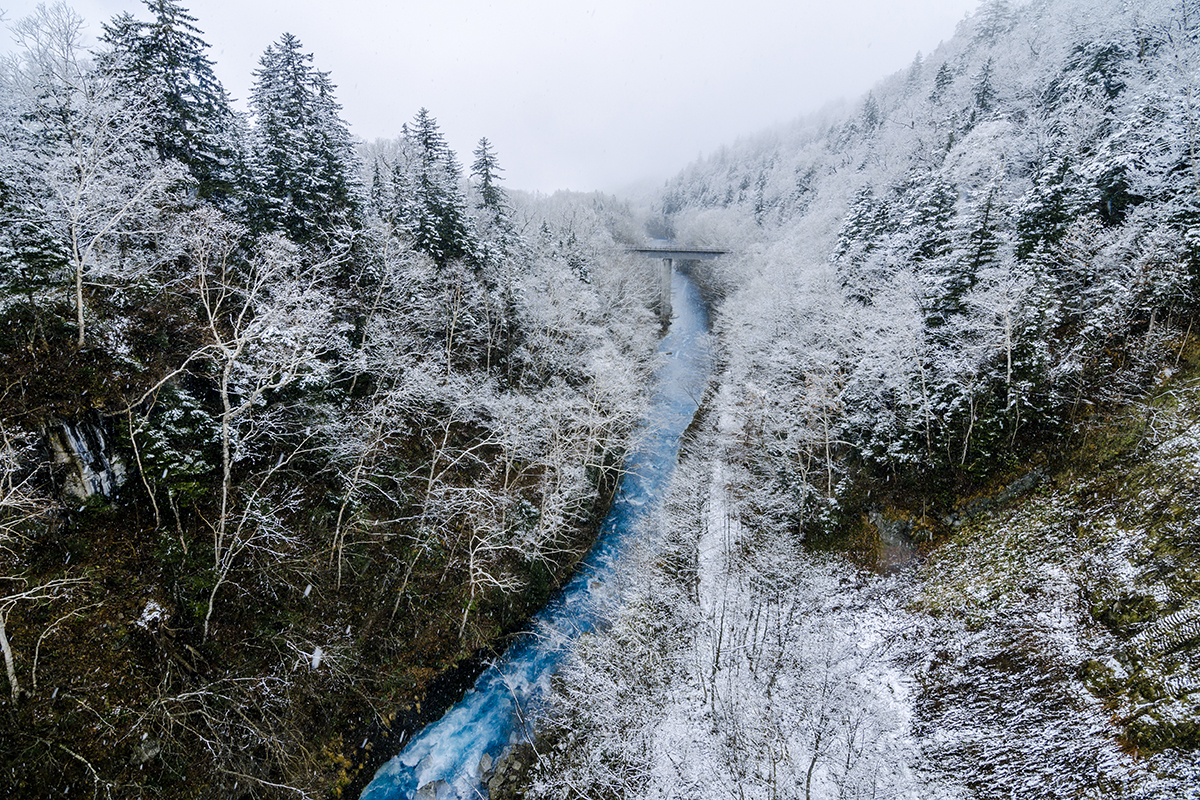 Three rivers containing sulfur and other hot spring compounds join at Shirahige Falls and mix to form the Blue River. The Blue River also contains aluminum – its water mixes with the aluminum in the cliffs it flows through. When all these components combine, a substance is created that is invisible to the naked eye, called a "colloid", which gives the water its beautiful cobalt color.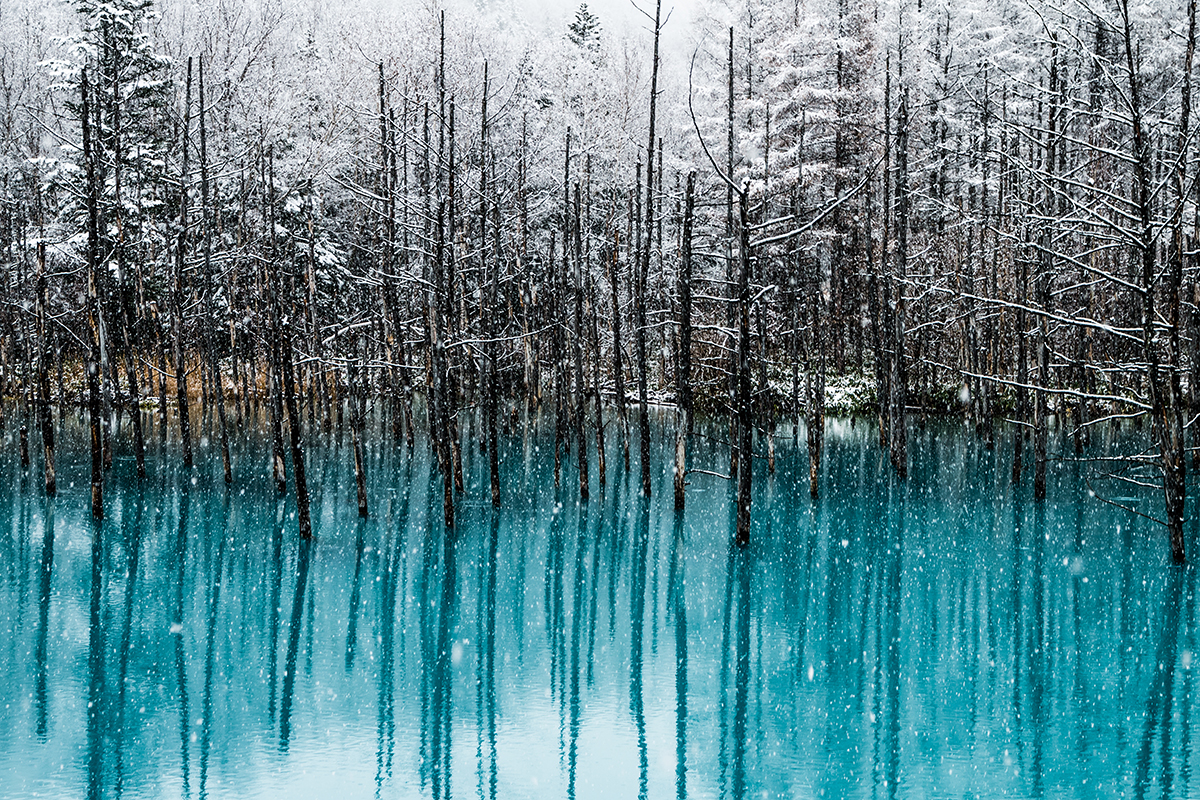 Aluminum-infused water reflects and distorts sunlight in a unique way, giving it a bright blue tint. The blue water would not be so bright if the rocks at the bottom were not white. The sulfur in the pond is responsible for the discolouration of the rocks, which reflect the light, bringing out the blue color of the water.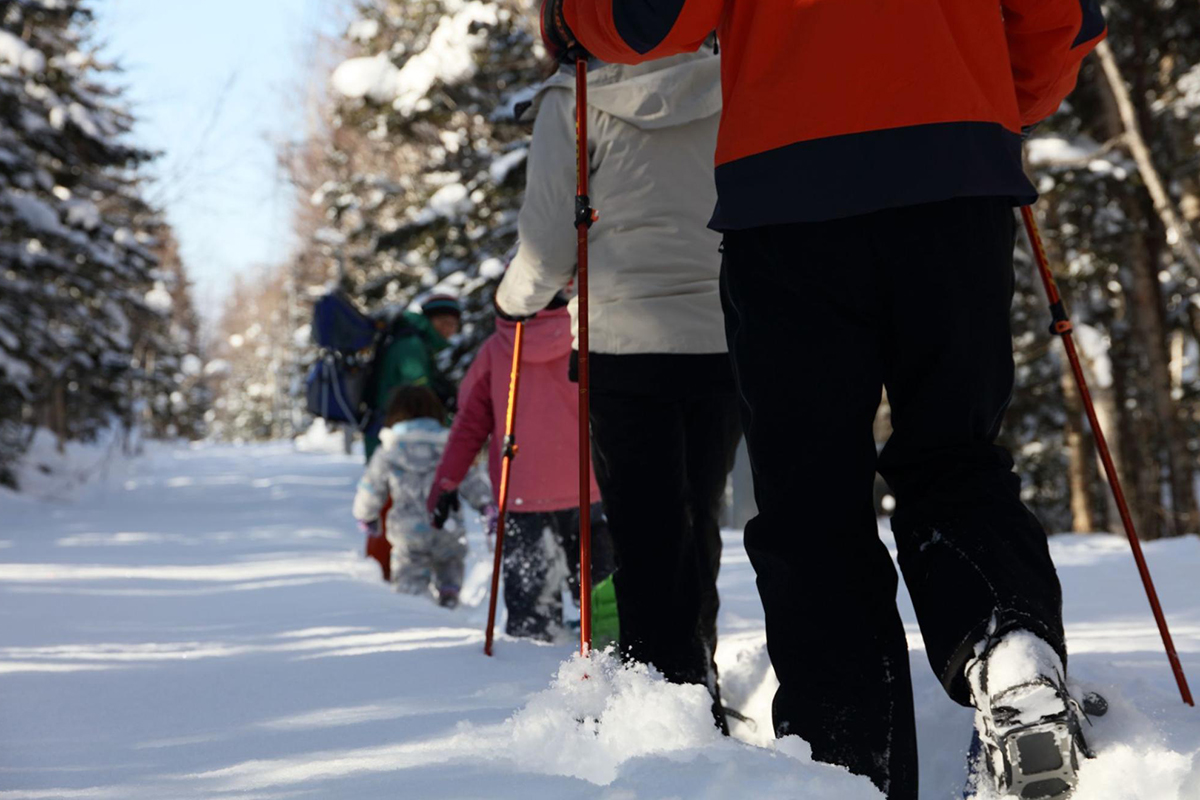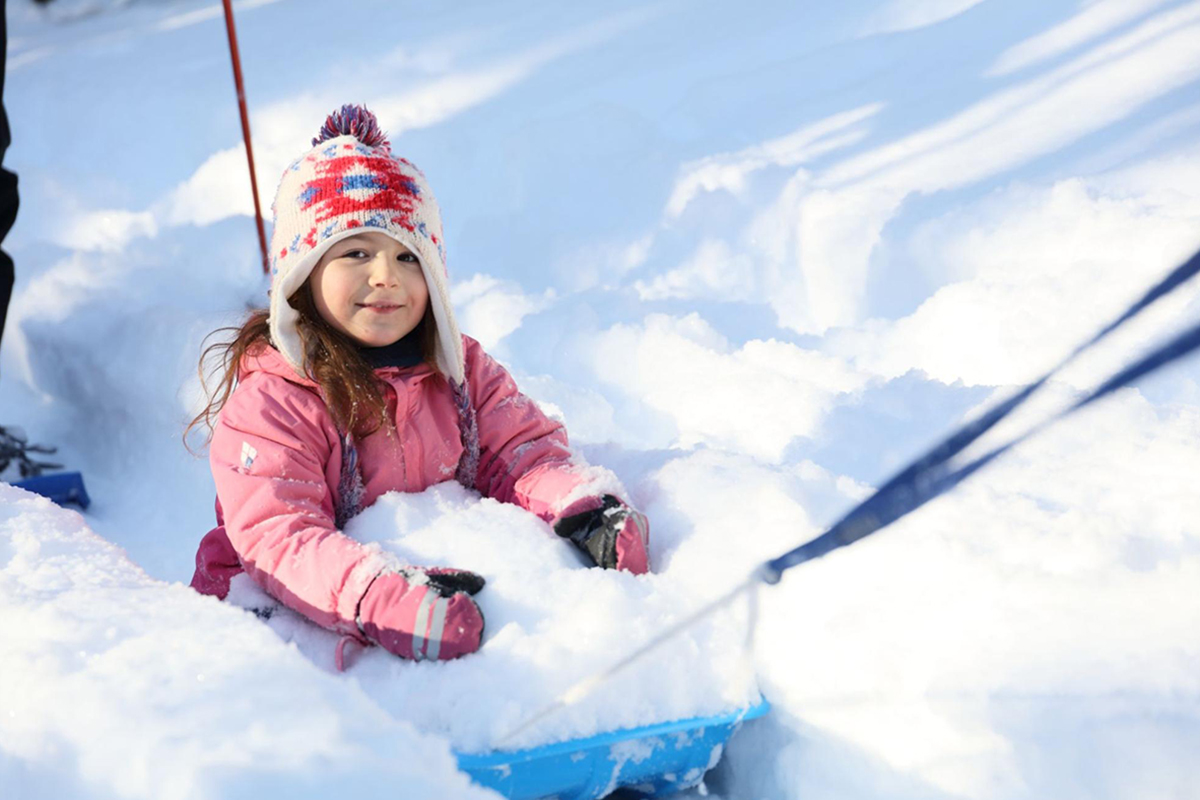 At the beginning of the snowshoe hike, an English speaking nature guide will welcome you at the meeting point with all the necessary equipment to make this activity a memorable moment for the whole family: snowshoes, walking sticks and even a sledge for the little ones! Before starting the tour, the guide will show you how to wear your snowshoes and walk with them. During this 2-hour hike to the Blue River, you will first discover a beautiful and serene forest of green pine trees covered with snow. The guide is quite playful and will surprise the whole family with a snow shower!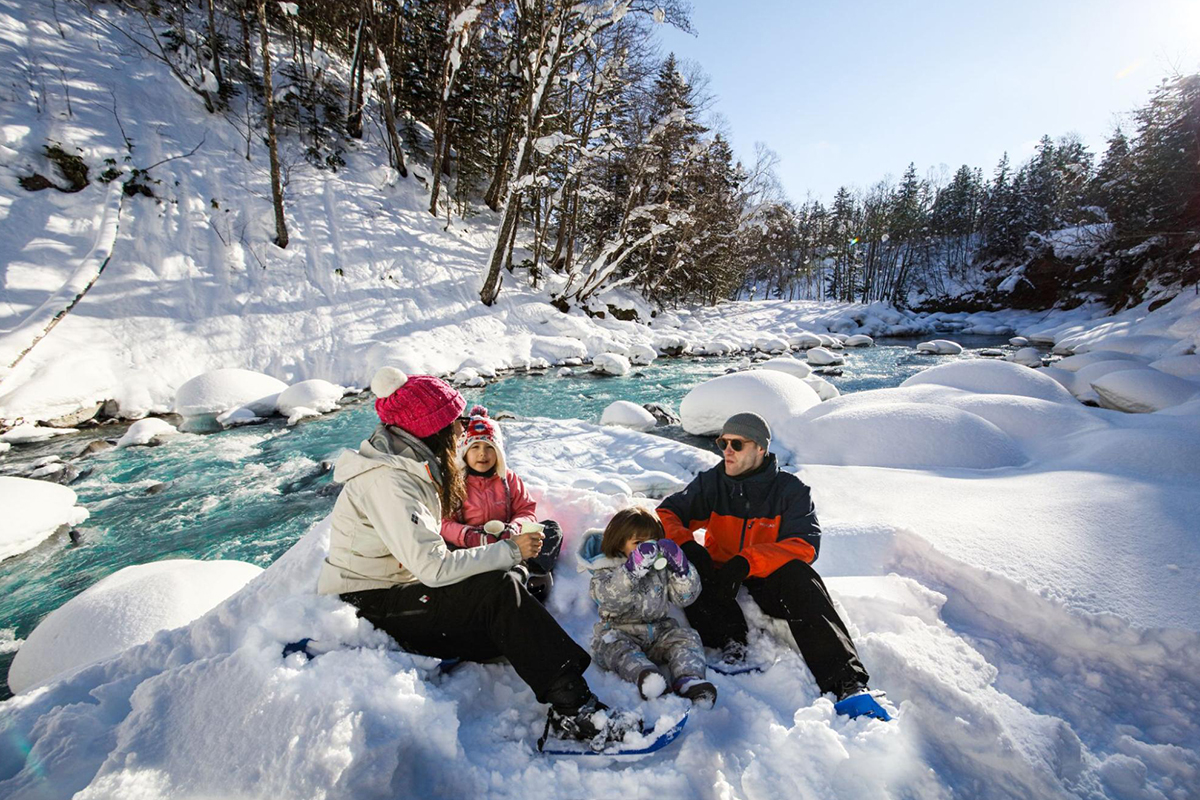 Enjoy the walk through the deep layer of snow, feeling and listening to the sound of your snowshoes sinking into the soft snow. He will also share stories about nature, the small animals that inhabit the area and a little more knowledge about the unique geography of the region. He will show you some places to take memorable family photos! Hokkaido's nature is truly unique in winter: blue sky, green trees covered with a white coat, and sunlight on the powdery snow producing amazing effects. You will feel as if you are entering a winter painting by Claude Monet! When you arrive at the blue river, you will have a break with a hot drink (hot chocolate or hot coffee) and some snacks in the middle of this beautiful landscape. Not only will you have an unforgettable time, but you will also have memorable family photos in an amazing landscape!
2- Relax in front of a campfire at sunset in a secret place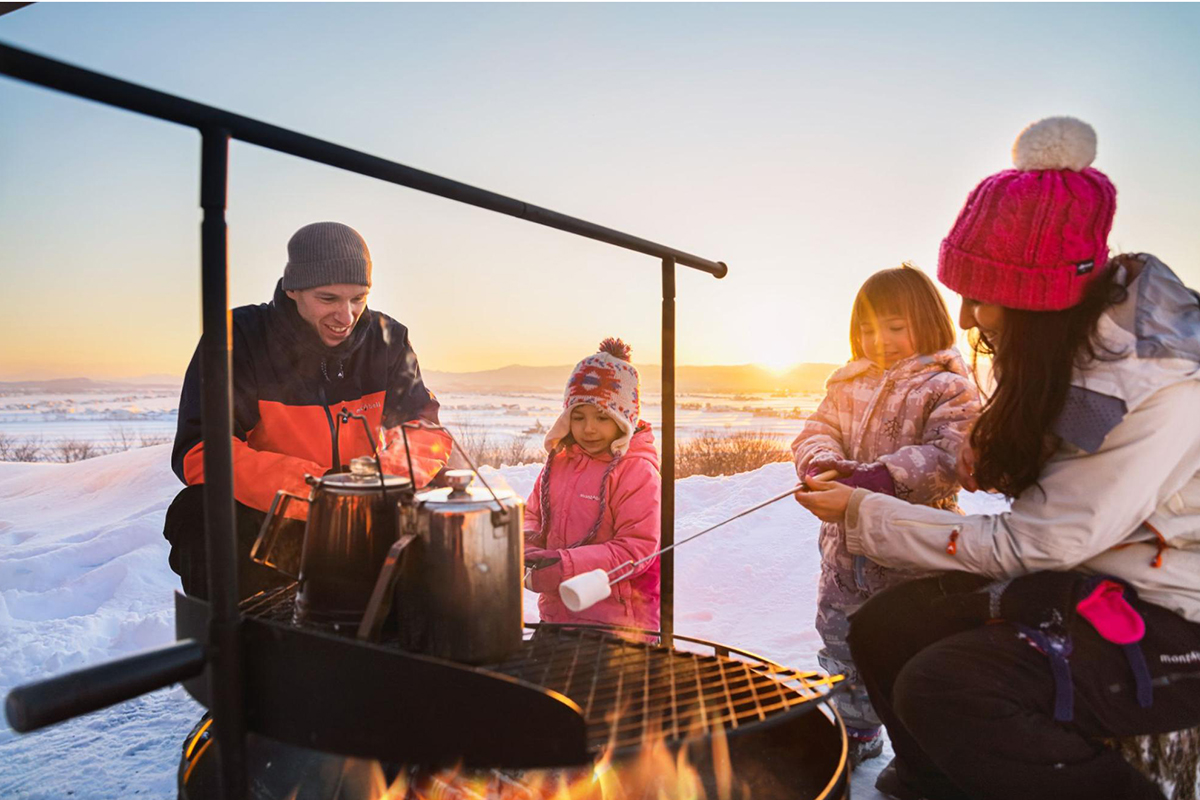 Hokkaido Treasure Island Travel is always looking for secret places to enjoy the beauty of Hokkaido nature. We put all our expertise at the service of our customers, whom we consider our friends and even members of our Hokkaido Treasure Island Travel family.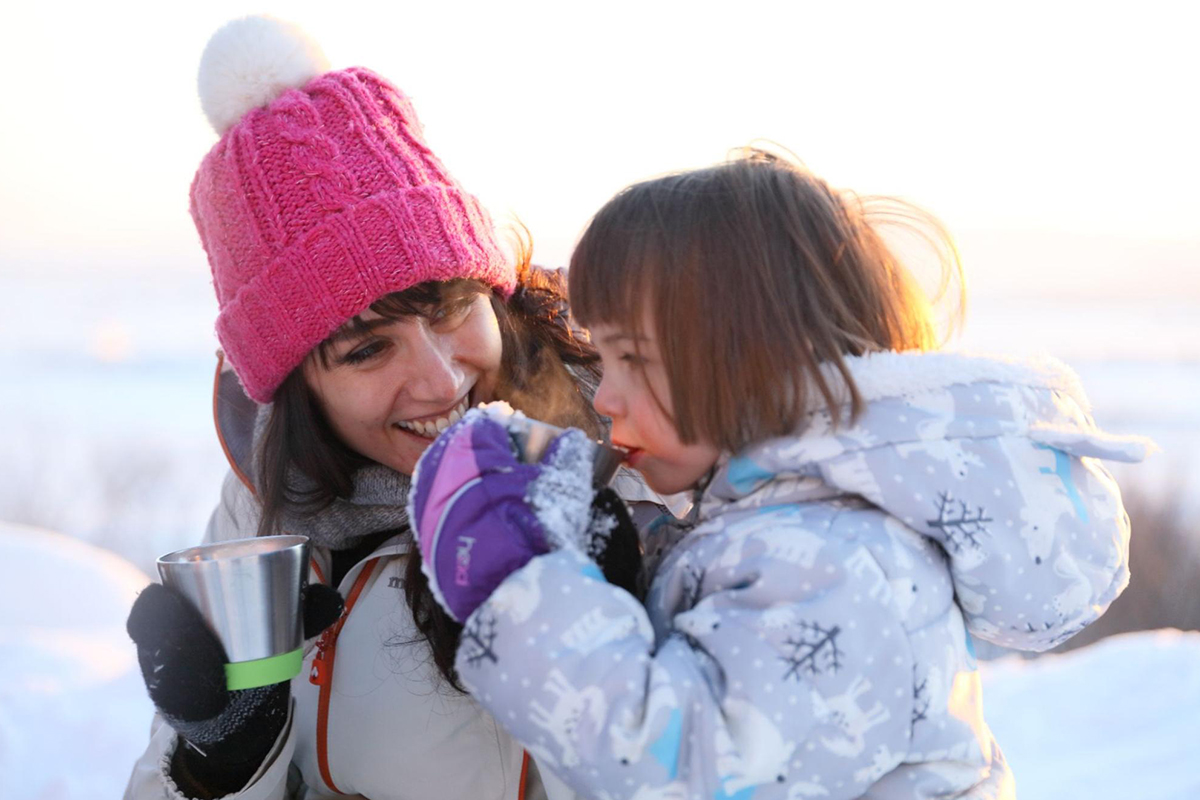 Want to watch a beautiful sunset while having a snack for the kids in a place away from the crowd. No problem for us! One of the examples of our creativity and ability to create 100% tailor-made activities is to end a day's visit by watching a breathtaking sunset at Higashikawa while having a bonfire. Your kids will be delighted to roast marshmallows and warm up with a hot drink. Enjoy a quiet moment in a unique place to share your impressions of the day, laugh and simply enjoy a precious moment spent with your family. Here, the landscape of Hokkaido is not to be outdone, with the soft light of the sunset gently kissing the landscape and heralding the end of a memorable day. This moment will certainly be a precious memory for all family members.
3-Asahidake where nature is expressed in all its beauty and power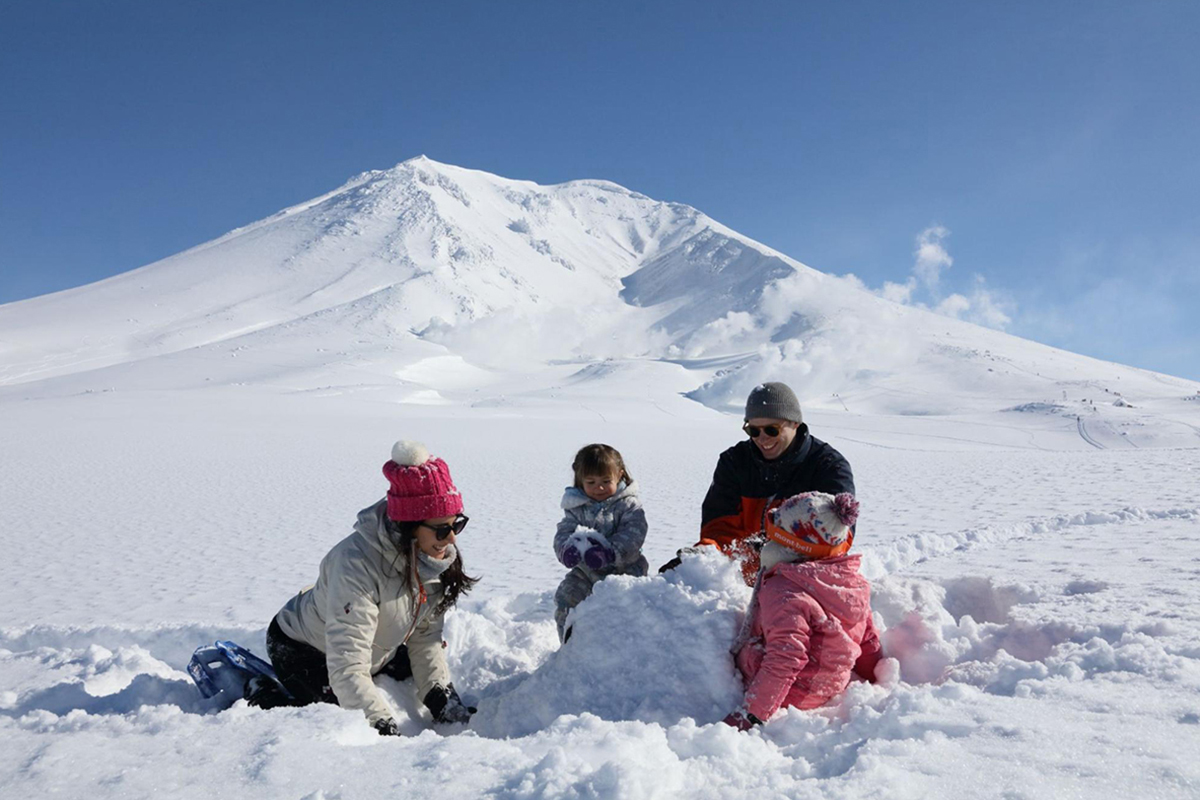 It is impossible to talk about central Hokkaido without mentioning the majestic active volcano Asahidake. This mountain is situated near the town of Higashikawa, in the northern part of Daisetsuzan National Park (Please check this article if you want to know more about Daisetsuzan: https://hokkaido-treasure.com/column/021/). Asahidake is the highest mountain in Hokkaido, culminating at 2,291m, and the first place to receive snow in Hokkaido. Its Ainu name Kamui-mintara means "the playground of the gods" and defines this unique mountain perfectly!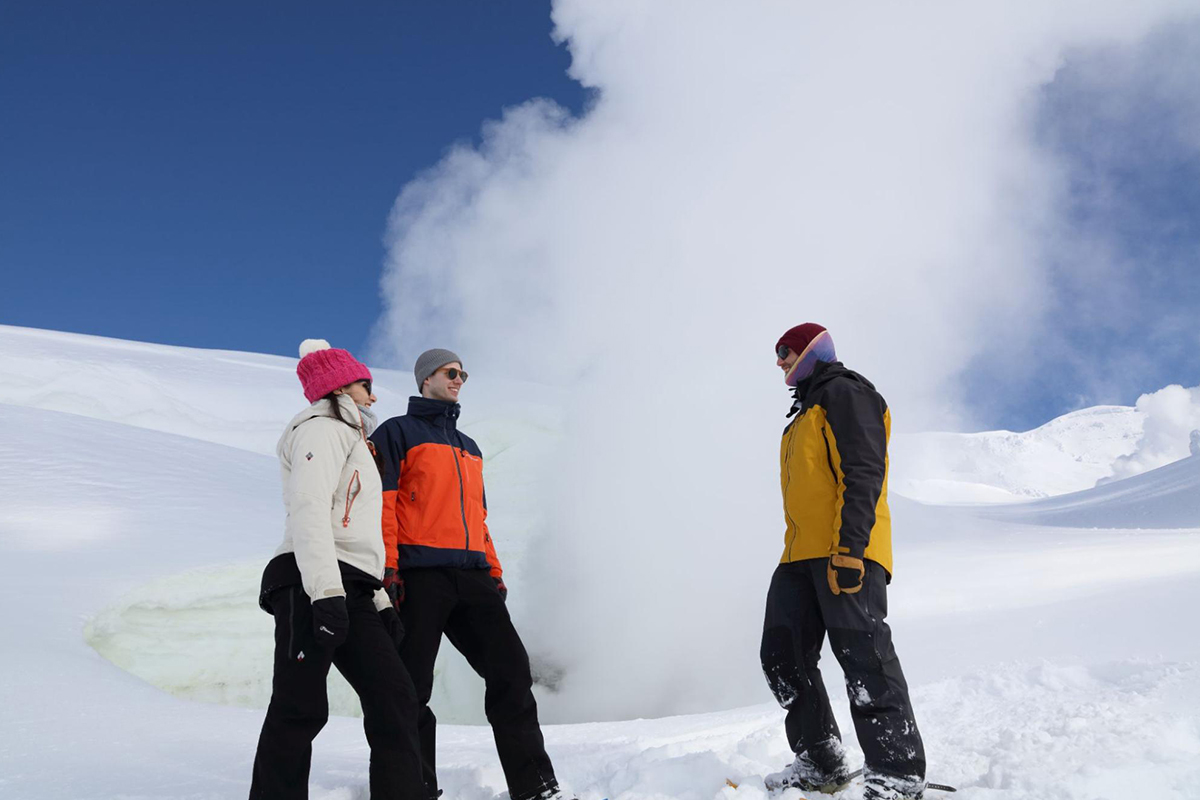 With your English speaking guide, you will take the ropeway to the top where you will start your snowshoes tour. A 10 mn gondola lift will take you to the upper station of Asahidake summit station, 1600 meters above sea level. As you ascend into the sky, you will see beautiful snow-covered fir trees and frozen trees with bare branches. Then, after putting on your snowshoes, you will walk in the middle of a vast white area where the silhouette of Mount Asahidake is the only relief. During this easy walk, you can experience the joys of powder snow by making snow angels, snow fights and simply playing with your family in the beautiful powder.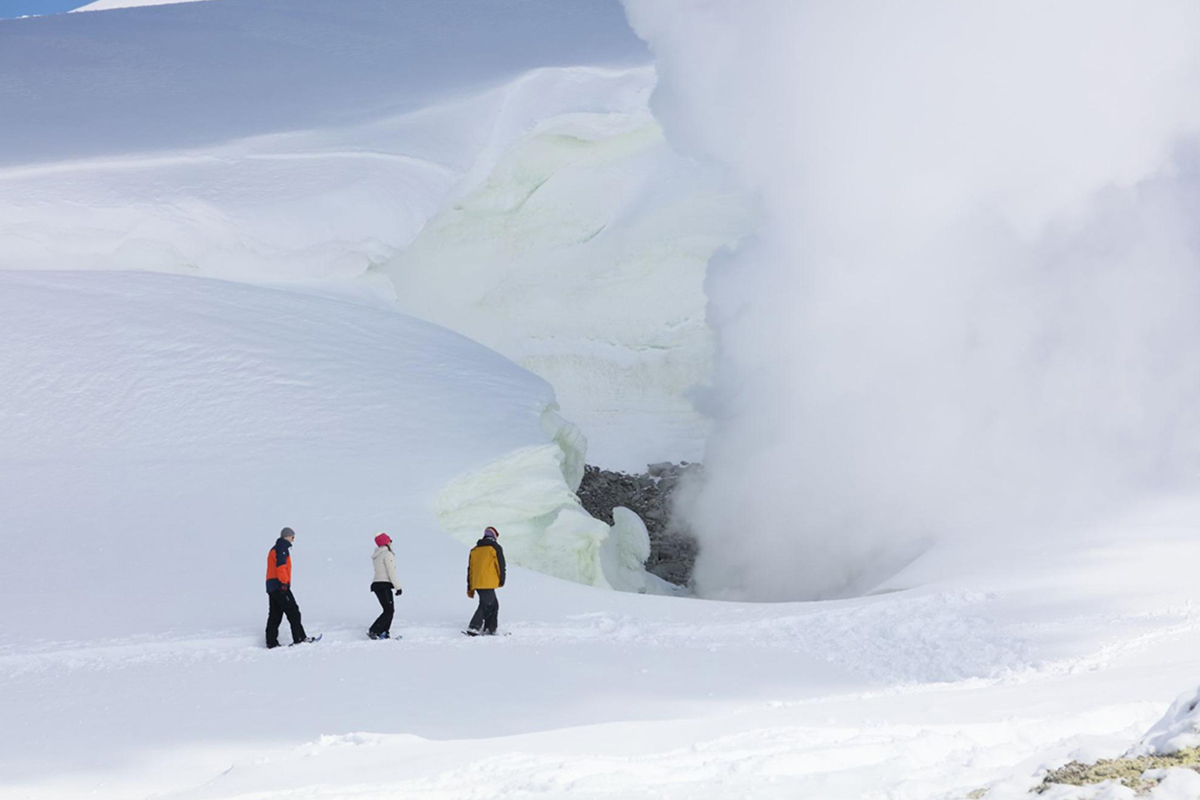 After 30 minutes of walking, you will arrive in front of the two vigorous fumaroles. This is an active volcano and watching the steam from the fumaroles evaporate into the blue sky and hearing the roaring sound of escaping gases is truly a unique experience. All the family members will enjoy this unique landscape and as outdoor activities are known to work up an appetite, the guide will offer you a hot drink and delicious snacks before the descent. If the little ones are tired, the guide will carry them on the baby seat on his back or on the sled!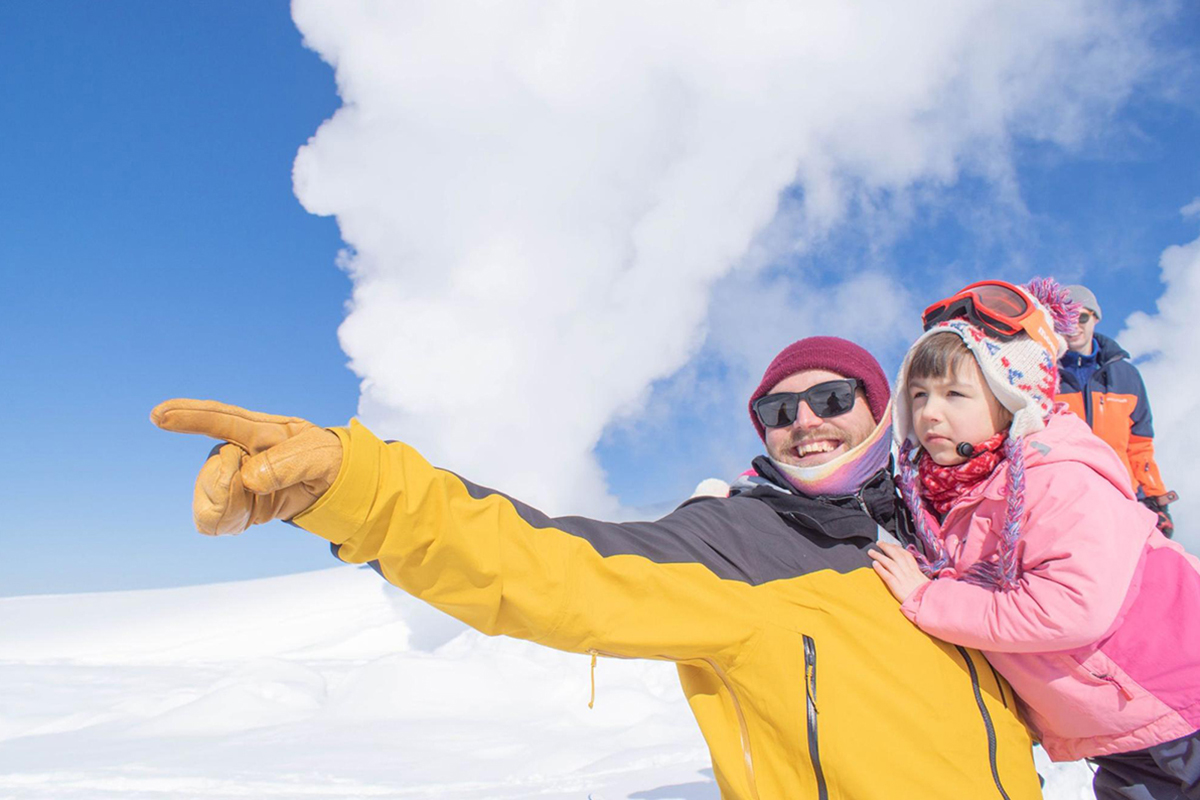 Asahidake is loved by Japanese people and has been selected as one of the "100 famous mountains of Japan". This snowshoeing tour will not leave you indifferent and you will become aware of the beauty and power of Hokkaido nature. Standing in front of these fumaroles brings us back to our human condition and if we listen carefully, we hear nature communicating with us. There is no better place in winter to feel nature bubbling with life and energy.
4- Delicious venison burger in a cozy local restaurant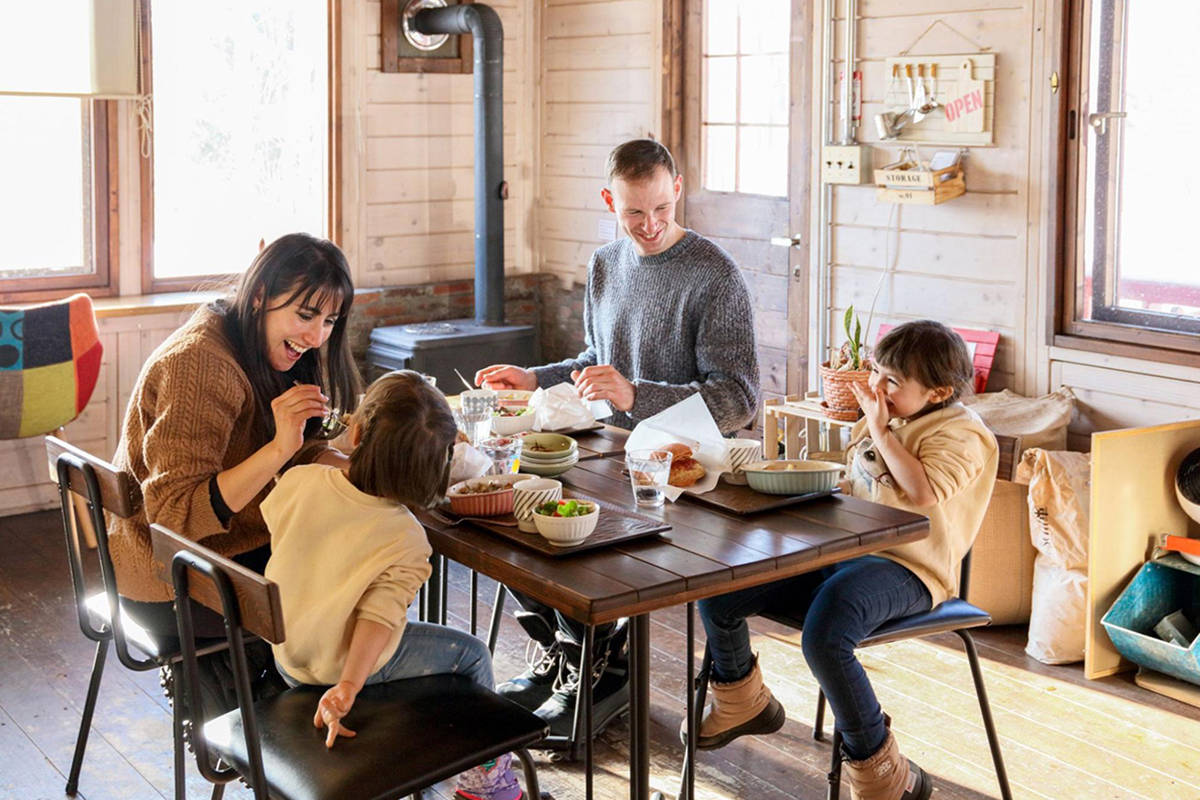 The fresh air whets the appetite and for a unique lunch in the area, Haru Kitchen is a cozy restaurant not to be missed. It is a charming little wooden lodge surrounded by nature, with cute furniture and small handmade decorations placed here and there. This local restaurant serves delicious western-style dishes, such as lasagne and burgers, with a Hokkaido twist as some of the dishes include venison. What better way to get a hot, hearty meal in a unique location after a morning of outdoor activities?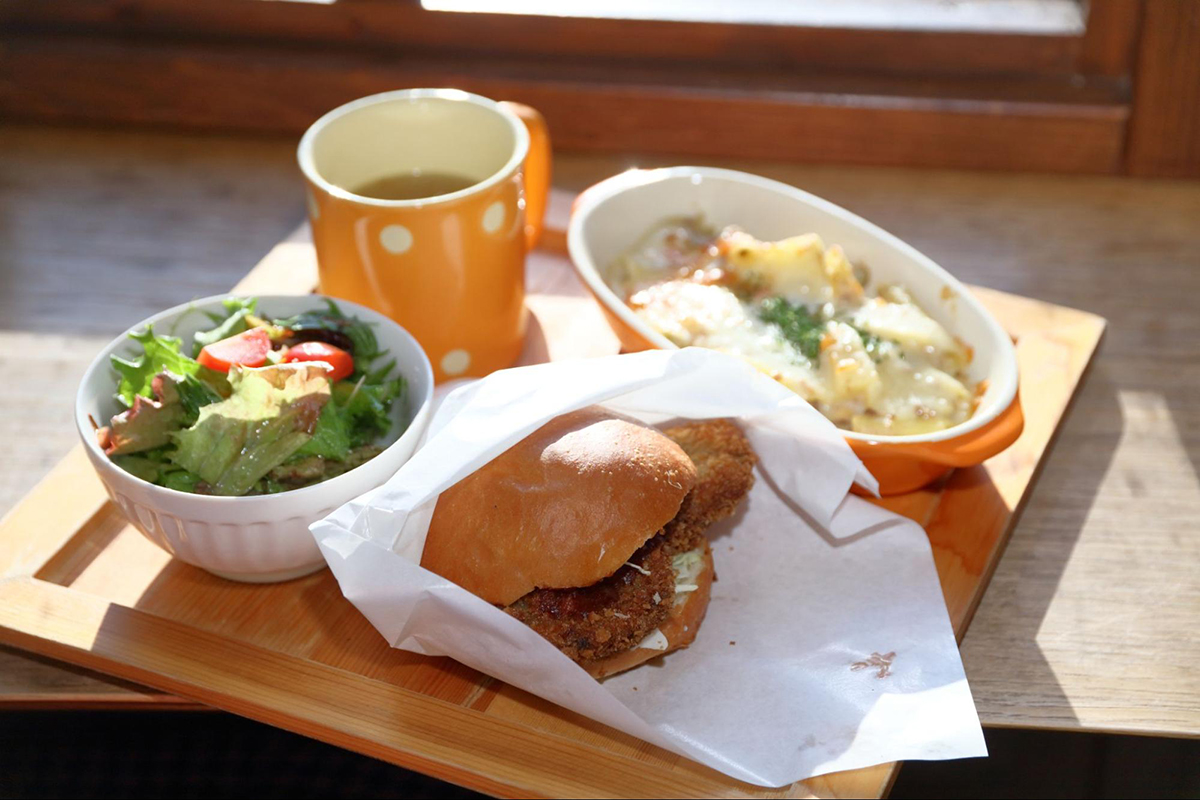 Enjoy a delicious meal of venison while talking to the charming owner about the problems caused by the overpopulation of deer. Due to climate change (global warming has resulted in milder winters, and the deer are happy about that!), and the disappearance of wolves, deer numbers continue to explode, increasing by about 20% each year. This voracious animal threatens the forests and causes great damage, destroying trees and land in its path. To combat the overpopulation of deer, the government pays hunters to kill them. Eating venison is a sustainable action that contributes to the protection of Hokkaido's nature. The venison burger is tender and tasty, with no wild deer smell, and it is an easy-to-eat dish that will delight children.
 At the back of the shop, you will find a variety of handmade products that make excellent gifts to take home as souvenirs.
5- Bibai Snowland, a paradise for thrill seekers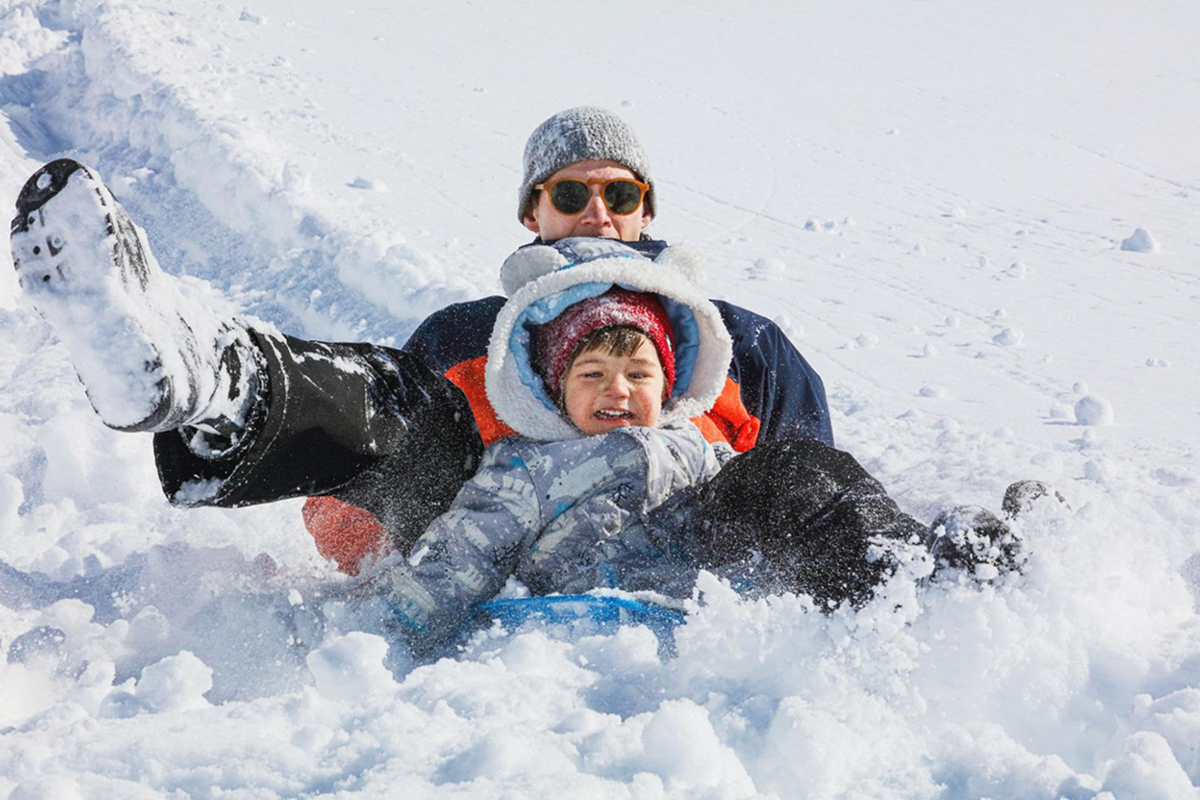 Bibai Snowland is a dreamland where the whole family can enjoy a variety of snow activities that will delight not only the little ones but also the adults! The location of the site itself is beautiful and offers a true winter postcard of Hokkaido, with the snow-capped mountains breaking the monotony of the white landscape where a few trees stand here and there. The blue sky perfectly echoes the pure white blanket that covers everything and the sun rays are warm and blinding. Don't forget your sunglasses: this is Hokkaido in winter!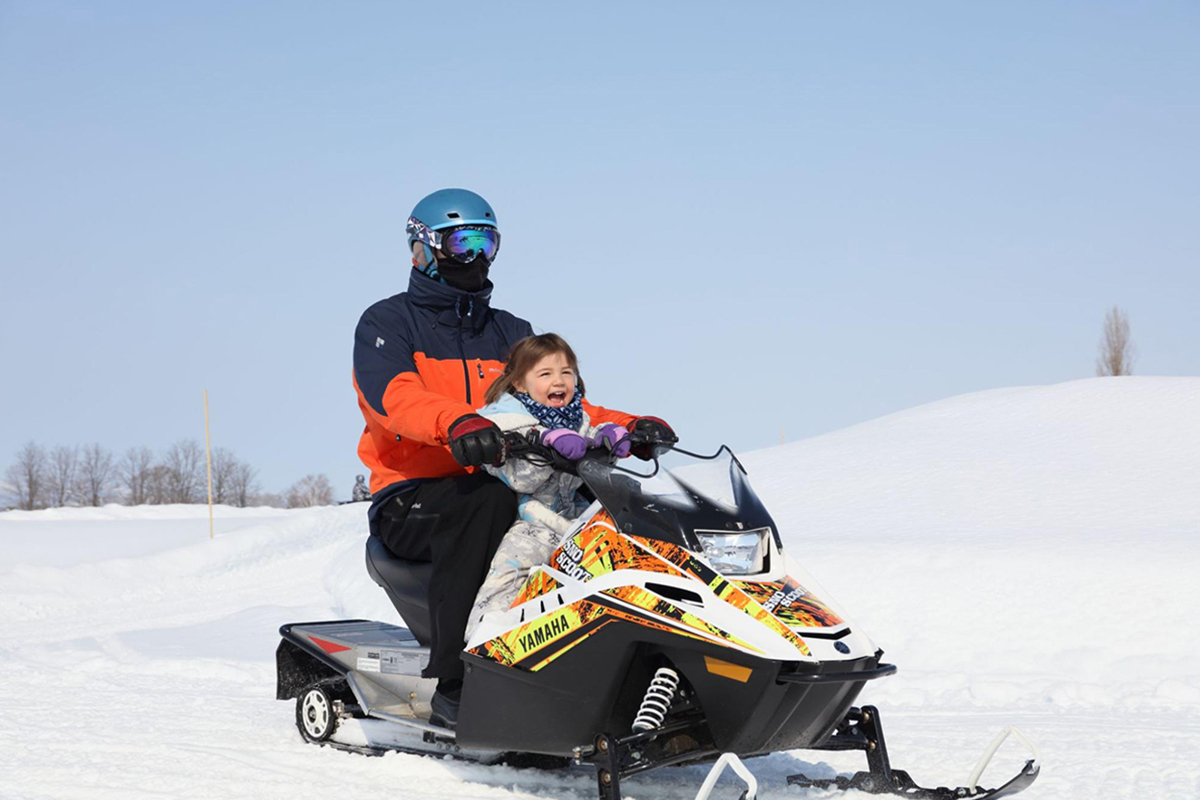 At Bibai Snowland, there is something for everyone and you can try snowmobiling, four-wheel buggies, fat biking and rafting. The snowmobile will certainly win your heart! Put on your helmet and, while enjoying a safe ride, get up to speed and feel the wind on your face. Your kids will love it too! Snow rafting is one of the most popular activities. Hop in the yellow inflatable boat, hang on as the driver slides you down, then soar through the air after gaining momentum on the snow mounds! The attractions will get your adrenaline pumping with a fair amount of thrill! The 4-wheel buggy is a different but equally fun experience for the whole family. For the little ones, the bubble ball is also fun. Slip inside and try to play a game of soccer in this bulky and ridiculous costume that will make for a great family time.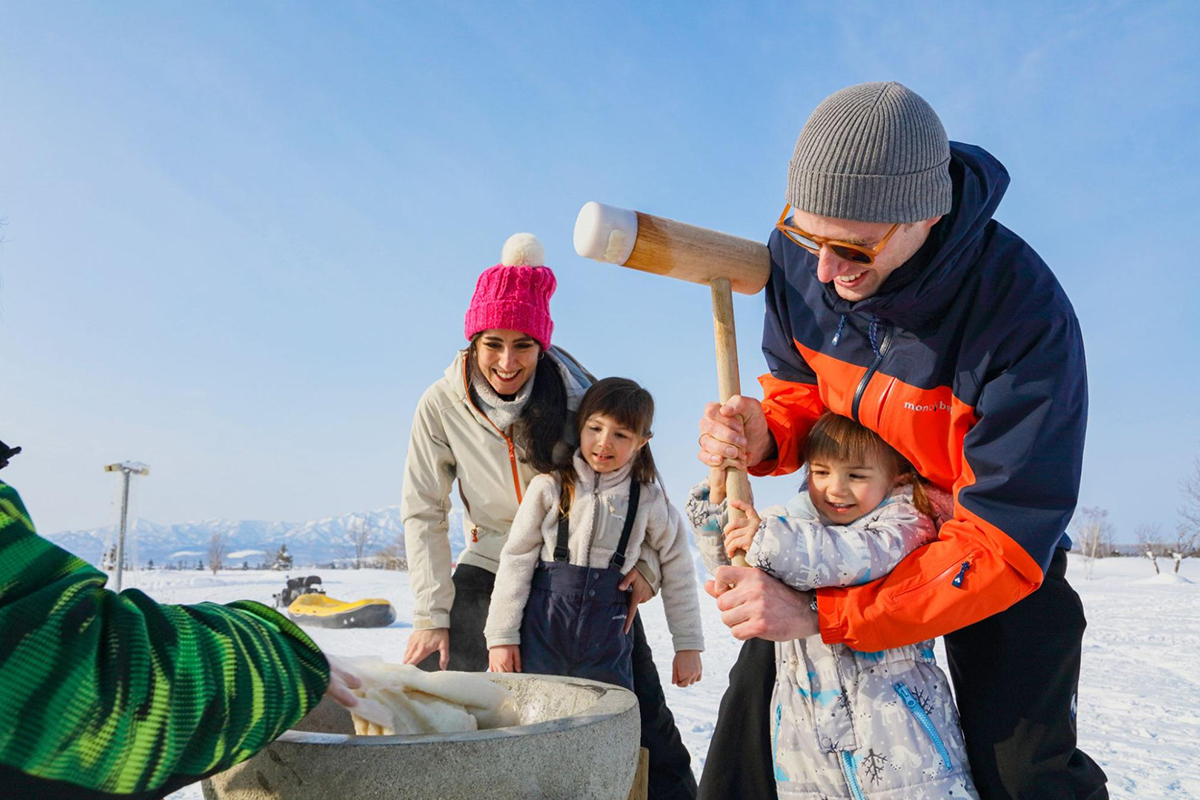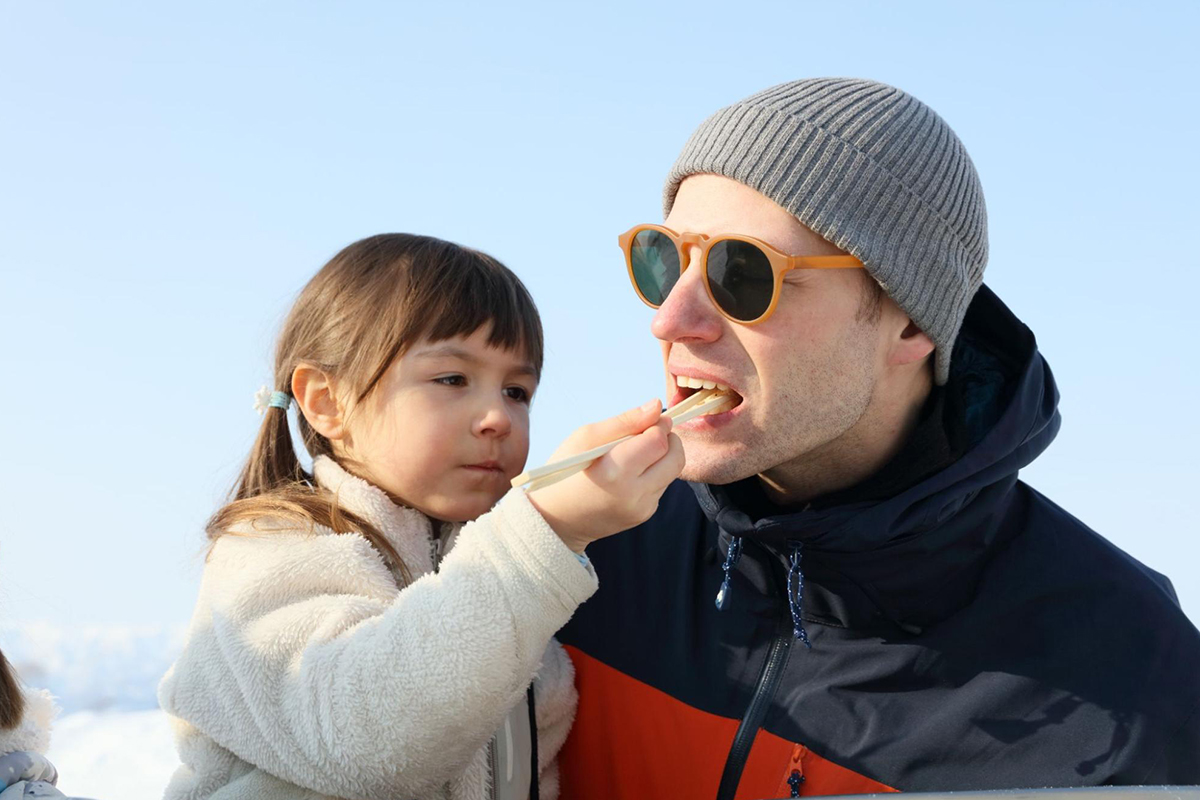 Finally, because after all these adventures you will be hungry, why not enjoy a typical Japanese activity by making mochi. Using a wooden mallet, tap the rice that has been cooked to obtain mochi. Powdered with soy flour, it's a delicious snack that everyone will enjoy.
---
 The Inbound section of Hokkaido Treasure Island Travel is a team of people who are passionate about Hokkaido and want to share all the treasures of the island with you. We all have different interests such as nature, wildlife, hiking, outdoor thrills, food, culture… and this makes us a very strong team because we all really appreciate each other, exchange our different views and experiences, and even travel together to discover more and more and always be able to offer you the best of Hokkaido in an authentic, ecological and human experience. We prefer to work outdoors as much as possible, in direct contact with our beautiful Hokkaido and its people, and that is what makes us experts.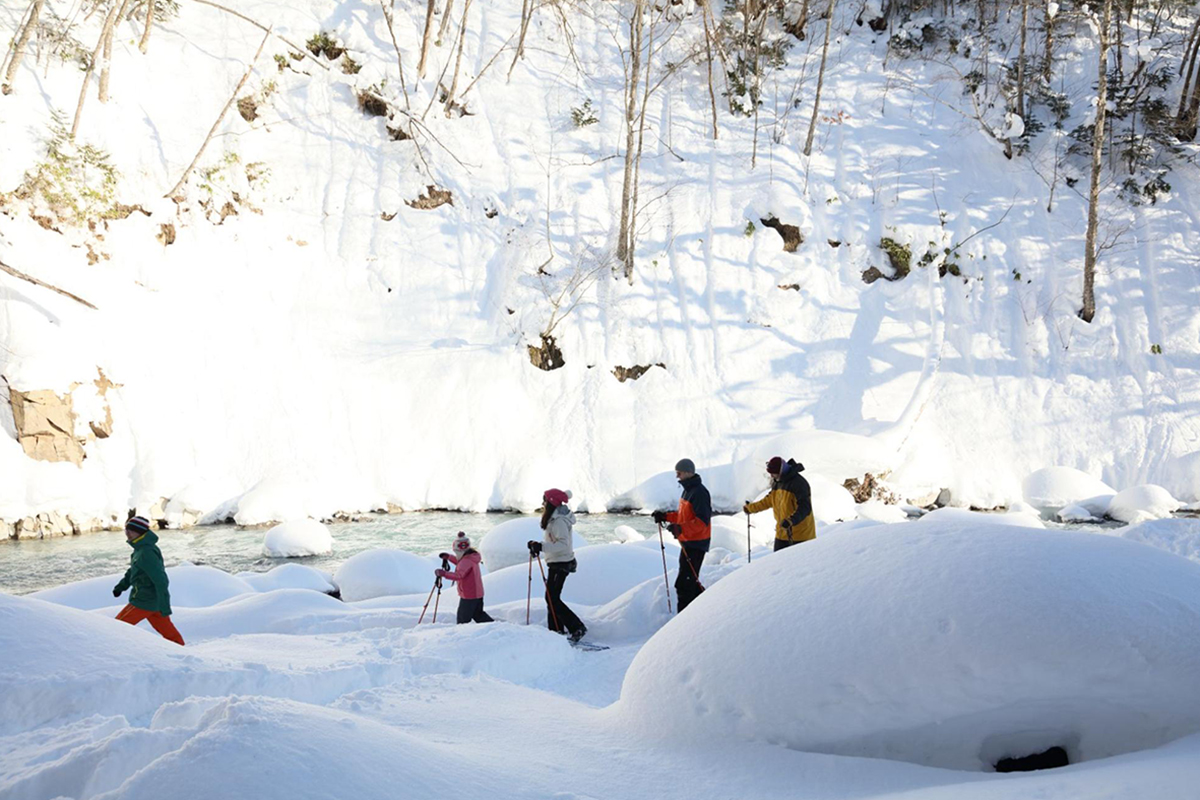 I hope you enjoyed reading this article, seeing these beautiful family vacation photos and that it made you want to visit us as a family this winter. We look forward to receiving your request to help you plan a memorable winter tour to our beautiful Hokkaido!