Have you ever seen an active volcano? Is there an active volcano in the area where you live? Or have you ever visited an active volcano? In fact, if you live in Japan, active volcanoes are no doubt very familiar to you. However, they are very rare globally, and many people may have never seen an active volcano. In this column, you will learn what an active volcano is, the benefits that active volcanoes bring, and how people live in areas where there are active volcanoes in Hokkaido. We will give you good tips on visiting an active volcano as part of your travel itinerary in Hokkaido, Japan!
1. What is an active volcano?
2. Mt. Esan
3. Mt. Hokkaido Komagatake
7% of the world's active volcanoes exist in Japan
 There are approximately 1,500 active volcanoes in the world, most of which are located in the Pacific Rim. Japan is home to about 10% of the world's active volcanoes, making it one of the most volcanic countries in the world.
 In the Japanese islands, magma is generated by the subduction of the Pacific Plate and the Philippine Sea Plate under the Japanese islands due to plate tectonics, which causes fire activity. Therefore, there are many volcanoes in the Japanese islands.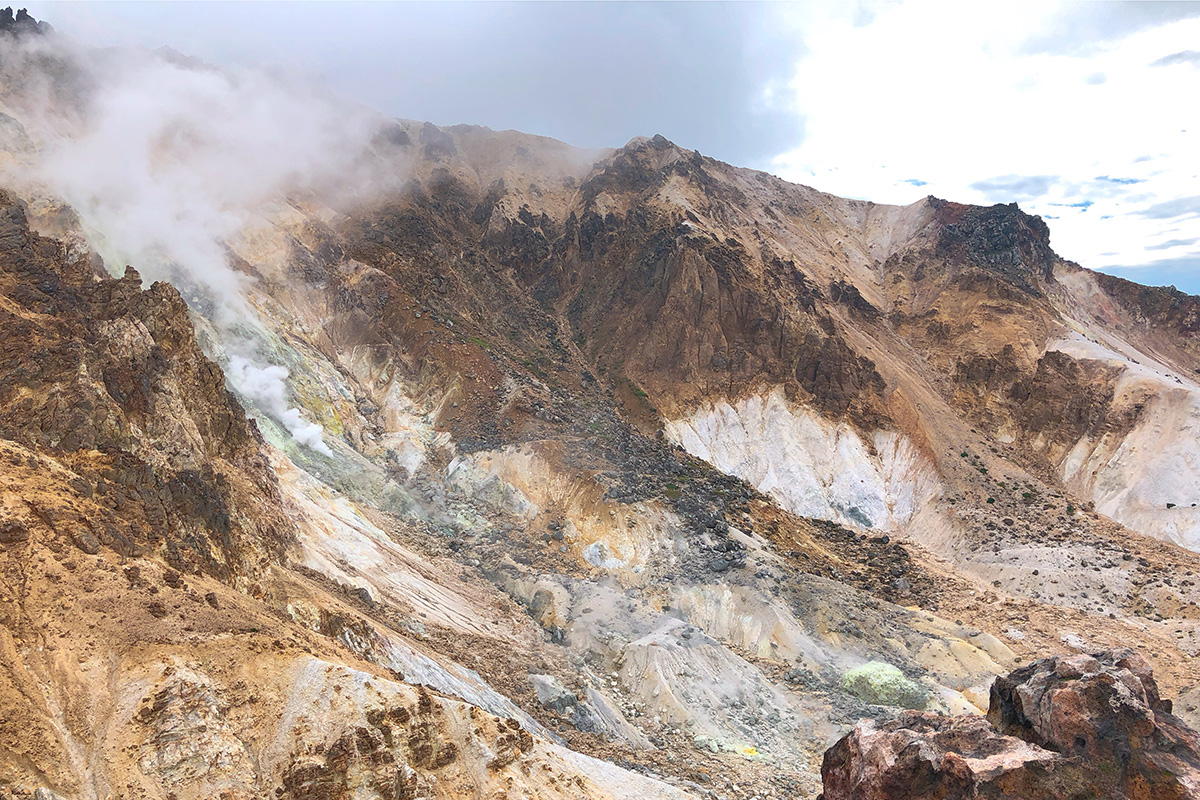 Japan has 111 active volcanoes, 7% of the world's total. The largest number of active volcanoes can be found in Tokyo, followed by Hokkaido and Kagoshima Prefecture. However, Tokyo's active volcanoes are located on remote islands such as the Izu Islands and Ogasawara Islands. Active volcanoes in Hokkaido and Kagoshima Prefecture are distributed on the main island and neighboring islands.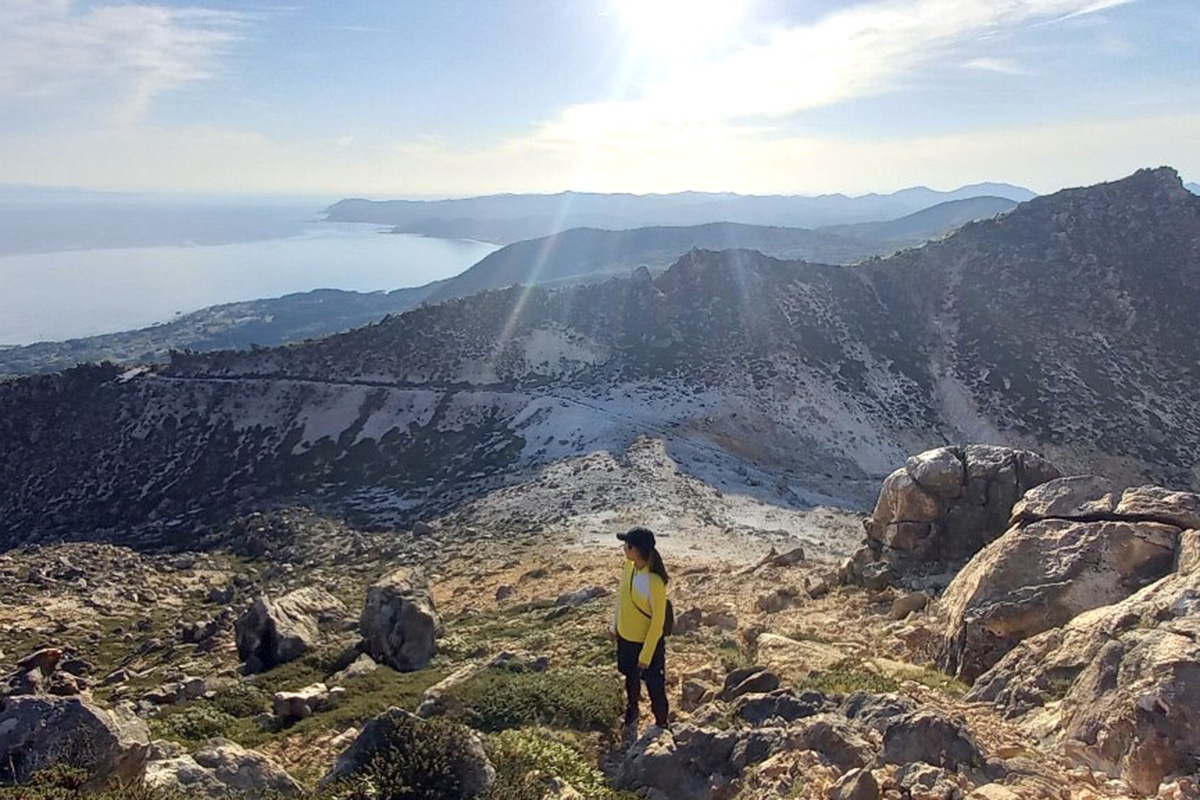 According to the Japan Meteorological Agency, an active volcano is defined as a volcano that has erupted within the past 10,000 years or is currently active. Volcanoes that are currently actively smoking are, of course, active volcanoes, but volcanoes that have not been active for a long time but have the potential to erupt in the future are also active volcanoes. There are 111 volcanoes from Hokkaido to Okinawa, including underwater volcanoes and islands, some of which are inhabited.
How do we know about active volcanoes in Japan?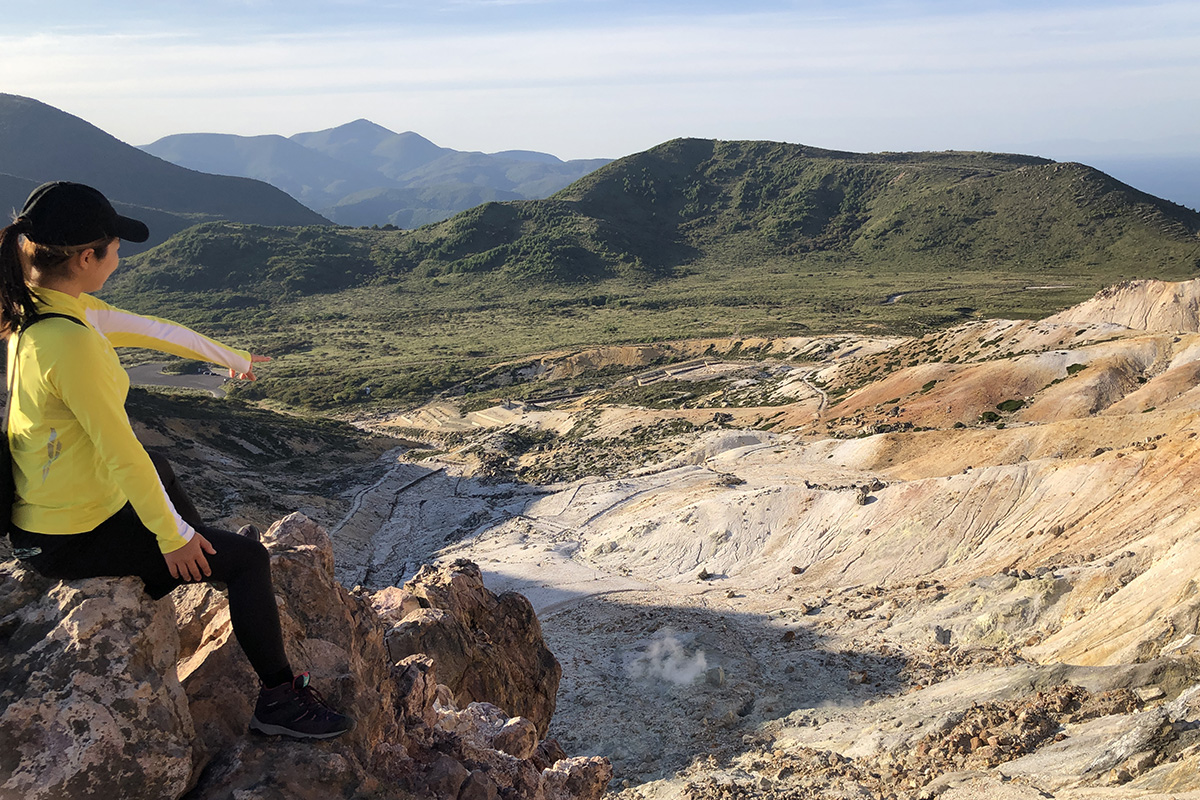 Mt. Fuji, the most famous mountain in Japan, actually has a record of having erupted in the distant past. Other famous active volcanoes in Japan are Mt. Asama, Mt. Aso, and Mt. Hakone. In Hokkaido, the most famous active volcanoes are Mt. Hokkaido Komagatake, Mt. Esan, Mt. Meakan, Mt. Tokachi, Mt. Tarumae, Mt. Usu, Mt. Atosanupuri, Mt.Taisetsu, and Mt. Kuttara. These nine mountains are very active. The Sapporo District Meteorological Observatory has installed observation equipment for them and monitors their volcanic activities 24 hours a day as constantly observed volcanoes.
 Mt. Hokkaido Komagatake is rated as Rank A for its high level of active volcanic activity. It is one of four Rank A active volcanoes in Hokkaido, the other three are Mt. Tokachi, Mt. Tarumae and Mt. Usu. Rank A refers to a volcano that has either erupted within the past 100 years or for which signs of an eruption have been observed. Hokkaido's active volcanoes have had a significant impact on nature and history. Mt. Hokkaido Komagatake and Mt. Esan, which are introduced here in this column, are also.
Where is the Hakodate area?
 On February 28, 2023, the Geospatial Information Authority of Japan announced that Japan has 14,125 islands. The largest island in Japan is Honshu, the main island of Japan, the second largest island is Hokkaido, and the third largest island is Kyushu. There are a total of 34 local governments in Honshu, including the metropolitan government of Tokyo and the two urban prefectures of Osaka and Kyoto. Since there are a total of 47 prefectures in Japan, most of them are located in Honshu.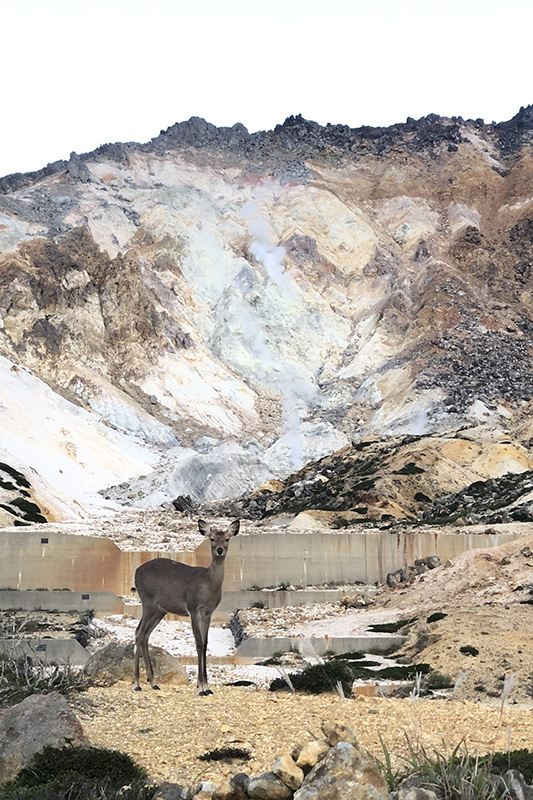 Hokkaido, the second largest island in Japan, is a single prefecture called Hokkaido, but it is often referred to by subdivisions because of its large area. The four most familiar divisions are Central Hokkaido, Southern Hokkaido, Northern Hokkaido, and Eastern Hokkaido. These are based on branch offices. "Western Hokkaido" is basically never used. The main city in Southern Hokkaido is Hakodate.
 Located in the southwestern part of Hokkaido, the Southern Hokkaido area is characterized by a narrower range in temperature throughout the year and less snowfall than other areas. Centered on Hakodate, one of the most popular tourist destinations in Hokkaido, Onuma offers beautiful seasonal scenery and activities, Matsumae is the northernmost castle town in Japan, and Esashi flourished as a trading center for the Kitamae Line, offering a rich variety of nature, history and culture.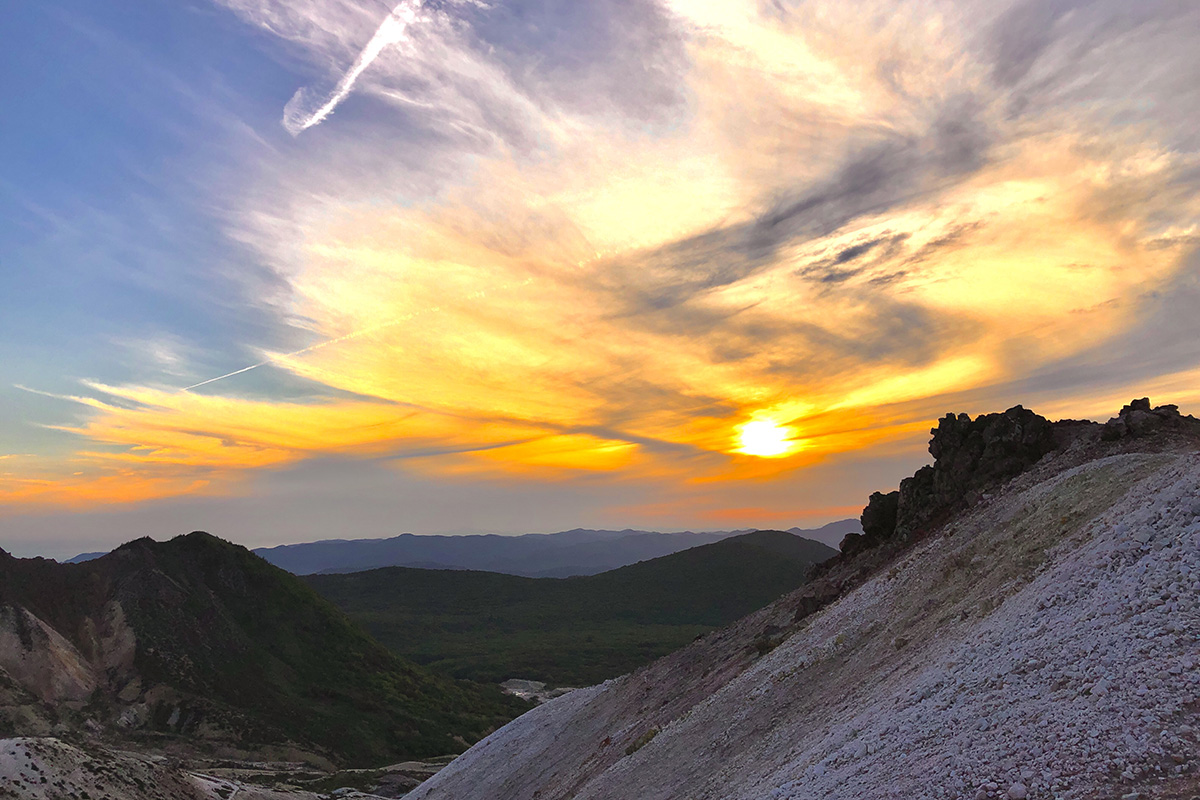 In this column, we will introduce two active volcanoes in the part of Southern Hokkaido called the Hakodate area: Mt. Hokkaido Komagatake and Mt. Esan. We highly recommend including a visit to Southern Hokkaido to see beautiful, unique and special active volcano views, enjoy the benefits of an active volcano, such as hot springs and cuisine, and try hiking an active volcano in your next trip to Hokkaido!
Mt. Esan
Where is Mt. Esan?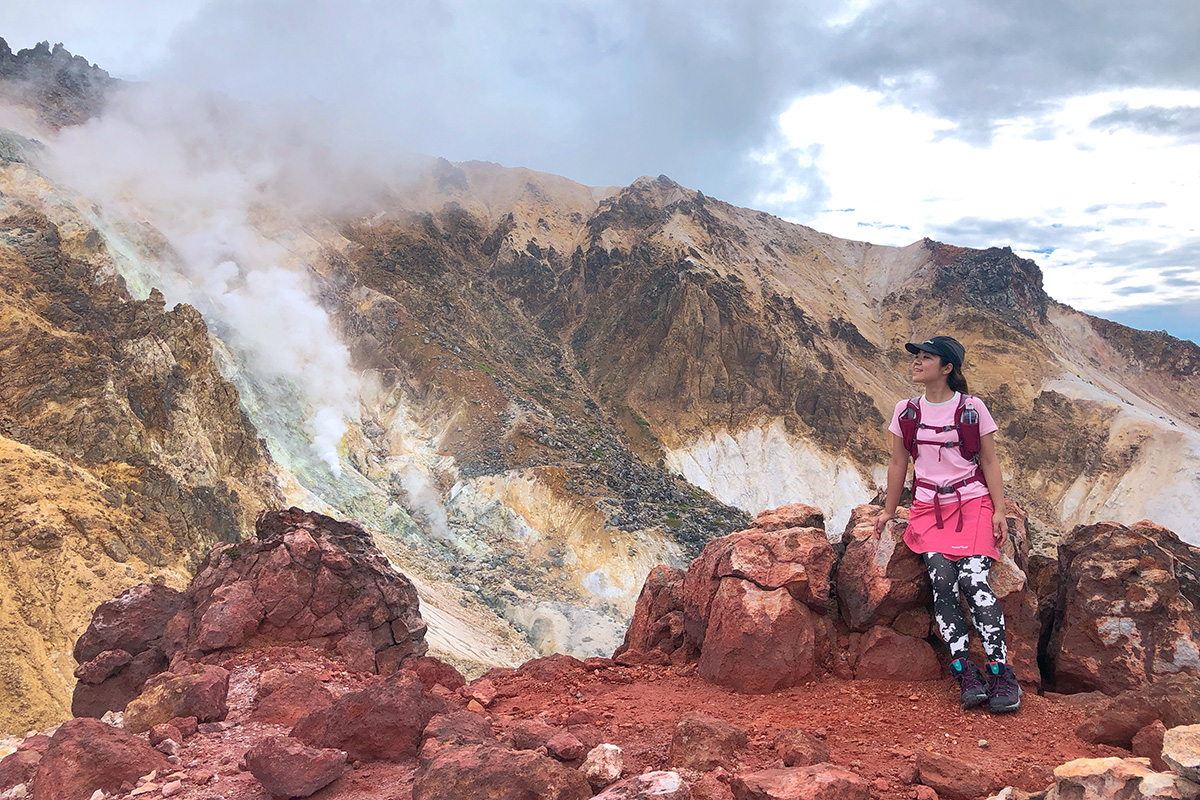 Mt. Esan is an active volcano located in Southern Hokkaido, about an hour's drive from Hakodate. It is an active volcano with a height of 618 meters located at the eastern end of Kameda Peninsula. You can drive to an elevation of about 300 meters near the crater. The crater of the volcano can be seen from the parking lot, and it is a place with an otherworldly feel to it. The volcanic strata are exposed, giving it a unique atmosphere, and it has been selected as one of Japan's New 100 Mountains. It is designated as a provincial natural park as well.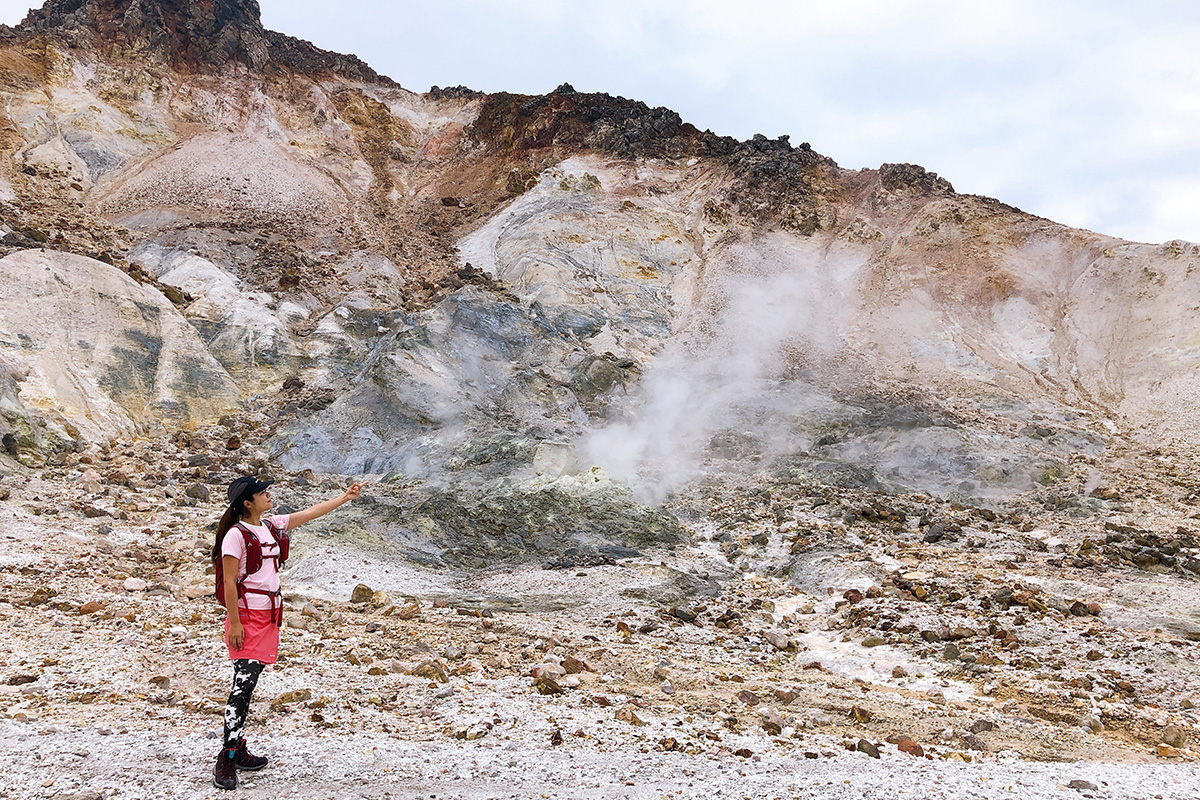 There are several theories as to the origin of the name Mt. Esan, including the Ainu word "Iesan-Nupuri" meaning mountain with spouting lava, or that "E" meaning "head" and "San" meaning "to come forward" are joined together to mean "cape".
 The area where Mt. Esan is located is a fishing town facing the Tsugaru Straits. It is known for its abundant fishery resources due to the intersection of cold and warm currents. Fishing patterns are wide-ranging, including kelp fishing along the coast, squid fishing mainly in the straits, and cod fishing in winter. Kurokuchihama kelp from this area is highly valued for its excellent quality.
History of Mt. Esan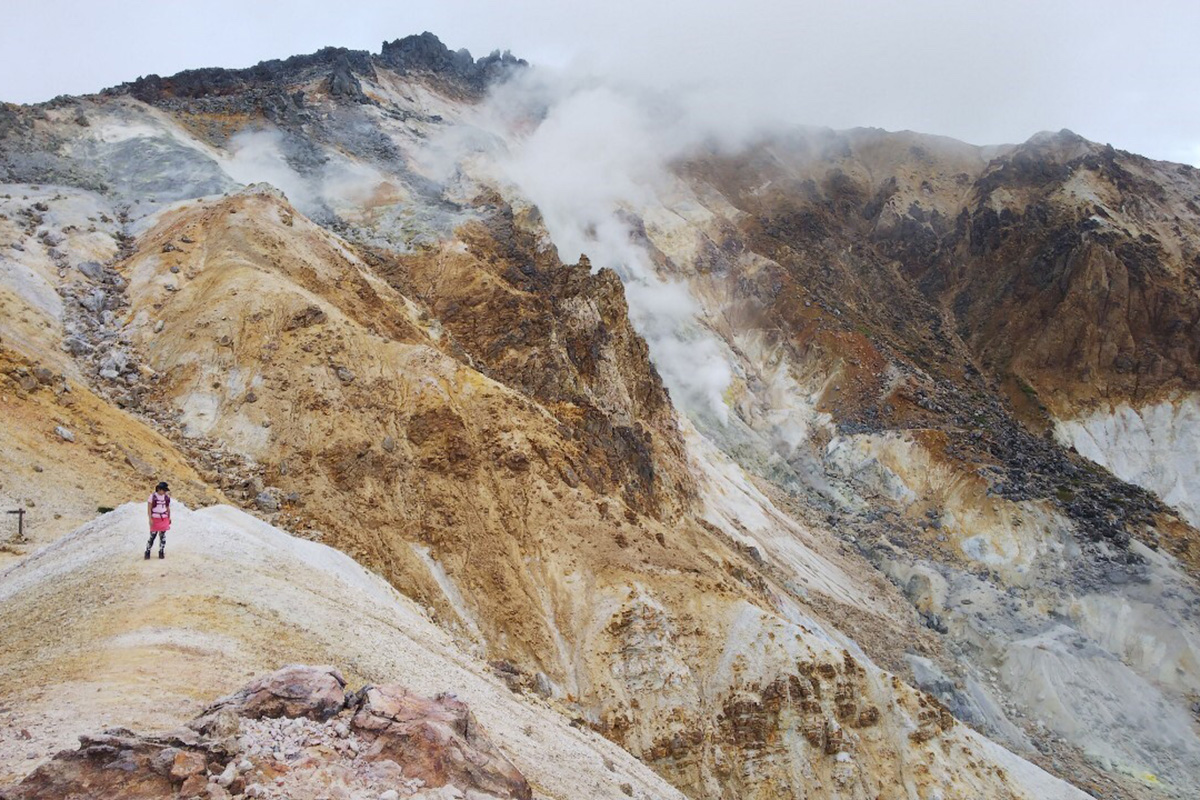 Mt. Esan has been quiet so far, but it is an active volcano that is monitored 24 hours a day as a volcano with a known increase in volcanic activity within the past 100 years or so. No one knows when it will erupt, but there will be advance signs of an eruption. It is constantly monitored, so it is safe to visit as long as there is no warning in place.
 Mt. Esan has been calm since a last small eruption in June 1874. The craters with eruptive activity are visible as plumes of smoke rising. The continuous eruptions can be felt as the heartbeat of the earth. Due to a combination of conditions such as nutrient-poor volcanic ash and a lack of sunlight caused by fog generated by the Tsugaru Straits, alpine flora that can only be found on mountains in the 2,000 meter class can be observed on Mt. Esan, despite its mere 618 meter elevation.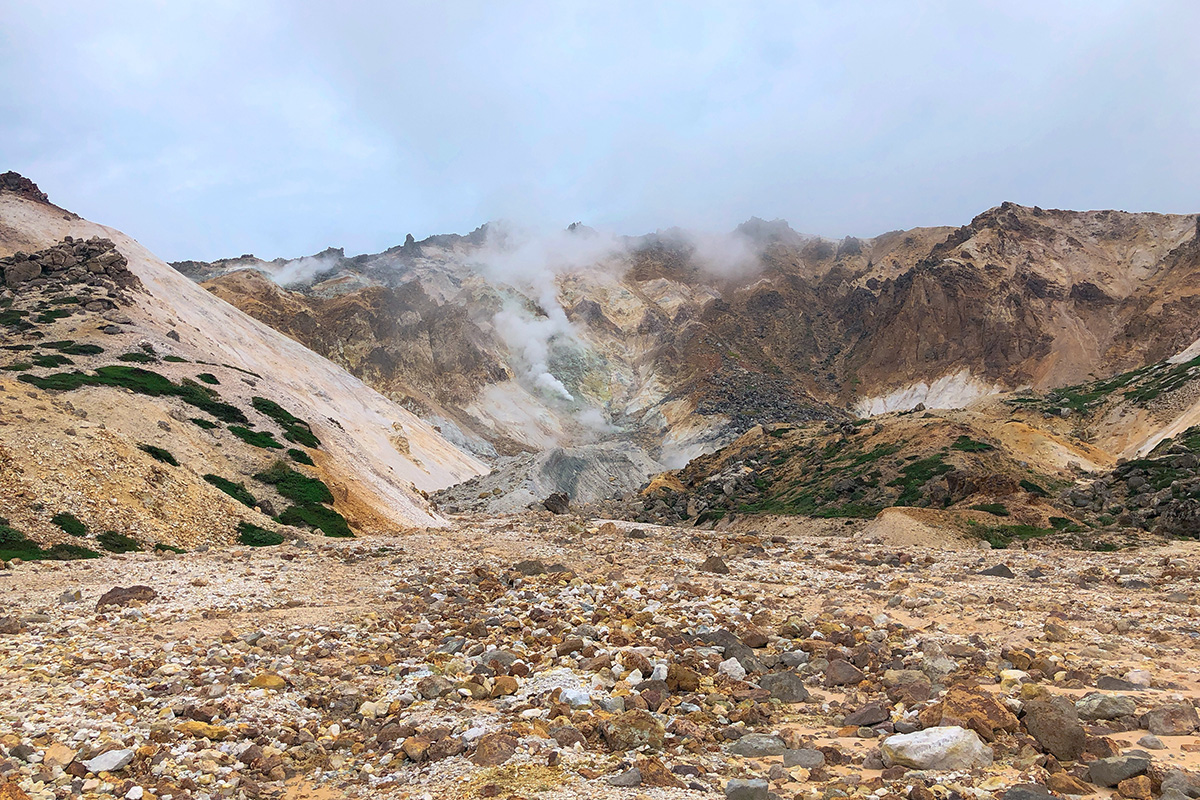 Mt. Esan was formed by eruptive activity long ago. Mt. Kaikozan and Mt. Todoyama, which are located in close proximity to Mt. Esan, were formed 40,000 to 50,000 years ago. It is believed that Mt. Gairinzan was formed between 20,000 and 25,000 years ago, and the Esan Lava Dome between 8,000 and 10,000 years ago, making it an active volcano in combination with these volcanoes. The Motomura eruption about 8,000 years ago produced a large pyroclastic flow that created a plateau at the foot of the mountain and formed the Mt. Esan Lava Dome. Subsequent volcanic activity occurred 5,000, 3,000, 2,500, and 600 years ago. The eruption about 3,000 years ago produced pyroclastic flows and pyroclastic surges. The activity about 2,500 years ago resulted in a debris avalanche caused by the collapse of the Mt. Esan. More recently, steam eruptions occurred in 1846 and 1874.
Easy-to-hike trails suitable for beginners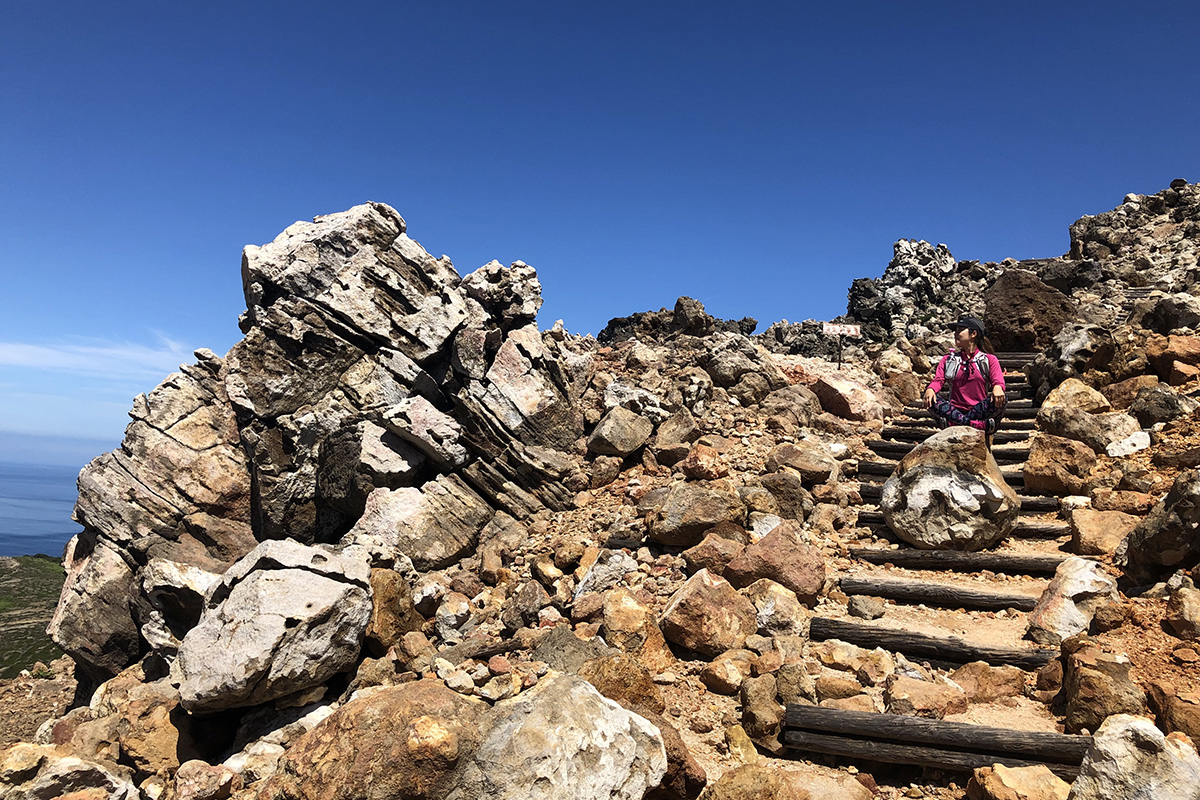 Mt. Esan's well-maintained trails make it easy for even beginners to hike. There are nine walking courses and hiking trails. The standard trail, Gongendo (Summit of Mt. Esan) Course is a 2 to 3-hour round trip to the top, and is the best way to enjoy it. Its difference in elevation is 295 m, its total length is 2.6 km, and it is approx. 70 minutes one-way to the summit of Mt. Esan. This course ascends the gentle slope of a debris avalanche caused by an eruption about 2,500 years ago. It is an amazing trail because the angle of the view changes after just a few minutes' walk. Along the trail, you can see fumaroles and sticky sulfur, characteristic of an active volcano and, depending on the direction of the wind, you can smell the sulfur. On a clear day, Mt. Yotei and the Hidaka Mountains can be seen along the way. You can also see the Uchiura Bay (Volcano Bay) and the Hakucho Bridge in Muroran.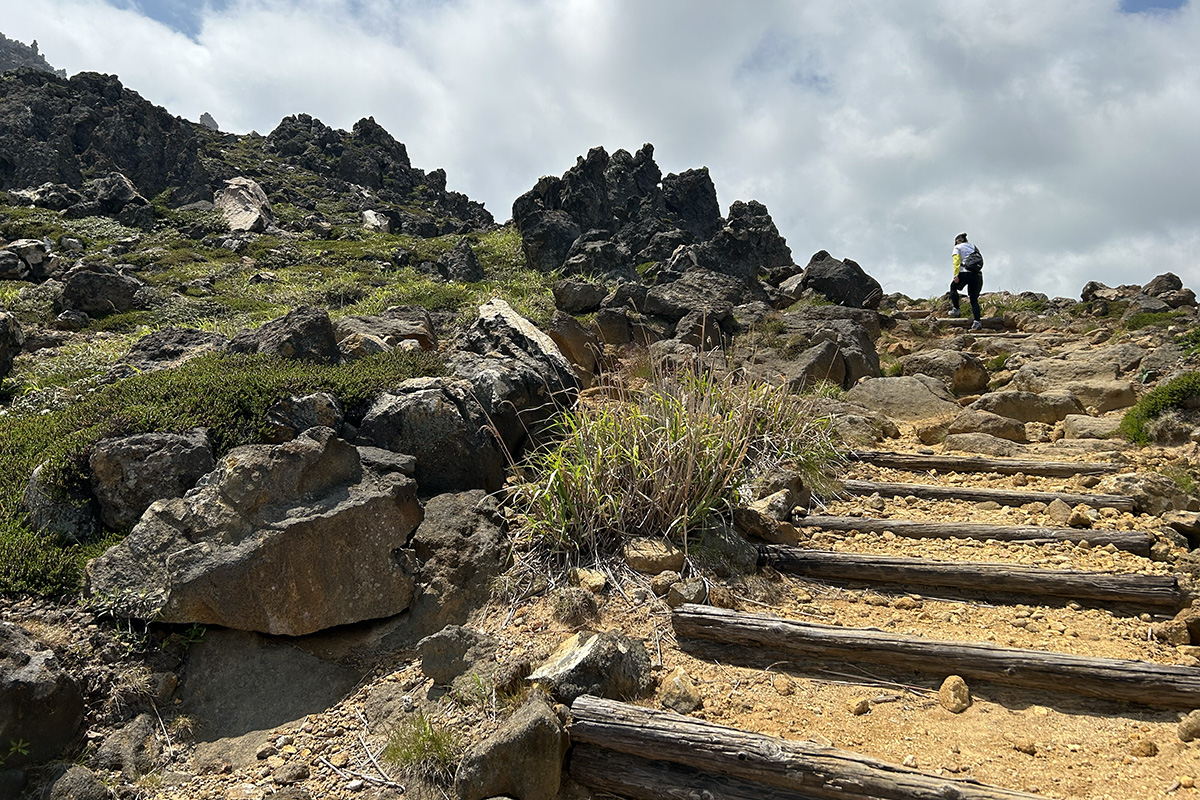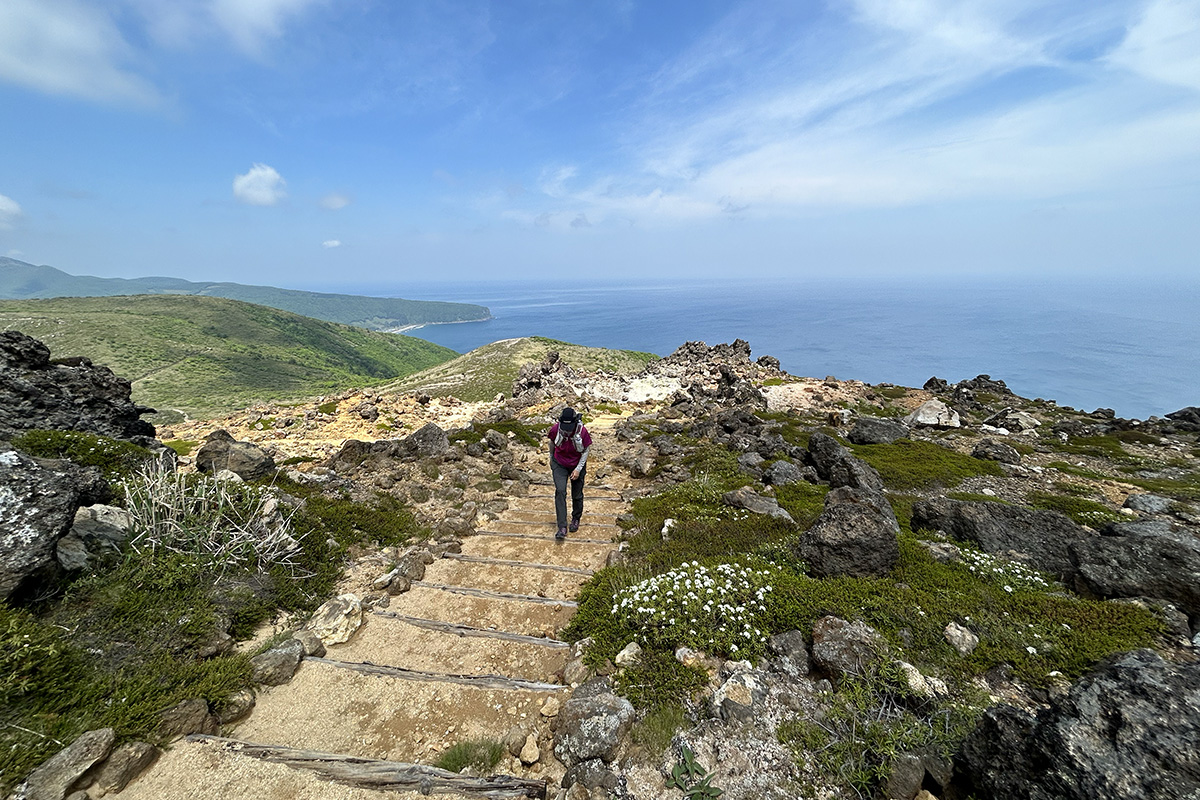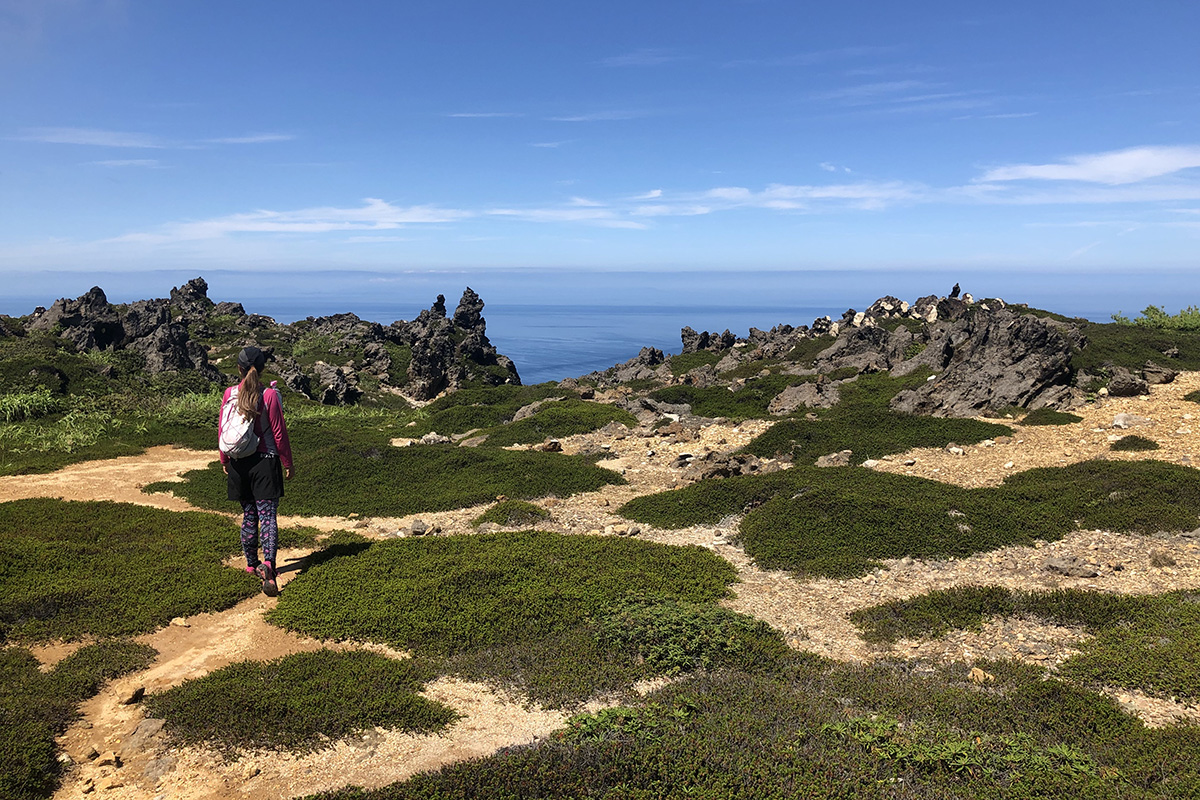 When you approach the summit, the trail becomes less inclined, flatter, and a little greener. Near the summit of Mt. Esan, which is also a sacred mountain, is Gongendo, where three guardian deities for sailors and fishermen are enshrined. From the summit is a magnificent and stunning view of the sea, mountains, and sky, including the Tsugaru Straits, the Shimokita Peninsula in Aomori Prefecture, and the mountains around there! This is a popular hiking trail where you can enjoy such a wonderful view that it is hard to believe Mt. Esan is a low mountain. There is also a walking trail that takes 20 to 30 minutes to reach the observatory, which can be enjoyed by non-hikers.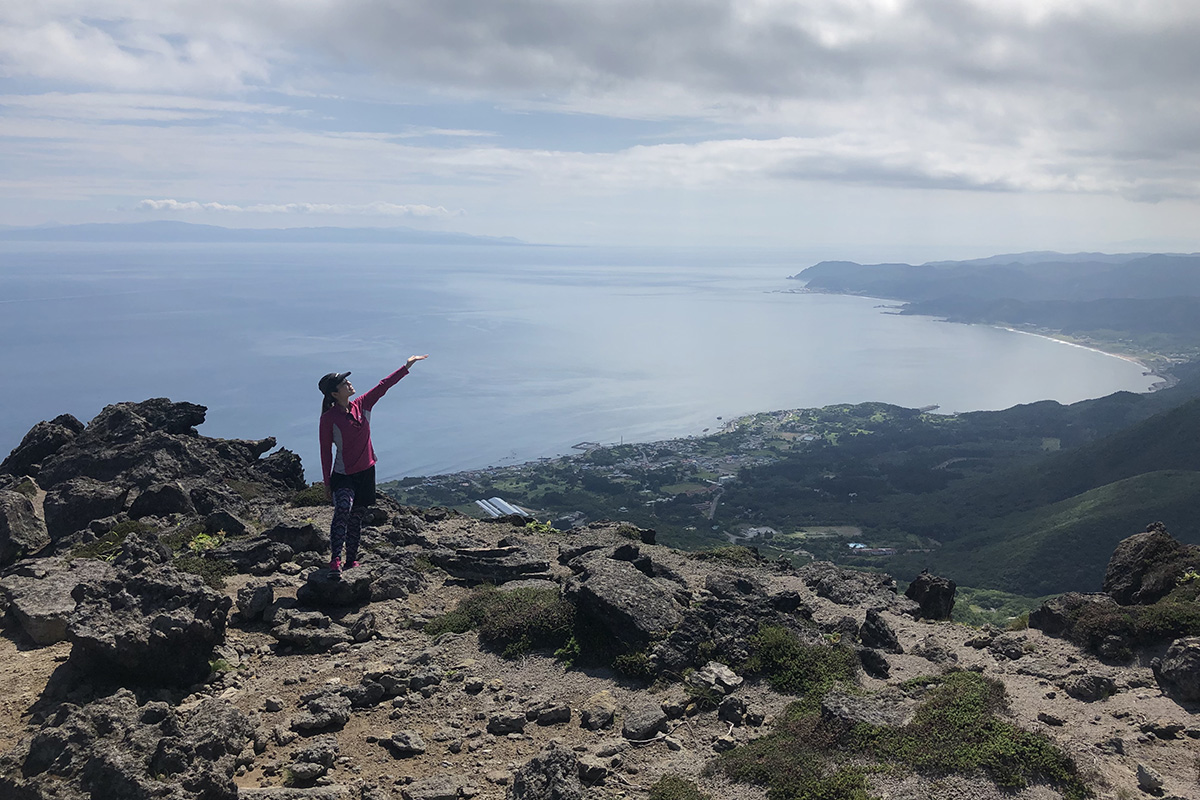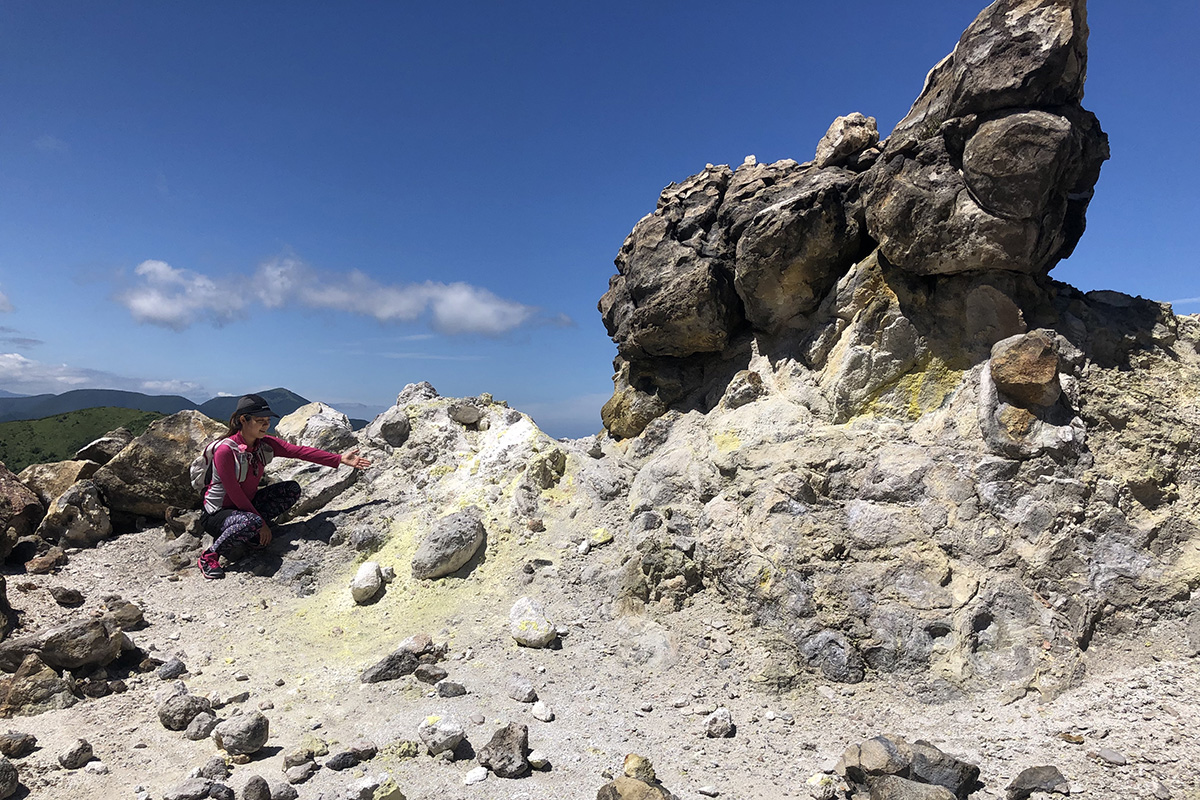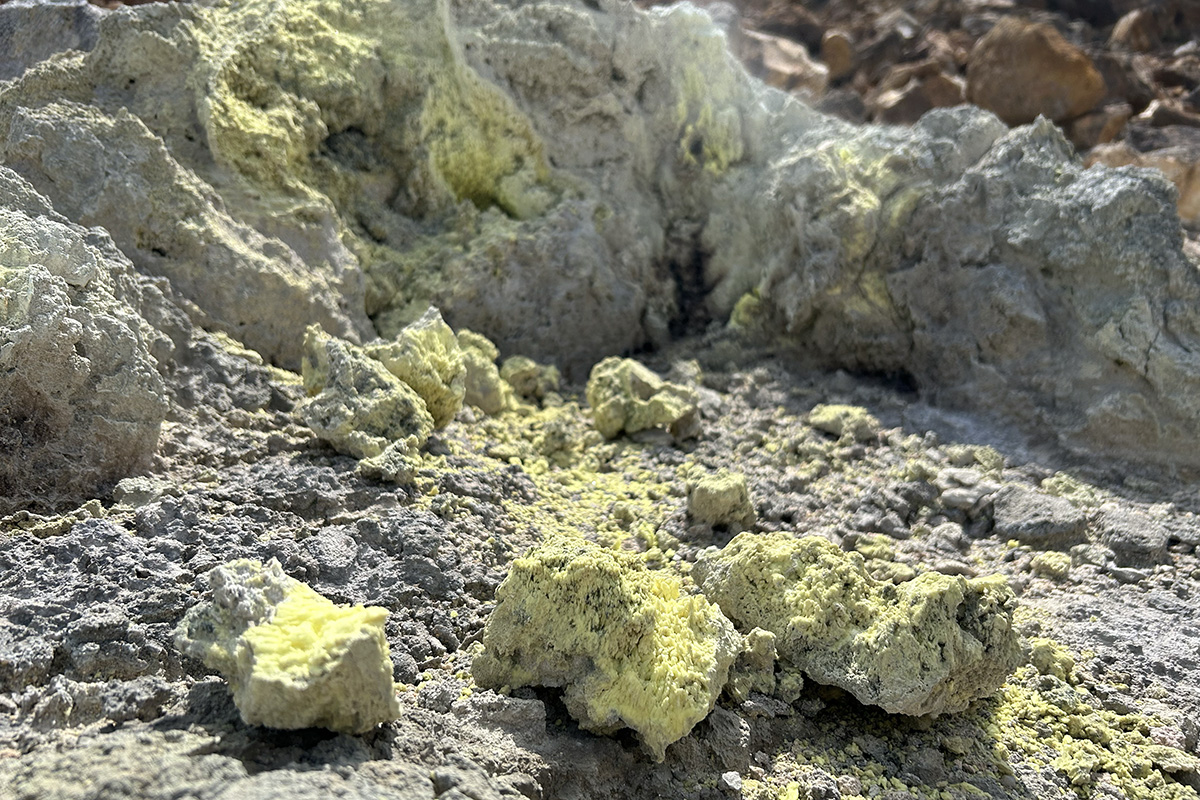 Notes for hiking at Mt. Esan

 Mt. Esan is under constant observation 24 hours a day, but please keep in mind that it is an active volcano with an eruption warning level of 1. Be sure to check the information before hiking the mountain. It takes about 70 minutes to reach the summit, but be sure to wear clothes for hiking and take warm clothing. Because it is an active volcano, there are few tall trees, and when the wind blows, you can instantly feel cold. The weather is changeable, and it may suddenly rain even though it was previously sunny. Strong winds are possible, so be sure to bring extra clothing even in summer. You can hike the mountain in sneakers, but be careful because there are many volcanic rocks and the footing is not good in some places. Mt. Esan emits fumaroles containing volcanic gasses near the crater. Do not approach or touch them. The smell of sulfur is quite strong, so bring a handkerchief if you are concerned about that.
Alpine plants on an active volcano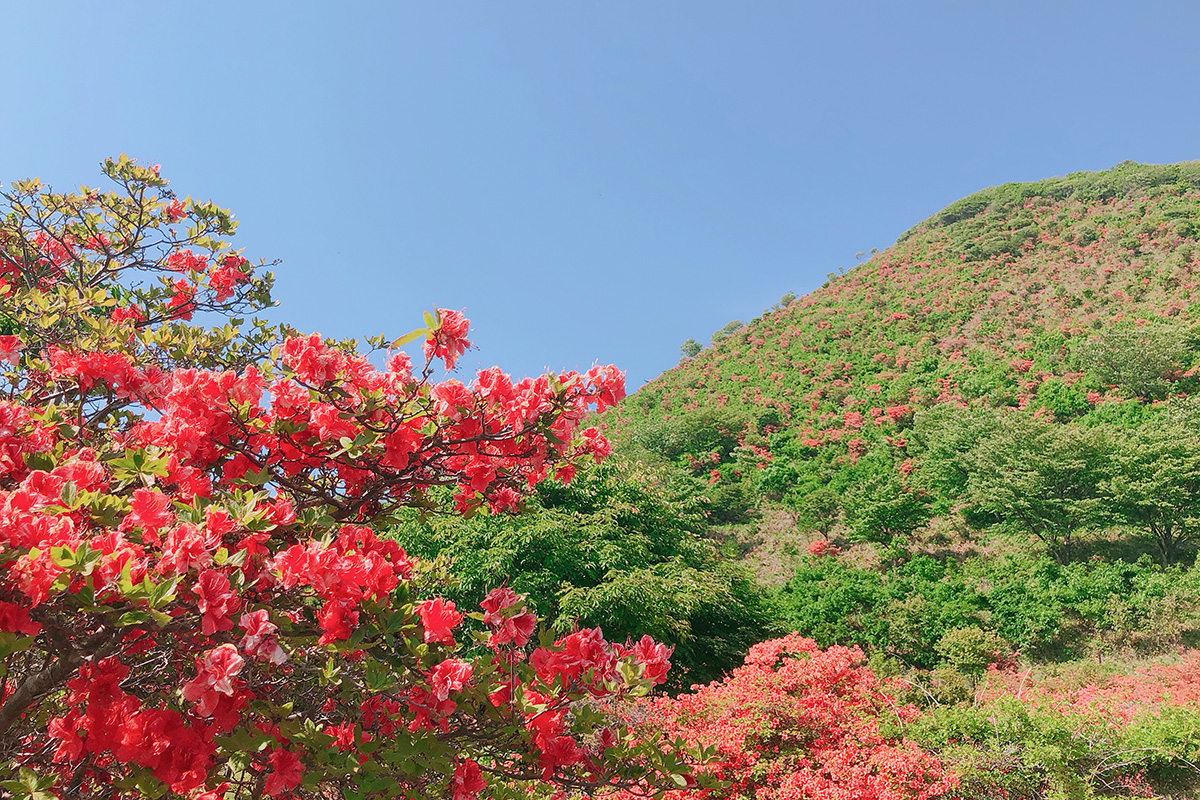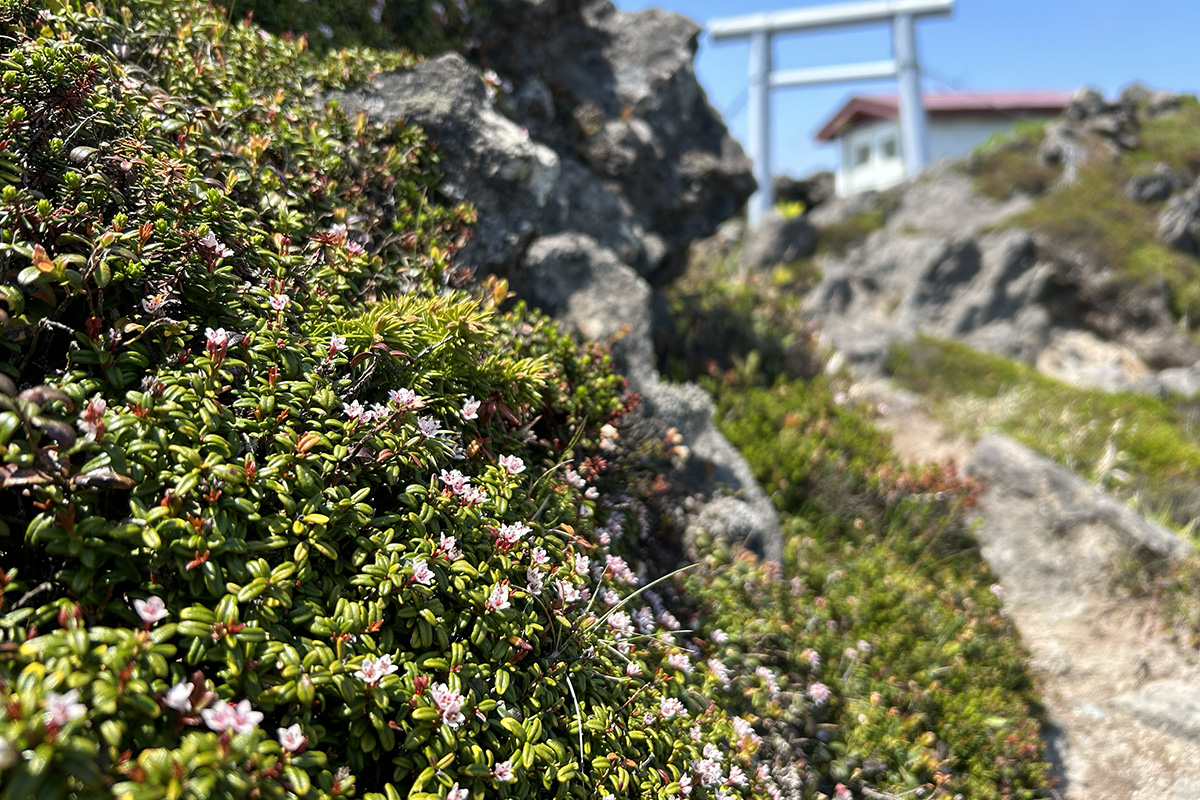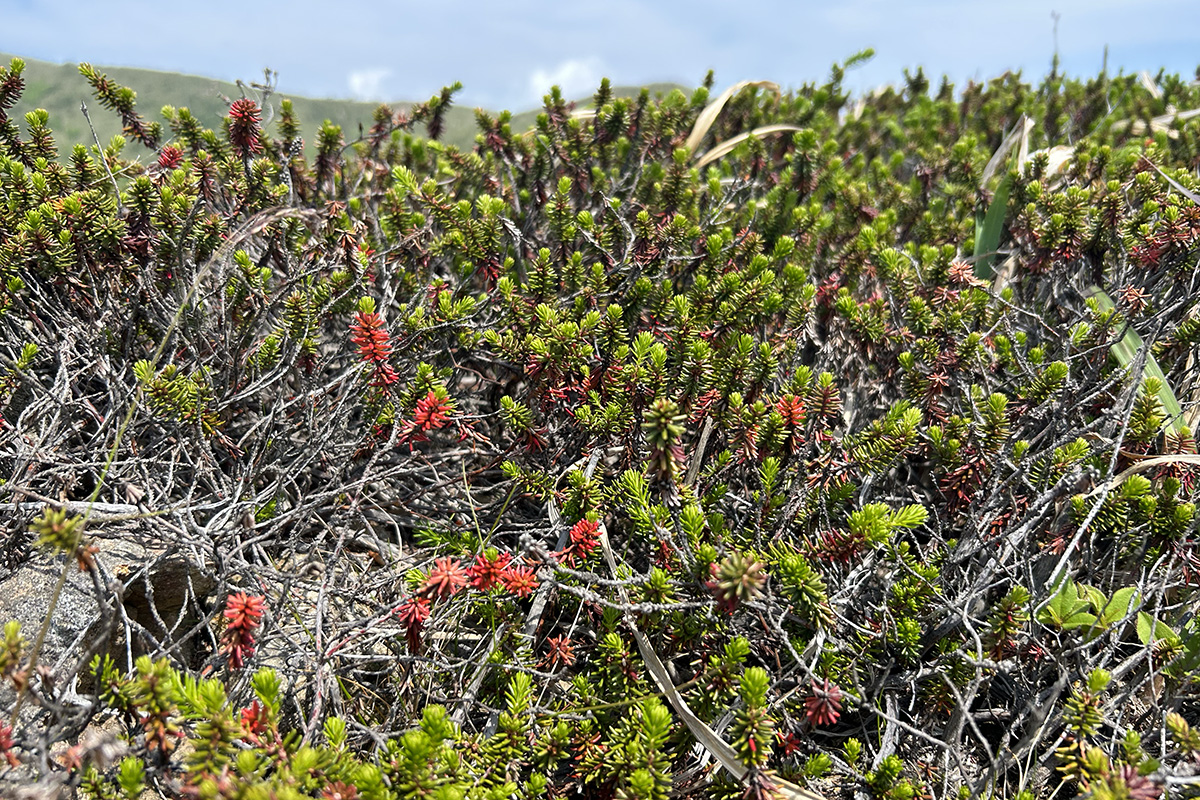 Mt. Esan is 618 meters above sea level, and some visitors come for the alpine plants, which can usually only be seen on mountains in the 2,000 meter class. Why can we see them here? Because Mt. Esan is located between the Tsugaru Strait, which is a warm current, and the Pacific Ocean, which carries cold currents, and the constant sea fog causes an extreme lack of sunlight. With the nutrient-poor volcanic ash, it has created an alpine environment typically found at 2,000 meters. This is one of the benefits of active volcanoes.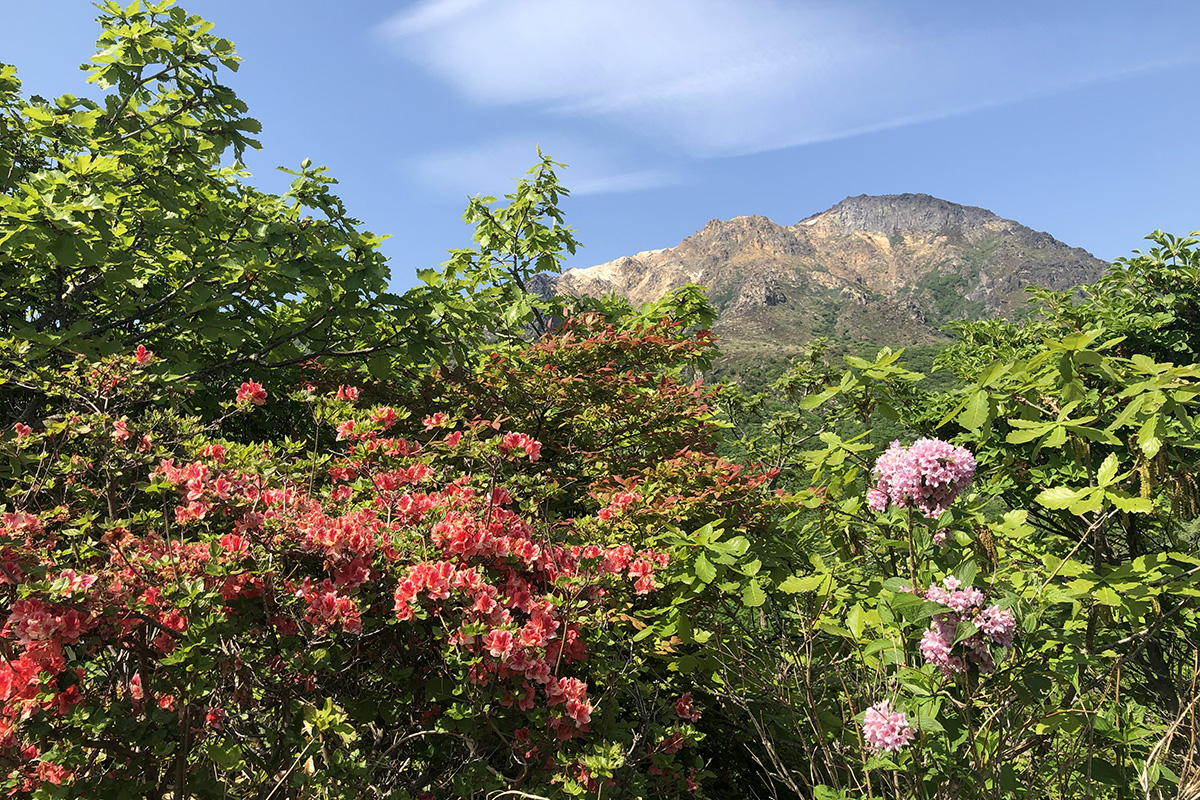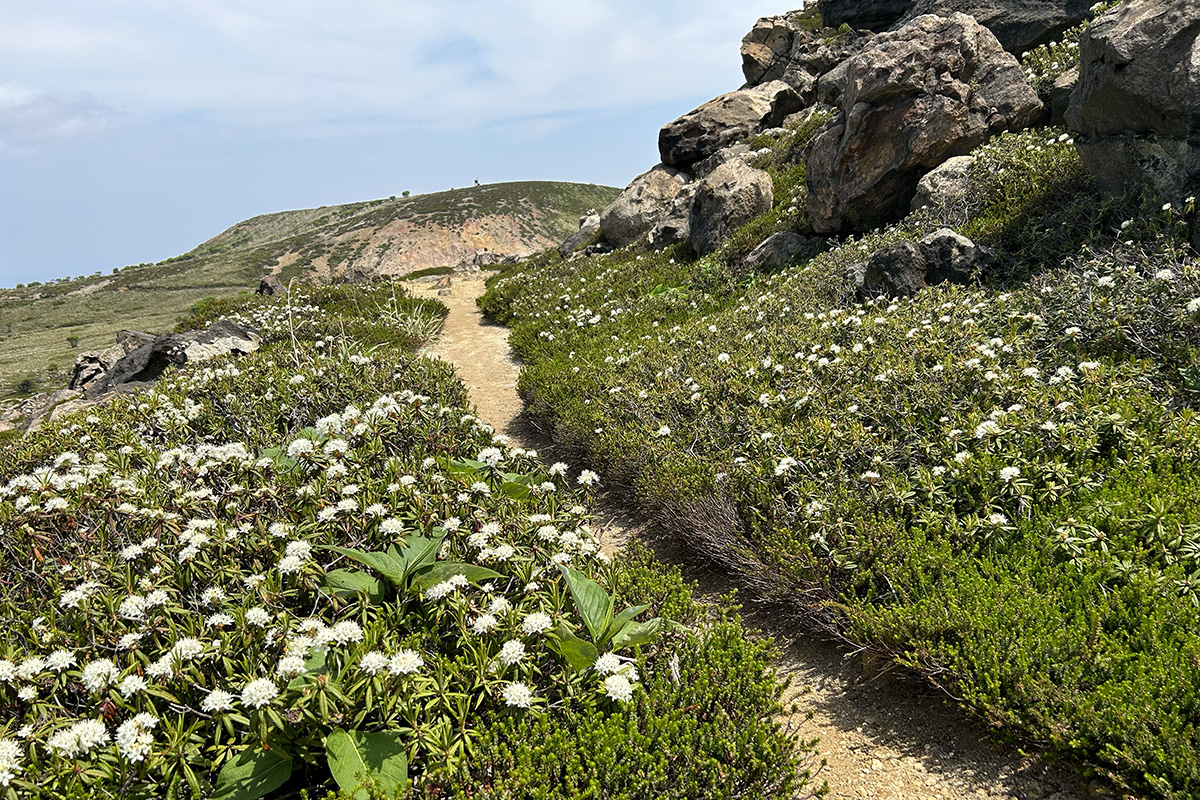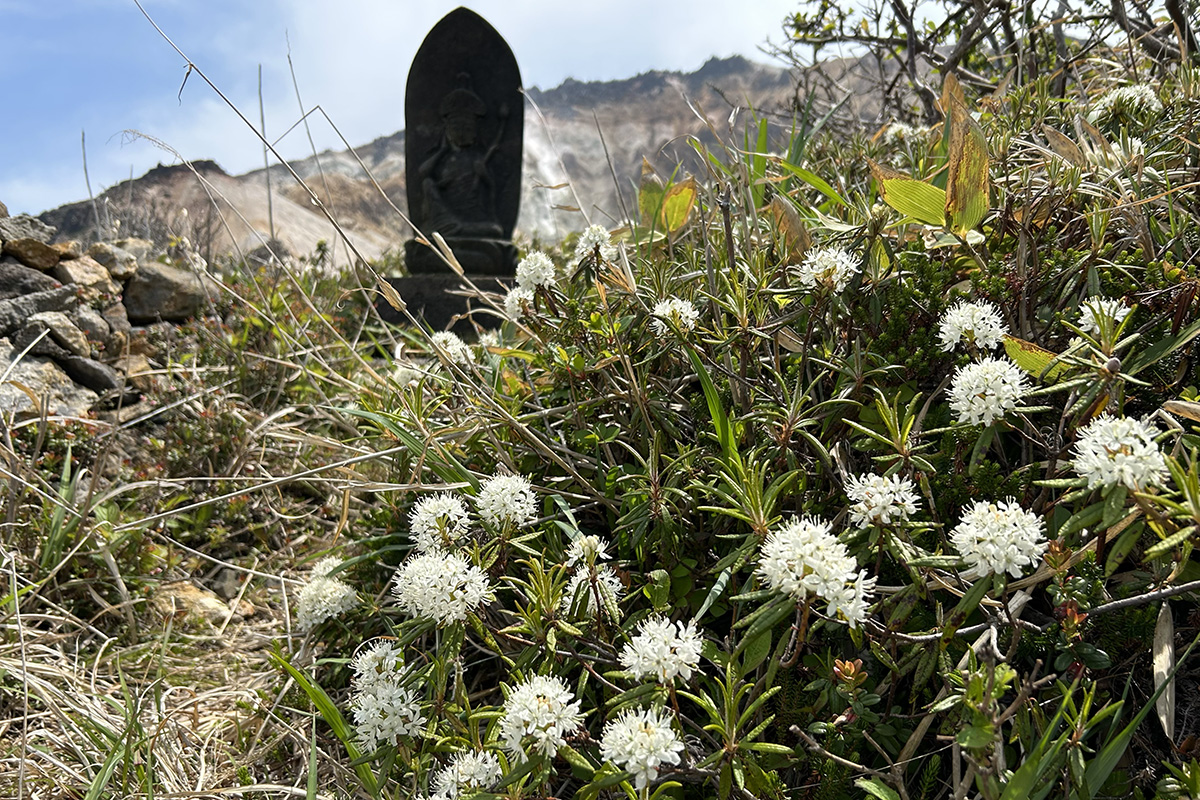 There are more than 60 species of alpine plants: alpine azalea, rhododendron kaempferi, ledum palustre, black crowberry, lingonberry, arcterica nana, oreorchis patens etc. Most flowers bloom in May-June. Plants near the summit are sparse, but the foothills of the mountain are famous for their 600,000 azaleas. For locals living in Hakodate, Mt. Esan is a famous spot for azaleas. There is Tsutsuji Park at the foot of Mt. Esan, where visitors can enjoy beautiful azaleas from early May to mid-June and the autumn colors of enkianthus campanulatus from mid-October to early November.
Sacred mountain
 Firstly, a sacred mountain is a mountain that inspires religious beliefs or has spiritual importance. Various sacred mountains exist throughout the world and are considered special places in their respective cultures and religions.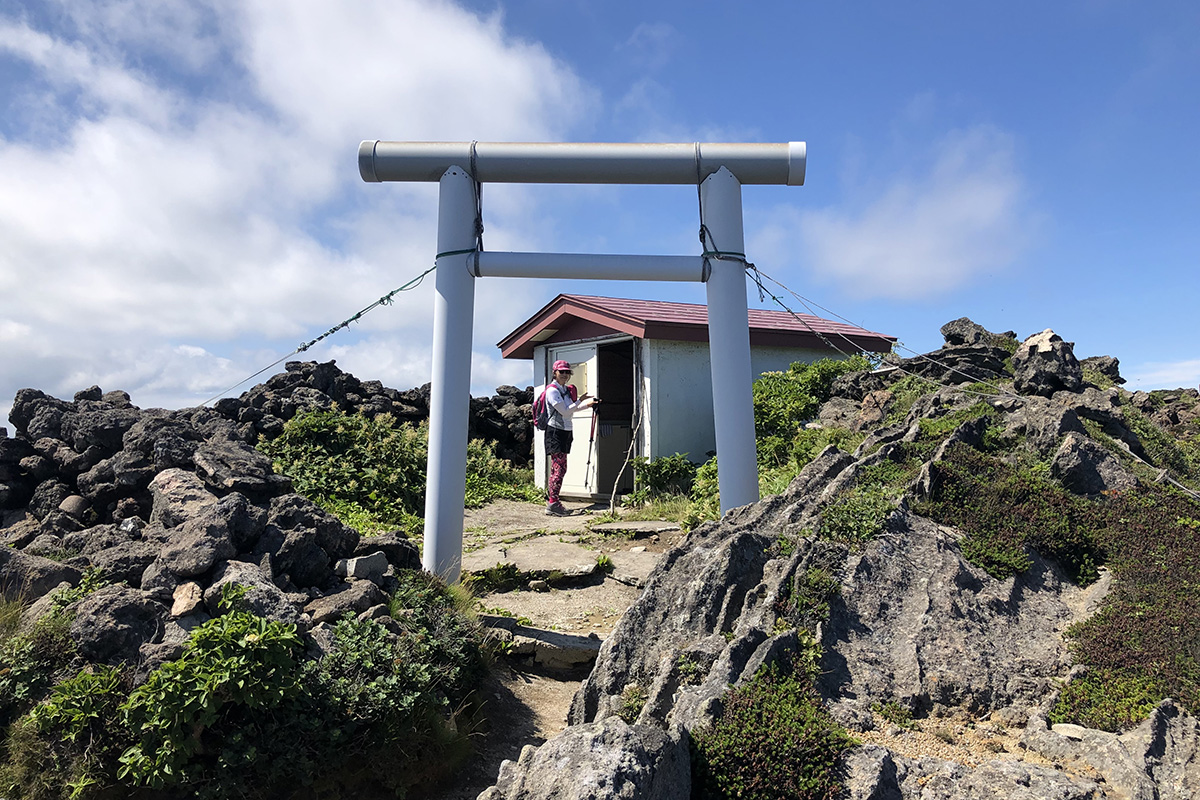 Mt. Esan is one of these sacred mountains. Sacred mountains are used as places of pilgrimage and have a spiritual appeal to people because of their beautiful natural environment, special spirituality, and historical and religious background. These mountains may also contain religious institutions and sacred sites such as temples, monasteries, sacred places, holy springs, and sacred rocks.
 Mt. Fuji is also believed to be a sacred mountain in Japan. Sacred mountains are places where the mysteries of nature and people's religious beliefs merge to create a spiritual experience for many people.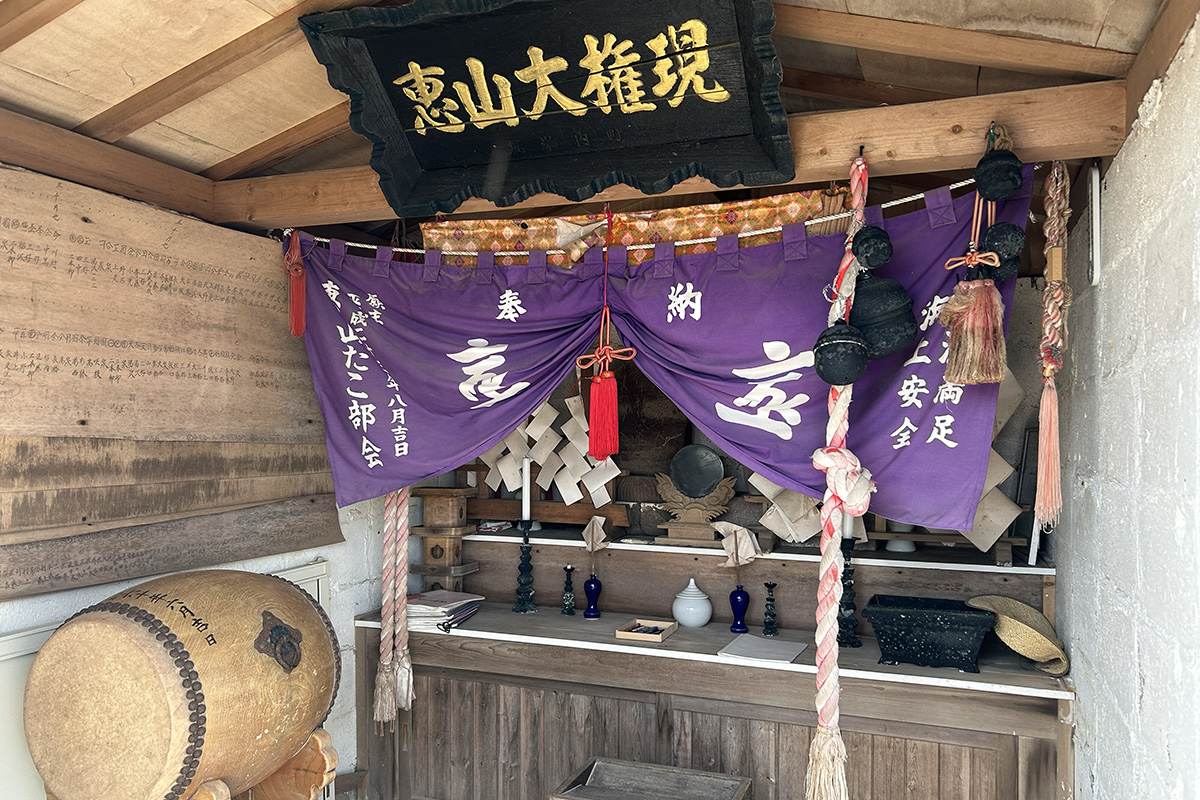 Because of its geographical location or its peculiar shape, Mt. Esan was a landmark from the sea not only for the indigenous Ainu people, but also for the sailors and fishermen who have thronged to the Ezo region (Hokkaido) since the 13th century.
 Sailors are said to believe that a god resides on the cape. For this reason, they built a shrine on the mountain. In the course of this history, Gongendo was enshrined on Mt. Esan.
Statues at Mt. Esan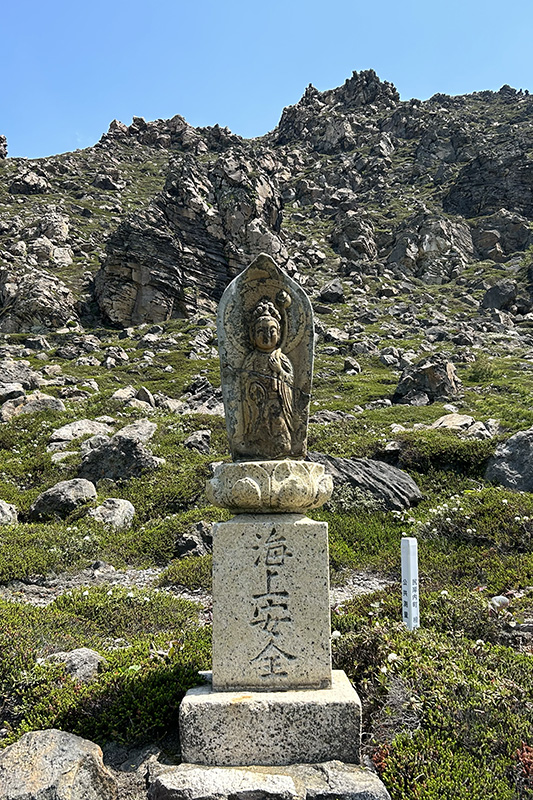 Like Mt. Osorezan in Aomori Prefecture on the other side of the Tsugaru Strait, Mt.Esan has been revered as a sacred mountain since the Edo period (1603-1868).
 The eleven-faced Kannon Bodhisattva statue remains at Sai-no-Kawara are said to have been donated by Kahei Takadaya (1769-1827), a wealthy merchant based in Hakodate who was active in northern trade.
 The northern trade route opened by Kahei Takadaya was from Hakodate via Cape Esan to Erimo, Kushiro, Nemuro, Kunashiri, and Etorofu. He was shipwrecked in heavy seas off the coast of Esan when he was sailing from Hakodate to Etorofu. Nine people were killed in that maritime accident, after which, in January 1809, Kahei Takadaya dedicated a stone Buddha with the words "safety at sea" inscribed on its base to Sai-no-Kawara to pray for safe voyages.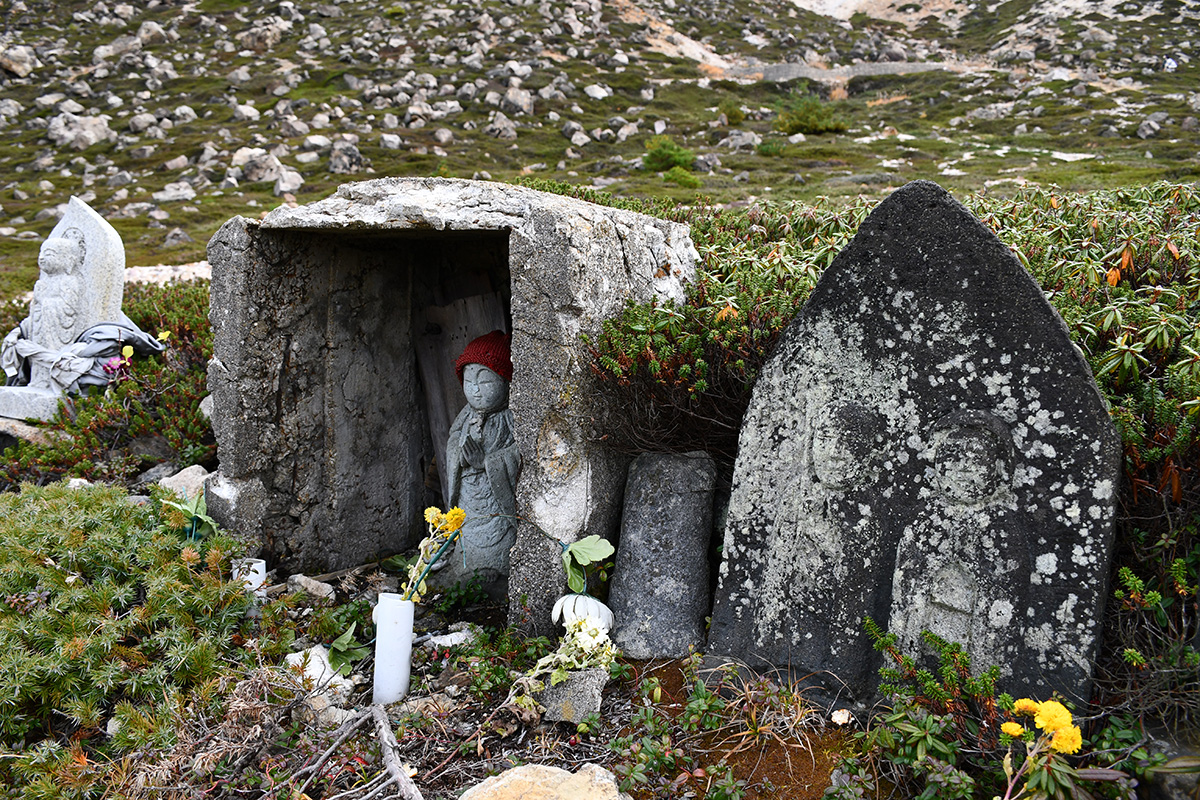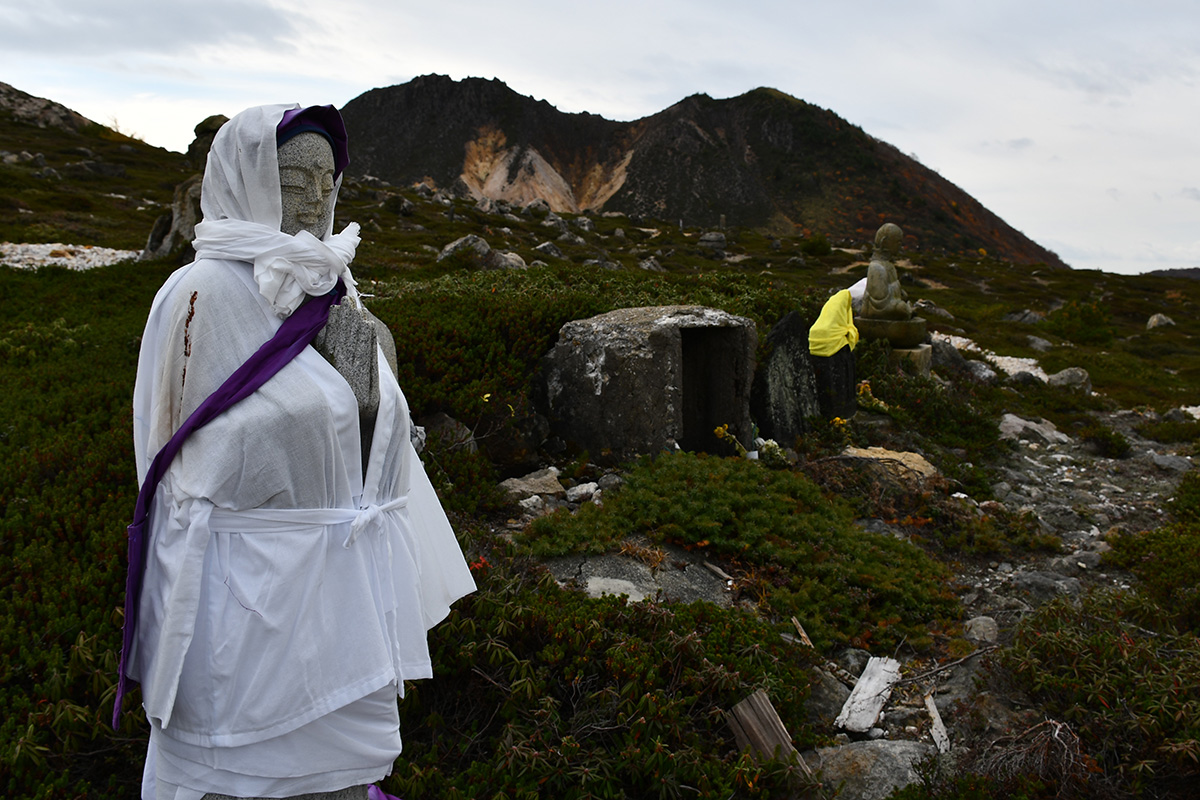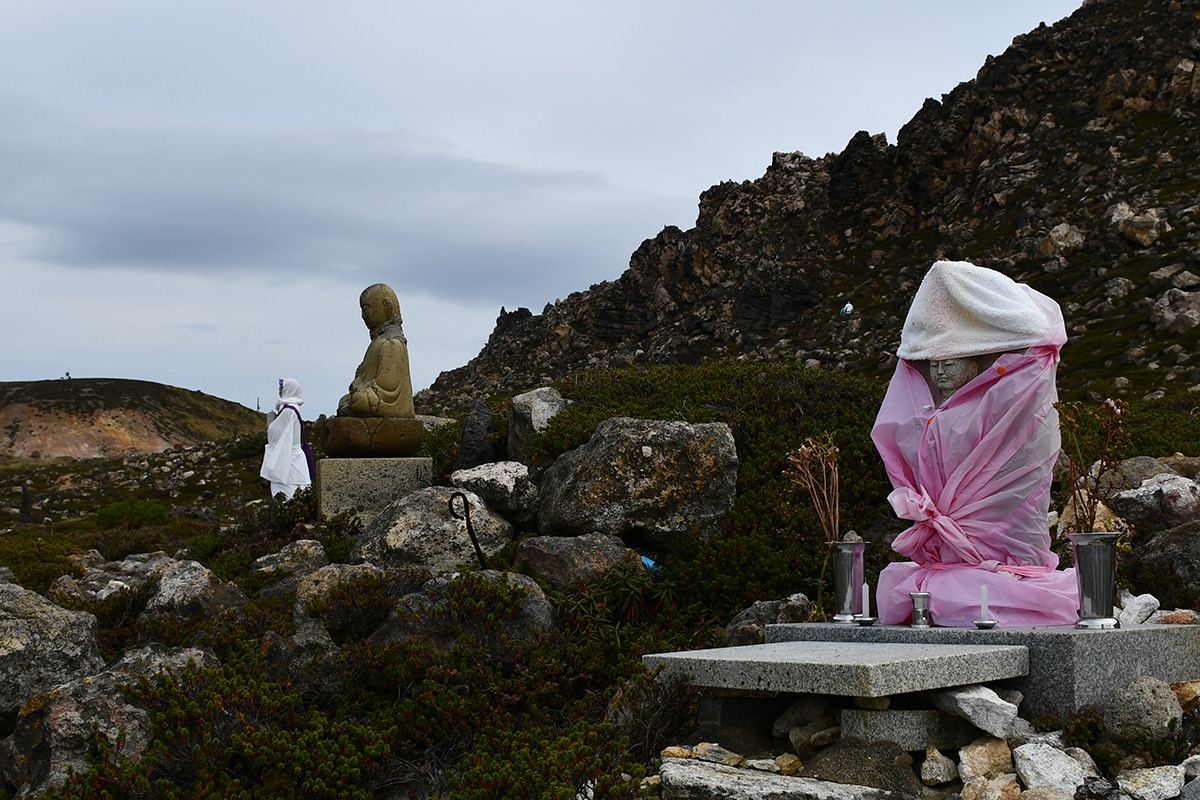 Besides this, there are also 33 Kannon statues enshrined on Mt. Esan, similarly to Mt. Hakodate. The 33 Kannon is a Buddhist belief that worships the Bodhisattva Kannon in 33 different incarnations. Believers make pilgrimages to 33 temples and sacred sites to purify their bodies and souls, and to seek fulfillment of their prayers. Pilgrimage is a common act of worship in Japanese Buddhism and is also popular as a form of tourism.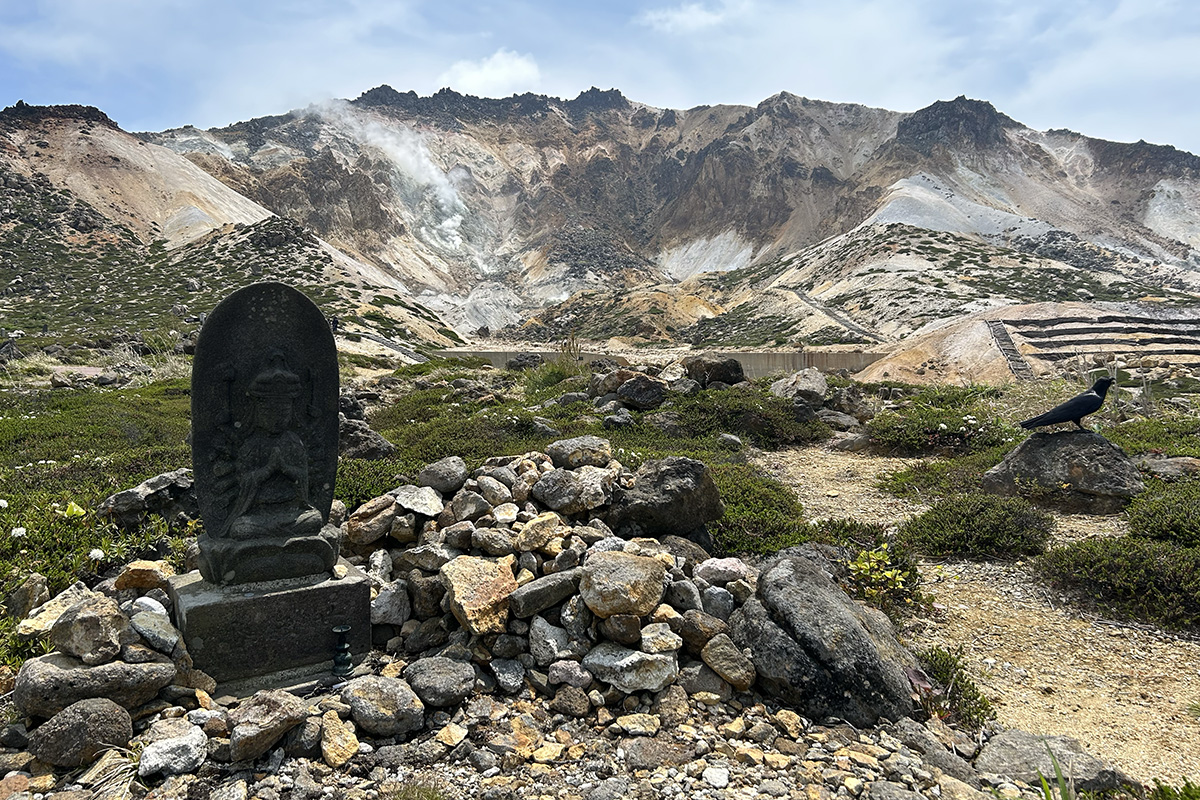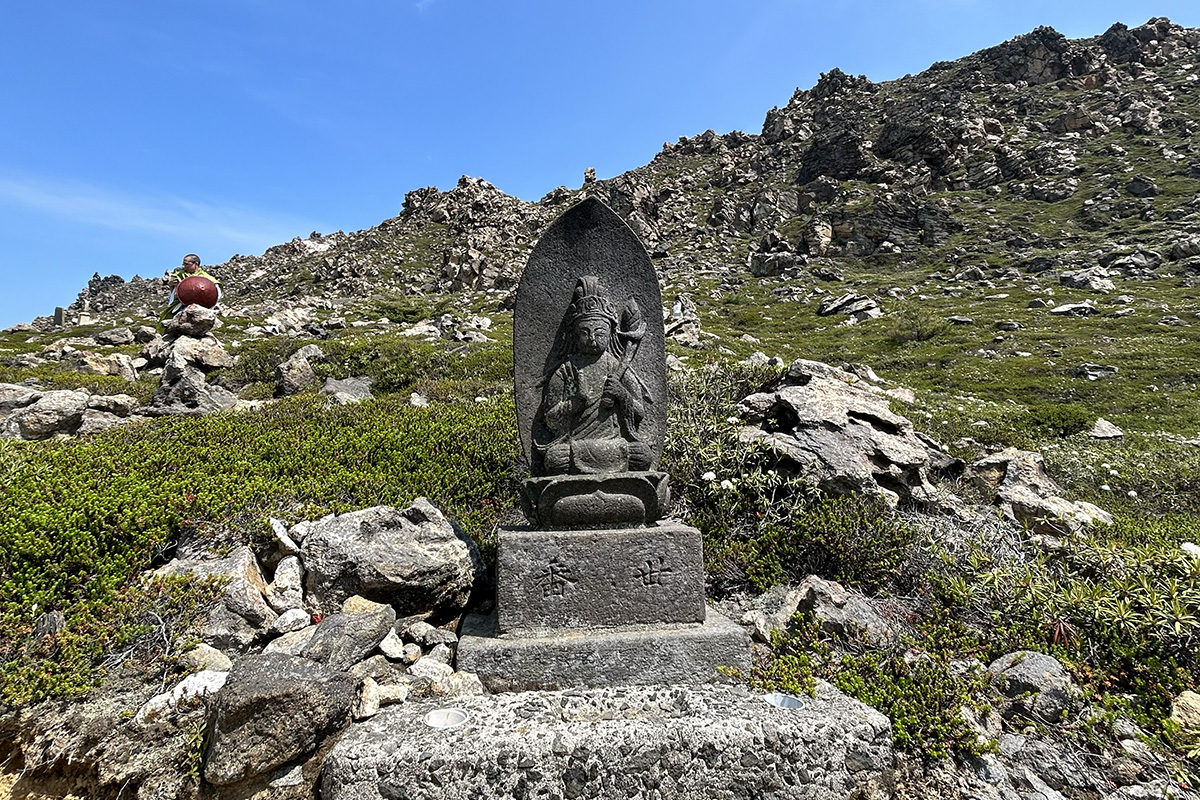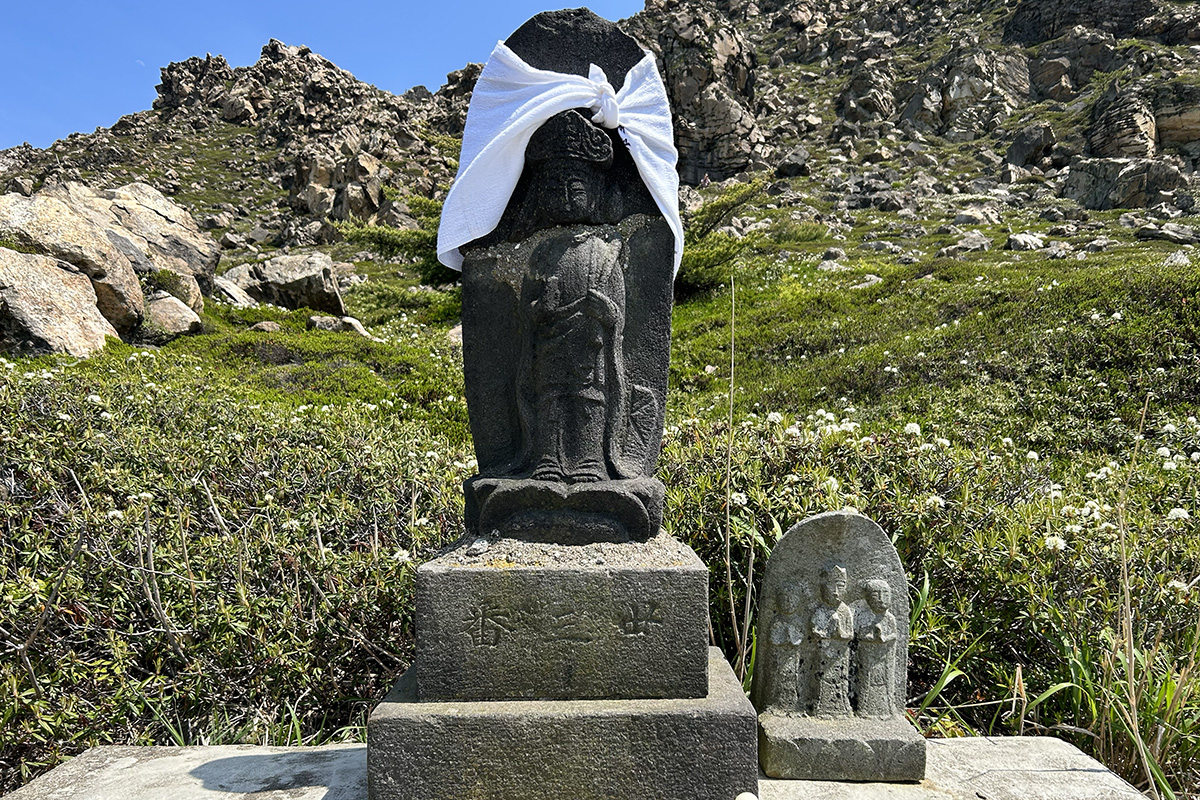 Experiencing Japanese spiritual culture and  a sacred mountains at Mt. Esan will be an unforgettable part of your trip.
Mt. Hokkaido Komagatake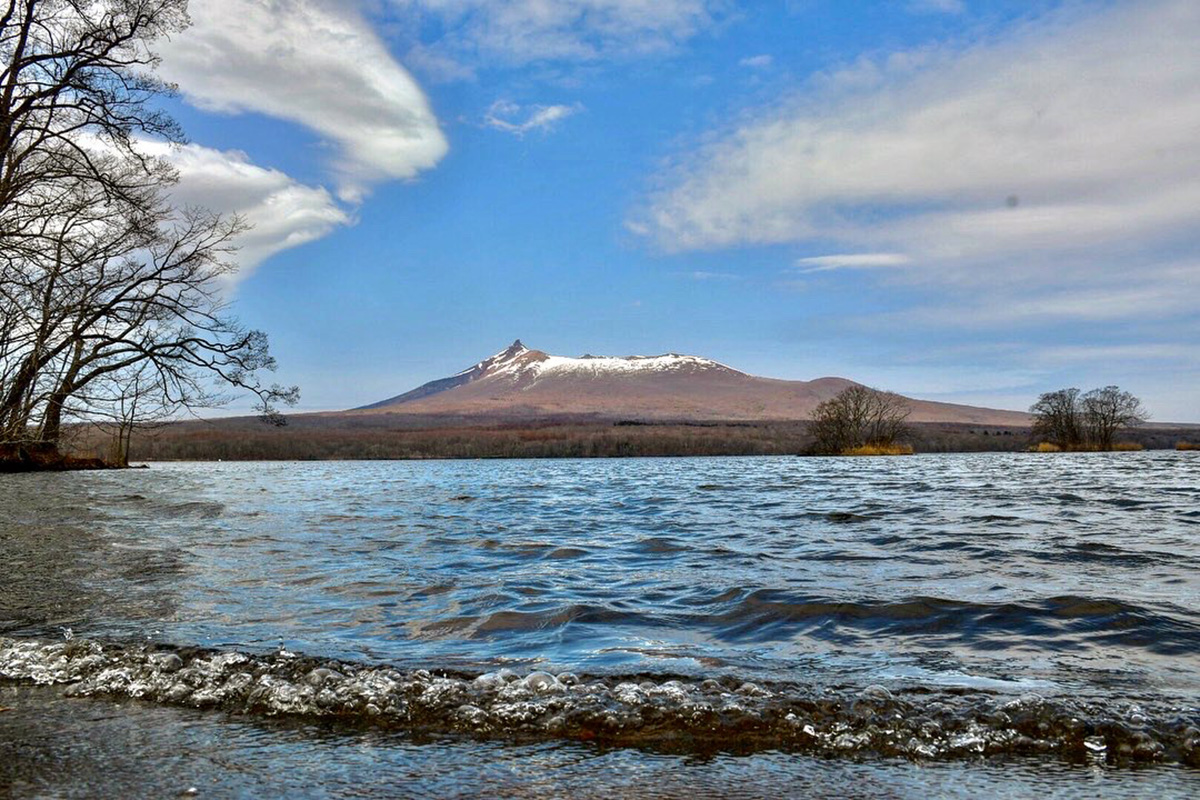 Where is Mt. Hokkaido Komagatake?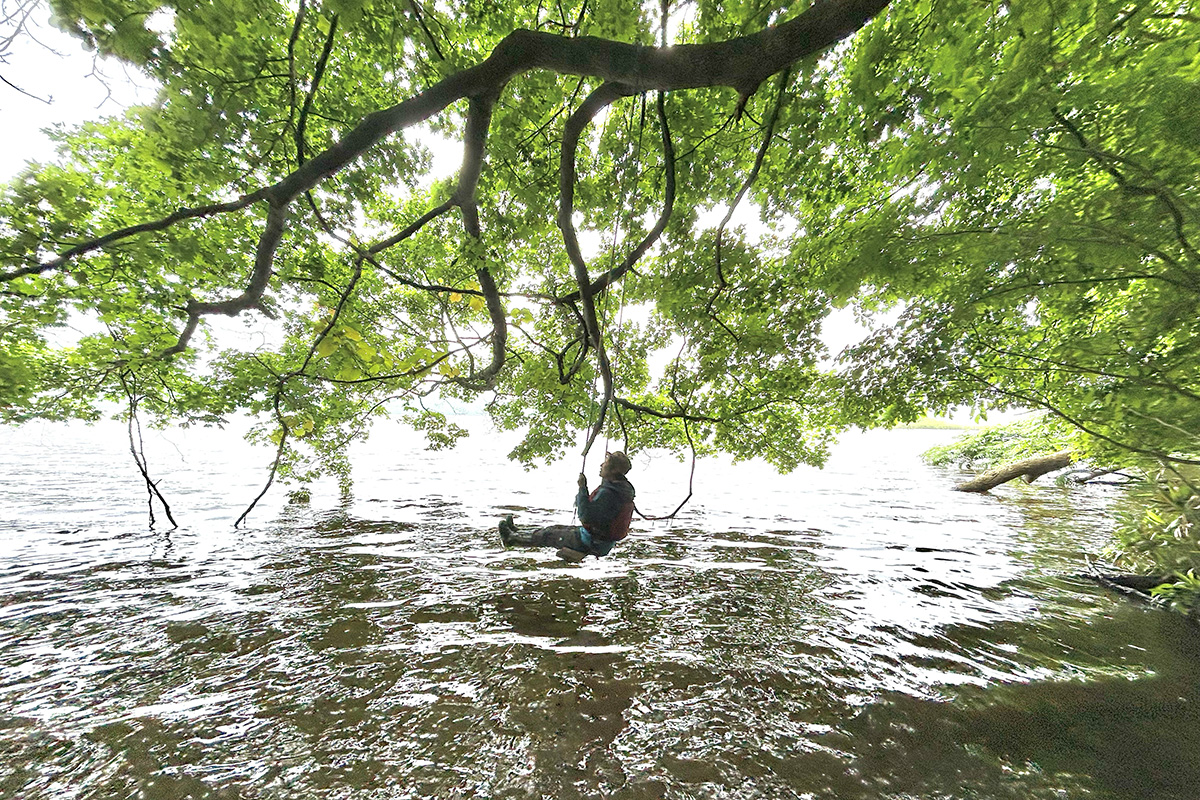 Mt. Hokkaido Komagatake is located in the nature-rich Onuma Quasi-National Park, about 40 minutes by car from Hakodate Station. Onuma Quasi-National Park became the 13th national park in Japan, and the only one in southern Hokkaido, in July 1958. Mt. Hokkaido Komagatake, which is an active volcano, and the Onuma, Konuma, and Junsai lakes, were created by the eruption, and they and their surrounding area with its rich natural environment are designated as this park. The total area is 9,083 hectares and spans three towns: Shikabe, Nanae, and Mori.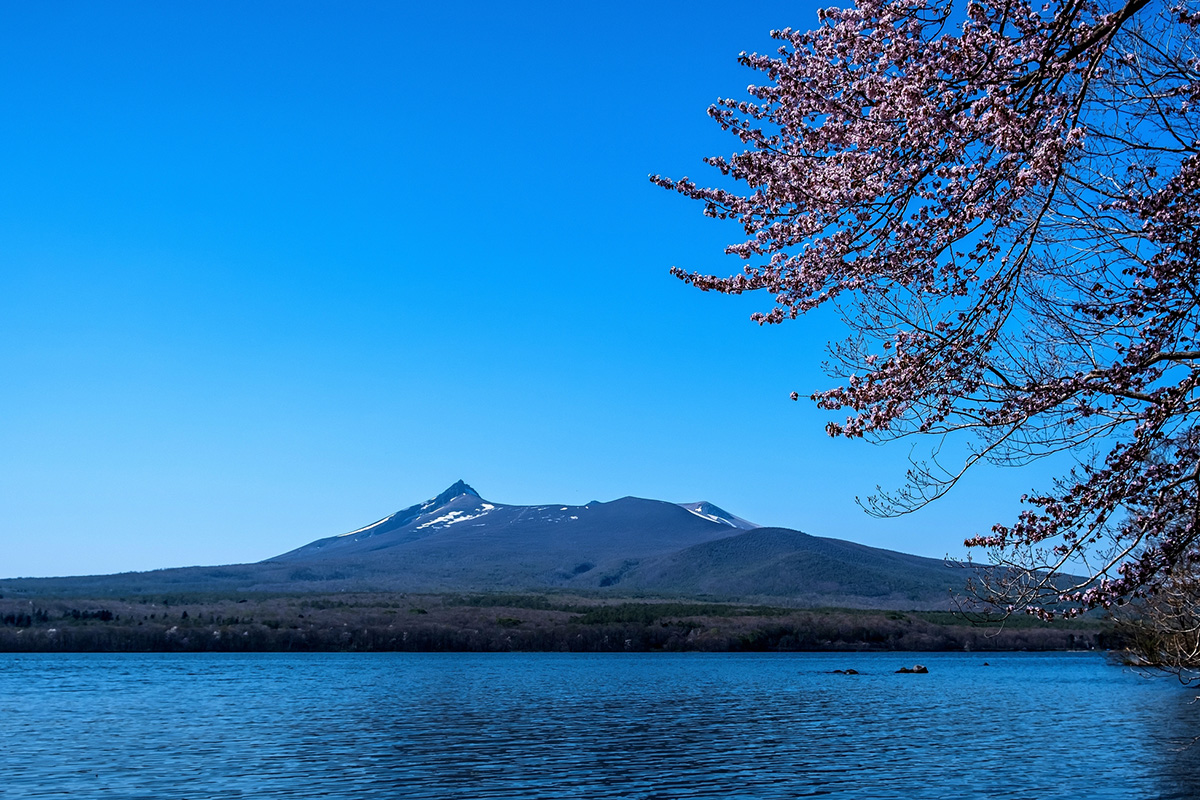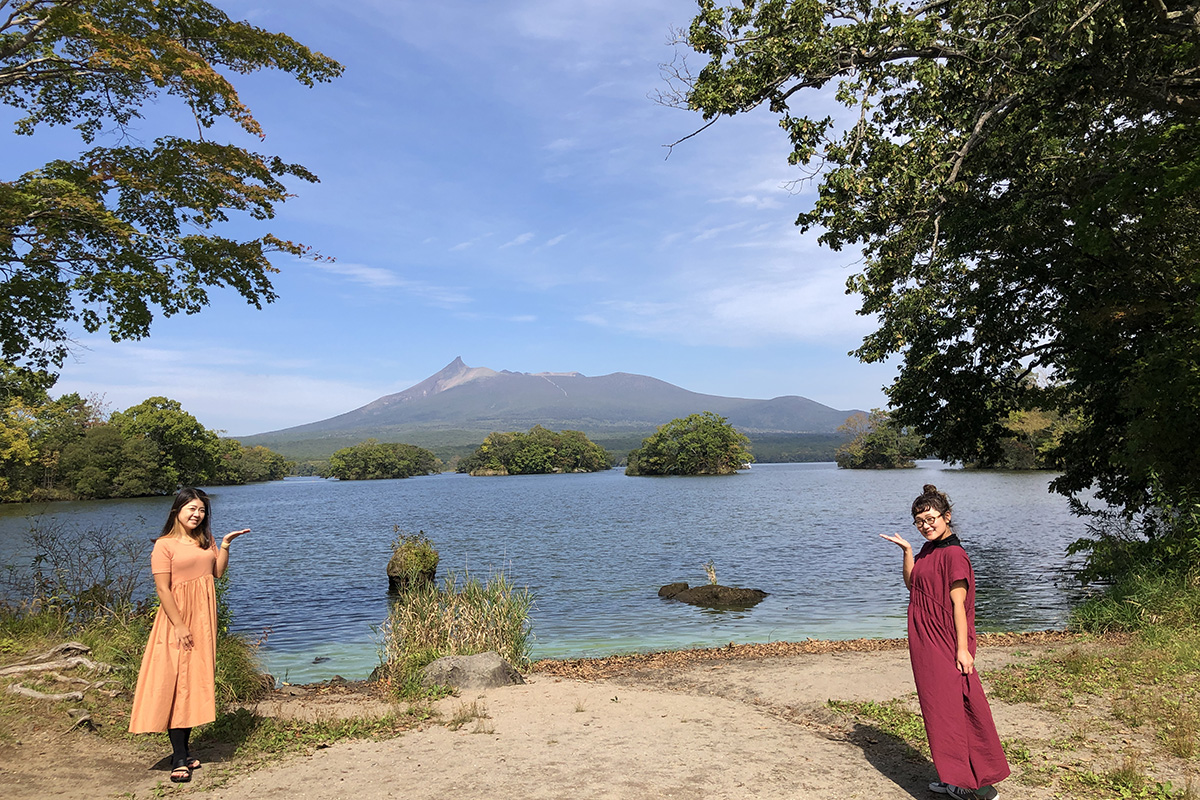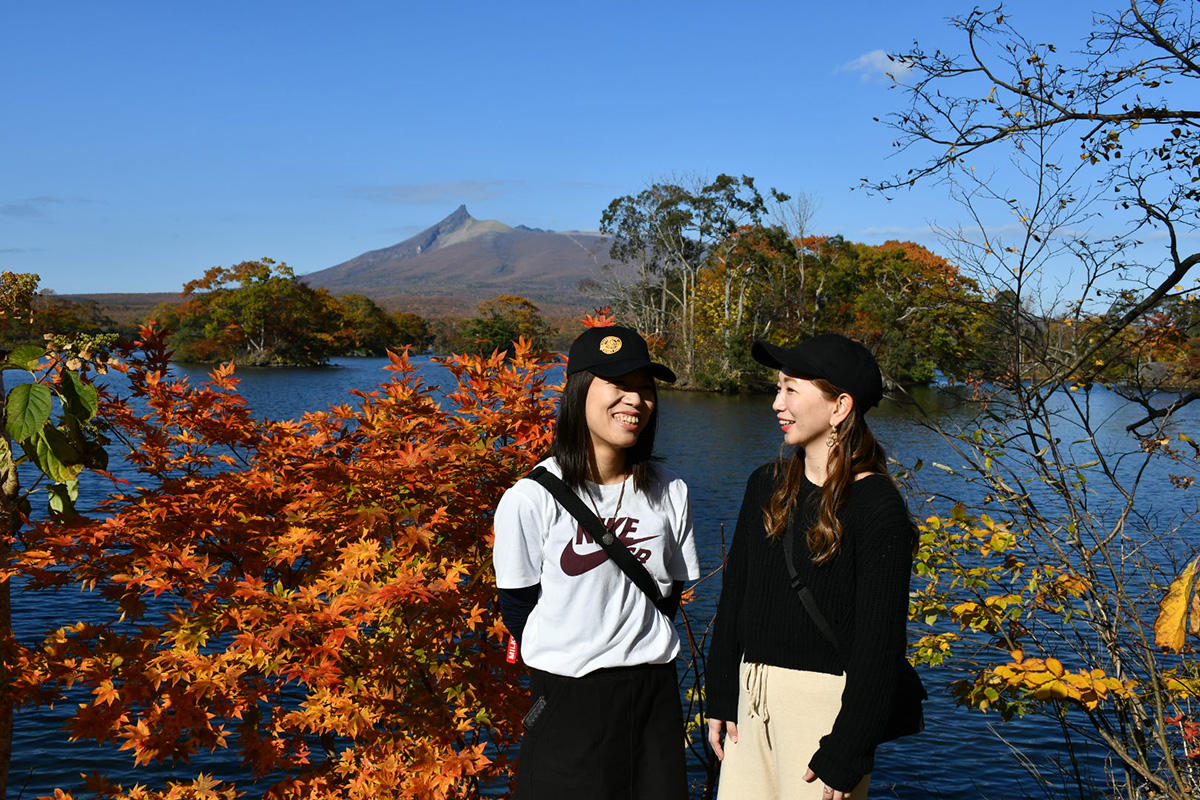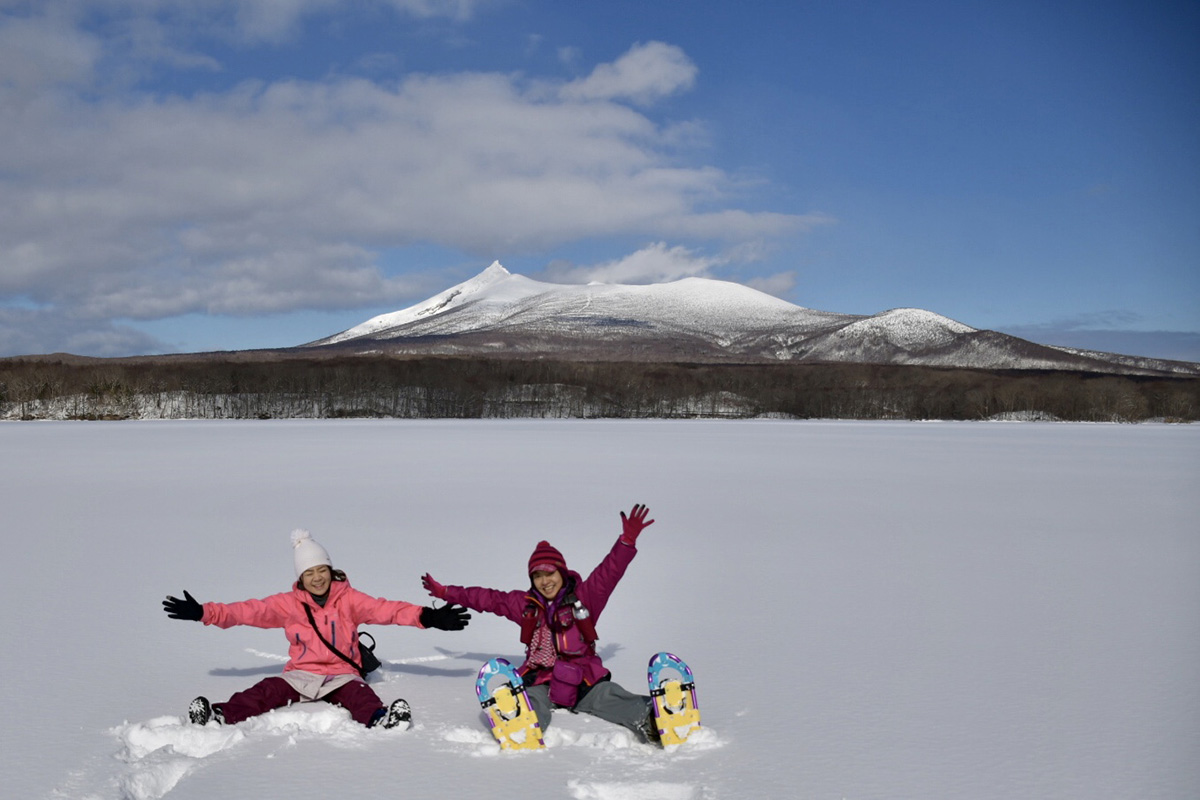 Onuma Quasi-National Park is relatively close to Hakodate and is an area rich in nature where visitors can enjoy the changing scenery of the four seasons. In spring, cherry blossoms are in full bloom, in summer they are covered with beautiful greenery, in autumn they are covered with autumn leaves, and in winter you can enjoy smelt fishing on the frozen lake.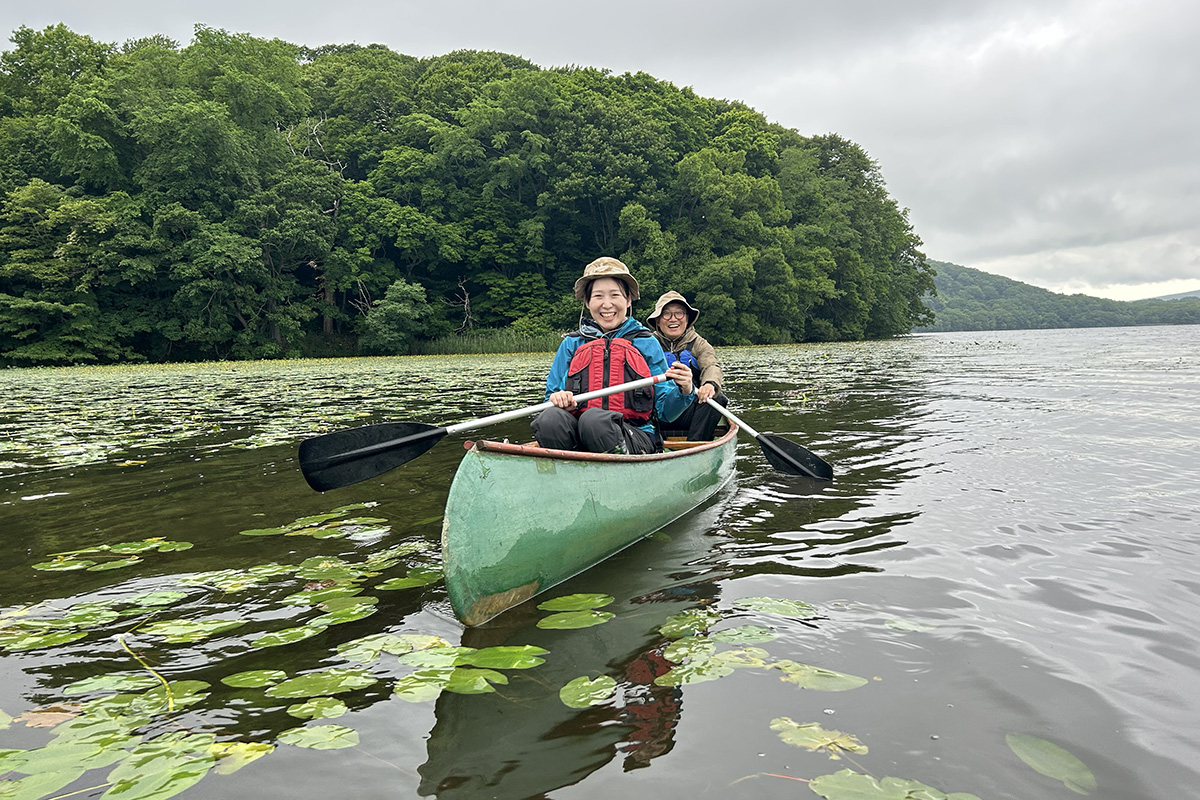 You can enjoy canoeing as well. Visitors can also enjoy activities such as walks and boat rides by the lakeside. Mt. Hokkaido Komagatake, which can be seen from anywhere in the park, is a landmark of Onuma Quasi-National Park. It is also home to a variety of wildlife and plants. Diverse ecosystems such as lakes, forests, and grasslands are protected. Bird and wildlife watching and nature walks can be enjoyed! There are also hot spring resorts scattered around Onuma Quasi-National Park. Visitors can relax in hot springs in the midst of nature.
Hiking at Mt. Hokkaido Komagatake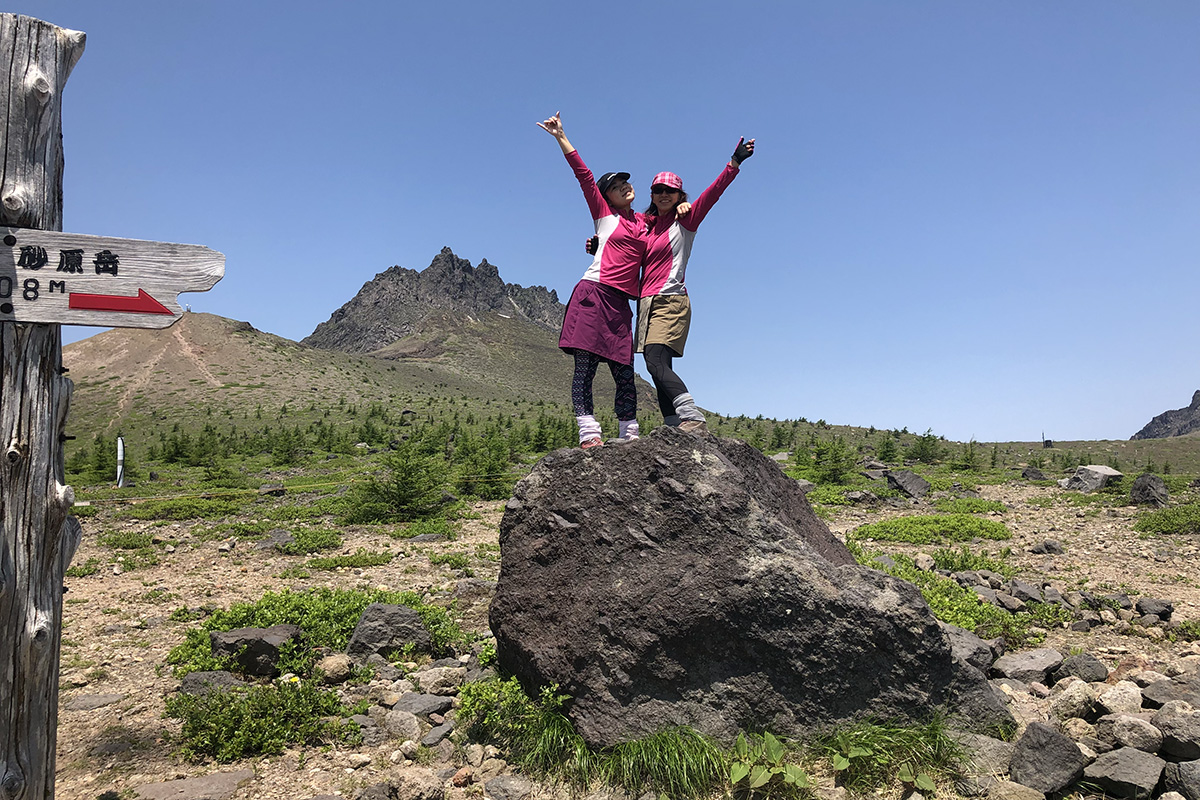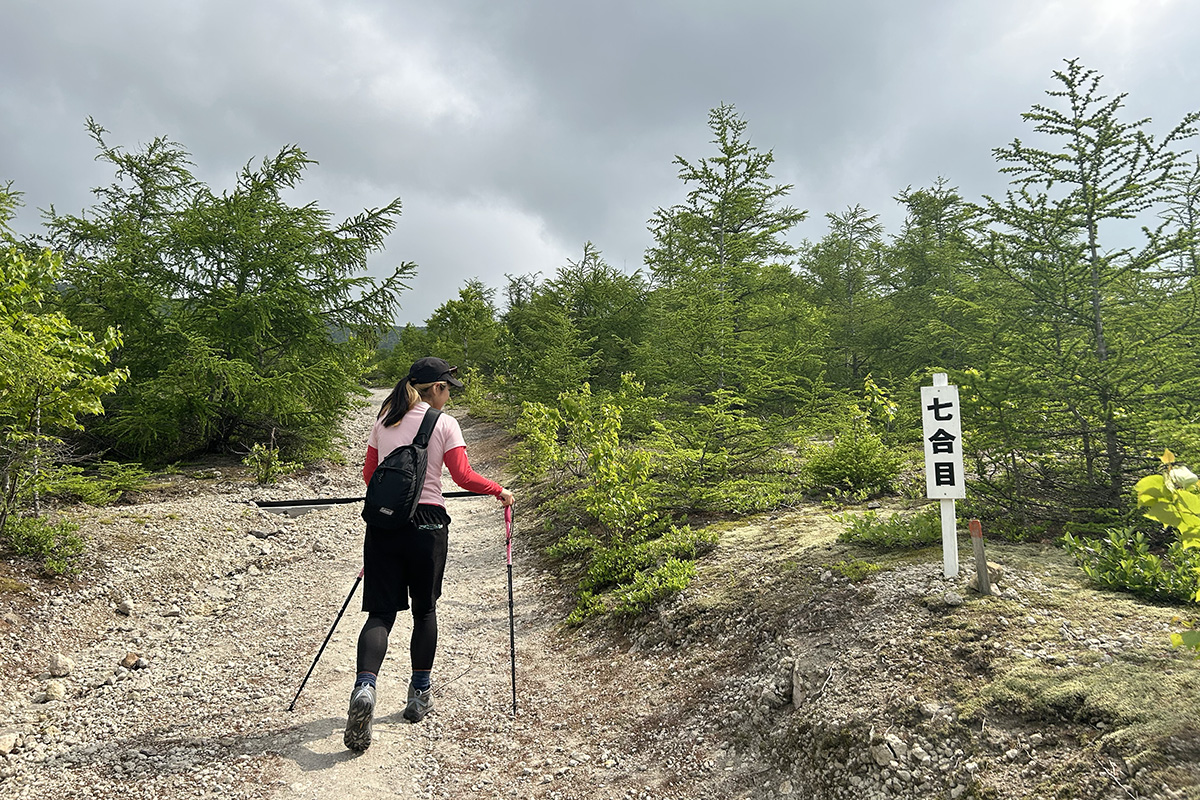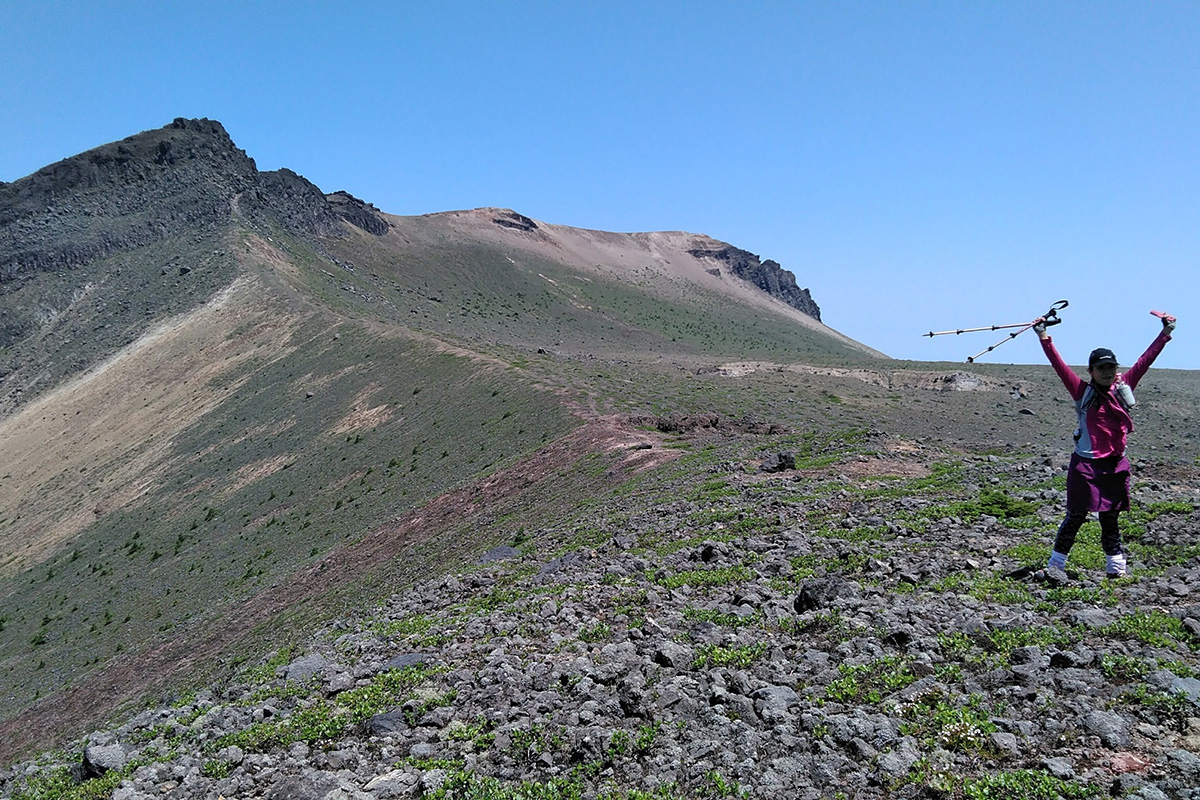 It is said that there are 18 mountains named "Komagatake" in Japan. Local people call this one Komagatake, but its official name is Hokkaido Komagatake. "Koma" means "horse". The name is derived from the fact that the mountain's shape looks like a horse, and that when snow falls on the mountain, it looks the shape of a horse. There are many mountains named Komagatake in eastern Japan.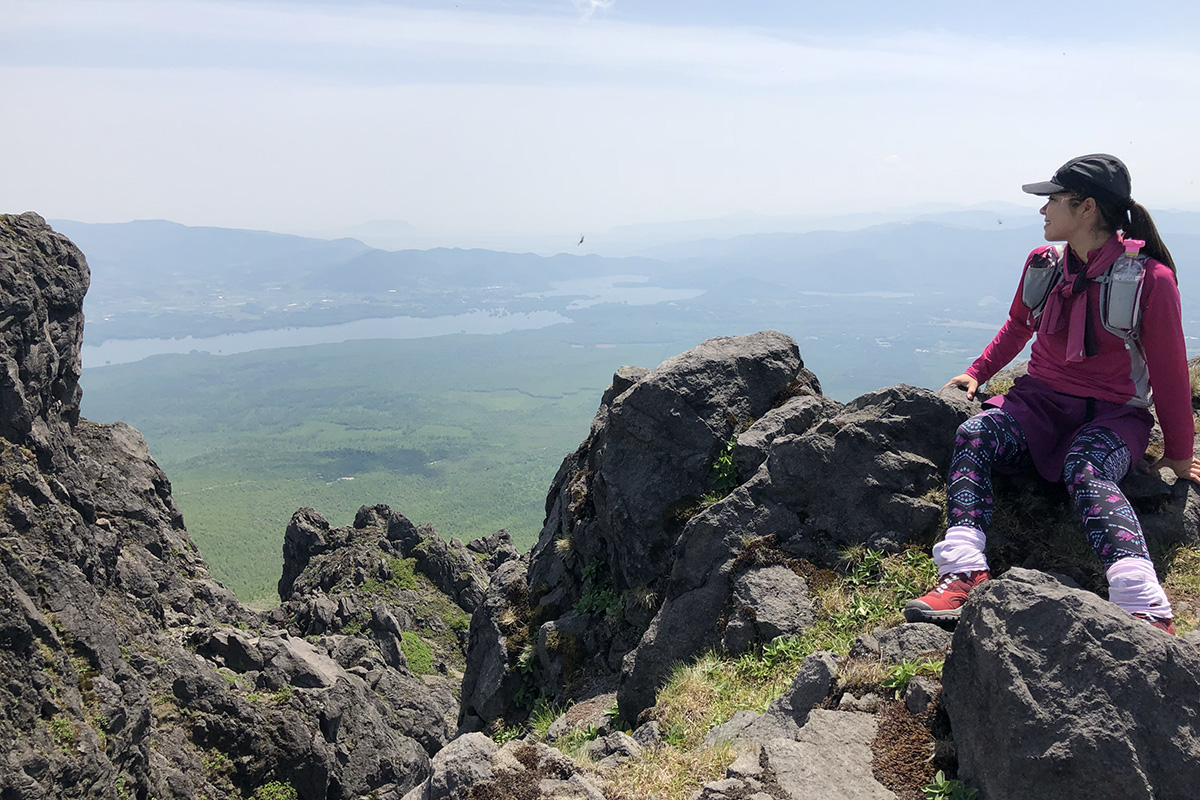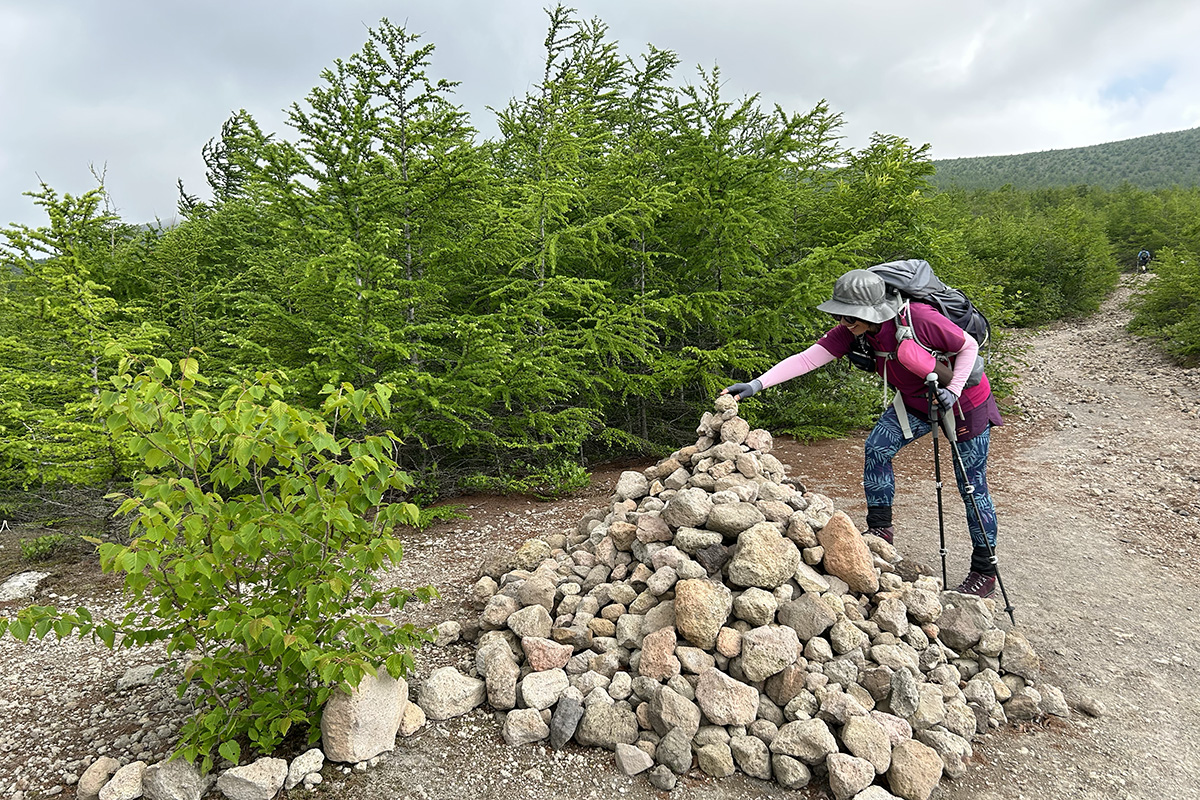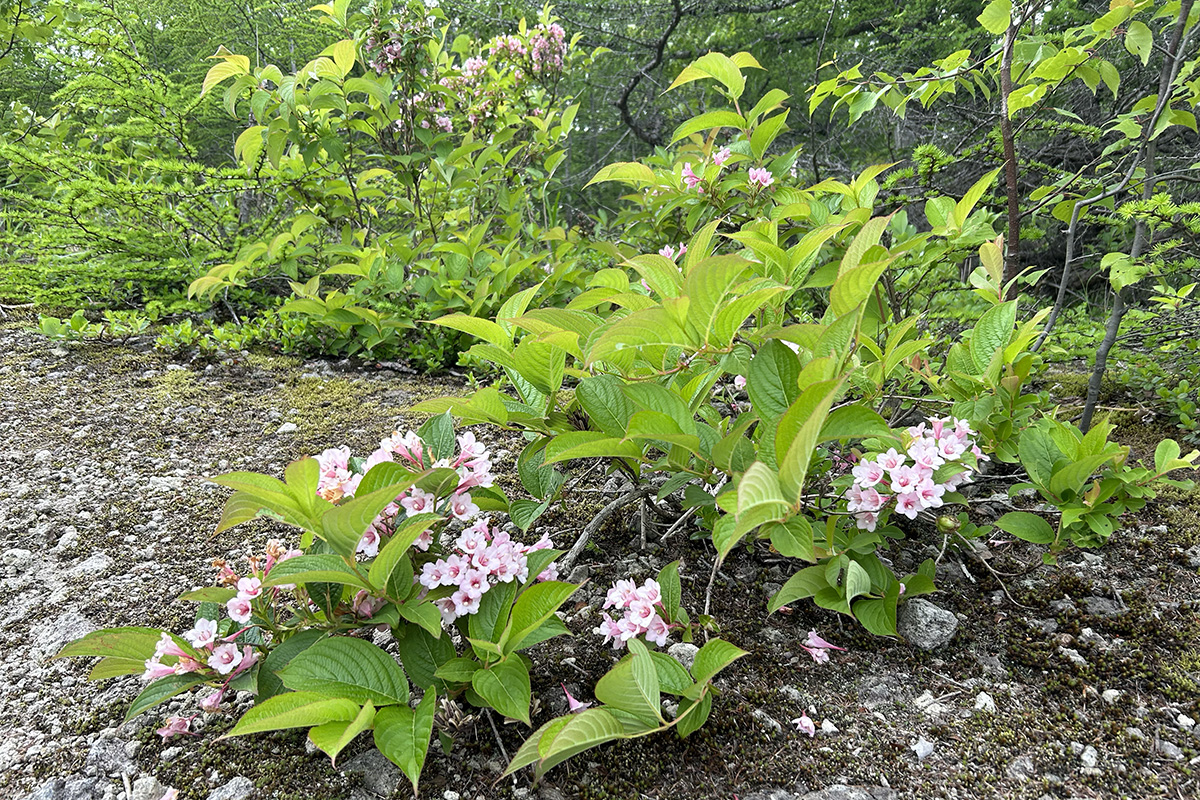 You can enjoy the view of Mt. Hokkaido Komagatake from Onuma Quasi-National Park, but you can also enjoy hiking Mt. Hokkaido Komagatake. Local children sometimes hike it for their school activities. Mt. Hokkaido Komagatake's elevation is 1,131 meters. Because it is an active volcano, entry to the area within a 4 km radius of the summit crater is restricted, so the final point for hiking is Umanose, at an elevation of about 900 meters. It is possible to reach the 6th station of the mountain by car, and it takes about one hour to hike the mountain from the parking lot at the 6th station to Umanose. Beginners can hike the mountain, but it is recommended to wear hiking shoes because of the steep slopes and large rocks and stones. The mountain is open from June to October.
History of Mt. Hokkaido Komagatake
 Mt. Hokkaido Komagatake started as an active volcano more than 30,000 years ago and was inactive for 25,000 years. Then, 6,000 years ago, pyroclastic fallout and pyroclastic flows erupted, before it was inactive again for 500 years. The original Mt. Hokkaido Komagatake was not shaped like today's, it looked like Mt. Fuji and was 1,700 meters in height.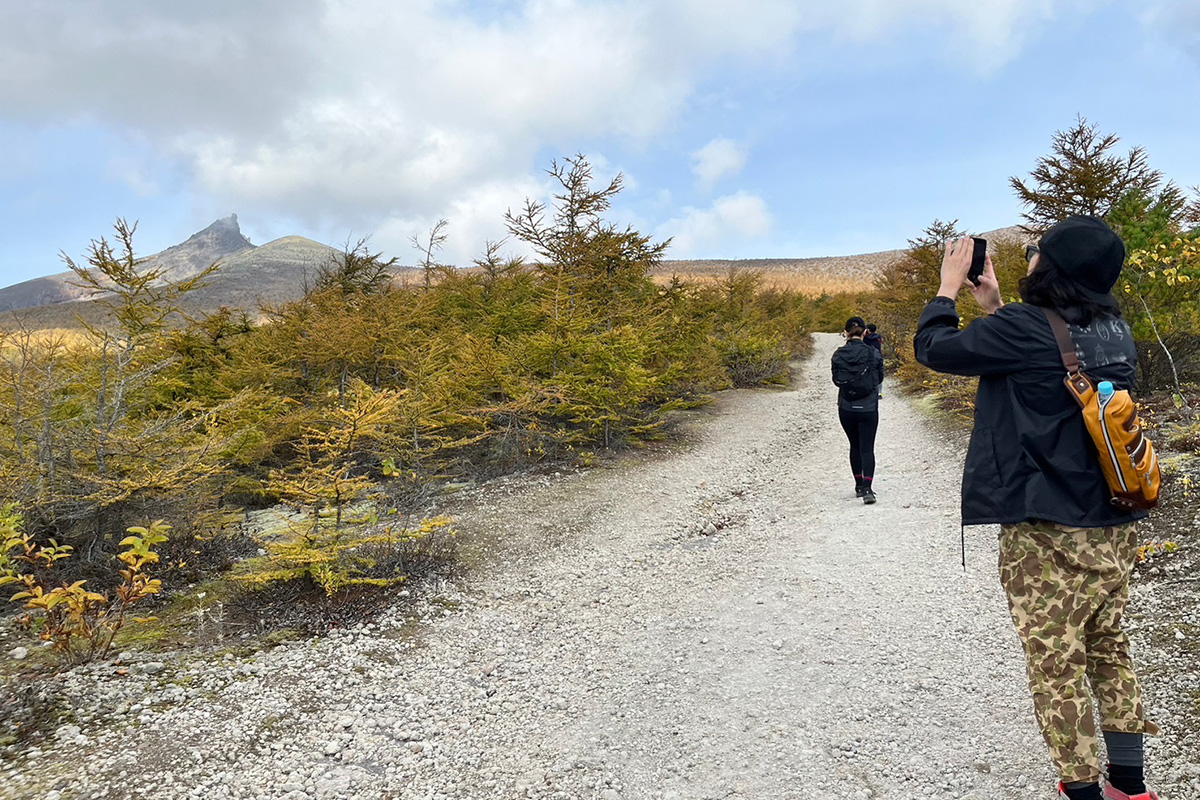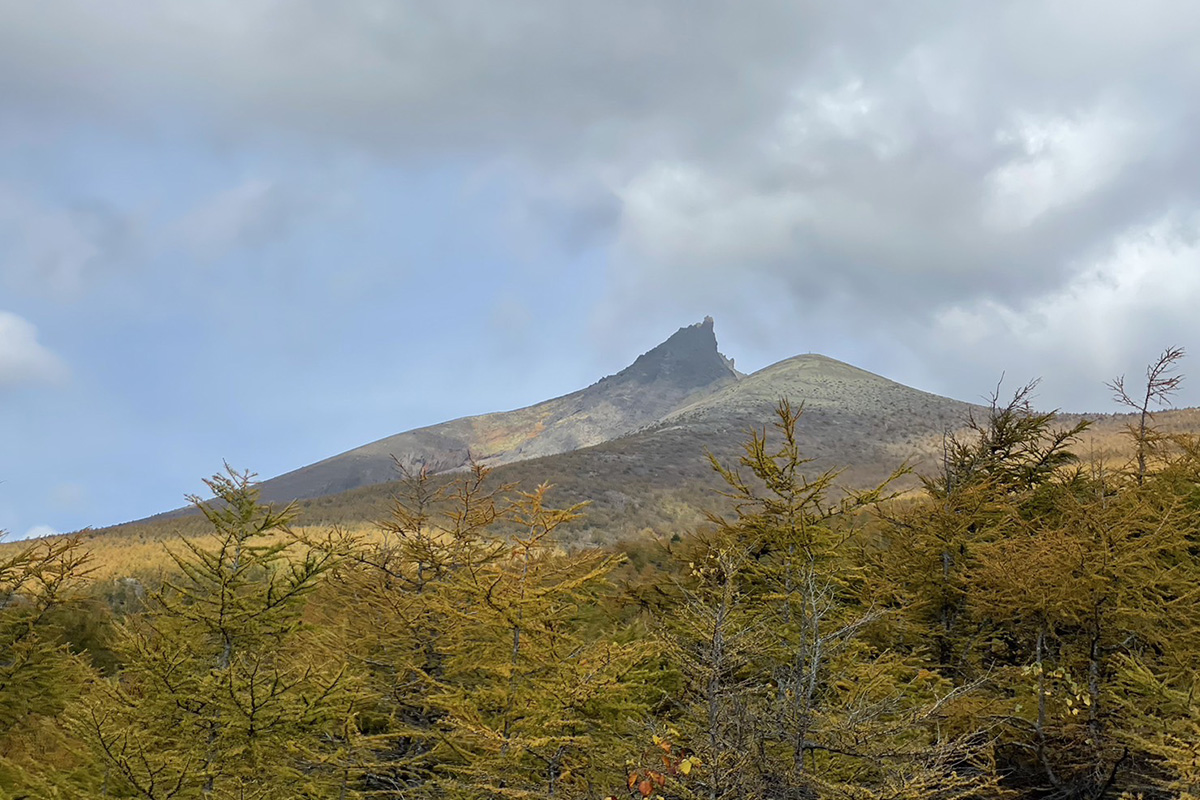 There was a major eruption in 1640. The debris avalanche from this eruption choked the river and formed a lake. That eruption greatly collapsed the summit, creating the main peaks of today's shape. The summits are called Kengamine (1,131 m), Sunahara-dake (1,113 m, Sumidamori (892 m), Umanose(about 900 m). Since then, Mt. Hokkaido Komagatake has erupted more than a dozen times in the 350 years up to the present. It has been designated as a permanently observed volcano by the Japan Meteorological Agency, and is monitored 24 hours a day.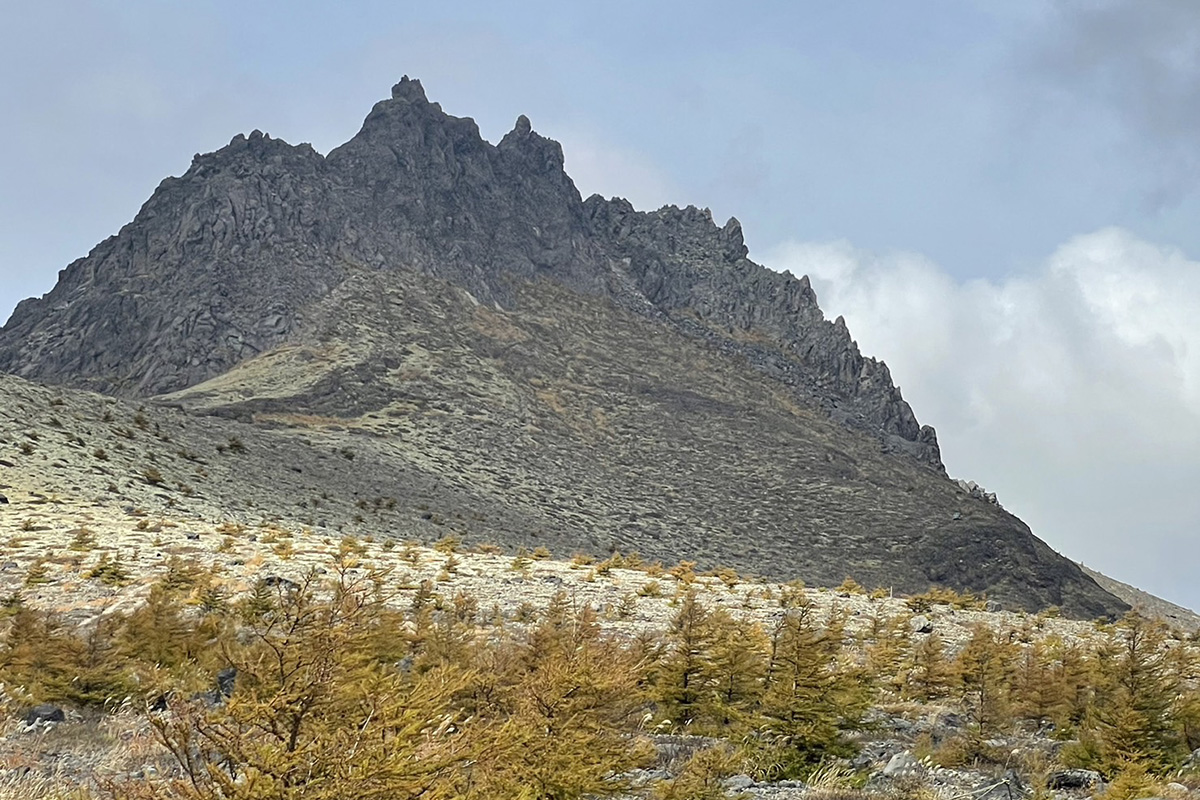 Shikabe and lava from Mt. Hokkaido Komagatake eruptions
 Onuma Quasi-National Park, where Mt. Hokkaido Komagatake is located, straddles three towns: Shikabe, Nanae, and Mori. In this column, we will introduce the connection between Shikabe and Mt. Hokkaido Komagatake.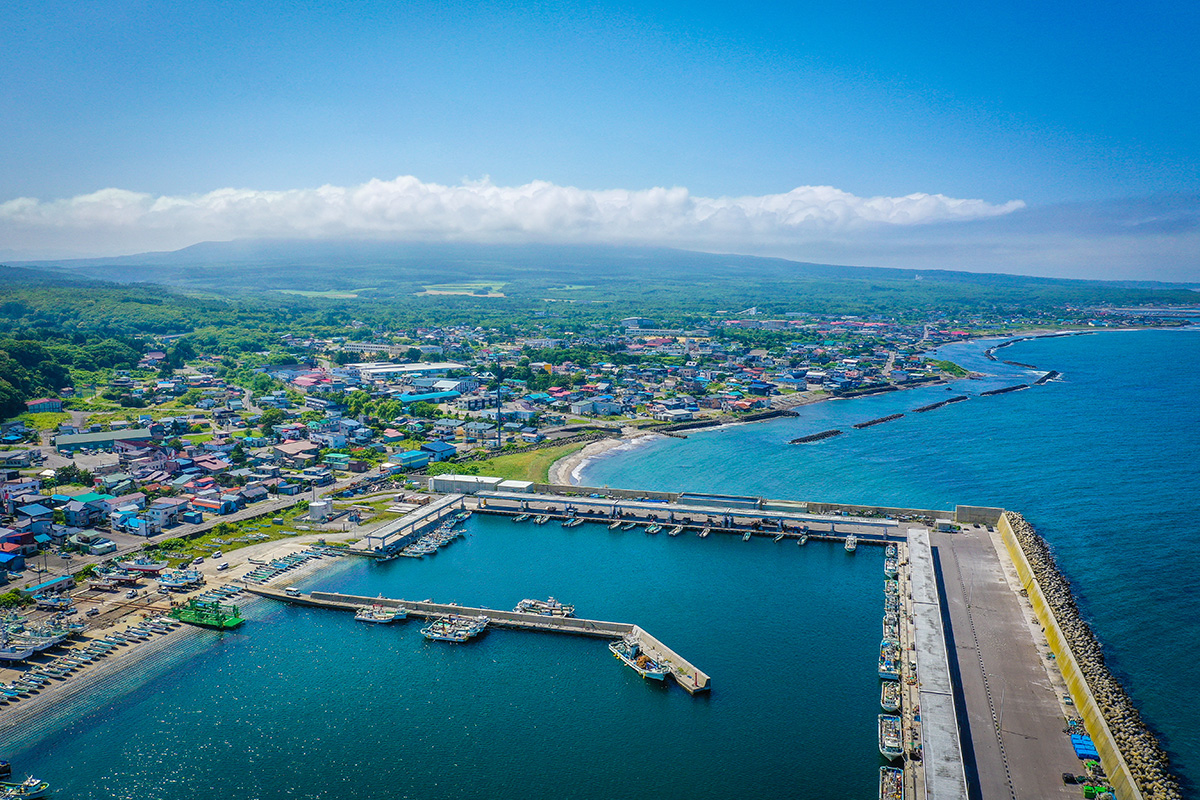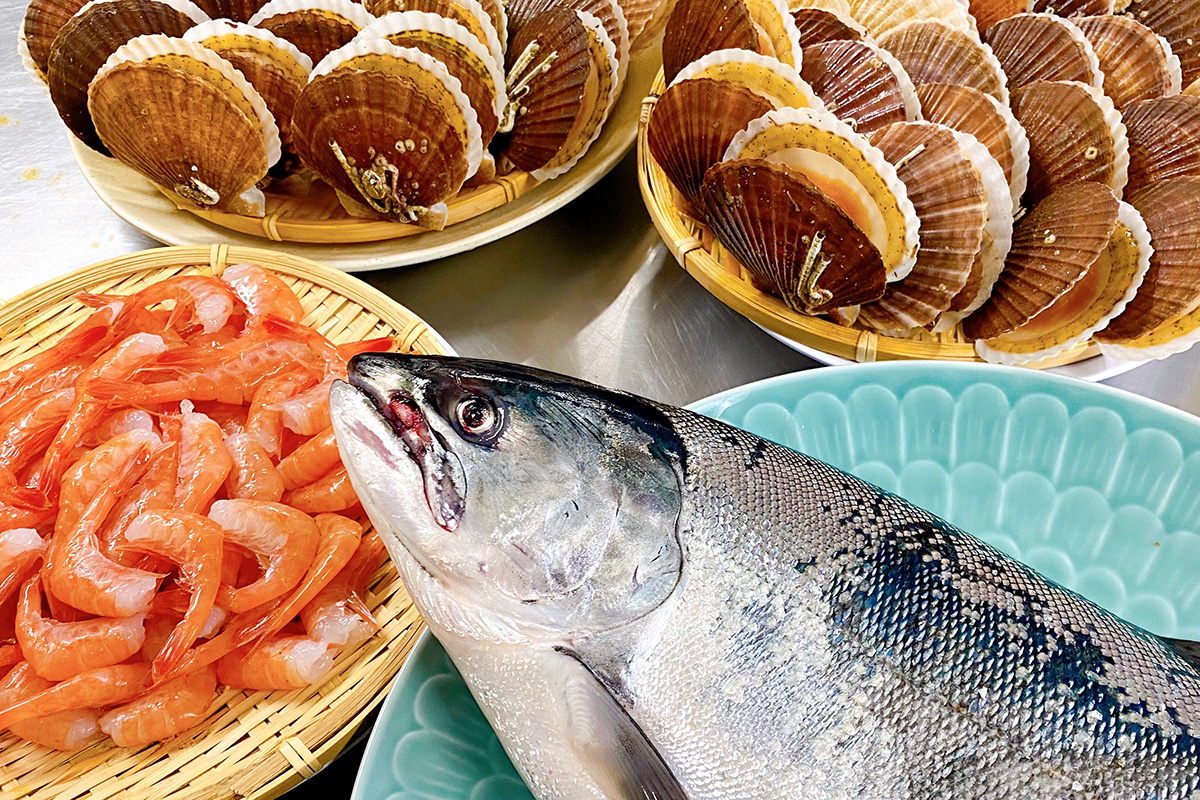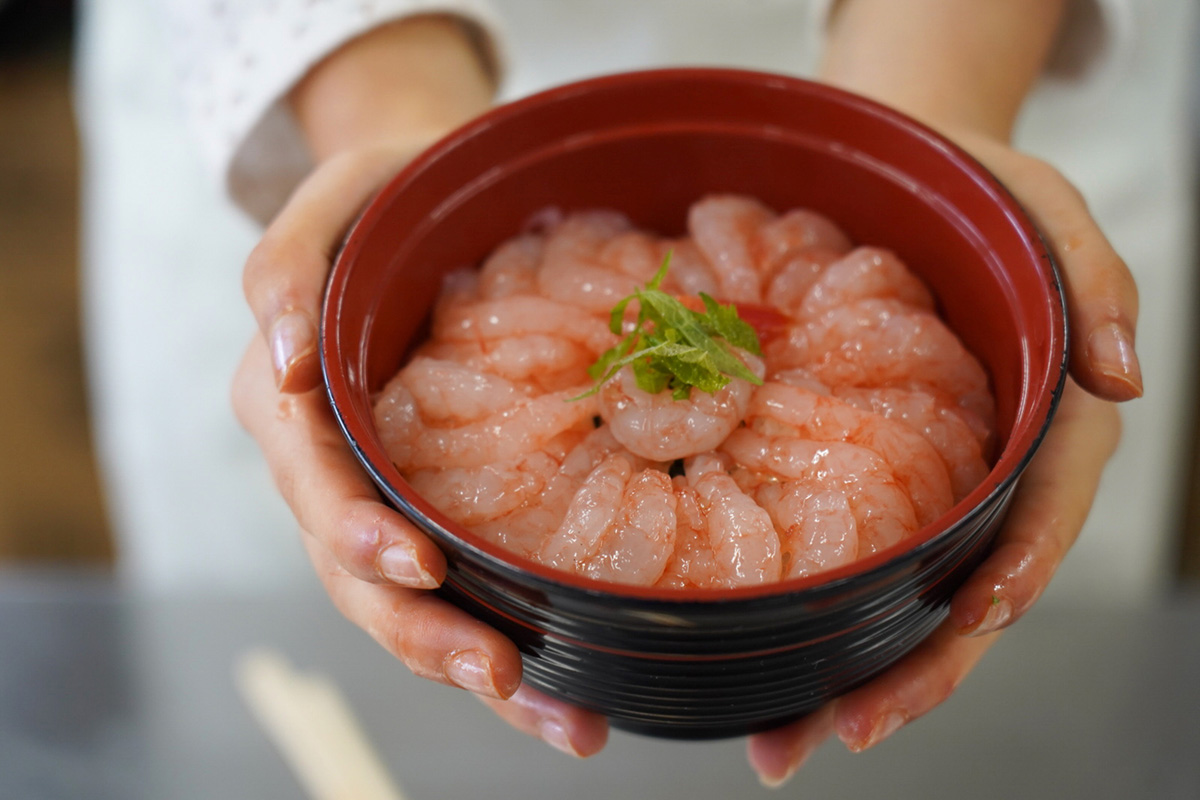 Shikabe is located about 30 minutes by car from Onuma Quasi-National Park, and has a population of about 3,700 (in 2022). Facing Volcano Bay, Shikabe is a fishing town where most of the residents engage in fishing and fish processing. Kelp, scallops, octopus, and cod (Alaska Pollack) are the specialties of the town. Shikabe has suffered from Mt. Hokkaido Komagatake volcanic eruption-related disasters many times. While the town has suffered damage, pumice stone is a symbol of the town's recovery, as pumice stone that fell into the sea came to improve kelp growing or farming. Lava from the eruption of Mt. Hokkaido Komagatake has nourished the sea. It is surprising that it is suitable for kelp cultivation and is also a habitat for fish, which can be fished.
 Lava from the eruption of Mt. Hokkaido Komagatake, an active volcano, nourishes the sea and the land, making the town's specialty products. When you hear the word "active volcano," you may worry about eruptions and damage, but there are also these benefits to living with an active volcano. What you will see in this town will offer you many new discoveries and learning experiences. Seeing the history and benefits of these active volcanoes, and the lifestyles they support, will be a special experience during your trip to Hokkaido.
Let's try local specialties!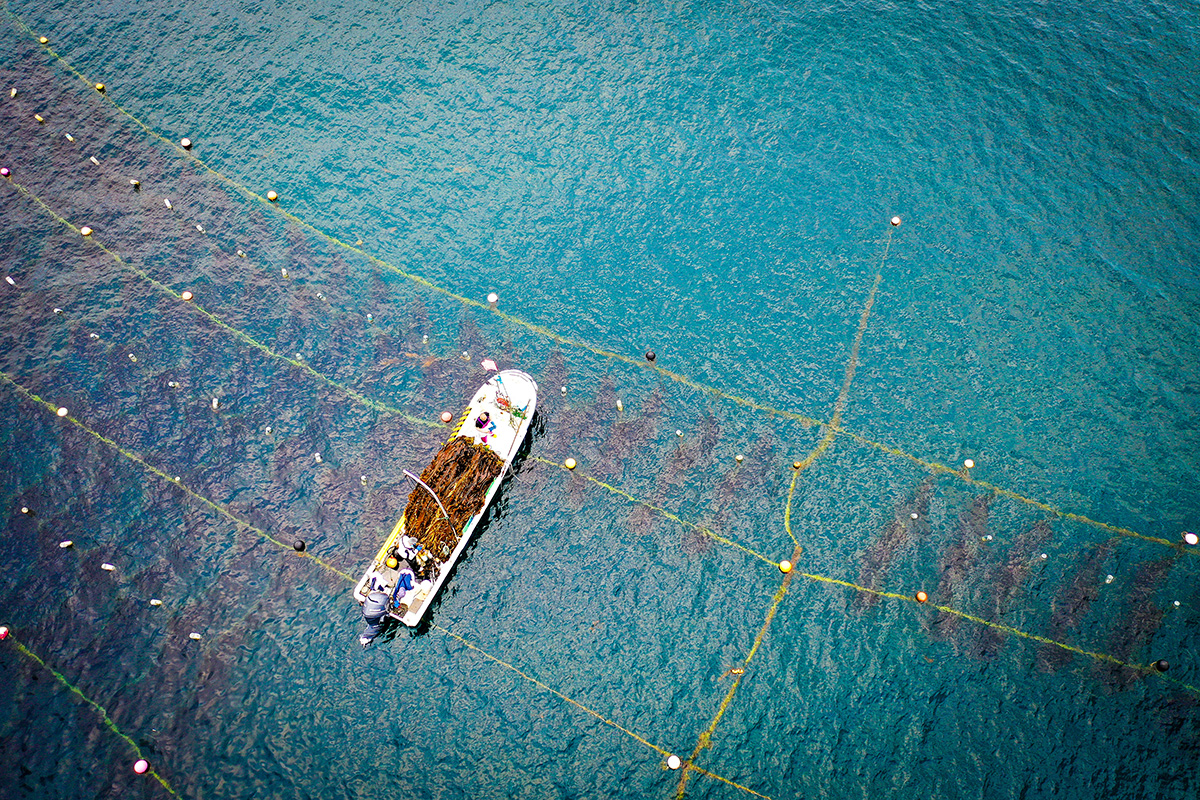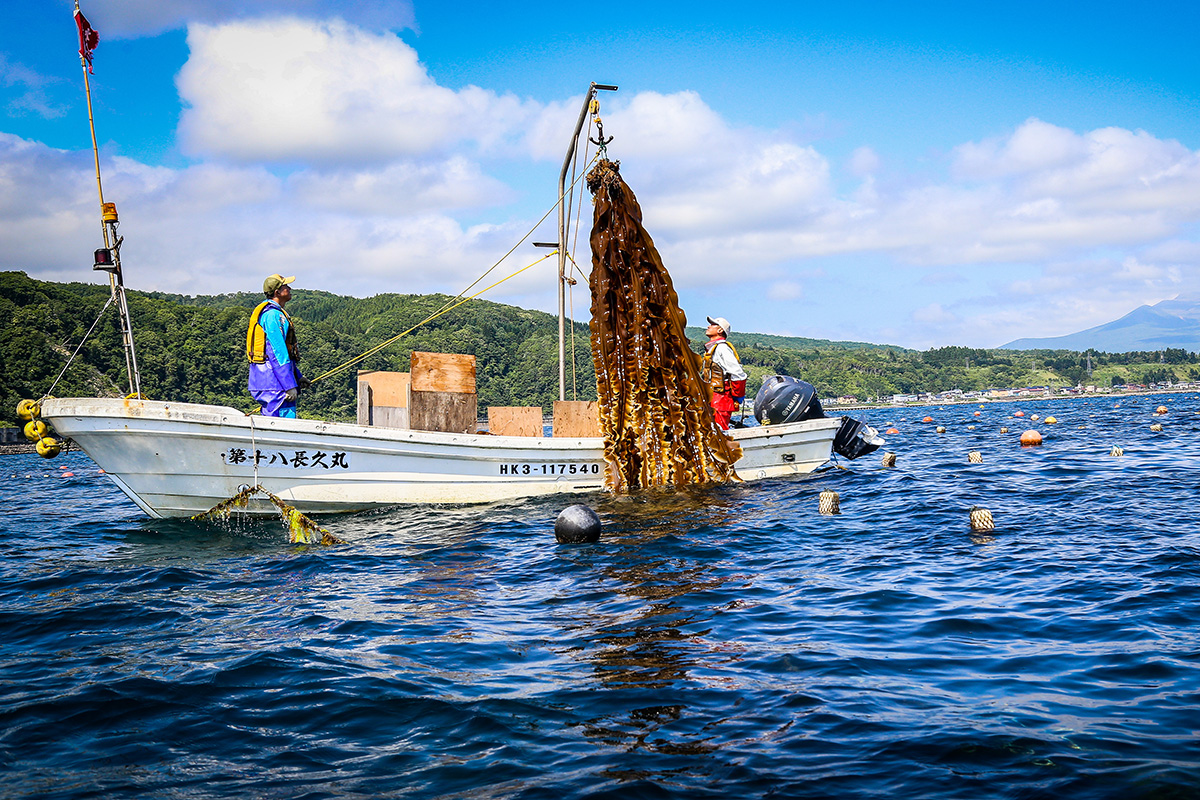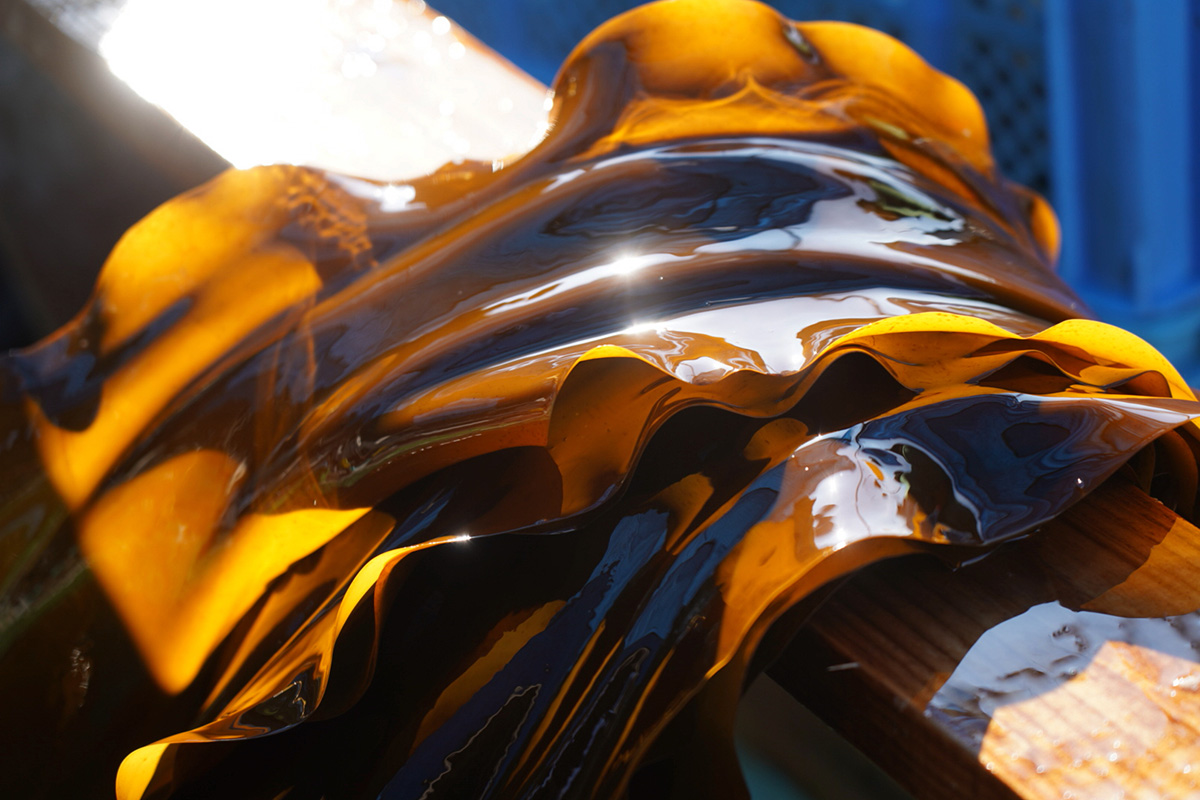 One of the specialties of Shikabe is kelp. Have you ever heard the word "dashi"? Dashi is one of the most commonly used seasonings in Japanese cuisine, and refers to a liquid that extracts flavor and umami from ingredients. The umami and flavor of kelp is extracted by soaking kelp in water and warming it. Dashi soup stock serves to enhance the taste and flavor of a dish and is an essential element of many Japanese dishes. Dashi is the most important part of Japanese cuisine. The quality of this dashi makes all the difference in how delicious it tastes. The kelp from Shikabe is the highest quality. It is highly aromatic, and there are many fans of this town's kelp throughout Japan.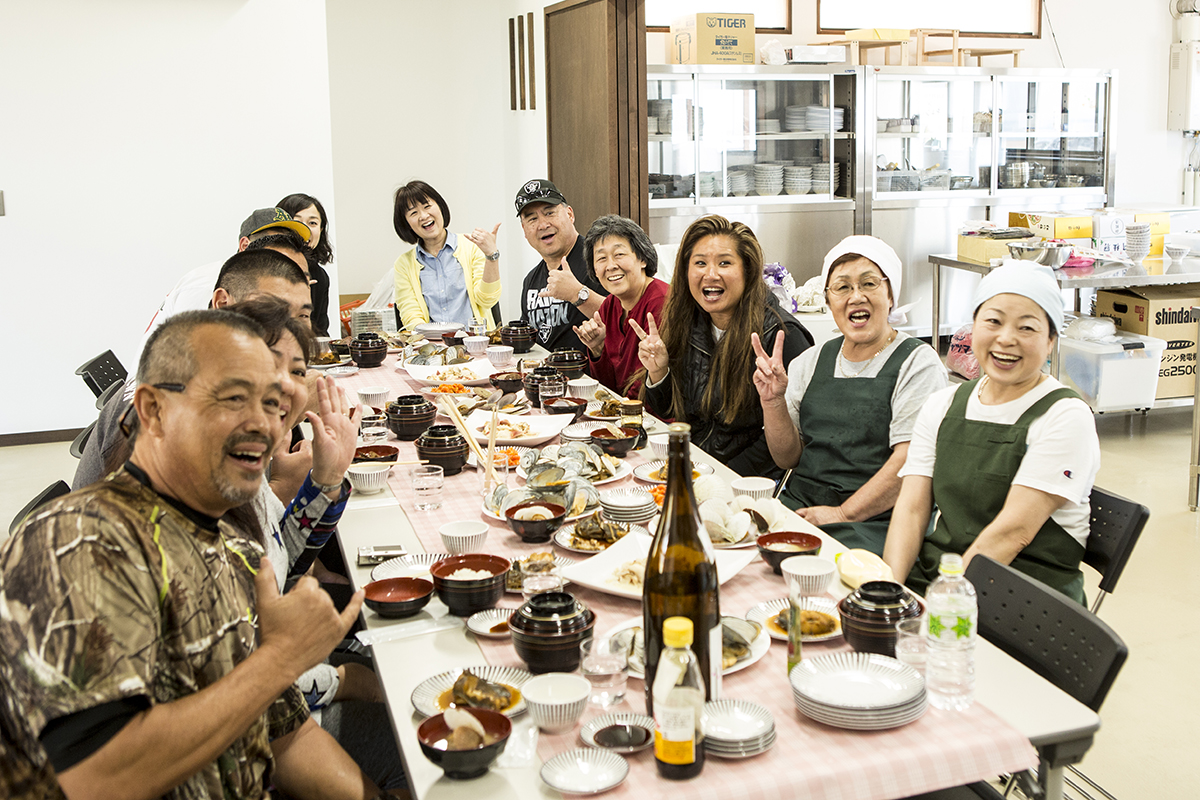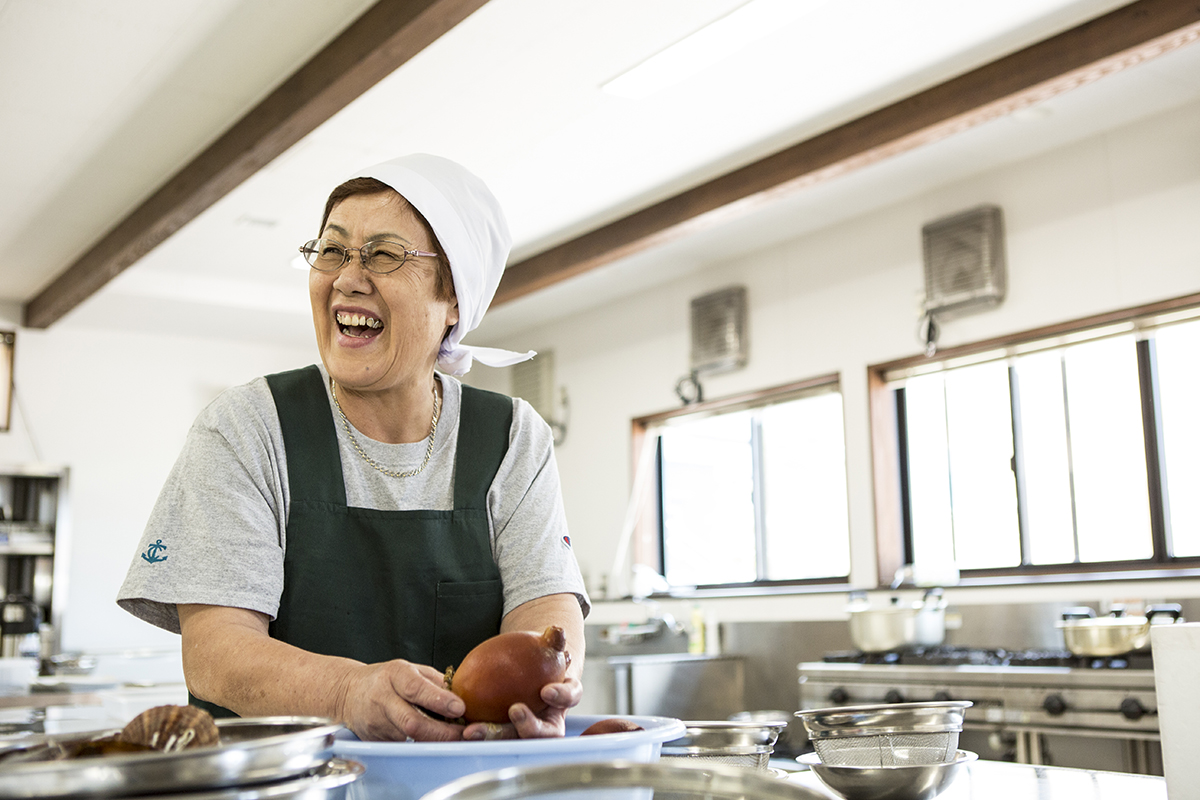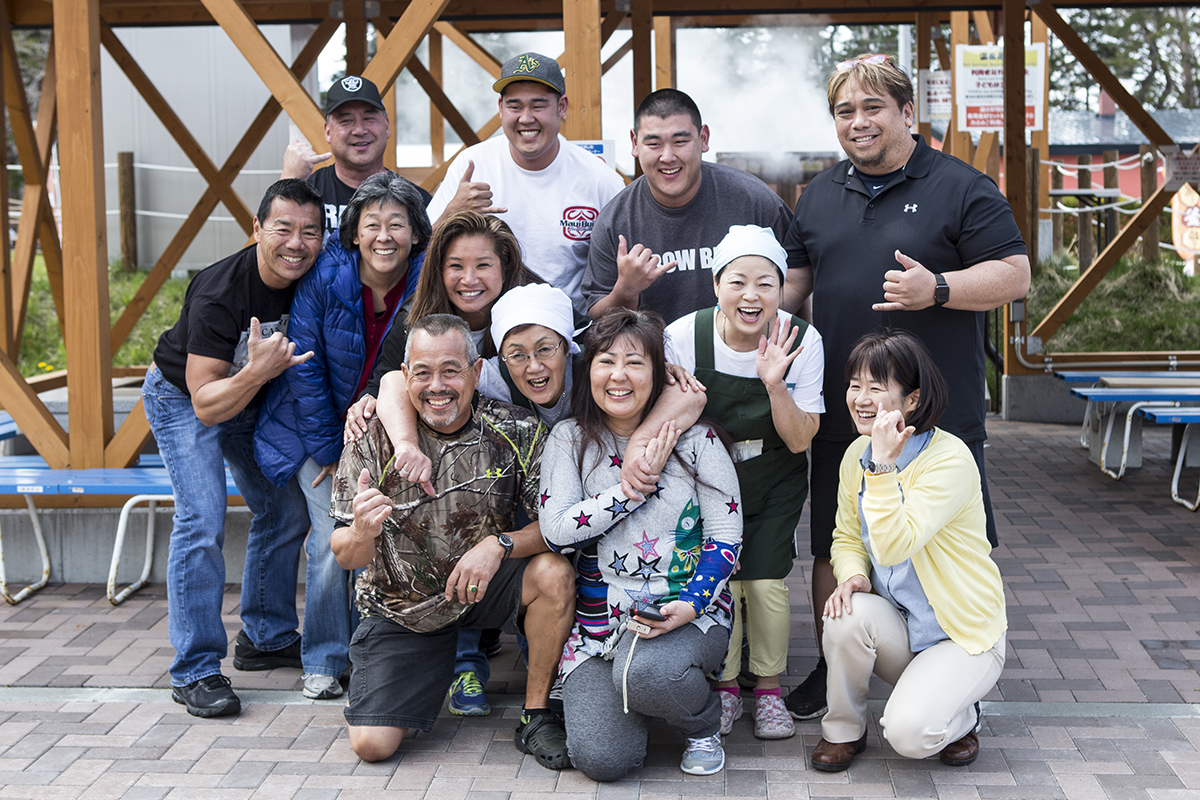 How about doing a cooking class in Shikabe during your Hokkaido trip? Learning about dashi and cooking with local fishermen's wives is a lot of fun! Visiting a beautiful active volcano and eating local foods is also a benefit of Mt. Hokkaido Komagatake. You can make soup stock with kelp, and cook and eat seasonal fish dishes. It will be a special experience of your Hokkaido trip!
Hot springs and geysers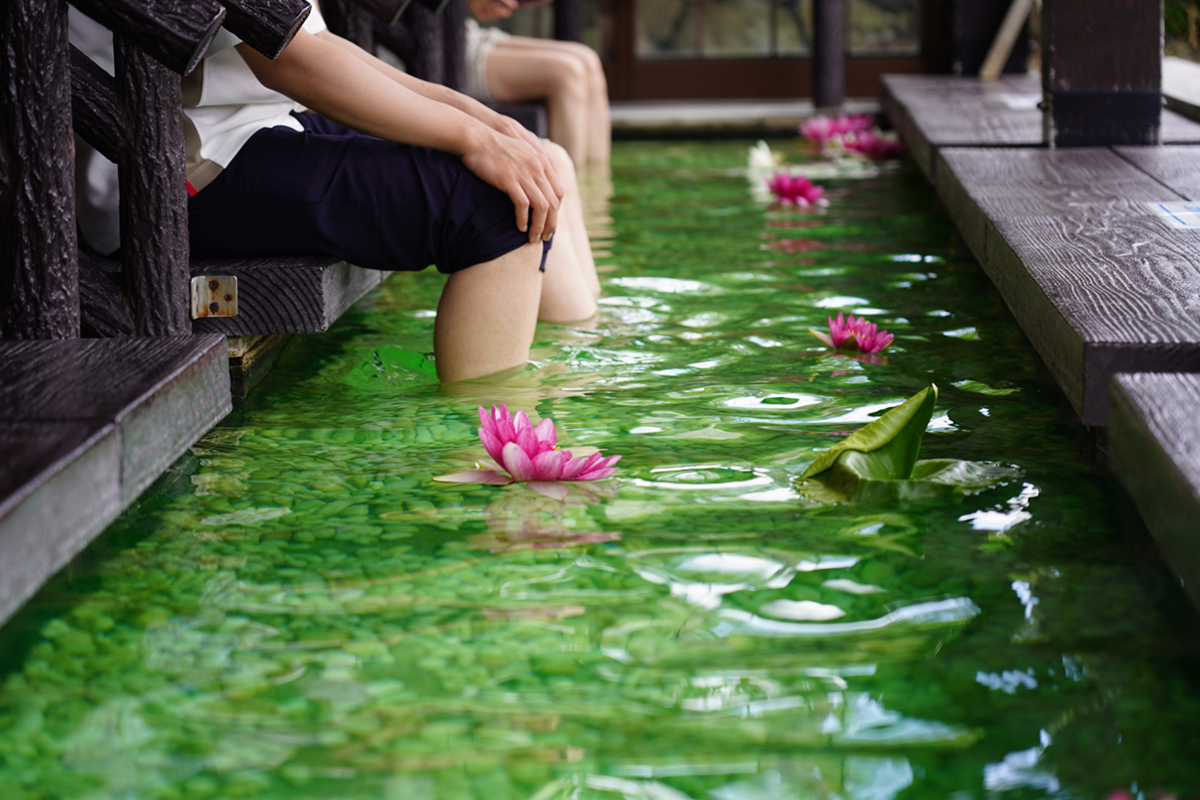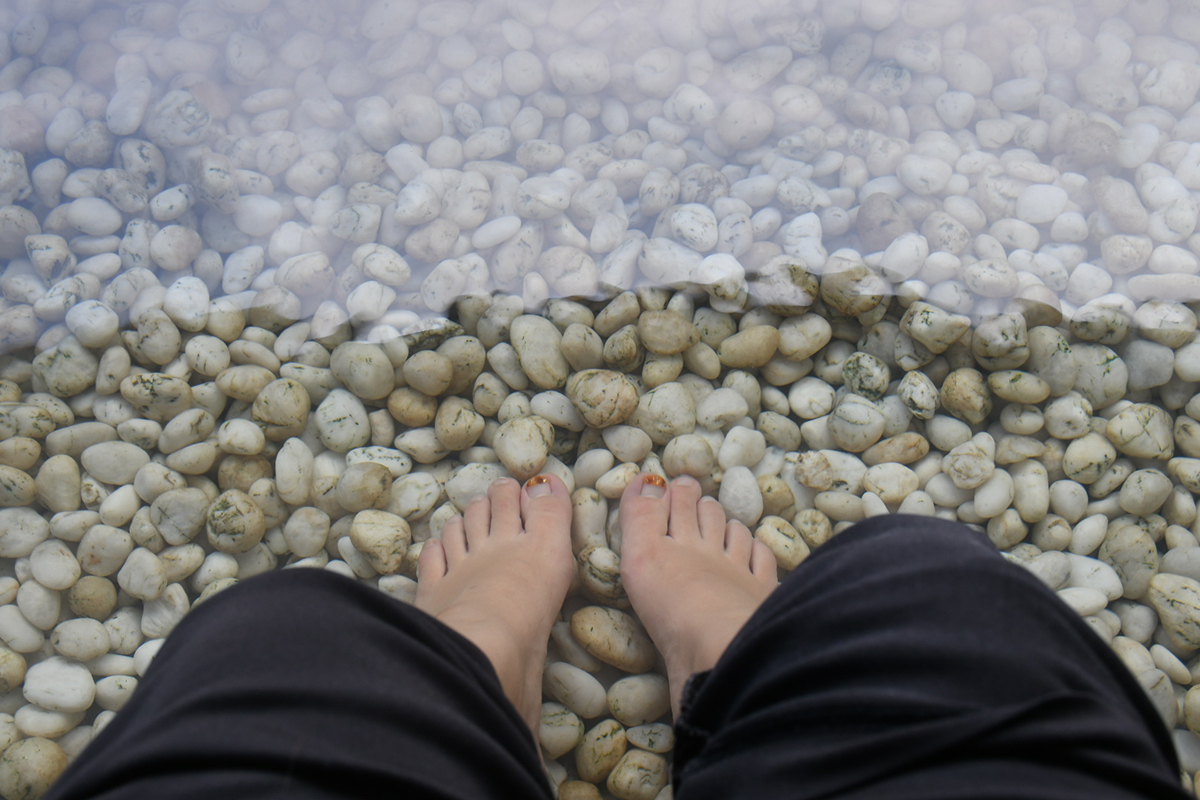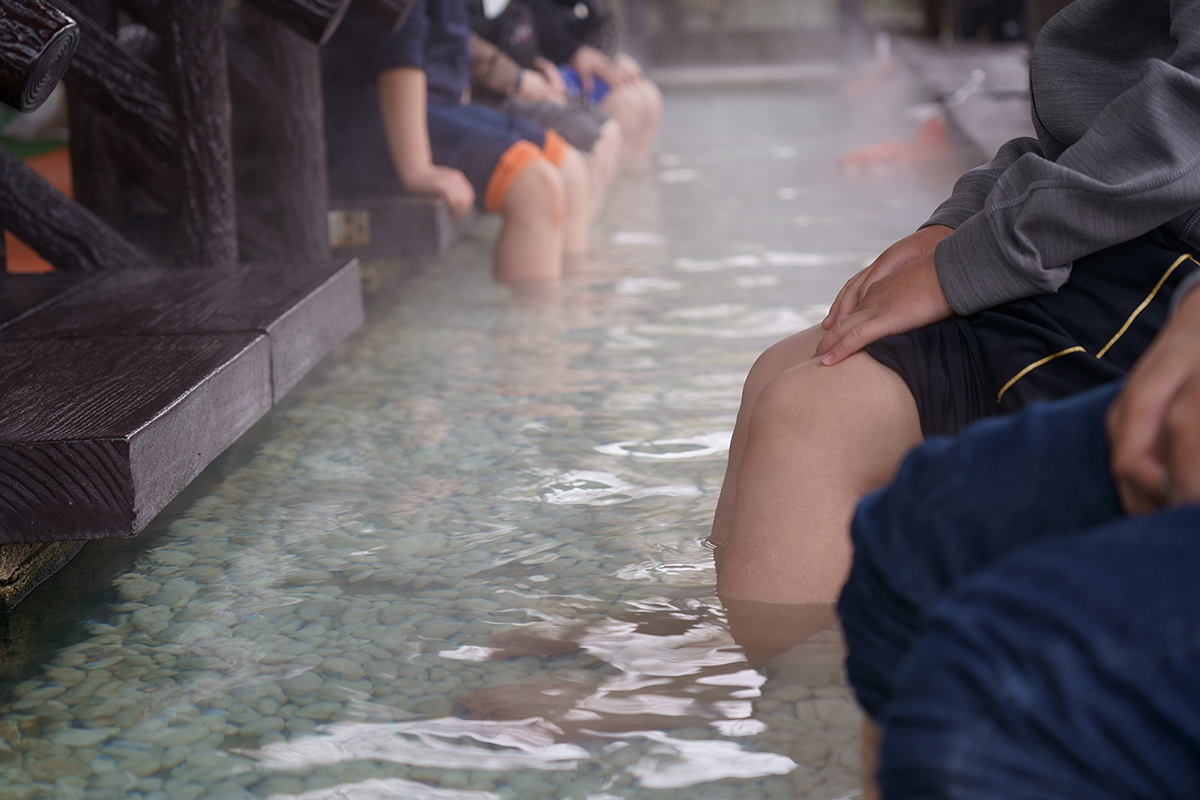 Another benefit of active volcanoes is hot springs. Active volcanoes have magma underground, and this activity generates geothermal heat. This geothermal heat can come into contact with groundwater which gushes out above ground as hot springs. Therefore, hot spring areas may form around active volcanoes. Locals in Hokkaido love hot springs! Hot springs are a form of health treatment, improving stiff shoulders and back pain, improving internal organ function, moisturizing the skin, and relaxing the body!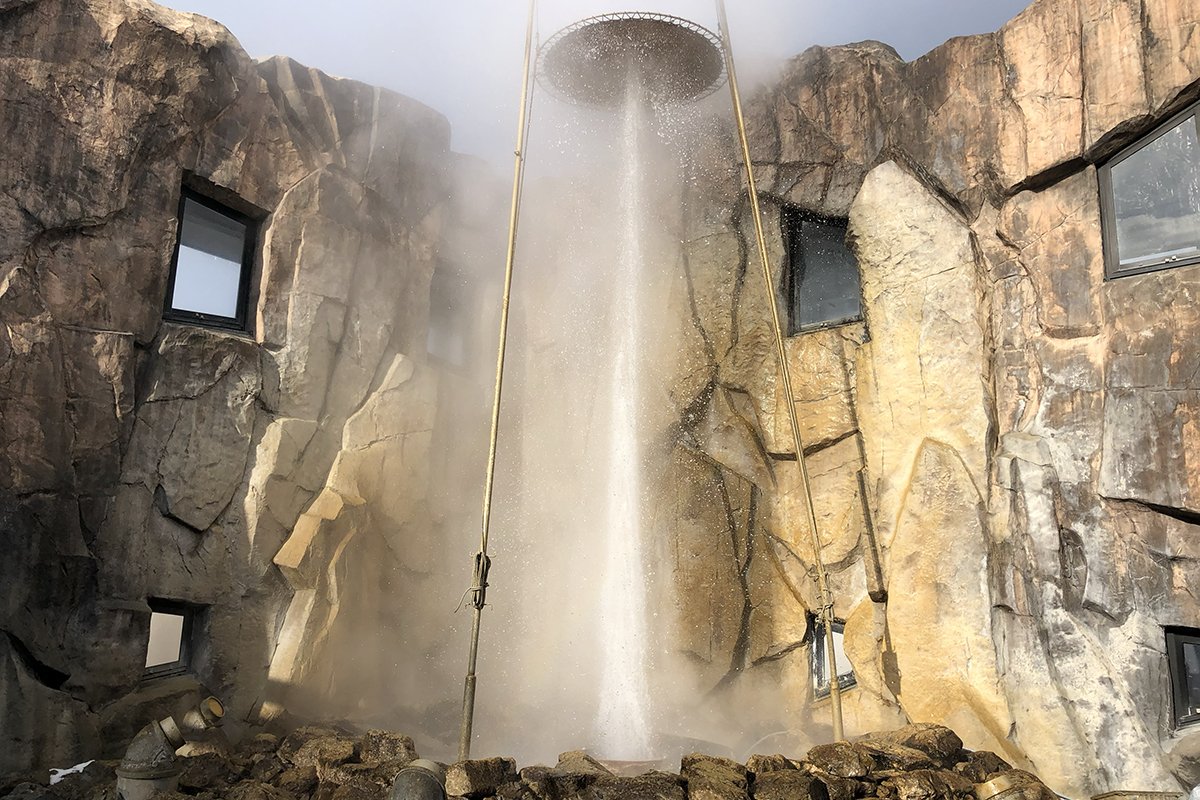 There is a geyser in Shikabe. A geyser is a hot spring that periodically erupts from the ground. Geysers are very rare in Japan, and the one in Shikabe was discovered by accident in April 1924 while digging for hot spring water. The force of nature alone causes hot water of approximately 100 degrees Celsius to spurt intermittently up to a maximum height of approximately 15 meters or more. You can see this geyser at the roadside station in Shikabe. You can also enjoy a hot spring footbath while viewing the geyser. Hot springs are one of the most attractive features of travel in Japan, and we highly recommend that you include this experience in your trip itinerary!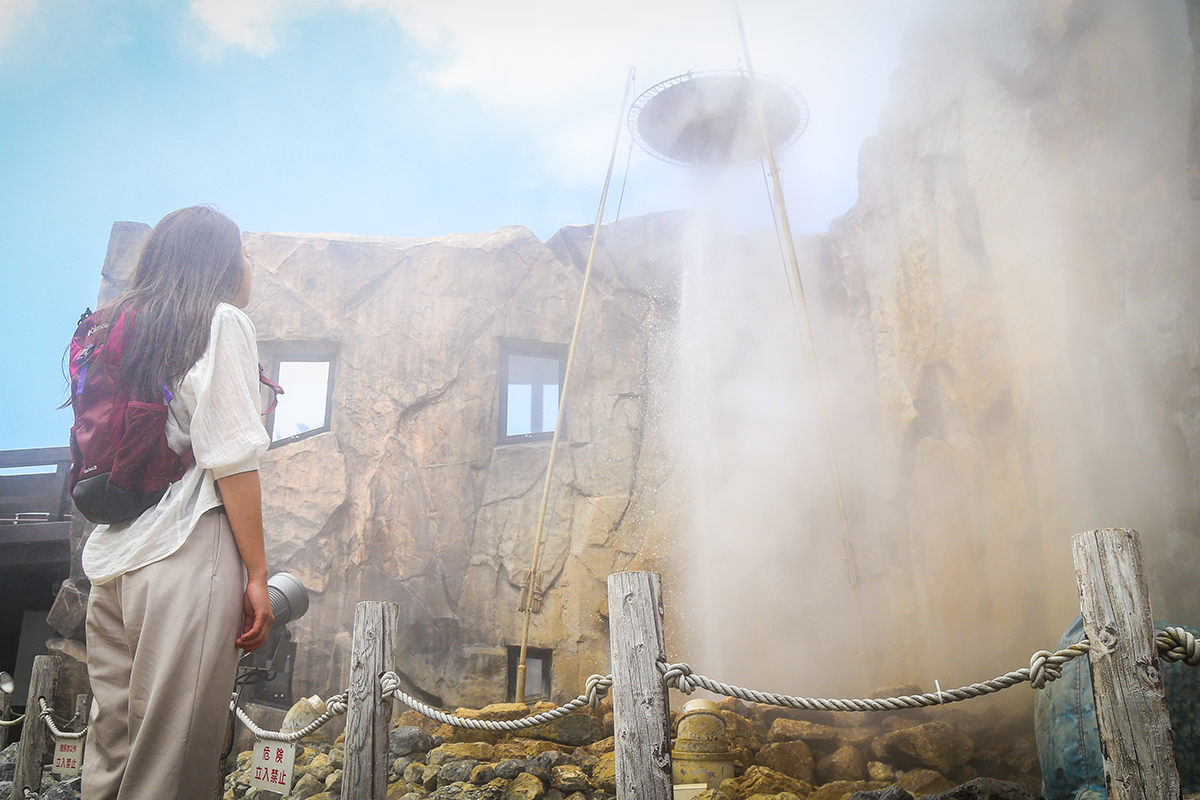 We hope you have enjoyed finding out about the charms of adding active volcanoes to your itinerary. In this blog column, we have introduced active volcanoes in the Hakodate area and their benefits. Active volcanoes in southern Hokkaido are a great travel destination. If you can visit local places during your stay in Hokkaido, Japan, such as active volcanoes, it can be a fun and special part of your trip!
 If you would like to get to know Hakodate and Southern Hokkaido or find a special tour in Hokkaido Japan, just contact us. Together we can make the perfect travel plan for your Hokkaido trip. Just click on the 'contact us' button below and we can start planning!