Japan's reputation for the art of tea is well established and we often associate the Japanese with being great consumers of green tea…. and nothing else! However, in recent years, the Japanese have developed a real craze for coffee. From small, stylish or retro shops serving a wide selection of coffee beans and takeaways, to nostalgic cafes in old buildings with creaky wooden floors, to more modern cafes with warm, cozy atmospheres that invite you to spend hours in, many cafes have sprung up not only in the big cities, but also in the more remote areas of the Japanese countryside. Although Japan produces little coffee, it is one of the largest importers of coffee, after the United States and the European Union. A veritable coffee mania has taken hold of the archipelago. Like the tea ceremony, the art of coffee is accompanied by a meticulous ritual and the Japanese baristas have become the most reputable in the world.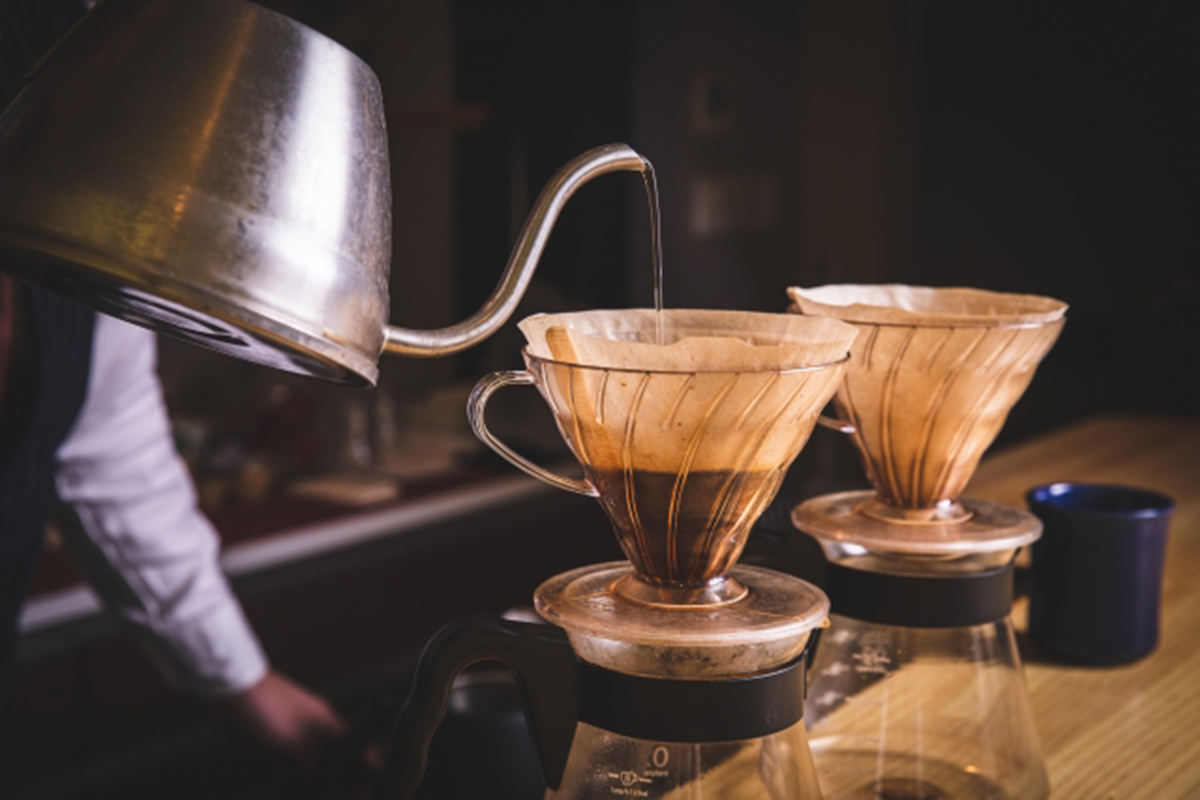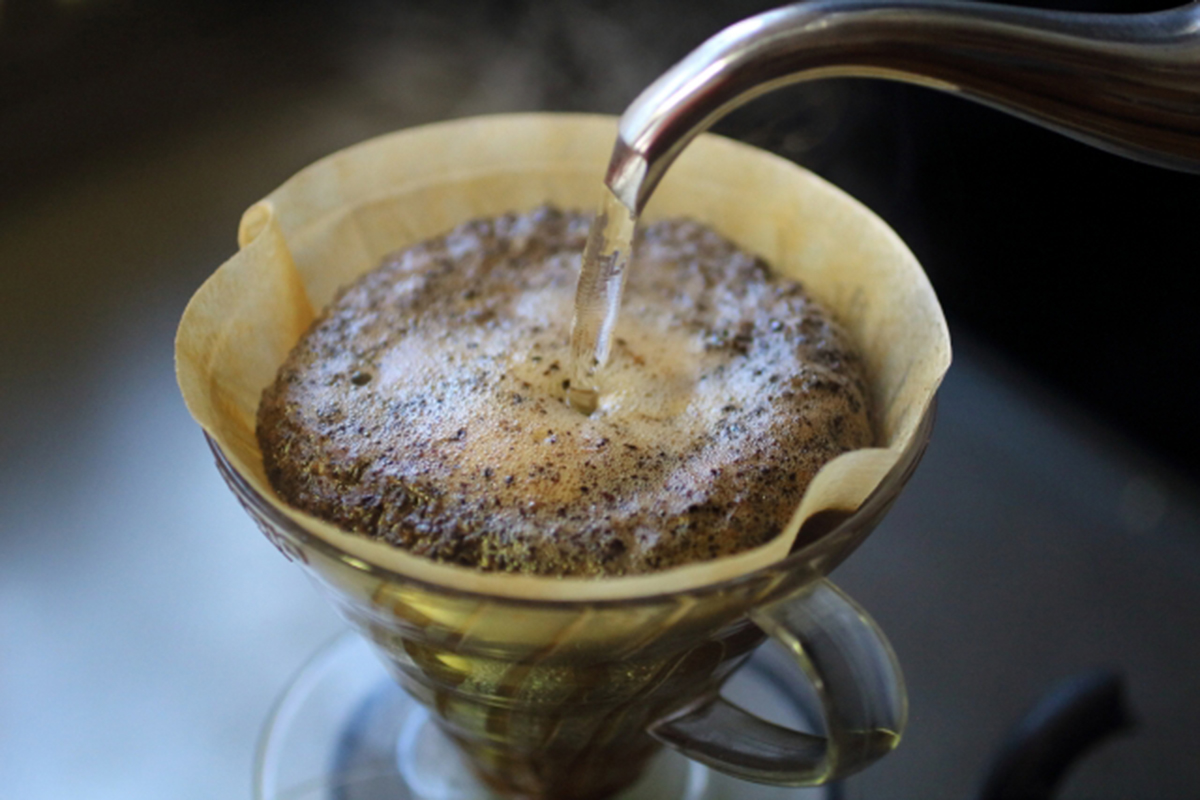 Cafes are an integral part of Japanese culture, and they are always bustling with customers, even on weekdays! Japanese people come here to work, study, escape the daily stress, relax or meet friends. "What are you doing this weekend?" "I'm going to sit in a cafe to read" or "I'm going to have a coffee with a friend" are common answers from Japanese about their weekend plans and it can be quite challenging to find a seat at a cafe on weekends. Since Instagram became popular, this coffee craze has become even more viral and cafes are competing for the beauty of their coffee cups and desserts. Now, the visual is as important as the taste, let's not forget that Japan started the kawaii (cute) trend, and it is not uncommon to see long queues of up to two hours in front of the most popular coffee places! Fortunately, Sapporo, being the chilled-out capital of Hokkaidō, the least densely populated of Japan's five major islands, is the perfect place to experience the Japanese cafe culture away from the crowds !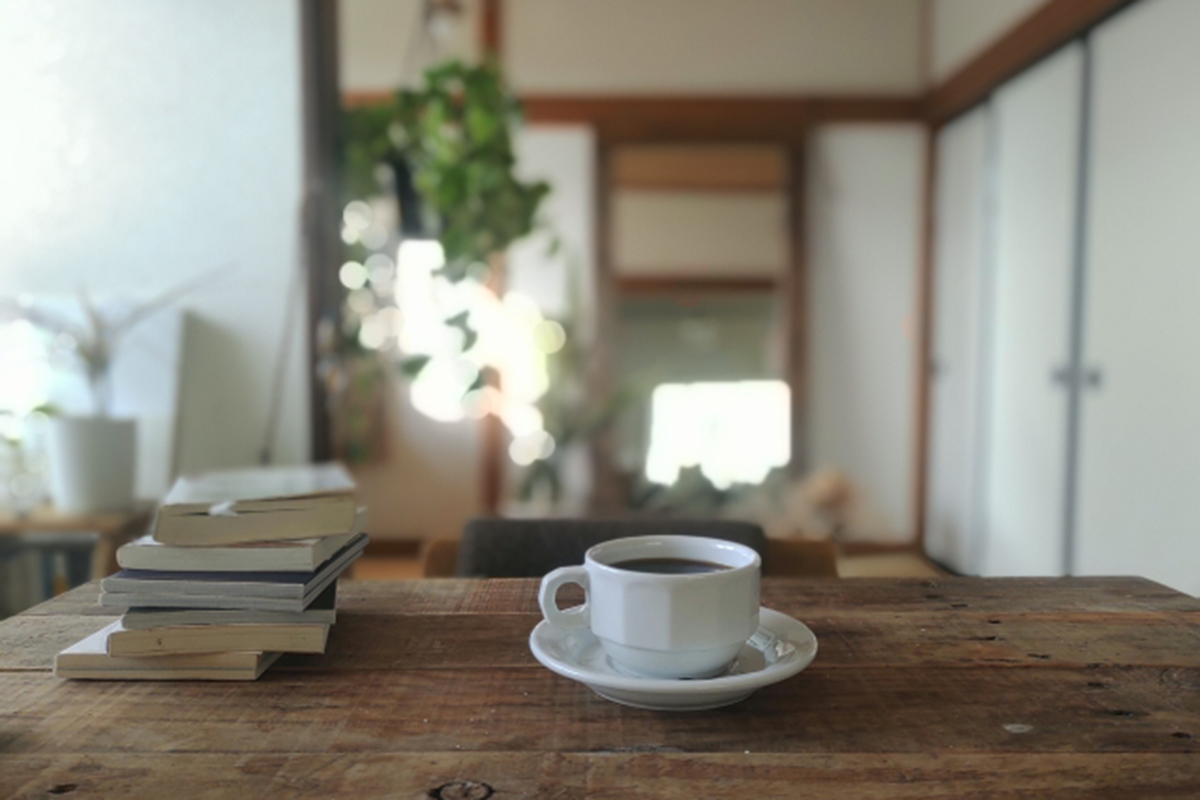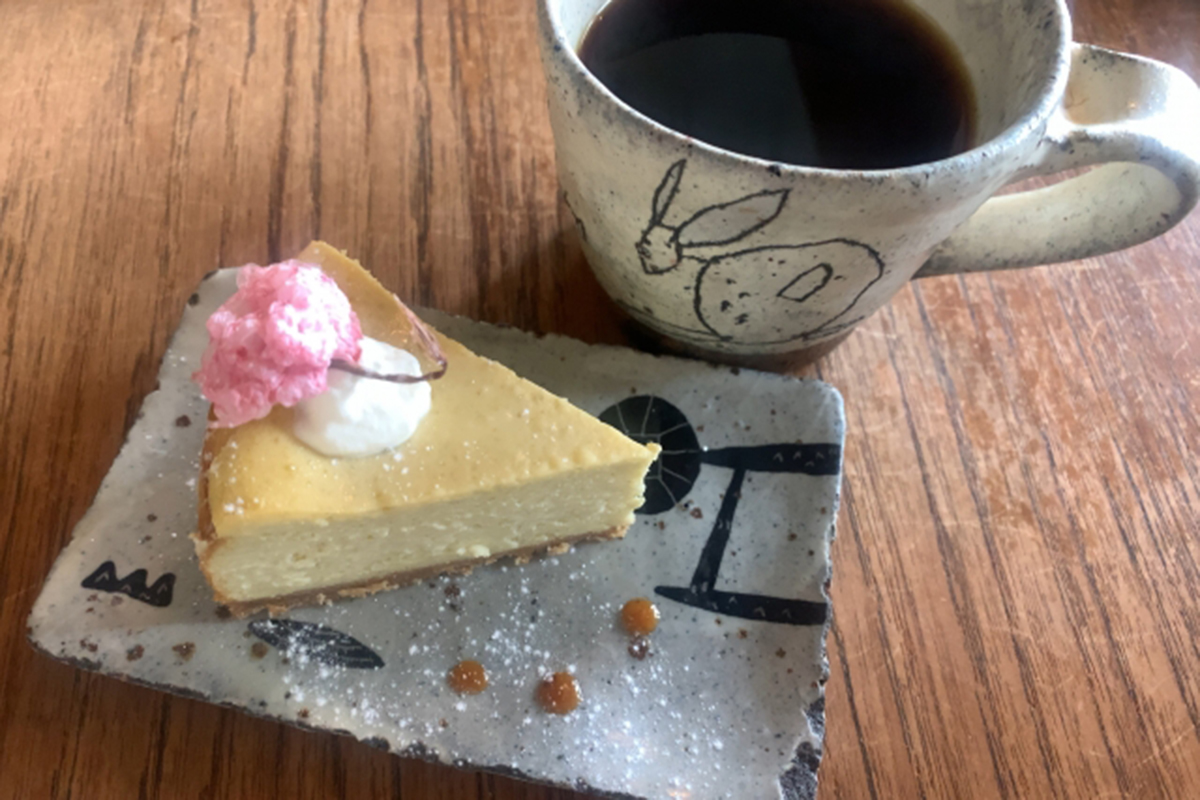 Sapporo's impressive collection of cafes celebrate Hokkaido products, more especially the dairy ones, and most of the cafe's menus offer a selection of desserts from savory melt-in-the-mouth cheese-cakes, fluffy colorful pancakes to the traditional crunchy toasts without forgetting Sapporo speciality : velvety ice cream and very high parfaits ! Thanks to the quality of its milk, Sapporo cafes are also very proud of their silky smooth caffe lattes and baristas are making your cup of coffee a true work of art, drawing patterns on the milk foam. 
 There is a theory that coffee cultivation thrives in colder climates, and the Scandinavian countries, which rank high among the countries that frequently consume coffee, will not contradict it! Hokkaido, with its cool climate, is favorable for the preservation of coffee beans. Perhaps for this reason, there are many coffee shops in Hokkaido that focus on their own roasting. Throughout the year, humidity is low and temperatures are lower than in the rest of the country, making Hokkaido an optimal environment for coffee brewing. Hokkaido's cold, snowy weather lends itself to dark-roasted coffee and the residents of Sapporo say that the dark, bitter taste of coffee keeps them warm during the cold winter.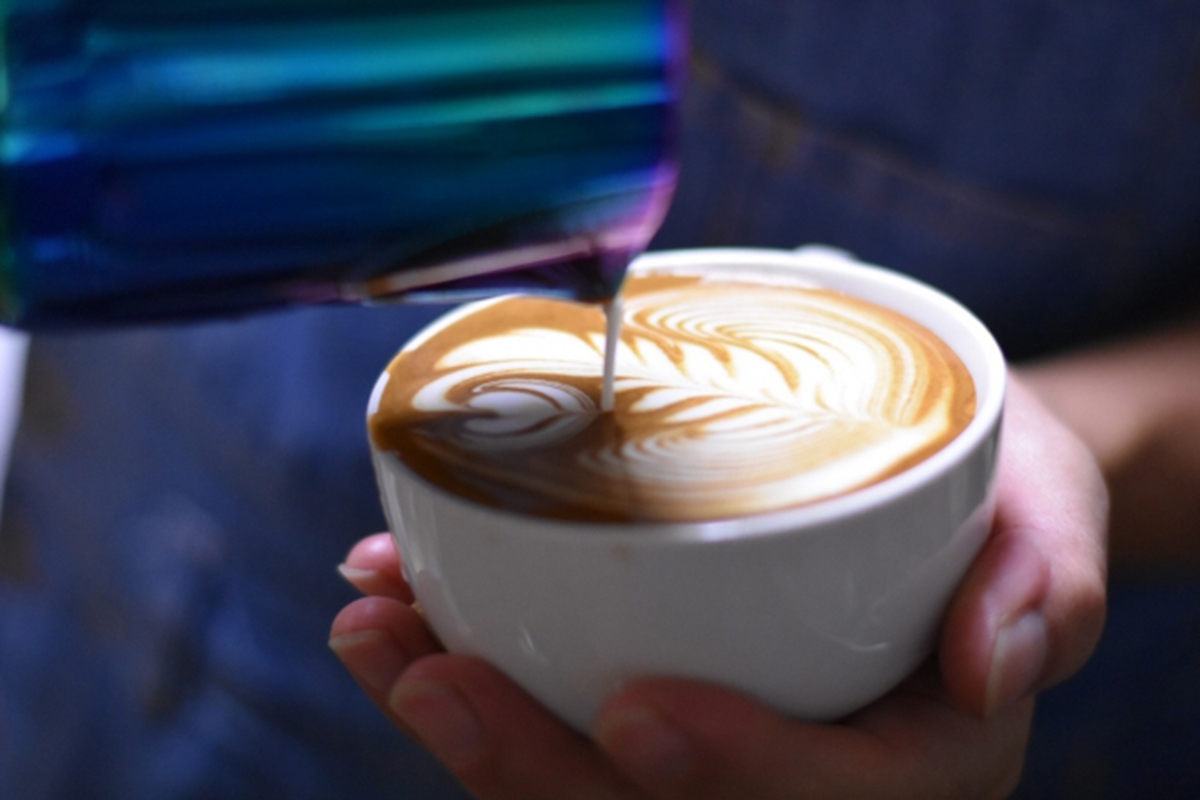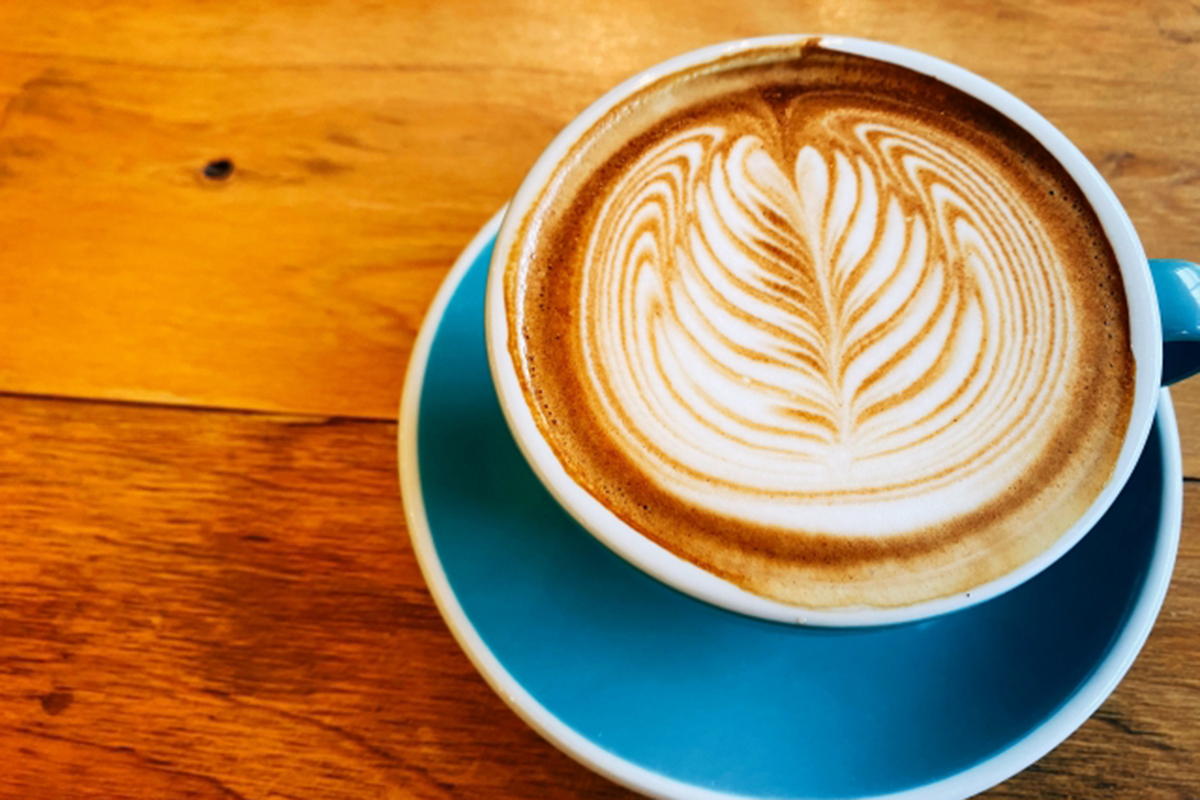 In this article, we will introduce you to Sapporo's cafe culture by highlighting some of the most charming and local places, all very eclectic from each other so that you can understand the very eclectic coffee scene of Sapporo. We cannot talk about Japanese coffee places without mentioning local delicacies that feature Hokkaido local products !
---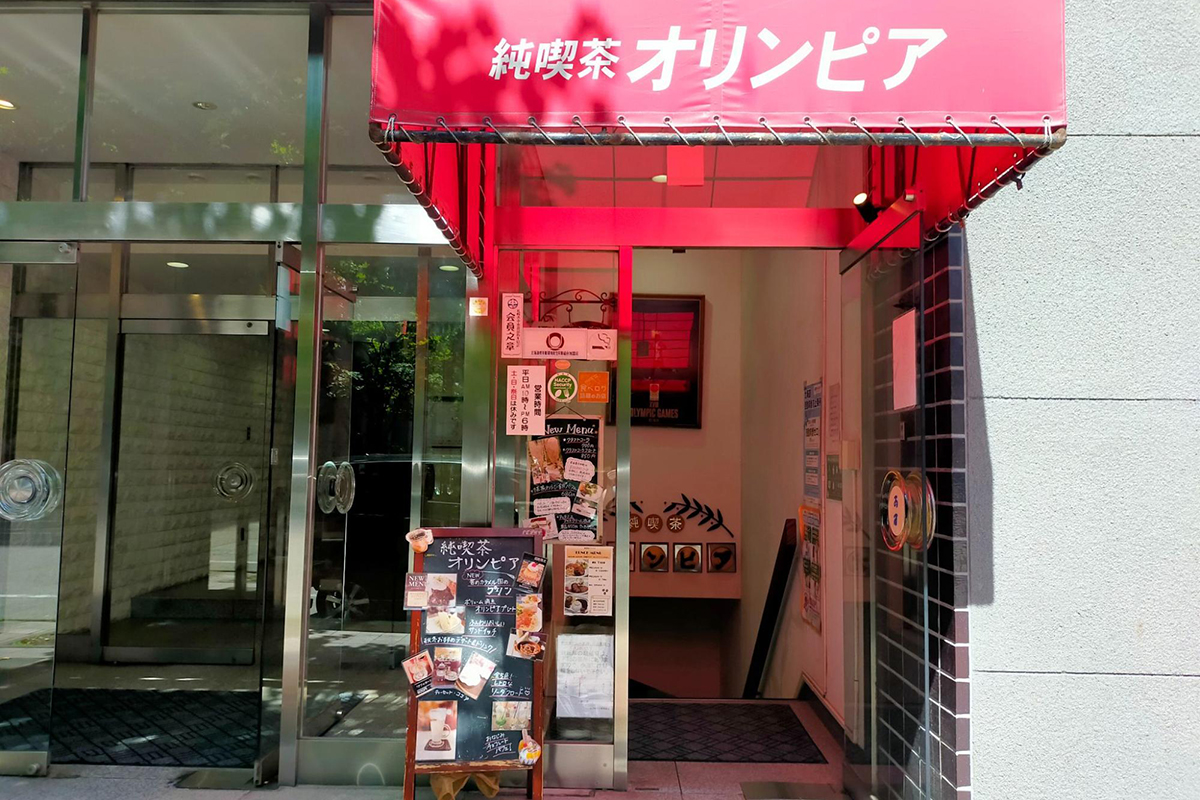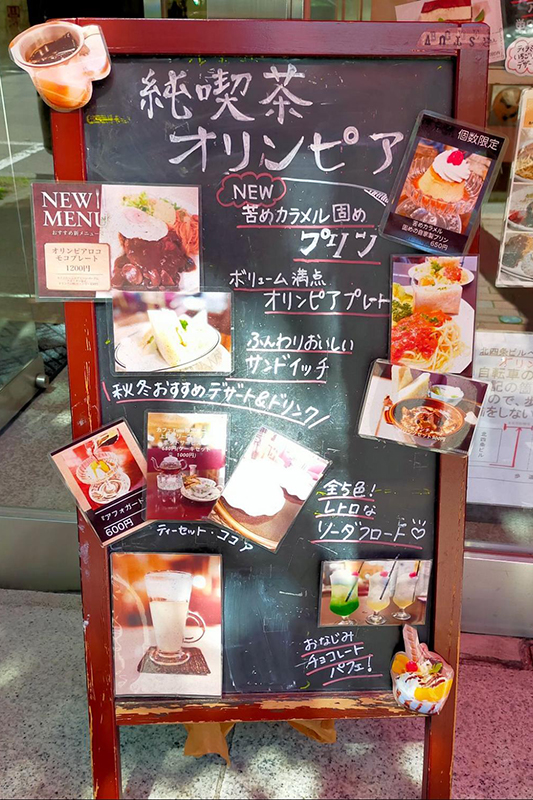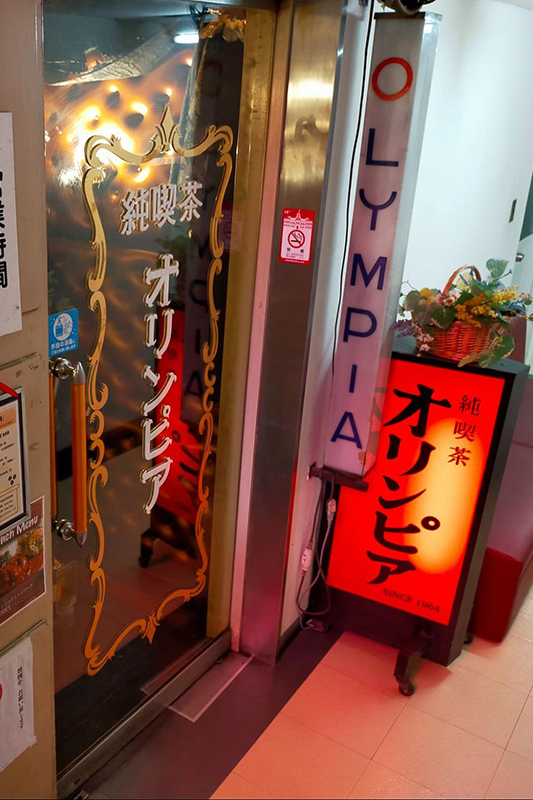 Olympia cafe was born in 1964. This small restaurant is situated less than ten minutes' walk from Sapporo station, in a quiet part of the city. Entering Olympia is like penetrating another world, as the decoration is so bizarre and full of objects. But at the same time, it is like visiting a family place, as the interior is cozy and comfortable like an old house.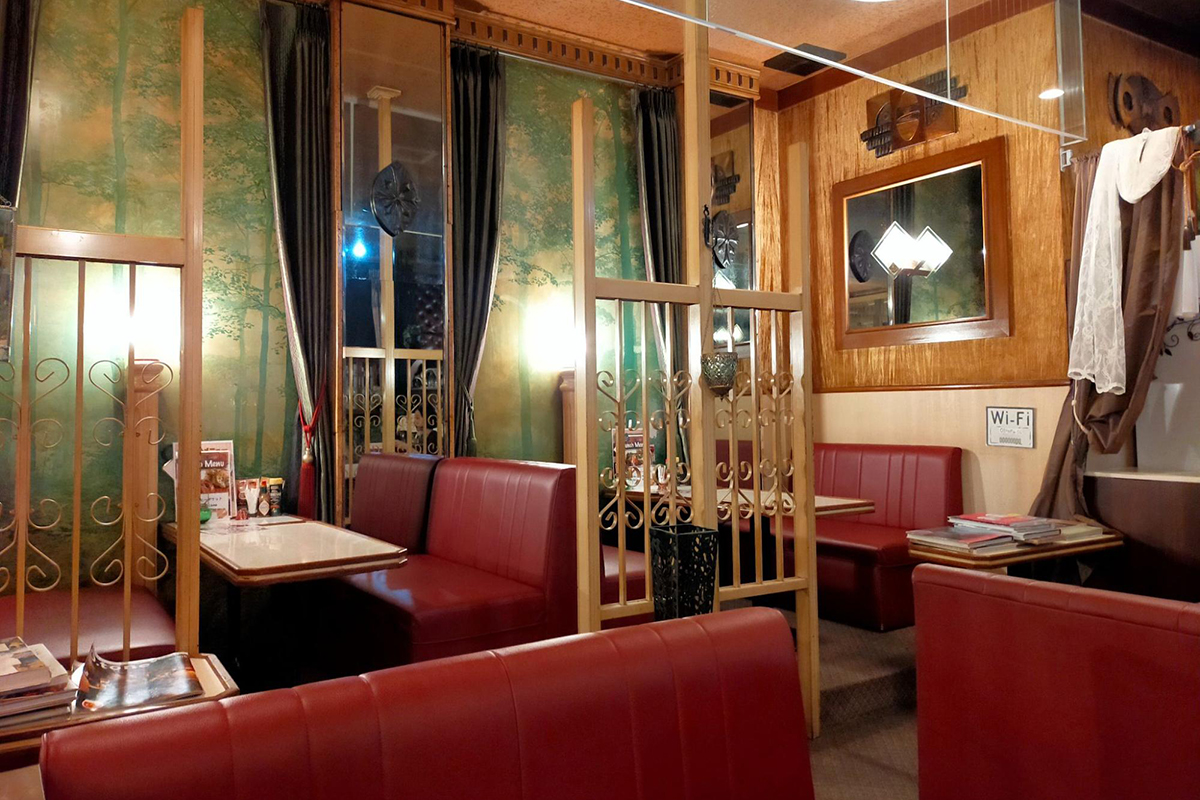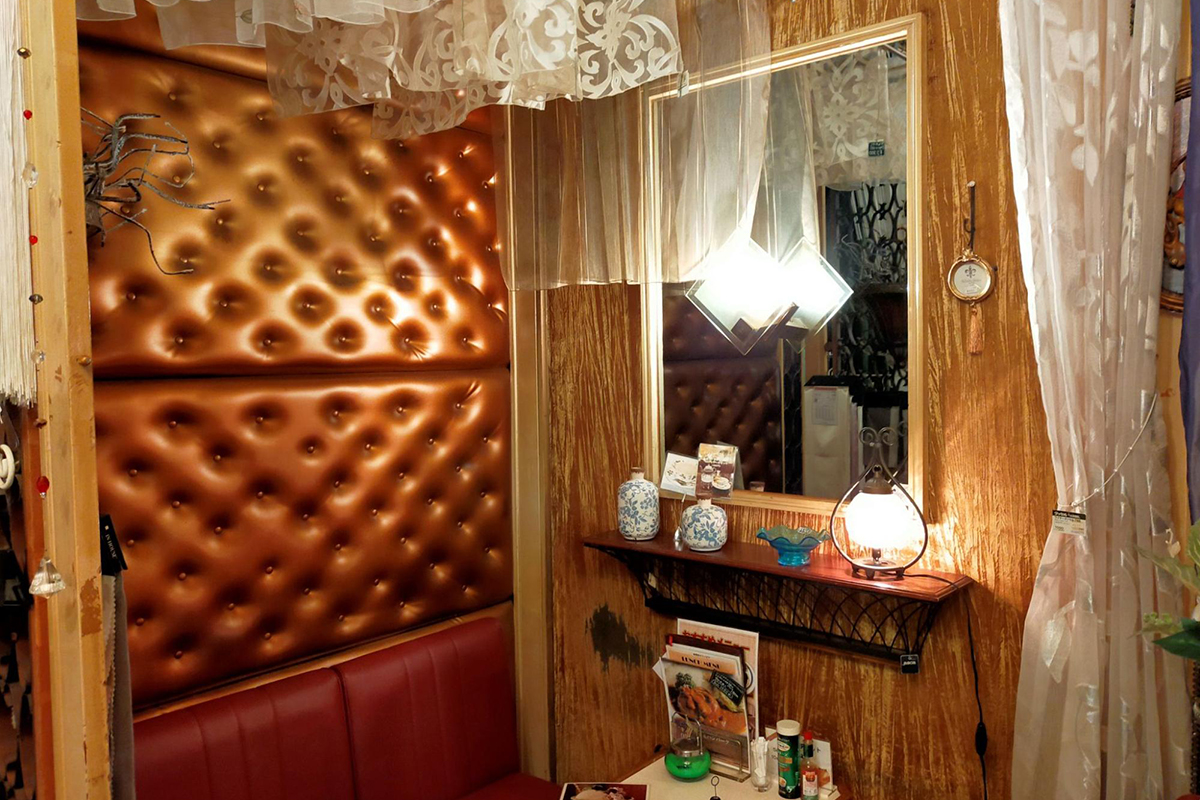 Located in the basement of a building, you are immediately drawn into a charming retro atmosphere as you descend the few steps of the restaurant's interior staircase. The low tables are arranged in a sort of open-boxes around the burgundy red leather benches that can welcome four guests.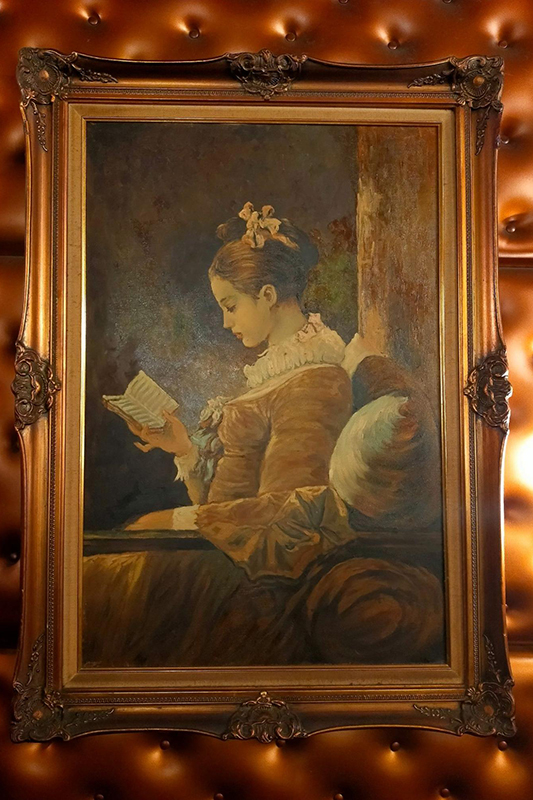 The decoration is busy and colorful with several objects for sale such as lamps, candle holders and curtain cords, but also its old-fashioned paintings and mirrors adorning the walls. All these elements contribute to the nostalgic, retro, renaissance-type atmosphere. The back walls are divided into panels lined with a green forest, with open green velvet curtains and a small lamp on a thin colonnade providing soft light, separated by old mirrors. There is a soft poetry in this space. The walls facing it are covered with a soft gold tapestry that makes the place warm and welcoming. The tinkling of small bells placed on each table to call the staff and place orders is mixed with jazz music in the background.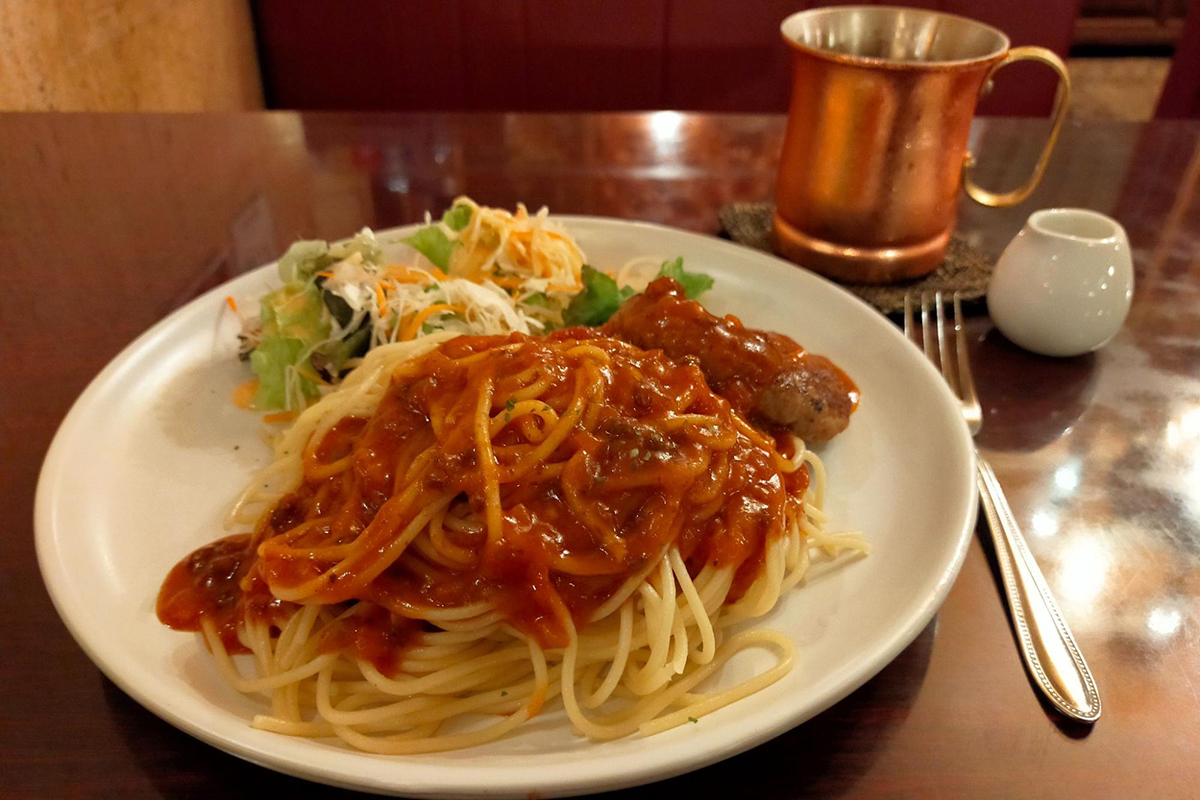 The menu consists mainly of pasta and rice dishes, with a wide variety of desserts ranging from cakes and parfaits to pudding and affogato. At lunchtime, the restaurant is always bustling with regulars who come to eat the signature dish being the famous Napolitan pasta, or the 850 yen lunch menu. You can choose one of the 3 courses served with a drink for the lunch menu, hearty meals for a very attractive price. The service is fast and efficient, what more could you ask for! It is definitely a good place to enjoy a quick lunch break. But the place also attracts other visitors such as food lovers or those who want to escape from the big chain cafes and relax in a very unique atmosphere. People come here to eat simple and copious dishes that are reminiscent of home cooking and these dishes fit perfectly with the atmosphere of the place!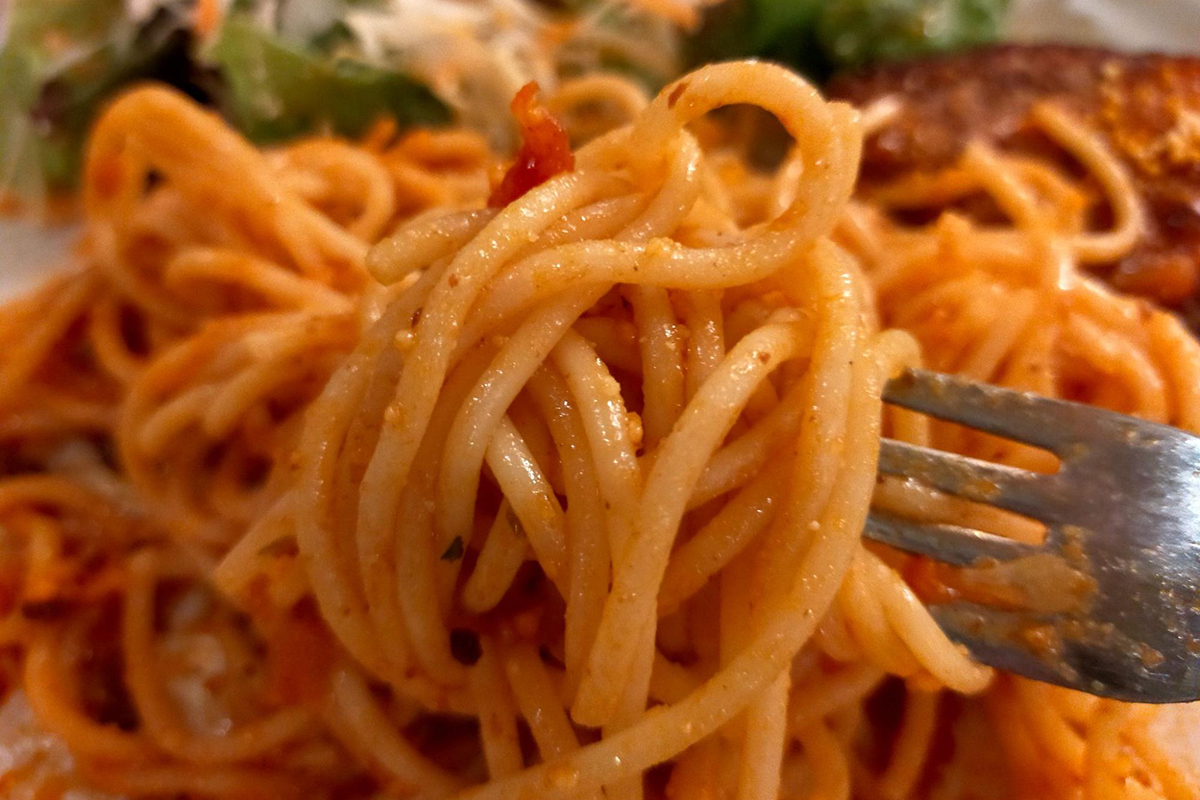 When we visited, we ordered the lunch menu and chose the mini burger and meat sauce pasta set. It's a good thing we were starving because the quantity was gigantic!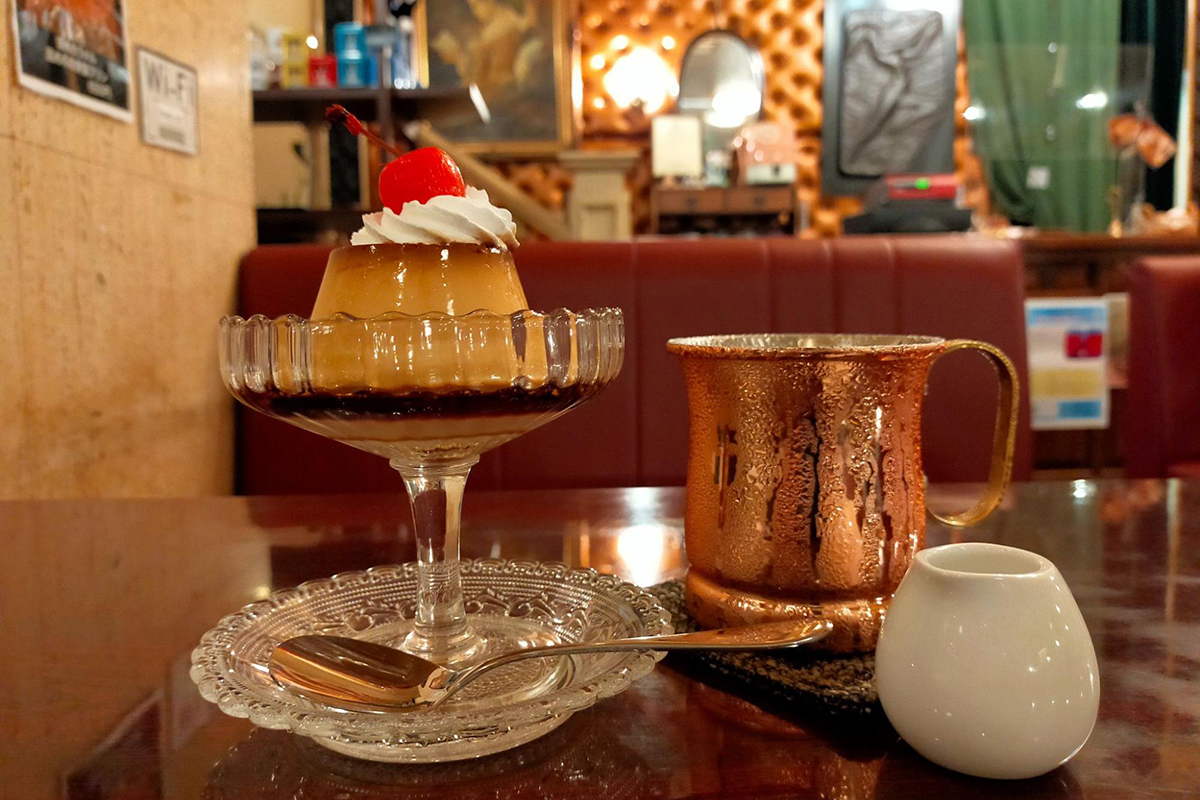 We always have room for dessert and decided to try their homemade bitter caramel pudding. Visually, this dessert is a masterpiece. The pudding is beautifully presented in an old-fashioned, western-style glass vessel that reminds us of our grandmothers' tableware. The colors of the pudding match the decor of the cafe perfectly; the color of the cream reminds us of gold upholstery on the walls and the little red cherry reminds us of the burgundy red of the benches.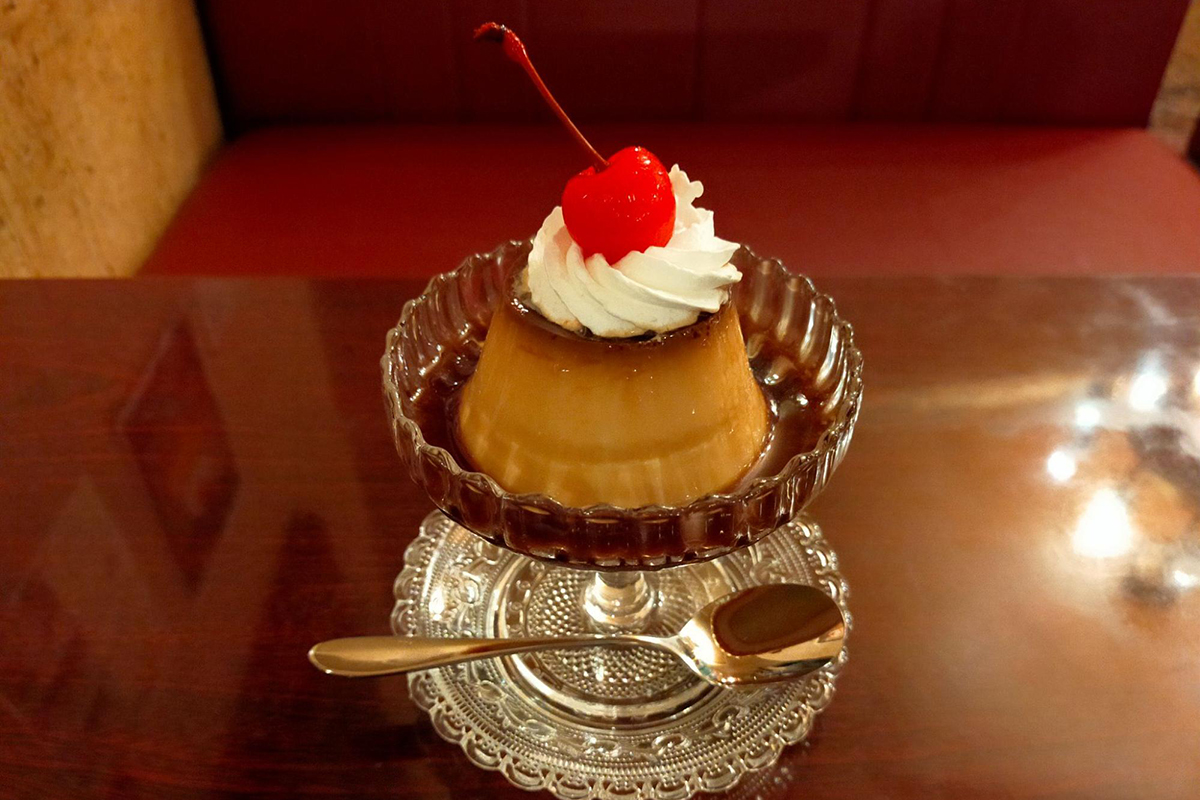 It was particularly difficult for us to tackle this dessert, for fear of destroying this pretty visual! But the greed was stronger and this dessert is as good as it is beautiful. The cream of the pudding was relatively compact with a nice caramel flavor that went perfectly with the fresh cream and the cherry on top added a bit of sweetness!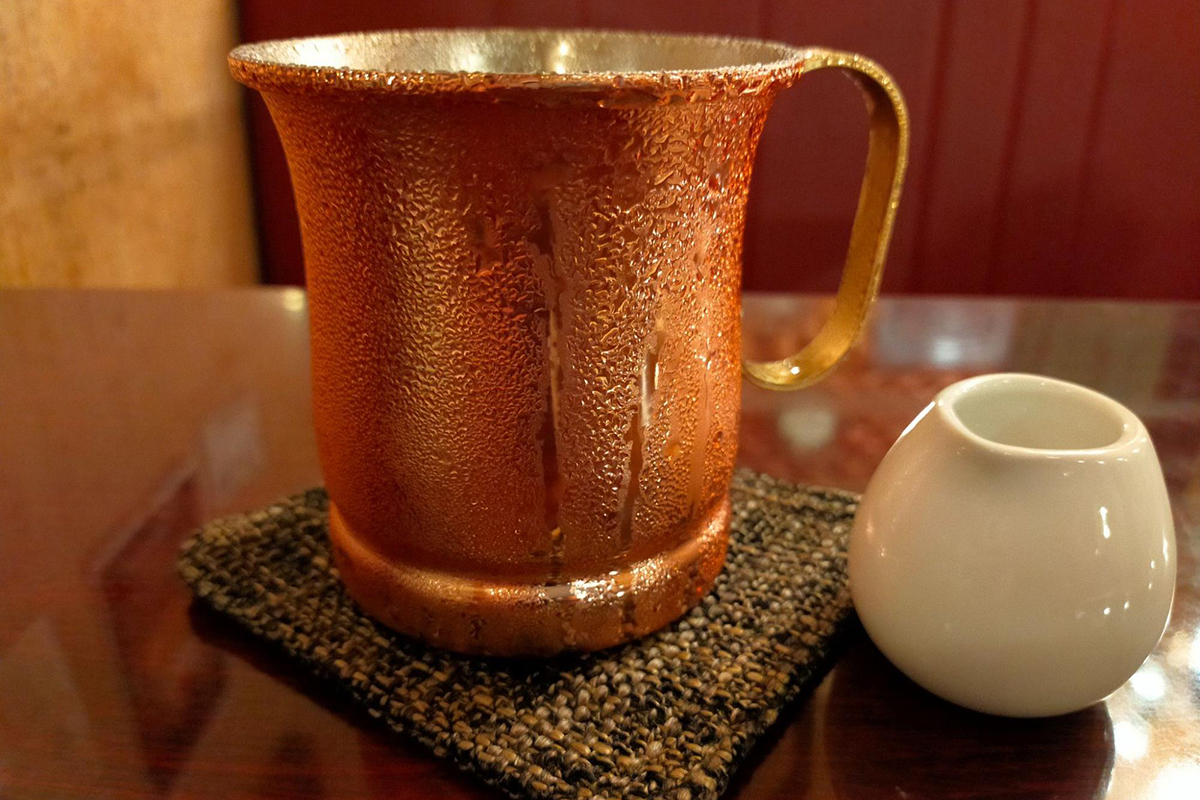 The cold coffee is served in beautiful antique copper cups which enhance the aroma of the coffee through contact with the cold copper. The coffee stays ice cold for a long time and is a real pleasure in summer.
---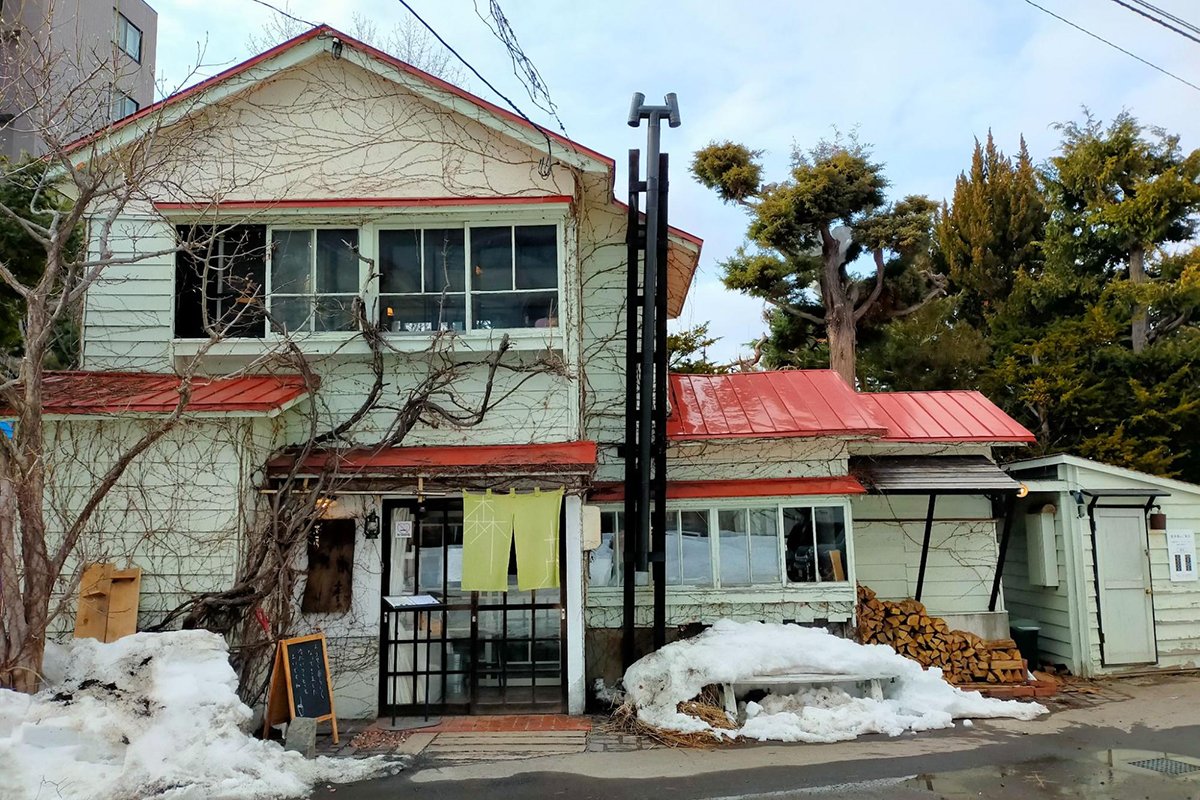 At 25, Sousuke Ichikawa, the owner of the place, wanted to open his own café. Completely charmed by the building, an old wooden building covered in ivy leaves and hidden in an alleyway in Maruyama, he signed the contract without even looking inside or inquiring about the terms. Tired of Tokyo's concrete life, he had made a habit of exploring alleys that hold hidden treasures, and this time was no exception.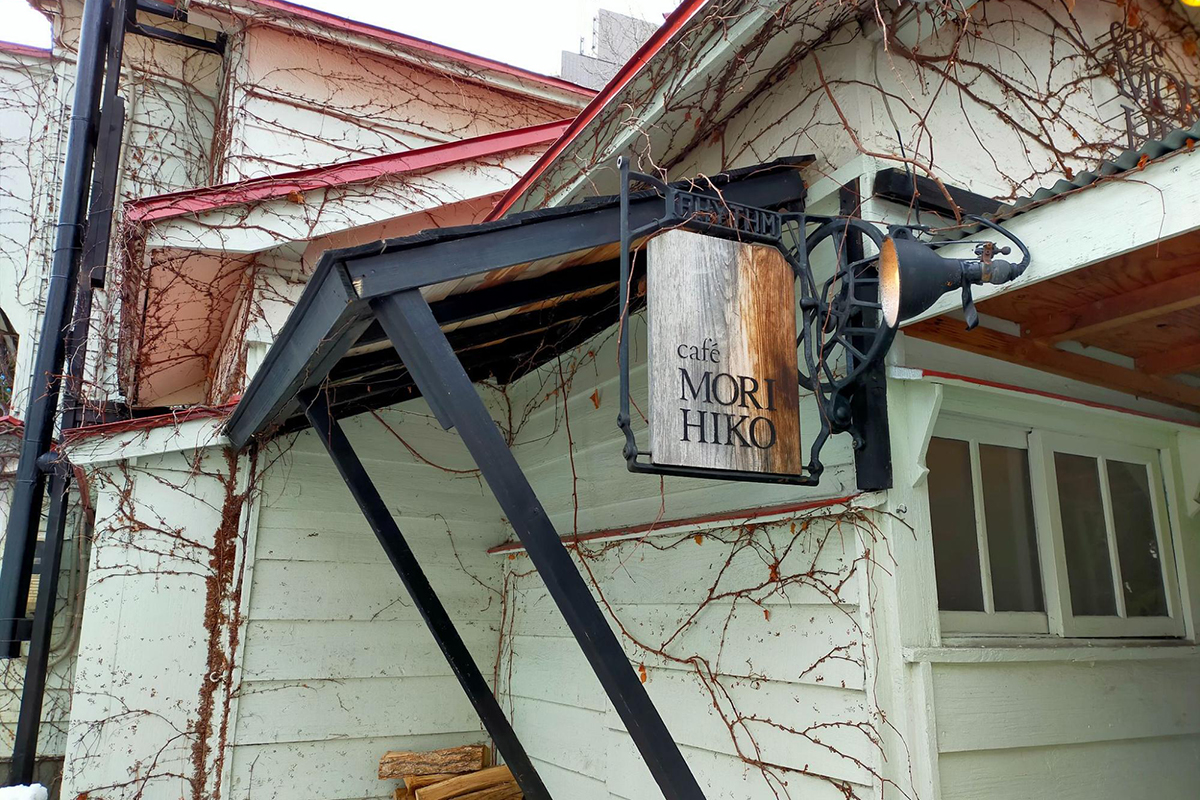 This 70-year-old house, nestled in a narrow alley near the Hokkaido-Jingu shrine, was built shortly after the war, and the street opposite it served as a burial path to the temple. It is easy to find your way around Sapporo, whose streets are divided into a grid pattern, but the building is located in a diagonal alley, which often leads people who are not familiar with the area astray! Fortunately, the building is easily recognizable with its red roof and walls that disappear under a lush green in summer.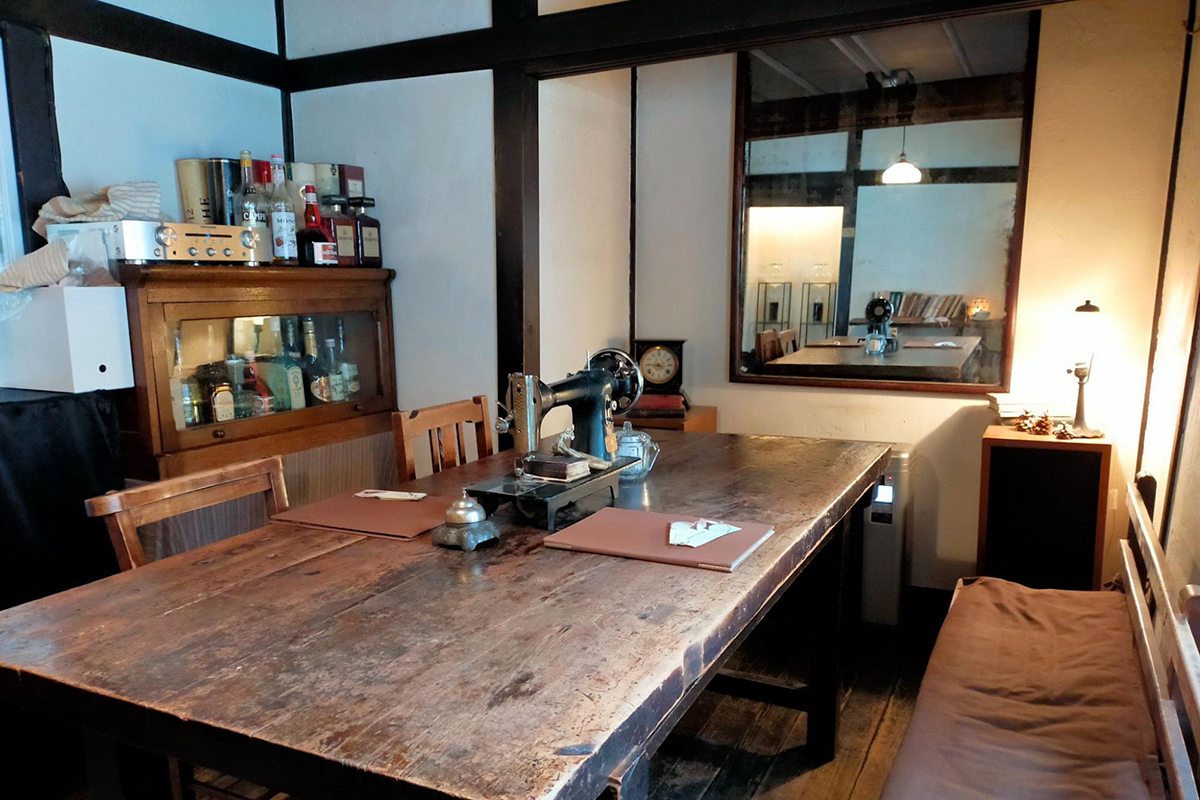 This first Morihico Coffee shop was born in 1996. After 3 long years of renovation, the acquired private house was transformed into a coffee shop with the concept of a "coffee art museum". This house is still the owner's favorite place where the "at home" atmosphere means that nobody is in a hurry. This little hidden gem with its characteristic silhouette that changes from season to season. stands out from other coffee shops because of its atmosphere. Here, time seems to stand still, you enter another world, one that is gentle, nostalgic and familiar at the same time, and many Sapporo residents like to spend a few hours here to escape the daily stress and recharge their batteries.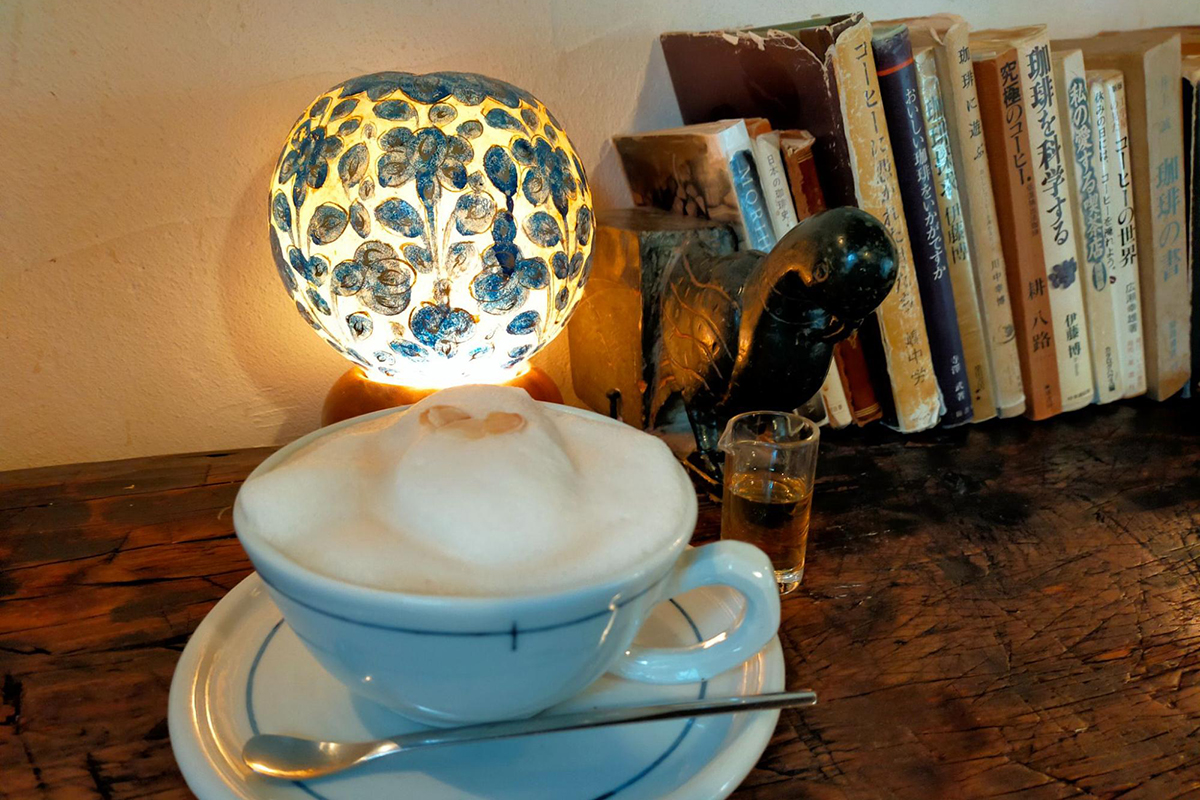 Inside this coffee shop there are tons of details, mostly vintage stuff like old lights, old fashioned irons, books crammed between statues of antique birds and an old sewing machine. Morihico coffee is renowned for its home-roasted coffee and delicious home-made desserts. Morihico serves 10 blends and single origin roasts and each cup of coffee is carefully prepared by hand using a nel drip, in which water is slowly poured through a small flannel cloth filled with coffee beans. At the time of our visit we ordered a Snow-White, a very fragrant latte made from roasted coffee accompanied by almond milk and served with vanilla syrup for those who want a richer, sweeter flavor.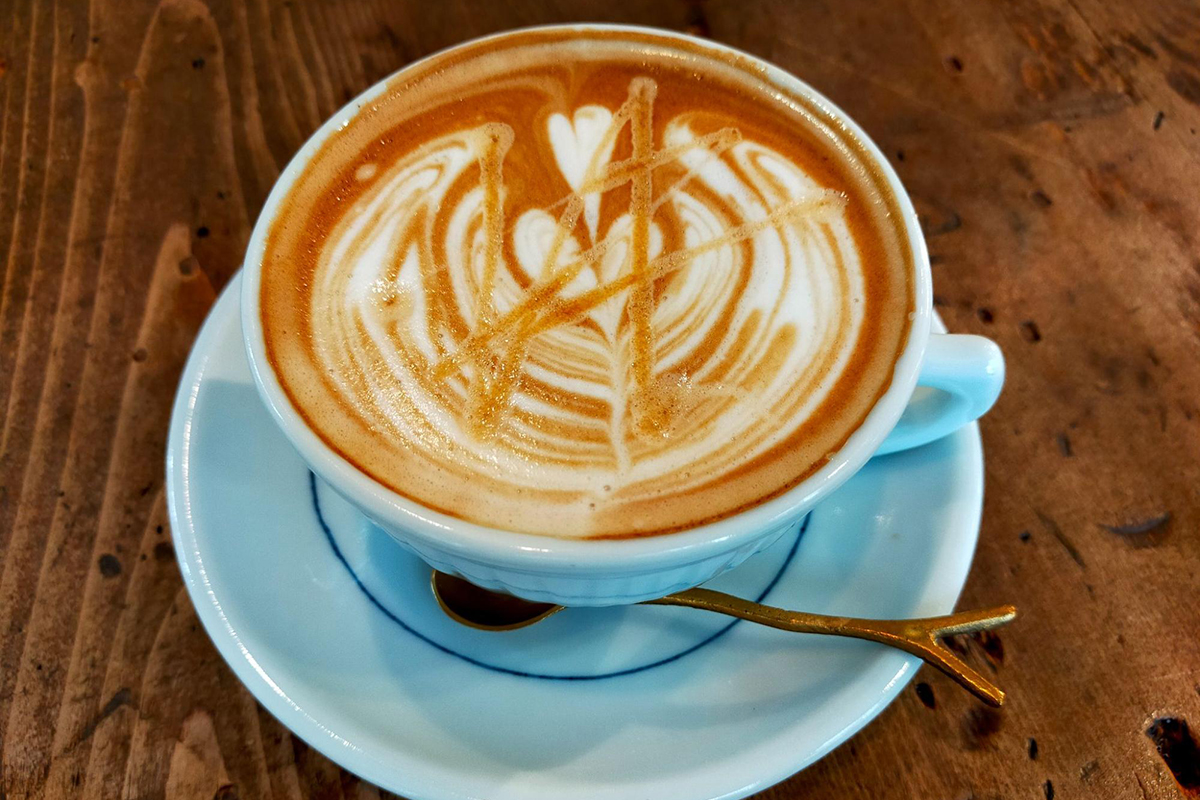 Today, Morihoco is a very well-known establishment in Hokkaido with five shops in Sapporo. I also tried Atelier Morihiko, located on the first floor of a building close to the center of Sapporo city. It is a very luminous cafe with large windows facing South that receive the gentle sunlight, and from where you can see the streetcars from the window. The atmosphere is more western and modern, with a soft natural light caressing the wooden tables. The caramel coffee is delicious, with just the right amount of sweetness. Their signature sweet sandwich, a fruit sando with extremely light cream, available only at breakfast, is a treat for the eyes and stomach. Their homemade cake is also very good and goes perfectly with their coffee.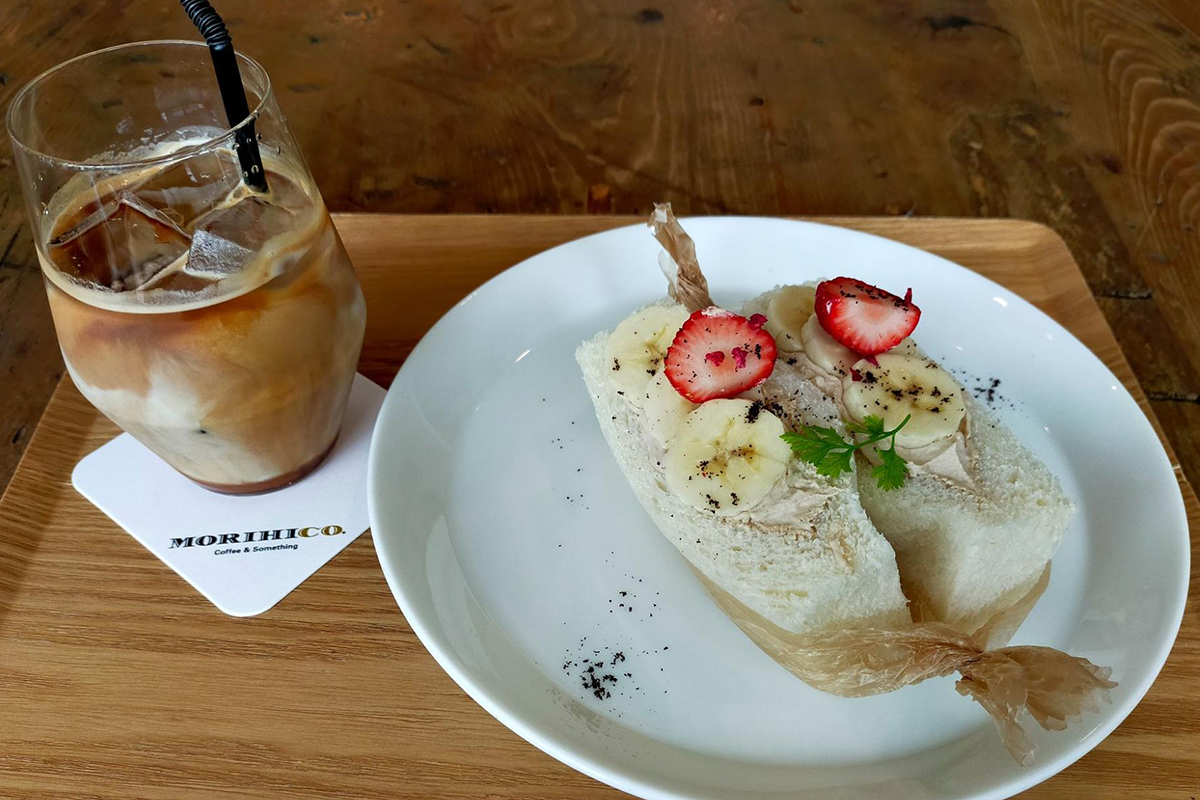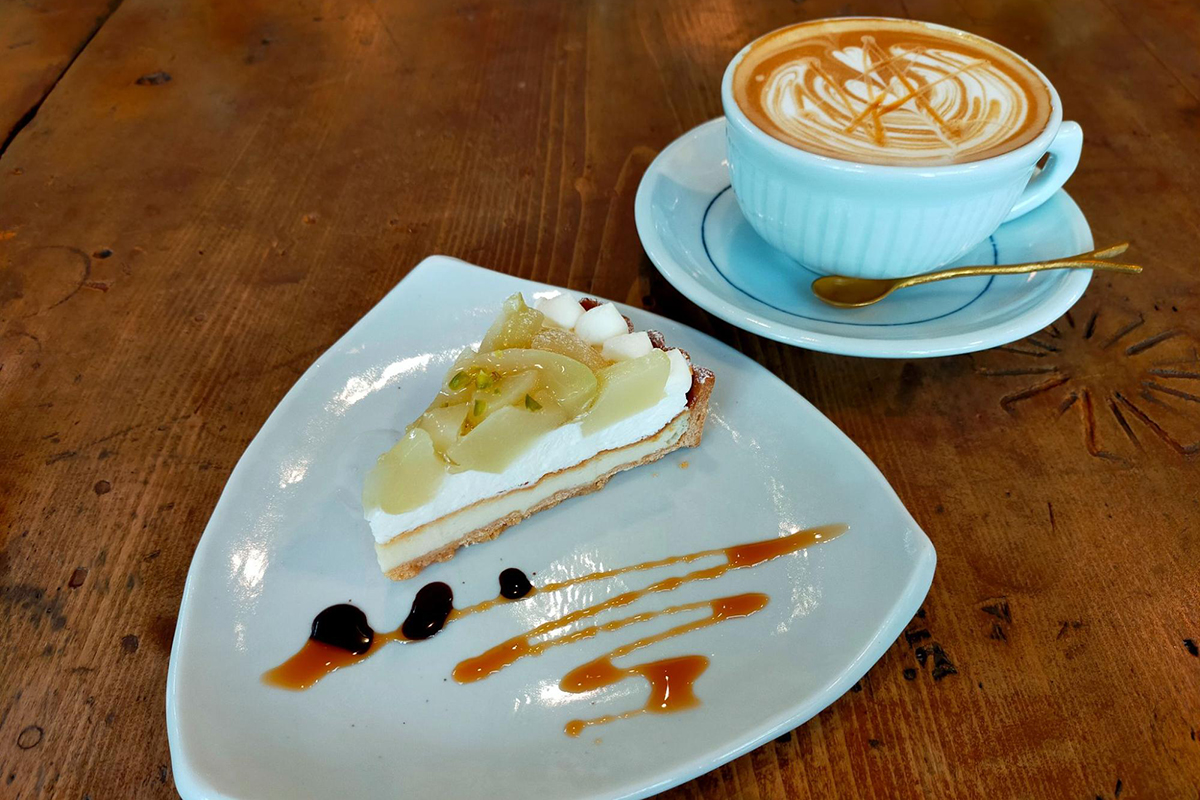 ---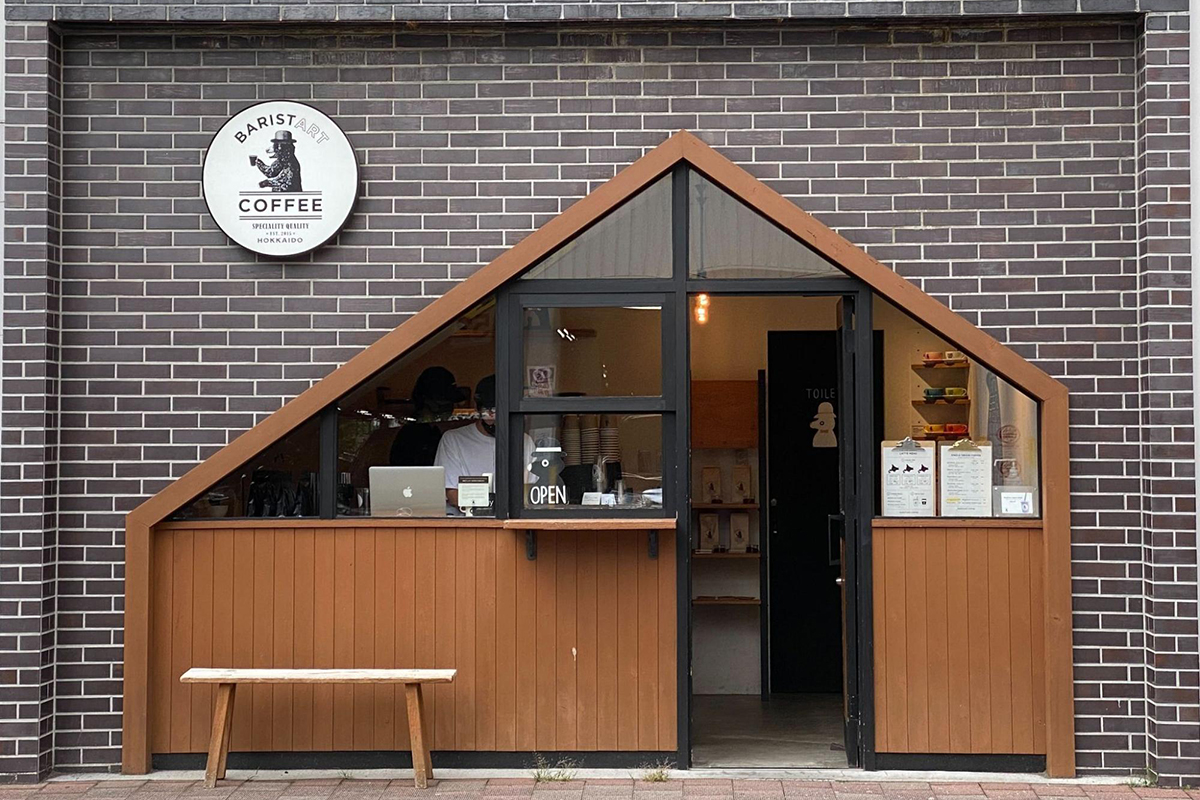 The first Baristart Coffee Stand (BAC) opened its doors in June 2015. This tiny modern café with a trendy design is located on a small street not far from Odori Park. Because of the care taken in choosing the milk, the small coffee stand is the place to visit in Sapporo for any latte lover. Using the best milk in Hokkaido, which is said to be rich, smooth and deliciously creamy, the smooth lattes and cappuccinos are incredibly tasty! 
 International barista Yuki Takeuchi, owner of the café, is a two-time champion of the UCC Coffee Masters Latte Art Section in the Hokkaido region. He grew up in Hokkaido and is as proud as he is passionate about the quality of Hokkaido milk. Hokkaido provides more than 50% of Japan's milk production. The island's cool climate, fresh air and extensive pastures for dairy cows provide ideal breeding conditions for excellent milk quality. The owner spends much of his time visiting dairy farms in Hokkaido in search of the best quality milk. He is a true milk connoisseur, and his passion has led him to the mission of communicating the Hokkaido countryside lifestyle through a cup of velvety milk coffee. The coffee stand offers two types of coffee beans, an Arabica blend with a strong acidity and floral aroma, and a darker, fuller-bodied Robusta blend. From time to time the Baristart has a special collaboration with a producer of a rarer and more interesting milk, such as Guernsey milk, which is particularly rare due to the rarity of the cows and the small amount of milk they produce.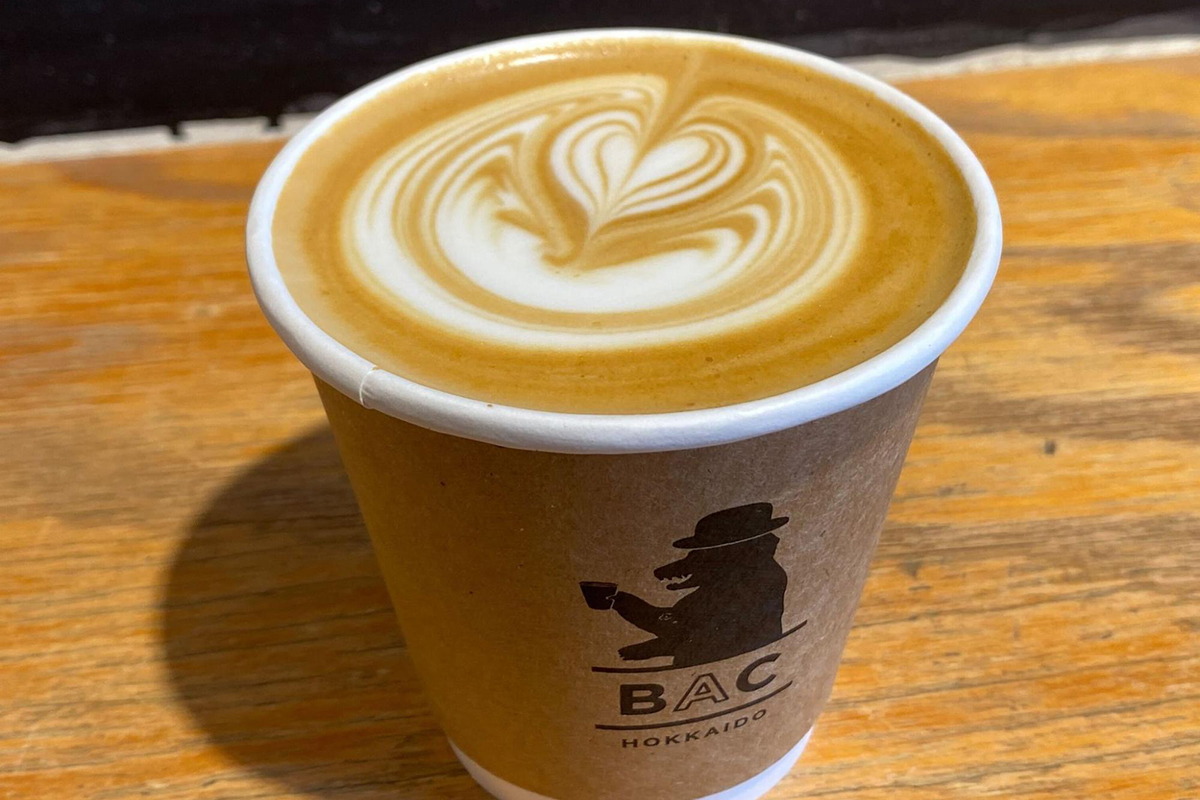 At the time of our visit, the shop had selected three types of milk: Hokkaido University milk, Biei Jersey milk and Takinoue Inoue dairy farm milk. Hokkaido University milk is known as an easy-to-drink milk with a rich natural flavor due to its low temperature pasteurization. Perhaps what makes this milk special is that its taste changes with the seasons. Summer milk has a refreshing aftertaste with a green grassy aroma that spreads in the mouth as the cattle are raised in the pastures and eat the soft grass. Winter milk has a refreshing sweetness, as the cattle are fed corn and hay grown at Hokkaido University. It is a very pleasant milk to drink as it never tastes the same and therefore offers a unique experience in every season! Biei Jersey milk is produced by brown Jersey cows, which represent only 1% of the cow population in Japan. This milk is very rich and creamy with a hint of sweetness and has a high fat and protein content that blends perfectly with the Baristart coffee bean selection. 
 We tried the Takinoue Brown Swiss milk because it was the lightest milk in this selection and like many Sapporo residents, we love the dark, bitter taste of coffee!  We appreciated the professionalism of the barista who advised us according to our tastes and the fact that we could simply hear all about the milk produced in Hokkaido and its relation to the coffee scene in Japan. Here you don't just place an order, you can really chat and take the time to… This little coffee stand really symbolizes the typical warm hospitality of Hokkaido. The cup of coffee was visually beautiful and tasted as good as Baristart's reputation: we could appreciate the lightness of the milk which softened the aroma of the coffee without masking it.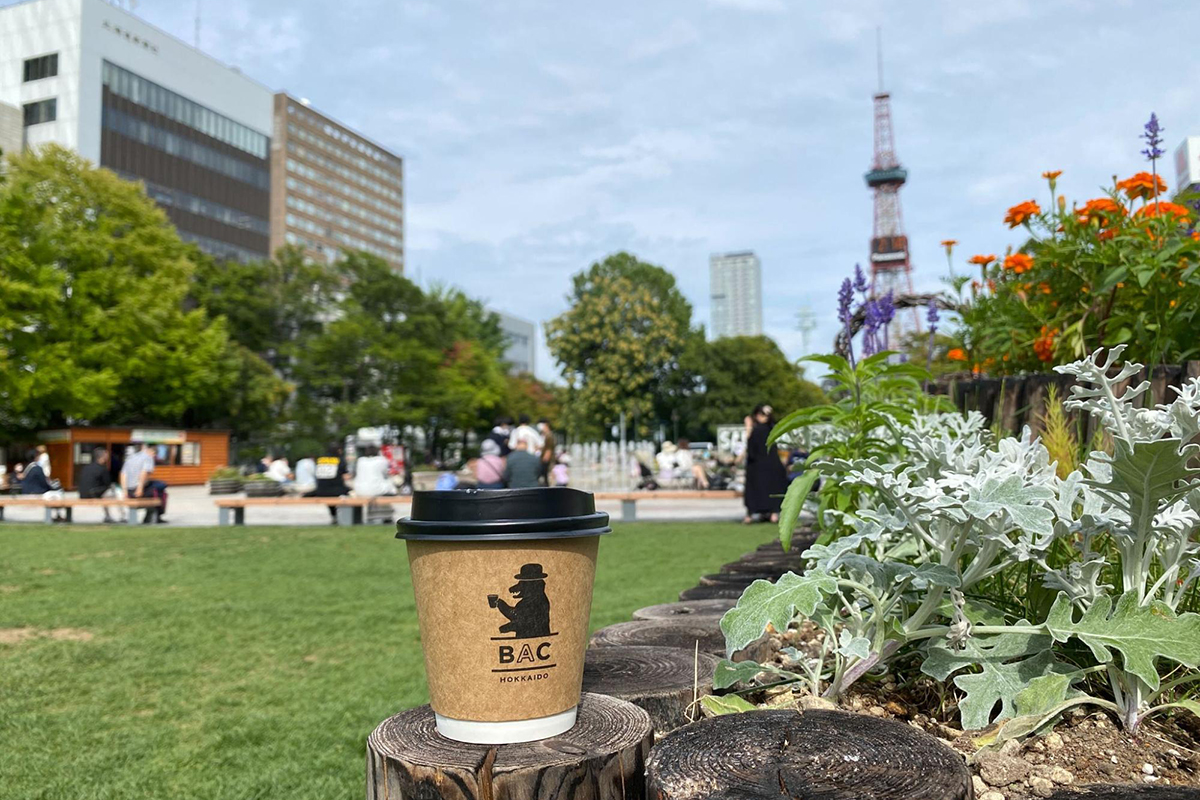 The latte art was beautiful and it was hard to indulge in a first sip for fear of destroying the beautiful design!  But after listening to the fascinating story and all the love for Hokkaido that resides in this little cup of coffee to go, one can only be transported and imagine the vast plains of Hokkaido. This is definitely the kind of coffee you want to enjoy outside and Odori Park being less than 10 minutes away is the perfect place to drink this coffee while enjoying the charms of Sapporo city. In the summer, the lawn of Odori Park is crowded with locals who come to relax in the sunshine. With the distinctive silhouette of the Sapporo TV Tower in the background, drinking a delicious Baristart coffee becomes a delightful moment!
---
 We can't talk about Sapporo's café scene without devoting part of this article to the unique food culture of the nighttime parfait, which has become an integral part of local Sapporo life! The shime-parfait, or "call-it-a-night parfait", is a creatively designed kind of parfait that people eat after going out for dinner or a late night drink. The word parfait originally comes from the French meaning "perfect" and the word shime means "conclusion" in Japanese.
 Although Sapporo has had a culture of eating a parfait at the end of a meal since before the word shime-parfait was coined, the concept really took off in 2015 with the birth of the official Sapporo Shime Parfait website. At the time, there were 7 shops and now they have expanded to 21.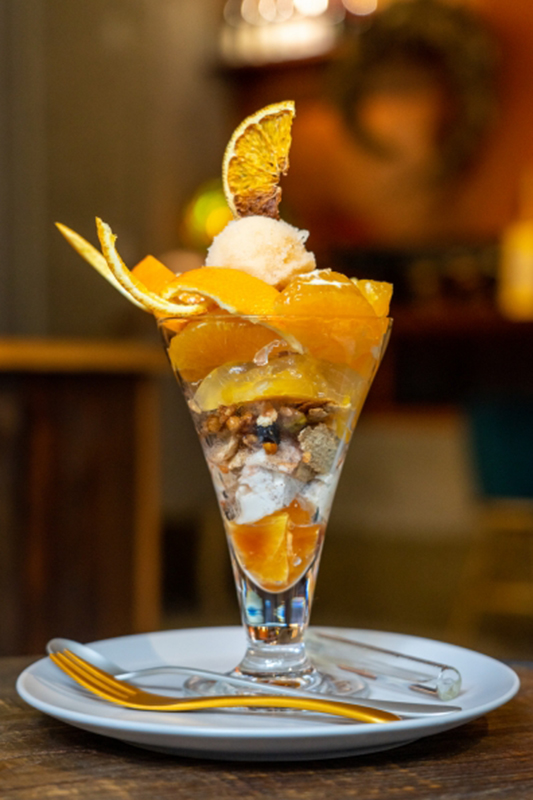 In France, the parfait is a frozen dessert made with egg yolk and sugar, but here in Japan, the dessert is more elaborate and creative, incorporating seasonal fruits and whipped cream to highlight the quality of Hokkaido milk. In general, the rest of Japan eats ramen (noodles) as a shime after a night of drinking, but Sapporo residents prefer to end their evening with a sweet, cold parfait. Even in winter, when temperatures are below zero and the city disappears under the snow, people like to eat a parfait. Probably because the houses in Sapporo are particularly insulated and warm and they cool off with this dessert!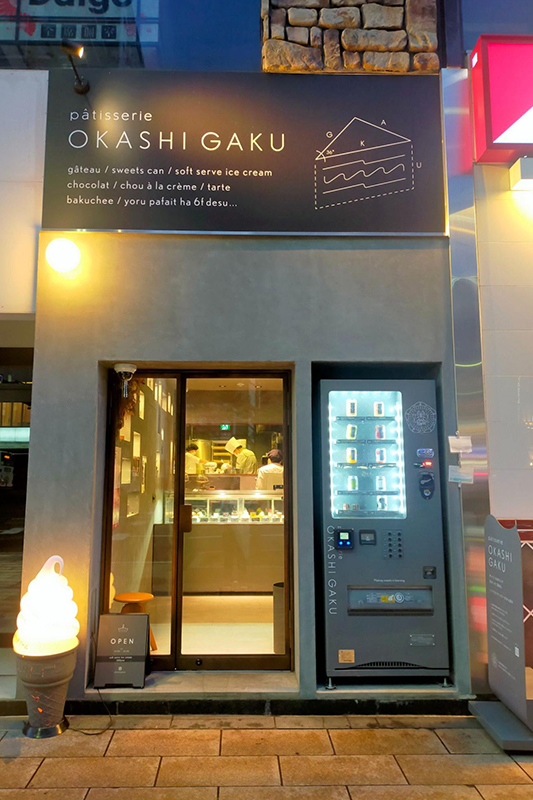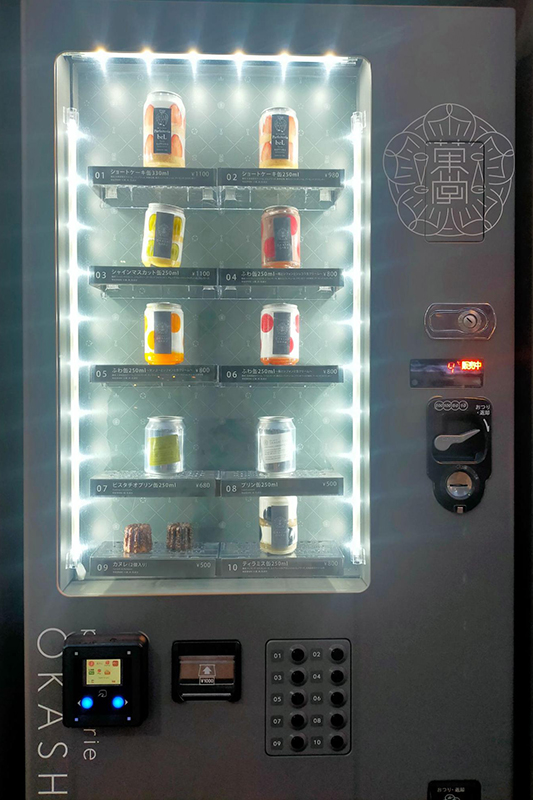 One of the most popular companies is Gaku, founded in 2006, which currently has eight shops in central Sapporo offering creative, stunningly beautiful and delicious seasonal parfaits, showcasing Hokkaido ingredients. In 2021, their Okashi Gaku pastry shop made a big splash with its innovative concept of selling cakes in tins. With a vending machine where you can buy your dessert at any time of the day, you can now put your cake in your pocket and carry it around easily! Let's dig a little deeper into this avangardist and so-Japanese concept! Okashi-Gaku is a tiny, elegant shop with an industrial gray façade. The 24-hour vending machine is perfectly integrated into the sleek, modern design. 10 different desserts are offered for sale, starting with their authentic strawberry shortcake delicately arranged in a transparent plastic can. This "Shortcake Can" (the 330 ml can is 1,100 yen and  the 250 ml can is 980 yen) is made of fluffy sponge cake, strawberries and Hokkaido fresh whipped cream.  Other items include "fluffy cans" made with plenty of fresh Hokkaido cream and seasonal fruit jam spread on the bottom, two types of "pudding cans" (500 yen and 680 yen), plain and pistachio, "tiramisu cans" (800 yen), and a pair of canele (500 yen). This is definitely a dessert style to try when visiting Sapporo after having a night drink!
*Please note that the products handled depending on the season.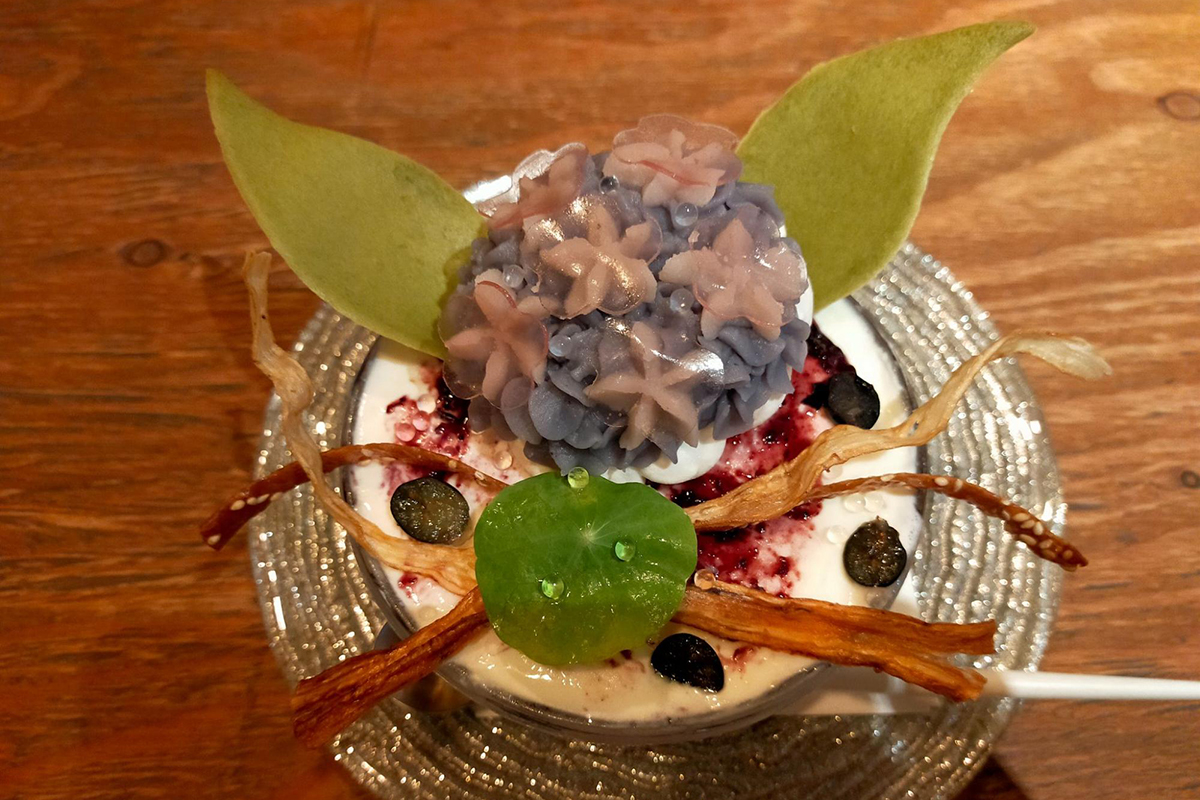 Parfeteria Pal, one of their famous shops, is located on the 6th floor of the same building. This shop, where the nightly parfait was born, has a cozy atmosphere thanks to its subdued lighting, wooden furniture and decoration incorporating plants and dried flowers. During our visit, we tasted the beautiful "Hydrangea after the rain, dew". Each parfait comes with a card listing all the ingredients and telling the story of the desert! La Parferteria Pal's parfaits are poetic, visually beautiful and delicious. It is almost unbelievable that 20 different ingredients were used to make this parfait! This little delicacy was made with Haskap and red wine agar, blackcurrant and white bean cream, raspberry and white bean cream, meringue and blueberry sorbet, just to name a few.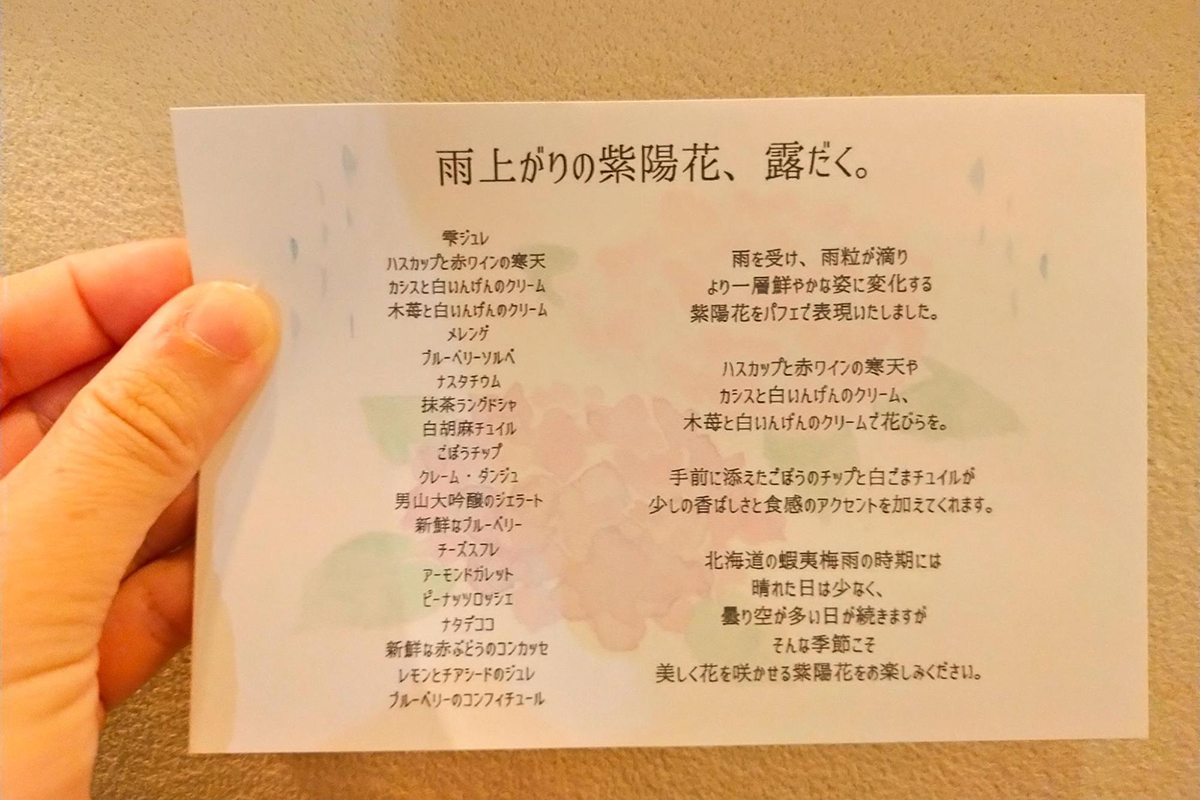 An extract from the text explaining the dessert : 
After the cherry blossom season
Hokkaido is visited during the Yezo rainy season.
The rain makes the hydrangeas bloom even more brilliantly.
The hydrangea blooms more brilliantly with the rain.
Perfect is an expression of the hydrangea, which blooms even more brilliantly in the rain.
We'll let you discover the atmosphere and the beautiful seasonal parfaits of the Gaku company in this video :
---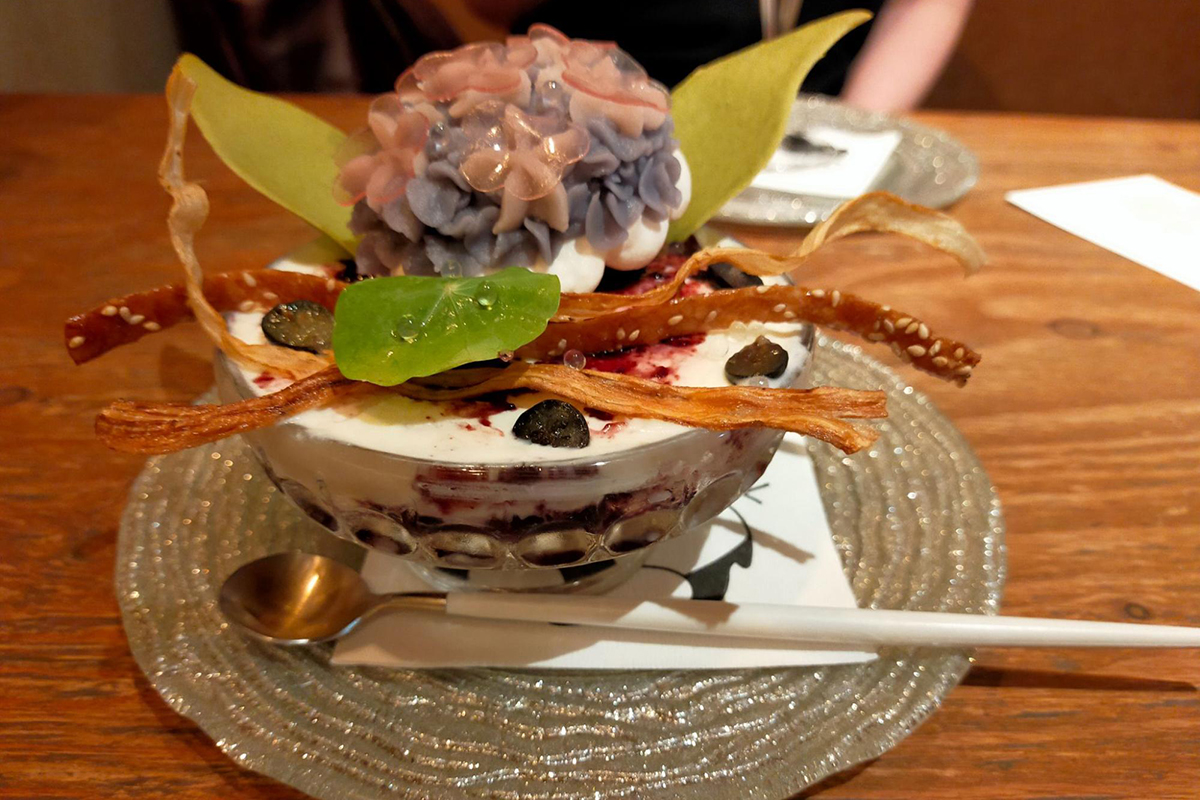 We hope that through this article you have discovered a new and attractive face of Sapporo and that the rich and varied coffee and cafe scene in this slow-living but vibrant nightlife city will inspire you to visit our beautiful Treasure Island of Hokkaido. We look forward to receiving your enquiries and, as always, we will be happy to help you plan your dream trip to Hokkaido. Please feel free to contact our professional and friendly team of consultants!