In this blog column, Sara, an English-speaking guide with extensive local knowledge, introduces the charms of Kominka cafés, which are renovated from old Japanese traditional houses in Hakodate, Hokkaido, Japan.
Get to know Hakodate City with a local guide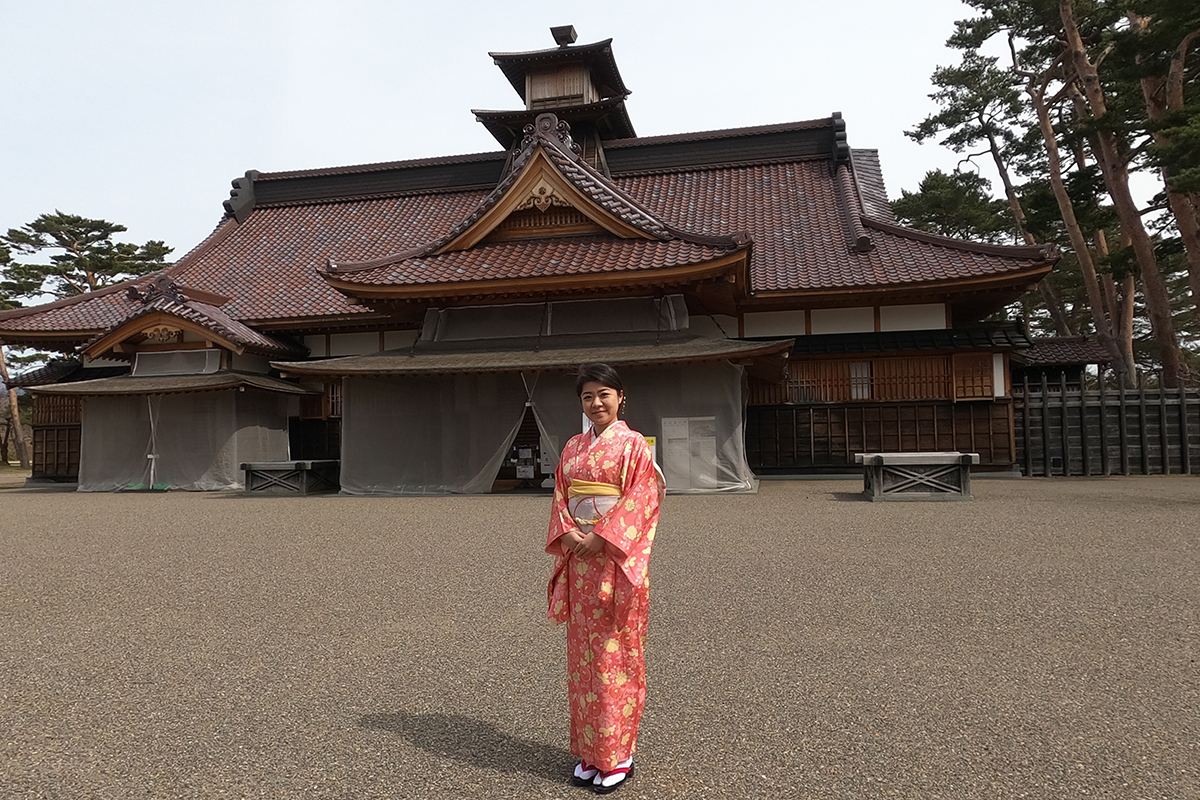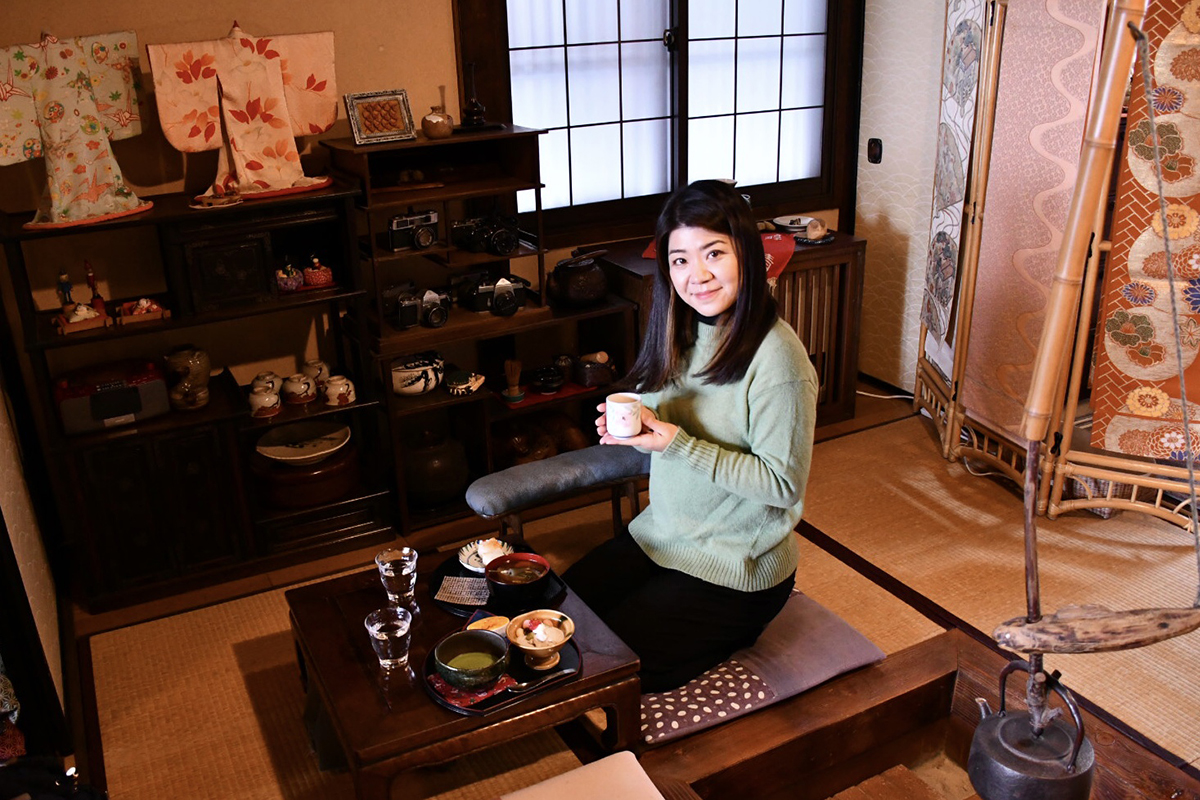 Sara was born and raised in Hakodate until she was 18 years old. After that, she lived in Tokyo for 9 years, in foreign countries such as Singapore and Philippines for about 6 years, and has traveled a lot, visiting more than 30 countries. A few years ago, when Sara came back to her hometown of Hakodate, she realized how beautiful and amazing it is, and now she wants to spread the word about it to the world. Sara is falling in love with Hakodate again, and doing her best to find out more about the city. She offers tours of Hakodate in English now.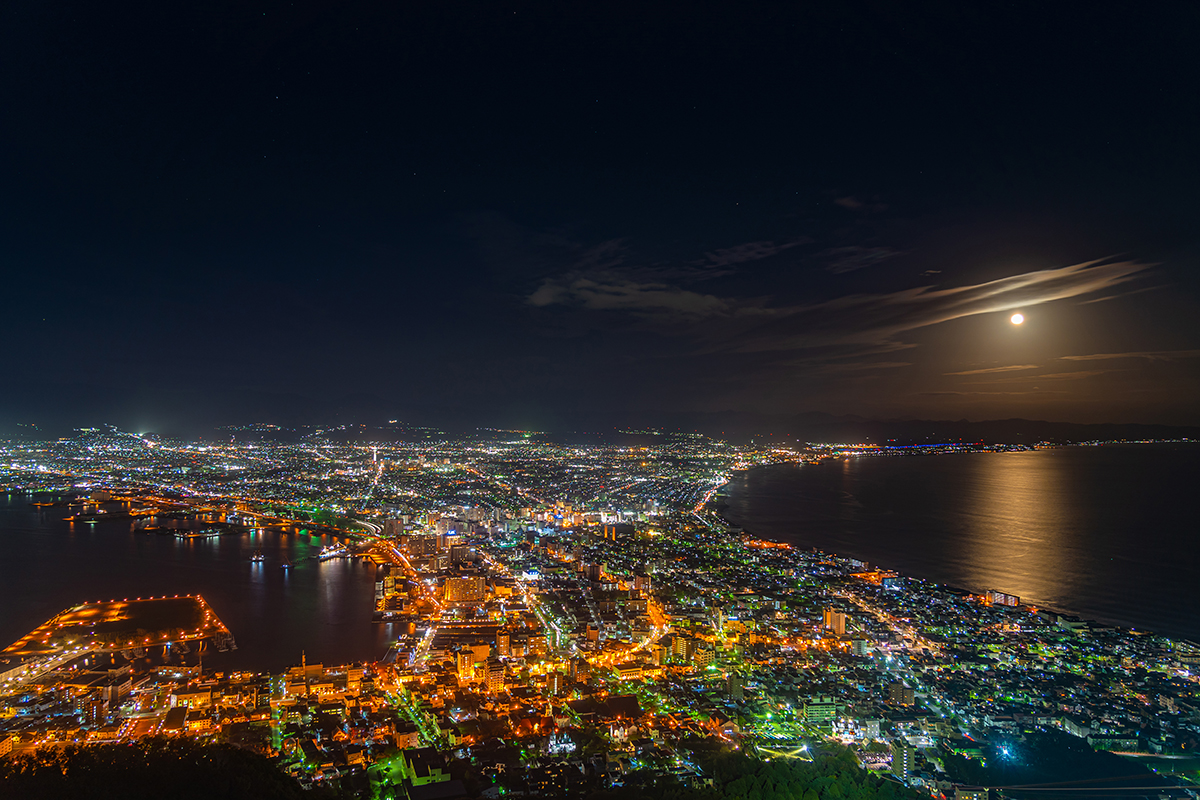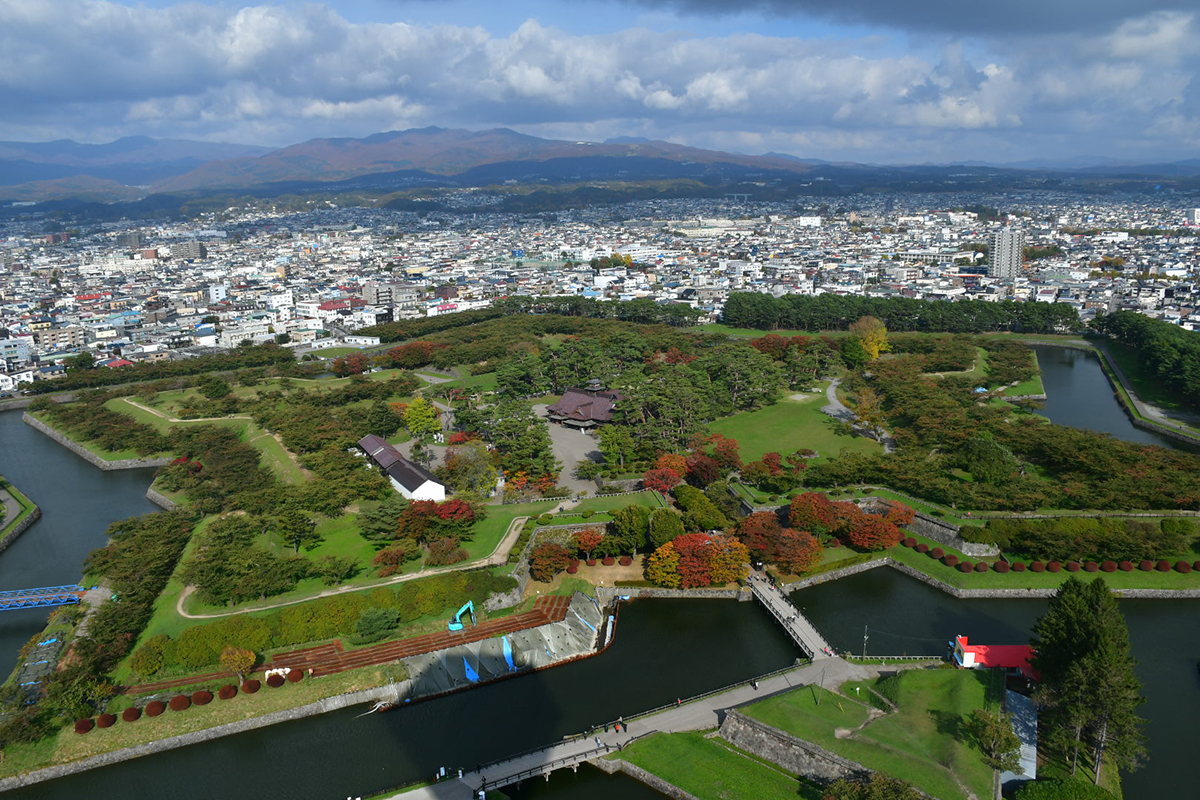 Hakodate is one of the most famous tourist cities in Japan. It is a very popular tourist destination for Japanese and foreign tourists in Hokkaido. Attractions such as the night view from Mt. Hakodate, considered one of the world's top three nightscapes, Goryokaku, the star-shaped fortress where you can see the history of the samurai, the Morning Market where you can enjoy fresh seafood, the Motomachi area with its historic buildings, and hot springs make it a destination that any visitor can enjoy.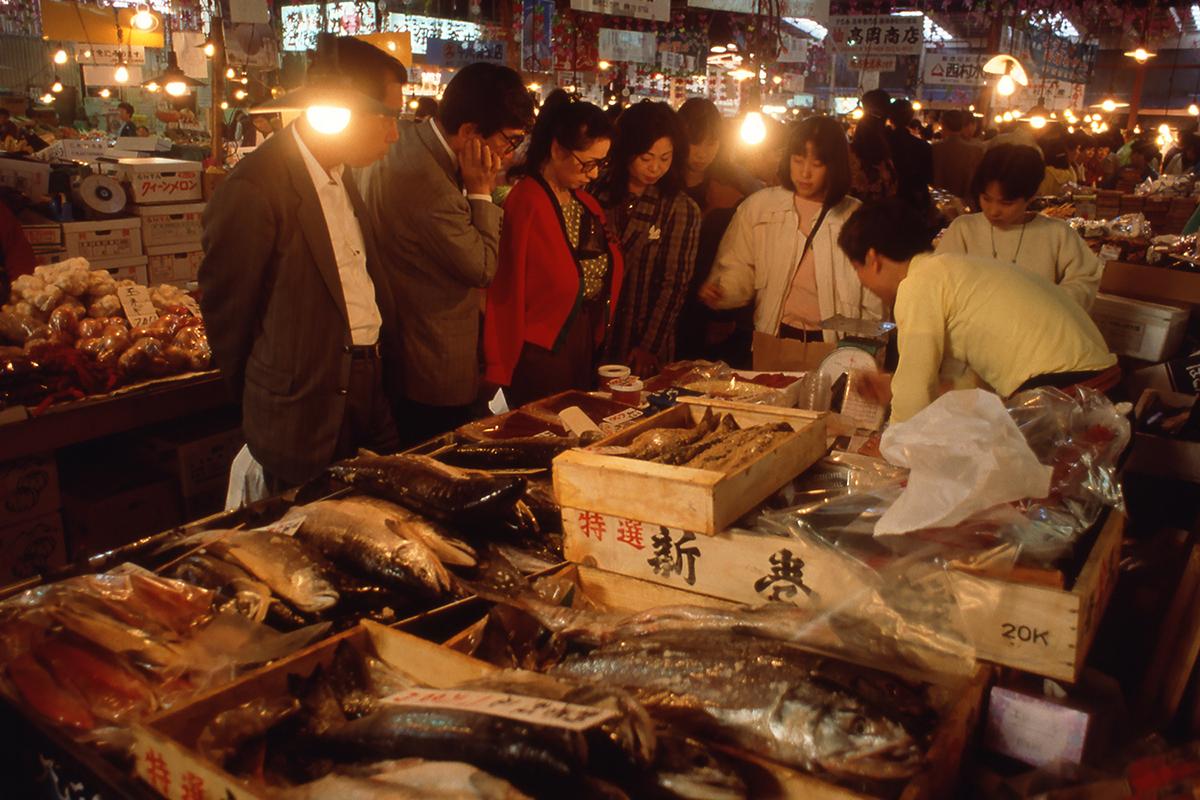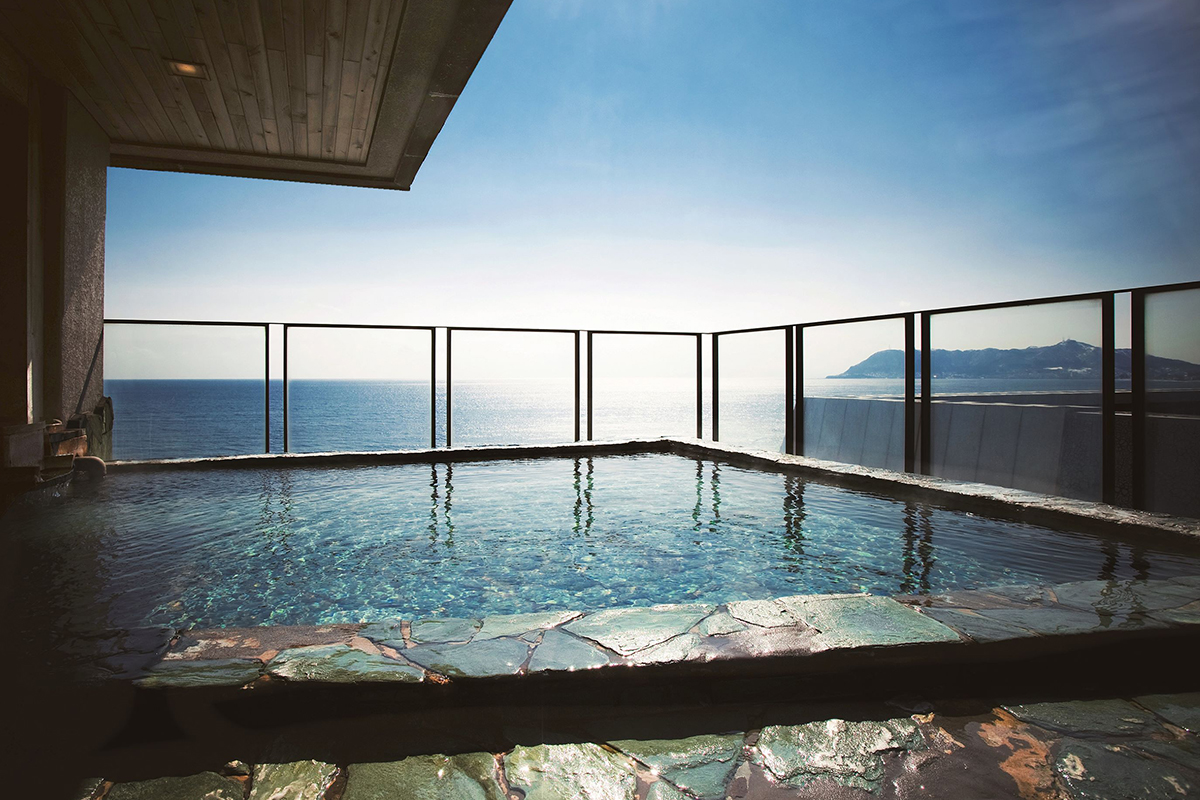 Hokkaido is Japan's second largest island and is located in the northernmost part of Japan. Hakodate is located in the south of Hokkaido, and the shortest distance to Honshu (the main island of Japan) is about 17 km. On a clear day, the mountains of Honshu can be seen across the sea. Facing the sea and being the closest city to Honshu in Hokkaido, the city has long been active in fishing and trade. Trade brings in not only goods, but also culture and people. Due to these influences, Hakodate has become a popular tourist destination as a city with an exotic atmosphere. Hakodate has many wonderful buildings and places to see, but in this blog column Sara would like to share with you her favorite way to spend her days off: having an amazing time at a Kominka café.
---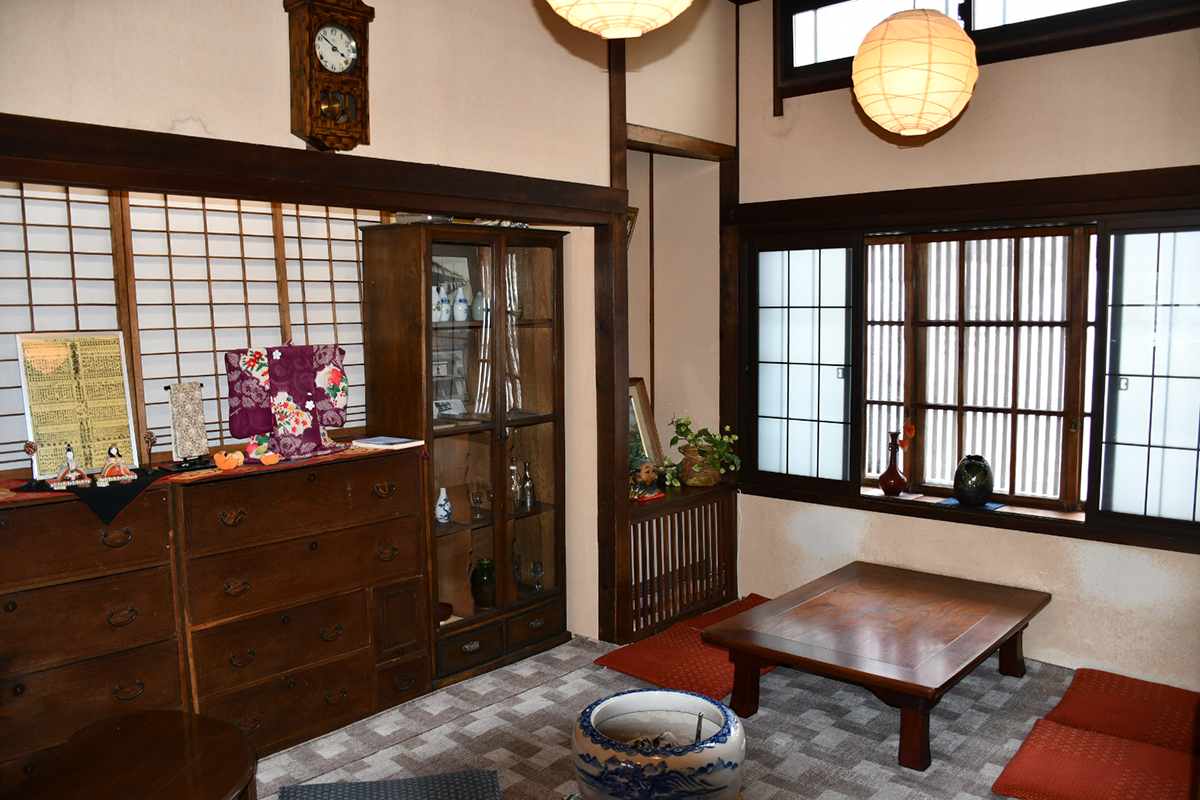 Have you ever heard the phrase "Kominka café "? Kominka means an old Japanese house. A Kominka café is an old house built with traditional Japanese architecture that has been renovated and transformed into a stylish space. There is a sustainable aspect to renovating and repurposing old buildings.
Why is the Kominka café so popular in Japan right now?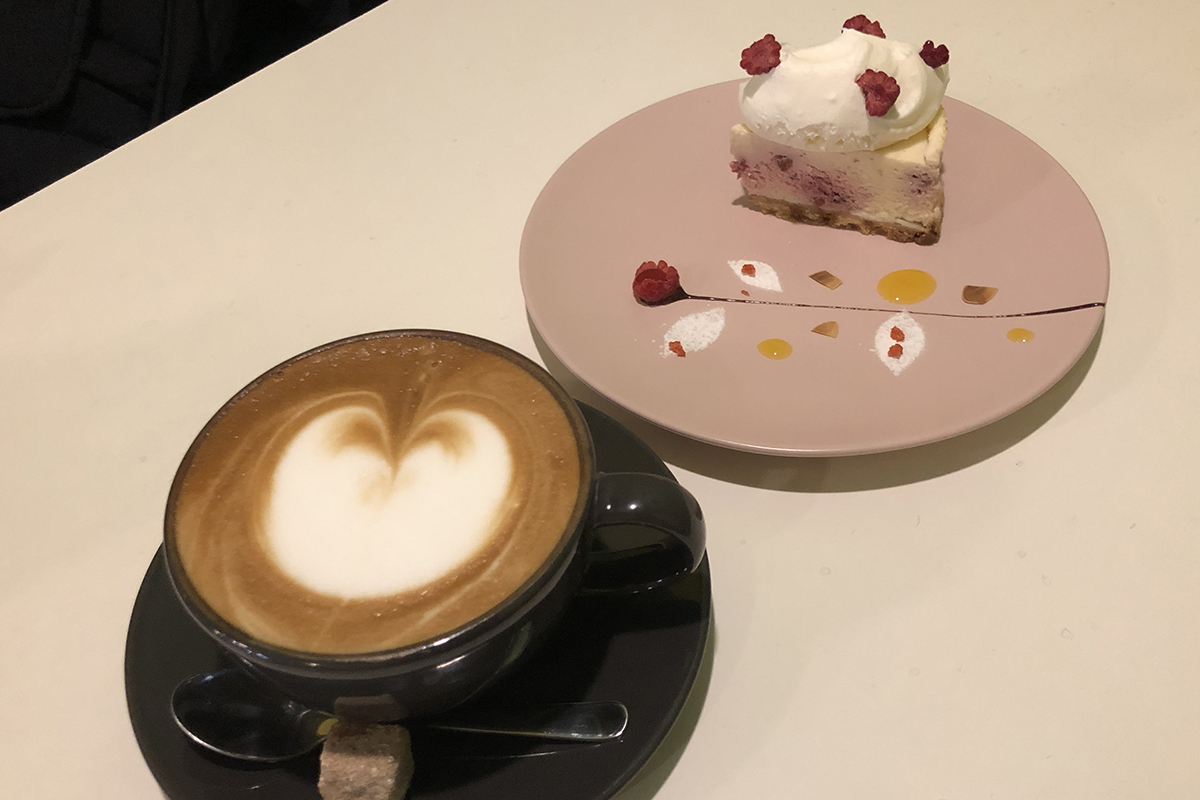 Typical reasons include the following. Enjoying sophisticated and delicious coffee in a place where you can feel at home. A space where you can feel the owner's love for the café and how they make it special. Individuality not found in franchises. Easy access to valuable buildings, and a chance to see historic Japanese techniques. A special place to enjoy daily coffee time with a 30% boost in fun.
Why are there a lot of Kominka cafés in Hakodate?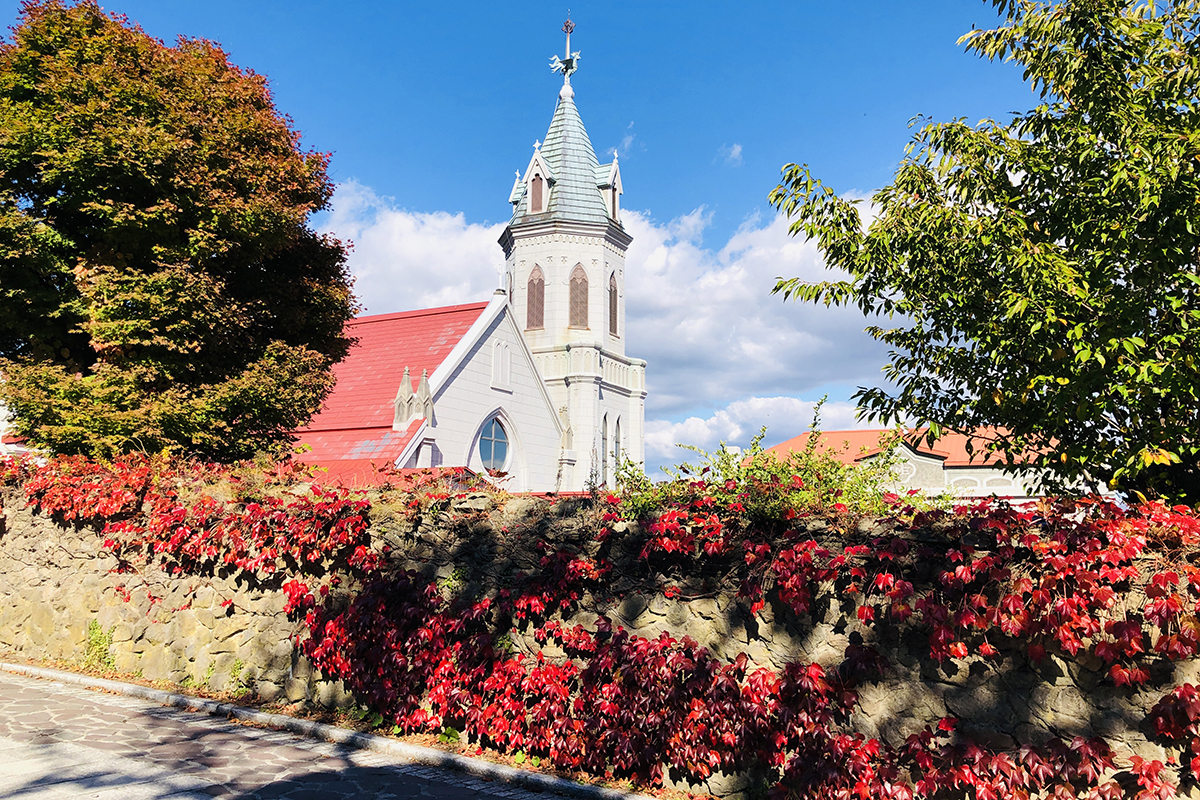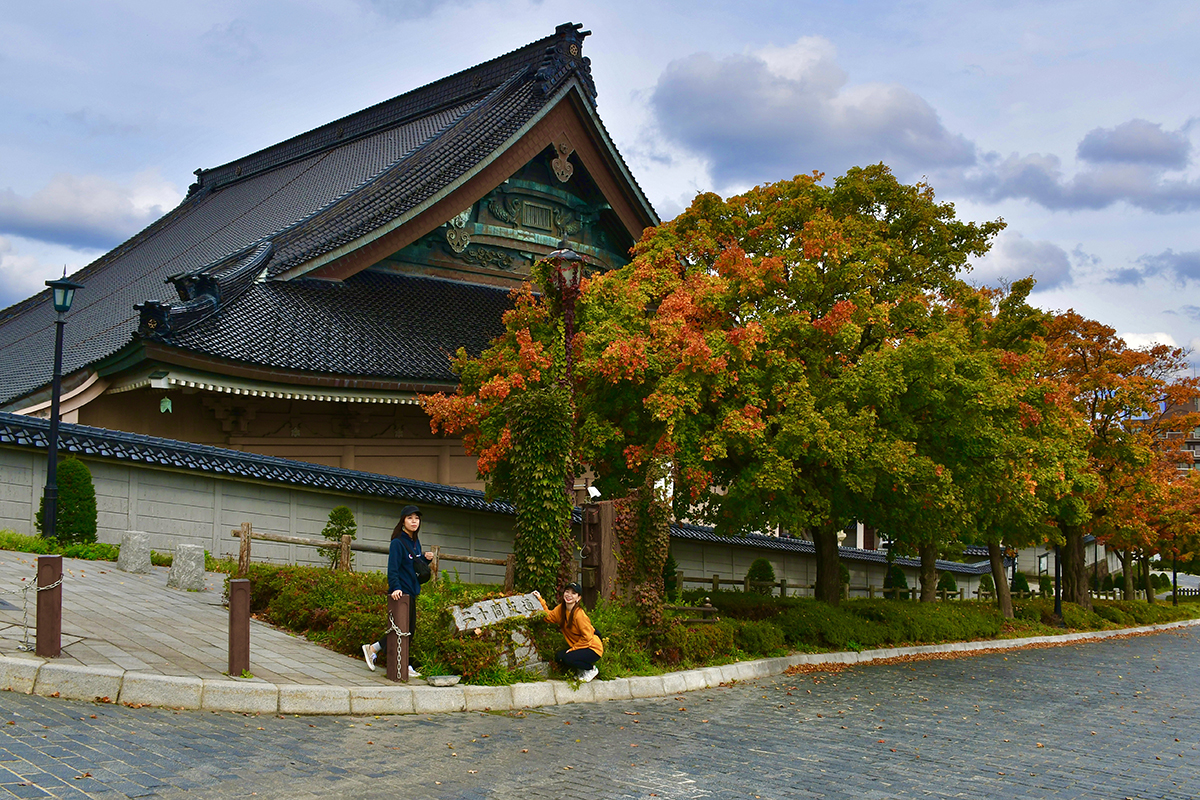 Hakodate is a fun city to stroll around. Walk slowly and take plenty of rests because there are many slopes. The area is surrounded by the sea and boasts stone-paved slopes, and amazing views of scenery and sunsets from the top of the slopes. Hakodate has a "café culture" for people who want to enjoy those beautiful things. Hakodate is often used as a location for Japanese films and music videos, and many artists have been born there. A café is the best place to communicate with someone, take a break, think, and find inspiration. In the 18th century, during the final samurai battle in Hakodate, the samurai used coffee in powder form as medicine. Therefore, coffee has been familiar to Hakodate people since the old days.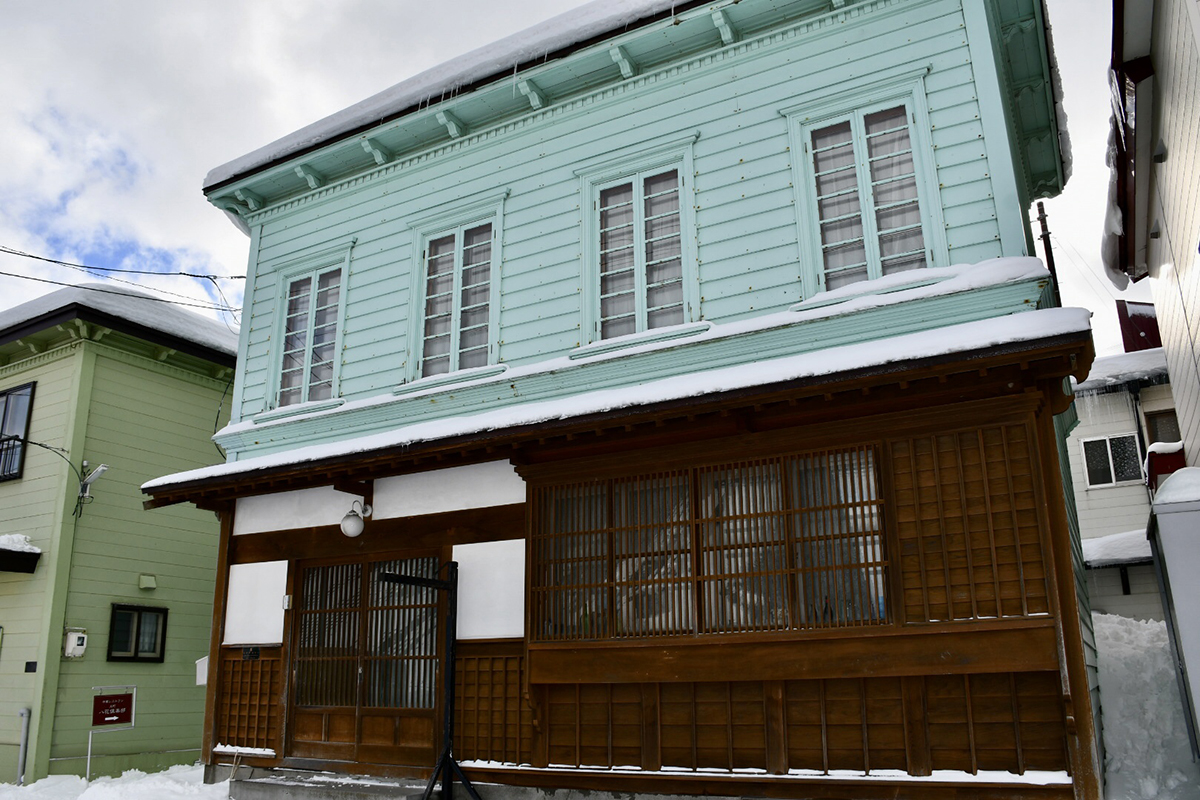 Hakodate was one of the first international trade ports when Japan opened its borders after about 200 years of national isolation. Foreign cultures and items entered Hakodate because of this, so many of the buildings are a blend of Japanese and Western styles. Some of the houses are Japanese style on the 1st floor and Western style on the 2nd floor, and there are also brick warehouses. These no longer play their former role and are now Kominka cafés that add color to the city.
Hakodate is well suited to Kominka cafés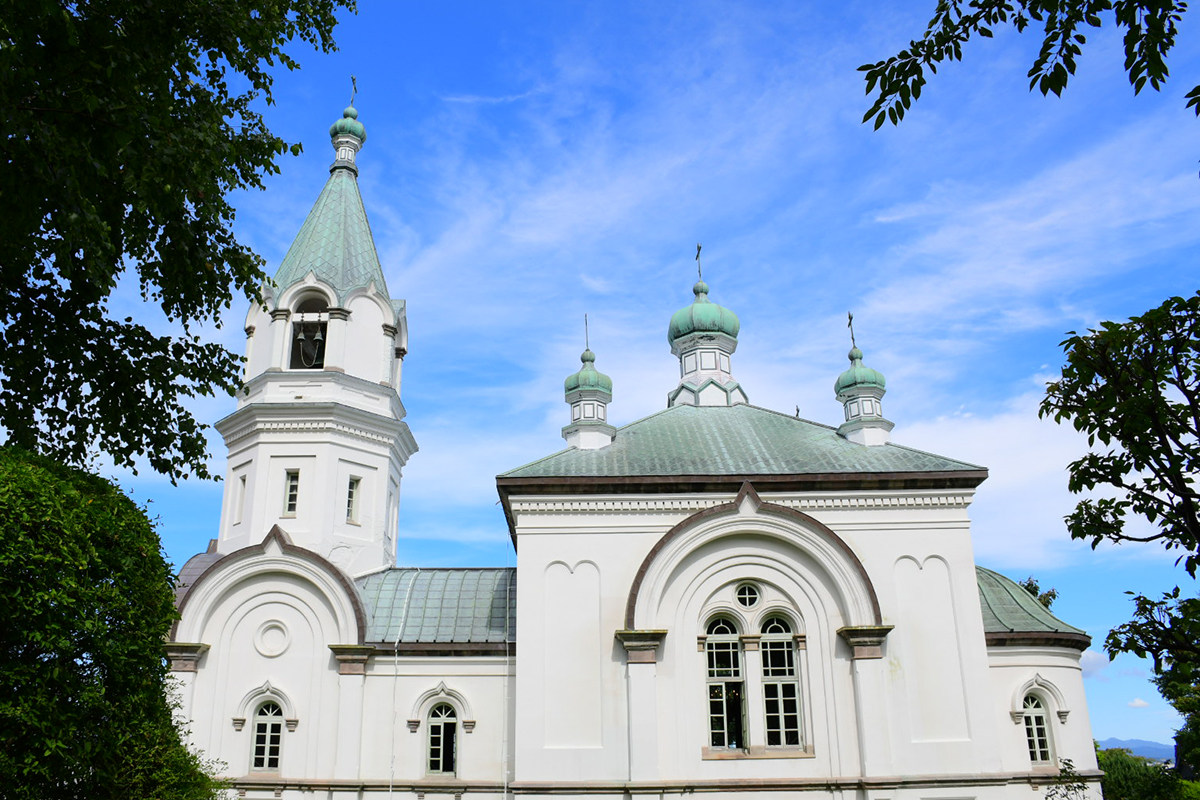 In the Motomachi area of Hakodate, there are French, English, and Russian churches, red brick warehouses, and other historic buildings. Hakodate is located right on the ocean and close to the harbor. Mt. Hakodate, at 334 meters above sea level, is the symbol of the city. At the foot of Mt. Hakodate, there are 19 beautiful slopes. The Goryokaku Tower, the largest tower in Hakodate, is 107 meters high, and offers a great view of the entire city as there are no buildings taller than this. You can enjoy cherry blossoms in spring, sea breezes in summer, autumn leaves in fall, and snowy landscapes in winter. Professional photographers like to take many pictures of Hakodate because of its beautiful cityscape, and many locals also take pictures as a hobby.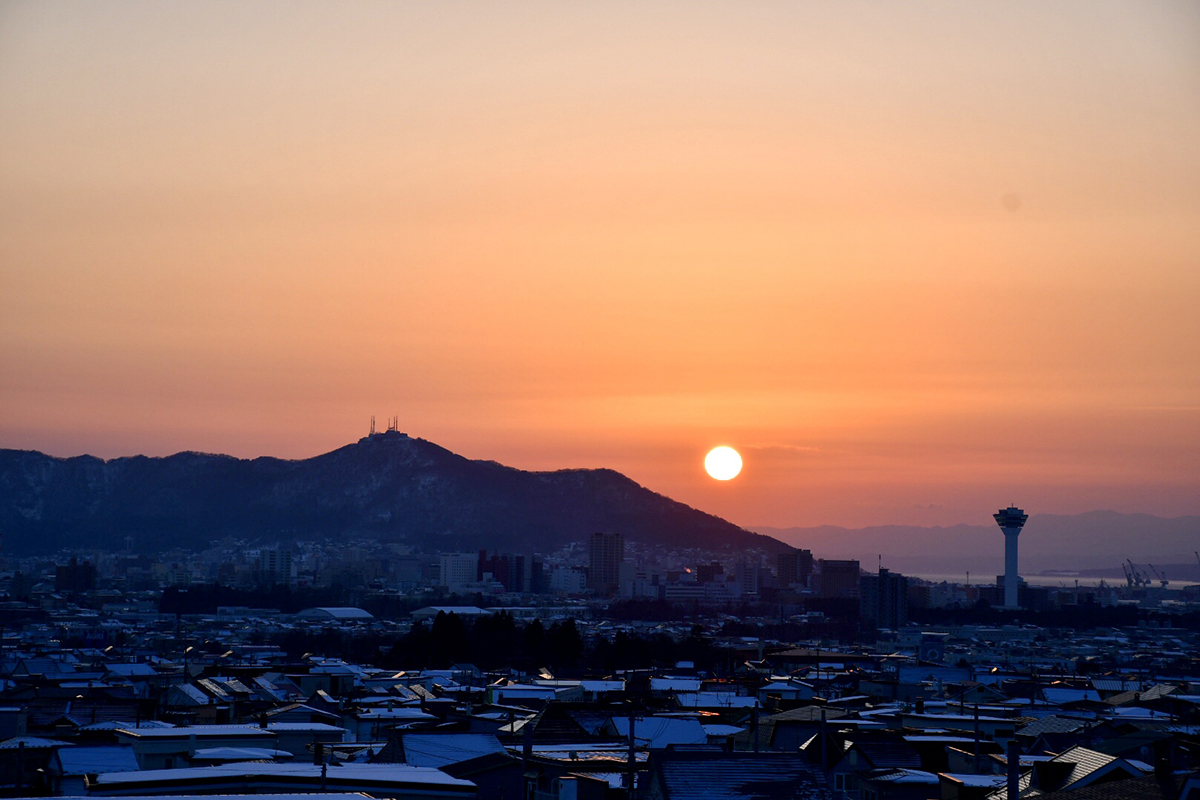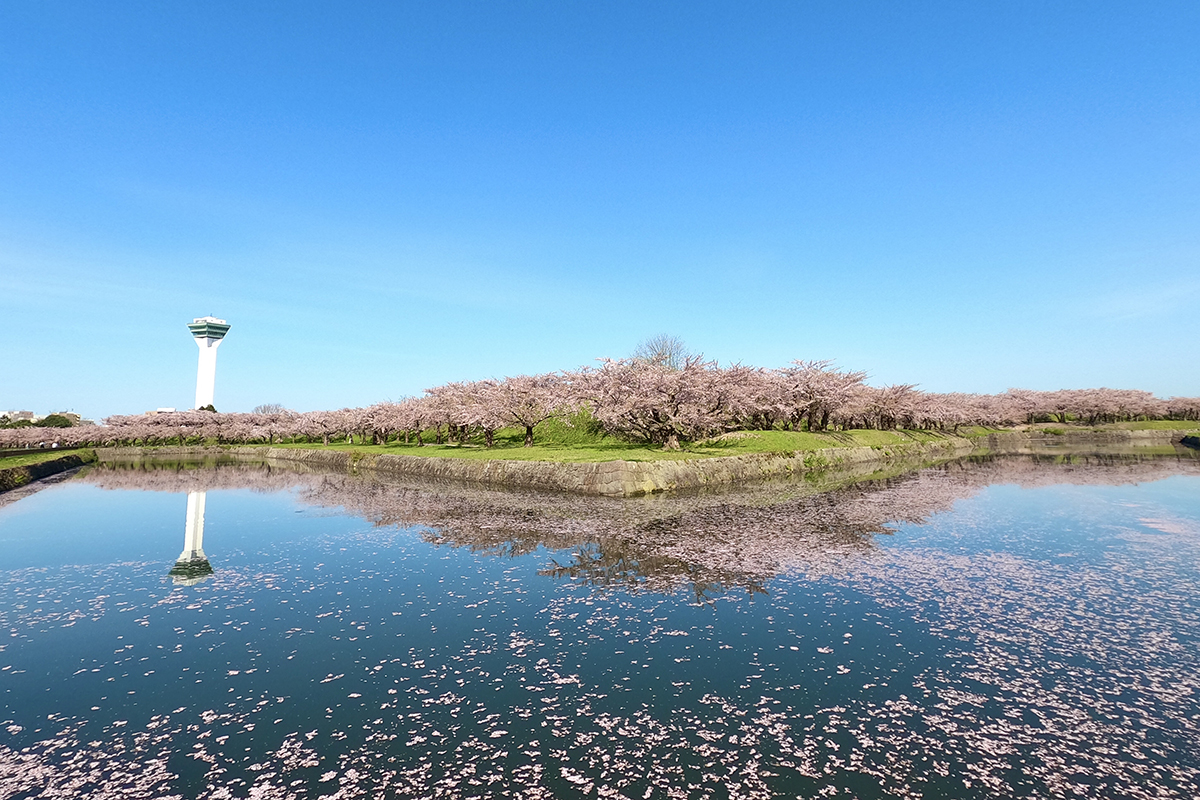 Hakodate, with its wonderful cityscape and seasonal scenery, offers many Kominka cafés as places to rest during sightseeing or strolling, to relax and enjoy the scenery, to share photos and memories, and to enjoy conversation.
---
Let's go to some Kominka cafés in Hakodate!
 Cafés are comfortable places in any season. If it's a special Kominka café, it could even be the destination of your trip to Hakodate, Hokkaido, Japan. While walking around Hakodate's sightseeing spots, why not visit a Kominka café recommended by a local guide?
There are many Kominka cafés in Hakodate, and these are scattered throughout the city. It is a good idea to stop by a Kominka café that catches your eye while walking around, or it may be interesting to plan a city tour starting with a Kominka café you are interested in.
---
Kominka cafés recommended by a local guide in Hakodate:
Romantico Romantica
・Benten-cho 15-12, Hakodate city
・12 min walk from Red Brick Warehouses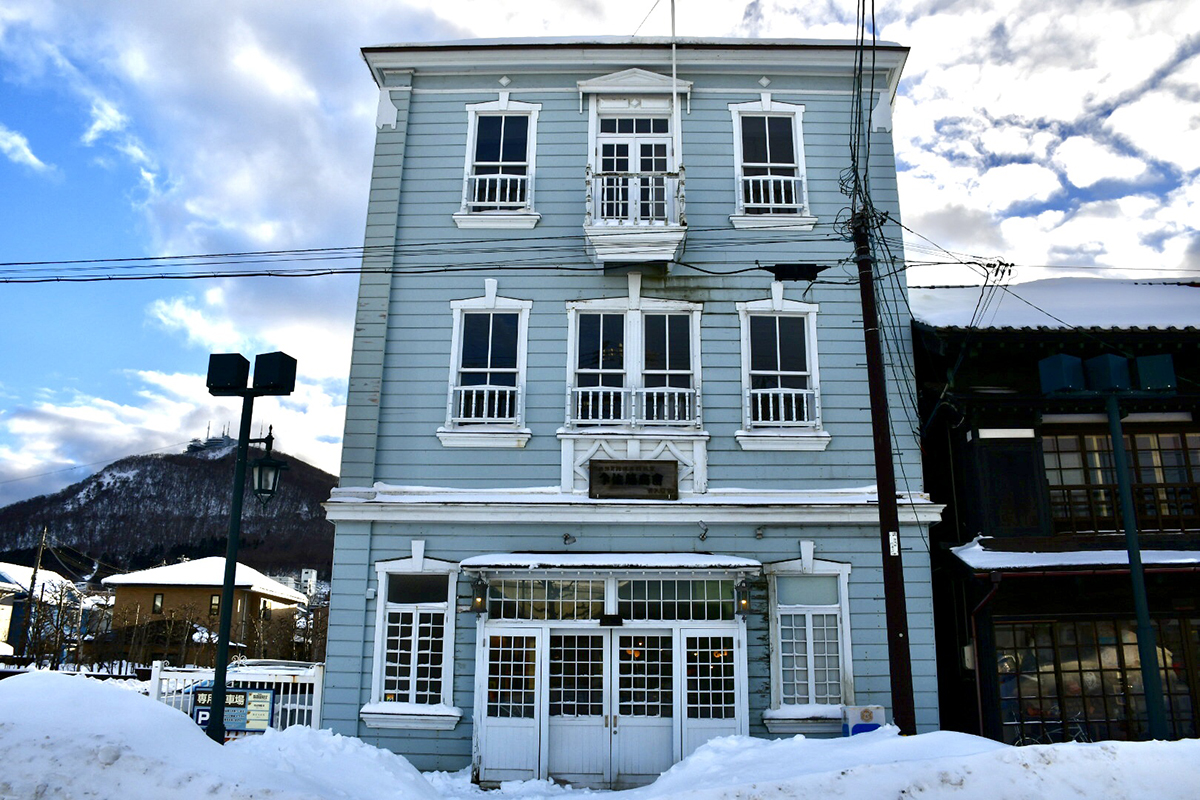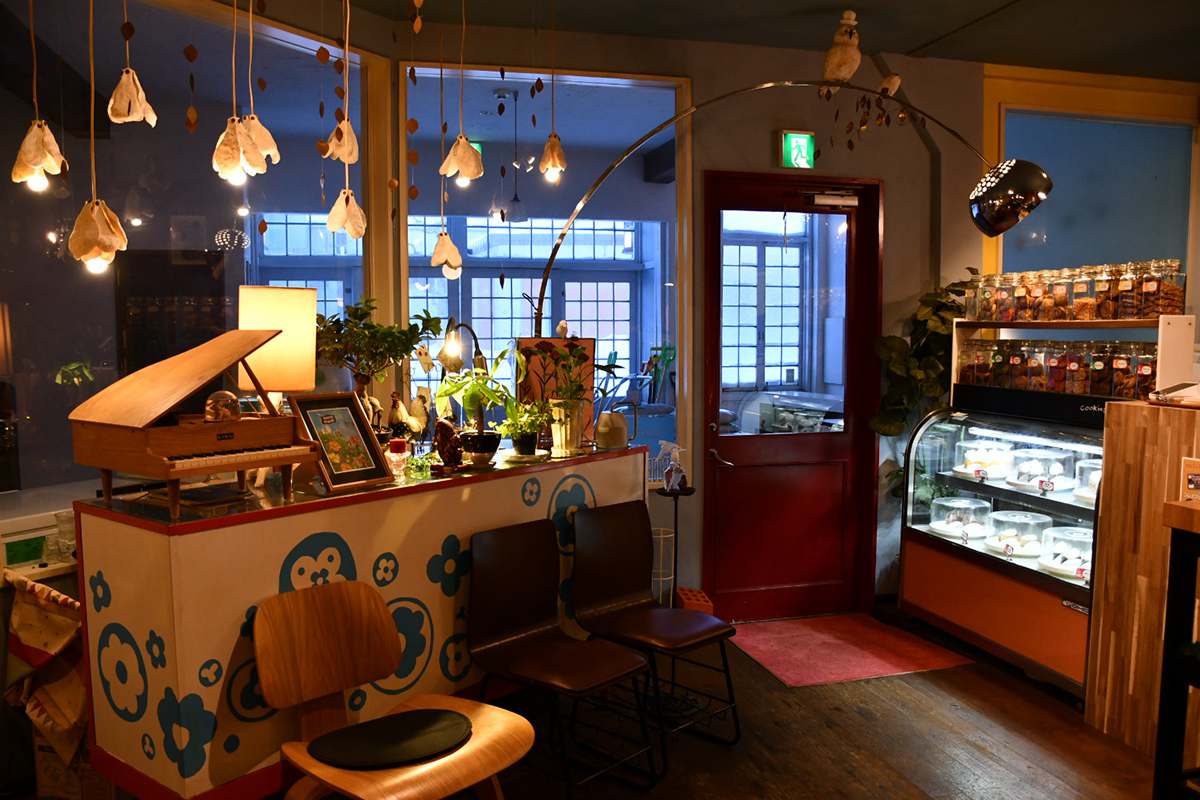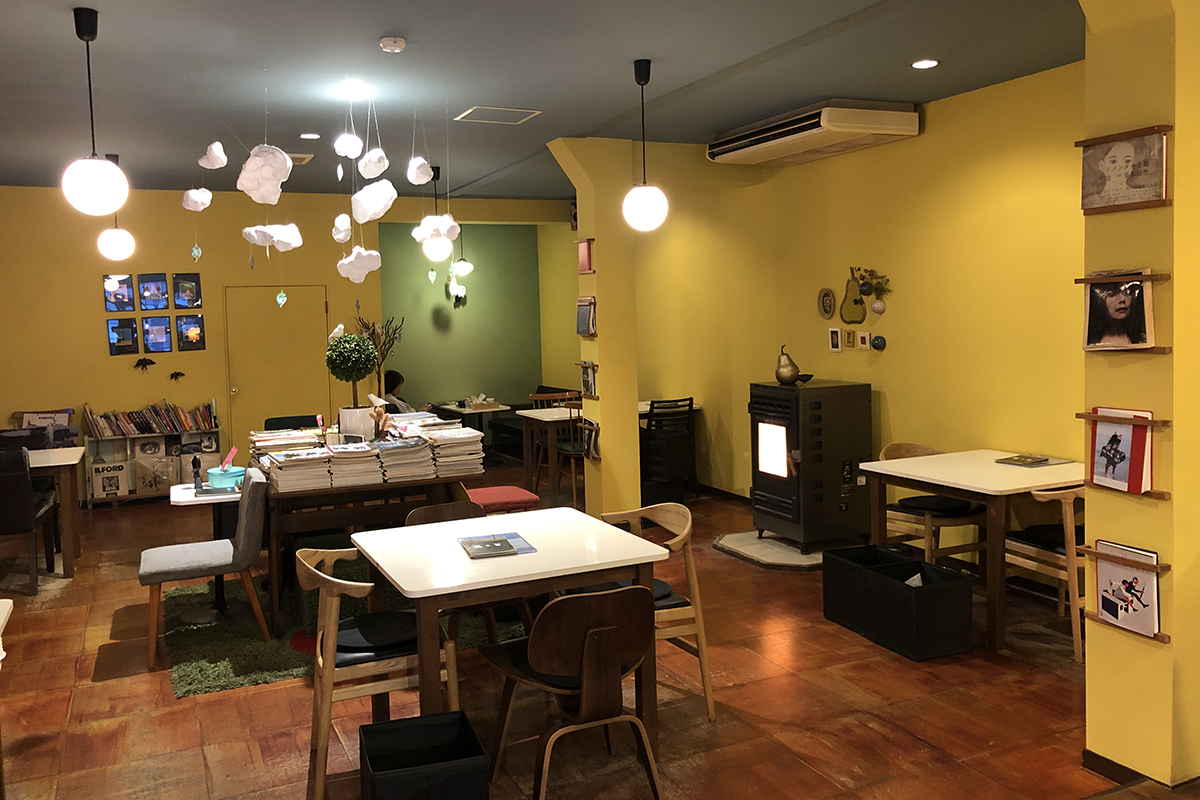 In 1916, this building was built as a canning factory. In the 19th century, Hakodate prospered from the northern sea fisheries. Fishermen would spend several months on a large fishing boat, catching salmon and crabs, which were then canned and shipped for profit. The fishing industry, one of Hakodate's core industries, is now dominated by coastal fisheries centering on kelp and squid, but in the past, northern sea fisheries were the mainstay of fishing in the Sea of Japan, Sea of Okhotsk, and Russian territorial waters as far as the Bering Sea, and Hakodate prospered as a fishing base for these fisheries.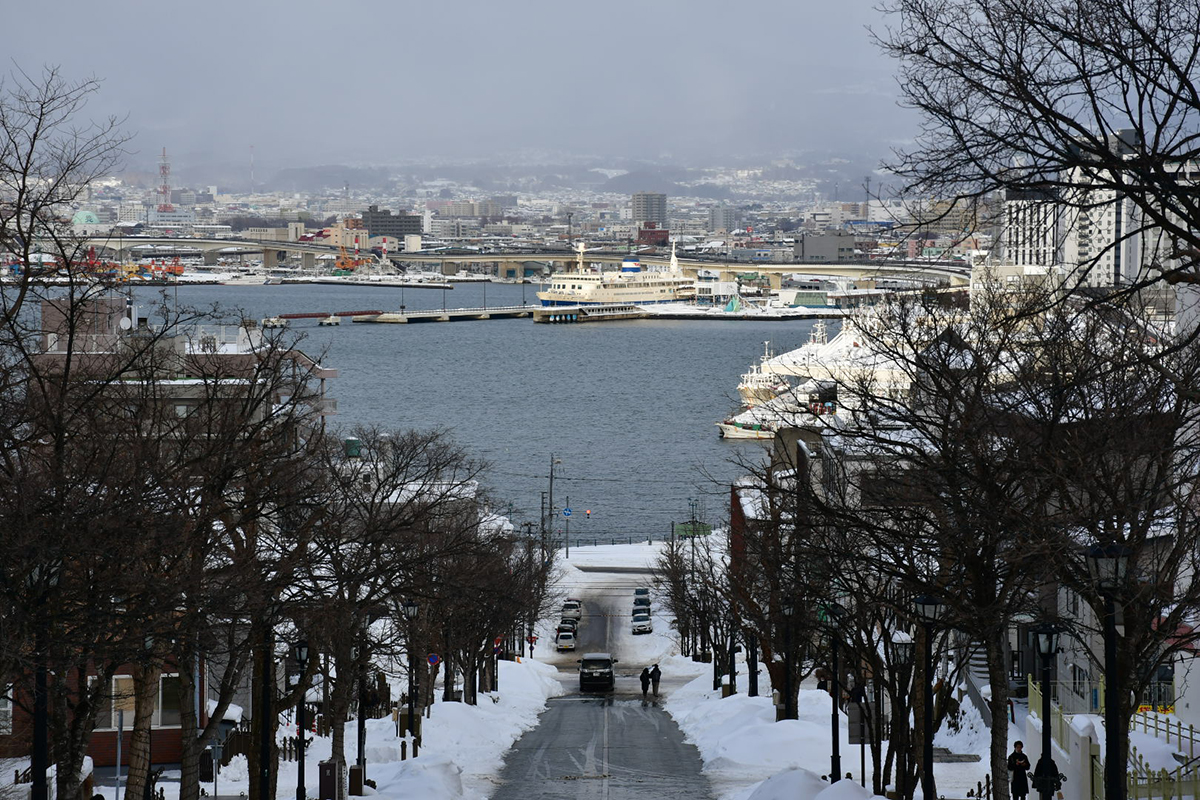 In the 1920s, large fishing boats set out for the Sea of Okhotsk and Bering Sea, where fishing rights were granted as a result of the Russo-Japanese War, and the northern sea fishing industry began, landing salmon, trout, crabs, and other fish. Many large fishing boats departed from Hakodate Port, the main base, heading for the northern seas, and huge warehouses for storing marine products were built around the port, ushering in Hakodate's heyday. The population also grew rapidly, surpassing 200,000 in 1933, making Hakodate one of the top ten largest cities in Japan. At that time, the salaries of those engaged in fishing in the harsh natural environment of the northern seas were high, and they were at the forefront of the times in terms of consumerism, culture, sports, and entertainment, so much so that it was widely said, "If you marry a man who works in the northern seas fisheries, you will be happy".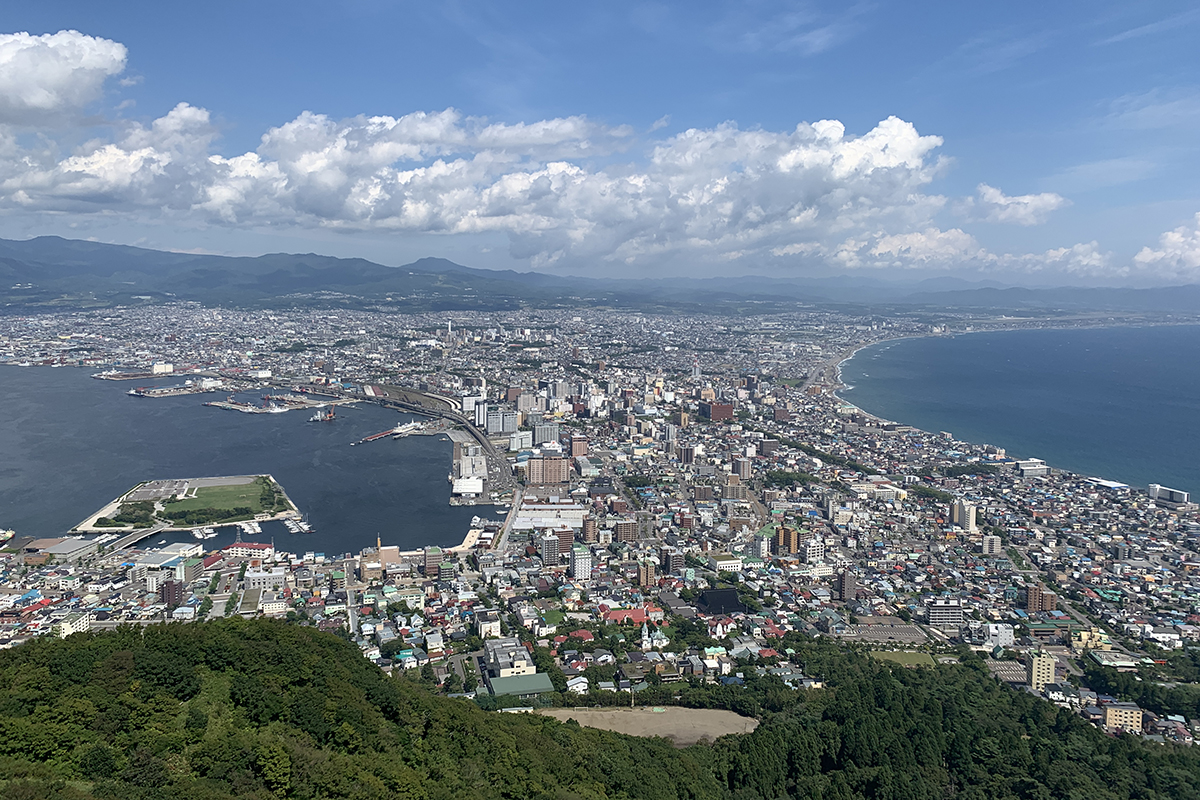 The squid fishing industry was booming along with the northern sea fisheries. The Tsugaru Strait, which stretches right in front of Hakodate, is the largest fishing ground for squid in Japan. In the 1950s, the catch of squid surged, with nearly half of the nation's total landed in the Oshima Peninsula, which includes the port of Hakodate, and the number of good catches continued day after day. Even today, people all over Japan know that eating fresh squid is a must when visiting Hakodate.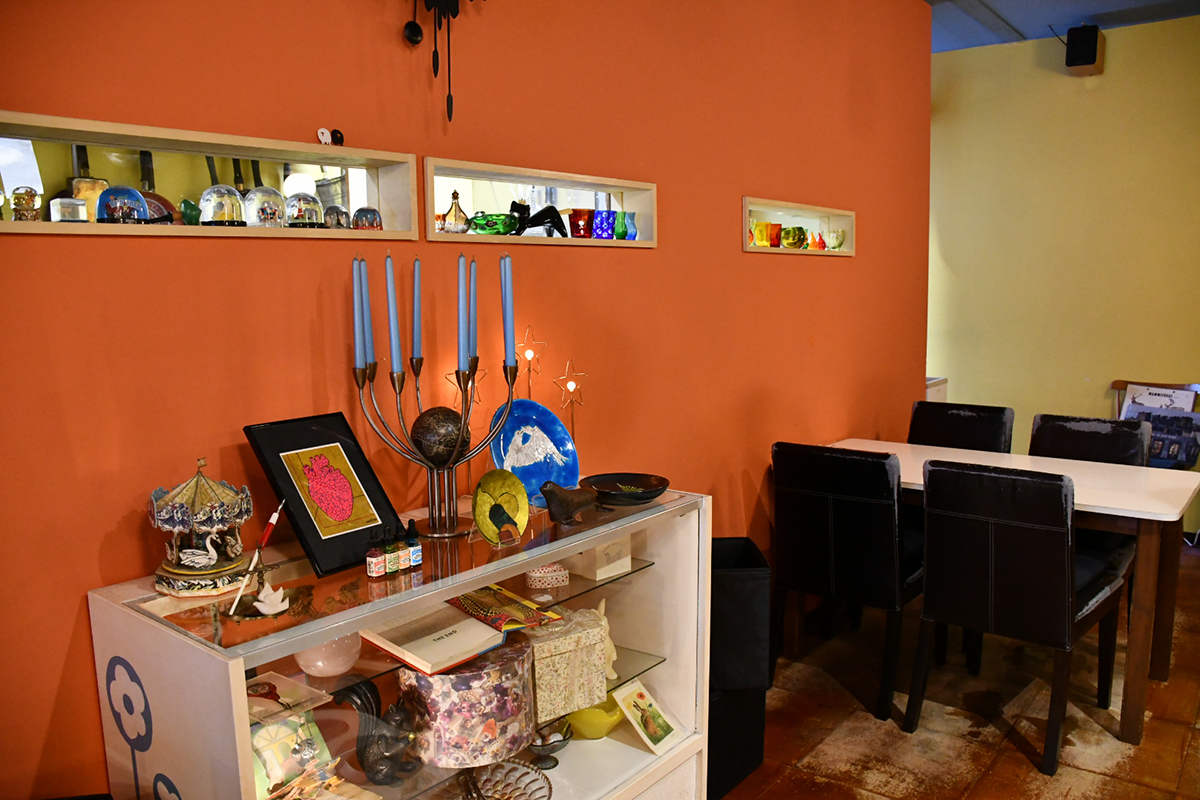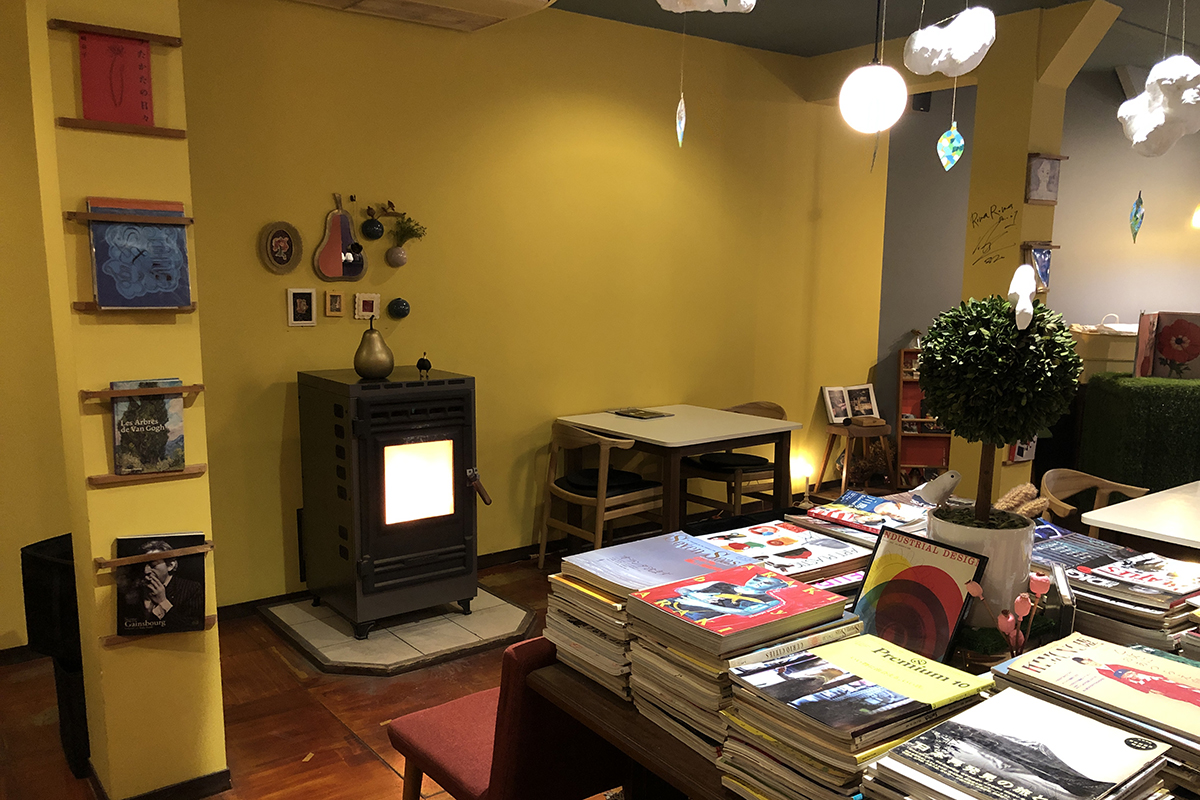 This café's building was used as a canning factory in those days. It has been designated as an important building by Hakodate City, and the exterior walls must be preserved as they are. Fifteen years ago, before this café was created, it housed an antique shop. The walls of the store have been repainted in the owner's favorite color, but the stairs and restrooms in the building can still be seen as they were in the past. There are a lot of cute knick-knacks, paintings and books inside the café. The perfect photogenic place! You can enjoy their delicious parfait, handmade cakes and cookies. This is a place where not only tourists but also locals have lunch or spend time with friends.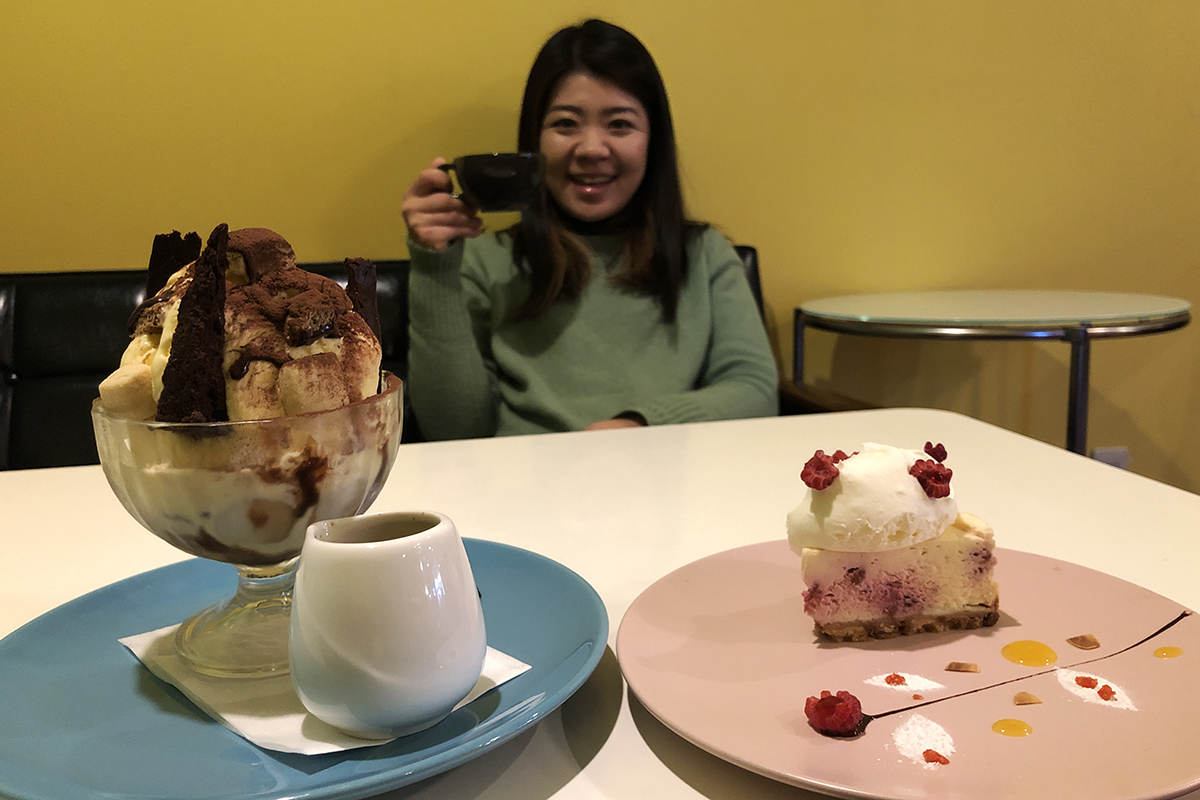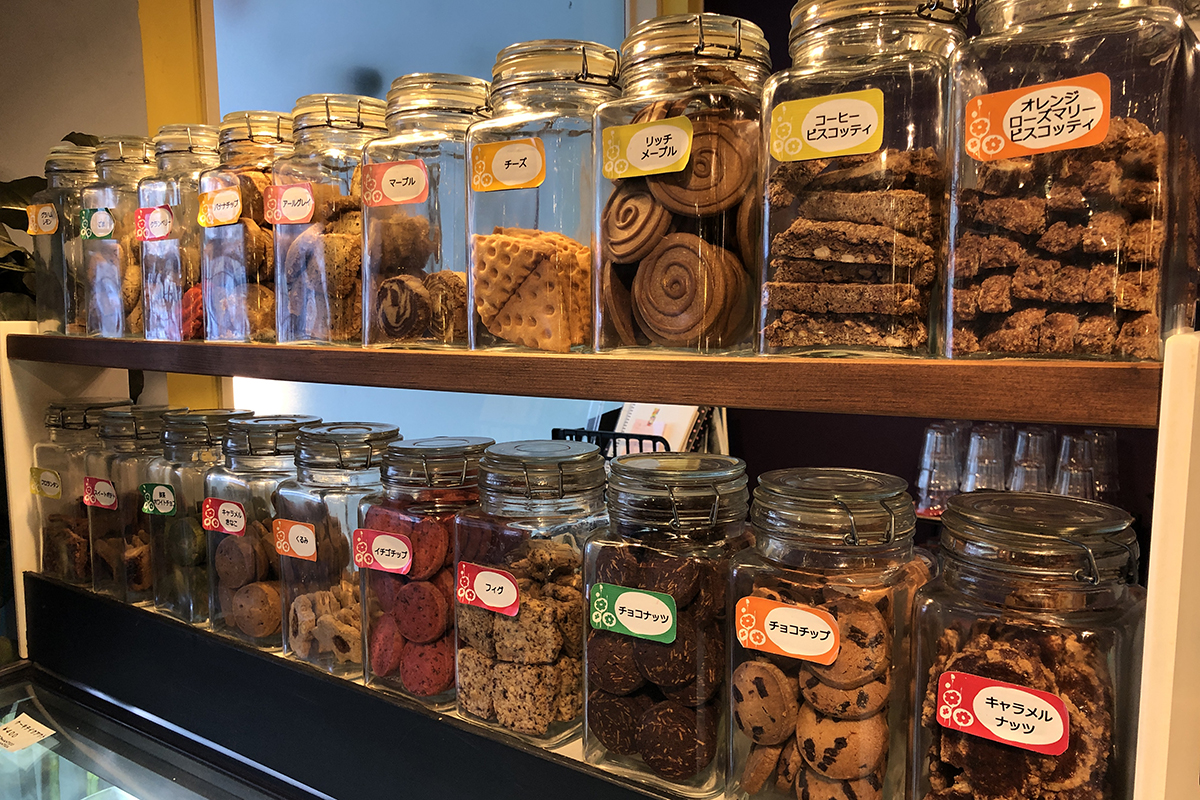 FABLIKET
・Higashikawa-cho 11-1, Hakodate city
・5 min walk from the "Jujigai" city tram station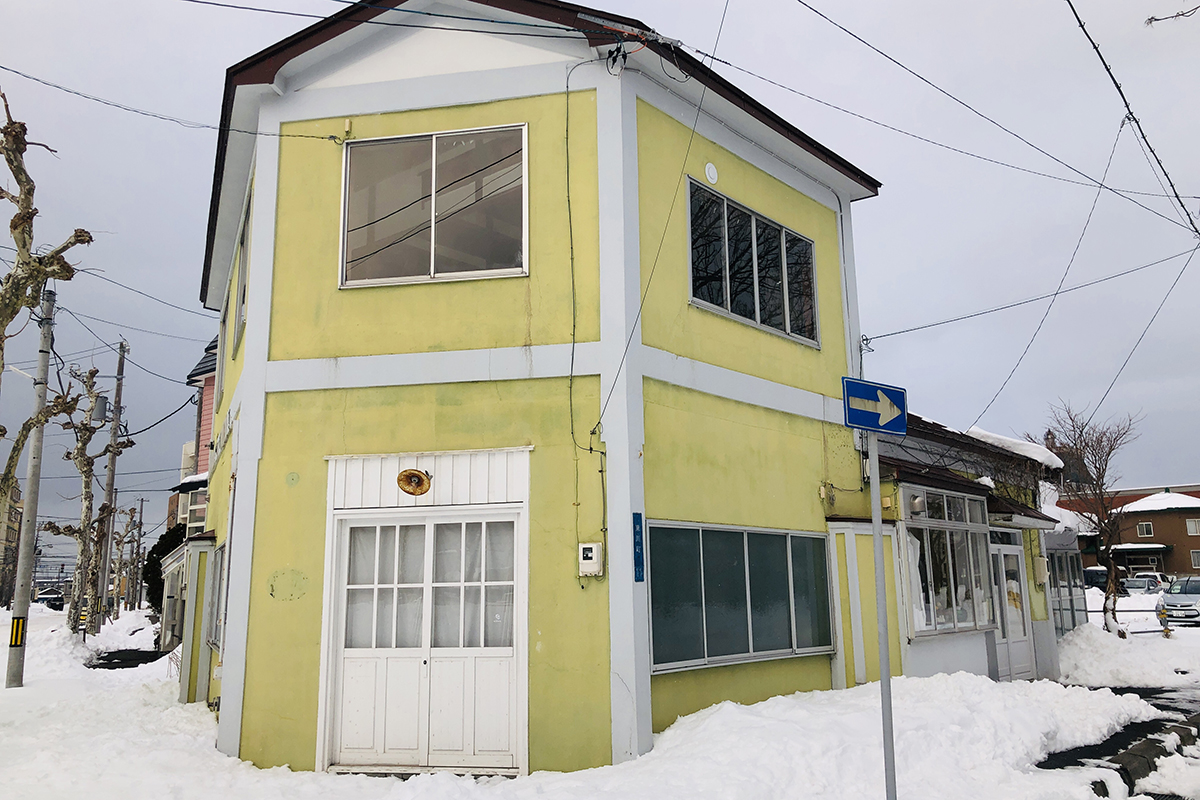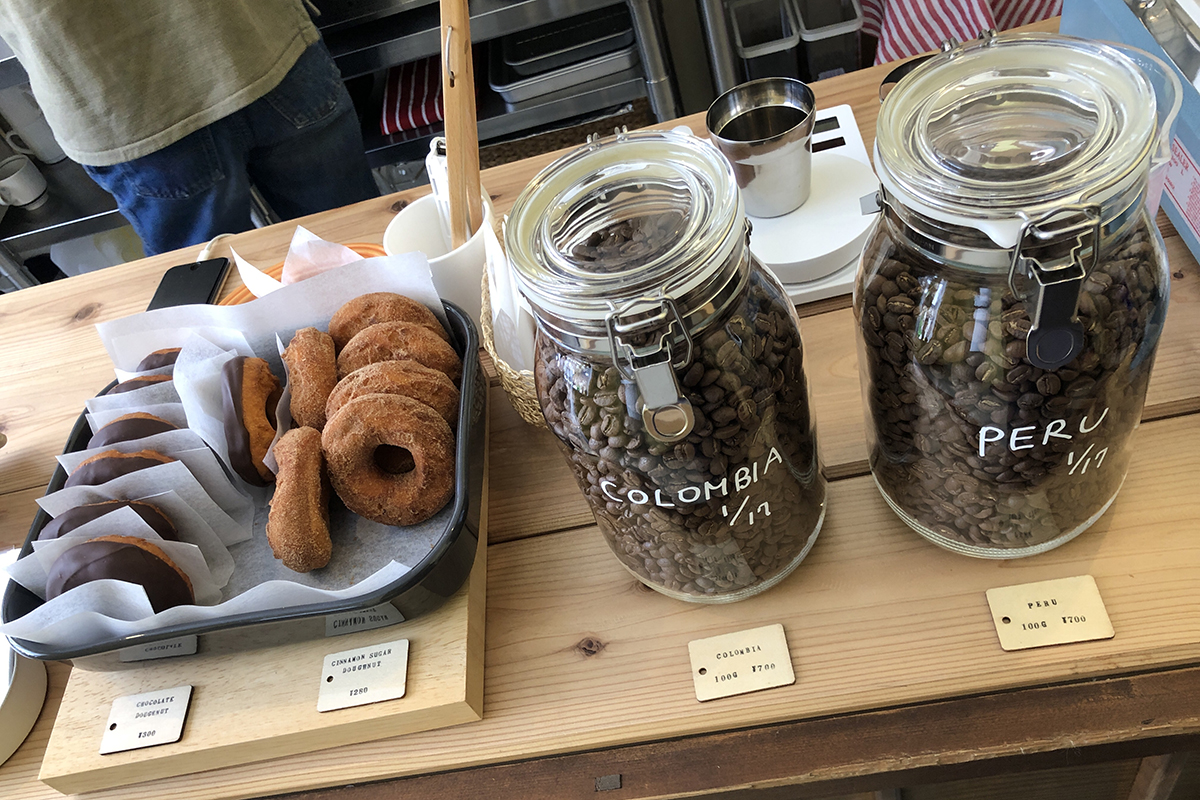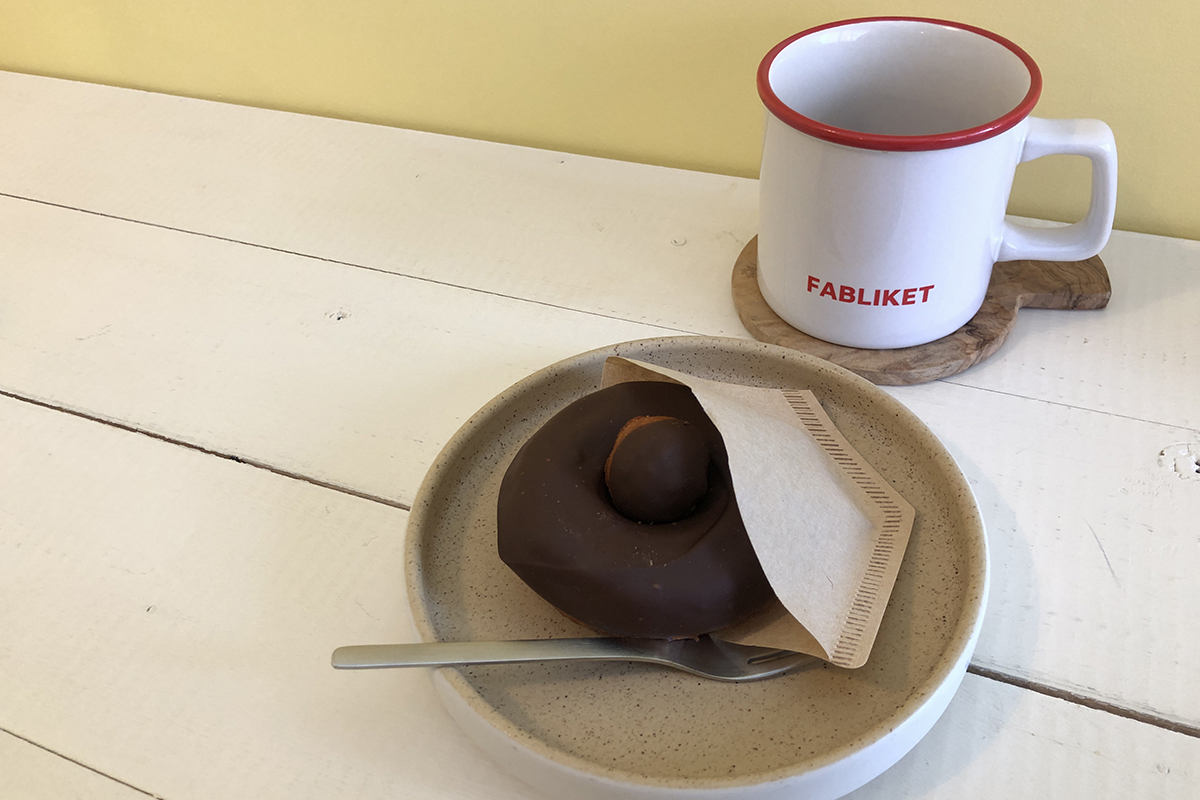 This Kominka café is run by a couple from Hakodate and Shikoku. They fell in love with coffee roasting and decided to open their own store. Utilizing their experience at a vintage clothing store, they now stock items that they like from the store that were designed by the owner, as well as original goods, so you can get some great local souvenirs.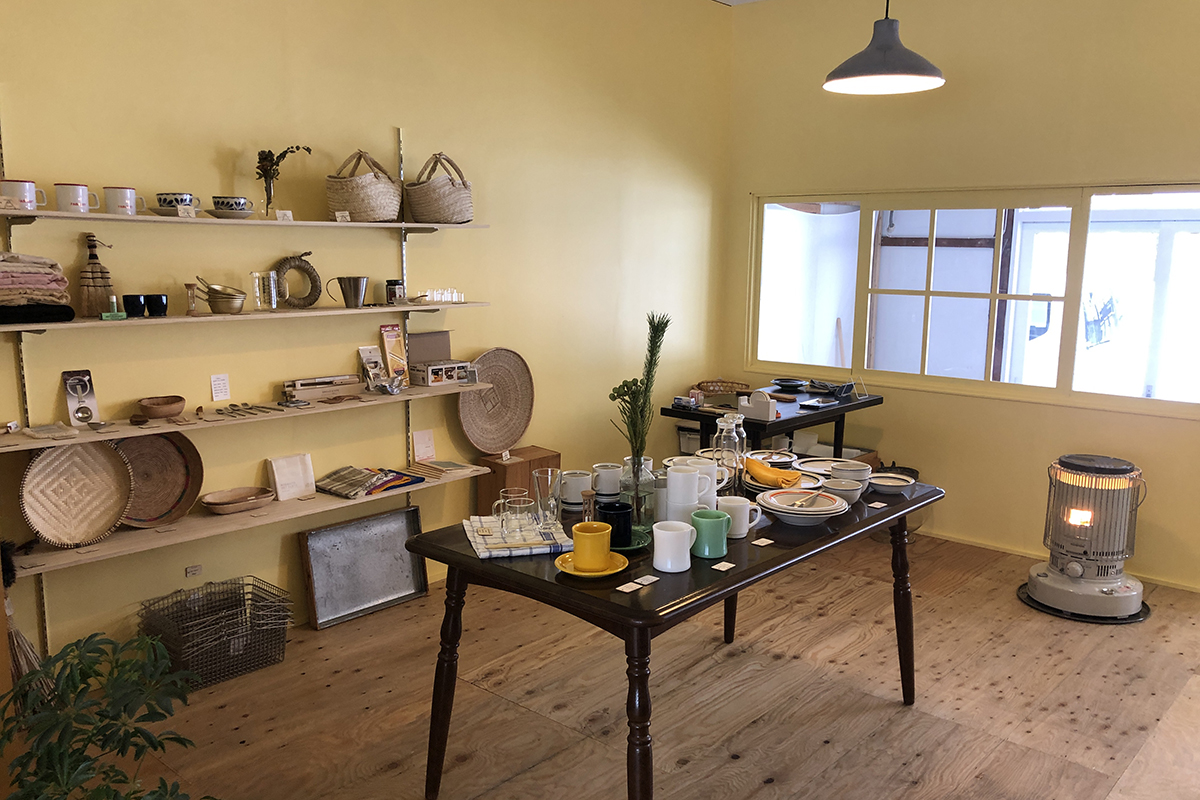 This residential building was built around 1930. For a long time, this building was uninhabited. In recent years, Hakodate has seen many old houses in a similar situation. There are few young people living in this area, which was the center of Hakodate in the 19th century.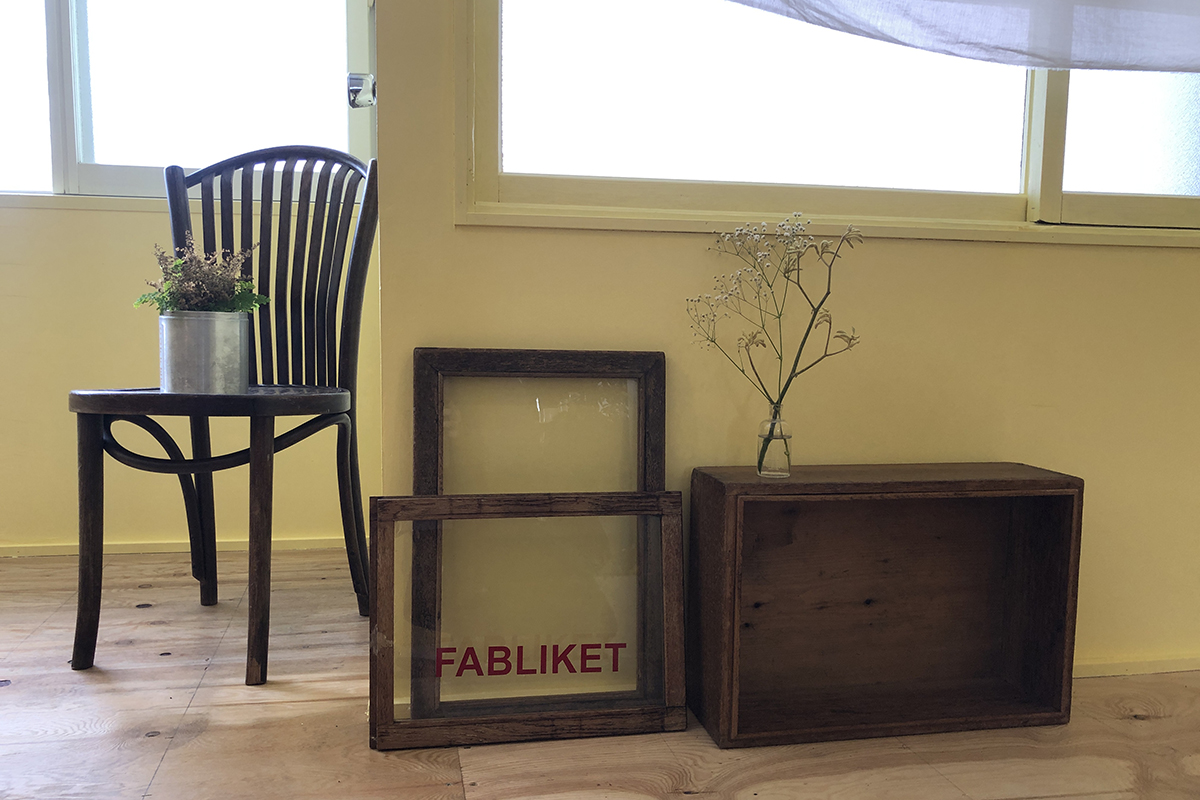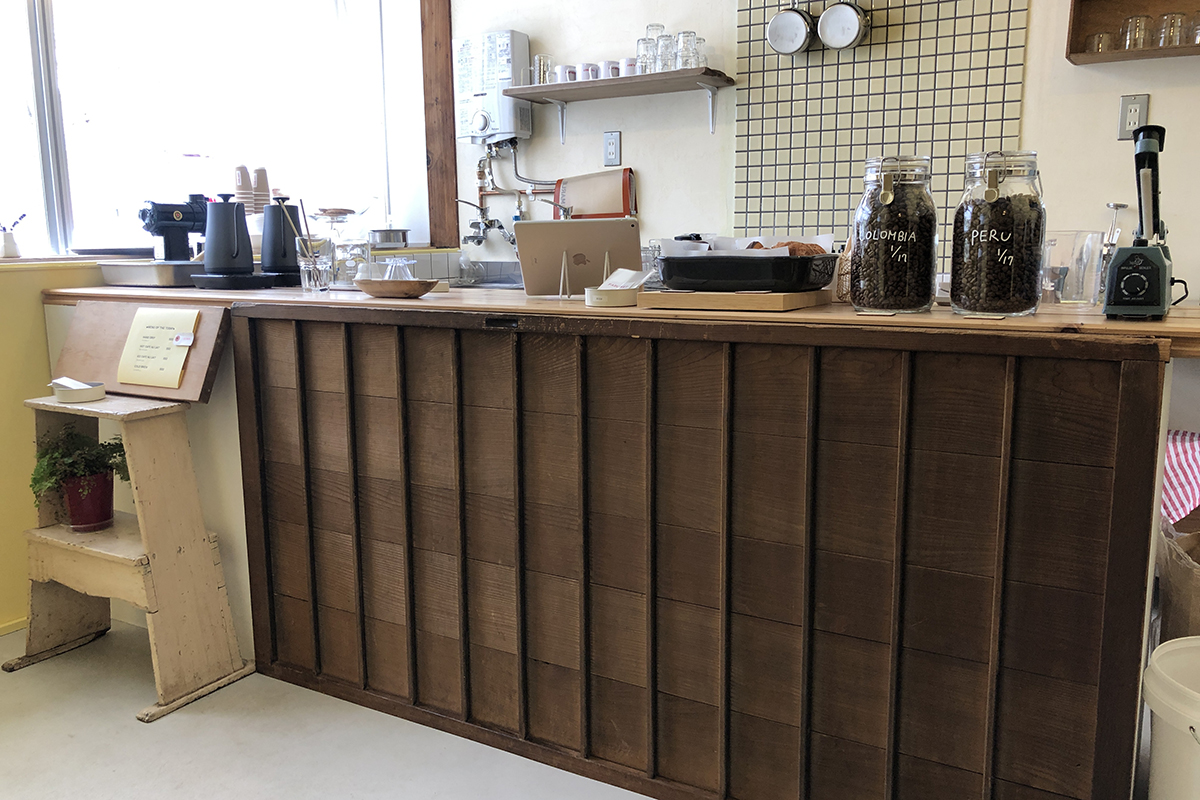 The couple removed the tatami mats and replaced them with wooden boards, painted the brilliant yellow walls by themselves, remade an old door into a counter, and made tables and chairs by hand. The good thing about a Kominka café is that it becomes a more and more comfortable place because, by working on it yourself, you can make it reflect your own tastes and passions. They say that turning an old house into a café is similar to the feeling of raising a child.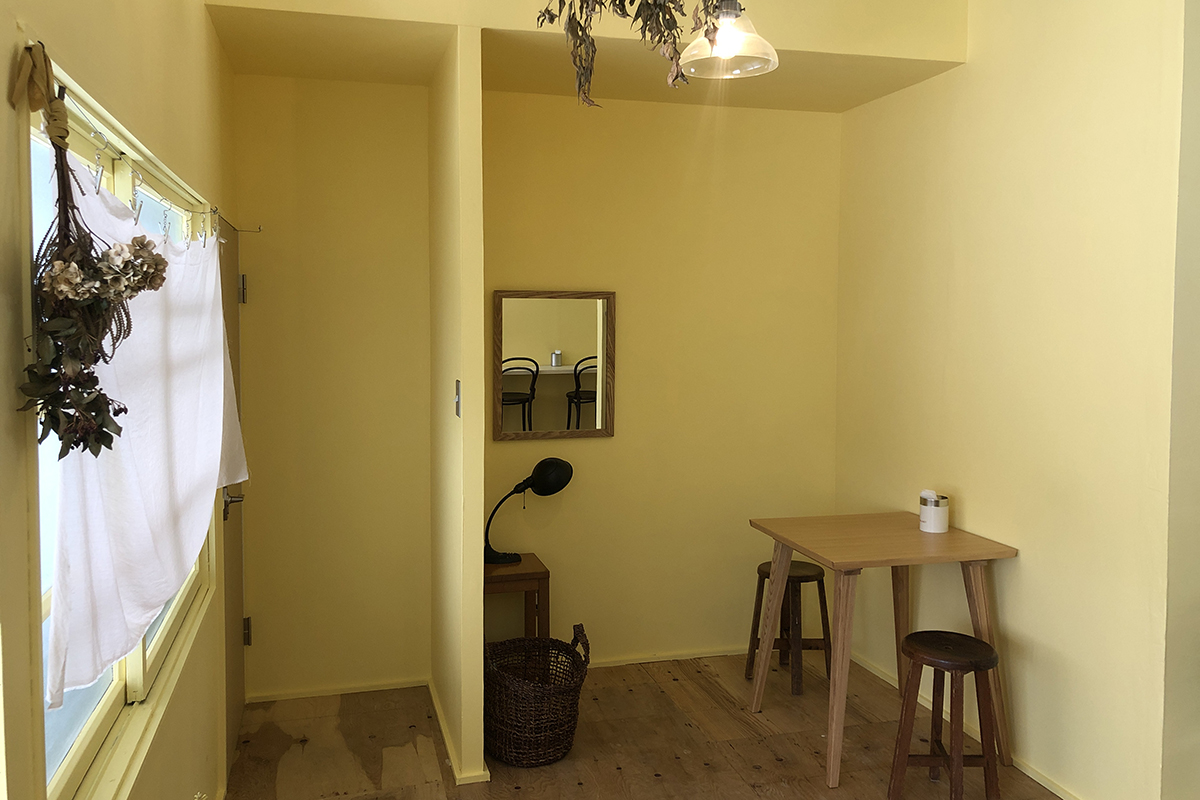 Renovation of old Japanese houses to create new value has been attracting attention in Japan in recent years. More and more old Japanese houses are being used as cafés, rental spaces and galleries with a retro atmosphere and fashionable space by incorporating modern design. They are increasing their presence as a resource that enlivens the community.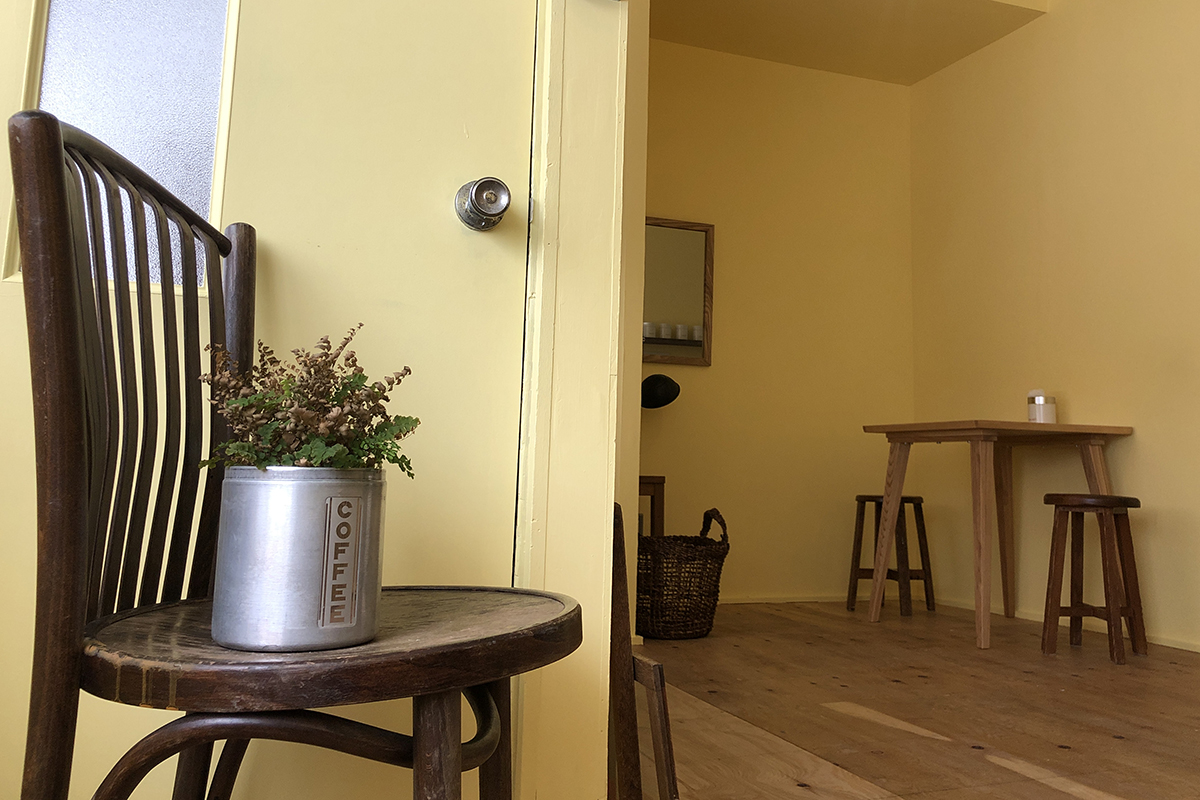 The term "renovation of an old Japanese house" is used to describe the process of adding new value to a traditional Japanese house by creating a functional or comfortable space by constructing the necessary interior and exterior parts of the house while retaining the pillars and other parts of the framework of the house. Incidentally, the term "Kominka", or old Japanese house, generally refers to a wooden house built before 1950, when the Building Standard Law was enacted. Old houses that have been renovated to suit current lifestyles while taking advantage of the unique charm that can only be found in old-fashioned houses are now attracting a lot of attention.
 What are the advantages of daring to renovate an old house instead of rebuilding a new one?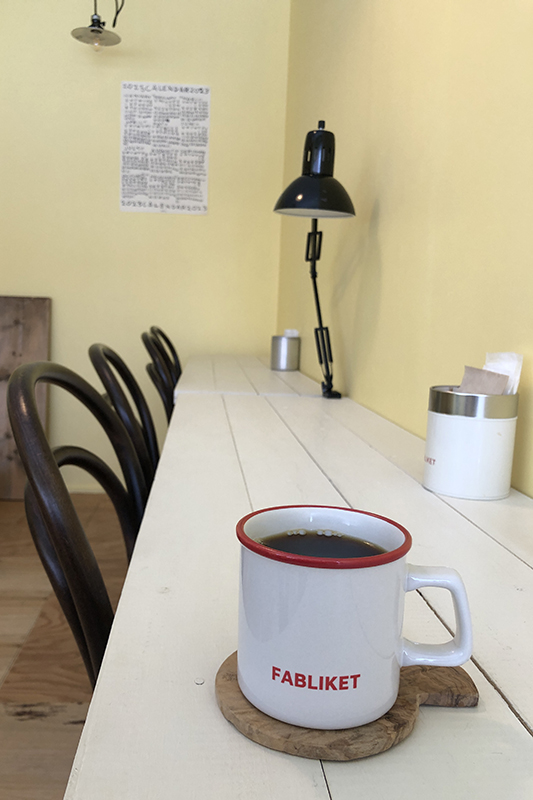 ・ Comfortable spaces can be created while maintaining the city's landscape: A cityscape lined with old houses can be a resource for tourism and a source of pride for residents. They can be utilized to add new value while preserving the city's charm, helping to revitalize the city. The atmosphere of the old houses will provide users and guests with a unique experience that cannot be created by new constructions.
・ A floor plan that meets the intended use and lifestyle can be realized: In renovating an old house, interior walls and partitions can be dismantled and rebuilt to suit the purpose, creating a stylish and user-friendly floor plan. If the old-fashioned mud walls and thick pillars and beams that have been used for many years are kept as they are, the warmth and nostalgia of a traditional Japanese house can be preserved. A fashionable floor plan can also be realized by incorporating modern lifestyles, values, and trends into them.
・ The quaintness of an old house: The most attractive thing about an old house is the atmosphere. The atmosphere of an old Japanese traditional house is different from that of a newly-built house, and that is the charm of an old house. It's great for those who love antiques and vintage furniture.
・ Built with natural materials: Traditional Japanese old houses are built with natural materials, rather than chemical-based construction materials. Only in old houses can one experience a lifestyle in harmony with nature.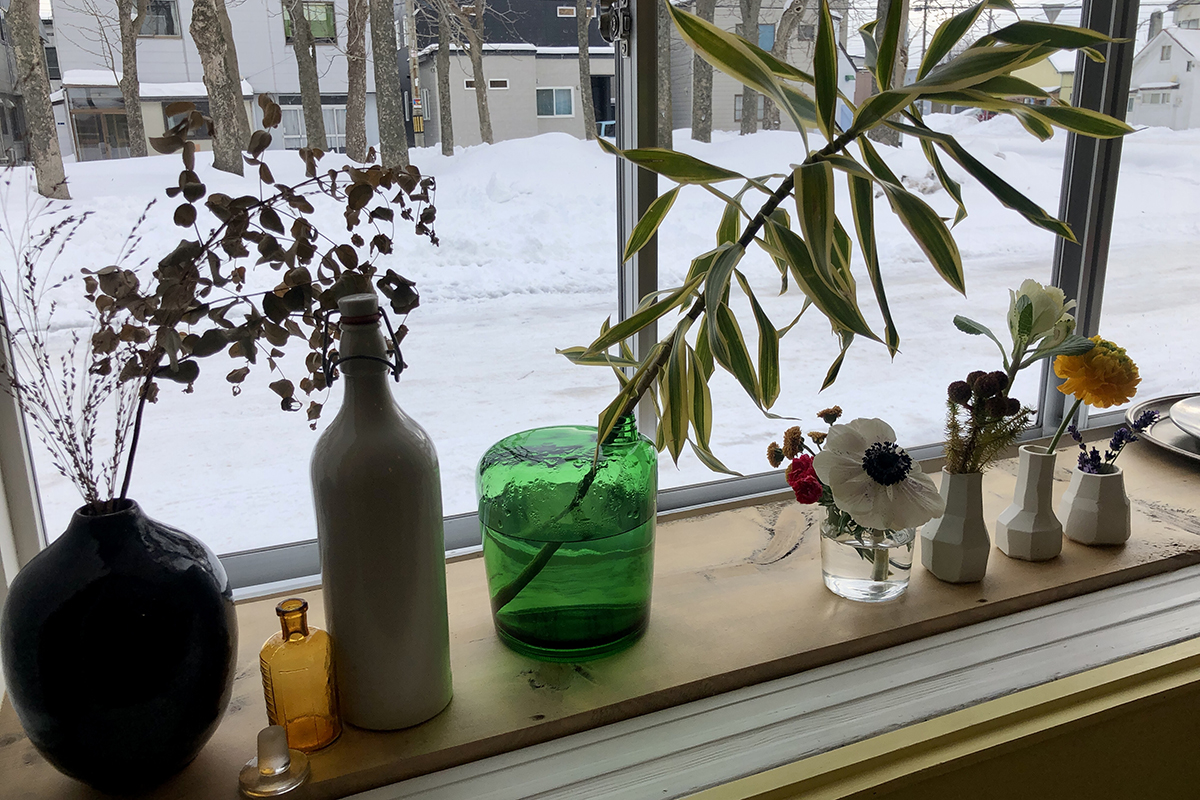 In this way, a Kominka café has a different charm from newly-built cafés, and there is a certain enjoyment that only old houses can offer. Although the upkeep required to maintain the beauty of an old house as it ages is more labor intensive than that of a new house, taking good care of your house may lead you to change the way you think about your lifestyle.
菊泉 / KIKUIZUMI
・Motomachi 14-5, Hakodate city
・1 min walk from Hachimanzaka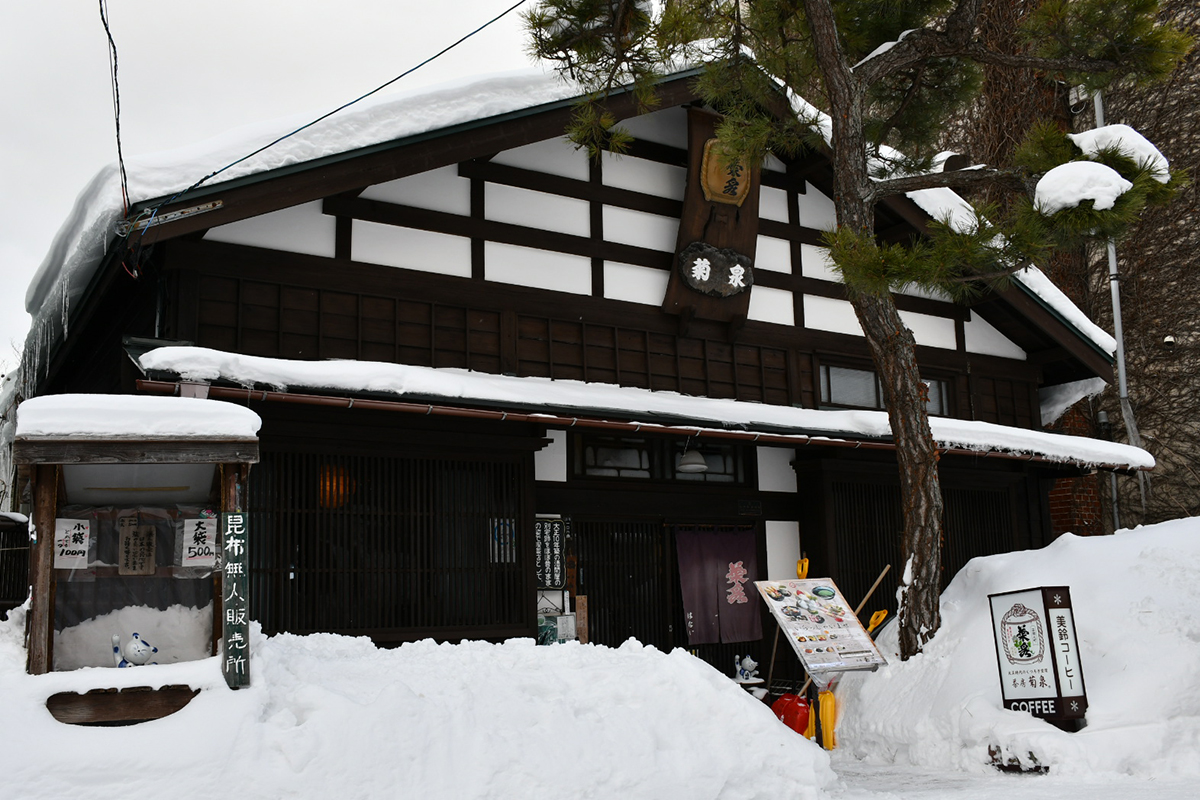 This building is a one-story wooden house built in 1921 which was officially designated as an important traditional building by Hakodate City in 1990. Renovated since then, it is currently used as a Kominka café.
 The founder had been working in the liquor shop of the famous Japanese sake maker Kikuizumi in Sakai City, Osaka Prefecture, but left for Hokkaido in 1882 to develop sales channels, and opened a sake wholesale store in Hakodate in December of the same year under the trade name Kikuizumi. When business began to take off, he invited his younger brother to come to Hakodate. The younger brother took over the store and expanded the business as the second-generation owner. However, he died prematurely in 1893 at the age of 27. His son was only five years old at that time, so they chose a member of the head office staff as his successor and ordered him to come to Hakodate. He took over the entire business of the store and began operating it as Kikuizumi Honten in Hakodate in November 1896. The products sold included the Japanese sake Kikuizumi, which became the company's trade name, and various other famous Japanese sake brands such as Kiku-Masamune and Kinro, as well as Western-style sake, soy sauce, miso and other products. The store was relocated in 1907. Kushiro and Otaru branches were subsequently opened, and the company expanded its sales channels to Sakhalin Island.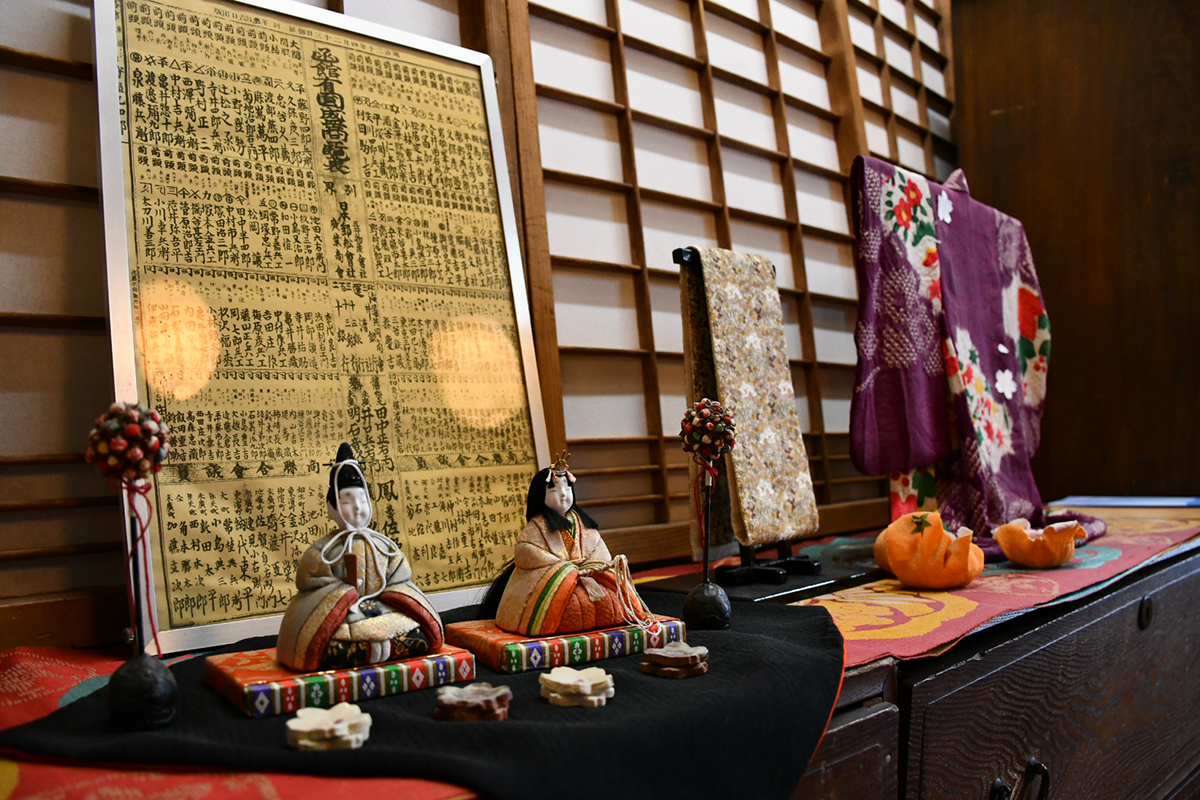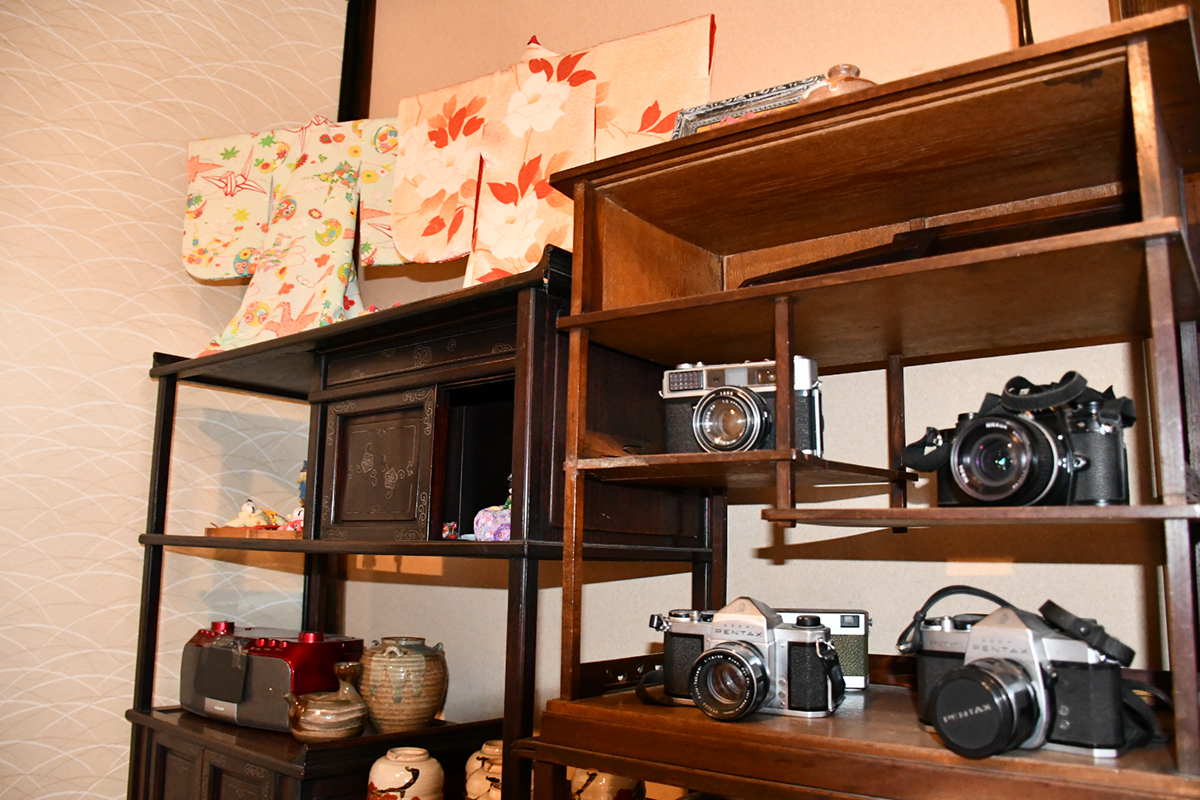 With the outbreak of the Sino-Japanese War in 1937, the food situation became severe and the amount of rice used for sake brewing was restricted, resulting in a yearly decrease in the amount of sake produced. The volume of sake handled by Kikuizumi Honten also declined sharply, and the business became unviable and was closed in 1944. After the war, only the house remained and it was used as the owner's residence. That house is now the Kominka café Kikuizumi. In 1990, the house was designated as an important traditional building by Hakodate City and was renovated to make it accessible to many tourists.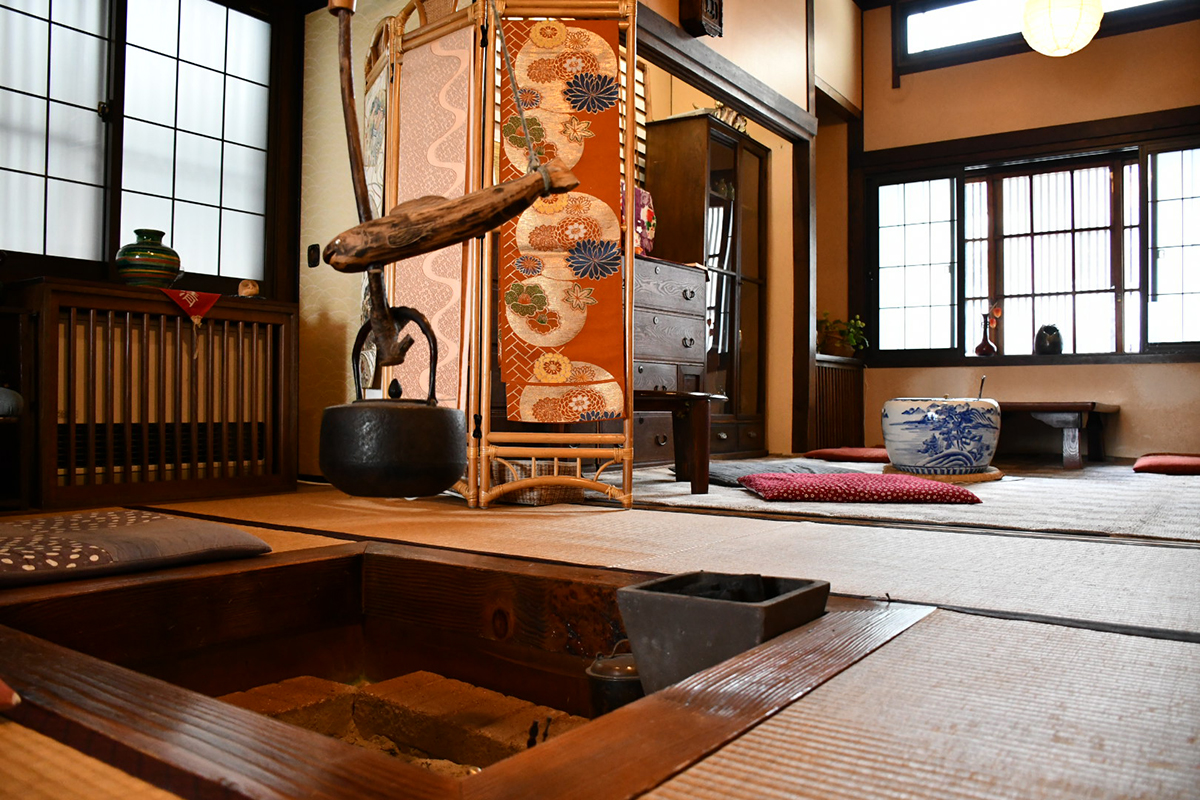 The Japanese-style room on the right side of the central corridor retains the atmosphere of the house at the time, and a hearth was installed to enhance the Japanese architectural style. On the left side, the study was converted into a Western-style room with a table and chairs, creating a space with a Taisho Modern atmosphere where both Japanese and Western styles can be enjoyed at the same time. In addition, a three-dimensional signboard of the former Kikuizumi Honten has been restored to evoke the atmosphere of that time. Inside this cafe, you can smell the woody aroma of the tatami mats and pillars. This space, with its tatami mats, hearth, tea-cabinet, and other furniture, is like a time slip back to Hakodate in the Taisho period (early 19th century).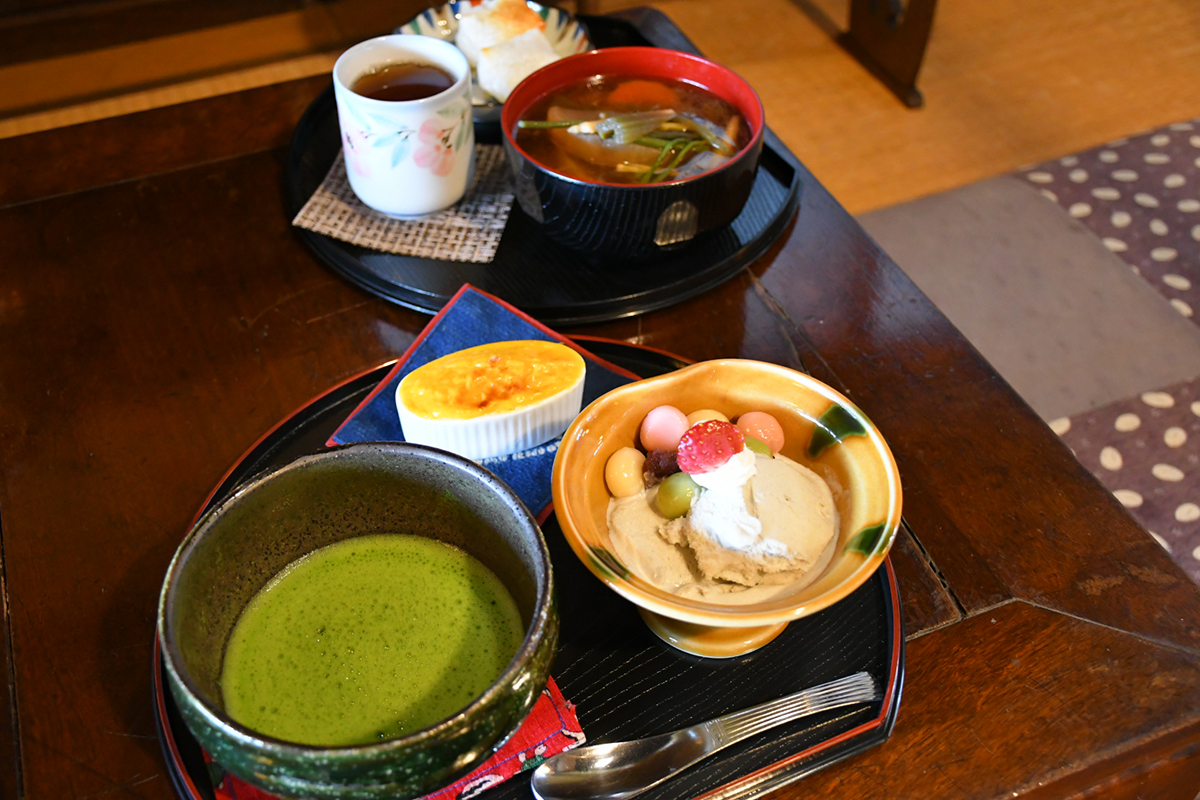 Popular items on the menu at this cafe are Japanese style sweets: Matcha, Mochi, Zenzai (a sweet red bean soup), Shiratama Parfait, a local special soup and rice, etc.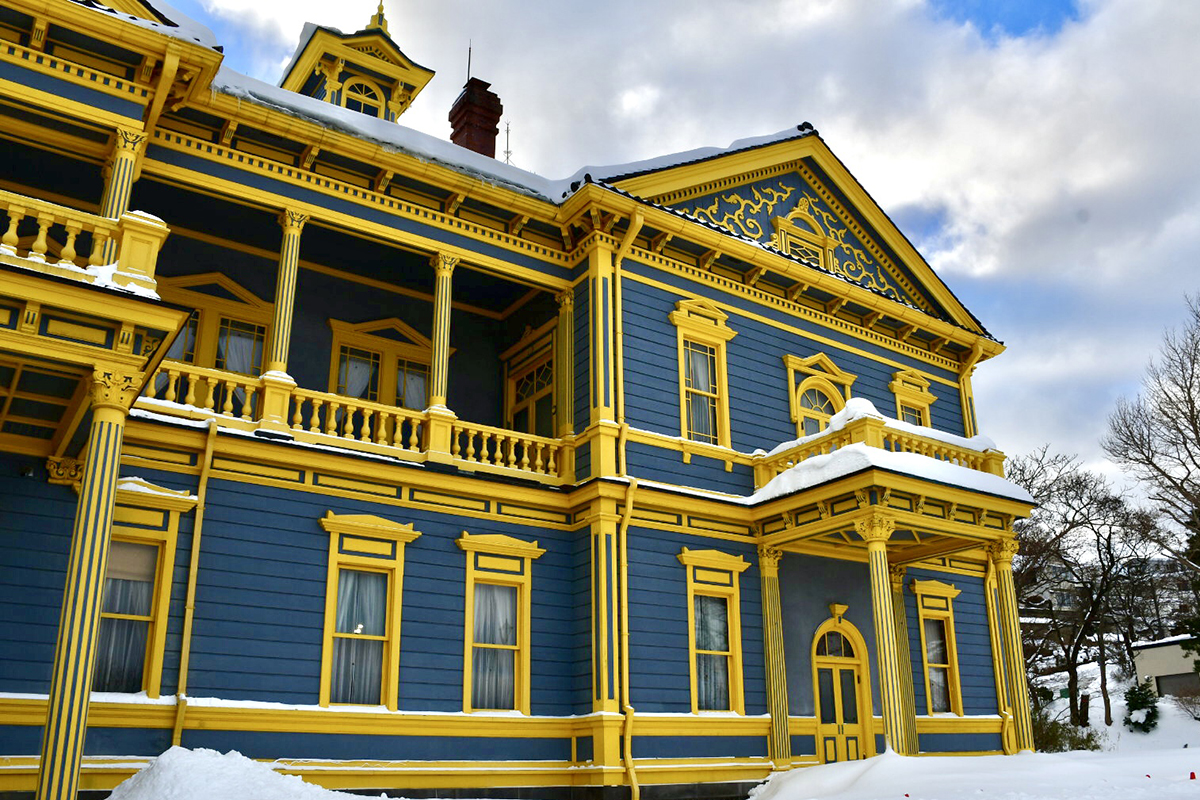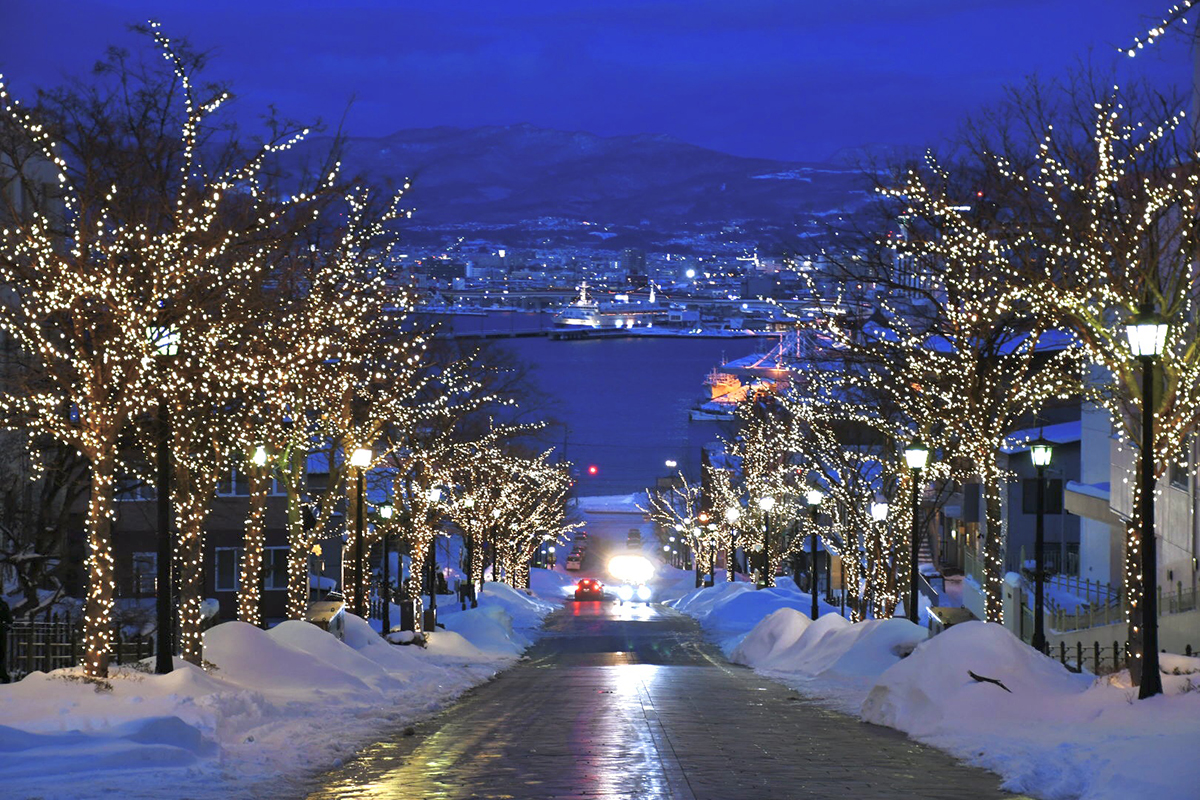 A one-minute walk from Hachimanzaka and the Old Public Hall of Hakodate Ward. A wonderful place to enjoy traditional Japanese houses and food while walking around Hakodate.
H.M.Works OZIGI
・Suehiro-cho 16-13, Hakodate city
・3 min walk from Red Brick Warehouses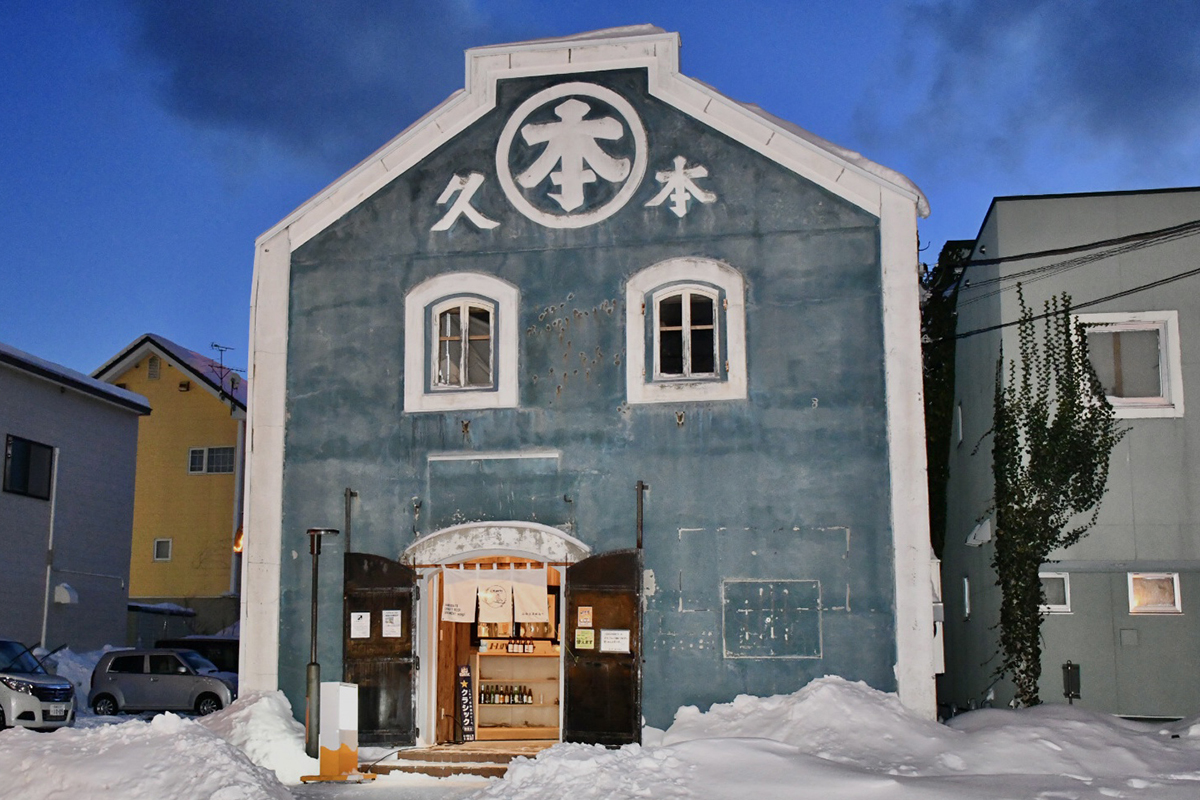 Nowadays, not only Kominka cafés but also Kominka bars are popular. Come and drink a special beer at a local brewery in a converted old warehouse!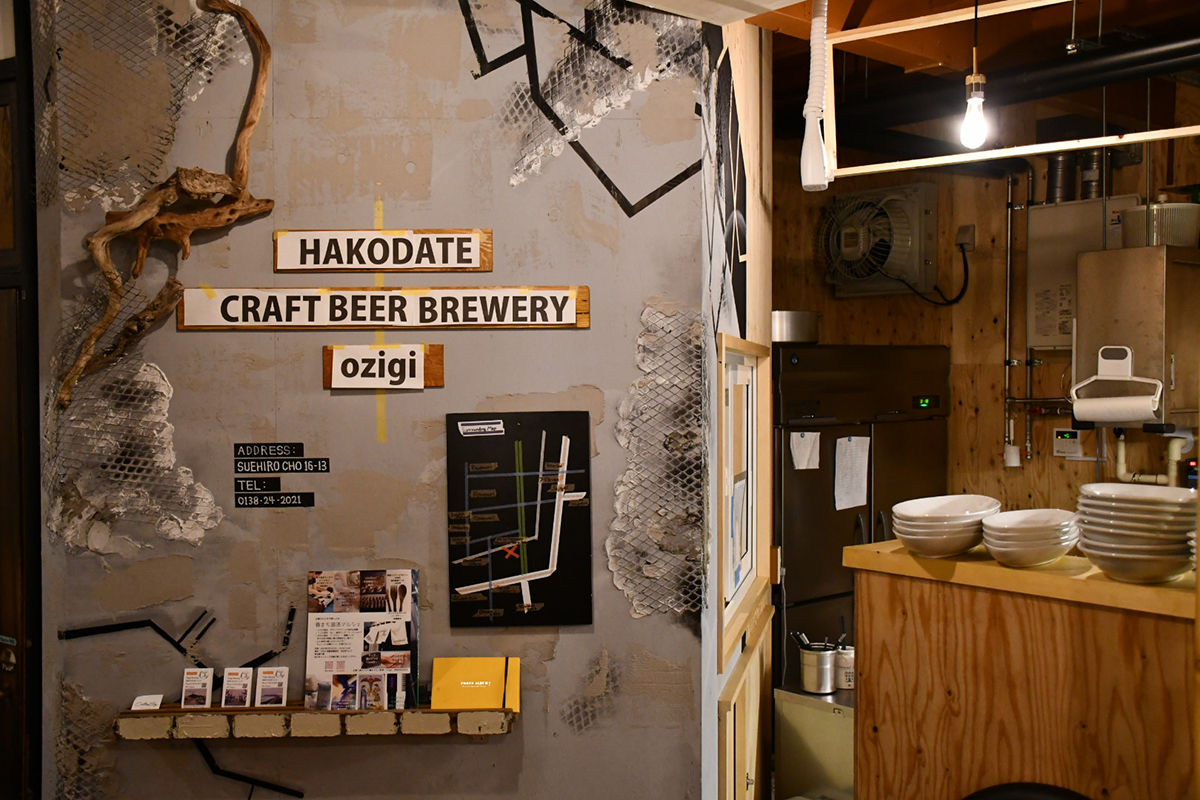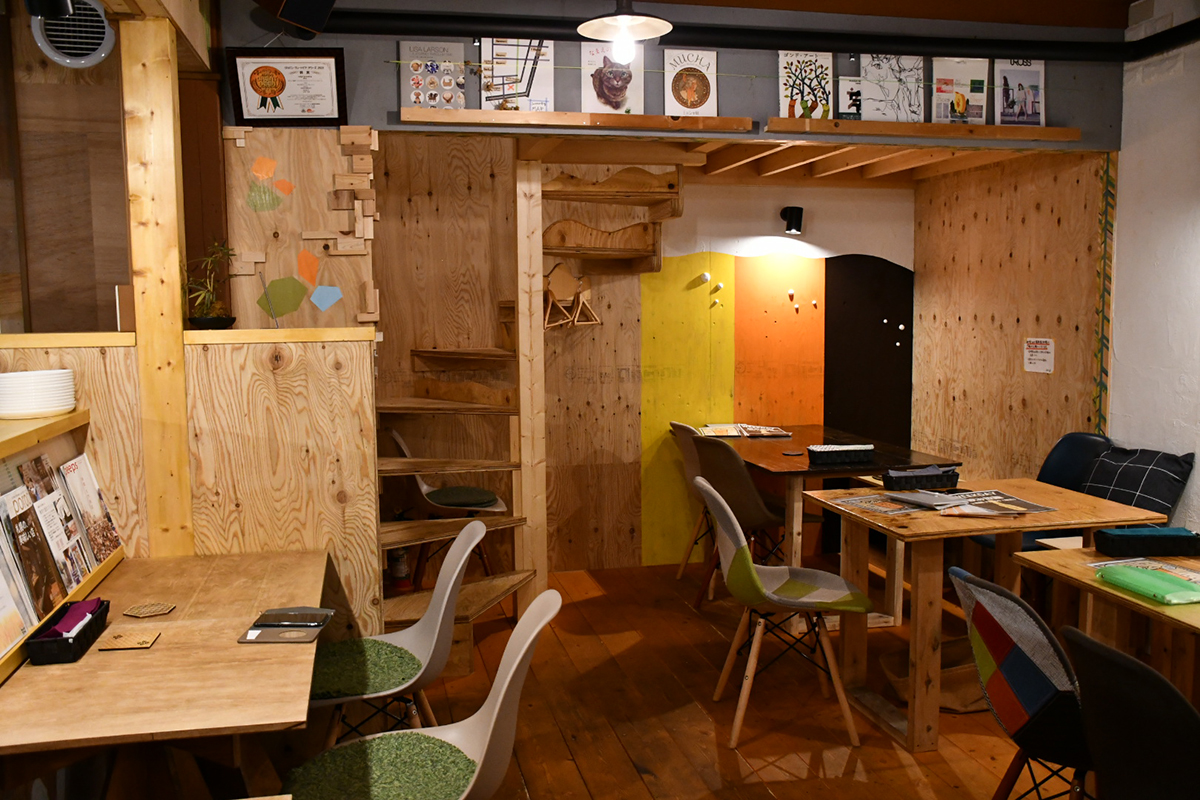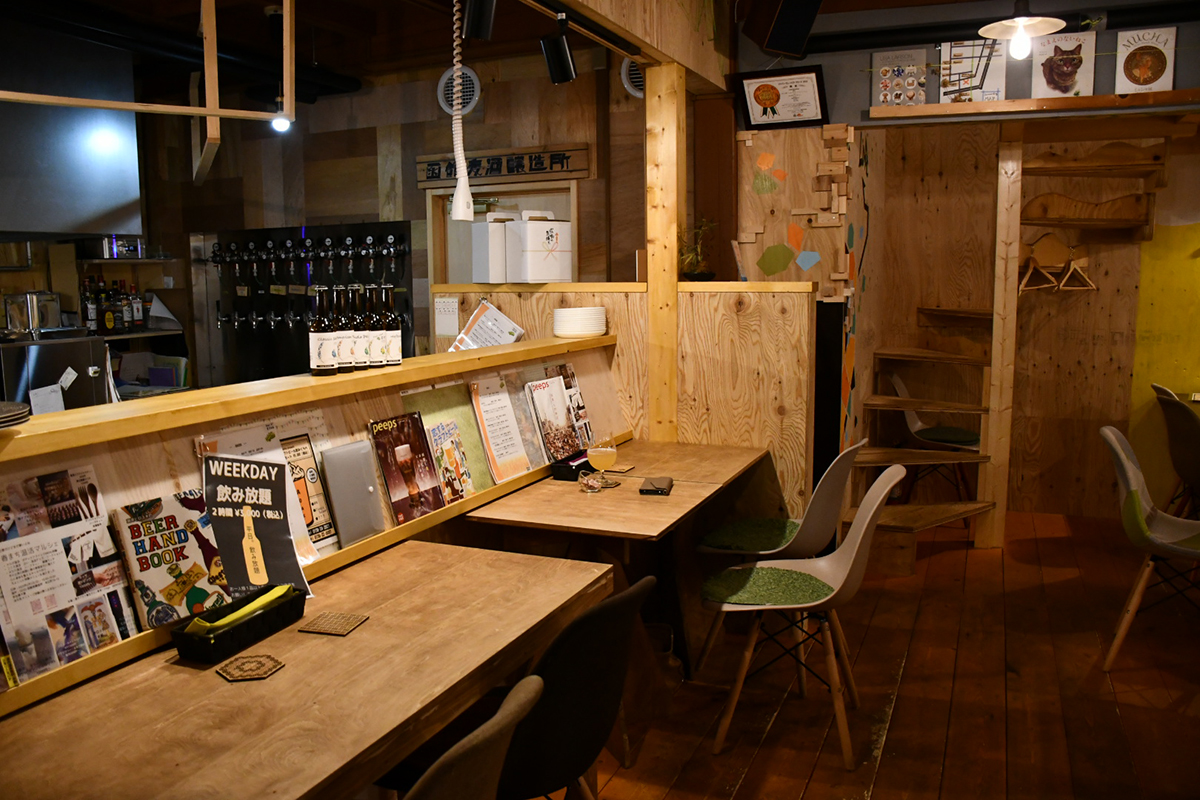 This building was built about 100 years ago. No one knows the origin or the entire history of this building. It has previously housed a costume rental shop, a restaurant, and a liquor wholesaler. The exterior is a traditional warehouse, but the interior is wood-grained, giving it a natural feel. When the brewery owner wanted to establish a brewery in Hakodate, he found this building, fell in love at first sight, and decided to take it. He wants to make it a place where tourists and locals can communicate and enjoy Kanpai (Cheers!) with local beer.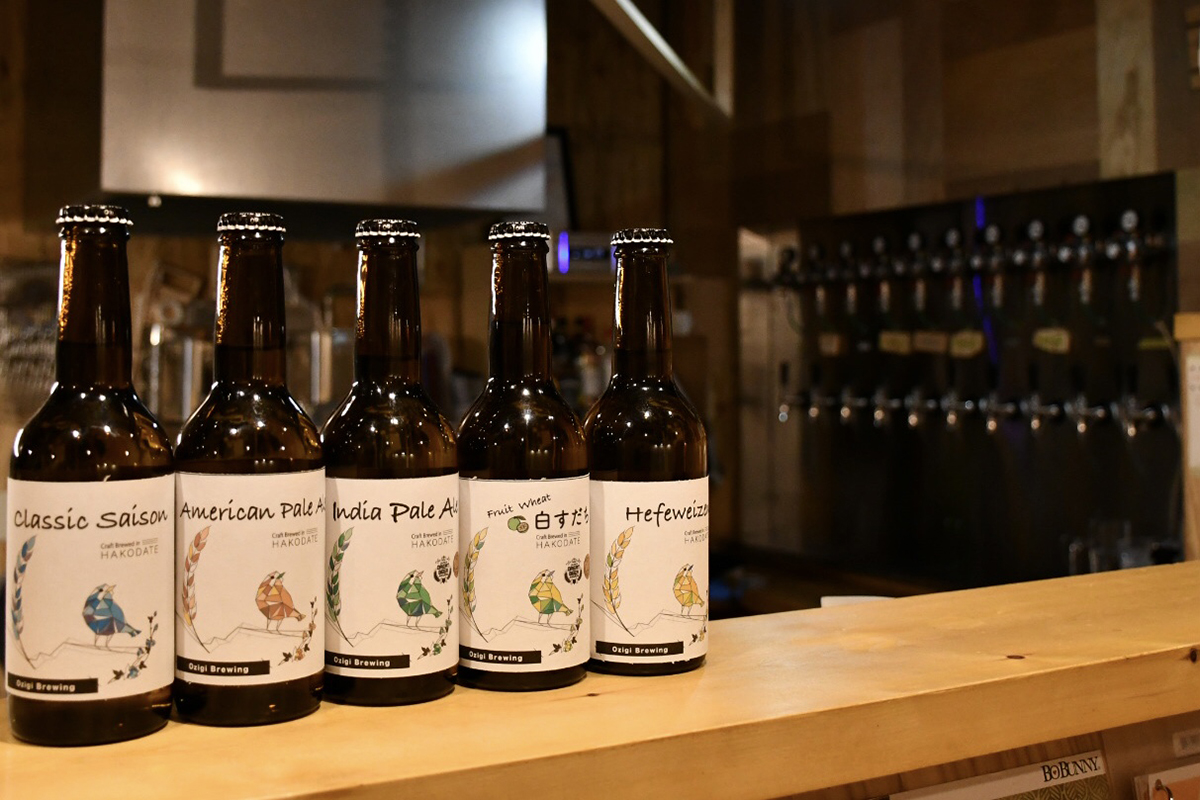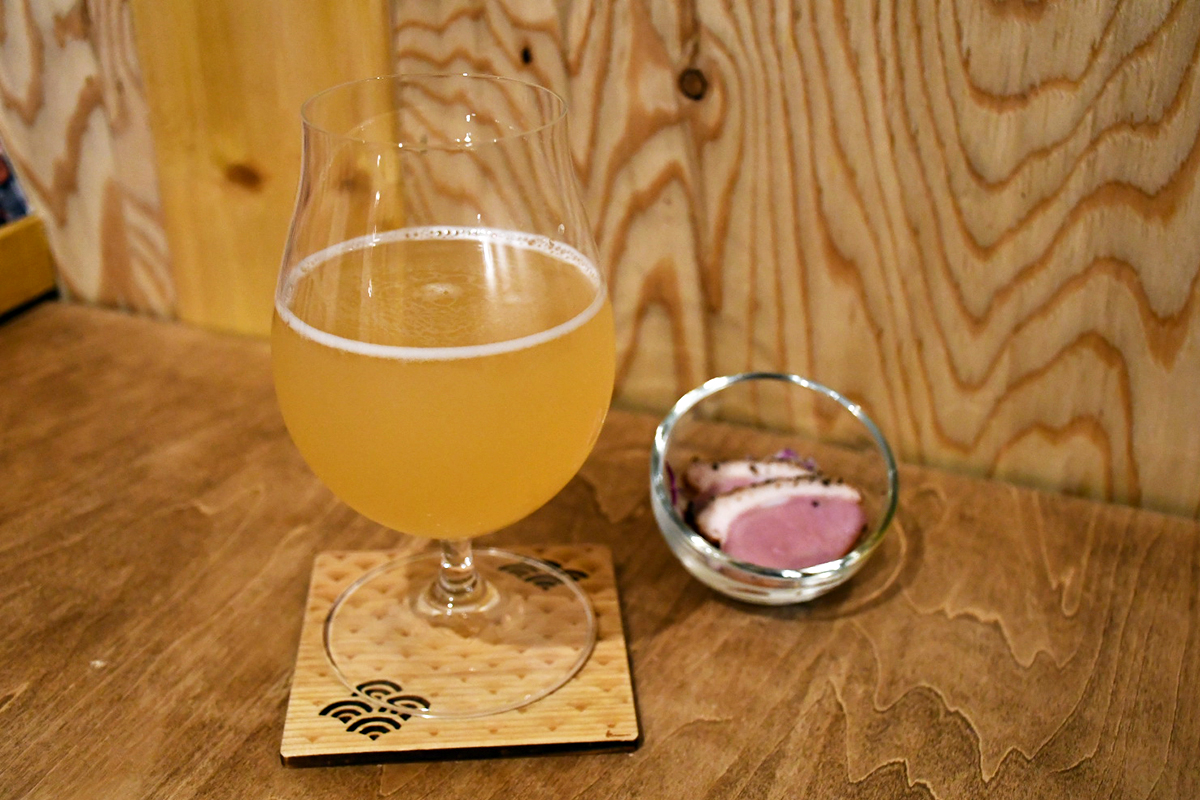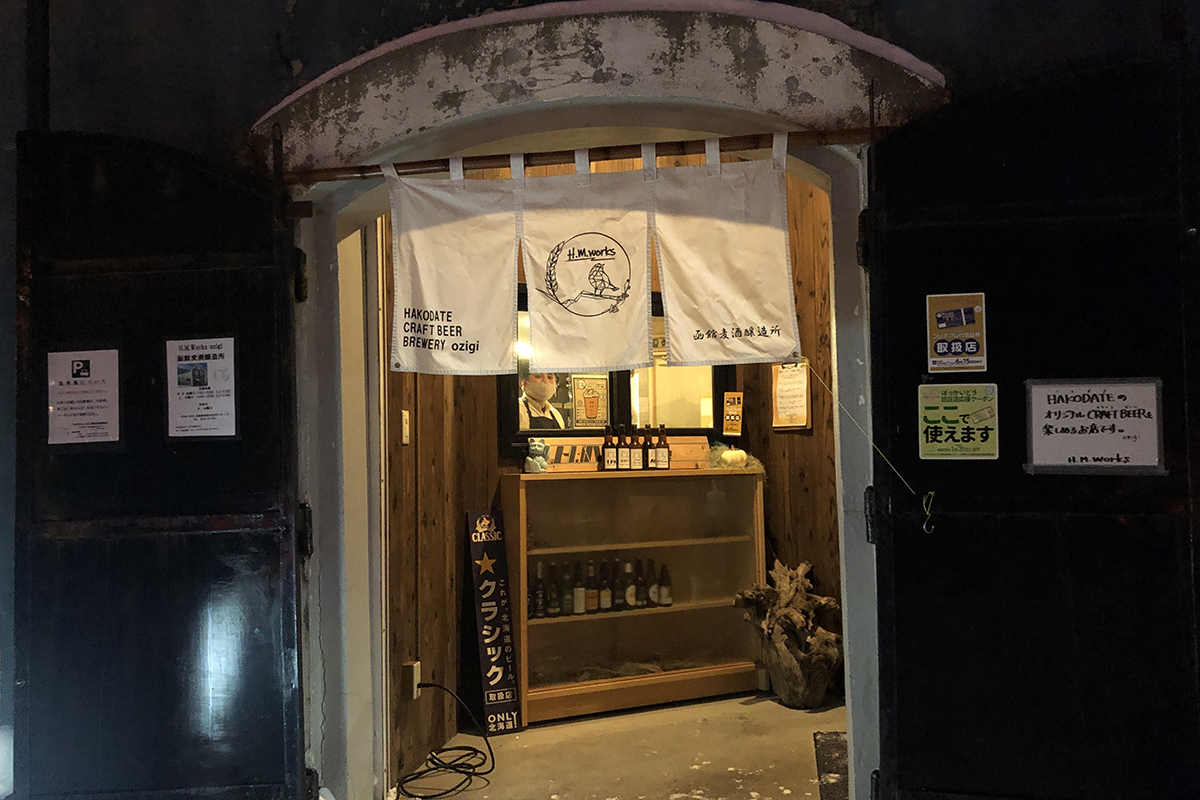 Hakodate has very fresh and delicious seafood, so he recommends his original beer Shiro Sudachi, which has a citrus aroma, to go with local specialties. That's the perfect combination! With its refreshing taste it slips down easily, even for women or people who aren't particularly beer lovers.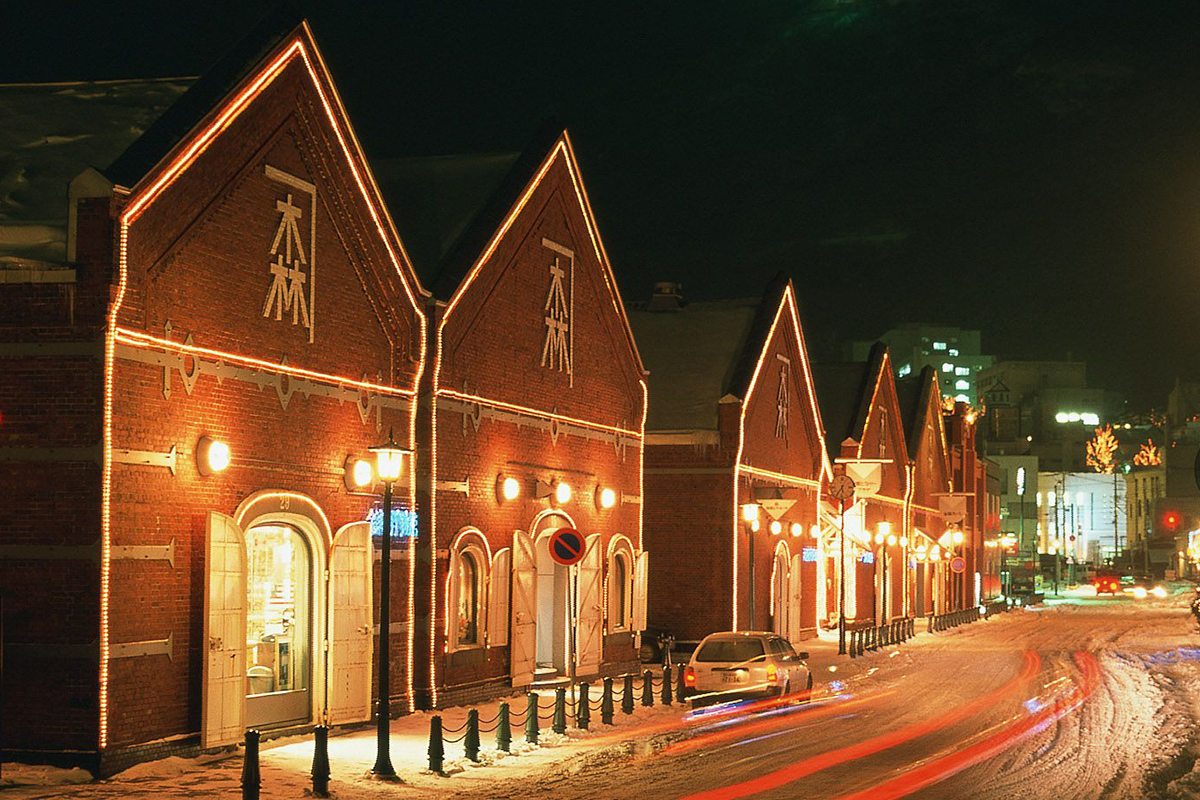 How about enjoying a special local beer after seeing the night view of Mt. Hakodate? It would be an unforgettable memory if during your trip you could say hello to the locals in this special bar.
Tips for your Hakodate trip
 We hope you have enjoyed finding out about the charms of Kominka cafés. In this blog column, we have introduced some of Hakodate's Kominka cafés and bars. Hakodate is a great travel destination. If you can visit local places during your stay in Hakodate, Hokkaido, Japan, such as a Kominka café where locals also congregate, it can be a fun and special part of your trip.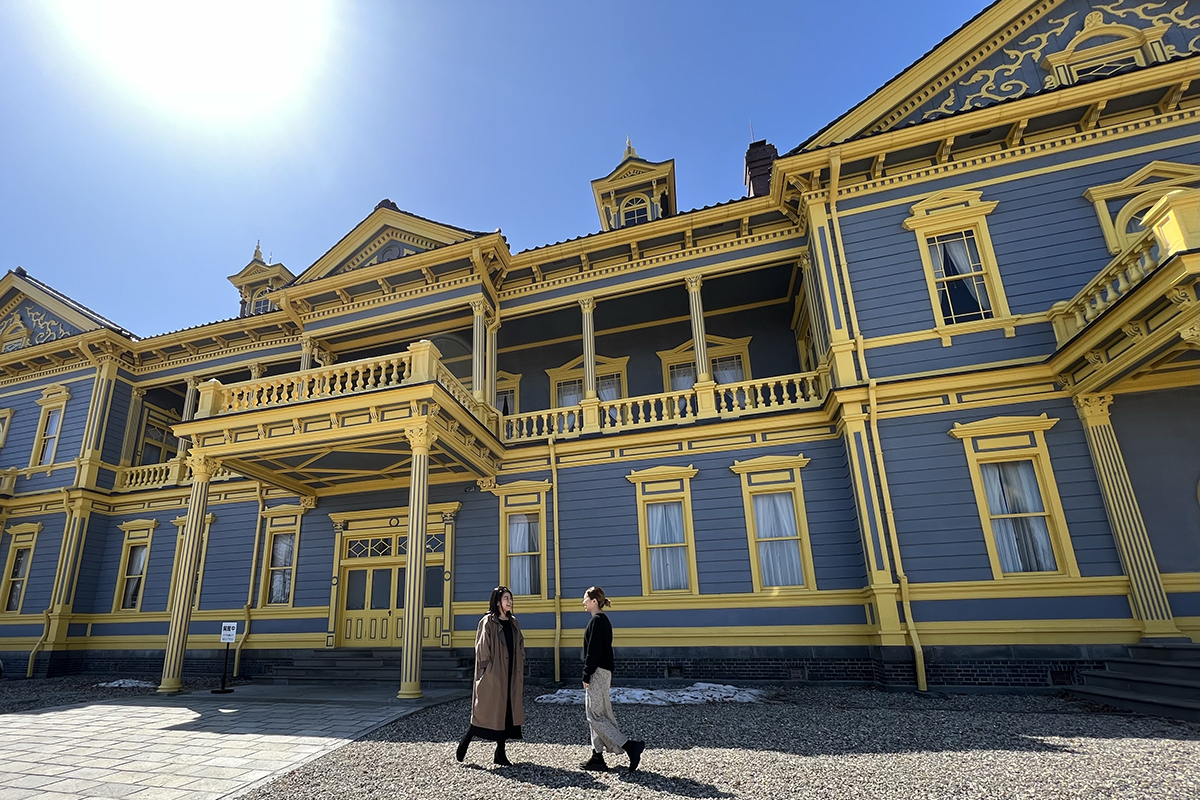 Sara, a local guide in Hakodate, offers a wide variety of interesting tours, including not only tours of sightseeing attractions, but also hiking tours to Mt. Hakodate, hiking tours to active volcano Mt. Esan, bar hopping tours, tailor-made tours, tours of photogenic places, and many more.
 During your tour of Hakodate, Hokkaido, why not talk with a local guide and enjoy some of the local's favorite sweets and drinks at a traditional Japanese Kominka café where you can see Japanese culture and traditional Japanese buildings?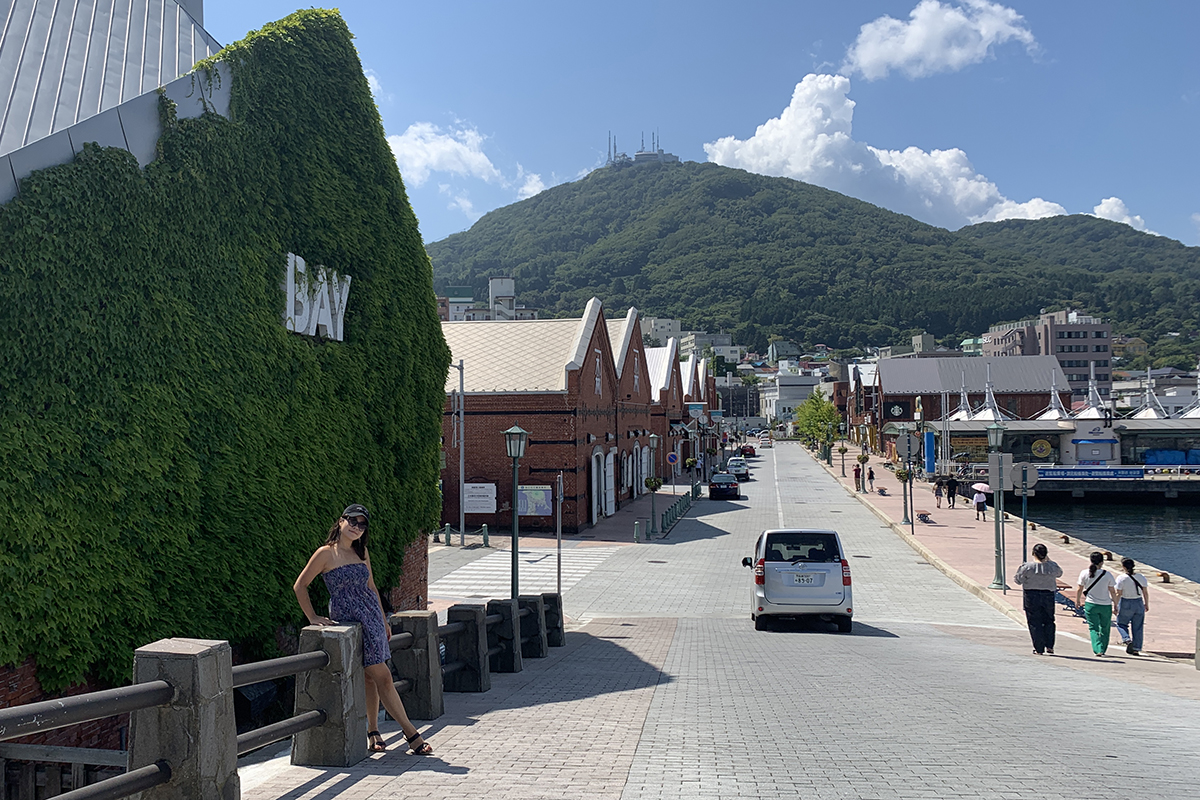 Sara is the best guide to help you have an unforgettable trip in Hakodate, Hokkaido, Japan. If you would like to get to know Hakodate or find a special tour in Hokkaido, just contact us. Together we can make the perfect travel plan for your Hokkaido trip. You can find our inquiry form below.