Introduction
Have you ever been to Hokkaido? When talking about Hokkaido, you might have an impression of wild nature like deep blue sea or untouched forests. Yes, that's true too, but it's not Hokkaido's only attraction. Actually, there are many artistic masterpieces in Hokkaido, especially in Sapporo. Art is a part of Sapporo city.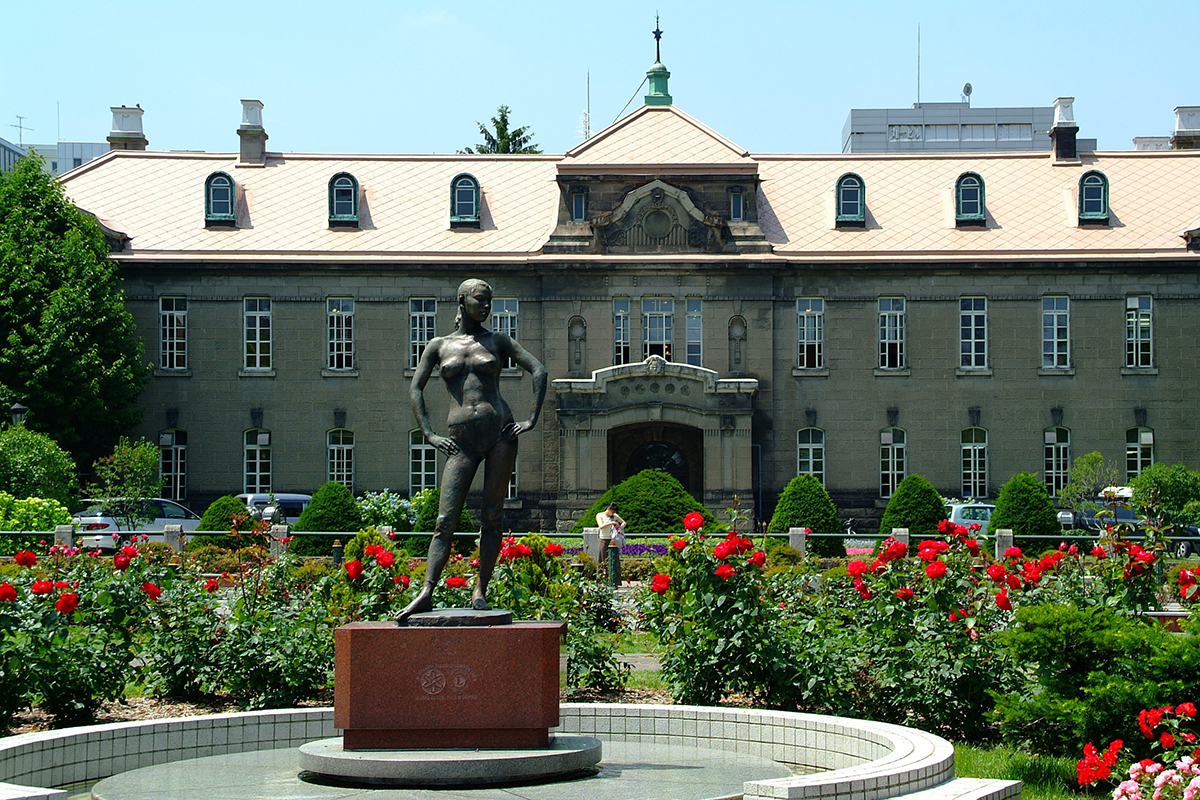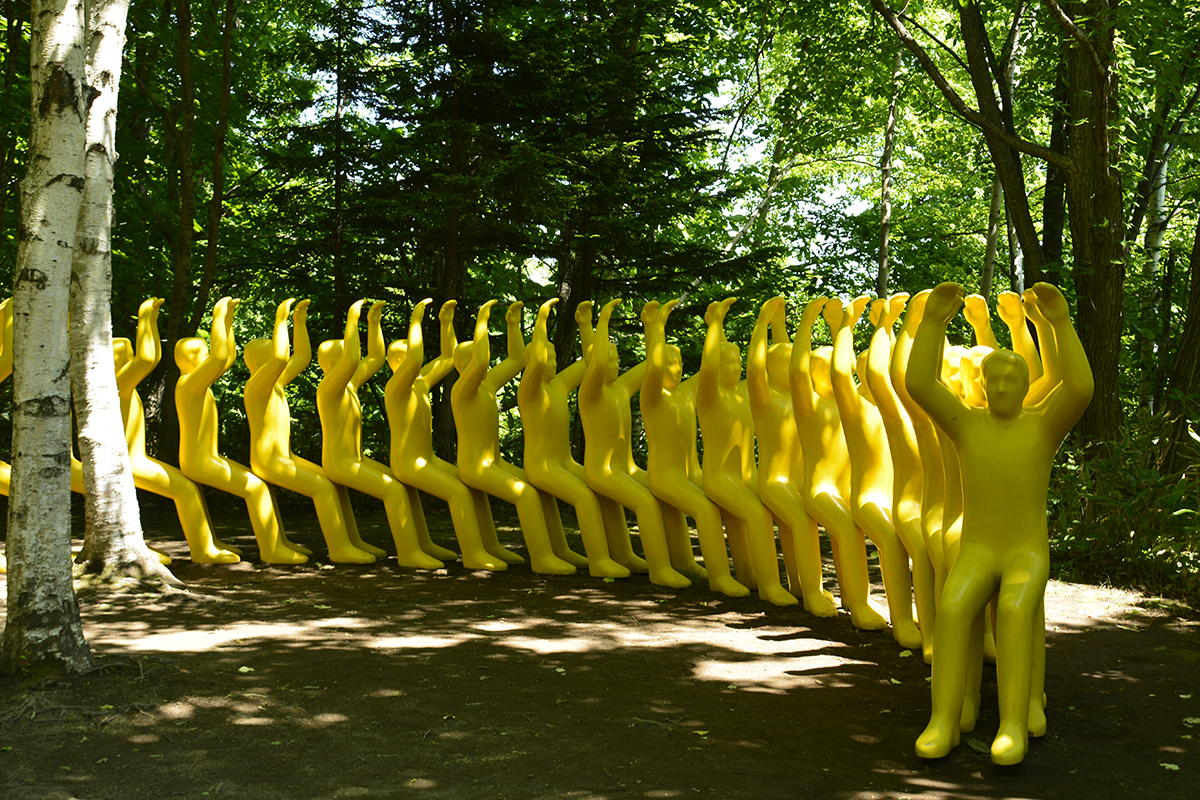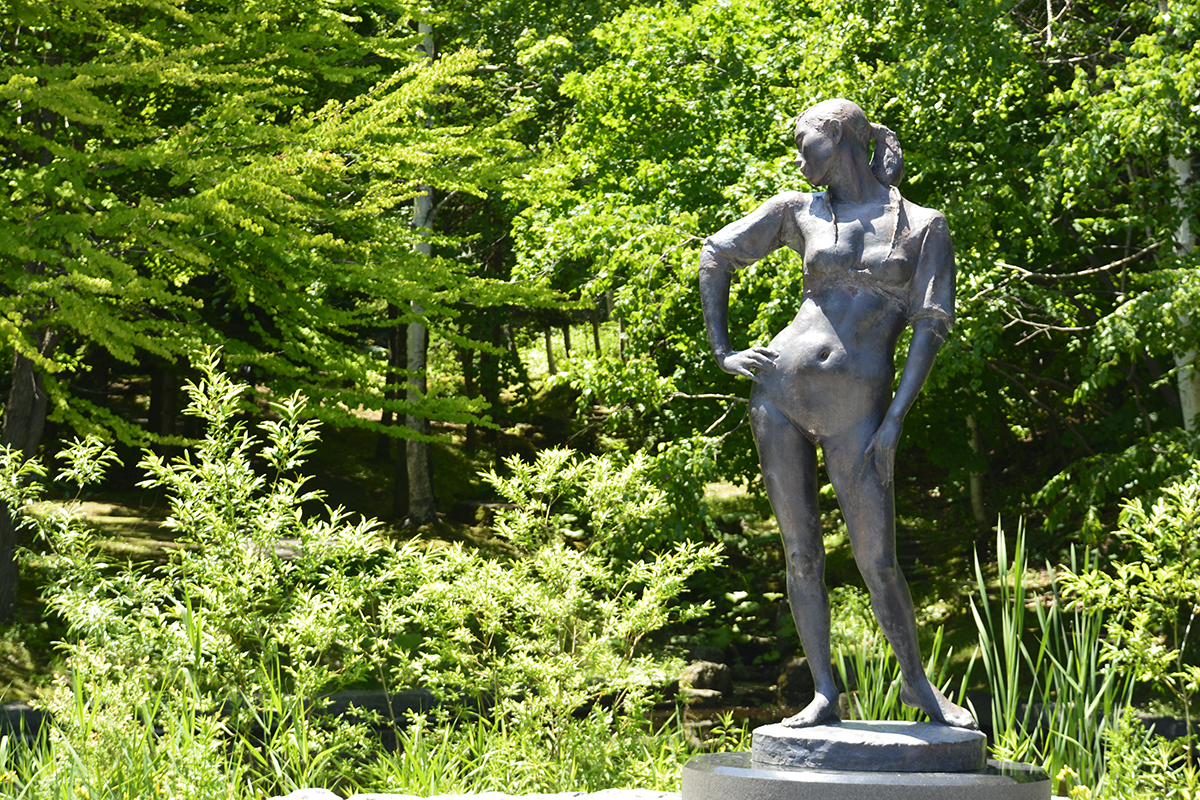 Hokkaido has a different history from mainland Japan. Only 150 years ago, most of Hokkaido was untouched wilderness. Now 1.9 million people live in Hokkaido's prefectural capital Sapporo, but less than 1,000 people lived there then, most of whom were Ainu, the indigenous people of Hokkaido, or wajin, Japanese people who had migrated from mainland Japan.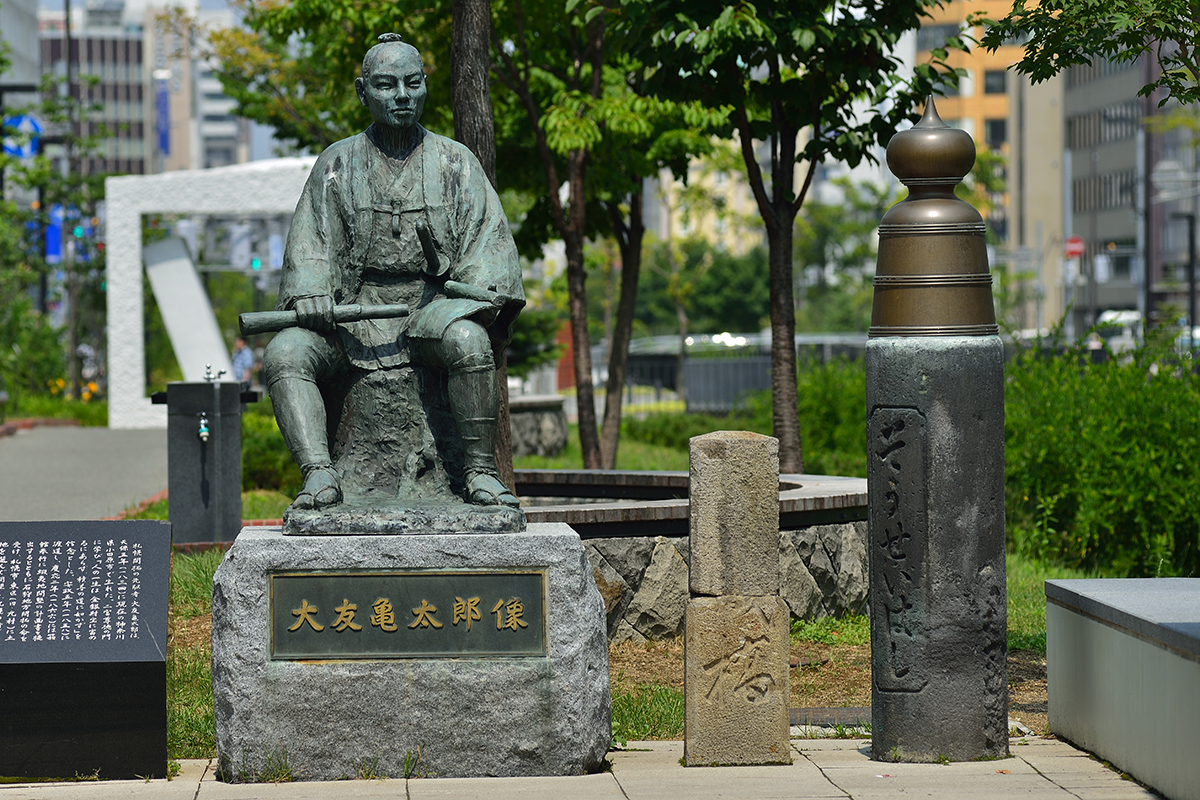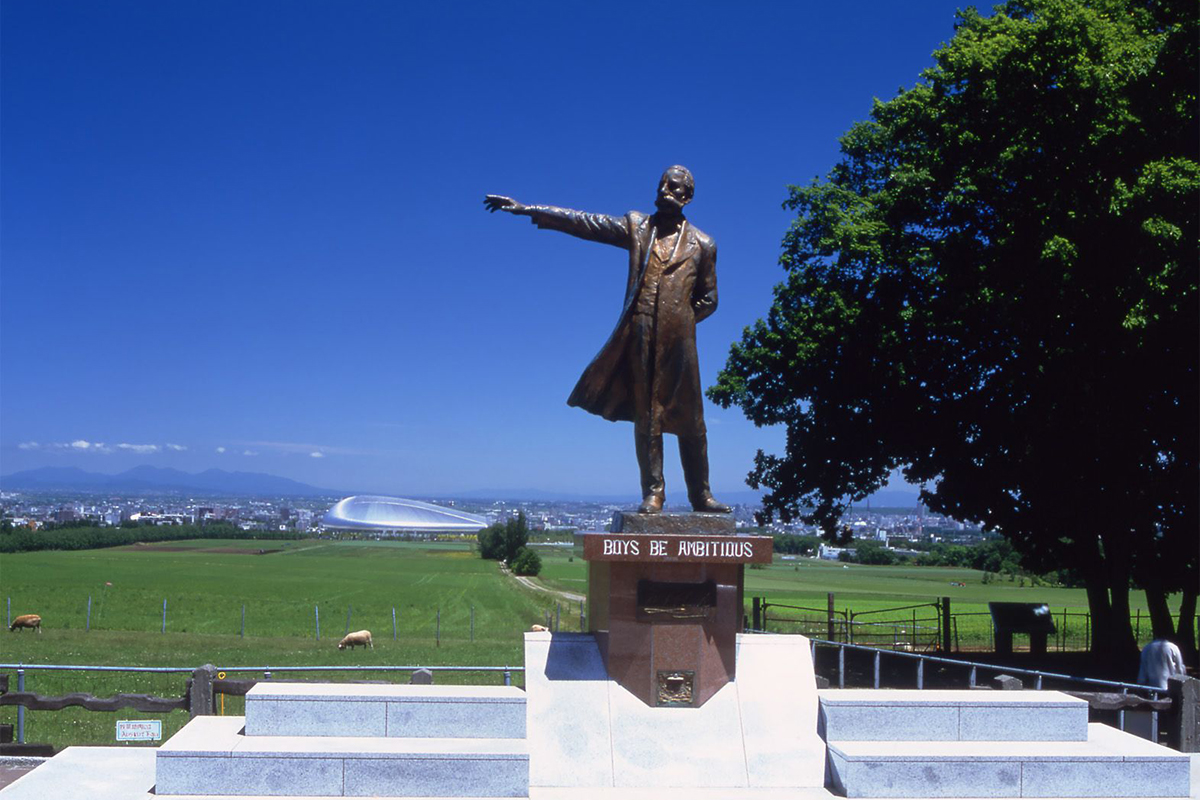 The Ainu people have lived in Hokkaido since ancient times. They were hunters and gatherers. They believe that natural phenomena and creatures like the sun, moon, mountains, water, bears and owls have spirits, and worship these kinds of deities which they call Kamuy. Hokkaido was called Ezo 150 years ago, and it was a vast land with rich resources, but the harsh winter coldness and tons of snow prevented anyone from living in this land except the Ainu.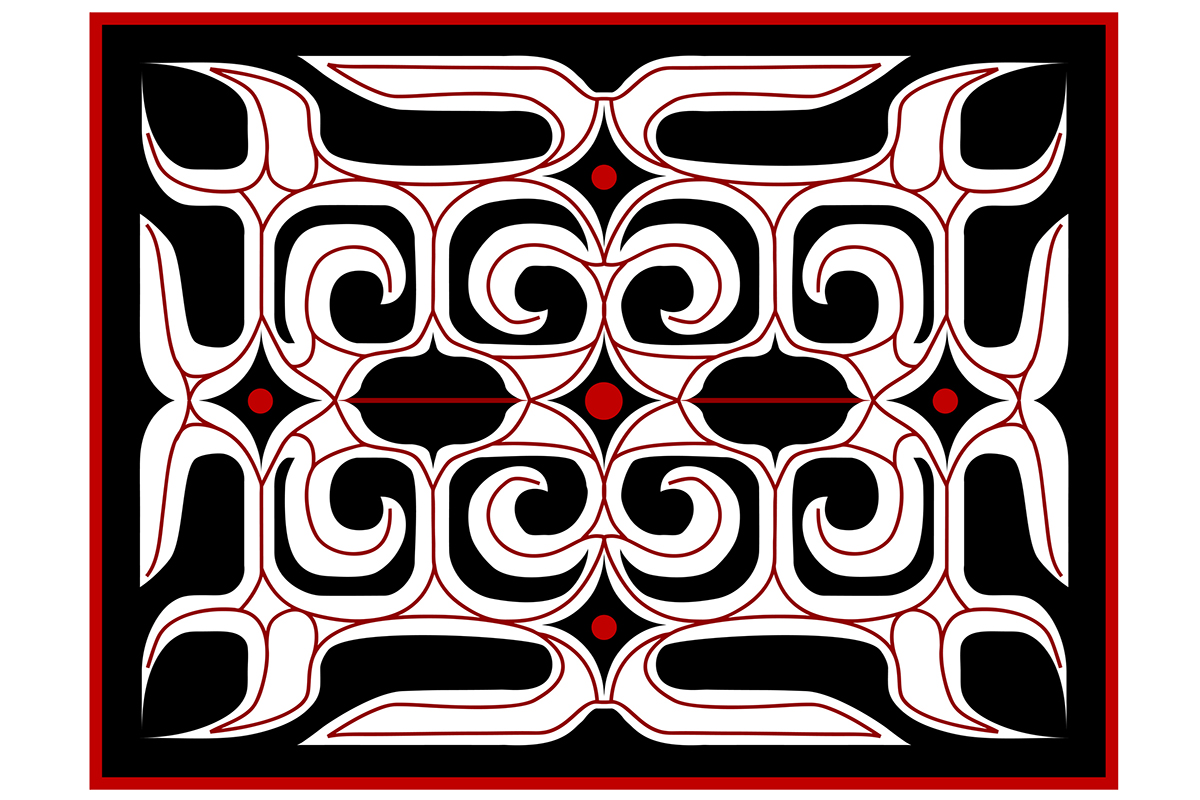 Things have changed since 150 years ago. There was a big turning point in Japan called the Meiji Restoration in 1868. It marked the end of the samurai era led by the shogun, and a new government came to power. It had a strong desire to modernize the country and catch up with western countries. To strengthen the nation's power, the new government adopted Western technology and began to develop Hokkaido, a region rich in natural resources. As a result, Hokkaido developed rapidly. Today, people live the same way as in other parts of Japan, but the cultural background is quite different from mainland Japan.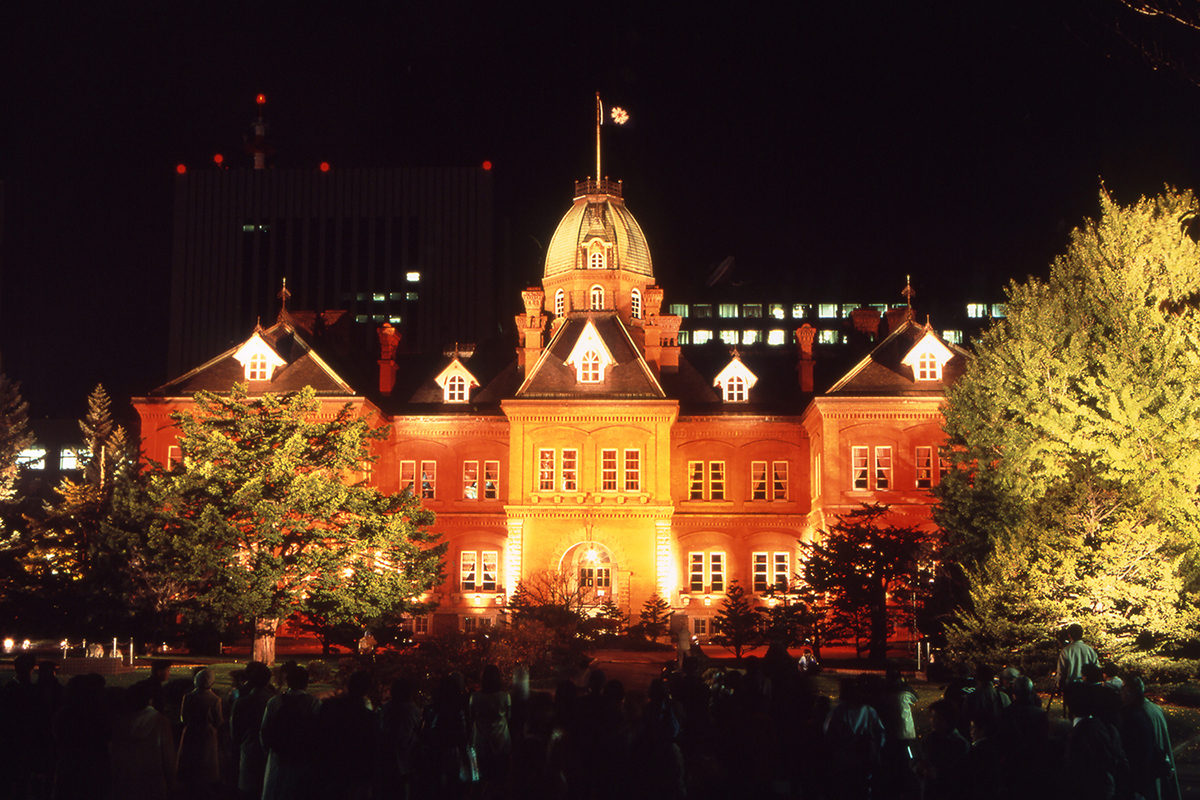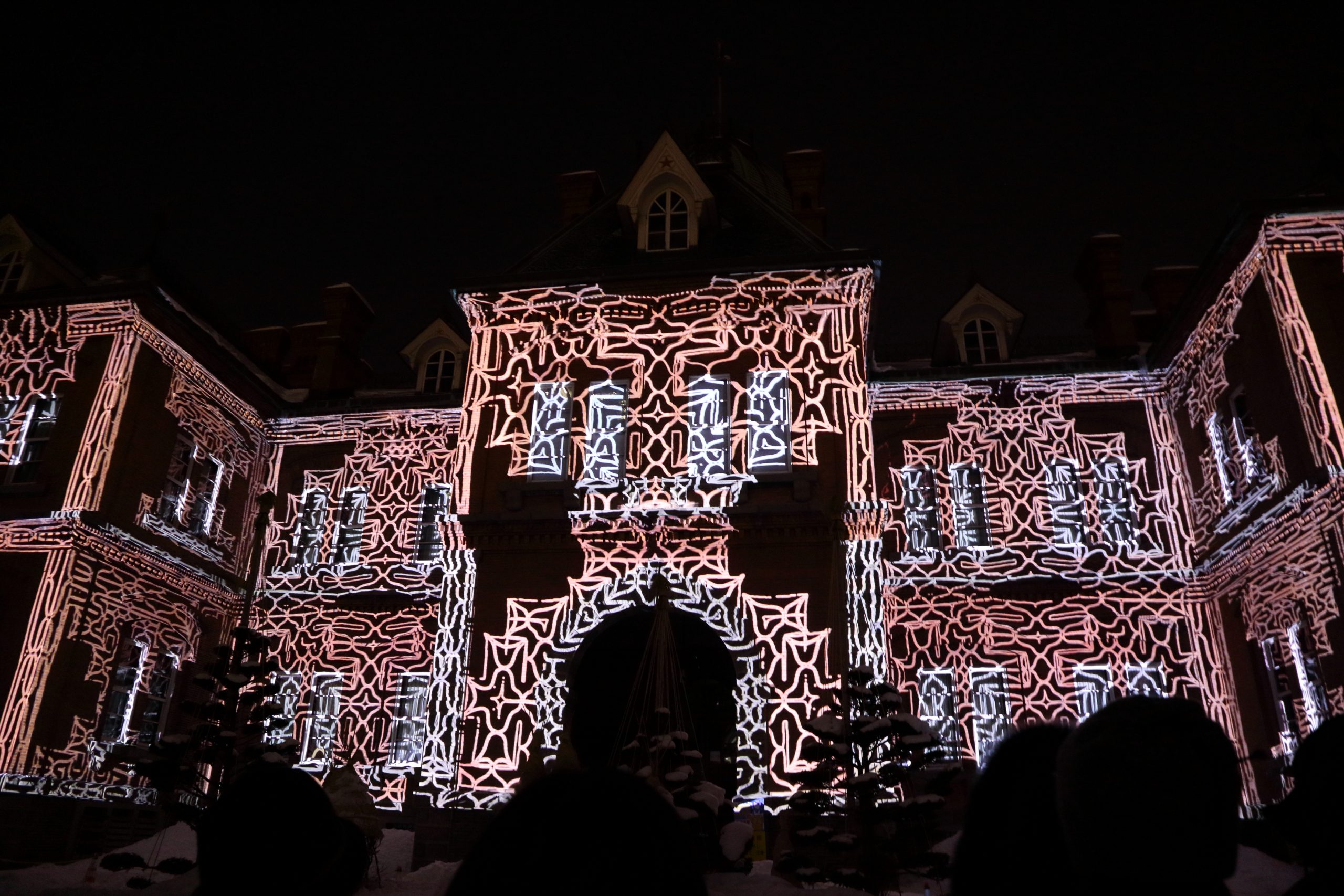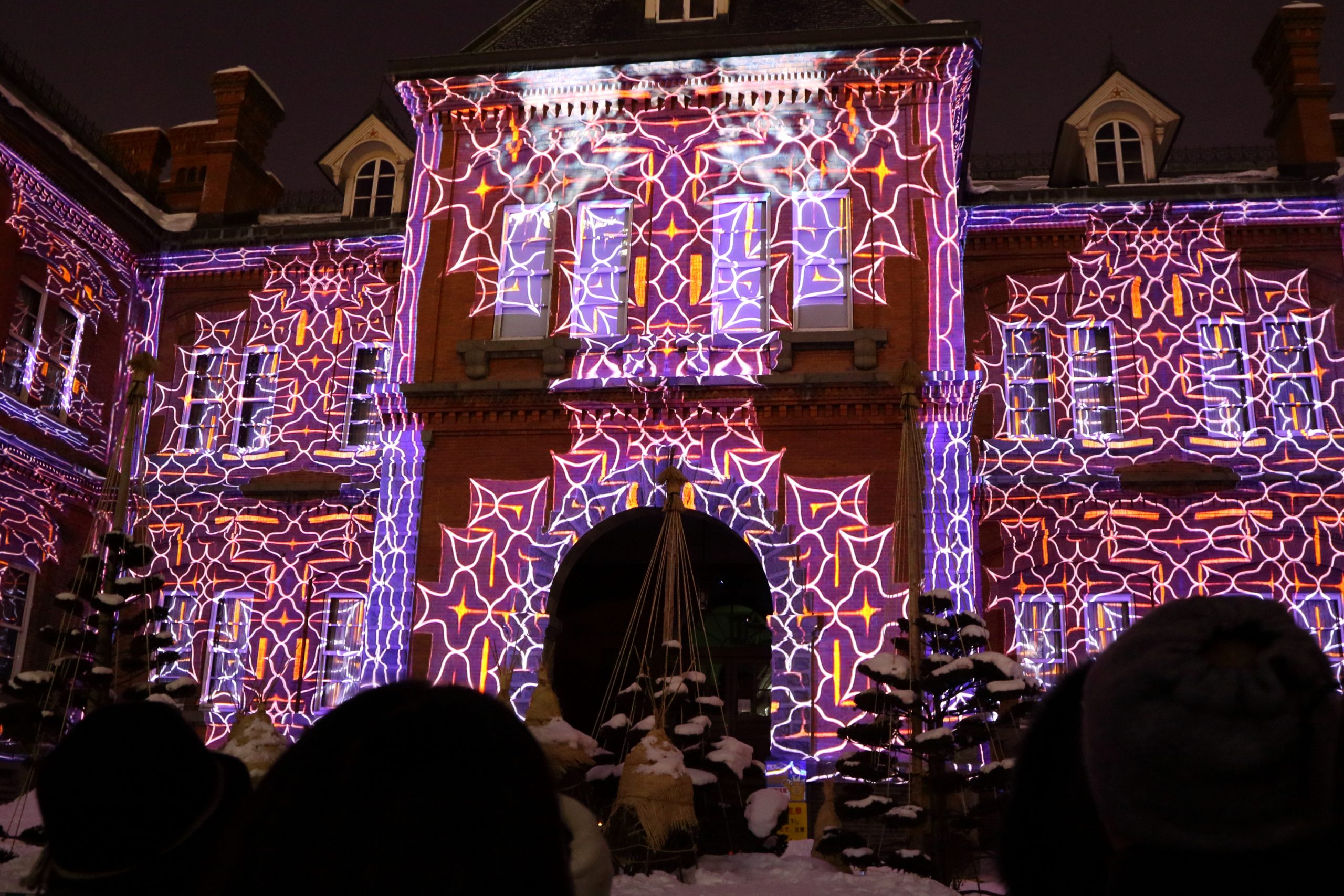 Hokkaido is proud of its indigenous Ainu sculptures and crafts, works by Hokkaido artists who are active around the world, and large-scale outdoor sculptures and parks. All of these works cannot be found anywhere else in Japan. Especially Sapporo, the capital city of Hokkaido, has many such works of art, and you can experience them at any time. I will take you on a journey to experience art that can only be seen here.
Arts in downtown Sapporo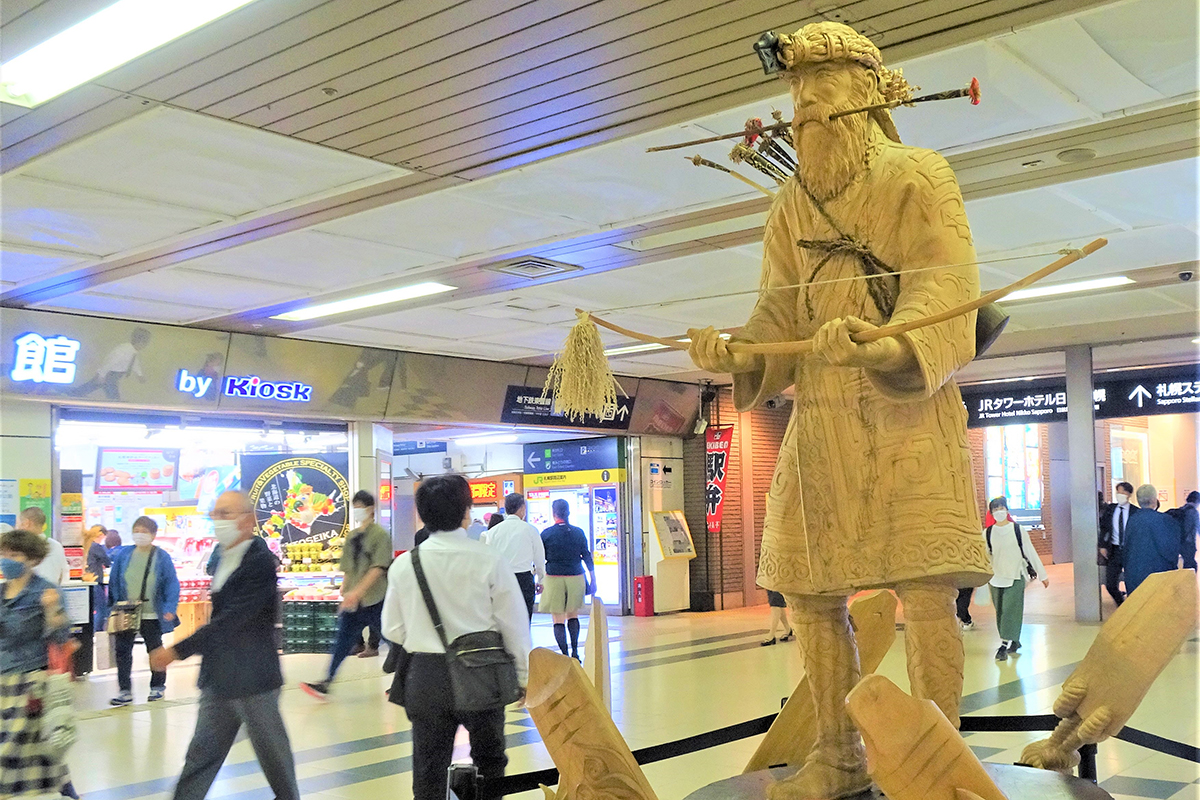 You'll see a carved wooden statue of a wise old man with an arrow in his mouth on the left side of the west ticket gate in JR Sapporo Station. He is dancing an Ainu ritual dance of arrows for Ainu deities called Kamuy. For the Ainu, dance is a way of offering prayers and thanksgiving to the Kamuy. The official name of the statue is Uresipamosir Hokkaido Irankarapte.
Around Sapporo Station   ~ Experience Ainu culture ~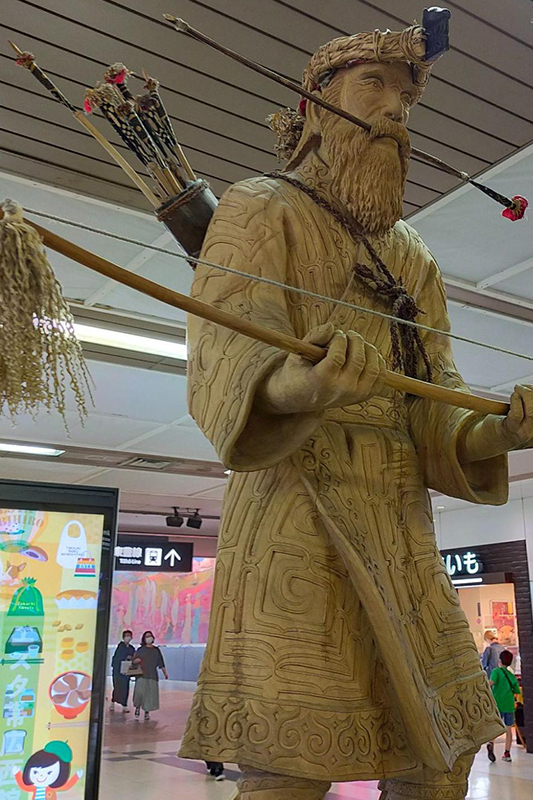 The wooden statue of a wise old Ainu man
"Urespamosir" means "the earth that grows up together," and "irankarapte" is the Ainu greeting of "hello" and means "allow me to gently touch your heart." A campaign to promote this word as a keyword for Hokkaido hospitality was held in 2013, and the statue was built as a part of the campaign. The production was led by the Urespa Club, a general incorporated association in Sapporo University. As an organization for studying Ainu culture, the club supports students who have Ainu roots. To erect this statue, they asked for donations from many companies and individuals in Hokkaido.
The production was commissioned from Takeki Fujito, a leading Ainu sculptor. In North America and other countries, indigenous people's sculptures are placed at airports and public facilities, but there were none in Hokkaido. Fujito enthusiastically produced the sculpture, saying, "It has been my longtime wish to place a sculpture of the Ainu people at the gateway to the capital of Hokkaido." The statue of Ekasi, the wise old man, is a big object, standing 1.6 m high and 2.5 m wide, including the pedestal. It depicts him dancing a bow dance, his eyes sharp and intent.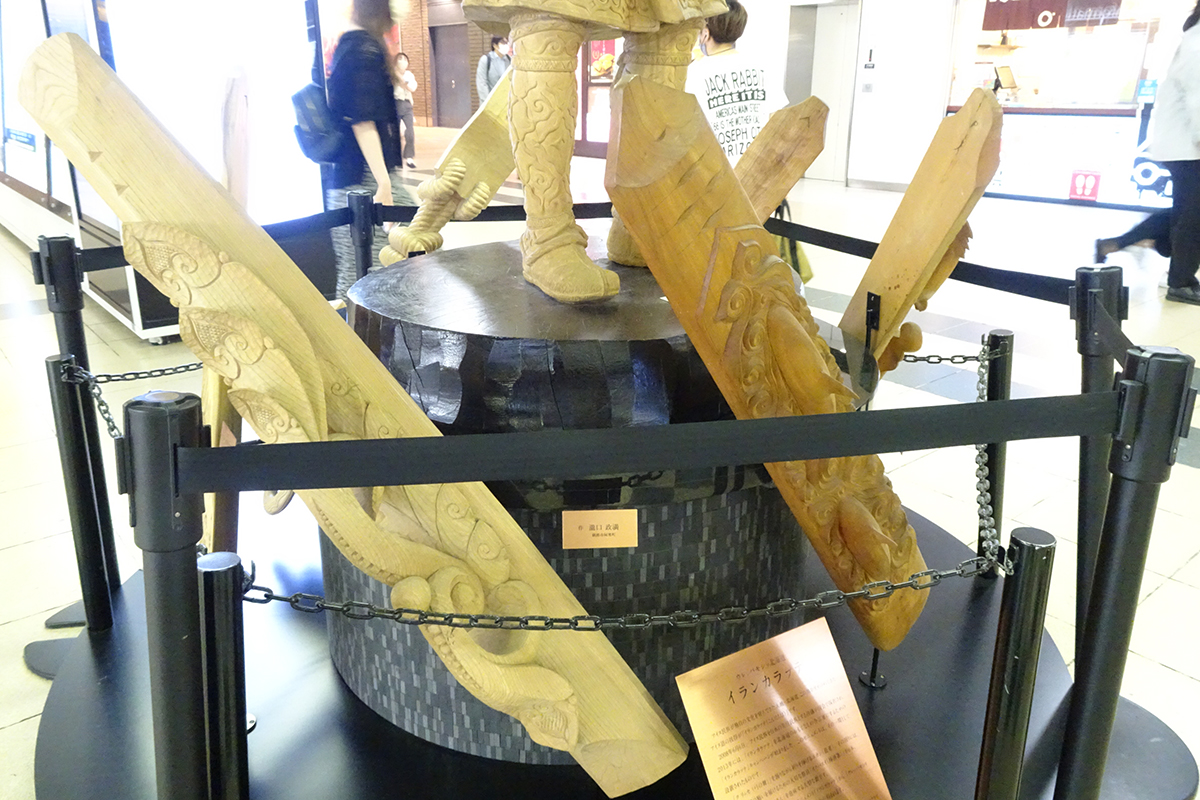 The skateboard-like boards at the feet of the man are another important feature of this sculpture. They are important tools of the Ainu people called ikupasuy, which are used in rituals to convey human wishes to their deities, the Kamuy. Actually, the real ikupasuy used in a ceremony is much smaller. The ones in this sculpture were produced by six famous Ainu craft sculptors. The elaborate and beautiful patterns carved using traditional Ainu carving techniques are a must-see.
A statue of a Blakiston's fish owl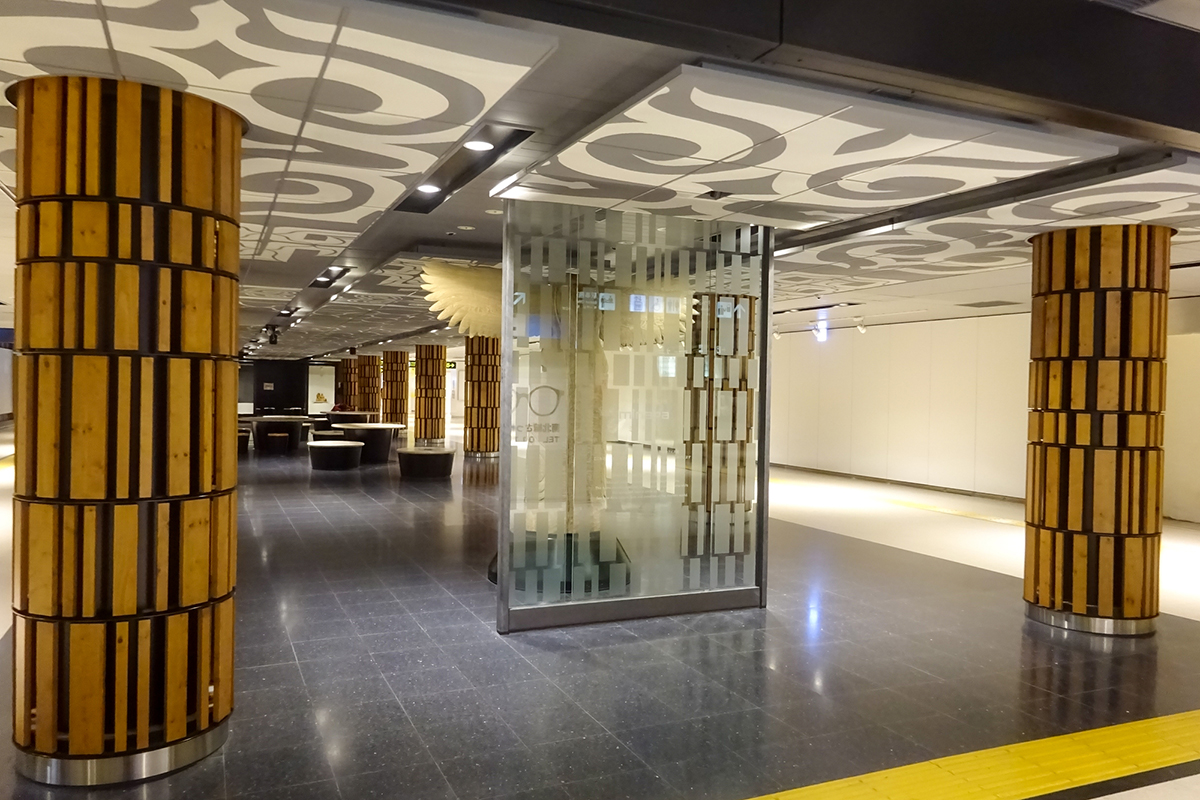 If you want to see more Ainu art, I suggest you visit the underground passageway at Sapporo subway station. A five-minute walk from JR Sapporo Station takes you to Minapa, an Ainu cultural space. "Minapa" means "a crowd of people laugh." The centerpiece is a wooden carving of a Blakiston's fish owl about to fly from a large tree. Its wingspan is 2.4 m and the height, including the perch, is 2.5 m. The artist, Toru Kaizawa, is a world-renowned Ainu sculptor. He is known for his works that fuse traditional Ainu culture with contemporary art. His work has been exhibited in the Japanese Gallery at the British Museum since 2018. Using a 400 to 500-year-old elm tree that was unearthed from the soil of a paddy field located downstream of a river, it took him a year to create the big wooden owl spreading its wings.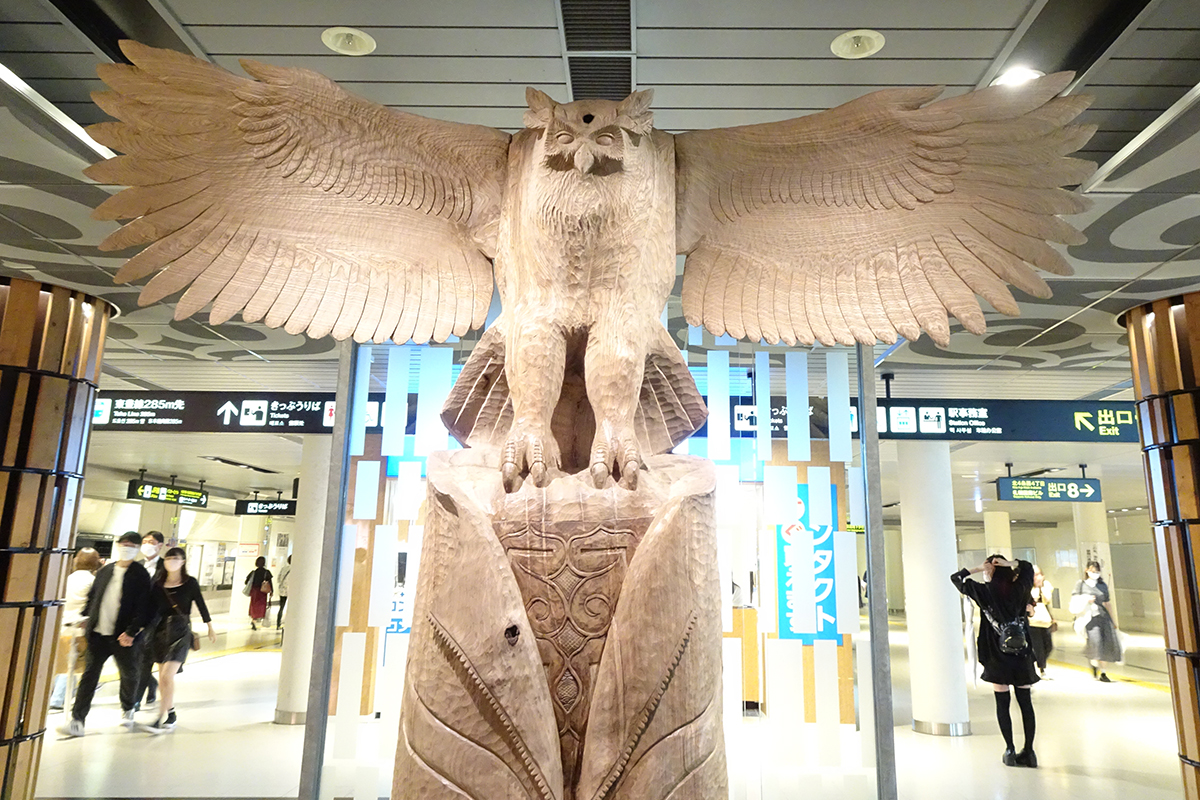 The Blakiston's fish owl is an endangered species found only in Hokkaido, the Russian Far East, and China. It has long been worshiped by the Ainu people as Kotan-kor-kamuy or "the guardian of the village." The sculpture is named IWOR-UN-PASE-KAMUY or "Revered deity who protects each person's sacred spaces". It is watching over us and about to fly toward a new era. Several other sculptures and animations of Ainu patterns are also on display, allowing visitors to experience Ainu culture up close.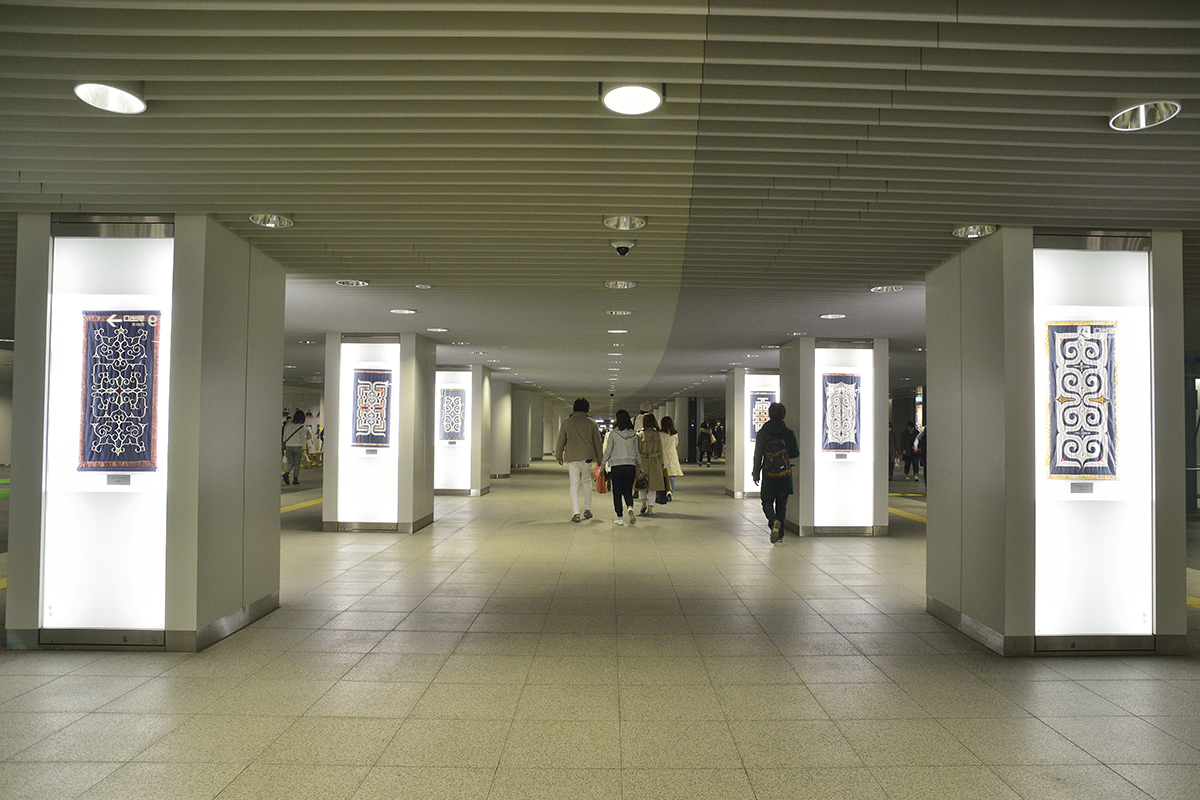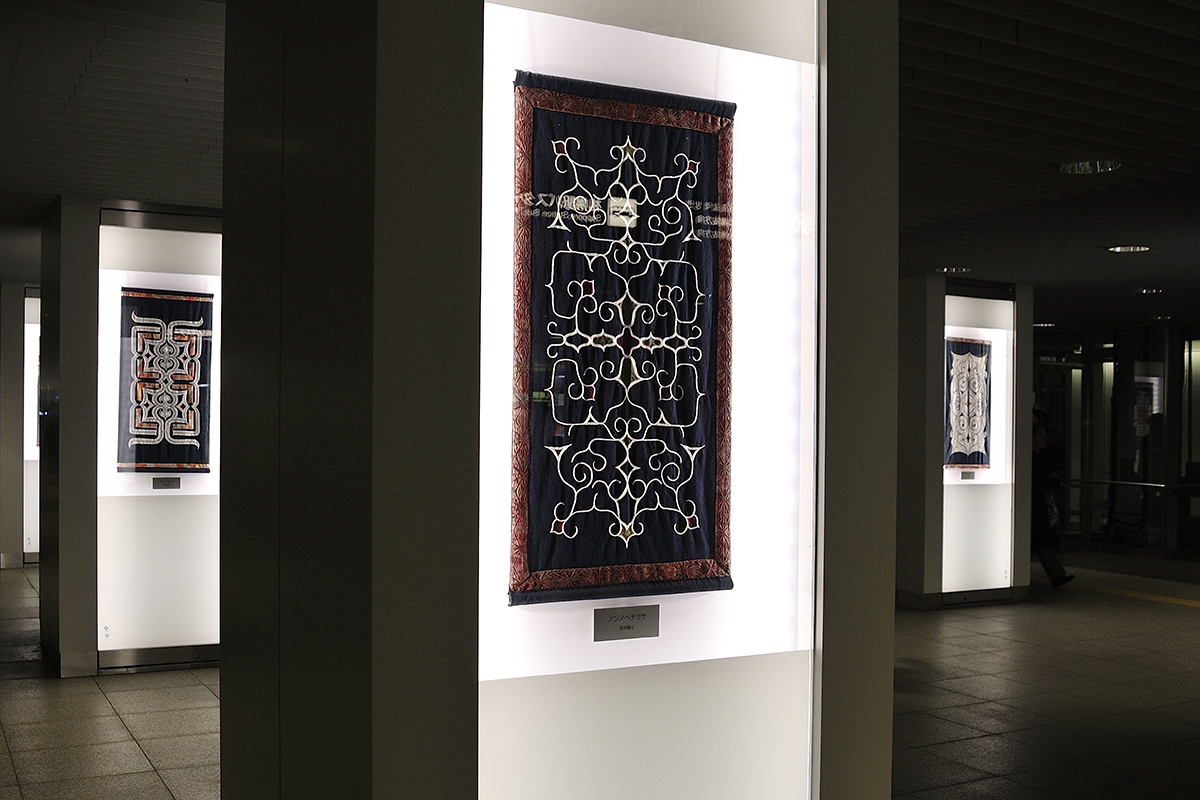 Key to a dream
There is a large sculpture with a white, round form at the south exit of the west concourse of Sapporo Station. It is named Myomu or "Key to a dream" by Kan Yasuda, a world famous sculptor from Bibai city in Hokkaido. I will explain about him later, but let me say just a few words here. It is said that the hole in the middle of this sculpture is an opening to a different world. Let's take a step into a different world through this hole!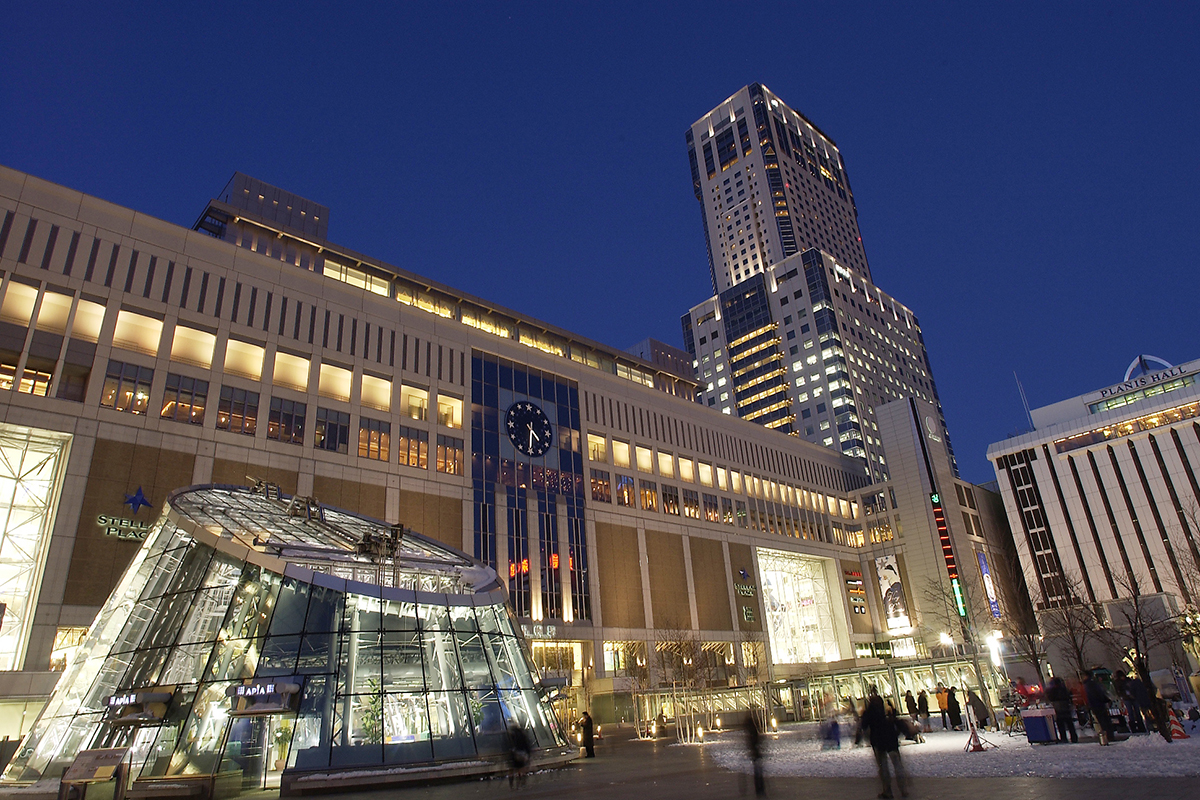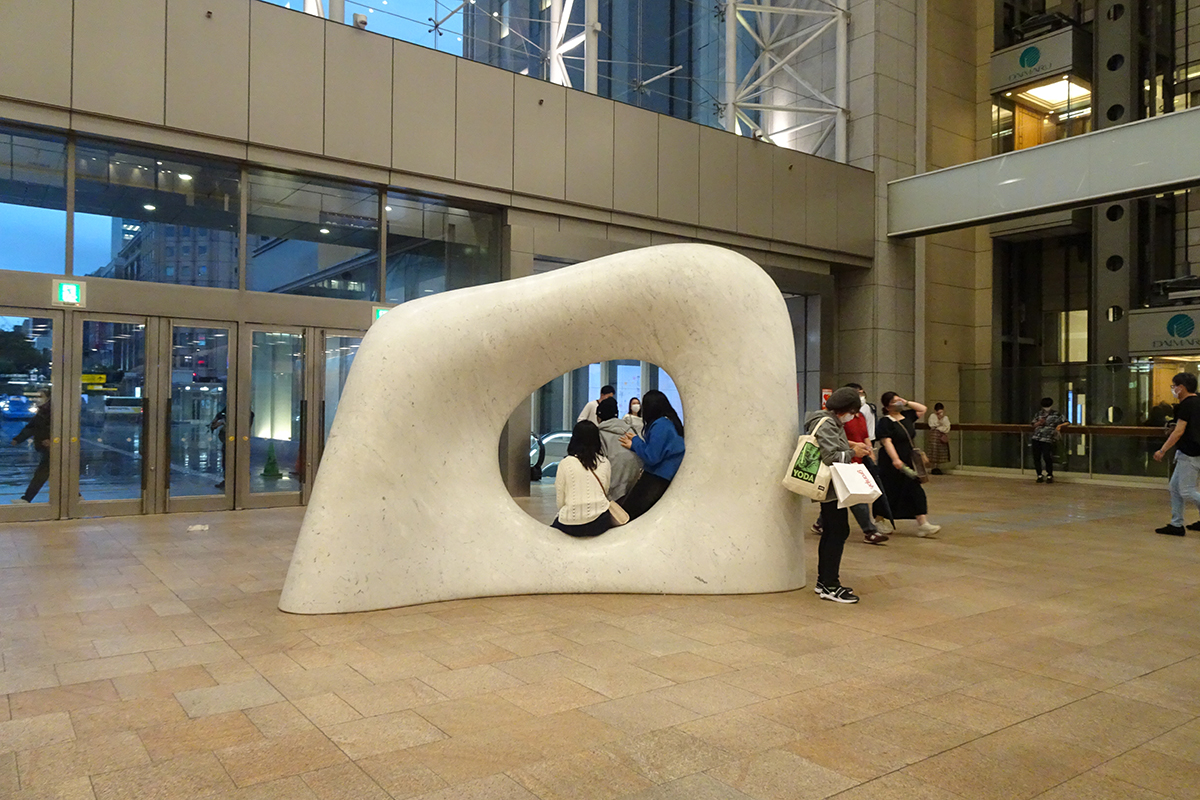 Odori Park, where nature and art coexist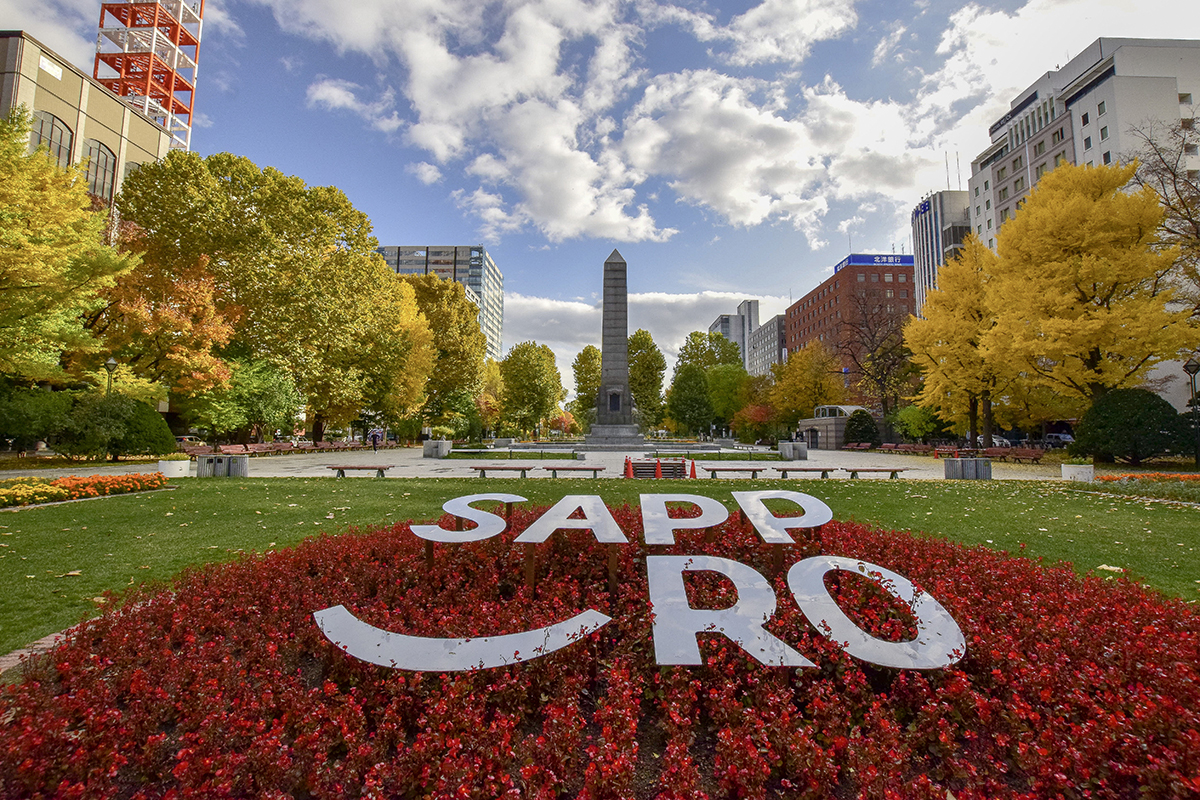 A 10-minute walk to the south from Sapporo Station brings you to Odori Park. It is located in the center of Sapporo city, a must-visit destination when sightseeing in Hokkaido. Sapporo suffered from fires about 150 years ago, when pioneering Hokkaido had just begun, because many houses were made of wood and straw. Therefore, Odori Park was originally built as a firebreak in the center of the town to prevent fires. During World War II, when food was scarce, the area was used as a potato field and garbage dump.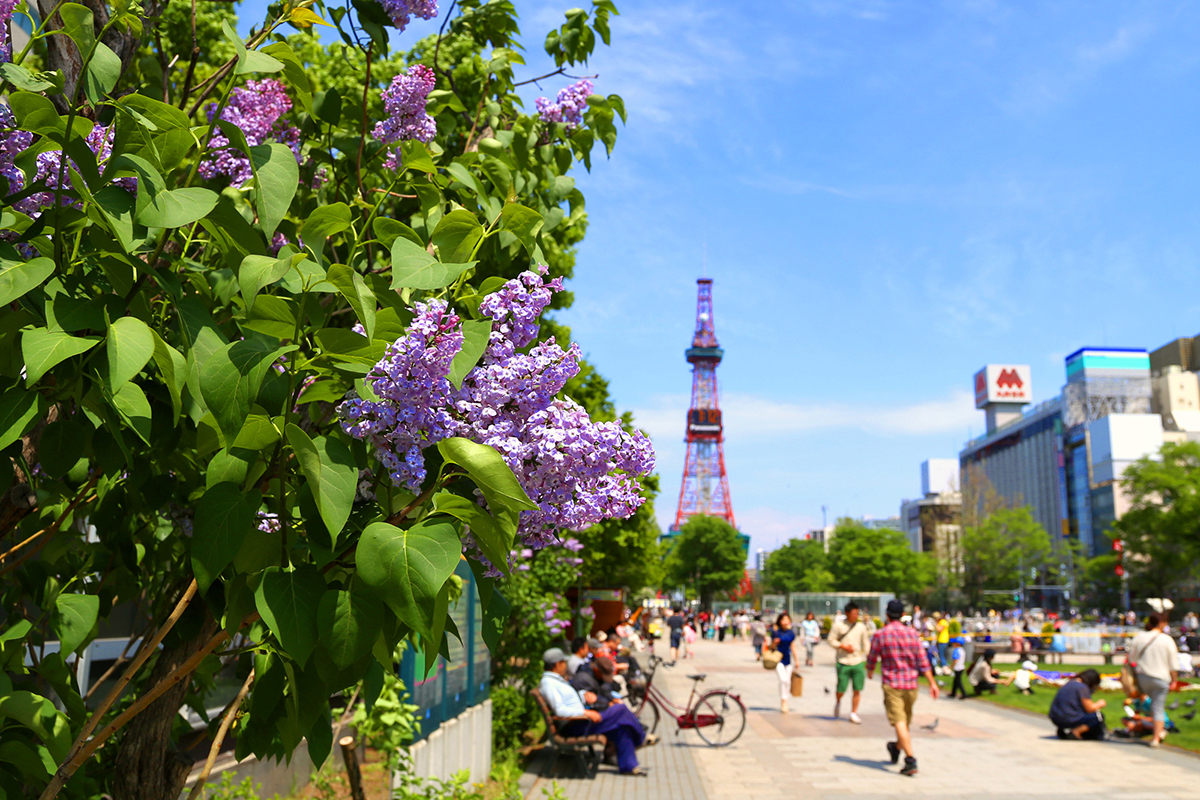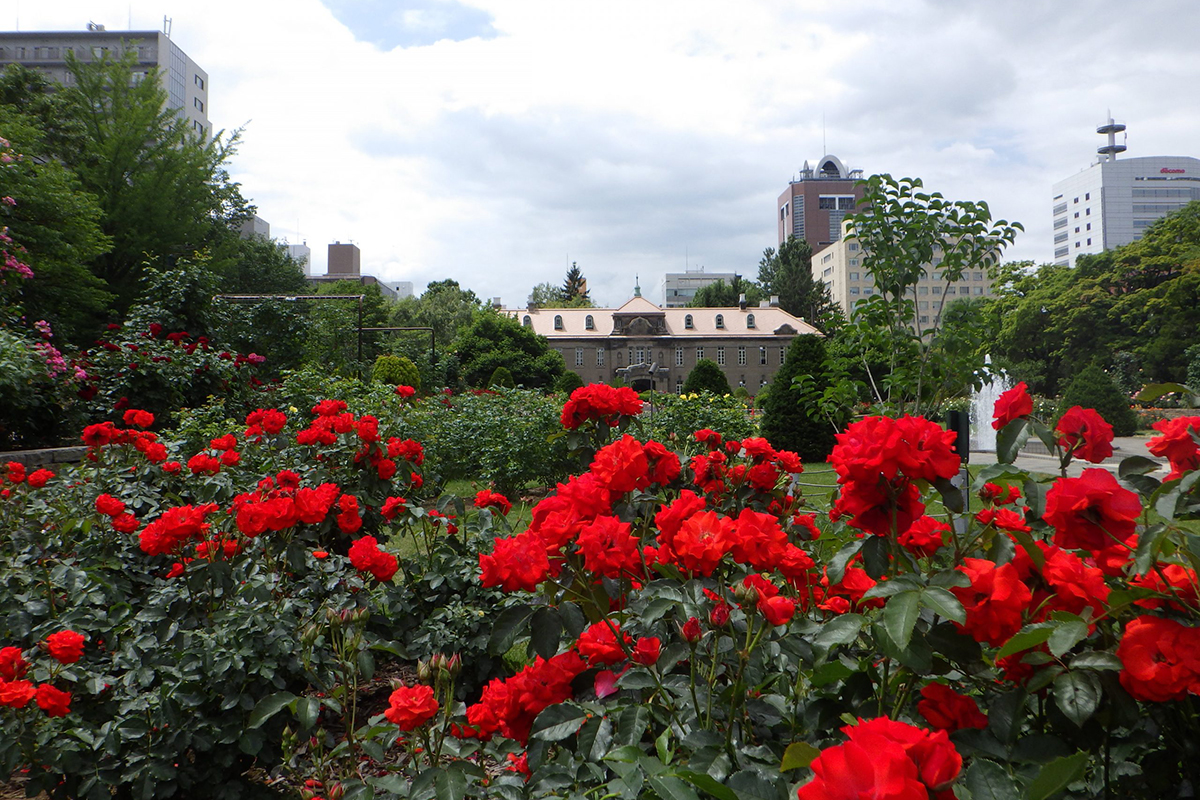 After the war, various flowers and trees were planted, and citizens and tourists now take a break or have lunch in the park. This park is also used as a venue for seasonal events utilizing its long shape stretching 1.5 km from east to west. The most famous one is Sapporo Snow Festival in winter, when more than 2 million tourists visit Odori Park to see huge snow statues and ice sculptures. In spring we have the lilac festival, in summer people flock here for tasty beer in the beer gardens, and in autumn, we have the Autumn Fest. A range of delicious foods and drinks produced in Hokkaido are gathered together here for people to enjoy. This festival is named after the Oktoberfest in Munich, Germany because Munich is a sister city of Sapporo. The park is home to 4,700 trees of 90 species, which bloom beautifully in each season. Many sculptures are placed amid these flowers.
Statue of Fountain
Of particular note among them is the Statue of Fountain in Odori Park 3-chome. Three ballerinas are posed in a circle with their backs to each other, standing on tiptoe with their hands extended to the sky. The beautiful figures stretch out as if to connect sky and earth. People often stop to take pictures. The TV tower and flower beds in the background make for an excellent photo spot.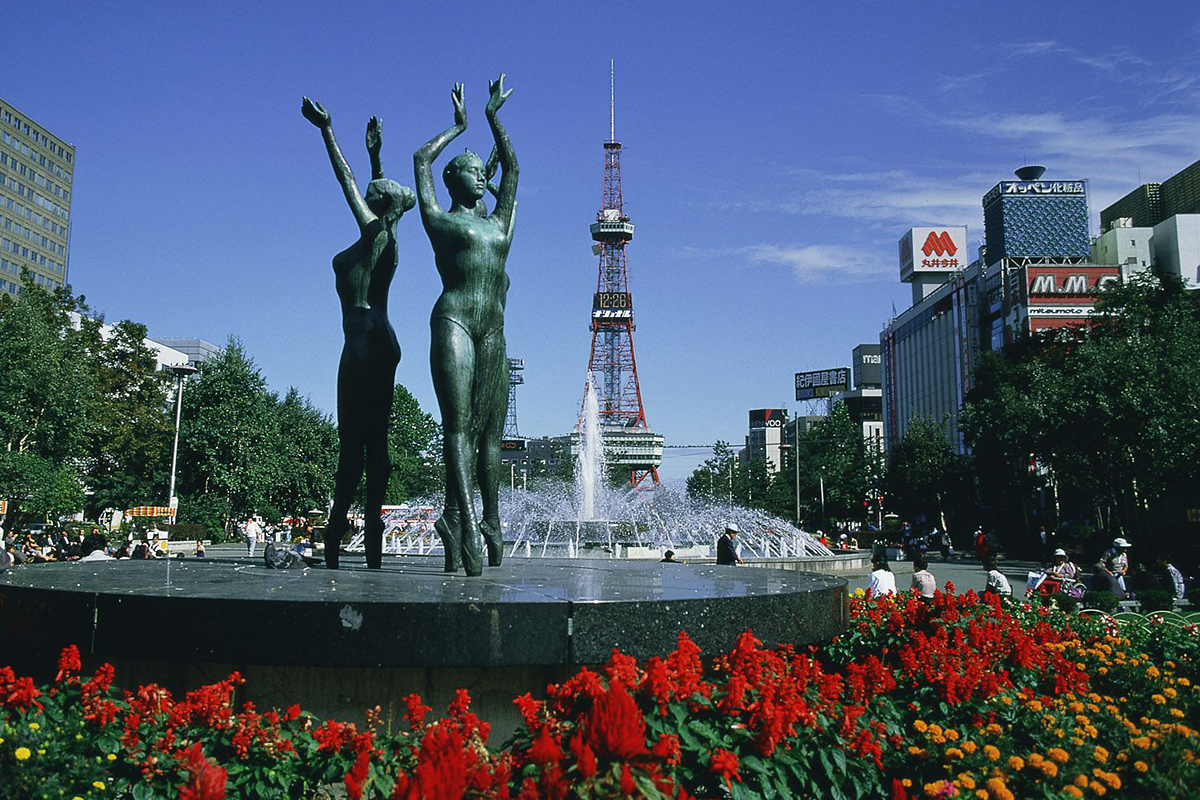 The sculpture was created by Shin Hongo, a sculptor from Sapporo who was a driving force in postwar figurative sculpture. He created many outdoor sculptures based on his belief that sculptures are not meant to decorate private parlors, but are valuable only when they are seen by many people in public places. Many of his works express social messages such as anti-war and peace. His outdoor sculptures have been placed not only in Sapporo but also in Hiroshima, Osaka, and other places in Japan.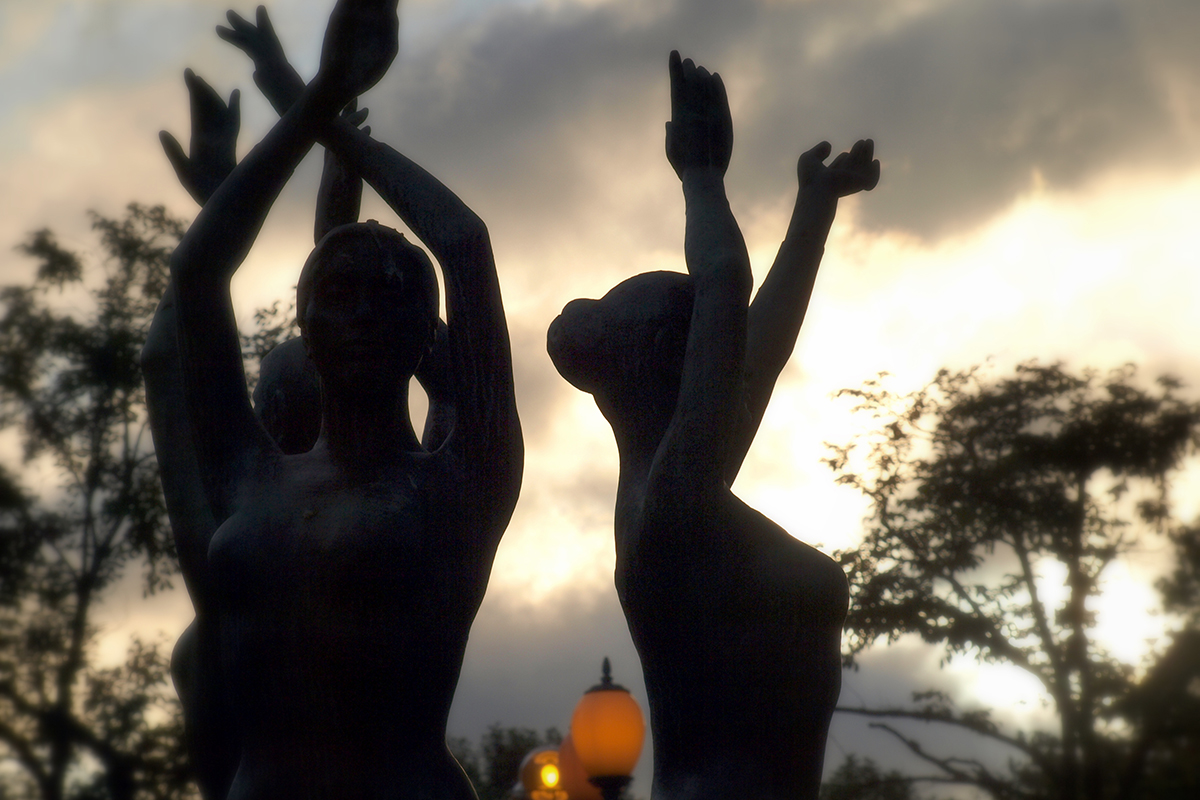 Black Slide Mantra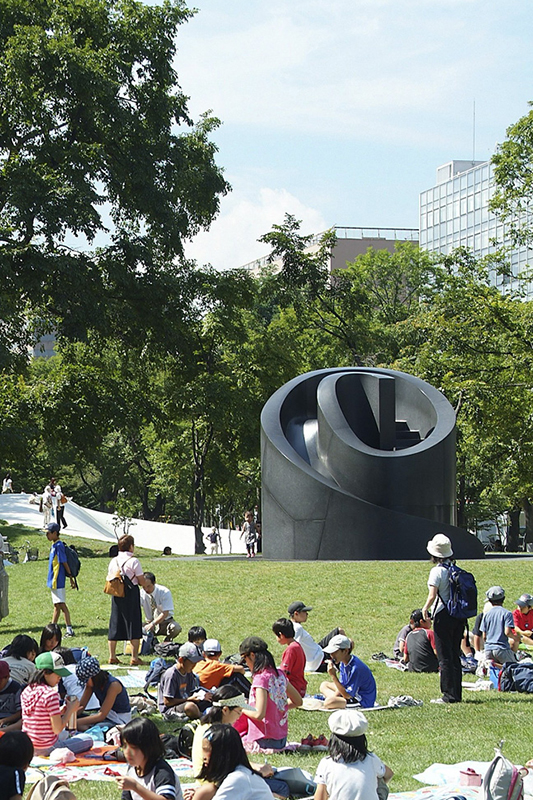 The big black granite slide in Nishi 8-chome, Odori Park, is also a work of art. It is called Black Slide Mantra and was created by world-renowned sculptor Isamu Noguchi. Originally there was a road in this place, but he asked for the road to be eliminated to make the park more spacious and allow children to play freely. Noguchi said, "This work has not finished, but will be completed when the children slide on it again and again, and when the stone slides are polished by the children's buttocks." Not only children but also adults can slide, of course. There are not many works of art that you can slide on.
When you come to Sapporo, you should definitely try sliding and enjoy the art with your whole body. The slope is almost 3 m at the top. It is higher than expected and the steep slope is thrilling. Children enjoy sliding again and again. The small entrance, the sense of speed when descending the steep slope, and the spiral structure leading to the entrance are probably its best features.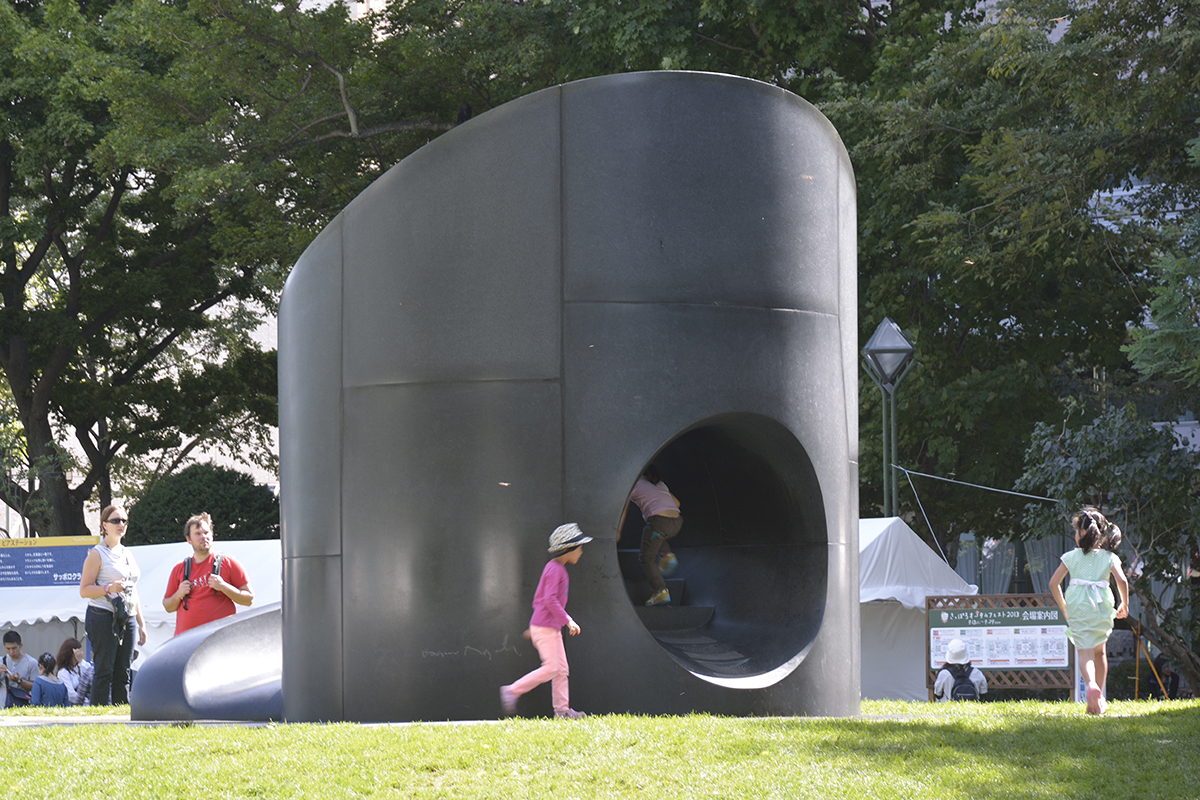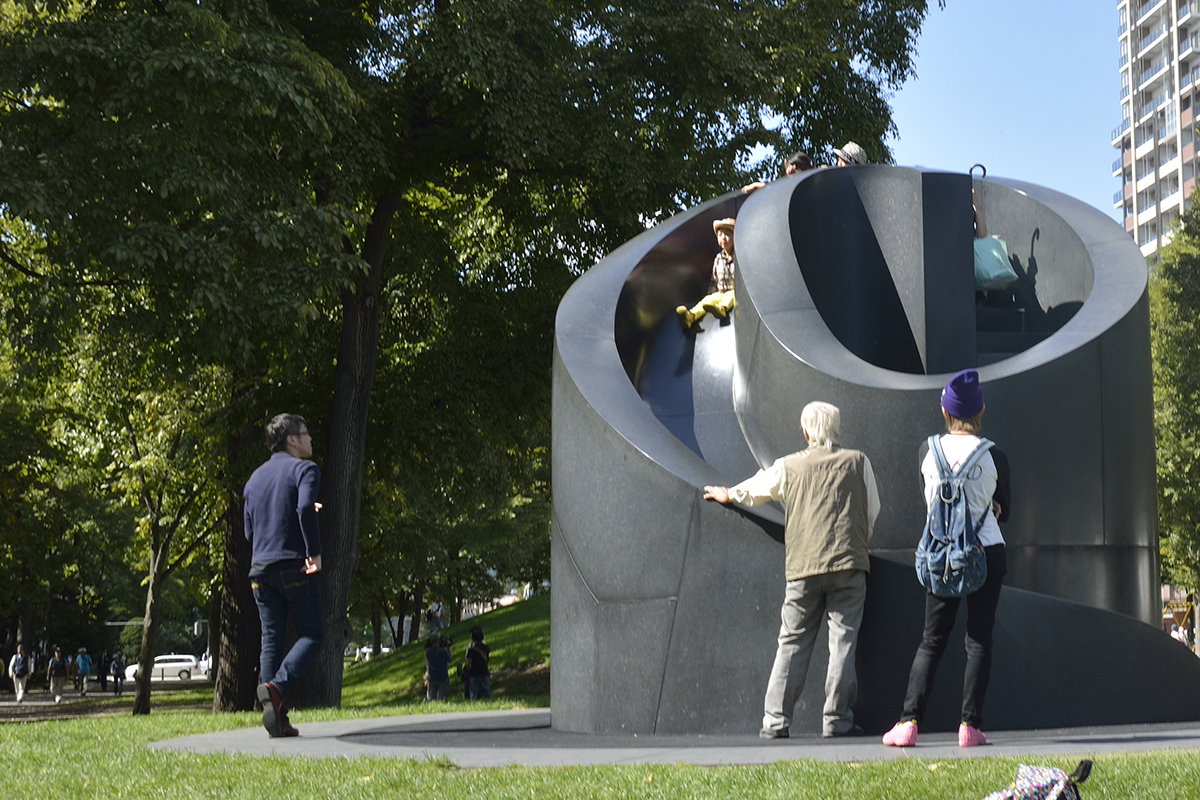 The sculpture also serves as a link between the central and suburban areas of Sapporo. In the same year that Noguchi decided to install the Black Slide Mantra, he designed Moerenuma Park in the suburbs of Sapporo, where "the entire park is one sculptural work." From here, we will go to the outskirts of Sapporo to see Isamu Noguchi's huge artwork.
Art in the suburbs
Sapporo arts are not only located downtown. More than half of Sapporo is rich in nature, covered with trees. If you go a little further into the suburbs, you will find many places where you can enjoy art while enjoying the natural scenery.
Moerenuma Park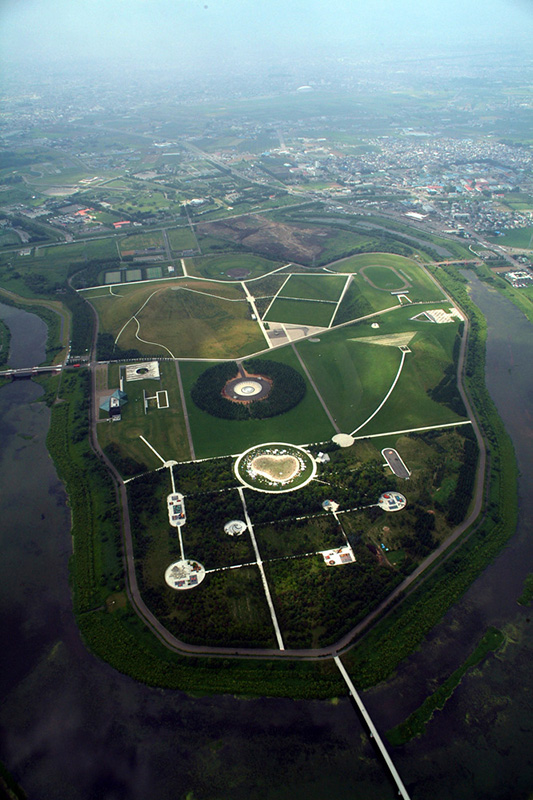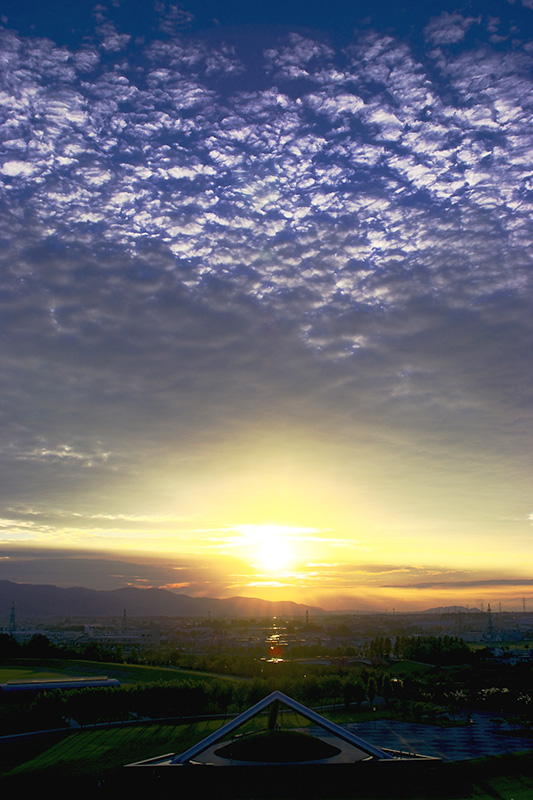 A 30-minute drive northeast of central Sapporo will bring you to a small green mountain. It is a man-made mountain 52 m tall, and is a landmark overlooking the entire park. This mountain and other areas of the park were built on a landfill site. It was designed by Isamu Noguchi, who created the Black Slide Mantra in Odori Park. Born to a Japanese father and an American mother, Noguchi's many sculptures combine the artistic spirit of East and West.
When he saw the landfill site, he said "I will recreate the land damaged by humanity using art. It's my job," and designed this park. Based on the concept of "the whole being a single sculpture", he designed the dynamic park in harmony with the surrounding environment and landscape. There are man-made mountains, fountains, playground equipment, and other facilities with geometric forms in the park, allowing visitors to enjoy a beautiful landscape that blends nature and art.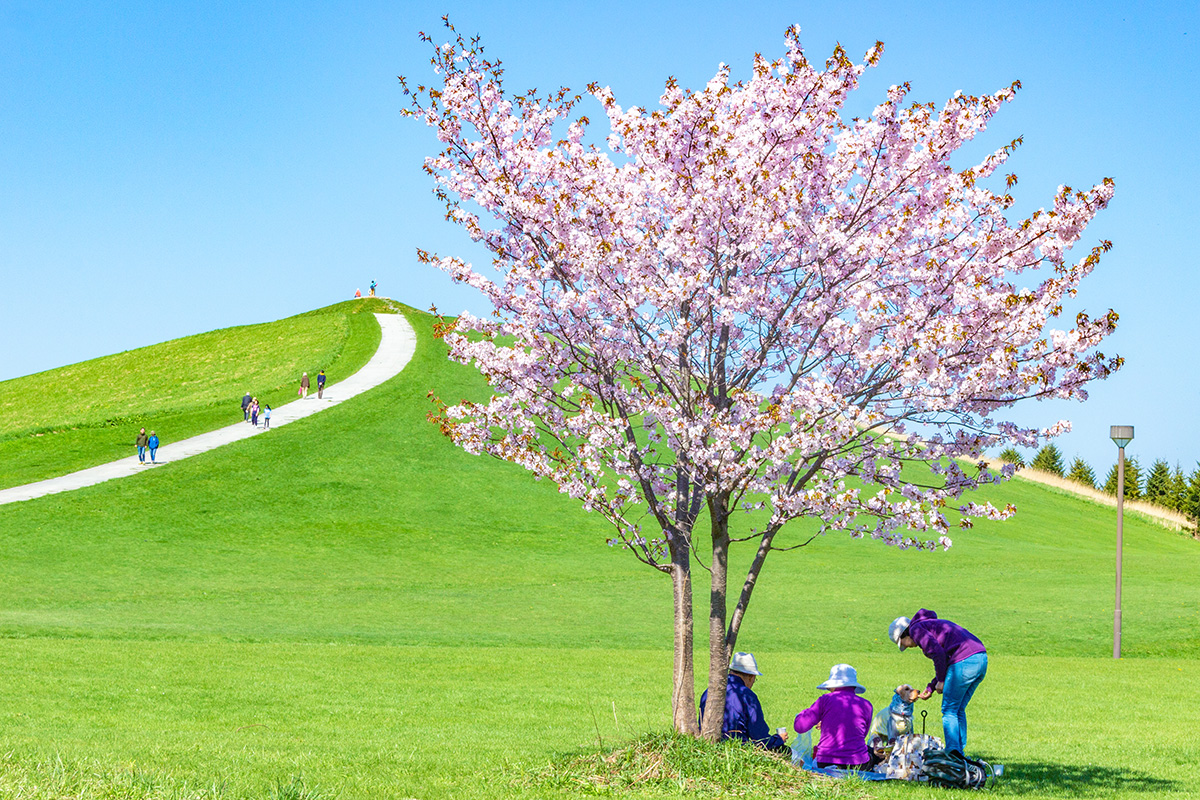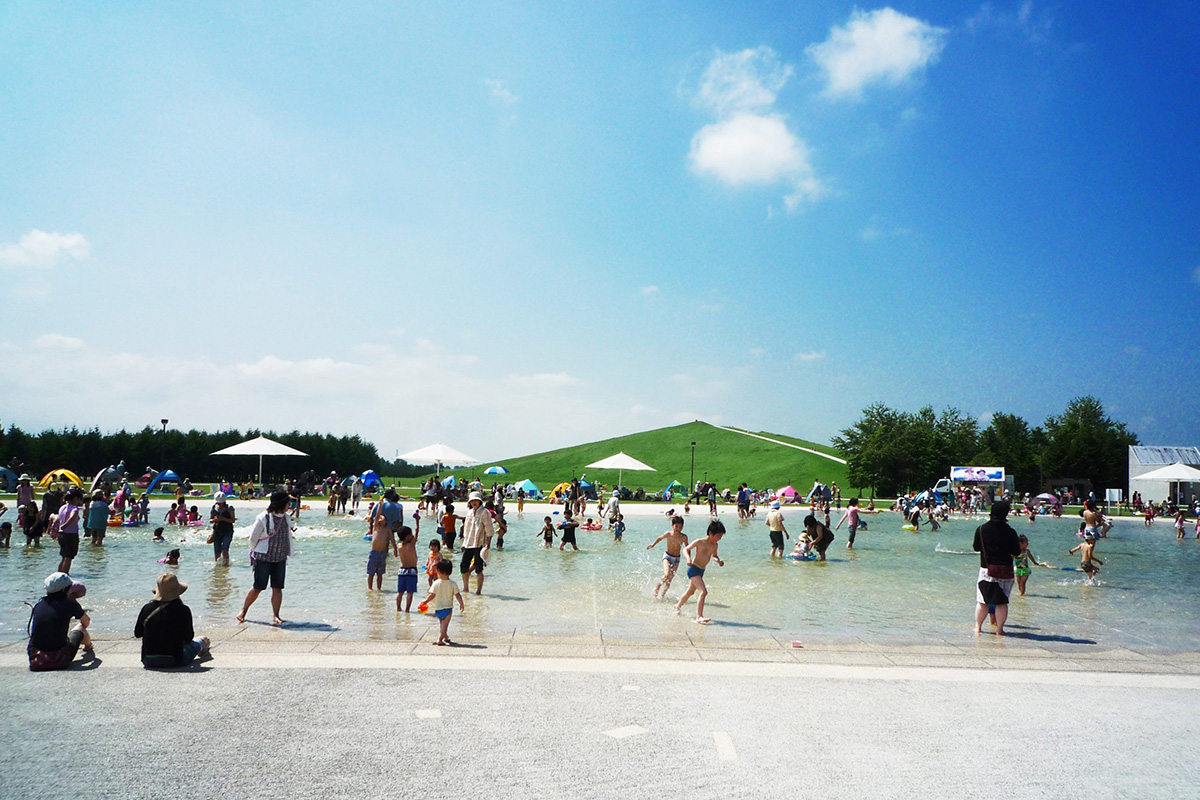 In spring, cherry blossoms bloom, and in summer, visitors can play in the water playground and fountains. In autumn, the leaves change color, and in winter, cross-country skiing and sledding can be enjoyed amidst a blanket of snow. Unfortunately, Noguchi died before the park was completed, but his philosophy continues to live on today.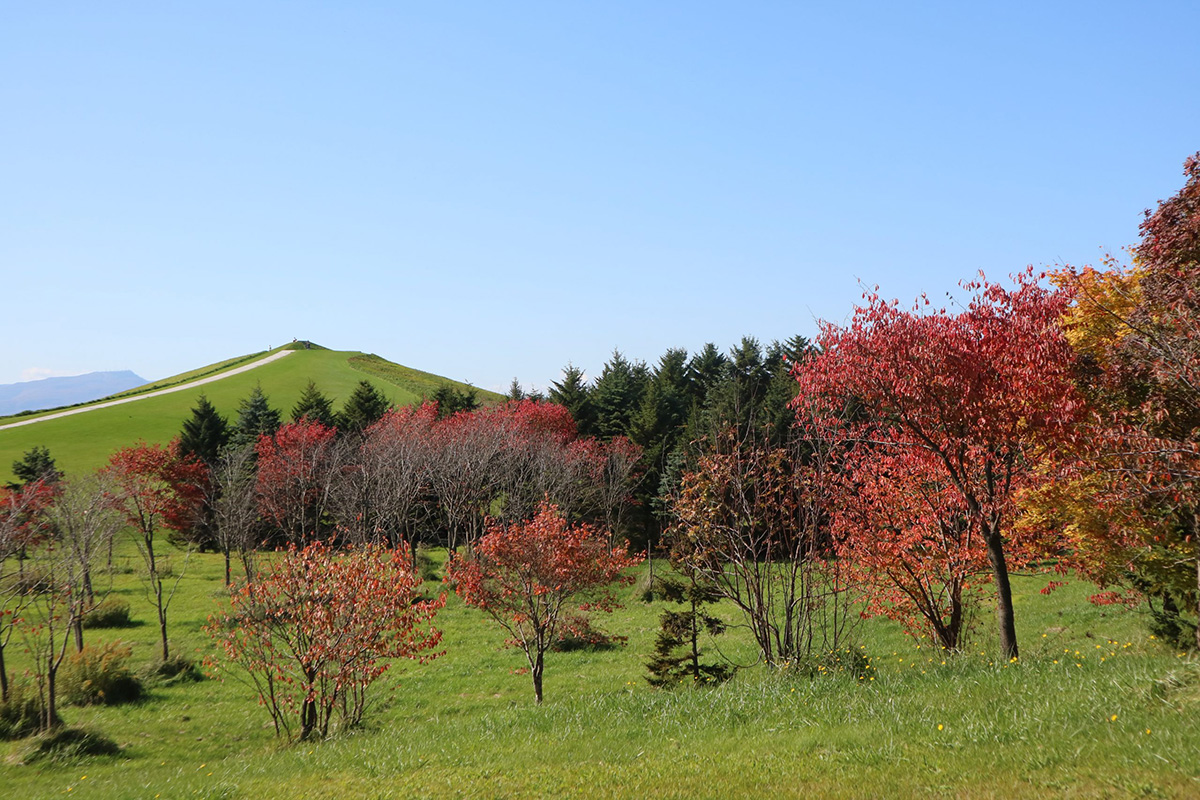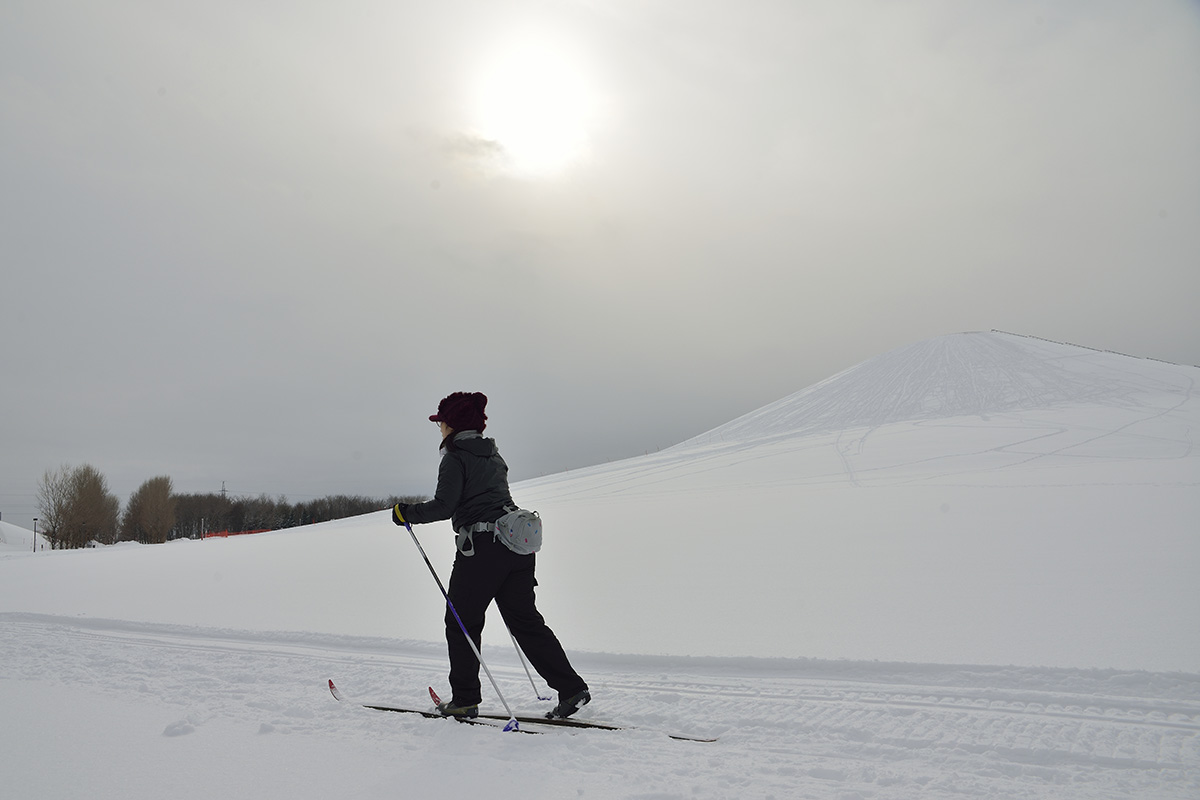 The Glass Pyramid
The main attraction is a huge glass pyramid 32 meters high. Its unique shape is a combination of a triangular face and a square pyramid, and its colors change with the seasons and the time of day.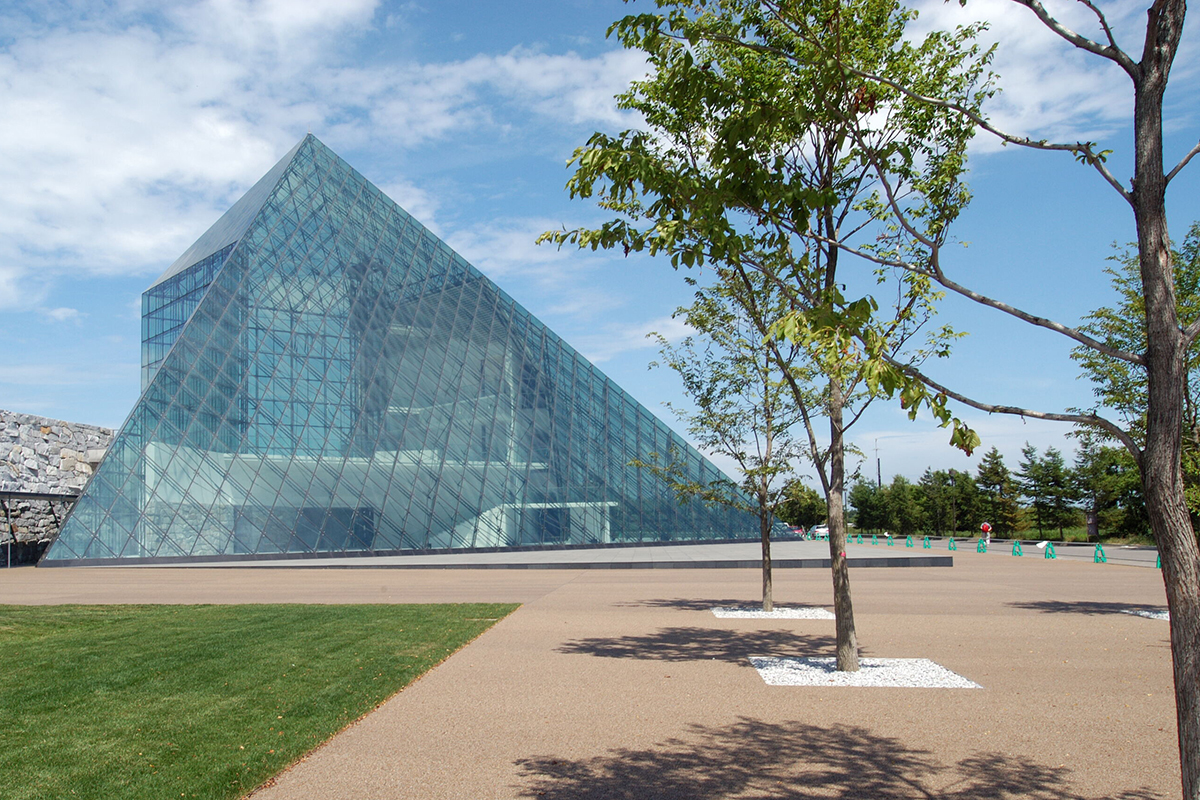 Noguchi's friend, architect I.M. Pei designed the glass pyramid at the Louvre Museum, and the pyramid in Moerenuma Park is said to be a tribute to him. Also, in consideration of the environment, snow accumulated in the park during the winter is stored and used for air conditioning inside the buildings.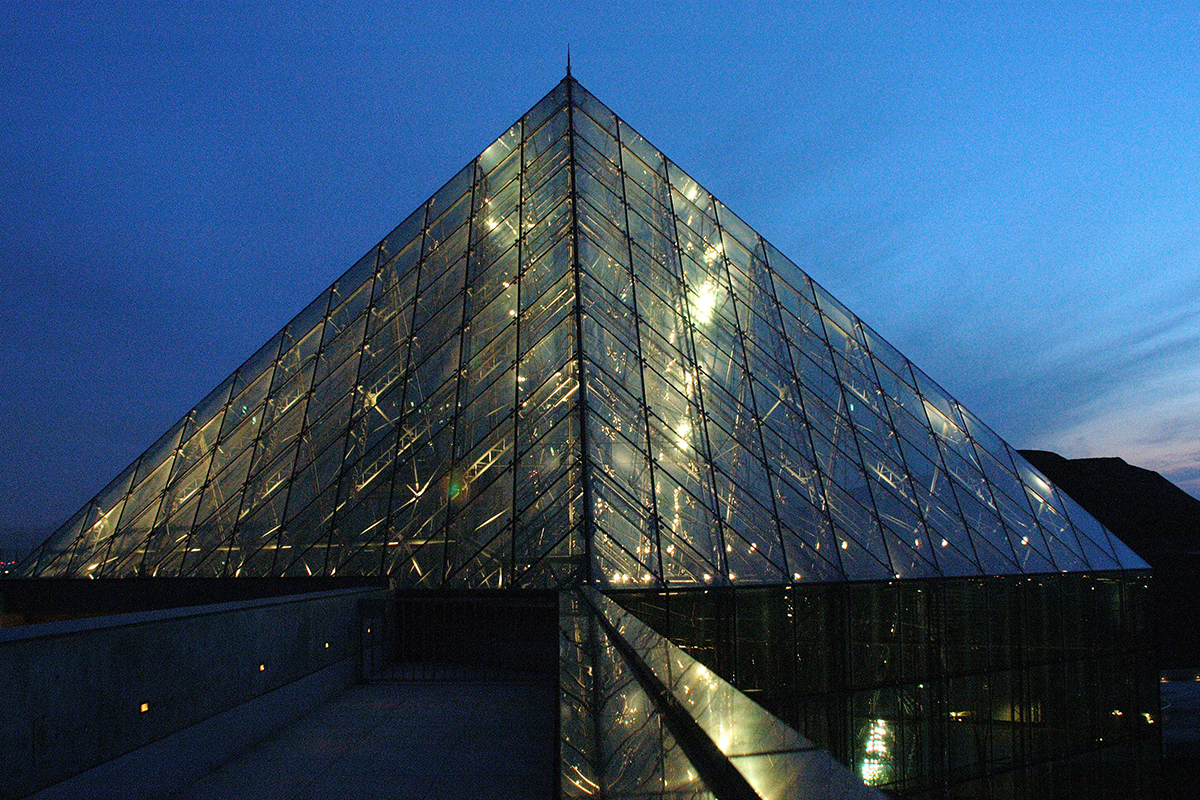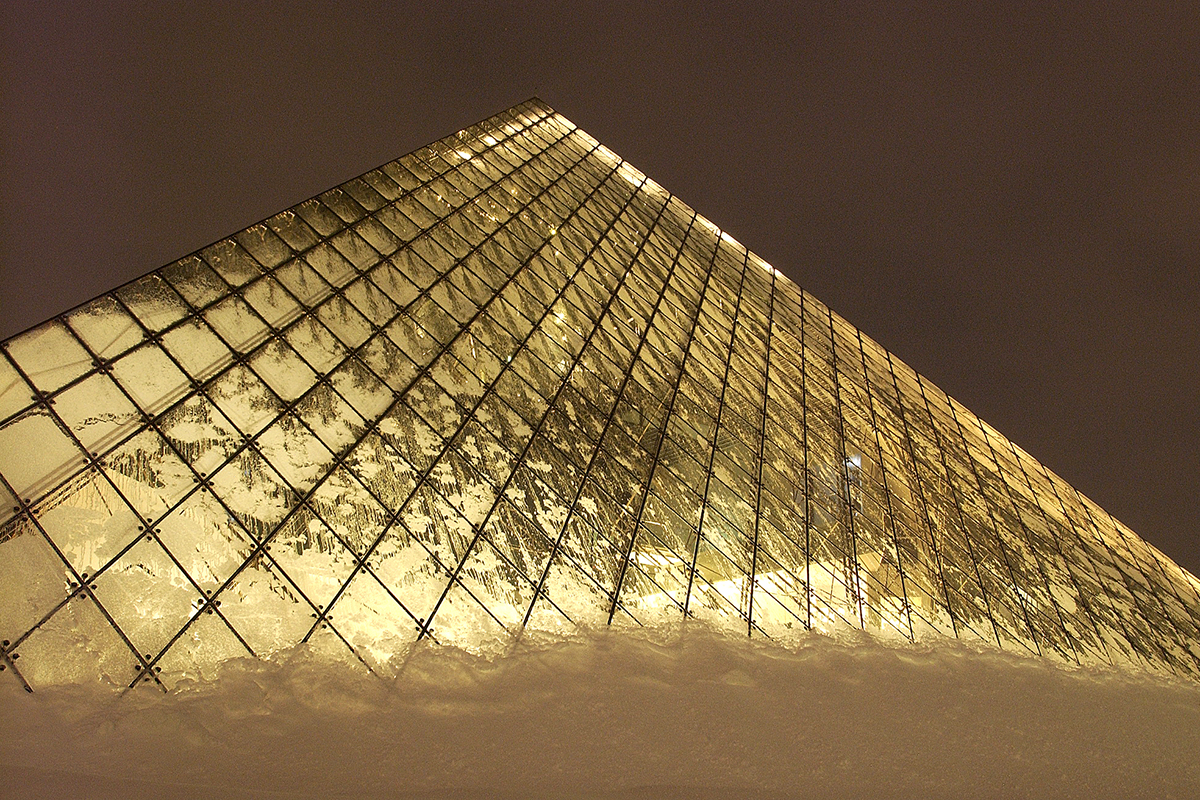 The Sea Fountain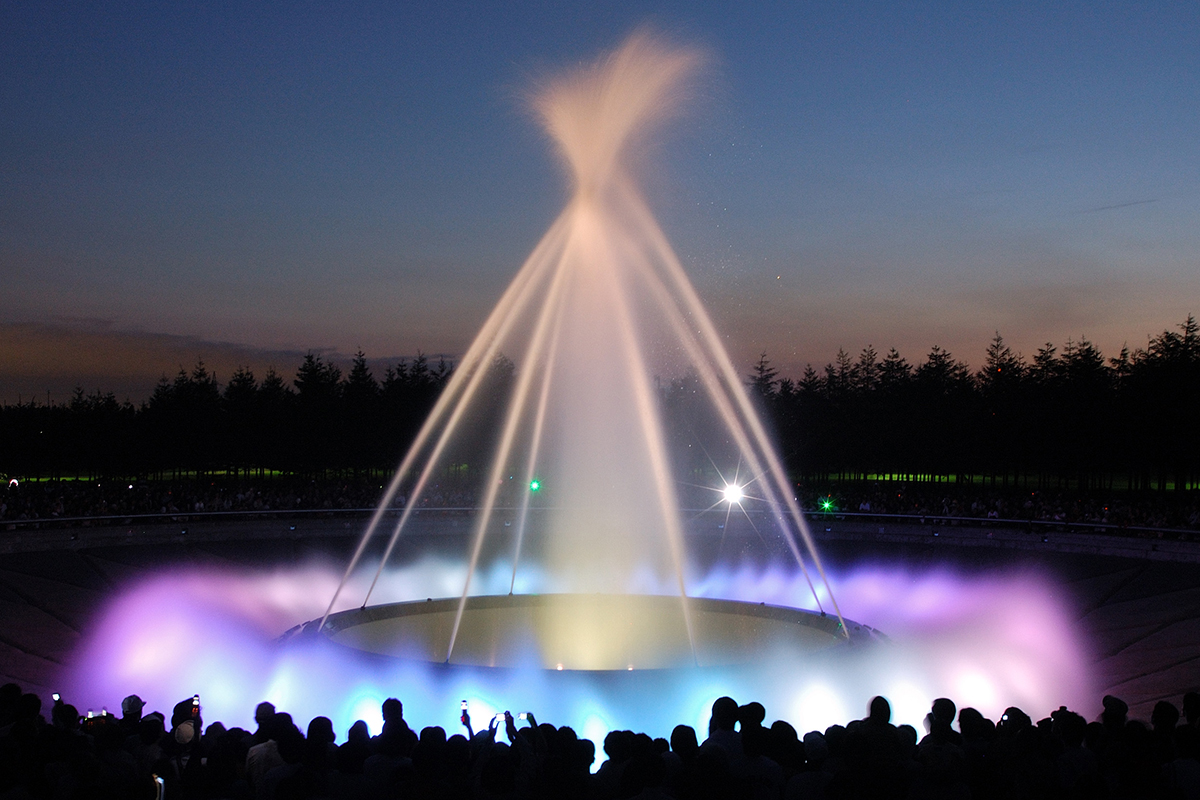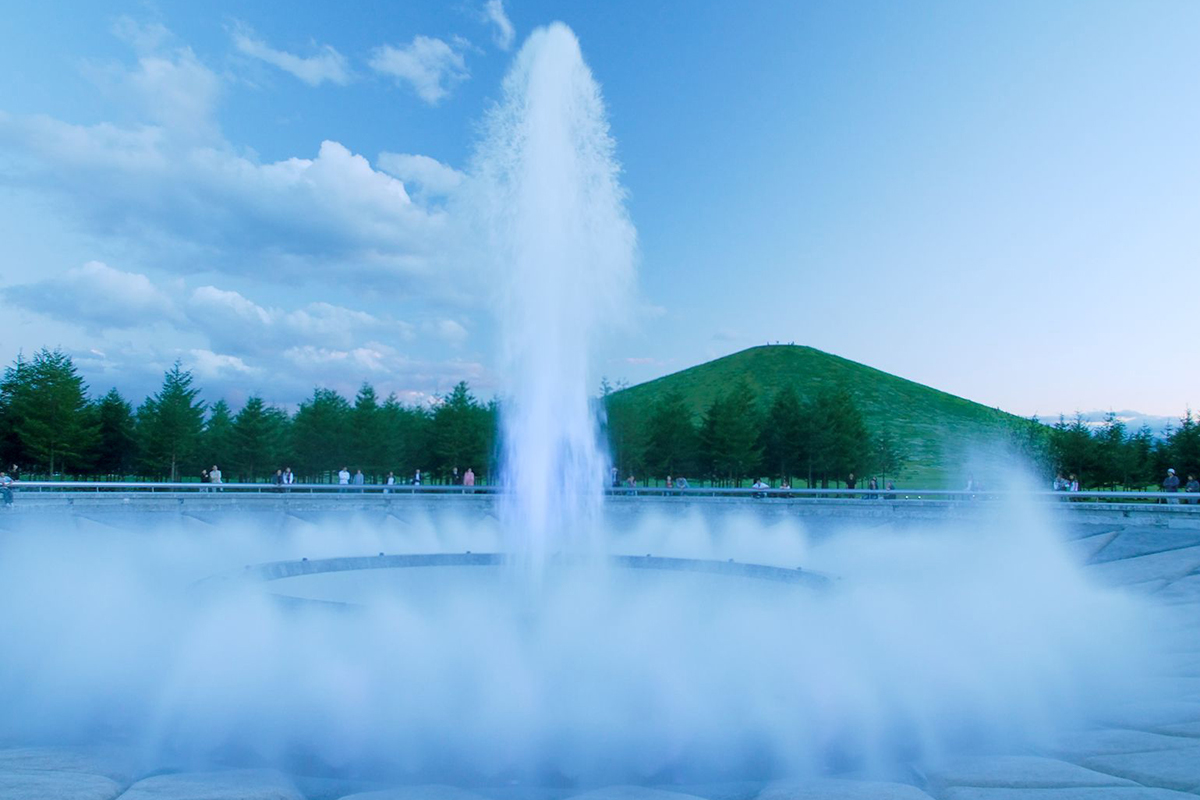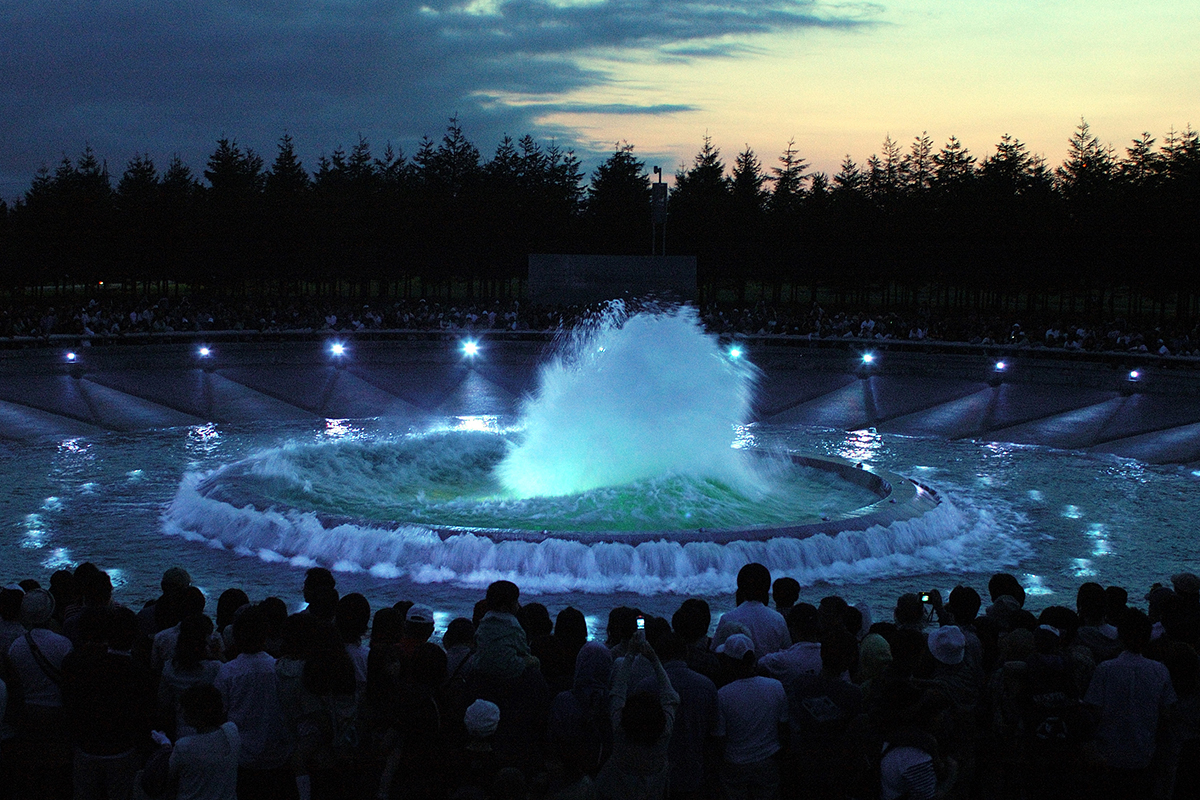 The Sea Fountain located in the center of the park is more than just a fountain; it entertains us with three to four shows a day, a 40-minute long program and a 15-minute short program. The long program is like a story, and it is very powerful. It is called "sculpture of water" because of its dynamic water movement, which blows up to 25 meters high.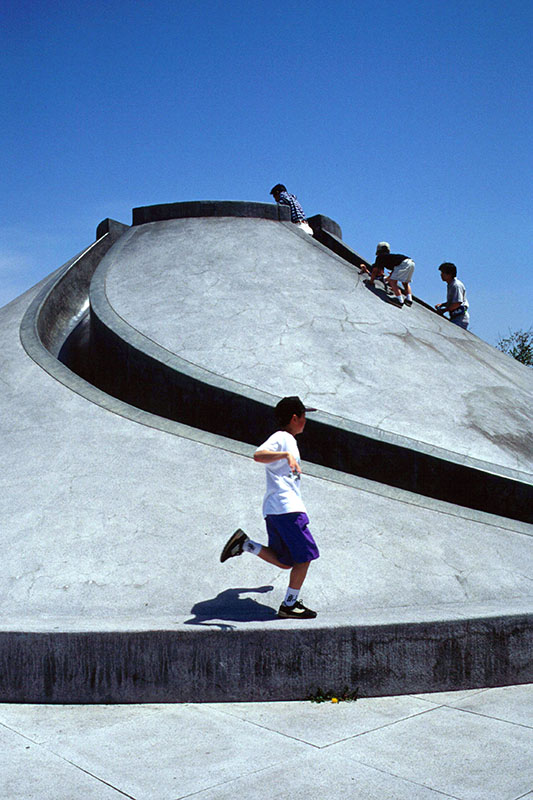 There are other playgrounds in the park, such as Sakura Forest and Play Mountain, which are also art designed by Noguchi, and you can spend a whole day there. It is also a good idea to bring a packed lunch and come to the park for a picnic. The park also has a French restaurant and a take-out store, so you can come empty-handed if you prefer.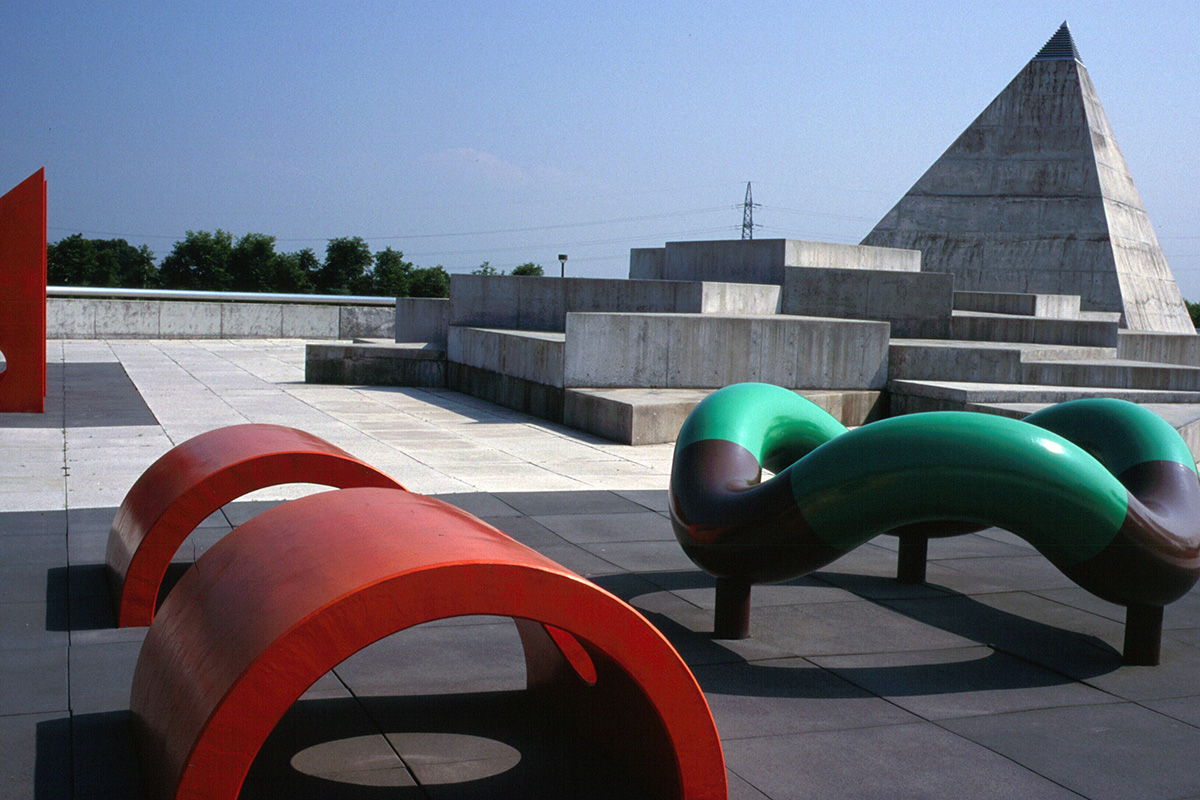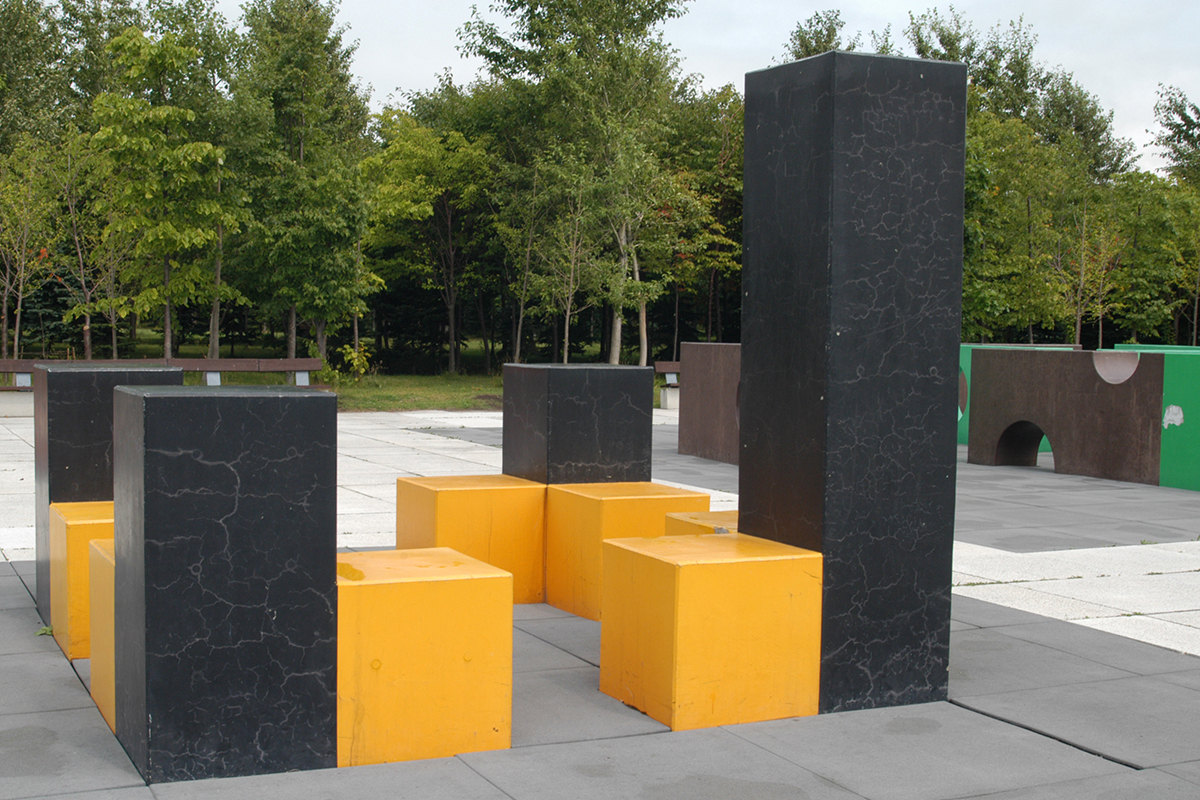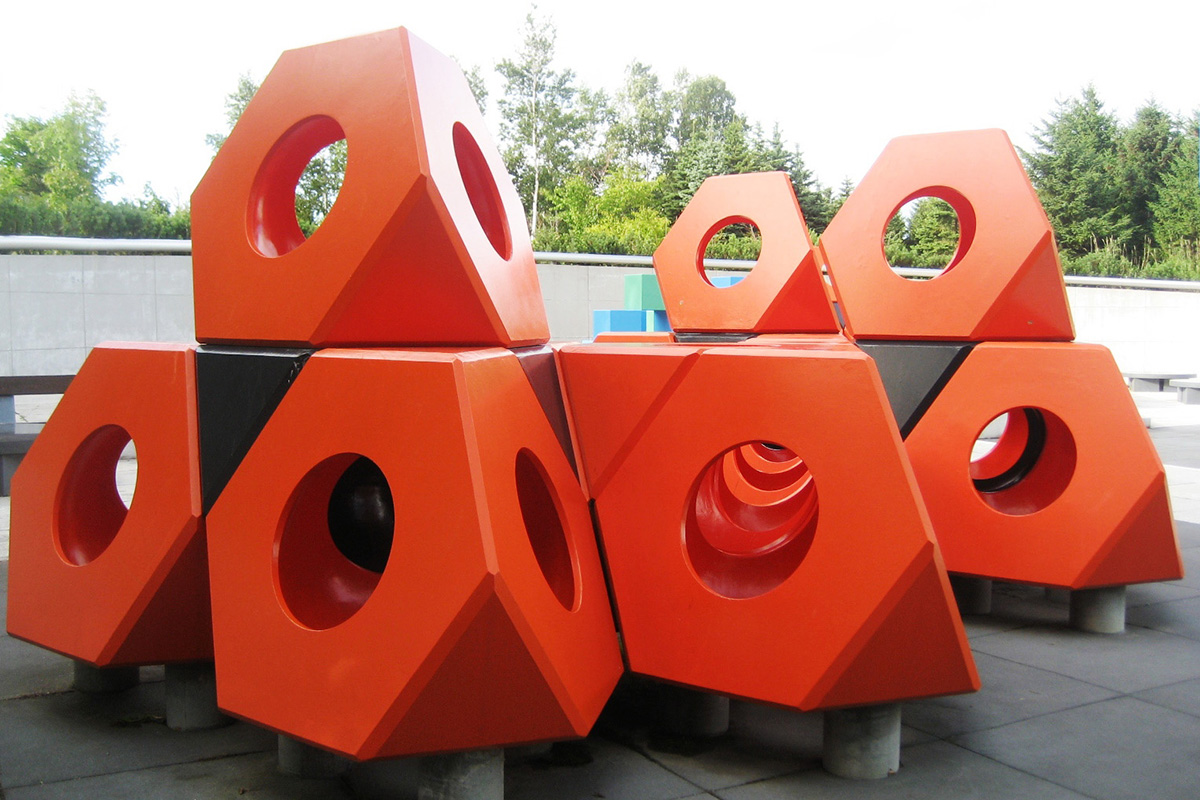 Takino Cemetery  ~The Great Buddha's head glimpsed over the hill~
There is a unique place called The Head of the Great Buddha in Takino Cemetery, south of Sapporo. It is a cemetery, though there are replicas of Moai statues in Easter Island in Chile, and Stonehenge in England. You can see a glimpse of Buddha's head at the top of the hill. In early summer, lavender blooms and the round head of the Great Buddha peeks out from the purple hill. It is very mysterious.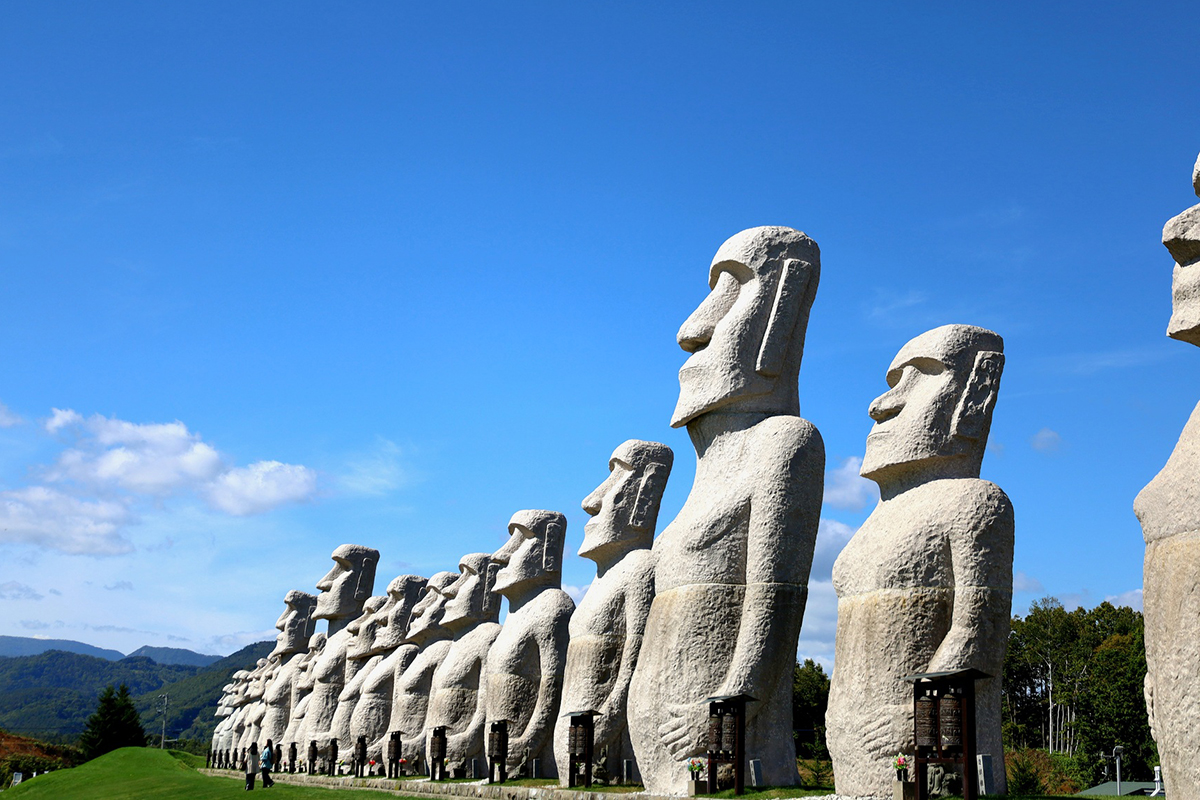 If you want to see the whole figure, you have to enter the great Buddha hall surrounding the Buddha under the hill. In front of the building, there is a shallow pond garden. You cannot go straight to the hall, you must go around the rim of the pond to enter the hall. Inside the building is a tunnel; when you go through the tunnel, you can finally see the whole figure of the Great Buddha. The pond garden is like a boundary which divides this world and another, and passing through the dimly-lit tunnel takes you to an extraordinary world. As you walk, your mind becomes peaceful.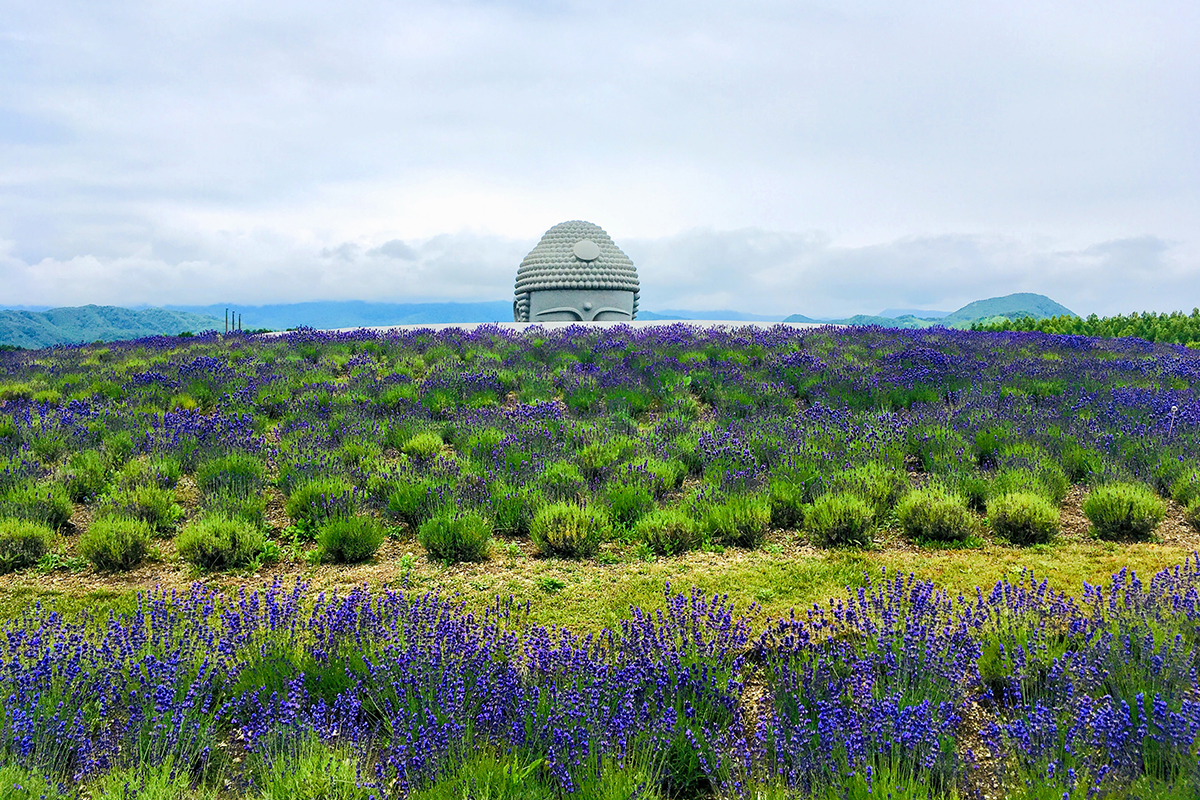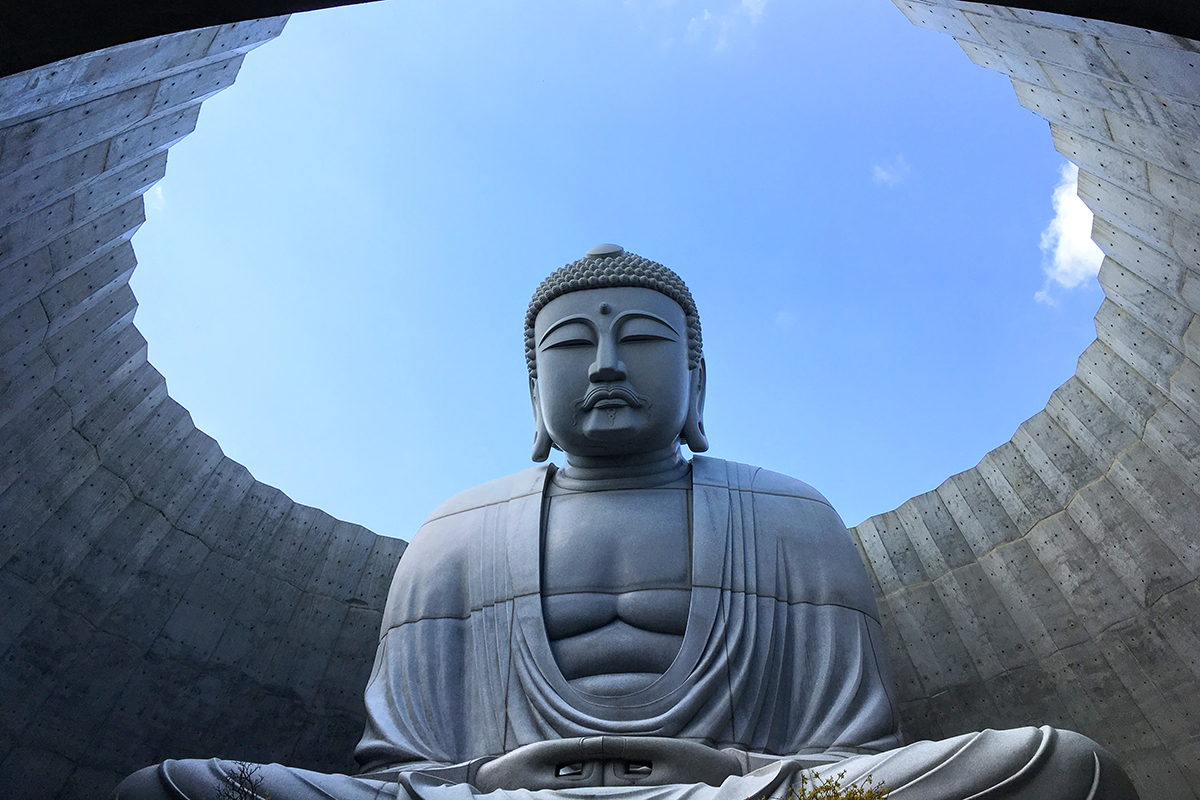 World-renowned Japanese architect Tadao Ando designed this hall. The statue of Buddha  was originally placed outdoors. When he got an order to design the Buddha hall, he dared to create such a structure because he believed that "invisibility arouses the imagination." This cemetery is open to all religions, and tourists are welcome to visit. It has become a new popular spot that attracts many tourists from around the world, especially from Asian countries.
Contemporary Arts in Ishiyama Ryoku-chi, a green tract of land on a stone mountain
A 30-minute drive south of central Sapporo. Visiting Ishiyama Ryokuchi, you will feel as if you have wandered into a mysterious place that is in neither Japan nor the present. The stone square called Negative Mound looks like a Roman ruin.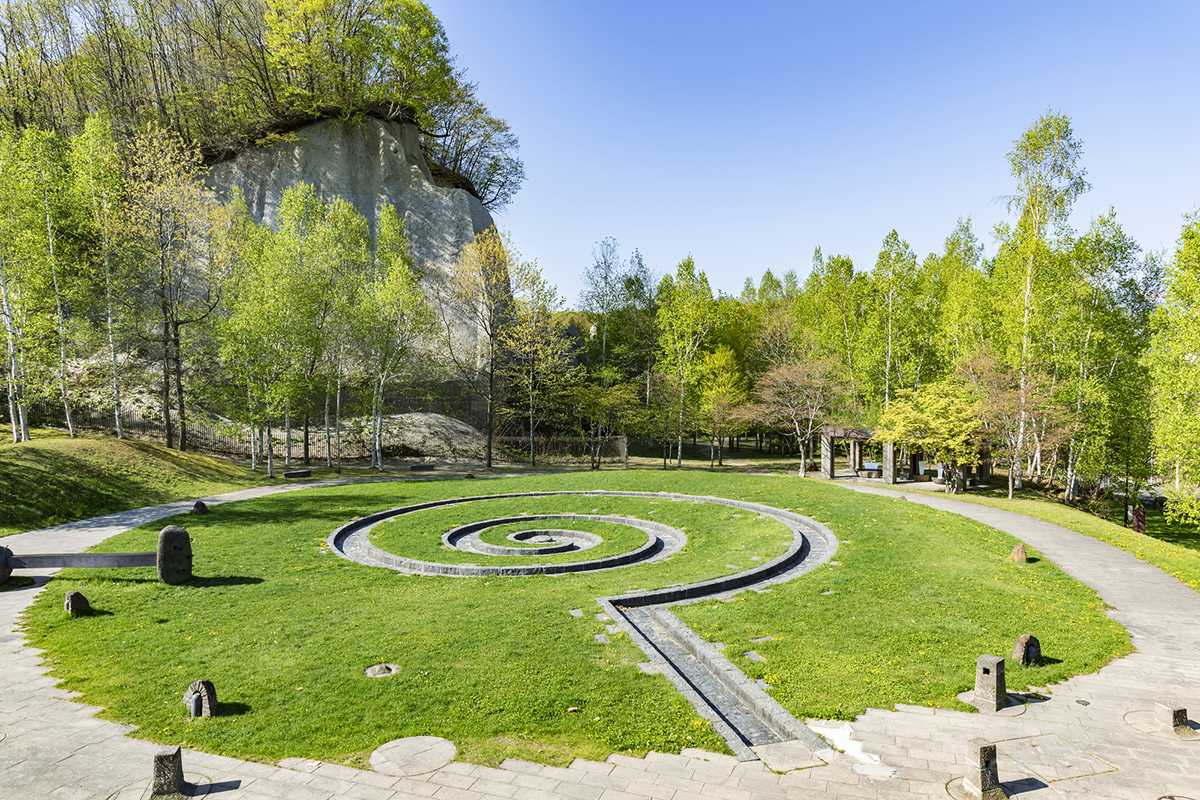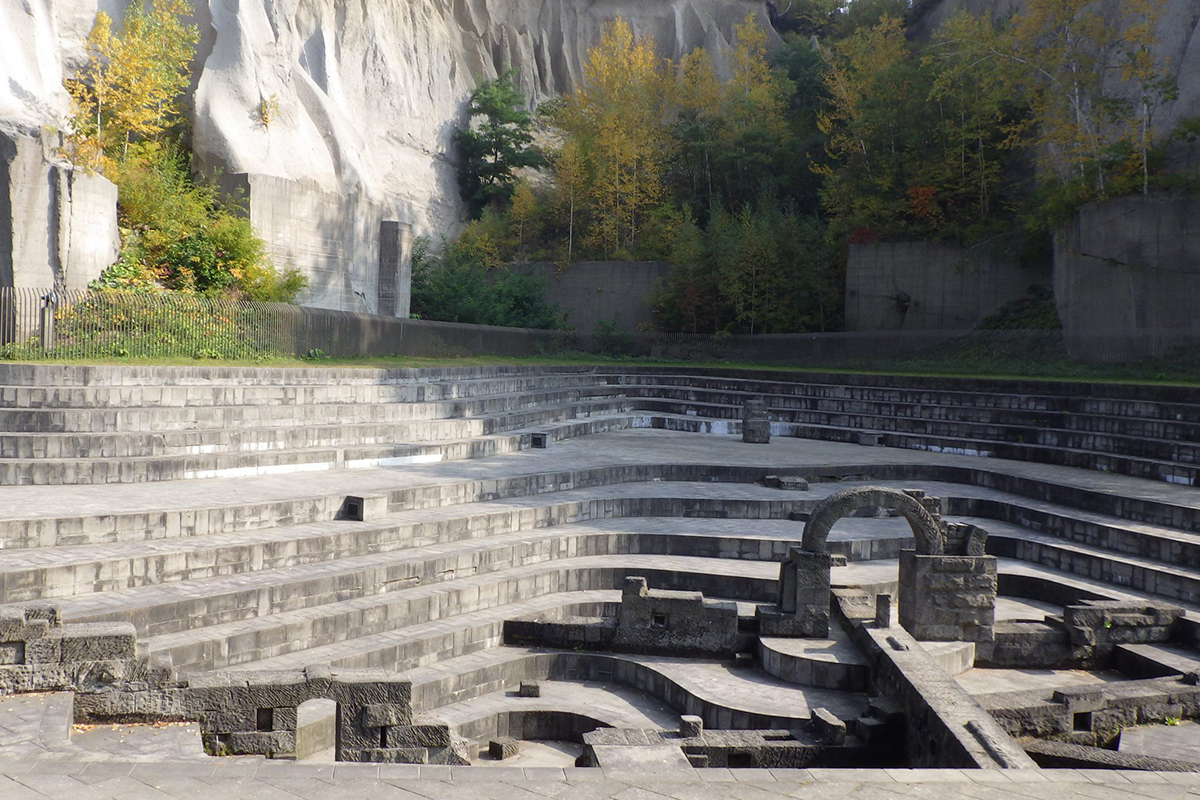 This is where Sapporo soft stone was produced. This stone was created from lava that had cooled and solidified after flowing from a massive eruption about 40,000 years ago of Shikotsu Volcano, located about 40 km from the center of Sapporo. The stone had been used for buildings since the late 19th century, when Hokkaido development started, but with the spread in popularity of inexpensive and strong concrete, the soft stone was no longer used, leaving this site untouched and in disrepair. In an effort to revive the site, CINQ, a group formed by sculptors in Hokkaido, spent four years creating a park that utilizes the shape of the quarry. Artworks are scattered throughout the park. Enjoy this space as you walk around in a relaxed manner.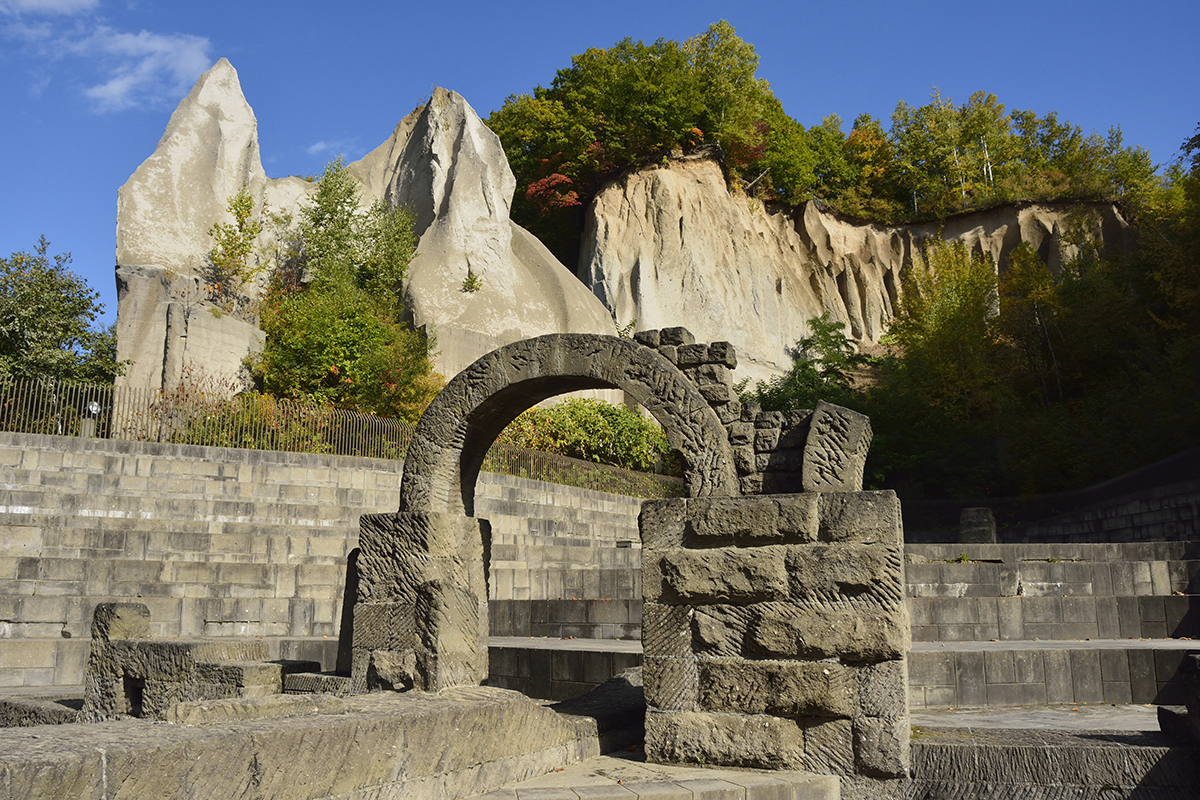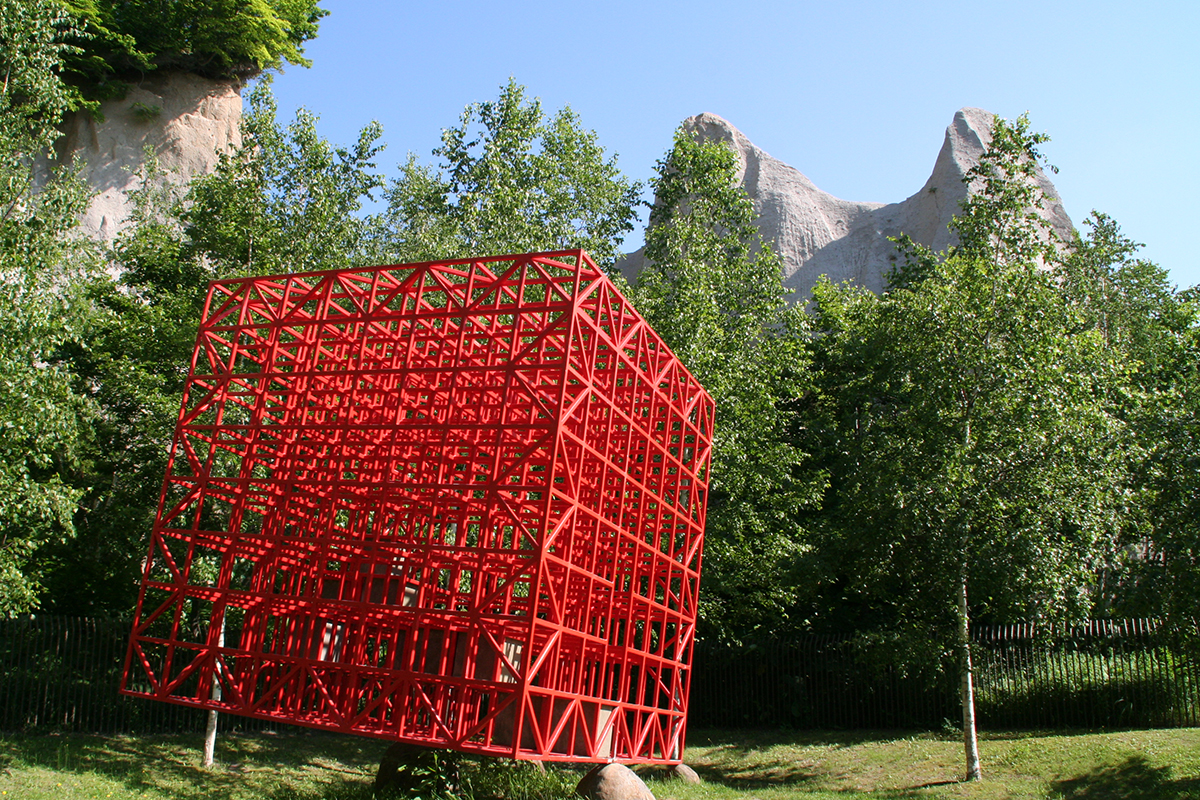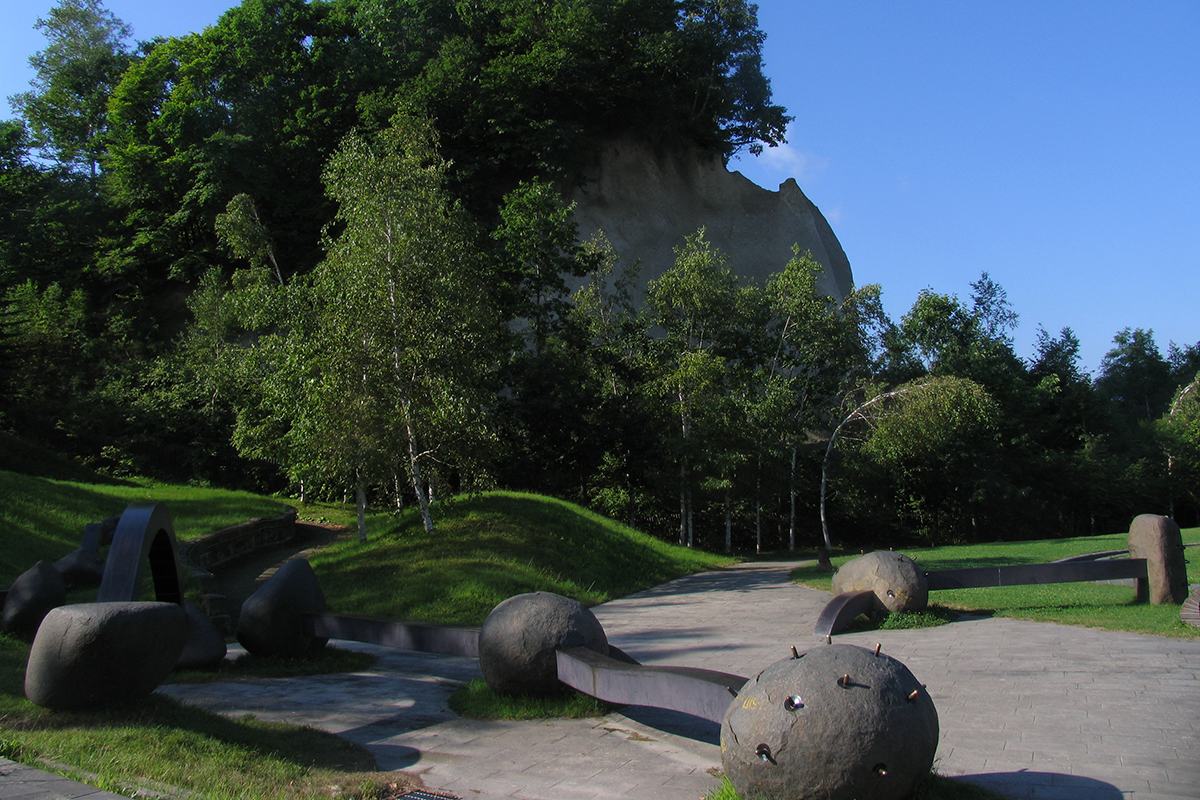 The art of Kan Yasuda
Finally, let me introduce Kan Yasuda, a world-renowned sculptor, the pride of Hokkaido. Yasuda was born in 1945 in Bibai, a coal mining town in central Hokkaido. He received a master's degree in sculpture from Tokyo National University of Fine Arts and Music. He moved to Italy in 1970 on a fellowship from the Italian Government and studied with Professor Pericle Fazzini at the Academy of Fine Arts in Rome. Currently, he continues his creative activities in marble and bronze in northern Italy.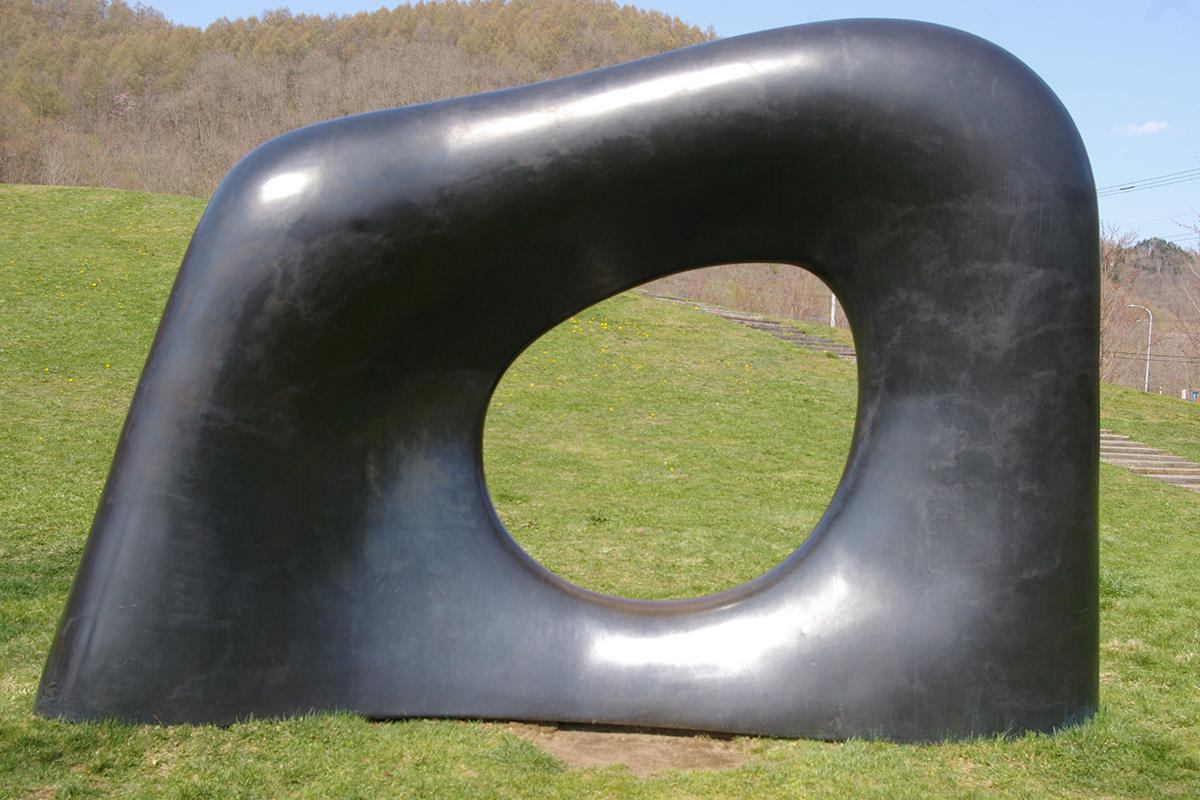 Key to dream
His famous work "Key to dream " or Myomu, ' mentioned briefly in of the section about Sapporo Station, is a round white marble sculpture with a hole and is a popular meeting spot for Sapporo citizens. It fits in well with the atmosphere of the station. In addition, there are three sculptures of his works to delight people's eyes in Soseigawa Park, just next to the TV Tower in Odori Park.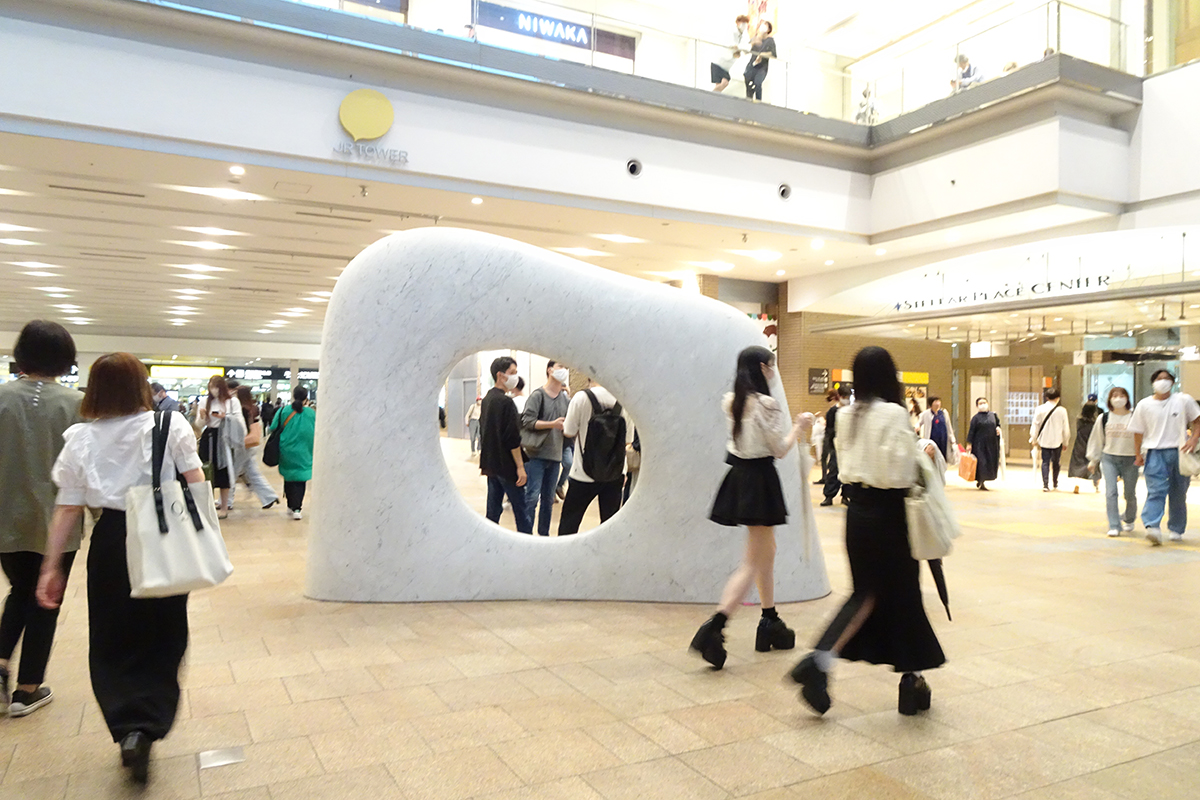 Seitan' represents a newborn sprout because the site of this sculpture is the birthplace of Sapporo. Seibo means a cane to support people's lives, and Tempi is a pair of works placed on the right and left banks of the Sosei river. They have gentle round forms and people can sit there, so they make people feel at ease.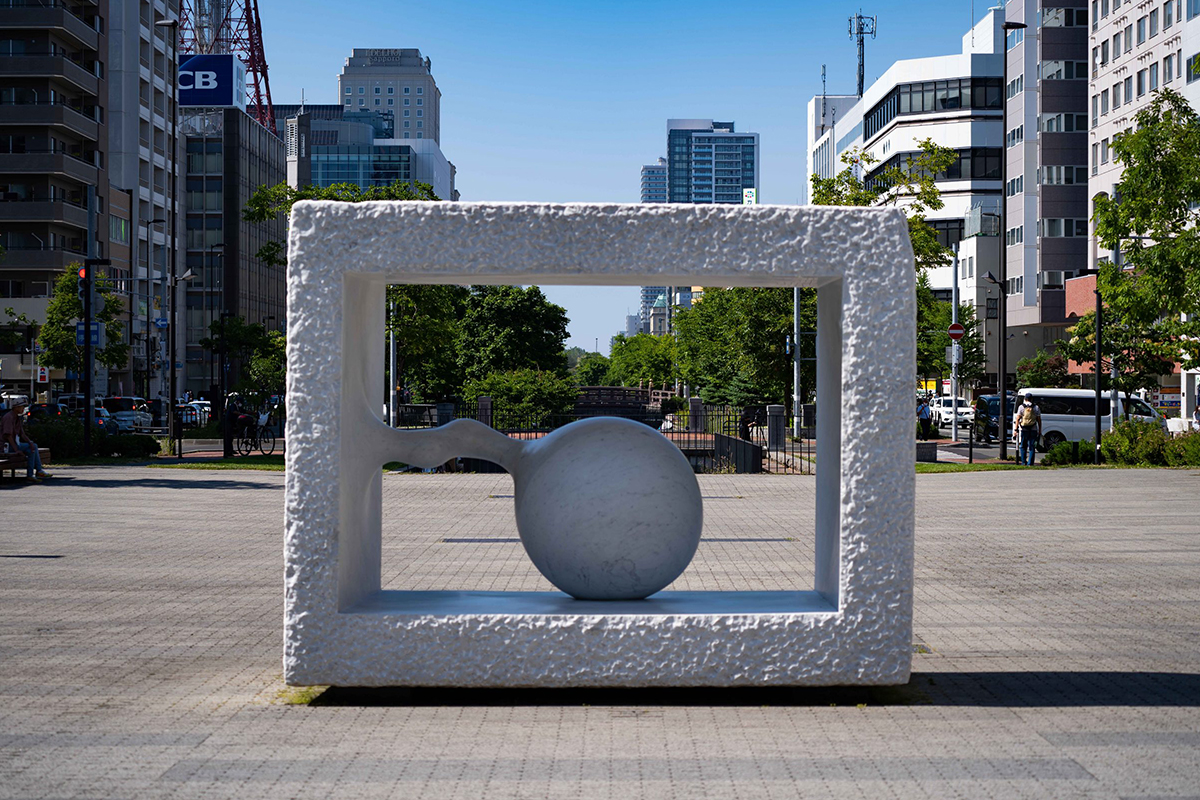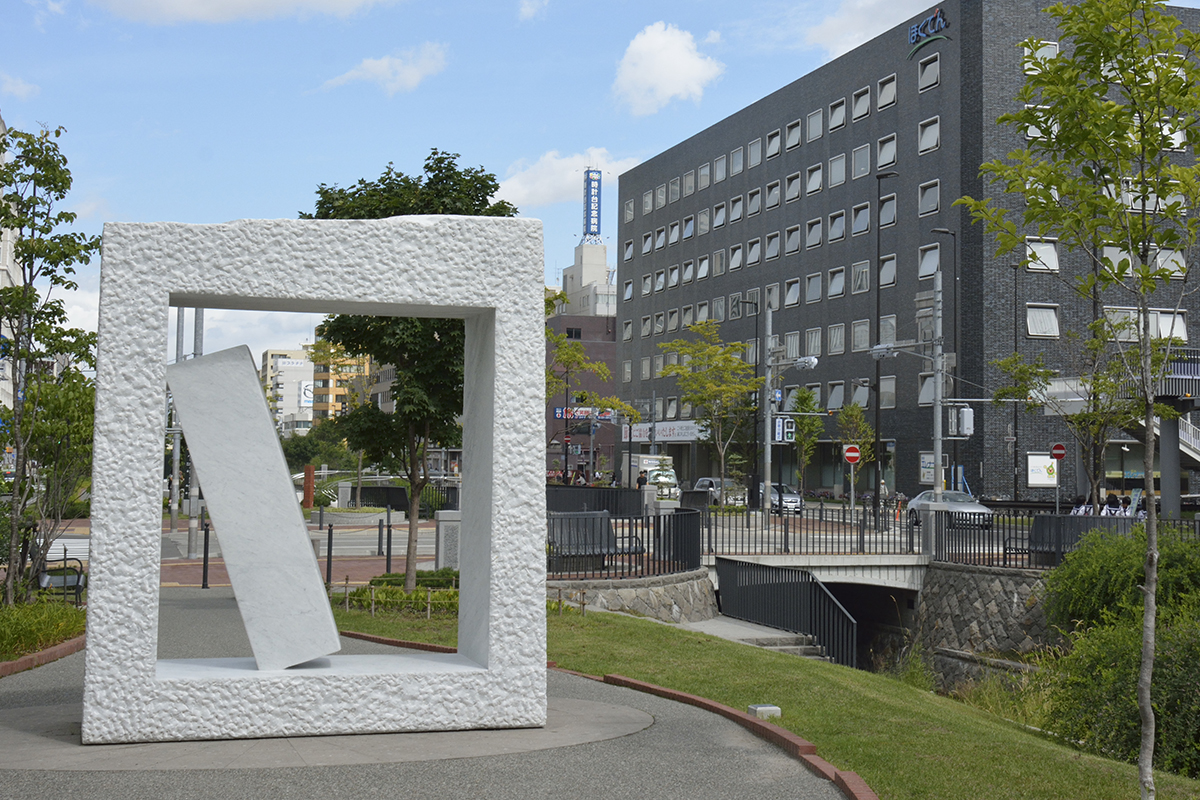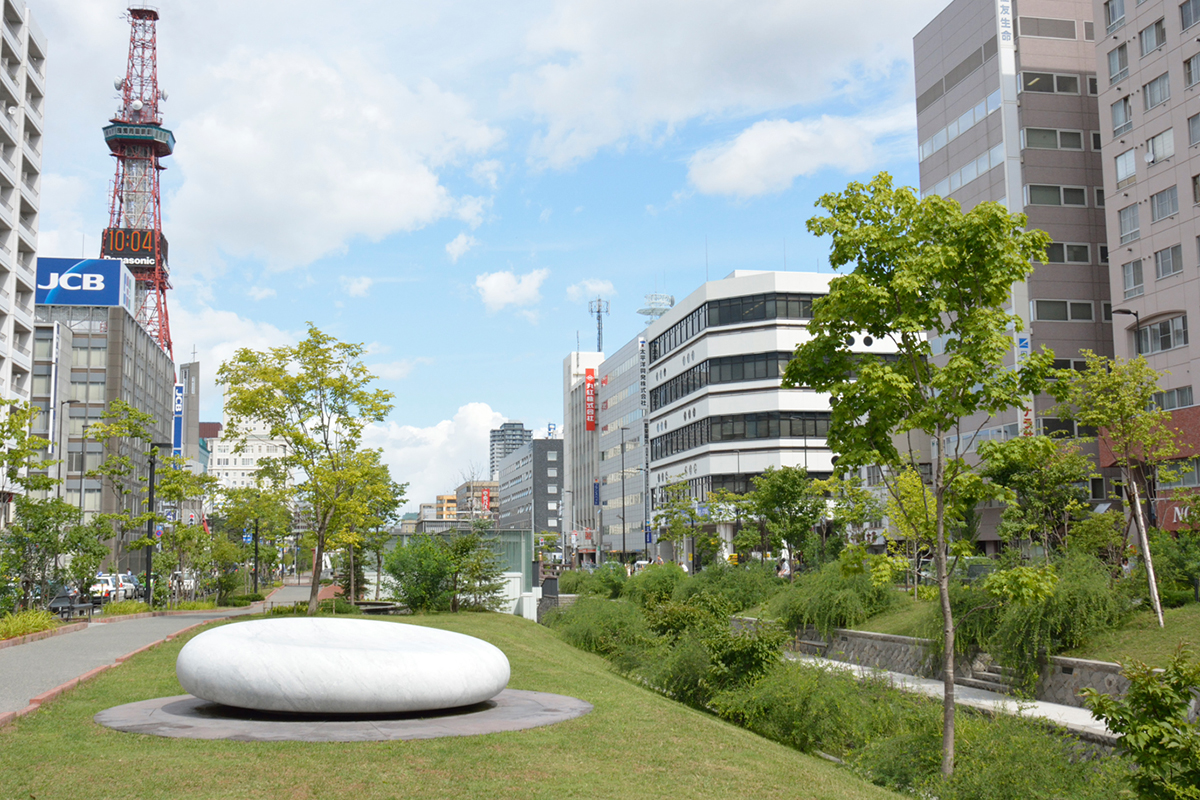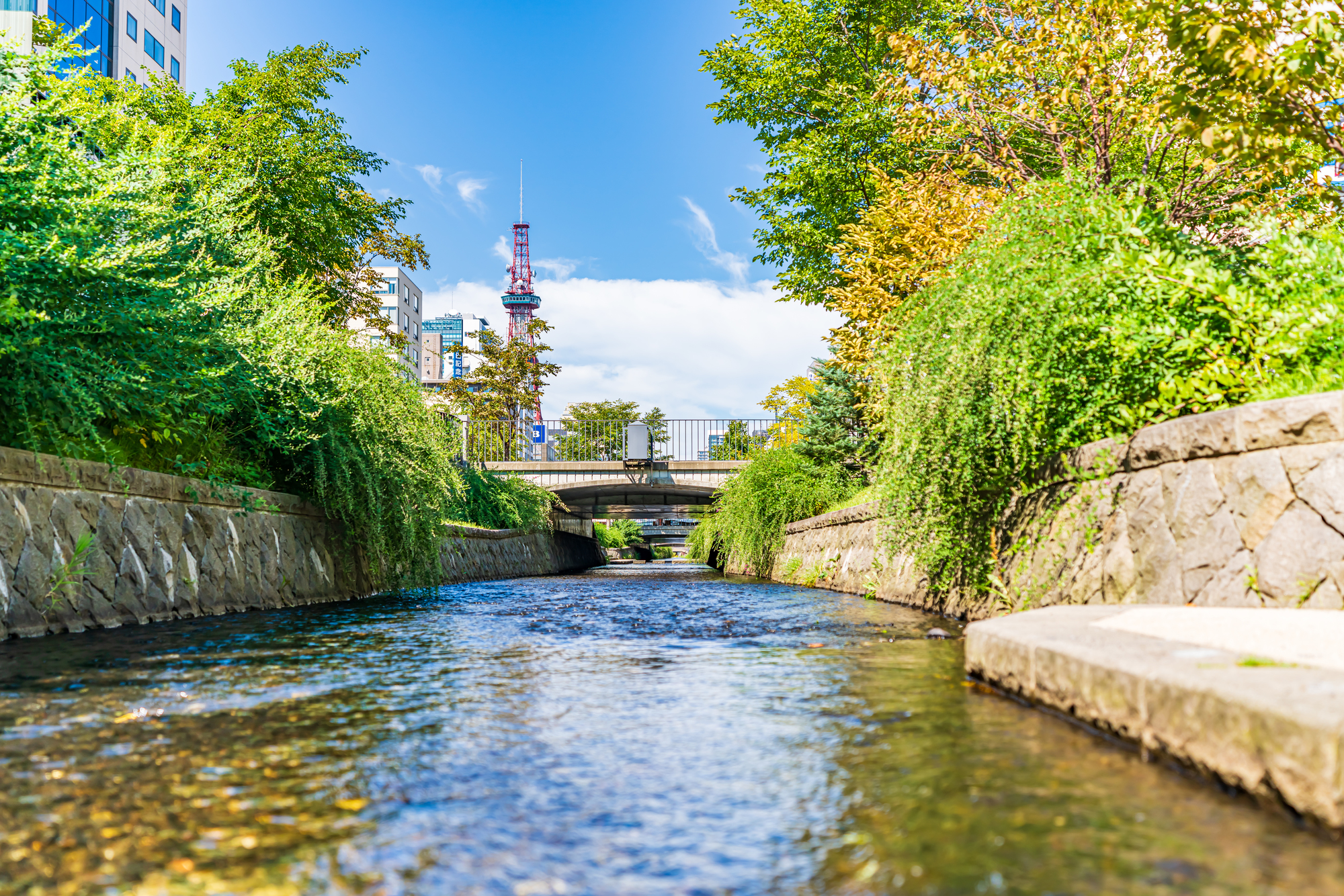 The Sosei river, which runs through the center of Sapporo, is a man-made river made about 150 years ago. It was a logistics hub for Sapporo at that time. Soseigawa Park was created along the river and has become a place for citizens to relax.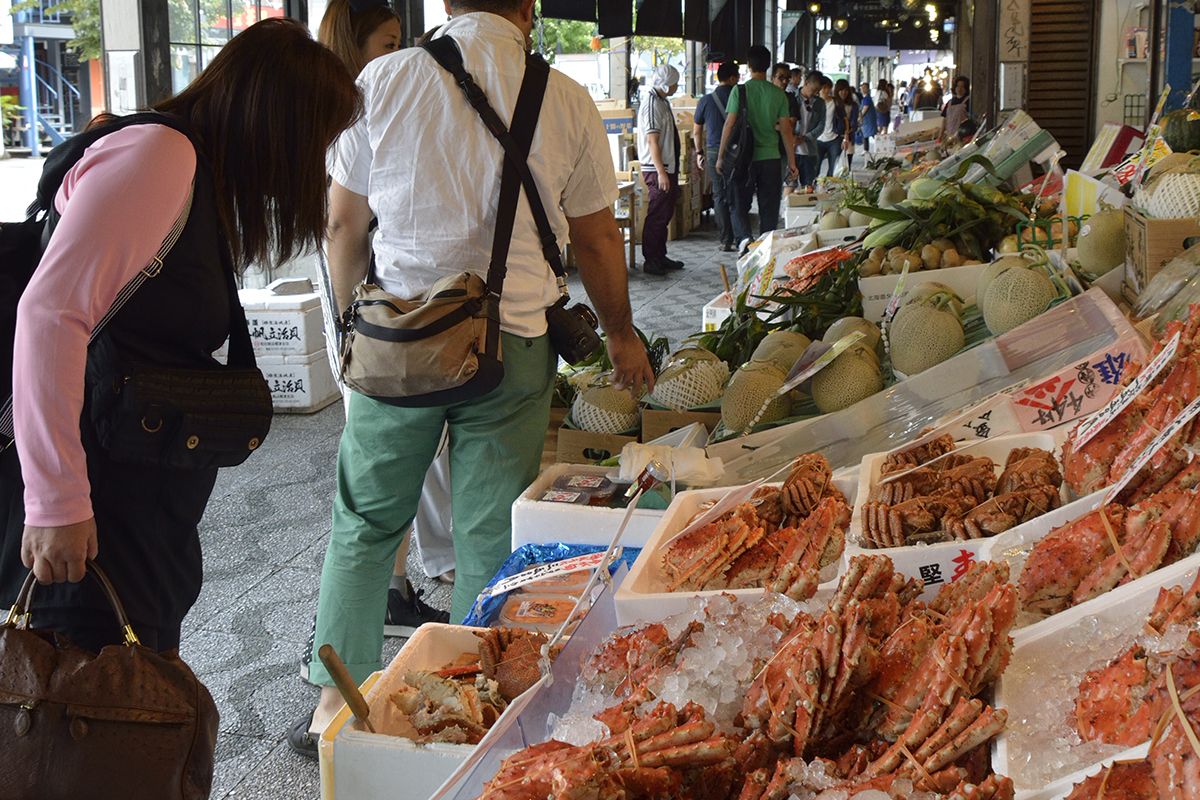 On the east side of the Sosei river is an area called the Souseigawa East, where delicious restaurants and cafes are clustered. At the center of the area is Nijo Market, a fish market where fresh sushi and sashimi can be found. There is a ramen shop called Darumaken where Sapporo ramen is said to have originated, as well as Western-style restaurants and cafes where you can also enjoy something to eat.
The Kan Yasuda Sculpture Museum, Arte Piazza
Sapporo is not the only place where Kan Yasuda's works are placed. In his hometown of Bibai City, there is the Kan Yasuda Sculpture Museum, Arte Piazza Bibai. It is about an hour's drive north of Sapporo. Bibai was originally a prosperous coal mining town, but when the last coal mine closed in 1973, many people left and the elementary school was closed.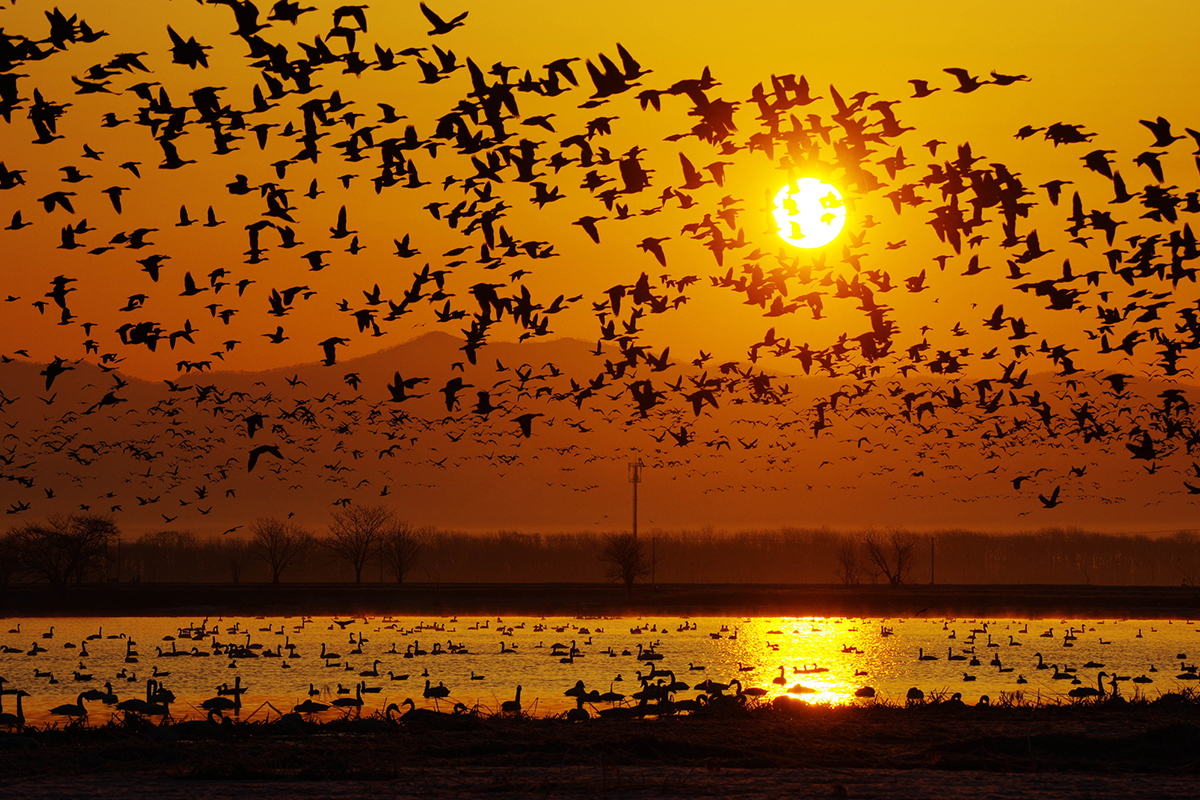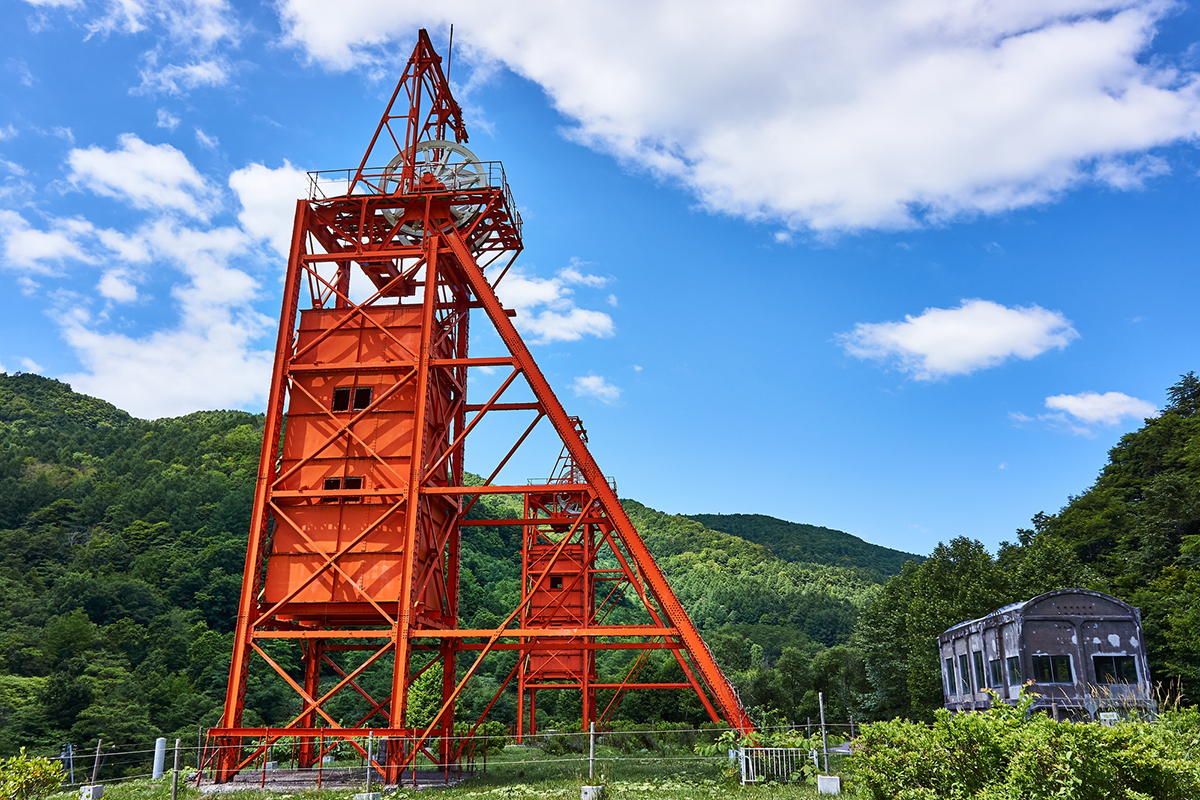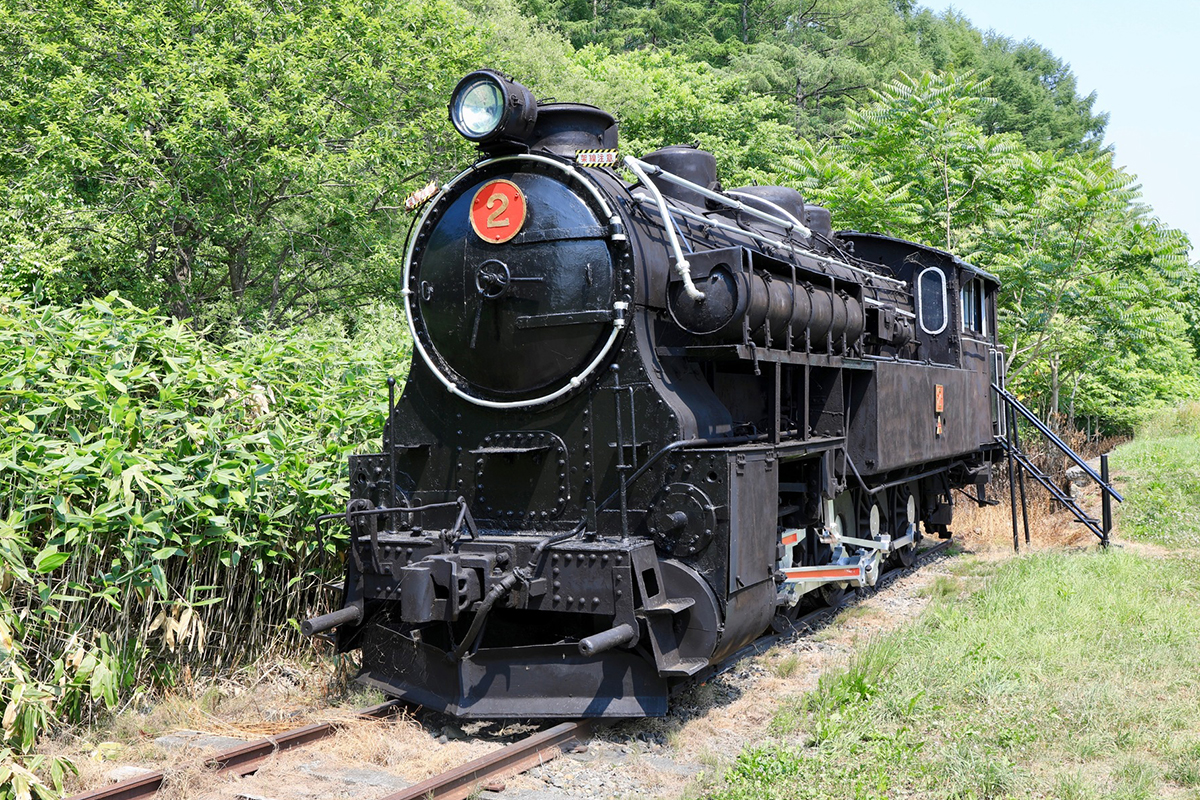 While searching for a studio in Japan, he was fascinated by the sight of children playing in the small kindergarten attached to the school building. He thought, "Let's create a plaza that these children can enjoy," and this open-air museum was born. He said he was groping in the dark to see if his sculpture would fit nicely with the children's play and if it would withstand severe snowstorms.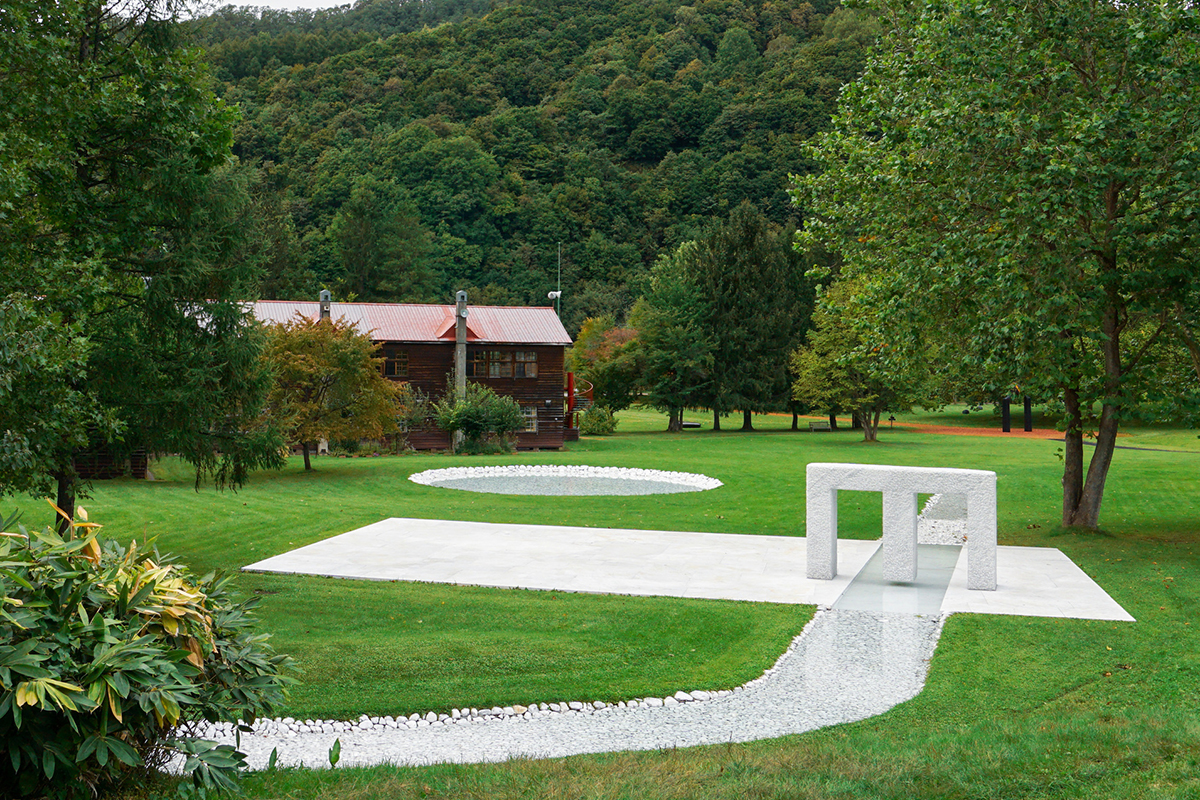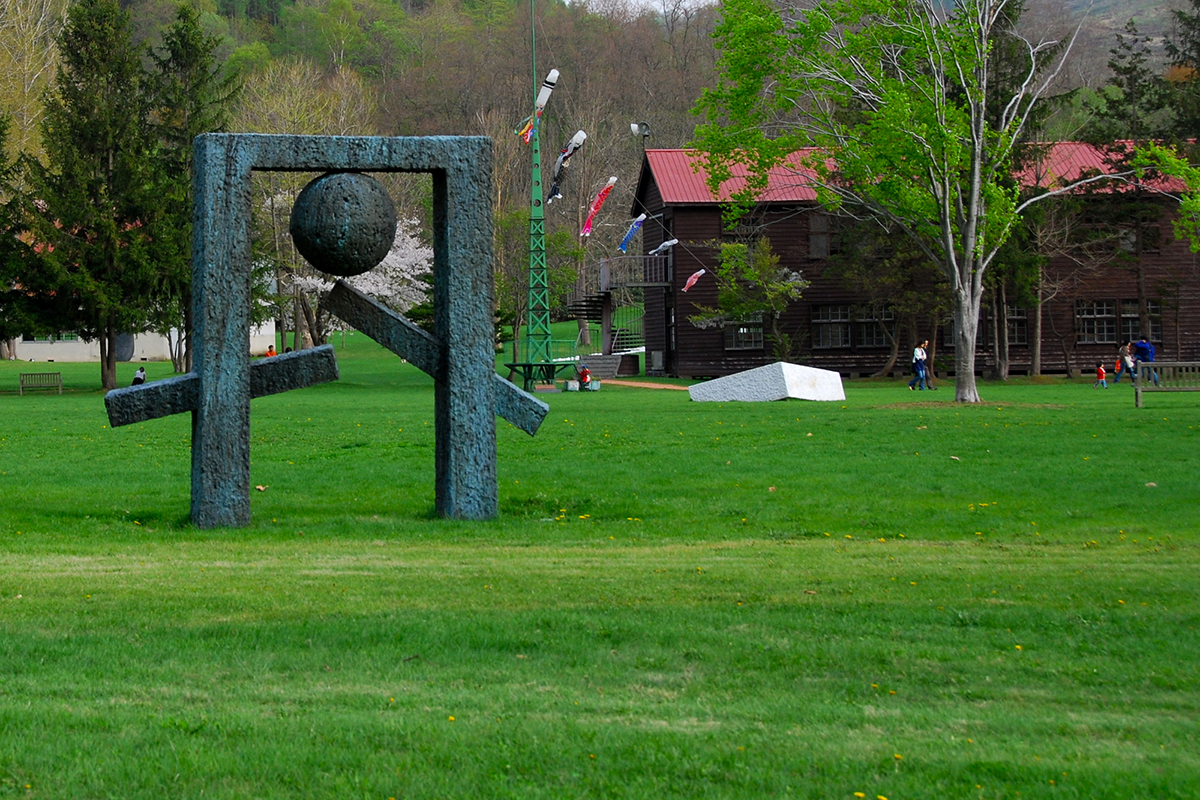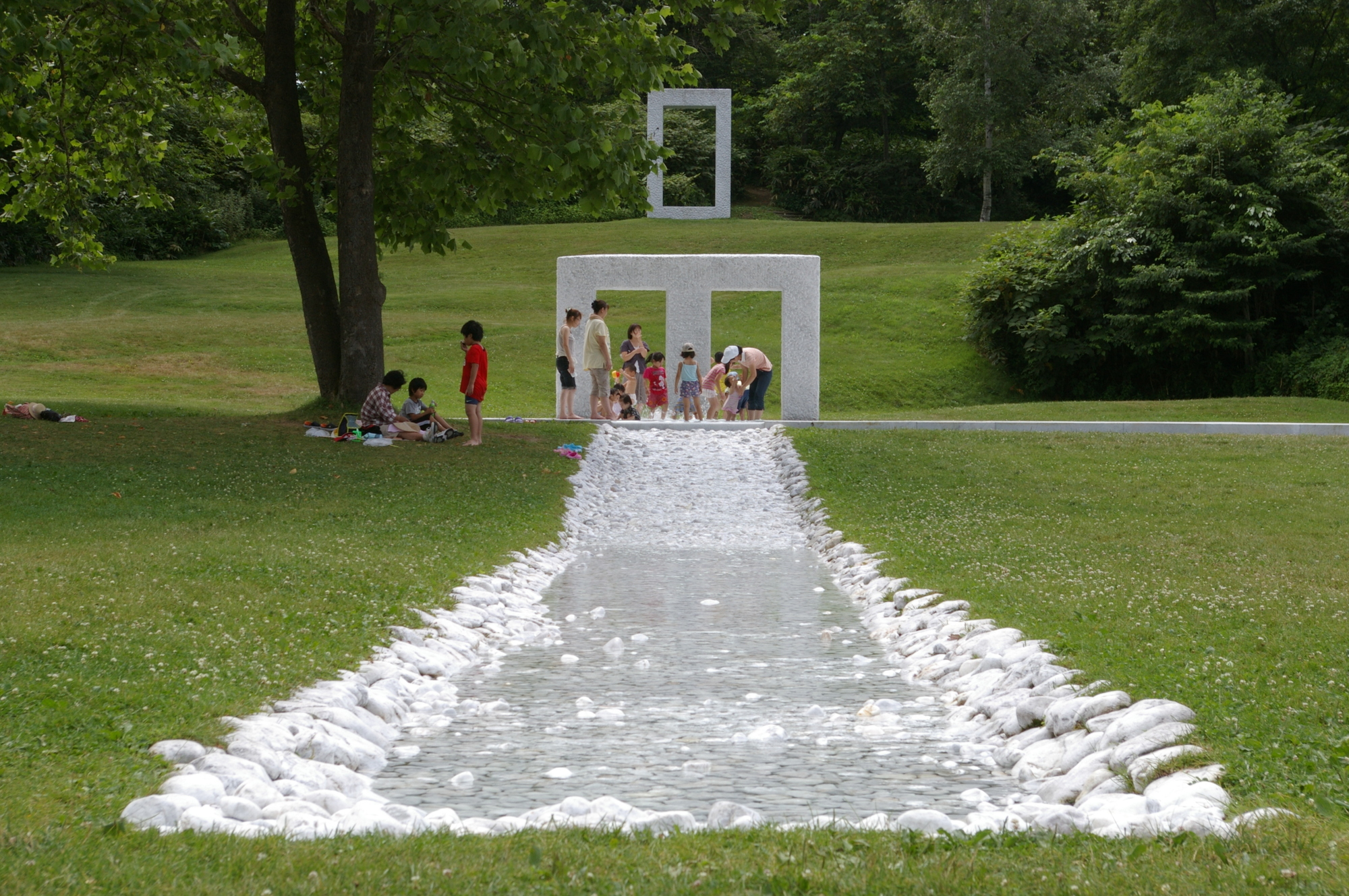 Arte Piazza Bibai was opened in 1992. "Arte Piazza" means "art square" in Italian. Many of his works have gentle curves and humorous shapes, and visitors feel calm and peaceful as they stroll through the gently sloping hills and spacious areas dotted with these sculptures.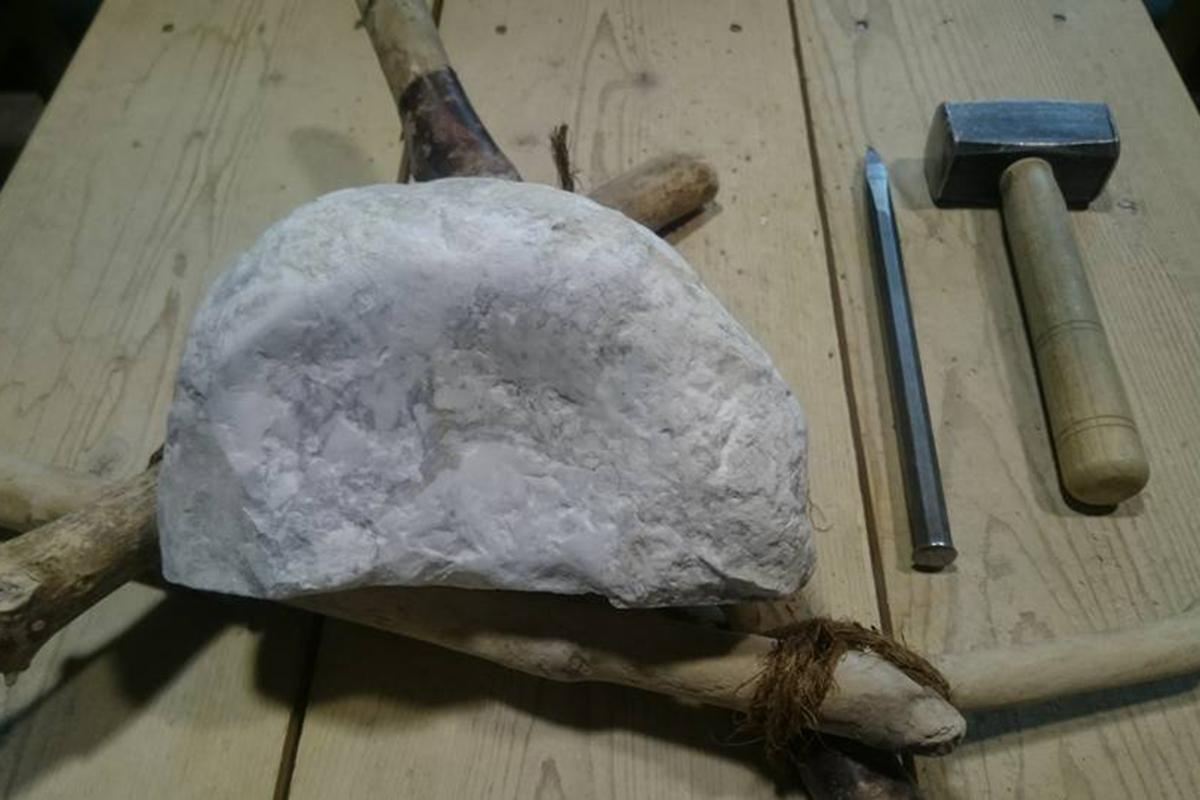 Also, a sculpting class called "Shape from the mind" is held in this museum. Participants select a material (a soft stone called tuff from Sapporo, or marble from Italy). Participants carve stones while looking into their own hearts. It is their heart that they carve. The experience will surely become an unforgettable memory.
(This class is generally held on the first Saturday and Sunday of each month. Kan Yasuda periodically attends to coach and mentor, although he has no set schedule.)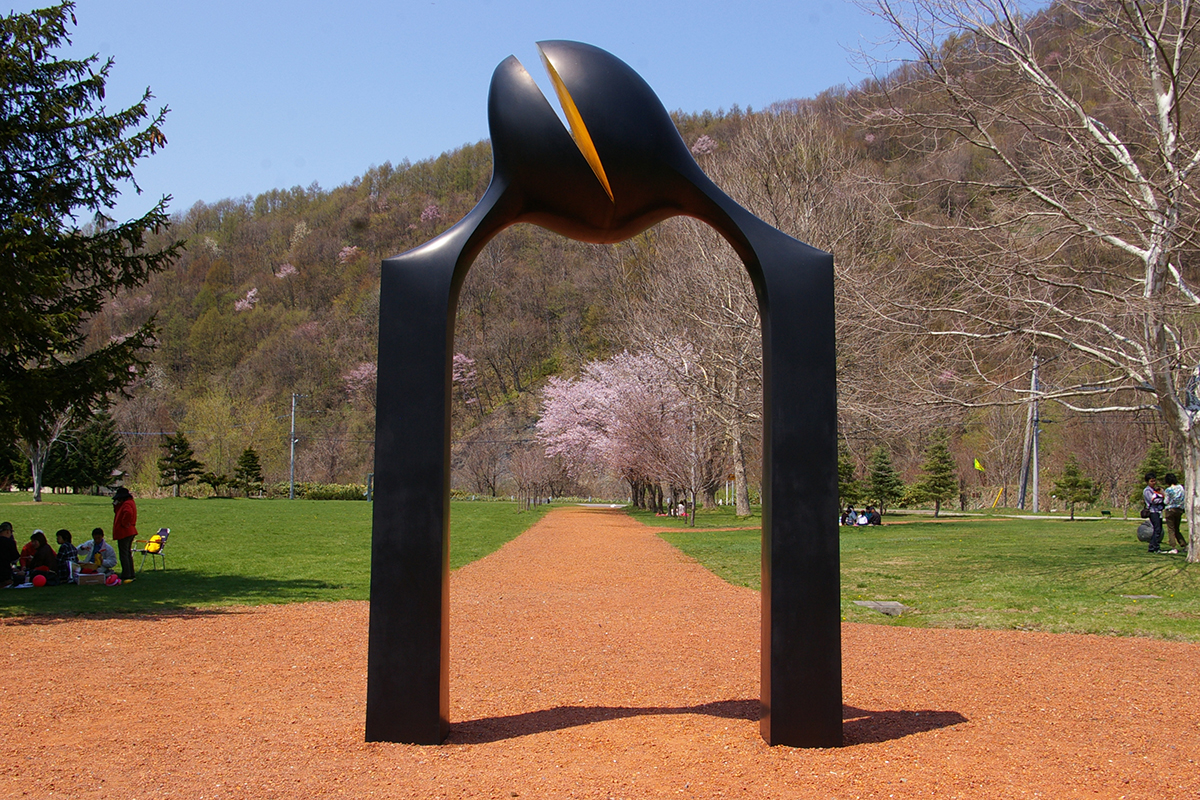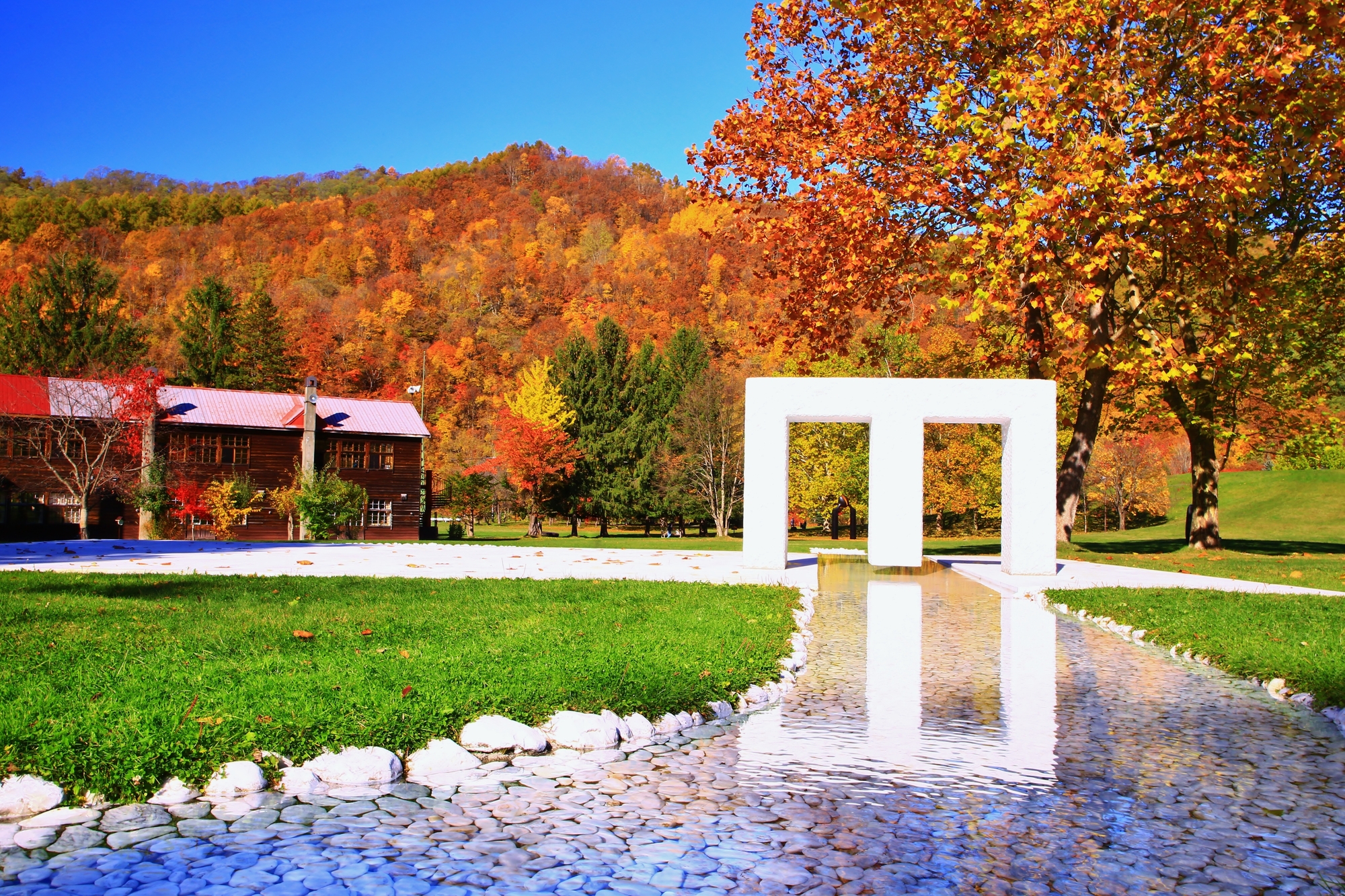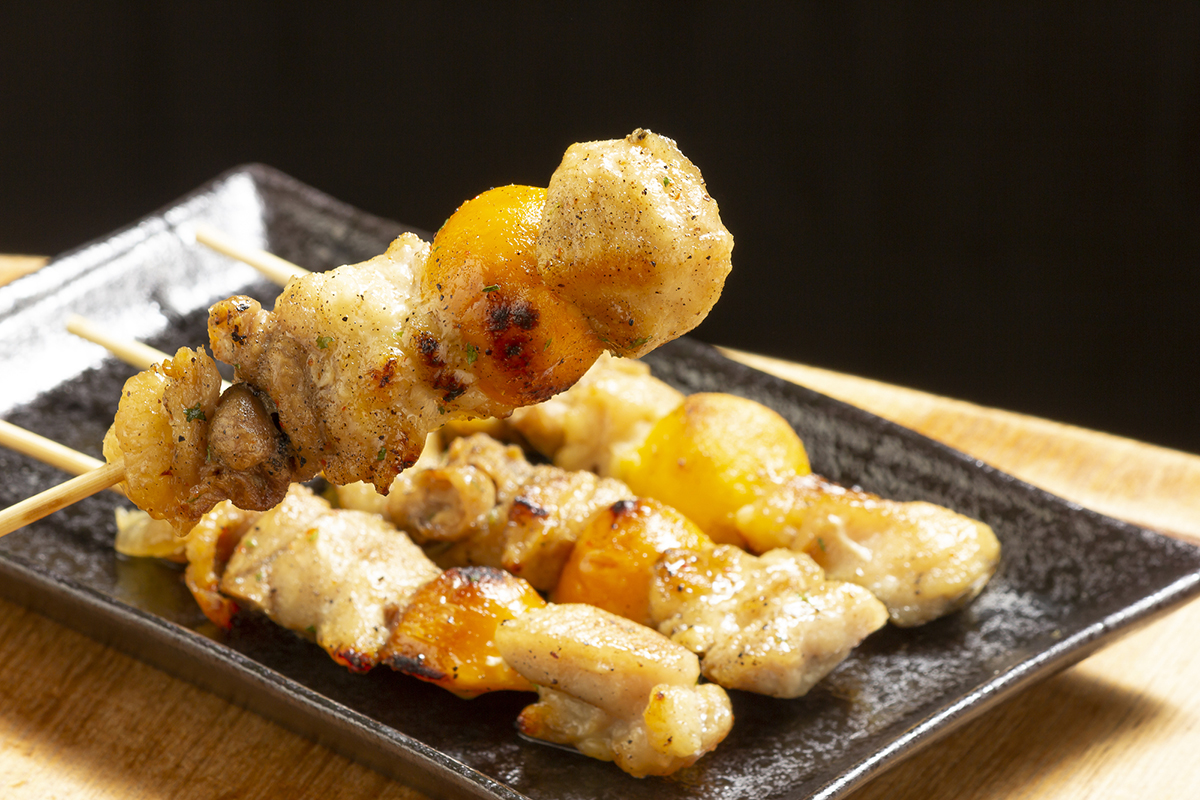 Since you have come all the way to Bibai, after enjoying the art, you should enjoy the local specialties. Bibai is famous for its yakitori (grilled chicken). Some people even come all the way from Sapporo to buy this. Unlike regular yakitori, which is skewering the same part of the chicken on a single skewer, Bibai yakitori is made by skewering thigh, breast, liver, heart, gizzard, and other parts of the chicken together on a single skewer, with onions in between, and seasoning with salt and pepper. You may be surprised at textures and tastes you have never had before. Bibai yakitori reflects the wisdom of the pioneers, who did not throw away chicken entrails but ate them.
Conclusion
 How was your art journey that started from Sapporo? Sculptures and crafts of the indigenous Ainu people of Hokkaido, sculptures harmonizing among the trees in the park, and architectural and art works on a large scale in this vast land.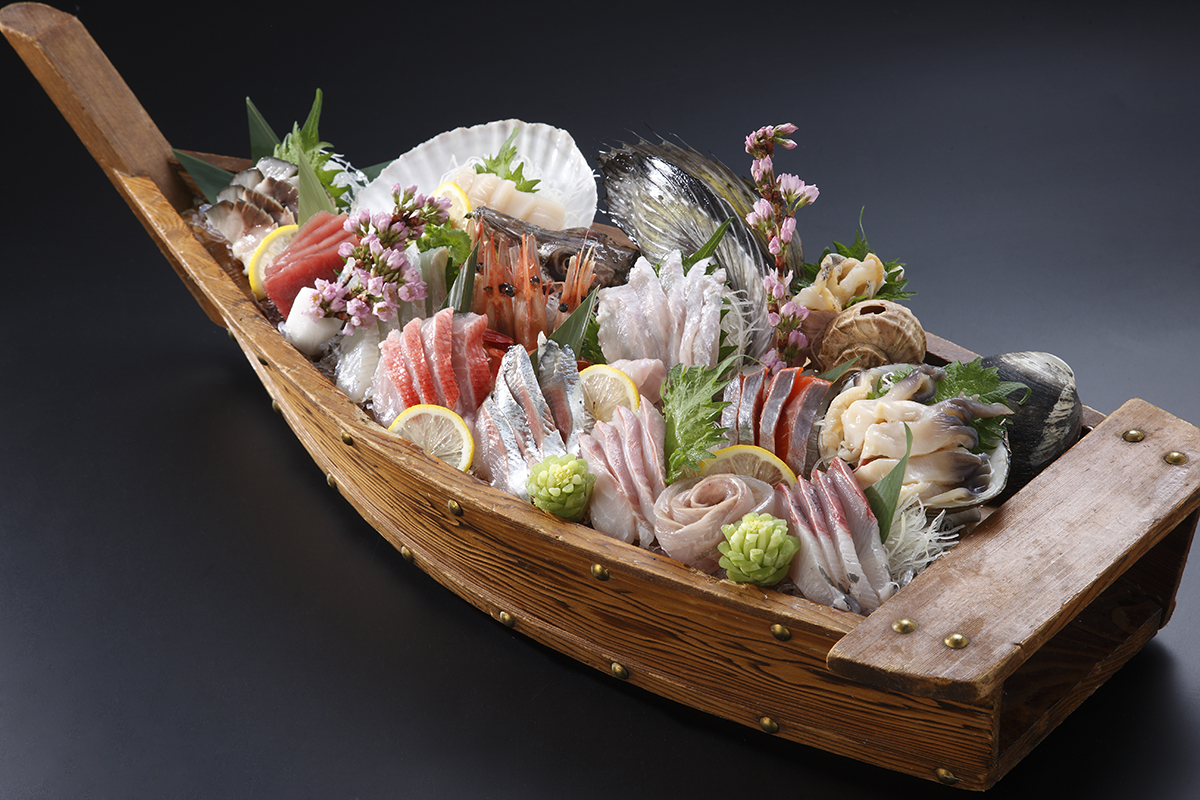 And after enjoying the art, you can have the pleasure of eating local specialties. I would be delighted if you have found a new way to enjoy Sapporo. To get the most out of your trip, make the trip plan with our travel specialists team. You can contact us through our inquiry form.